****************************************************************************
April 2015 YTD is 178,522, up 26% or 26,051 cars more than April 2014 YTD 152,471.
Forester is the volume leader for the month, closely followed by Outback. If the supply of Outbacks was better, the numbers would be reversed, with Outback the volume leader. Crosstrek continues to outsell all the Impreza sedan and hatchback models combined. Maybe Subaru will cut back on the confusing and production restrictive number of Impreza 2016 models/packages.
April sales by model
Outback 12,534 for the month, 18% or 1871 more than 10,663 April 2014
Forester 13,997 for the month, 21% or 2430 more than 11,547 April 2014
Legacy 5,276 for the month, 69% or 2,150 more than 3,126 April 2014
Crosstrek 6,936 for the month, 22% or 1,258 more than 5,678 April 2014
WRX, STI 2,713 for the month, up 1%, or 15 cars, more than 2698 April 2014
Impreza 5,311, or down 2%, or 133 cars, less than 5,444 April 2014
BRZ 494 for the month, down 40%, or 326 cars, from 820 sold April 2014

4/3 new event- Subaru Loves the Earth E-Waste Recycling Event
April 1-30, most western US Subaru dealers are accepting electronics for recycling.
Its FREE!
Drop off your old electronics for free- monitors, cell phones, tube TVs up to 32", computers, laptops, tablets, fax machines, video game consoles, printers, cord/cables, routers etc. Dealers will have a collection box near the service drive.
What isn't accepted- light bulbs, fluorescent and neon tubes, lighting ballasts, kitchen appliances, batteries
In the Seattle area
, Carter Subaru Shoreline, 17225 Aurora Ave N, Shoreline, 98133 is a participating dealer and has 2 big collection boxes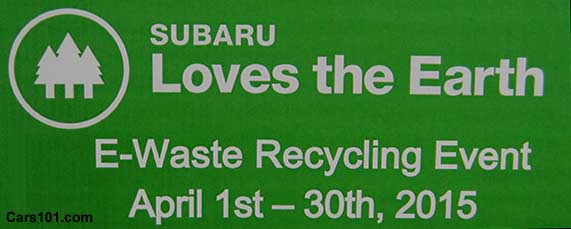 4/2/15 March sales total is 49,111 cars. Thats a new single month record and pushing the magic 50,000 barrier.
It wasn't long ago that Subaru only delivered 100,000 cars in an entire year, so 50,000 in a month... well, that's like Chuck Yeager in the X-1 breaking the Mach 1 sound barrier in 1947.
Idea... maybe when Subaru does achieve that 50,000 car month- they're only 889 cars away, it could be this month - they let the 50,000th buyer to choose a charity for Subaru to donate a car to?
YTD total is 131,281, a 17% increase over 112,388 YTD 2014. According to Subaru, at this pace, if they can get enough cars, they could be close to the 600,000 car mark for the year.
The total for March 2015 is 49,111, which is 4,632 more than the 44,479 sold March 2014
All models are up, except for Impreza down 9%, and BRZ down 42%.
The Forester is sales leader for the month, even as Subaru slowly starts to release news about the changes on the coming 2016s at the NY Auto Show.
Outback continues to be in short supply or its numbers would be higher
Crosstrek is up 9% for the month to 7162, while its sibling Impreza's sales are down 9% to 5364.
WRX and STI continue their steady numbers. The WRX and STI is the first Subaru many young people aspire to own.
Some 2016 Foresters, and probably Outback and Legacy, all top of the line models, will get Subaru Starlink app's new stolen vehicle recovery, collision/airbag deployment response, remote lock/unlock services etc.
It is expected that all 2016 Forester and WRX/STI will get the new infotainment systems with upgraded audio, bluetooth, and back-up camera, and the optional navigation that are on all new 2015 Outback Legacy, Crosstrek and Impreza.
BRZ numbers are similar to the Tribeca's in the years prior to its demise. Even as Subaru showcases a STI modified BRZ at the NY auto show, without something to generate more interest in the BRZ currently on lots, sales seem on a downward slope.
Outback 12,504, which is 775 or 7% more than 11729 March 14
Forester 14,967, which is 1121 or 8% more than 13846 March 14
Crosstrek 7,162, which is 577 or 9% more than 6585 March 14
Legacy 6,148, which is 2914 or 90% more than 3234 March 14
Impreza 5,364, which is 544 or 9% less than 5908 March 14
WRX, STI 2,471, which is 290 or13% more than 2181 March 14
BRZ 495, which is 362 or 42% less than 857 March 14

4/1-30 Love Strikes Twice Pre-Owned Sales Event
Subaru is promoting their Certified used car program from April 1-30 with low finance rates starting at .99% for up to 48 months, on approval of credit (top credit required). Its available on Certified 2015-2014-2013-2012s. Other terms and rates are available, see your local dealer.
Arizona-Montana,
Nebraska-Wyoming
Certified Subarus are clean, accident-free and inspected, and have the balance of the original 3 year or 36,000 mile powertrain warranty plus the balance of a 7 year or 100,000 powertrain warranty.





4/1/15 April finance and lease programs, NW area
no changes to the NW area interest rates.
Subaru is pushing Forester, Legacy and Impreza leases. Some price quotes could be a lease.
Crosstrek Hybrid- 0% continues on 2015s to 36 months, and on remaining 2014s for 72 months.



3/30 Subaru responds to Indiana's Religious Freedom Restoration Act which will permit, even encourage, anti-gay discrimination.
Subaru's Outback and Legacy - and some Toyota Camrys - are built in the Subaru Indiana Automotive factory (www.subaru-sia.com) in Lafayette. SIA employs over 3900 people, and plans to expand the factory are in place. That means Subaru has a large, powerful presence in Indiana, and a strong interest in stopping Indiana's Religious Freedom Restoration Act (RFRA). Subaru issued a statement against the bill, and hopefully they join other organizations taking a clear, active stand against it.
Here's Subarus corporate statement, and I'll bet we hear more, and more strongly worded, from Subaru as this continues.
"Regarding news coverage of Subaru's position on Indiana State Bill 101, SOA has made the following statement: While we recognize that the voters in each State elect their own legislature to decide that State's laws, we at Subaru do not agree with any legislation that allows for discrimination, or any behavior or act that promotes any form of discrimination. Furthermore, we do not allow discrimination in our own operations, including our operations in the state of Indiana. We will certainly continue to take the issue of non-discrimination into consideration as part of our decision-making processes."



3/18/15 More 15 WRX and STI order cut-offs with optional Navigation or CVT announced as the 2016s get closer

- WRX (code FUN) still fully orderable.
- WRX Premium (code FUO)
standard pkg #11 is still fully available
Optional Package #12 navigation and H/k audio. Completely closed.
- WRX Premium CVT transmission (code FUP) - all colors orderable
- WRX Limited (code FUQ)
standard pkg #21 is still fully available
Optional Package #22 w/ Navigation, GH/K audio, Keyless access. Not orderable: Dark Gray, Black, Red, or Ice Silver. Orderable: WR Blue, Black
- WRX Limited CVT transmission (model code FUR)
standard Pkg #21. Not orderable: dark gray, galaxy blue and white. Orderable: Ice silver, WR Blue and Lightning Red
optional Pkg #22 with Nav/GPS, HK audio, Keyless access/Pushbutton start. Not orderable: Black, Dark Gray, Galaxy Blue, Lightning Red, White. Orderable: ice silver
- STI (model code FUS)
standard pkg #02- all colors orderable
optional Pkg #03 Nav/GPS, HK audio, Keyless access/Pushbutton start. Not orderable: dark gray, galaxy blue, ice silver, lightning red, white. Orderable: WR Blue or black.
- STI Limited (model code FUU)
standard pkg ##23 is still fully available.
optional Pkg #24 Nav/GPS, Keyless access/Pushbutton start. Dark Gray, Galaxy Blue, White, are closed. WR Blue, Black, Ice Silver and Lightning Red are still orderable.


3/8/15 2015 Crosstrek Premium Special Editions arriving on lots.
Only 1000 will be made, all Sunrise Yellow, with black cloth, CVT transmission, pushbutton start, upgraded 7" audio system, black inner headlight surround, outside mirrors with integrated turn signals, power moonroof with sunshade, leather wrapped steering and shift handle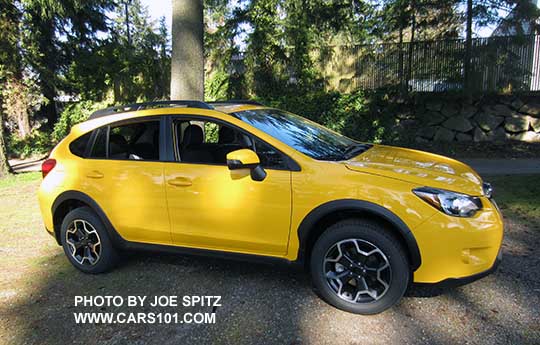 2015 Sunrise Yellow Crosstrek Premium Special Edition photo page.

3/6 advertising- 2014 Share the Love Event #7 donation totals announced 2/24/15
There were 5 charities for the 2014 Share The Love Event.
For each new Subaru purchased from 11/20/14 to 1/2/15 Subaru donated $250 to the buyer's choice from a group of 5 charities, 4 chosen by Subaru and 1 charity chosen by the individual local dealer.
The 4 charities selected by Subaru were ASPCA, Make-A-Wish Foundation, Meals On Wheels and the National Park Foundation. These groups were also in last year's Share the Love #6.
The total amount donated by Subaru for the 2014 Share the Love Event #7 is $15million, and the largest recipient were the dealer chosen charities as a group. Subaru didn't provide a list of the local charities selected by delaers or the amounts donated, but as a group, their total was $8,075,643.00. These were the ones selected and promoted by the individual dealers.
ASPCA $2,070182.70
Make-A-Wish $2,065,178.54
Meals on Wheels $1,471,883.16
National Park Foundation $1,317,112.64


3/4/15 February sales total 41,358 another record.
41,358 is the best February ever, and 39th consecutive month of increased sales compared to the same month the previous year.
Outback is the top seller for the month, despite ongoing inventory shortages. The Forester is right behind, and the updates expected on the 2016 Forester will help that model's sales. Crosstrek and Impreza both continue to do quite well, especially the Crosstrek. The 1000 Sunrise Yellow Crosstrek Premium Special Editions due soon will bring more attention to the model. WRX and STI would sell more if there was a 5door available. BRZ is the only model down for the month which isn't a surprise considering its a rear-wheel-drive car in an all-wheel-drive world, and its winter! The BRZ is a very pretty car (everyone looks good in it) but with only 334 sold in February and 330 in January, one wonders why Subaru doesn't either just give them all to Scion, or give it some more power (its lacking), or make it a real Subaru family member by ading all wheel drive, which is what it always should have been in the first place- a rear wheel drive Scion and all wheel drive Subaru..
And once again there were no Tribecas sold and none available.
February 2015 Total 41,358 cars,which is 6499 cars or 18% over February 2914
YTD 82,170 cars, which is 14,261 cars or 21% over 2014's YTD 67,909
February totals
Outback 11,632 cars, 2,665 cars or 30% over February 2014
Forester 11,459 cars, 686 cars or 6% over 2/2014
Crosstrek 6,406 cars, 917 cars or 17% over 5,489 2/2014
Impreza 4,826 cars, 267 cars or 6% over 4,559 2/2014
Legacy 4,342 cars, 2575 cars or 69% over 1,767 2/2014
WRX STI 2,359 cars, 558 or 31% over 1,801 2/2014
BRZ 334, down 283 cars or 46% from 617 2/15

2/2815 Consumer Reports annual April auto issue is now available
If you're looking for a car, whether new or used, and want only one simple, comprehensive guide, this is the one to have.
There are other good resources, but the CR April auto issue is known for covering most topics of concern to a car shopper or researcher.
There are multiple tests and scores, from Top Picks to Most Loved and Unloved Car, Most and Least Reliable, Best and Worst Emergency Handling, Most and Least Expensive to Own, Best and Worst Fuel Economy, Safest Cars, Best Tires etc etc.
Topics covered include safety technologies worth having, recalls, infotainment systems, what used cars to look for and what cars to avoid.
Consumer Reports is best know for its ratings tables and the April issue them all, from a written model description, to the Rating table and of course the all important Reliability table with the famous red (good) or black (not good) colored circles.
Subaru Outback, Forester, Crosstrek, Impreza, and Legacy do well in their respective categories though they're not always #1, and the BRZ and WRX STI don't do too well.
Best and Worst Car Brands are #1 Lexus, #2 Mazda, #3 Toyota, #4 Audi, #5 Subaru, #6 Porsche, #7 Buick, #8 Honda, #9 Kia, #10 BMW, ... to #28 Fiat
Top Pick models- Best Overall Tesla S, Green Car Toyota Prius, Small SUV Subaru Forester, Midsized SUV Toyota Highlander, Large Car Chevy Impala, Compact Car Subaru Impreza, Luxury Car Audi A6, Sport Sedan Buick Regal, Minivan Honda Odyssey.
CR does promote their own car buying service. Its one of a number of similar car buying services car dealers pay to participate in.
The magazine is available at bookstores and newstands and the paper issue is easy to carry with you. Its also online at ConsumerReports.org




2/26/15 Subaru comes in #20 on the new JD Power 2015 Vehicle Dependability Study of 2012 models released yesterday February 25th.
JD Powers is a company that specializes in surveys. For this 2015 study, within the past 12 months (ie done in calendar year 2014) they surveyed over 34,000 owners of 2012 models.
Subaru came in at #20 overall in this study, just under the industry average.
What JD Powers found was that technology (audio, bluetooth, navigation) systems were a source of owner frustration. This is really understandable. With technology changing so quickly, keeping all systems connected and working together is a major issue for everyone. For example, new 2014 phones/tablets with all new features that don't sync well with the older audio systems found in 2012 model cars.
And car companies are paying a lot of attention to 'infotainment' systems - infotainment is now the name for audio, bluetooth, navigation systems- because people use it constantly, every time they get in the car they use the radio, phone, or navigation and when it doesn't work people are frustrated, even when the problem is caused by a new device. The typical story is that some years ago, you could buy an optional iPod wired connection in a car. Then Apple brought out the new Nano model with a new plug design that didn't work with the iPod connector and people who had purchased the wired iPod connection were unhappy and called their car dealer.
With Subaru, new 2015 and 2016 models are now rolling out with considerably improved infotainment systems, and connectivity is significantly easier than it was. The 7" LCD screen infotainment used in some mid range and all higher end models is the best system Subaru has had in years. Hopefully Subaru will soon improve the more basic 6.2" system used lower or mid range models.
According to JD Power, here are the top models in this 2015 study. Again, the survey was done in 2014 on 2012 model cars and scored as PP100 - problems per 100 cars.
The study says that nearly 30% of the problems were related to automatic transmission hesitation and rough shifting, but doesn't measure the severity of the technology problems- whether the perceived problem was fixed by simply pairing or repairing a phone to a car's bluetooth for example.
Subaru ranks #20 with 157pp1100, or 1.57 problems per new car. The industry average was 147pp100.
#1 Lexus, with 89pp100 (89 problems per 100 cars)
#2 Buck with 110pp100
#3 Toyota 111pp100
#4 Cadillac 114pp100
#5 Honda 116pp100
#6 Porsche 116pp100, #7 Lincoln 118pp100, #8 Mercedes 119pp100, #9 Scion121pp100, #10 Chevy 123pp100, #11 GMC 123pp100, #12 Acura 124pp100, #13 Nissan 128pp100, #14 Ram truck 134pp100, #15 Audi 138pp100, #16 Mazda 140pp100, #17 Mitsubishi 140pp100, #18 Infinity 144pp100, #19 BMW 146pp100, #20 Subaru 157/pp100, #21 Kia 158pp100, #22 VW 165pp100, #23 Chrysler 173pp100, #24 Volvo 174pp100, #25 Ford 188pp100, #26 Hyundai 188pp100, #27 Dodge 192pp100, #28 Mini 193pp100, #29 Jeep 197pp100, #30 Land rover 258pp100, #31 Fiat 273pp100. Heres a link
JDPower.com


2/24/15 2015 Crosstrek Special Editions are scheduled for delivery starting mid March.

Only 1000 will be made, all are Sunrise Yellow with black cloth, CVT, with the upgraded 7" audio system, moonroof, body colored exterior mirrors with turn signals, keyless access with pushbutton start, black headlight inner surrounds, and leather wrapped steering wheel and shift knob.
MSRP is $26,140 including destination. Add for a normal variety of individual accessories such as the auto dimming rear view mirror, rubber floor mats, rear seatback protector, rear bumper cover, splash guards etc that could be on the cars.
Click for my 2015
Crosstrek webpage
and If interested in one in the Seattle area, please
contact me

2/19/15 2015 WRX and STI end of model year cutoff starts

This is the start of the end for the
2015 WRX and STIs
. Effective today Feb 19, with no advance warning, Subaru announced they are no longer accepting factory orders for the following WRX and STI models and colors. This is the start of the cut-offs
The discontinued models all have navigation, and it is hoped that the 2016 models will get the new upgraded 6.2" and 7" LCD audio 'infotainment' systems being rolled out on all the other Subarus as the new models are released.
Models not on this list can still be ordered at this time though that is subject to availability so if you want one, now is the time to order one. Details on the 16s are expected soon.
WRX Premium manual transmission, model code FUO with Option Package #12 navigation and H/k audio
WRX Limited manual transmission, model code FUQ, with Option Package #22 Navigation, GH/K audio, Keyless access, in colors Dark Gray, Black, or Ice Silver
WRX Limited CVT transmission, model code FUR, with Option Package #22 in color Galaxy Blue Pearl
STI Limited, model code FUU, with Option Package #24 Navigation, GH/K audio, Keyless access, in color WR Blue
As of Monday Feb 23, 4pm EST, orders will stop for
WRX Limited manual transmission, model code FUQ, with Option Package #22 Navigation, GH/K audio, Keyless access, in any color
WRX Limited CVT transmission, model code FUR, with Option Package #22 in any color
Other models will continue to be orderable but as supplies drop, the sold orders might not go through, the sold process won't complete and you'll know its too late.

2/13/15 Koenig Subaru/Chevrolet in Pt. Angeles, Wa. drops Chevy and will only carry Subarus.
Subaru, you've come a long way!
Its hard to imagine this happening even 5 years ago.
Subarus are very popular in the Pacific Northwest and starting January 30, 2015 Koenig has dropped new Chevys and will only carry new Subarus! That's a huge statement for a dealership to make, it speaks to the dealer's absolute confidence in the Subaru line that they will stop selling new Chevy cars and trucks- yes, they will continue to carry pre-owned Chevys.
Koeing, a local family owned dealership, has carried Chevys since 1975 and Subarus since 1979 in Pt. Angeles, Washington State, on the Olympic Peninsula around 80 miles from the Kingston-Edmonds Seattle ferry.
2/11/15 NW Flower and Garden Show, February 11-15, Seattle
Subaru sponsors the yearly NW Flower and Garden held at the downtown Seattle Convention Center. Its a major event, worth going to, always with beautiful showplace gardens, and many plants, gardening tools, supplies,and yard-art to buy. This year Subaru had a Forester and Outback on display.
This year they had Subaru/Love heart shaped keychains. February 11-15, 2015.
gardenshow.com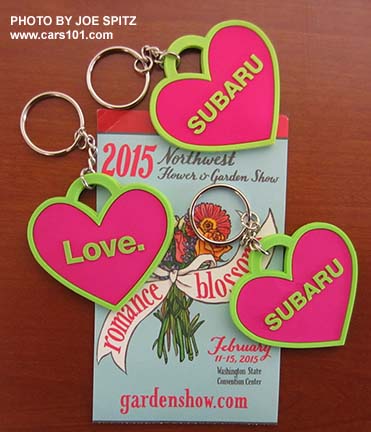 2/10/15 Surveys are very important to Subaru and thus to dealers.
A Southern California dealer was recently caught using bad customer email addresses so the buyer's survey went back to the dealer where employees filled it in, gave themselves top scores, and sent it on to Subaru as if the customer had done it.
Subaru, like many companies, places a lot of importance on surveys for marketing, research dealer processes control, and CSI scores. CSI is customer satisfaction index, and dealership sales and service individual personnel and overall departments need to have good survey scores to meet goals and receive certain benefits or bonuses.
Talking about surveys ... we are all totally over-surveyed these days.... online websites where you don't even have to buy anything to get a survey request, to big box hardware stores, department stores, grocery stores, the pet food store, cable companies ... every business wants you to fill in a survey. Just call a business on the phone and they want a survey afterwards. Visit a website and there's pop-up asking if you want to fill in a quick survey. Or the cashier circles a website URL on the receipt and mentions how important it is or that you get entered in a contest. And it is important to them- meeting goals and getting paid bonuses can be partly based on survey responses.
And after a major purchase there are companies whose only job is to contact you hoping to get get surveys.
But how reliable are surveys...
Satisfied buyers sometimes think "Oh, all is fine, I have nothing to say or add so won't take the 10-15 minutes to fill this in". But happy people are the very ones businesses hope will fill it in. There are even form letters that car shoppers use when looking for a deal- the letter promises a good happy survey in exchange for a low price.
Confession- I don't always do the survey when I buy something, on eBay or Amazon for example.
But people who are unhappy or want to make a statement about something will take advantage of a survey and send it in with low scores. But even average scores like a 3 on the 1-5 scale or a 7 or 8 on a 1-10 scale are considered bad and flagged by some companies. I know from recent experience that Comcast is 1-5 and Subaru's service department survey is on a 1-10 scale, with highest numbers the best and everyone's goal.
Sales people won't get paid bonuses if their overall scores fall below an 8 or 9 out of 10 at some dealerships, but are penalized if they outright ask for top scores. One might think an 8 on a 1-10 scale is a good score but its not, 8 is a fail.
This particular dealer's scores were apparently so low that they had employees at a another dealership they owned send in enough faked responses that Subaru actually caught them at it. Yikes! Car companies can penalize dealers who blatantly or openly even ask for top scores. But getting caught doing fake surveys? Yikes yikes yikes! That will create a lot more problems for the dealer, but at least we're all talking about surveys.
here's the full story, from
Automotive News
"Subaru of America filed a federal lawsuit against one of its California dealerships and its employees, accusing them of forging more than 200 customer satisfaction surveys to improve the dealership's reputation and avoid termination.
A September investigation of South Coast Subaru in Costa Mesa, Calif., showed that 224 dealership customer service evaluations from 2014 had been generated from an IP address at South Coast Acura, another dealership owned by South Coast, website Law360 reported Monday.
Managers instructed employees to fill out surveys, the suit contends. They were completed every few minutes throughout employees' lunch hours, according to court documents.
Subaru's suit, filed Friday in U.S. District Court in Santa Ana, Calif., accused the dealership, sales managers Tuan Pham and Gordon Min and 10 unidentified employees of breaching the dealer agreement contract.
The dealer agreement orders that dealership employees refrain from all conduct that could harm Subaru's product reputations or the marketing of Subaru's products. It mandates that dealerships do not engage in any unfair, deceptive, misleading, unethical, discriminatory, fraudulent, illegal or otherwise prohibited practice, court documents said.
The dealership is expected to collect valid email addresses from customers at the time a Subaru vehicle is purchased. Dealerships are then supposed to share customer email addresses with Subaru for additional customer surveys after a vehicle purchase and completions of vehicle service. Subaru also uses these email addresses to send service reminders and information about other service-related issues.
'Sham email' The investigation revealed that customer orders and deal jackets that matched with false surveys did not originally contain an email address for the buyer or contained an email address that was incorrect. South Coast reported sales of those vehicles with "sham email addresses," and the surveys were sent to email inboxes controlled by South Coast, Subaru accused in the complaint.
"Defendants prevented Subaru from discovering the actual customer satisfaction level of Subaru retail customers at South Coast Subaru by providing sham customer surveys to [Subaru]," the complaint said.
Subaru "did not, does not and will likely never know the actual customer satisfaction levels of Subaru retail customers at South Coast Subaru."
Subaru has suffered monetary damage and injury to its business, reputation and goodwill and will sustain loss of revenues and profits, court documents said.
Customer satisfaction In November 2012, South Coast Subaru had not met its contractual obligation to provide a high enough level of customer satisfaction for an extended period, and Subaru took action -- called a "notice of requirement to cure" -- that could have resulted in a termination of its agreement with the dealership.
During 2013, South Coast's customer satisfaction performance improved, and the dealership broke free from the cure program, according to court documents.
Because of the survey meddling, South Coast failed to advance the goals of customer satisfaction, update Subaru with customer complaints and resolve customer satisfaction issues, the documents said.
Subaru's attorneys and South Coast's staff have not returned phone calls or emails from Automotive News so far this week. Subaru declined to comment on the case.
Subaru has posted seven years of consecutive U.S. sales growth and significantly outpaced the market last year with record sales of 513,693 vehicles. Dealers were told at this year's National Automobile Dealers Association convention in San Francisco that 97 percent of Subaru's 617 U.S. dealers are profitable -- a record for the Japanese brand.


2/7/15
February 2015 Subaru True Love Event
with free round flashing True Love belt clip lights, at Subaru dealers while while supplies last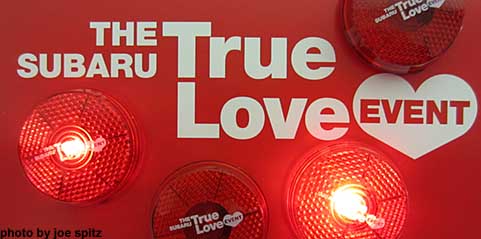 2/5/15 new package available on the 2015 Impreza Sport Premium with CVT
Package #16 includes Moonroof, Eyesight, and the 7" audio upgrade. MSRP $2295. Its worth it...

2/3/15 January 2015 sales 40,812 total, and so the sales boom continues into a whole new year..
Thats the biggest January Subaru has ever had, and puts the company on track for 600,000 + for the year if sales continue at this pace. Subaru's stated 2015 sales goal is a quite do-able 540,000.
Of note, this is the 11th month with 40,000 sales, and that kind of number seems to be the new norm.
January's 40,812 is 7812, or 24%, over last January, 2014...
The January 2015 sales leader is the Outback. It continues to bring many first time buyers to Subaru. The Forester needs the quieter ride, new features, and improved audio and back-up camera presumably coming soon on the 2016 models.
The Crosstrek is selling more month after month, and after only 3 model years has become Subaru's third largest seller. The updated 2015 Crosstrek is quieter riding, and has better audio/bluetooth/back-up camera features. The new Sunrise Yellow Special Edition due this spring already is generating interest, but there are only 1000 available. Crosstrek's future is bright. The Hybrid is struggling given the current low gas prices and Subaru is offering 0% financing (currently for 36 months).
Legacy sales are up a comfortable amount, and Subaru hopes to grow in the 4 door market, so expect low lease payment programs and low interest rates to help motivate sales.
WRX and STI consistently do well spring, summer and fall, with winter being the slow time. It might help of course, if they came with all-season instead of summer tires so buyers didn't have to immediately shell out for all-seasons just to safely drive it.
WRX and STI continues to do well. I frequently get requests for a 2014 5 door (long sold out), or when a new wagon will be available.
BRZ is struggling, but then winter isn't the time the rear wheel drive BRZ is expected to sell.
And January 2015 is the first month with 0, zero, none, not one single Tribeca being sold. 9 were delivered last month, December 2014. And that's it, thats the end, there were none in January 2015. A look at the online inventory shows none still listed for sale anyplace. So this is the end of the line for Subaru's first so-called 7 passenger which really should have been marketed as a 5 +2. There will be another coming along soon enough, but its won't be called a Tribeca.
January 2015 sales by model
Outback 11,351 Jan 15, is 3121 or 38% over 8230 Jan 2013
Forester 11,210 Jan 15,which is 439 or 4% over 10771 Jan 2013
Crosstrek 6,513 Jan 15, which is 1712 or 36% over 4801 Jan 2014
Impreza 5,096 Jan 15, which is 844 or 20% over Jan 14
Legacy 3,881, which is 1146 or 42% over 2735 Jan 14
WRX, STI 2,431 Jan 15, which is 898 or 59% over 1,533 Jan 14
BRZ 330, which is down 262 or 44% from Jan 14
Tribeca- blank, no sales for January 2015. They are now sold out...




1/22 2015 Crosstrek brochures now available
20 pages, full color

1/21 2014 Crosstrek Hybrid 0% interest rate extended to 72 months, oac.

With gas prices near $2.00 gallon, hybrid sales are slow

1/15 2015 WRX Sport Accessory Package code IZG currently not available on new orders.
It will be available again late March. The package, code IZG, includes STI brand black alloy wheels, short shifter, performance exhaust, and the leather/aluminum shift knob. MSRP is $3403.

1/9 Subaru plans to update their Starlink app in some coming 2016 models.
Details, including models, pricing, and specific functions, to be announced.
Current 2015 Outback, Legacy, Impreza and Crosstrek models - except 2015 Forester and BRZ, and hopefully they will get the upgrades soon - have updated audio/infotainment systems with generous 6.2" to 7" LCD screens, and already include Subaru's Starlink news, weather, and music Android and iPhone smartphone app.
Subaru has announced plans for an expansion of the Starlink app to include AT&T connectivity and "stolen vehicle recovery, automatic collision notification, remote vehicle services such as lock/unlock via a smartphone device and monthly vehicle health reports".
2015 Subarus (except most Foresters, BRZs) already include SiriusXM radio and other features such as weather, stock market, and sports reports and a gas station finder. Late in 2014, SiriusXM purchased Agero's connected vehicle services business which will now provide services for Subaru.
Here's the press release from 1/5 "Subaru of America, Inc. today announced agreements with Sirius XM Connected Vehicle Services Inc., a unit of Sirius XM, and AT&T to provide enhancements to its Subaru Starlink in-vehicle connectivity system. The enhancements will deliver improved personal safety and security services to vehicle occupants via 4G LTE wireless connectivity.
Starlink is the Subaru in-vehicle platform that provides hands-free connectivity, entertainment and safety services to vehicle occupants. Starlink, soon coming with built-in AT&T 4G LTE capability, will deliver features provided by Sirius XM Connected Vehicle Services including stolen vehicle recovery, automatic collision notification, remote vehicle services such as lock/unlock via a smartphone device and monthly vehicle health reports. STARLINK will be available in select 2016 model year Subaru vehicles starting later this year.
"Working with trusted, industry leaders such as Sirius XM and AT&T to enhance the Subaru STARLINK in-vehicle connectivity system is a natural fit for Subaru," said Alan Bethke, vice president of marketing, Subaru of America, Inc. "Sirius XM and AT&T will enable us to provide customers with additional peace of mind through new safety and security services, as well as enhanced connectivity."
1/7/15 Crosstrek Premium CVT Special Edition model, package #15, details announced.
Only 1000 will be made. Package #15 MSRP price $1995. All are Sunrise Yellow with black cloth. Available starting March 2015, orders probably starting February.
Includes keyless access/pushbutton start, moonroof, 7" LCD audio upgrade, leather steering wheel and shift handle, turn signal mirrors.
Premium CVT with Package #15 total MSRP $26,140 including destination
2015 Crosstrek webpage


1/6/15 January rates announced, Jan 6- Feb 2
2015 Legacy gets lower lease payments
2015 Impreza gets lower lease payments, especially sedans
2015 Crosstrek and Impreza get 1.49% x48, 190%x60-72 mos
2014 Hybrid gets 0%- with gas prices so low, the Hybrid needs help
1/5/15 December sales total 49,923
The Outback and Legacy continue to be in tight supply, especially Limited and Eyesight models.
The 2015 Crosstrek and Impreza are now arriving, and with their improved ride (finally), upgraded audio systems (finally), and standard rear view camera (and finally), sales should increase sharply over 2014 models.
Forester continues to be Subaru's top seller, and will (hopefully) benefit from an 2016 model later this winter/spring with an upgraded audio.
December 2014 sales by model
Outback 14,772, up 24% over 30172 12/13
Forester 15,163, up 15% over 13229 12/13
Legacy 5457, up 86% over 2939 12/13
Crosstrek 5482, down 1% from 5525 12/13
Impreza 5808, up 17% over 4949 12/13
WRX, STI 2816, up 68% over 1680 12/13
BRZ 416, down 41% from 705 12/13
Tribeca 9, down 94% from 143 12/14
2014 total sales 513,693 which is a new record, and up 21% over 424,683 2013 total.
Subaru's total U.S market is now 3.1%. It was 1.4% in 2008.
December 2014 was the 37th consecutive month of growth and the 2014 year was the 7th consecutive year of growth
Subarus goal for 2015 is a very conservative 540,000 cars.
Total 2014 US Subaru sales by model
Outback 138,790 in 2014, up 18% over 118,049 2013
Forester 159,953 in 2014, up 29% over 123,592 2013
Legacy 52,270 in 2014, up 24% over 42,291 2013
Crosstrek 70,956 in 2014, up 325 over 53,741 2013
Impreza 57, 996 in 2014, down 1% from 58,856 in 2013
WRX, STI 25,492 in 2014, up 42% over 17,969 2013
BRZ 7504 in 2014, down 13% from 8587 2013
Tribeca 732 in 2014, down 54% from 1,598 2013



1/2/15 last day for 2014's Share the Love
Buy a new Subaru today, its the last day to pick from 5 charities for Subaru to donate $250 to. From 11/20/14 to 1/2/15 Subaru will donate $250 for each car sold to the buyer's choice from a group of 5 charities, 4 chosen by Subaru and 1 charity chosen by the local dealer.
The 4 charities selected by Subaru are ASPCA, Make-A-Wish Foundation, Meals On Wheels and the National Park Foundation.
These groups were also in last year's Share the Love #6

12/29/14 2014 sales total is expected to pass 500,000 as people continue to discover that Subaru is a great car.
Its not an overnight success though, Subaru has been on this growth path for the past 7 years, but even before that Subaru was putting out quality all wheel drive cars. It was just mostly a NW, NE, and greater Rocky Mountain area semi-secret ignored in drier and warmer climates
from a press release
Subaru of America, Inc. has reached a significant milestone in its history, by retailing 500,000 vehicles in a single calendar year. The milestone caps a remarkable seven year growth period for the brand in the U.S. in which the company has grown from 187,699 vehicle sales in 2008 to what will total over 500,000 sales in 2014, once the sales year closes on January 2
The growth in Subaru sales can be attributed to a combination of improved vehicle offerings, targeted and award-winning marketing and an improved retailer body. The current generation of Subaru vehicles grew in size compared to the previous generation in order to better suit the needs of the American buyer while also delivering improved interiors, technology and safety features such as the award-wining Eyesight system. Furthermore, the company's retail outlets have embraced process and amenity improvements as sales volume increased, while the total number of outlets has remained steady.
All of the company's current models have contributed to its sales success; the current Impreza (four and five-door) is enjoying its best-ever generation and the Outback and the Forester mid-size CUV now retail 300,000 units per year, combined. The new small CUV entrant, XV Crosstrek, has also added over 60,000 sales to the year-total, while the all-new Legacy sedan is enjoying its best sales ever; more than doubling its year-over-year monthly sales since the launch of the 2015 model. On the performance side, sales of the company's sporty models, the WRX and STI, are at their highest levels ever following the debut of the all-new 2015 models.
Thomas J. Doll, president and chief operating officer, Subaru of America, Inc. said; "We are delighted to have reached this historic milestone and our results show we are delivering vehicles that people want to buy. That we have grown so steeply and also so steadily over the last seven years is a testament to our products and to the commitment of our retailers who have had to manage this increase in capacity. There is a positive air around our business and we have no plans to stop our growth; we expect 2015 to also be another record year for Subaru."
12/14/14 2015 Impreza brochures available. 20pgs...

The 15 Impreza gets some good upgrades, including a quieter ride and a standard rear view camera with a screen big enough to be functional on all models. Eyesight safety system is now available on Limited and Sport Limited. And prices are still reasonable.
Impreza specs and details
12/5/14 $90,000,000 lottery winner plans to buy a Subaru Forester!
Lisa and Everett Quam of Washington State won $90m in a Powerball lottery. This is the first ever Powerball winner in Wa
After taxes, they will collect $56.8m lump sum or take monthly payments.
Both are long time Boeing employees and will leave their jobs.
Lisa Quam has picked out a new car, a Subaru Forester!
from the
Seattle Times