5/18 This is a good time to get a new Outback. The current supply of Crosstreks is good but the other Impreza 5 doors can be harder to find. 2014 Foresters are selling as they arrive, especially with the recent great IIHS crash test results.
The 14 Outbacks are expected in July (late June?)
so its time for 13s to go- dealers currently have a good selection available (popular models always go first) and 0% financing
for 48 months, oac.
The supply of Impreza 5 doors is tight as the sales of the (Impreza) Crosstrek grow. For example, last month (April), 4692 Imprezas were purchased - that's all 4 and 5 door Impreza models including the Sport- versus 4433 Crosstreks. So Crosstreks are clearly gaining and thats where Subaru sees growth.
On the 2014 Imprezas due late summer, I would like to see roof rails added to the 2.0i Premium and Limited 5 door models, the Sport model dropped, and the Crosstrek acknowledged as an Impreza (which it is). This would simplify the currently confusing model line-up and increase the popularity of all the 5 doors.
The 2014 Foresters are currently in short supply. Subaru will be shipping more to dealers but they're selling quickly. The recent IIHS crash test results created a wave of interest from people new to the model.

5/17 2014 Legacy research page is up
5/15 safety- the 2014 Forester gets top crash test rating from the IIHS in all five tests- Front moderate overlap, Side, Rollover, Rear and the new Front small overlap.
The IIHS rates vehicles as Good, Acceptable, Marginal, and Poor.
Of the vehicles tested in all 5 crashes, Front moderate overlap, Side, Rollover, Rear and the new Front small overlap,
only the 2014 Subaru Forester was rated Good in all tests.
The 2nd best rated was the Mitsubishi Outlander with Good on all except the Front small overlap with a rating of Acceptable.
BMW X1, Honda CR-V, Mazda CX5, VW Tiguan, Buick Encore, Ford Escape, Hyundai Tucson, Jeep Patriot, Kia Sportage all were also rated Good on all except the Front small overlap but they all received a lower safety rating of Marginal. The Nissan Rogue received a good rating in 3 or 5 test, Acceptable in the rollover test, and Marginal in the Front small overlap test.
Be sure to check out the
IIHS press release with video of the crash test.
> The IIHS report, "The 2014 Subaru Forester is the first vehicle to ace every aspect of the challenging small overlap front crash test conducted by the Insurance Institute for Highway Safety (IIHS). The Forester, the only one of 13 small SUVs to earn an overall rating of good in the test, and the 2013 Mitsubishi Outlander Sport, which earns acceptable, are the latest vehicles to qualify for the Institute's recently inaugurated top honor, Top Safety Pick+. Each of the other 11 SUVs earns either a poor or marginal rating.
"With the redesigned Forester, Subaru's engineers set out to do well in our new test, and they succeeded," says Joe Nolan, the Institute's vice president for vehicle research. "This is exactly how we hoped manufacturers would respond to improve protection for people in these kinds of serious frontal crashes."
This is not the first time that the Forester has stood out in a new IIHS crash test. When the Institute first rated small SUVs for side protection in 2003, the Subaru model performed the best and was one of only two to earn good ratings.
IIHS added the small overlap test to its lineup of vehicle safety evaluations last year. It replicates what happens when the front corner of a vehicle strikes another vehicle or an object like a tree or a utility pole. In the test, 25 percent of a vehicle's front end on the driver side strikes a 5-foot-tall rigid barrier at 40 mph. A 50th percentile male Hybrid III dummy is belted in the driver seat.
Most vehicles today are designed to do well in the government's full-width front crash test and in the Institute's moderate overlap front test, but that is no guarantee of good performance in a small overlap crash. In a 2009 IIHS study of vehicles with good ratings for frontal crash protection, small overlap crashes accounted for nearly a quarter of the frontal crashes involving serious or fatal injury to front seat occupants. In many vehicles the impact at a 25 percent overlap misses the primary structures designed to manage crash energy. That increases the risk of severe damage to or collapse of the occupant compartment structure. Also, vehicles tend to rotate and slide sideways during this type of collision, and that can move the driver's head outboard, away from the protection of the frontal airbag.
Those difficulties were apparent in the small SUV group. Two-thirds of the vehicles had poor ratings for structure, and about half of them were poor or marginal for restraints and kinematics, meaning the dummy's movements weren't well-controlled to prevent contact with hard surfaces.
In one example of poor structure, the front pillar of the Nissan Rogue's door frame was pushed far inside the occupant compartment and after the crash was almost touching the driver seat. The Jeep Patriot was among the worst for restraints and kinematics. The dummy's head slid off the frontal airbag as the steering wheel moved 8 inches up and nearly 6 inches to the right. The side curtain airbag didn't deploy, and the safety belt allowed the dummy's head and torso to move too far forward.
In contrast, the Forester had good ratings for structure, restraints and kinematics, and all four injury measures on the dummy. The airbags worked as intended, and the space around the dummy was well-maintained. The Outlander Sport was acceptable for structure and restraints and kinematics and also had good injury measures."
the IIHS press release with video, the list of small SUV safety ratings. The IIHS rating page for the 2014 Forester
> The 2013 Outback was rated Good in the Front moderate overlap, Side, Rollover, Rear, and Acceptable in the Front small overlap test. the
2013 Outback test page

5/14 recall- 5,379 2013 Outbacks and Legacys might have a steering column shaft that was not correctly assembled that could possibly lead to a steering failure.
Not all vehicles in the VIN range will be affected. The VIN range for Legacy is D*002001-003605, the the Outback is D*200001-204233.
Owners will be notified 5/14/13 by mail and email which is why its important to make sure Subaru always has your current contact information. This is steering column recall #WQI-45
5/13 advertising oops - Subaru Canada ran an ad that was supposed to be humorous but missed the mark
"Think transit commuters are unwashed, uncouth bums? Subaru does. And the carmaker doesn't mind telling them so.
In recent Canadian editions of Metro — the free daily distributed at transit stops — Subaru ran a two-page spread spouting just about every negative transit, and transit rider, stereotype you can think of. The ad was brought to our attention by Sabrina Lau Texier, a transportation planner in Vancouver.
"While you're sitting on public transit, just imagine your commute in a new Subaru Impreza," the copy reads. "No weird smells, no overhearing awful music, and nobody asking you for spare change." Classy.
On the first page are "coupons" for an "odour free ride to work" (nothing but that carcinogenic new car smell), "less chance of being asked for money" (except by Subaru and Exxon), savings on "obligatory transit conversations with coworkers" (down with human interaction!), "free confidence" (for $19,995), and our favorite: "half off arbitrary and inexplicable transit delays." As opposed to the gridlock-free ride we can expect if we all ditch transit to drive a Subaru to the office — alone, of course, to avoid those unpleasant conversations with co-workers.
The ad implies that the Impreza has a better safety rating than transit. Canada had 6.5 traffic fatalities and 500 injuries per 100,000 people in 2010, according to the latest available figures. Think the folks at Subaru don't know transit ridership is booming, and not because commuters just need to be sold on "symmetrical full-time All-Wheel Drive"? Ads like this one, as Lau Texier puts it, are "a desperate attempt to stay relevant for an industry with declining sales." Maybe a campaign based on the premise that your target audience is a bunch of losers is not the most winning strategy."
the article with a copy of the advertisement
5/12 Subaru buyers stick with Subaru according to KBB.com.
As Subaru sales soar year after year and is thought of as the current "It" brand, a lot of buyers are new to the company. They come to Subaru for a number of reasons, but ultimately they weren't loyal to their previous car's brand and Subaru's job will be to keep them coming back even if their tendency is to consider
The KBB.com article on owner/shopper loyalty. "As current Subaru owners prepare to off-load their current vehicle, it is easy to reconsider the brand as it offers a diverse lineup, including models that not only appeal to the everyday shopper like the all-new 2014 Forester, but also a sportier option like the BRZ," said Akshay Anand , Kelley Blue Book Insights analyst. "With Subaru's first-ever hybrid vehicle arriving at dealerships in Q4 2013, the 2014 XV Crosstrek Hybrid is expected to help the brand retain even more shoppers as its portfolio expands into hybrid technology."
Holding its ground as the No. 1 brand in terms of shopper loyalty for six consecutive quarters, Toyota held 53.6 percent its owners' interest in Q1 2013.
T
oyota 53.6%, Honda 50.8%, Subaru 49.9%, Ford 49.3%, Lexus 46.3%, Hyundai 46.3%, Kia 43.4%, Chevy 42.9%, Audi 41.6%, Porsche 40.2%
"Toyota's esteemed stance as the leading automaker in KBB.com shopper loyalty continues into Q1 2013 with help from the recently redesigned 2013 RAV4," said Anand. "For those shoppers interested in a full-size sedan, Toyota also saw a surge of shopper interest to its redesigned 2013 Avalon, showcasing the brand's positive response from consumers with its updated styling and features."
While Hyundai and Kia garnered tremendous success during the past few years, these brands dropped in shopper loyalty among KBB.com's new-car audience, which can be attributed to the lack of redesigns or refreshes in the last year from both Korean companies from key models. Hyundai continued its slow fall from No. 4 in Q4 2012 to No. 6 in Q1 2013, while Kia dropped from the No. 4 spot between Q4 2011 and Q2 2012 to the No. 7 position in Q1 2013.
"Hyundai is expected to regain shopper loyalty when the brand's best-selling Sonata is updated for 2014," said Anand. "Not only will the redesigned Sonata help it compete better with its rivals, but it also will catch the eye of new-car shoppers with its fuel economy and affordability."
Kelley Blue Book Market Intelligence examines shopper loyalty while consumers are still in the shopping phase. For this analysis, shopper loyalty is defined as owners of the brand who are currently shopping the same brand for their next new vehicle. This includes data from consumers who view a trade-in page or private party page, in addition to a new-car page on Kelley Blue Book 's KBB.com. " see
the original article


5/11 SIA expansion plans announced - build Imprezas in Lafayette in 2016
. Which leaves open the question of the slow selling Tribeca, what will replace it, and will it also be built at SIA along side the Outback, Legacy, and the Camry which is currently built under contract.
Fuji Heavy Industries announced Wednesday May 8th it is expanding its Lafayette Subaru factory by adding 900 workers and investing $400 million in the plant.
Starting in 2016, Subaru of Indiana Automotive will build the Impreza.
The Subaru Legacy, Outback and Tribeca SUV are all made at the Lafayette plant – as well as the Toyota Camry under a contract with the Toyota Motor Corp.
The 900 new jobs will add to the current tally of about 3,600 employees. More than 600 workers were added in the past four years.
Subaru spokesman Yoshiaki Tabei said the target date for starting production of the Impreza is the end of 2016. The company plans to expand the plant's production capacity by approximately 100,000 vehicles annually. The company will grow its campus by more than 500,000 square feet. The campus sits on 832 acres. New paint and body assembly equipment will be installed. Construction will begin in the fall and should be completed by 2016.


5/10 Forester carpeted floor mats have been recalled.
Subaru is looking for a new supplier and the 2014 Forester replacement carpeted floor mats should be available in June. In the meantime, rubber floor mats are now available.



5/9 Small crossover sales chart for April 2013
.
Only Subaru has two cars on the list. The CRV is #1, the Forester is #6 with 9366 for month and the Crosstrek is already #11 after only 9 months.
Small crossover sales, through April 2013

model

April 2013

April 2012

YTD April 13

Honda CR-V
26,519
23,627
91,893
Ford Escape
25,826
16,986
98,809
Chevrolet Equinox
20,965
18,282
79,834
Toyota RAV4
18,541
15,196
59,954
Nissan Rogue
11,904
8563
46,200
Subaru Forester
9366
5666
22,540
GMC Terrain
7964
7839
34,770
Mazda CX-5
6262
3521
24,073
Jeep Patriot
5792
5261
24,789
Jeep Compass
4465
3616
16,468
Subaru XV Crosstrek
4433
N/A
15,143
Hyundai Tucson
3733
3909
14,743
Kia Sportage
2845
3277
10,281
Volkswagen Tiguan
2488
2333
10,439
Nissan Juke
2445
2887
11,551
Mini Countryman/Paceman
1959
1533
6,967
from automobilemag.com


5/7 Do new cars, burn oil, do new Subarus burn oil
...
from thetruthaboutcars.com "Jim writes: Dear Sajeev: I hope you are well. I have a 2011 Subaru Forester (silver/5 speed) which has been great since purchase. I have travelled 19K to date and change oil every 6 months or 7,500 miles. I have one somewhat troubling matter, however: I've added a quart of synthetic oil prior to each 6 month/7,500 mile oil change.
Is this to be expected? My friendly local Subaru dealer says that "all cars" will use oil over a 6 month period. I've stopped in every 1200 miles the past 6 months and verified that it is using some oil. However, my silver 1990 535i 5 speed with 250K did not use any oil when I drove it daily for many years. It is now in retirement. The local bmw guys tell me that the m30 engine was the best ever built by the Munich folks. I keep my cars for a long time and would prefer to address this now, prior to the warranty expiration date.
Thanks and best wishes,
Sajeev answers: Supposedly many (all?) late model vehicles come with a caveat about oil consumption in their owner's manuals. Just for fun, I looked at my only late model vehicle's owner's manual and the 2011 Ford Ranger (modern Duratec or ancient Cologne V6) doesn't have a penchant for oil consumption. So anyway… We've discussed Subaru's oil concerns several times before in this series, but I doubt they have relevance here. So I'm not surprised to read your problem. Do I know any details off hand? Nope. Luckily, we have Google searches and the NASIOC. Do more searches there and you'll see my point.
Odds are your dealer isn't lying: the Subaru Boxer engine (especially the turbocharged ones) can burn oil, so be okay with it. Kinda like Mazda RX-8 owners! Ditto the V-10 powered BMW M5 and M6. These whips prove that certain engines are designed for performance, consequences be damned.
Unhappy with my answer? Sell the Subie and buy a normal car with owners that'd call for blood if their machines started sucking down oil…and they'd get that blood, too. To wit, a quote from an interesting article I Googled:
"Do cars today consume more oil than in the past? Not according to John Ryder, a master automotive technician and Philadelphia-area manager for AAA Mid-Atlantic's Approved Auto Repair Network. Ryder agrees that manufacturers now commonly insist it's normal for a vehicle to use up to a quart of oil per 1,000 miles. But in real-world experience, he says, such consumption is rare. "You see it in a super small percentage of cars," Ryder says."
Read the original article


5/6 A busy Costco tends to bring out the aggression in shoppers, food samplers, and drivers looking for a parking spot
... here a normally calm Subaru driver writes about obtuse drivers clogging a lane waiting for a parking spot
"Driving a 1998 Subaru wagon with 205 thousand miles on it doesn't put me in a hurry to get anywhere. I find keeping a lackadaisical throttle foot to be an effective survival technique designed to milk every remaining mile out my noble Japanese steed. It's also indicative of my thrift-artist financial situation, which as it stands requires I shop religiously at Costco as if it were a giant welfare box store.
If I need groceries, I go to Costco. If I need a shirt, I go to Costco. If I need tires, I go to Discount Tire; Costco's nitrogen-filled tires scare me. But that doesn't affect my general complacency when tooling around a Costco parking lot to find a vacant space, nor does it negate my outrage at the affront to my dignity that took place there recently.
As I've established, Costco is a pillar of my life. You know the Kirkland Signature brand of everything Costco sells? That's a product of my hometown - Kirkland, Washington; I practically invented that crap myself.
Still, I don't roll into a Costco parking lot expecting to be treated as royalty, much less find a parking space anywhere near the front entrance....
But I'm used to these lost souls stopping their cars directly in the flow of traffic, sometimes with their blinkers on, waiting patiently for another shopper to unload two months' worth of groceries into their vehicle. It doesn't bother me at all – I just drive around.
And then one day it happened. Never, ever in my tenure as a Costco Gold Star member have I seen the parking space sloppy-seconds maneuver performed in tandem by a duo of able-bodied shoppers. But there it was, splayed out before my front bumper: Two cars, facing the same direction, each waiting for a parking spot on opposite sides of the aisle.
They were completely blocking the lot's entryway traffic in both directions. The calm inside me began to bend, rapidly losing its elasticity. I couldn't back up to avoid the obstruction. A line of cars had formed behind me. A minute passed… a minute and a half. It was already too much. What in the hell were the rest of us supposed to do? We were being held hostage by these louts!
I tooted my horn just long enough to emphasize a moderate degree of frustration. The lady holding up the left of the blockade turned on her blinker and pointed out her window to identify the spot she was waiting for, as if all of us had mistakenly assumed she was stopping up rush-hour traffic back to the Costco gas station for no good reason.
I don't do road rage. What happened next was going to be a vigilante display of social justice that couldn't be stopped or reasoned with. Any man worth his Costco card knows the corners of his car like a cat knows its whiskers extend to the width of its body. By the looks of the terrible scene, there would be just enough room to squeeze my Subaru between the vulture lady's car on the right and the rear bumper of the vehicle being loaded with a Kirkland Signature bounty on the left. Whether my roof-rack would clear the underside of the open hatch was up for grabs. Cats don't have whiskers on top of their heads.
I inched through the opening, making sure to alleviate the uncomfortable tension of the pass by pointing through my windshield, clearly identifying where I intended to go. And it was done. Someone with a car that could easily be totaled from a minor fender bender had taken a stand against a bully, one who thought putting every Costco shopper in the greater downtown Seattle area behind her own convenience was her right for paying a $55 membership fee.
She might not have learned a lesson from my livid close quarters roll-by, but at the very least her arrogance was challenged by that of another. If she didn't appreciate the gesture I hope she stopped to wonder why."
the entire article

5/5 2014 Outback specs, options page

5/3 2014 Outback and Legacy are now available to order
Model updates/changes and prices have not been announced yet. It appears the list of options is very similar to what was available on the 2013 models.


5/2 April sales total 32,943.

The Forester outsells the Outback, and Crosstrek outsells the Impreza which is down 30.9%. If Subaru can get cars, they will be sold.
April sales were 25% over April 2012 26310.
Total YTD sales 125,470 which is 17% over 2012
Outback 8730, up 2.1% over 8548 in 2012
Legacy 3286, down 13.5% from 3799 in 2012
Forester 9366, up 65.3% over 5666 in April 2012
Crosstrek 4433
WRX STI 1508, up 11.5% over 1352 April 2012
Impreza 4692, down 30.9% from 6791 April 2012
BRZ 812
Tribeca 116, down 24.7% from 154 in April 2012
Canada sales totals: 3,562 units sold, 29.4% over April 2012. Forester sold 1,194 67.5% over April 2012


5/2 WRX Special Edition photo page
check out the 2013 tangerine orange WRX Special Edition. There are only 200of them, and 10 STIs
5/2 2014 Outback and Legacy will be available for ordering 1st week of May.
2014 Legacy
Changes: New alloy wheel/fog light package available on 2.5i CVT, All Weather Pkg now standard on Premium. Eyesight now available on Premium. Navigation now available on Sport.
Gone 3.6R base model.
Models:
2.5i 6 speed manual. Optional packages: none
2.5i CVT. Optional package includes new 17" alloy wheel/fog light pkg
2.5i Premium CVT, includes all weather pkg. Optional packages include moonroof pkg, moonroof with navigation/aha, moonroof with Eyesight
2.5i Sport CVT. Optional package: navigation/aha pkg
2.5i Limited CVT. Optional packages include moonroof pkg, moonroof with navigation/aha pkg, eyesight pkg
3.6R Limited, 5 speed automation. Optional packages include moonroof pkg, moonroof with navigation/aha pkg, Eyesight pkg
Legacy colors changes: new Tungsten Metallic. Carbide gray metallic replaces Graphite Gray. Gone: Caramel Bronze,
2014 Outback
Changes: New alloy wheel/fog light package now available on 2.5i CVT, Eyesight now available on Premium. Eyesight now available on Limited Special Appearance Package.
Gone 3.6R base model.
Models:
2.5i 6 speed manual. Optional packages: none
optional CVT, Optional package includes new 17" alloy wheel/fog light pkg
2.5i Premium 6 speed manual. New for 2014: now includes the All Weather Package. Option packages: none
2.5i Premium CVT. New for 2014: now includes the All Weather Package Optional packages include moonroof pkg, moonroof with navigation/aha, moonroof with Eyesight
2.5i Limited CVT. Optional packages include moonroof pkg, moonroof with navigation/aha pkg, eyesight pkg
2.5i Limited CVT Special Appearance Package New for 2014 now includes Eyesight, plus Keyless access/start, Saddle brown leather, memory seat, moonroof, navigation/aha
3.6R Limited, 5 speed automation. Optional packages include moonroof pkg, moonroof with navigation/aha pkg, Eyesight pkg
3.6R Limited 5 speed automatic Special Appearance Package New for 2014 now includes Eyesight, plus Keyless access/start, Saddle brown leather, memory seat, moonroof, navigation/aha
New for 2014 Outback color changes: new Tungsten Metallic. Carbide gray metallic replaces Graphite Gray.
Special Appearance package available in Deep Indigo, Carbide gray, Satin white, Gone: Caramel Bronze.

5/1 New finance rates announced for May, Seattle area-
2013 Outback 0% x48 months, 0.90%x60/63 and 1.90% x 72 months.
2013 Legacy, 0.90% x60/63 month. Rates on approval of credit
Take advantage of the low rates and great prices while there's still a selection of 2013s.
All finance rates


4/30
2013 STI photo page
WRX photo page
added 5/2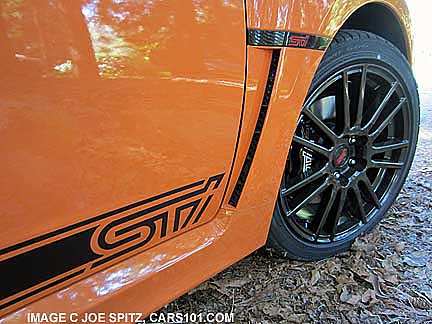 4/29 orders close early on Wednesday 5/1 for all 2013 BRZ, Impreza, Crosstrek and Tribeca
If there's something specific you want, these are the final days to special order it.
4/28 interview with SoA chief Tom Doll by Joe Cooney, Courier Post

Thomas J. Doll joined Subaru of America in 1982, four years before the carmaker would set up its national headquarters on Route 70 in Cherry Hill, site of the former Latin Casino.
Over the years, Doll has held the positions of director of treasury operations, director of accounting and vice president of business and strategic planning. Earlier this month, Doll was named president of SOA; he also serves as the company's COO and CFO.
Subaru of America was incorporated in Philadelphia in 1968 by Harvey Lamm and Malcolm Bricklin, two entrepreneurs with no auto experience. The first car they introduced to the U.S. market was the Subaru 360 Mini, which was powered by a two-stroke engine, got 66 miles to the gallon, and cost $1,297.
In 2012, nearly 270,000 people bought a Subaru, accounting for nearly $4 billion in sales. Doll is a graduate of Villanova and received his master's degree from Drexel University. He lives in Bucks County, Pa.
Question: What has been the key to Subaru's success of late?
Answer: We have set record sales for the last four years, and we are the only maker to have such a strong record. It's really a lot of things rather than one big thing. We repriced and resized our vehicles from 2008, meaning we made our prices smaller and our cars bigger. We also improved our dealer network and got a better read on our customers through our "Love" campaign. We realized that while we had a relatively small owner base, they were strongly passionate about their Subaru, so we used that passion to draw other buyers to the brand.
Q: What is Subaru doing to create more energy-efficient, environment-friendly vehicles?
A: We have just launched the XV Crosstrek Hybrid, the most fuel-efficient crossover in the country. We've also improved our MPG figures and we now sell the most fuel-efficient (all-wheel drive) sedan and crossover in the United States. Our products get very good reviews from car and consumer magazines, which also helps people to decide to come to us.
In 2009, we created an employee community garden on our headquarters land to support environmental issues and the community. Nearly 3,200 pounds of the food and crops we've harvested have gone to the Food Bank of South Jersey.
Q: Why did Subaru choose South Jersey as its headquarters?
A: It was because one of our two founders, Harvey Lamm, was based in Philadelphia. South Jersey is a great place to work, although it means we do have some time difference to our Japanese headquarters. Most Asian carmakers are based on the West Coast.
Q: What's the status of the training/distribution center being built in Florence?
A: It is coming along quite nicely. We have the structure in place and hope to be open in 2014. It's going to be a state-of-the-art, 526,000-square-foot distribution facility and will use solar energy. We've partnered with NFI Industries (an industrial development and transportation company with offices in Cherry Hill and Vineland) to set up the site. NFI will transport our vehicle parts. It's the largest built-to-suit industrial development site underway right now in New Jersey.
Q: Has there been a decision made about moving out of Cherry Hill? There have been a lot of rumors floating around that you're looking to move to Camden? Any truth to that?
A: No decision yet on where our expansion will take us. We have really outgrown our current buildings and we would like to be on one campus rather than split, as we are now along Cooper River. (Subaru's operations center is in an office building on Park Boulevard just south of the Route 70 headquarters.) We expect the new offices not to be more than a 30-minute radius of where we are now."
read the original article
4/25- the Forester floor mats are now an official recall.
Due to improper material used in the backing on the carpeted floor mats included with all models, the mats can curl when exposed to heat, possibly interfering with the gas, brake or clutch pedals. This affects all 2014 Foresters sold before 4/22/13. Owners will be notified. Replacement mats will be provided when available starting May 2013. Recall #WQH-44.
Rubber mats are now available for purchase from Subaru dealers.


4/23 Forester replacement carpeted floor mats expected in early May
.

4/22 the 200 WRX and 100 STI sedans are starting to arrive. All are tangerine orange.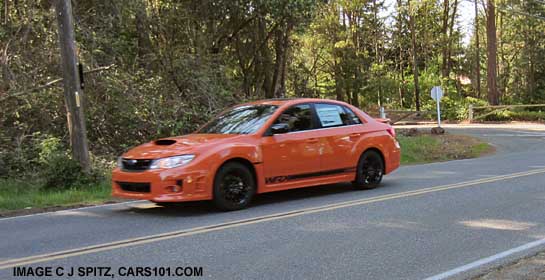 4/22 on the nature of CVTs from the Chicago Tribune
"Q: We have a 2013 Subaru Outback with an automatic CVT transmission. At about 3,500 miles, the transmission began lurching or hunting, as the dealer called it, particularly at speeds under 25-30 MPH. When you step on the gas, as when getting on an expressway or turning into traffic, the car seems to lose power and does not accelerate like it should. The dealer said Subaru is aware of the problem, and the fix is to have the transmission re-flashed. We had this done, but the problem remains. S.D., St. John, Ind.
A: We have not seen any pattern failures from our research although we have seen other people complain that the CVT (continuously variable transmission) seems to lurch, particularly when cold. For the most part, the complaints come from first time CVT owners who are unaccustomed to the transmission's behavior. It is weird since engine speed and transmission speed don't always seem to be in harmony, but that is the nature of the beast." the original article
4/22 ongoing expectations of Lafayette's expansion
"Fuji Heavy Industries Ltd., the Japanese maker of Subaru cars, intends to end a shortage of its vehicles at U.S. dealerships soon by expanding capacity in the country, its largest market. The carmaker produces Outback wagons, Legacy sedans and Tribeca sport-utility vehicles in Indiana at its plant in Lafayette, where it also makes Camry sedans for Toyota Motor Corp. under contract.
"We are finalizing plans to strengthen U.S. production," CEO Yasuyuki Yoshinaga told reporters in Tokyo on Wednesday. He said the Tokyo-based carmaker will probably announce the plan next month when it reports annual earnings. The statement confirmed previous reports about Subaru expanding output.
Fuji Heavy, which boosted U.S. sales 20% to a record last year, plans to increase annual global deliveries to 850,000 by March 2016, based on plans to increase capacity in the United States. The Lafayette plant opened in 1989, initially as a joint venture with truckmaker Isuzu Motors Ltd. The factory can produce a maximum of 310,000 vehicles annually, based on state air-pollution limits, according to the carmaker. About 3,600 people work at the plant.
"Our dealers in the U.S. are waiting for an answer on when this situation of not having enough cars will be solved, so we hope to provide an answer soon," Yoshinaga said. Fuji Heavy shares have gained 62 percent this year, compared with a 27-percent advance for the benchmark Nikkei 225 Stock Average."
the original article
4/21 advertising- the "Backseat" ad now playing on TV. Love has a motor and it's a beating heart and Subaru is pressing on the gas pedal of love.
Oh, its good. And no one else does an ad on the lowly backseat. Backseats aren't glamorous or sexy or particularly important other than people have to fit in them. Most buyers only sit in them when they're thinking of buying a car, and then mostly see how the 12year old fits or if the child seat goes in easily. But oh the backseat is now a symbol of Subaru's attention to what gets our attention. Subaru doesn't talk much about its engines and features in their ads, there's not a lot of hard news in their ads because Love has a motor and it's a beating heart, and Subaru is racing.
"The backseat. Where most of us sat for the first time. Cut to grandma and have the audience's minds fill in "and for the last time". The place we carry our most precious cargo. Our best friends. And so on. Oh dear, it's a manifesto of sorts, but for back seats.
That said, it looks like a really good back seat.
SPOT: Subaru "The Backseat Anthem" AGENCY: Carmichael Lynch, Chief Creative Officer: Dave Damman, Exec Creative Director: Randy Hughes, Writer: Sheldon Clay
Art Director: Jeff Terwilliger"
watch the video
4/20 WRX chief designer talks about the WRX concept
'Subaru's design chief Osamu Namba takes a tour of the recently unveiled WRX Concept and explains its styling. Seeing a truly fresh design these days in the automotive industry is pretty much a rare case but Subaru has managed to pull it off with the WRX Concept which hopefully won't lose a lot of its looks once the production version arrives.
The company's design boss explains the styling of the vehicle which keeps the WRX design features but in a more attractive package. The muscular look of the car is provided by the flared wheel arches, a large hood scoop, side outlet vents, a quad exhaust setup and 20-inch BBS forged wheels. Carbon fiber was used for making the roof, while the back shows a trunk lid with a built-in spoiler.'
the article and video
4/19 Subaru expands in Indiana with a new parts warehouse
"Prologis, the leading global owner, operator and developer of industrial real estate, today announced it has signed a new build-to-suit agreement with Subaru of America (SOA) for a 715,000 square foot distribution center.
The new facility, which will support SOA's sales growth, will be located in the Northwest Indianapolis submarket at Prologis Park Lebanon, proximate to major freeways and the Indianapolis International Airport. The state-of-the-art, cross-dock facility will be utilized as a regional parts distribution center.
"We are pleased to support the ongoing success of Subaru," said Jim McGill, senior vice president, Prologis. "The record low supply of large industrial facilities continues to drive build-to-suit solutions in many markets around the country, including Indianapolis. With occupancies rising for the past two years, Indianapolis remains a compelling regional market."
Gary Palanjian, vice president of parts and service for SOA, said: "Subaru has been setting sales records for the past five years and we are structuring our operations to reflect that. This new facility allows us to better serve our retailers as well as support our growing operations at our manufacturing plant in Lafayette, Ind."
the original article
4/18 advertising, and the new Cut The Cord TV ad
with Dad saying goodbye to his young girl going to school, then driving his gray Subaru Legacy alongside the school bus.
"How Subaru Fell in Love and Never Looked Back. The automaker rides the relentless optimism of its Carmichael Lynch ads to record sales By Tim Nudd
Idea: Subaru owners knew it almost before the company did. It was always about love. "If you ask a Subaru owner what they think of their car, more times than not they'll tell you they love it," said Alan Bethke, director of marketing communications for Subaru of America. "It was always in front of us, but never utilized in the marketing." That changed five years ago, when Carmichael Lynch launched work with that simple theme: "Love." In the years since, the ads have told poignant stories across the four thematic pillars—longevity, safety, versatility and adventure—that resonate with the target, defined as doers deeply engaged with life, others and the world. The automaker is particularly adept at father-daughter tales—like "Baby Driver," the Emmy-nominated spot from 2010, and now "Cut the Cord," about a girl's first day of school. The results are impressive. The Japanese company has doubled U.S. sales in five years, and in March had its best U.S. sales month ever. "It's a testament to the great work happening all around the company," said Subaru spokesman Michael McHale, "but notably, I think, in marketing."
Copywriting: The writers try to find slice-of-life stories that humanize what those four themes mean to everyday people. Often, the ads are about life stages—in "Cut the Cord," a dad puts his daughter on the school bus for the first time, then drives alongside it to make sure she's OK. "That's a trying moment for anyone," said Carmichael executive creative director Randy Hughes. "He buys the safest car money can buy. And then he has to put his daughter in someone else's hands." The dialogue is minimal—small talk, mostly improvised. (Having the scripts be loose allows more truthful moments to emerge, the agency believes.) "I'm overprotective. That's why I got a Subaru," the dad says in a voiceover. "Love. It's what makes a Subaru, a Subaru." The word "Love" appears—the letters stable at first, then cartwheeling joyfully around. It's followed by the Subaru logo and global brand statement, developed in Japan: "Confidence in motion."
Filming/art direction: Vince Squibb shot the spot in a day in Long Beach, Calif. He had a meticulous eye for detail, particularly with costuming. "Wardrobing that little girl and playing up her classic look—she has a timeless quality about her that's pretty charming—that was a really good move," said Hughes. The whole campaign has a brightness and warmth, rooted in realism. "These stories make you feel good in some way," said Hughes. "Sometimes they make you want to cry, but in a good way."
Talent: The girl has a remarkable presence. "She was so measured. It was amazing," said Hughes. "We're saying, 'Just look a little scared,' and she had a way of doing it that was very natural. We didn't get 100 takes like this one. The little crinkle of her face was just right, and a shock wave goes through the set, and you know you got it." The dad exudes pain and love. "He's a professional," said Hughes. "He's got a suit on, he's got a nice Legacy, he's going to work. But this is an important moment, and he goes with it. And your heart goes out to him as he reacts to her."
Sound: The song is "Keep Me in Mind," by Tashaki Miyaki. The lyrics fit perfectly, if obliquely. ("I want to be the one that's on your mind/I want to be the one that's by your side.") "We look for tonality that is part of the emotion we're trying to bring forward," Hughes said, "and then lyrics that help the story get a little bit richer."
Media: National broadcast and cable, spot TV buys in key markets, and online"
read the article, watch the video
4/17 on the current 2.5L WRXs and STIs
.
They're great muscle cars, both the more affordable WRXs and higher performance STIs. It took multiple versions starting in 2002 with the 2.0L, through the 2008 redesign get it right in 2010.
They're well proven, dependable, and work well as daily drivers if you like to drive a car that's fast and sounds like it, sticks tightly to the road like glue and rides like it, and has bulging fenders that are as subtle as Hulk's gamma radiated muscles. As a matter of fact, the only thing missing from the 2010-2013 WRX/STI is Hulk green.
This model is ending though, it has to change. To get better fuel economy it needs to become sleeker, use new technology, its bulges will become smooth bumps, and the 2.5L will become a 2.0L that pumps out power when needed but sips gas when not. The next version of the WRX/STI will more refined in all ways, though one trusts Subaru will keep the hard-charging thrashy spirit and attitude while improving the ride, making the car more economical to drive, comfortable, quieter, less plasticy, all while not changing it from the affordable rockets they are. Its an inevitable change, but I think the current WRX/STI will be a car people lust for 20 years from now (especially 5 door models) when everything has become a combination of battery, electric, fuel cell power, dilithium crystal. And while there's no Hulk green, collectors will look for the 300 tangerine orange Special Editions available this month.
Here are two recent articles on the passing of the WRX/STI baton
> from TFL.com "Here at TFLcar.com, we define a "modern collectible" as a vehicle with timeless looks, extraordinary performance, and extremely limited availability. A car we choose must be beautifully mechanically and aesthetically, but, above all, must be able to turn heads and create conversation wherever it travels. This last quality is the most illusive and the most difficult for a single automobile to consistently accomplish.
But what if we were to find a car with gorgeous lines, unprecedented sport, and a stunning curb presence? What if this model could even boast a manufacturer with a legendary track record for reliability and satisfaction? Could we even find anything close to such a vehicle?
Well, the engineers at Subaru, with their 2013 Impreza WRX STI, seem to think so. Essentially a street-legal rally car, the 2013 Subaru Impreza WRX STI does not fail to impress on any level. A small 2.5-liter turbo four cranks out a whopping 305 horsepower delivers power to all four wheels, and speaks to the racing heritage of Subaru Tecnica International (or STI). Appearance-wise, the car is absolutely stunning, with an intimidating hood scoop, flared fenders, and a massive rear wing capable of creating ridiculous downforce for all sorts of high-speed shenanigans.....
Though the WRX STI is no limited production vehicle, Subaru has recently announced plans to suspend completely its production in the UK, one of the biggest markets for high-performance cars similar to the STI. This means that the Subaru's worldwide availability will be severely reduced during the next few years, with the UK-spec examples of the current generation garnering especially high demand. It is these British examples of the WRX STI that will garner great collector followings in the future.
Subaru has also announced plans for production of a highly exclusive WRX STI "Special Edition," an even more track-oriented version of the famed rally car. Only 100 examples of this model will ever be produced, all of which will sport tangerine orange paint, matte-black sport rims, and custom "STI" graphics and pin striping along the side quarter panels. An STI-specific interior also finds its way onto the "Special Edition," covering all surfaces with a black leather trim accented by orange contrast stitching. These examples of the WRX STI will probably be the most desirable examples for collectors, fetching big money at famous auctions in the future...."
read the entire article
> and on the next version, with possible spy shots, "Subaru has been busy testing the next-generation WRX STI. Well, it
may
be the STI. The big wing out back lends some credence to that theory, but it could be that the basic WRX is getting new action in the back section. Time will tell.
In either case, spy photographers nabbed a few shots of the heavily camouflaged sedan running around the Nürburgring. Unfortunately, it looks as if Subaru has taken some of the sexy out of the WRX Concept we saw at the New York Auto Show, leaving this car looking more derivative of the current model than a revolution in design. The bold power bulge has disappeared from the vehicle's hood and the lower fascia looks far more demure than the the wild concept. Likewise, the muscular rear fenders have been toned down substantially.
The result is a car that looks more like a mildly warmed over version of the current model than a production version of the WRX Concept. Still, engineers and designers may have a long way to go before the finished product hits the market, so we'll reserve final judgement for now. After all, the early BRZ mules were nothing short of a travesty to look at, and we know how that turned out. Hope springs eternal."
read the original article
with many photos
4/16 2014 Forester carpeted floor mats that are included with the car are on hold.
You can buy a new Forester but the carpeted mats that come with the car should be removed, they should not them in the car. Replacement carpeted mats will be available, no date announced. No specific reason has been offered other than Subaru 'has detected a potential quality problem with carpeted floor mats' and they might curl and not lie flat. Rubber floor mats are now available and are fine to use.
4/16 article on choosing a safe car by Seattle Times columnist Jerry Large
"How safe is the car you drive? When I wrote last week about two recent fatal car
collisions
, that question occurred to me. The only thing that matters more is how you drive.
Everyone who drives or rides has to share the road with other people, which can be a problem, because in most crashes, human error is to blame. You never know when you are going to cross paths with someone who is distracted, aggressive, tired or otherwise impaired, or just a generally poor driver.
A few days ago, the National Highway Transportation Safety Administration (
NHTSA
) released data it gathered in 2011 on distracted driving. It said, "at any given daylight moment across America, approximately 660,000 drivers are using cellphones or manipulating electronic devices while driving, a number that has held steady since 2010." Other data from the agency found that "more than 3,300 people were killed in 2011 and 387,000 were injured in crashes involving a distracted driver."
We can't do anything about other drivers, but you and I can try to avoid being the person who causes a collision, and we can put ourselves in cars that provide us a reasonable degree of protection. I didn't think much about safety with the first cars I bought, but 21 years ago, when our son was born, my wife said it was time to get a safer car. We bought a station wagon and it proved to be a smart choice.
One evening, my wife was on her way home, driving down Rainier Avenue South in the rain. A drunken driver in a huge boat of a car came flying from the opposite direction, crossed the centerline and slammed into the wagon, totaling both cars. The drunken driver died, but my wife survived. Police and medics who freed her from the wreckage said she would have been dead, too, if she'd been driving most any other car.
So now, safety is our first criteria. When I wrote about the recent fatal car crashes, I spoke with Russ Rader of the Insurance
Institute
for Highway Safety. A few days later I called him again and asked an admittedly unanswerable question: "What's the safest car a person could buy?"
Rader said that the crash tests the Institute does, and those done by the NHTSA, are based on the most common kinds of crashes. They're a useful guide, but every accident is a mix of more factors than any test could capture. "If you could choose the type of crash you were going to be in," he said, "you could choose the best vehicle for that, but you can't." So use the data to pick a vehicle that does well in multiple circumstances.
And that would be? A midsize sedan that does well in all the safety tests, he said, or a newer model SUV or minivan, if they tested well. Yes, size matters. But so do a lot of other features, such as maneuverability and sightlines. The NHTSA held a symposium in 2011 to get expert opinions on the effect of size and mass on vehicle safety. I read some of the material, and most presenters agreed with Rader that there are way too many variables in a crash to allow for absolute answers about safety.
Hitting a tree is different from hitting a smaller car, which is different from hitting a car the same size as yours, which is different from hitting a larger vehicle. The point of impact matters, as does the speed at the time of the collision.
But they also noted the vast improvements in car safety, especially over the past two decades. Indeed, car-collision fatalities have been going down since the late 1970s.
Car safety is continually improving now because it matters to the companies that make cars, and it matters to them because it matters to buyers. That hasn't always been the case.
A person doesn't have to be that old to remember when cars didn't even routinely come with seat belts. Or to remember when Ralph Nader was a young guy who wrote a book titled "Unsafe at Any Speed." That was back in 1965, when hardly anyone was interested in automobile safety — certainly not manufacturers. Nader and other safety proponents pressured the federal government to address safety.
The creation of the NHTSA was a result of that effort and, in 1972, it began informing consumers about car safety. These days, manufacturers compete on safety ratings the way they compete on style or comfort or fuel economy.
There are many desires to balance in buying a car. While smaller usually means more fuel efficient, and larger offers more protection, price can sometimes be the driving factor. It's very individual in the end. I asked Rader what he drives, and his answer was a BMW 3 Series from 2000. He chose it partly based on its safety-test results, but also said it's time for a newer car.
Rader expects crash safety to continue improving, but said the next frontier is avoiding crashes altogether, using a variety of tech-based features such as electronic stability control and lane-departure warnings. Someday self-driving cars may take people out of the equation altogether. Until then, most accidents could be avoided if each of us drove as if lives depended on us. The safest car is the one free of human error."
the original article
4/15 what to do with a 1980 Subaru? Make it look like a car from the the movie Jurrasic Park.
Watch the video
http://www.firstcoastnews.com/video/default.aspx?bctid=2302983408001&odyssey=mod%7Cnewswell%7Ctext%7CFRONTPAGE%7Cfeatured
4/14 if you're financing a Subaru, chances are its through Chase Bank
Auto shows are all about product, but auto finance is never far beneath the surface.
Here are a few quick comments on auto finance from executives at the New York auto show last week.
Subaru: No captive? No problem
Tom Doll, president of Subaru of America Inc., said he's happy with Chase Auto Finance, which provides private-label loans and leases for Subaru dealers, instead of a captive finance company.
"They're great partners," he said. Through April, he said, Subaru is offering lease deals on some Impreza and Legacy models, but Subaru incentives are typically among the industry's lowest. "The offers are pretty generous for us," he said.
Doll acknowledged that Subaru lease penetration is also below average. Subaru's average lease penetration for 2012 was 9.8 percent compared with an industry average for nonluxury brands of 15.5 percent, says ALG Inc. Doll said Subaru customers tend to keep their cars a long time and "drive the hell out of them." That's part of an outdoorsy, active lifestyle, he said, adding: "Our people want to own."
read the entire article
4/13 about the WRX concept at the New York Auto Show that ended on April 7. See photos
from a March 29 article in Australia, by Haitham Razagui. ' Subaru's long-awaited next-generation WRX performance flagship is just months away, with the production version expected to be revealed by the end of this year. And given the BRZ coupe took seven months to go from production debut to Australian launch, a similar time frame for the WRX points to an arrival in local showrooms around mid-2014.
Speaking in New York, Subaru America president and COO Tom Doll said the production version was "close", and conceded that a November motor show reveal was "possible", hinting at a potential world premiere at LA motor show.
It is also worth noting that the Tokyo motor show will take place at the same time as the North American event this November. The concept revealed in the Big Apple overnight is just a styling preview, in similar vein to the pumped-up BRZ STI concept from the 2011 motor show, which was tamed down by the time it was unveiled in production form at Tokyo a fortnight later. Like the BRZ show car, the WRX concept is obviously an extreme version of what will end up in showrooms.
Strip away the carbon-fibre roof, 20-inch alloy wheels, massive racing brakes, aggressive rear diffuser, tiny door mirrors and air intake-like headlights and it is possible to get a measure of what the showroom STI model might look like.
Tame down the chunky flared wheel arches – which at the front lead into huge air vents – and the base WRX starts to materialise. Whether the production model will retain the four-door concept's swoopy coupe-like roof line remains to be seen.
Apart from confirmation the new WRX will maintain the turbocharged, all-wheel-drive layout of its predecessors, no mechanical details have been announced and Subaru's global deputy general manager for corporate communications Masashi Uemura declined to comment on technical details.
However Mr Doll confirmed the new WRX will share the Impreza platform and be offered with a manual gearbox, while automatics will use a CVT with paddle-shifters. He also quashed rumours the new WRX would be a hybrid – although he said the electric motor sandwiched between the engine and transmission of the XV Hybrid also revealed at New York would provide a welcome torque boost. "It will have a manual transmission because a performance driver likes to be able to shift the car," he said. "If you put a CVT in it you can have paddle-shifting."
Various rumours about drivetrains have circulated but it looks likely the WRX will use a higher output version of the direct-injection 2.0-litre turbo engine of the latest Forester XT.
"In the future I think you can probably guess that with the 2.0-litres that are in the current Impreza, a 2.0-litre turbocharged engine is coming," said Mr Doll.
Although Subaru looks set to position the WRX more firmly as a standalone sportscar, further distancing it from the Impreza with which it has long been associated – the Impreza name was dropped from performance models in 2010 – Mr Doll revealed some panels would still be shared.
We are trying to strip the WRX and STI brands off and away from the Impreza to try and get their own unique styling and their own unique driving attributes," he said.
"They share some (panels) but we are trying to create, as you can tell by this car here, its own style and its own definition as opposed to taking it from the Impreza model and saying it is just based off the Impreza."
He also confirmed the WRX would not be produced as a hatchback this time around as "performance cars are more defined in the sedan segment". But due to the popularity of hot hatches in various markets around the world such as Europe and Australia, it is unclear if Mr Doll was talking in the context of his native North American market.
"For the new generation we are moving away from the five-door style," he said. "Because performance cars are more defined in the sedan segment.
Mr Doll said the new WRX will deliver BRZ-like levels of handling and drivability but in a more powerful, all-wheel-drive package. "We learned with the BRZ that it is not just about 0-60 it is really about drivability, handling and fun and what the BRZ taught us, you are going to see a lot of those positive attributes built into the next generation of our production cars."
The WRX concept's wheelbase is a significant 115mm longer than the Impreza at 2760mm while the 4520mm body length is 60mm shorter than the Impreza sedan, lending it short overhangs and a purposeful stance to go with its low (1390mm), wide (1890mm) and sleek shape. Subaru fans will be glad to see the iconic WRX bonnet scoop has been retained – unlike the latest turbo-petrol Forester XV – but it has become even more integrated with the bonnet than on the current model.
The concept is painted in a new colour called WR Blue Pearl III that has a metal-flake look but provides a clear link to the classic WRX hue and Subaru's rallying livery.
Flourescent yellow highlights on the badge, fat quad tail-pipes and brake callipers give the concept some sparkle without resorting to the use of chrome.'
the original article
4/12 WRX concept car was at the NYIAS New York Int'l Auto Show March 28-April7
The next version is expected to arrive mid-2014 and have a 2.0L turbo like the 2014 Forester 2.0XT.
It's expected to be more refined than the current hard-charging 2.5L WRX and STI models, and get slightly better fuel economy.
The press release" Subaru of America, Inc. today unveiled the SUBARU WRX CONCEPT at the 2013 New York International Auto Show at the Jacob K. Javits Center. The design concept hints at the design language of the next generation WRX.
The bold and muscular design emphasizes turbocharged power and AWD grip in a more agile and athletic form. The SUBARU WRX CONCEPT blends the WRX's famous power and road-holding prowess with an even greater focus on sharp handling, steering and communicative chassis. To further improve handling dynamics, the SUBARU WRX CONCEPT features a carbon-fiber roof to enhance the already low center of gravity and reduce weight.
Considerably lower, sleeker and wider, the SUBARU WRX CONCEPT delivers even more street presence than previous generations of WRX. The new grille design is larger and bolder and sets off the classic WRX hood scoop. A pronounced powerbulge provides clearance for the new turbocharged engine and intercooler. A prominent hexagonal grille form and deep lower valences with air intakes are designed to enhance aerodynamics, add downforce and aid engine cooling.
The three dimensional mesh pattern of the grille denotes the sporting nature of the SUBARU WRX CONCEPT and sets the Subaru star cluster apart, while the new hawk-eye headlights integrate the Subaru family design heritage.
A sharp character line runs from the front corner through to the taillights, intersected by the boldly flared wheel arches emphasizing the Subaru's AWD system. The compact cabin greenhouse draws attention to the power and solidity of the body and focuses attention to wide stance that provides a visual link between body and chassis.
The rear design echoes the hexagonal design motif from the front grille and features a dramatically curved trunk lid that also acts as a rear spoiler. The distinctive wide rear bumper of the SUBARU WRX CONCEPT adds to the powerful street presence of the car and is off-set by large quad tailpipes denoting the powerful turbocharged engine. The aggressive rear diffuser improves vehicles aerodynamics.
The all-new SUBARU WRX CONCEPT features a new paint color, "WR Blue Pearl III", which modernizes the iconic WRX look. Fluorescent Yellow is used as an accent on the WRX badge on the front grille, the brake calipers and the exhaust tip finishers, adding character notes to the design. Filling out the broad fenders are BBS "RI-D" One Piece Forged Duralumin wheels and featuring 245/40ZR20 Dunlop tires with an exclusive tread pattern.
Key Dimensions (Overall Length x Width x Height): (178.0in x 74.4in x 54.7in ), Wheelbase: (108.7 in.)"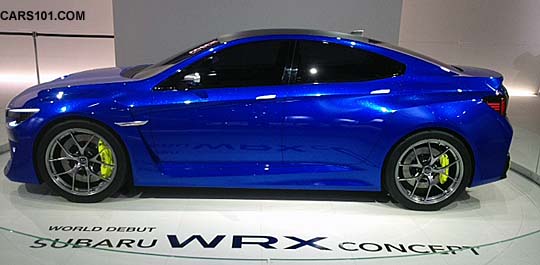 WRX concept car shown at the NYIAS
4/11 WRX and STI Special Editions due to arrive late April. 200 WRX sedans, 100 STIs with be made, all tangerine orange.
I have a WRX available at MSRP $29565
4/11 10 best April Fools jokes, from 4/1/13
including the AWD Twin Turbo Convertible two seater Diesel Hybrid BRZ for sale in 2015 (see 4/1 below), and the self washing Crosstrek from England
http://blogs.driving.ca/2013/04/02/10-best-car-related-april-fools-jokes/
4/10 2014 Forester brochures now at dealers. 29pgs
4/9 Crosstrek review from Edmunds.com
"The Frumpy Solution to Eccentric Problems. Subaru's 2013 XV Crosstrek rides a very fine line. It is, most certainly, a Swiss army knife of the automotive world: a jack of all trades. But being a jack of all trades runs the obvious risk of being master of none. This may or may not be the case with the XV Crosstrek.
The Crosstrek, after all, does solve some eccentric problems. For example, should you be in the perilous circumstance of finding conventional crossover SUVs like the Toyota RAV4 or Ford Escape too macho and the standard Subaru Impreza too vanilla, it's possible that the 2013 Subaru XV Crosstrek is, in fact, your ideal car.
What Is It? The Crosstrek replaces the Outback Sport in Subaru's lineup of pumped-up spin-offs. It is, however, a more capable off-roader than the Outback Sport, which died with the last-generation Impreza. The XV sits some 4.1 inches taller than the standard 2013 Impreza thanks to a lifted suspension and taller tires. Combined with genuinely fat fender flares and a big fender gap, the look is a combination of bravado and utility, with a little Birkenstock thrown in for balance. Also, it doesn't hurt that the wheels match the body color on our black test car.
Though Subaru does a better job concealing the platform's roots than in past examples, the XV Crosstrek is all Impreza hatchback underneath. Its powertrain options are the same, too. There's one engine available: a 2.0-liter flat four-cylinder good for 148 horsepower and 145 pound-feet of torque. Limited models like our tester come only with the continuously variable transmission (CVT), but a five-speed manual is available on Premium trims.....
A survey of the XV's specs reveals the full extent of its utility. There's a significant 8.7 inches of ground clearance, which might not mean much until one realizes that the 3.5-inch-taller 2013 Toyota RAV4 offers only 6.3 inches....
With this knowledge we headed for our local Subaru proving grounds in the Santa Monica Mountains to test whether the XV's hardware could deliver....
...The XV produced a 26.5-mpg average during more than 1,000 test miles. With EPA ratings of 25 city/33 highway and 28 combined mpg, our numbers are marginally off the mark. Measured against its rivals in the real world, however, the XV can easily compete. Our past tests of the 2013 RAV4 and 2012 CR-V produced 23.6 and 27.7 mpg, respectively.
By utilizing the same design and materials, the 2013 Subaru XV Crosstrek is all Impreza inside.... There are heated leather seats and automatic climate control on Limited models like our tester. The 4.3-inch LCD screen displays navigation and audio information as well as the rearview camera display.
Nobody will accuse the XV of being luxurious, but it's also not cheap. Materials and controls feel decent and (on our long-term Subaru Impreza, at least) seem to last. The 60/40-split rear seats fold nearly flat, though cargo space is considerably less than full-fledged crossovers. At 51.9 cubic feet, the XV's total cargo area can't measure up to the RAV4's class-leading 73.4 cubes. Still, it is no less useful than other compact five-doors from Japan or Korea.
Whether the Impreza-based XV will sufficiently substitute for a RAV4 or CR-V depends on two factors: how badly you need the extra space they provide, and how badly you want the added visibility their height provides. Because in every other way (including off-road ability) this funky Subaru gets the job done.
It's not hard to be more interesting than a standard Impreza. And it's not a big ask to be more macho than a RAV4 or CR-V. So even though the XV finds itself in the largely unoccupied space between compact five-doors and crossover SUVs, it will, no doubt, be the perfect solution for many.'
read the entire article
4/8 comments on the Crosstrek hybrid due late 2013
'Urban hipsters and Portlanders, rejoice: Subaru is finally making a hybrid. It's called the XV Crosstrek Hybrid and it stands to be the most fuel-efficient, low-emission, all-wheel-drive hybrid crossover in the United States.
Unfortunately, Subaru didn't go with the design of the achingly attractive Hybrid Tourer Concept, instead opting to base its first hybrid on the XV Crosstrek that's been on sale in the states for the last year. But the gas-electric version loses none of its off-road prowess or interior functionality in the transformation to eco-friendliness. There's still 8.7 inches of ground clearance for traipsing up rutted macadam trails, symmetrical AWD with active torque splitting and the 13.5 kilowatt-hour nickel-metal hydride battery mounted in the rear floor eats up a scant 0.7 cubic feet of interior space.
Subaru engineers stuck with the tried-and-true 2.0-liter boxer four found in the standard Crosstrek, but sandwiched a 13.4-horsepower electric motor between the engine and the continuously variable transmission. That allows the Crosstrek Hybrid to silently motor along on electric power at low speeds, and a new start-stop feature shuts down the boxer mill when sitting in traffic, further increasing fuel economy.Subaru's tried-and-true 2.0-liter boxer mates with a new electric motor.
Other than de rigeur "hybrid" badges on the outside, some extra sound insulation and a new gauge cluster, the Crosstrek Hybrid is barely distinguishable from its standard sibling. And Subaru claims that the extra motor, battery and material only adds 300 pounds to the overall weight.
Pricing hasn't been announced, but expect a $2,000 to $4,000 premium over the standard model when it goes on sale this fall. Whether that's worth the minimal boost in fuel economy is up to you — the Hybrid only manages 28 mpg in the city and 34 on the highway, compared to the gasoline-only model's 25/33.'
the original article
4/7 the Outback diesel with CVT is in Australia
'In Subaru's own admission, this is the most important and significant car of its past decade. This, the diesel automatic version of its large-SUV category player, the Outback, is the first time the company has had a gun big and suitable enough to fight on equal terms with some powerful rivals.
"It's the missing piece in the engine-transmission puzzle that we have longed to bring to the market," says Subaru Australia's managing director Nick Senior. He says the biggest SUV sector is the "large" class, comprising players such as the Hyundai Santa Fe, Ford Territory, Holden Captiva, Toyota Prado and Volkswagen Alltrack.
The petrol-diesel split is 45/55 and of the diesel models, a whopping 94 per cent sold have automatic gearboxes. Subaru's Outback diesel has only a manual gearbox. Until this week. "It's held us back," says Senior as an understatement. "But we predict the diesel auto model will lift monthly sales from 220 to 350." So though outwardly a variation of the existing Outback, this is a model carrying big expectations.... The continuously-variable transmission (CVT) is a stronger version of that fitted to the petrol-fuelled Forester (which doesn't get a diesel-auto combo until late 2014). This auto has been heavily modified and enhanced (including an oil cooler) so it offers a seven-speed stepped mode (like a conventional auto) with functions that assist downhill and engine braking.... The CVT adds $2500 to the price of the manual." read
the entire article
4/6 Crosstrek hybrid was shown at NY Auto Show. March 29-April 7.
Finally, a Subaru hybrid!
After years of rumors and delays, an all new Crosstrek Hybrid, Subaru's first production gas/battery hybrid, will be available late 2013.
This is just the start. In the coming years expect Subaru's hybrid technology to advance and be used in more models.
More of a 'hybrid assisted' or a mild hybrid. The battery powered 13.4 horsepower motor is used from 0-25 miles per hour, at which point the 2.0L gas engine starts and takes over.
Economy- the EPA city/highway combined economy of the hybrid is 28/34/ 31MPG, a small but reasonable improvement over the standard Crosstrek CVT's 25/33 28 MPG rating.
Its a Crosstrek 5 door, with active all wheel drive, the same body and size as the normal one with some hybrid-specific enhancements, and 8.7" ground clearance.
Cargo volume is only slightly less (1.7cf) due to the battery under the cargo floor.
2 engines: the 148hp 4 cylinder 2.0L 4 cylinder engine, plus the new 13.4hp electric motor between the gas engine and the CVT transmission
Battery powered engine: The battery powered motor is sandwiched between the CVT and the all wheel drive's electronic transfer clutches.
Battery for the battery-powered engine: 13.5kW 100v nickle-metal-hydride battery, located under the rear cargo floor.
Brake regeneration system recharges the battery when the car is coasting or the driver is braking.
Stop/Start: There's an integrated starter/generator for stop/start functions to improve economy .
The hybrid will have a smaller and lighter 13.7 gallon fuel tank vs the 15.9 in the standard models,
Other aerodynamic changes announced to enhance economy: an 'active front grill shutter system', redesigned 17" alloy wheels, a/c temperature and humidity sensor to lower the a/c power draw.
Other changes include more sound insulation, and tweaked suspension and steering to accommodate the increased weight.
The hybrid components (engine, battery) weight 209lbs, and with other changes, it comes to around 300lbs total.
Click for more info and photos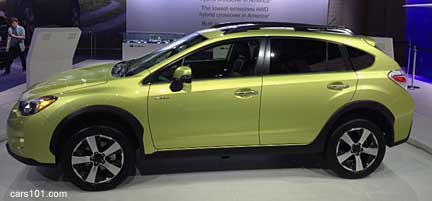 plasma green Crosstrek hybrid introduced at the NY auto show March 28
4/5 more Forester accessories available
, port installed MSRP: rubber floor mats $72, moonroof air deflector $122, upgraded speakers by Kicker $333
4/3 Subaru corporate changes
"SoA announced the appointment of Alan Bethke to vice president, marketing from his previous role as director of marketing communications.
Reporting to Dean Evans, chief marketing officer for Subaru of America, Bethke will continue to be responsible for the company's national & spot advertising and marketing communications activities.Mr. Bethke joined Subaru from Suzuki in 2003 as a district sales manager. He has worked in a number of positions within sales and marketing for Subaru and assumed his previous title as director of marketing communications in 2010.
"Alan has delivered excellent work," said Dean Evans, senior vice president and chief marketing officer. "His team has helped drive the Subaru brand to record sales, awareness and market share. Alan's experience in marketing, advertising, strategic planning and media will continue to help the brand's growth and this promotion reflects the level of work being executed." Bethke lives in New Jersey with his family and is currently completing his MBA. He holds a degree in marketing from Pennsylvania State University.
In a related move, Robert Font, previously manager, digital marketing is promoted to director, digital marketing communications. Font will continue to report to Bethke."
Other changes in the past few years include last weeks promotion of Thomas Doll, executive VP, Chief Operating Officer and Chief Financial Office to President of SoA. In May 2011 Bill Cyphers becoming sr. vice president sales from Eastern region vp, Mike Hafertepe moved from regional vice president, Central Region to replace Cyphers as regional vice president, Eastern Region. Jeff Walters became vice president, field & distributor operations, Previously Walters was director, field & distributor operations and prior to that was a regional sales manager in Atlanta for SOA.
4/3 Navigation map upgrade available.
You can download the latest Q3 2012 data from Nokia/Navteq for $149.99 + tax
If you have factory navigation (excluding Forester with Tom-Tom) on a
2012-2013 Forester, Impreza, and WRX/STI,
2013 Legacy, Outback, BRZ, and Crosstrek,
2014 Forester,
you can purchase the latest mapset Q3 2012 from Navteq for 149.99 + tax.
You need the original SD card that came with the navigation, and a windows computer with a SD-HC card reader. Be sure to remove the SD card from the navigation only after the pushing and confirming the Remove SD button in the Info screen.
You will need a registered account with the download website, where you'll also get all the details and info, at
https://subaru-na.naviextras.com/shop/portal
The windows computer will need a copy of the toolbox. Its at
https://subaru-na.naviextras.com/shop/portal/downloads
Questions, support, SD card questions
https://subaru-na.naviextras.com/shop/portal/support
or call Navteq at 888-628-6277
4/1 BRZ convertible rumors confirmed.
Reportedly the rear mounted hybrid powerplant only leaves room for a 4 gallon fuel tank, and the car, available in noseeum black, will finally have the solid WR Blue interior with matching carpet that Subaru has long wanted. Also in a separate announcement on April 1st, Subaru announced that the 2014 Forester 2.5L Premium and Limited with CVT and paddle shifters not available to US buyers will in fact be available to US purchasers who wish to pick up their car up in Canada (where paddle shifters are standard) and leave it there.
The official release on the BRZ- "Bowing to continued media and internet speculation, Subaru of America has confirmed that it will launch an AWD Twin Turbo Convertible two seater Diesel Hybrid BRZ for sale in 2015. The new model essentially takes all of the media and internet rumors surrounding the highly successful BRZ sports car and delivers them in one fell swoop. A spokesman for the company said: "Having just launched the current model to widespread critical acclaim, we are tired of fighting off the constant speculation about what's "next" and so we are just giving in and delivering all the speculation in one vehicle." The new model, which is expected to have a starting price, will however NOT come with a much anticipated rear back up camera. The spokesman confirmed that after shoehorning two convertible switched (up and down) onto the fascia there just wasn't room for any more instruments. The AWD Turbo Convertible two seater Diesel Hybrid BRZ will come in a single color, noseeum black and will be hand produced at Subaru's Brigadoon facility.
More denials about future BRZ variants can be found at media.subaru.com"
3/29-April 7- Hybrid
- see Subaru's first hybrid, a Crosstrek, at the
New York Int'l Auto Show
, March 29 - April 7
3/28 2013 WRX and STI order cut-off date is this coming Monday, April 1st. No fooling.
If you've been thinking of an order, you have a few final days to place it.
3/26 Thomas Doll, SoA executive VP, Chief Operating Officer and Chief Financial Office is now President of SoA.
He left Arthur Young Co to join Subaru in 1982. From 1985-88 was Manager of Treasury operations, in 1988 he was made Director of Treasury and in 1989 Director of Accounting. In 1991 he became VP of Business and Strategic Planning, then became CFO. In April 2009 he added Executive VP and COO to his CFO title.
3/24 a new design look for Subaru? I heard that before with the 3 section aircraft-heritage front grill designed by Andreas Zapatinas (Alfa Romeo) on the 06 Impreza and Tribeca. That look survived for 2 years. The 2014 Forester XT has partly incorporated this new design in the form of the (non-functioning) front bumper gills.
'Subaru will gradually adopt the angular face of the Viziv concept crossover shown at the Geneva auto show across its lineup, the brand's global design chief says.
Subaru's current front end, dominated by a hexagonal grille and wraparound headlights, is too tame, global design chief Osamu Namba says. Going forward, models will take their styling cues from the Viziv.
The concept's front has aggressively incised bracket-shaped headlights that fuse with the lower fog lights to cut an angular jaw shape.
Elements of the look are likely to appear on a new performance concept car that will debut at next week's New York auto show.
The look is unmistakable, and that's what Namba wants. "Up until now, it wasn't enough," Namba says of Subaru's traditionally staid front impression. "From here out, we want people to look at the headlamps and think 'Ah, Subaru.'" The new styling points have crept into the redesigned Forester crossover, which debuted in November. But Namba says they will gradually work their way across Subaru's lineup. "We've just started the change," Namba says.
Subaru will keep the hexagonal grille, Namba says. But he wants to pump up the profile for a sharper, more technological look.'
read the original article
Viziv concept- the start of a new look for Subaru?
3/23 Starlink/Aha navigation upgrade will be available April-December 2013 on 2013 Outback and Legacy with navigation built prior to 1/18/13
Upgrade program to run April-December 2013. Aha is by Harman Kardon. You put the Aha app on your Android or iPhone phone (not Blackberry or Windows, though that can change) and it channels content to your navigation. Starlink/Aha is now standard on 2013 Outback and Legacy with navigation starting with January 18, 2013 production but it can be added to 2013 Outback and Legacy with navigation built prior to that date. Download Aha, its free, from either iTunes or Google Play. Your Subaru dealer will do the upgrade of the navigation unit. The Aha upgrade program runs April-December 2013. The cost to upgrade your navigation is $100. Subaru will contact owners.
For more information about Aha, check out
http://www.subaru.com/owners/resource-center/electronics-audio/aha-radio/index.html
3/21 supplier award for Tribeca tires
. Tribeca 2012 sales total was 2,075.
The Goodyear Tire Rubber Company announces that Subaru of Indiana Automotive, Inc. (SIA) has presented it with a prestigious North American supplier award for its 2012 performance in supplying tires for the vehicle manufacturer.
Goodyear received the Quality and Delivery Award for achieving 100 percent on-time delivery for production and for reaching the "Supplier Quality Assurance minimum allowable Parts Per Million rating."
The award was presented to Johann Finkelmeier, Goodyear's vice president for North American original equipment sales, on March 13 at Subaru's 2013 Supplier Awards Ceremony. The awards program was part of Subaru's Annual Supplier Conference at the Subaru of Indiana Automotive. Training and Reception Center in West Lafayette, Ind.
"I am very proud to accept this award on behalf of Goodyear," Finkelmeier said. "As the leader in original equipment tire supply in North America, we are more driven to deliver products that help to enhance the performance and appeal of these vehicles." Goodyear supplies original equipment tires to the popular Subaru Tribeca model.'
the original article
3/19 Canadian 2014 Forester 2.5L models have paddle shifters except the base 2.5 model
. In the US only the 2.0XT turbo models have paddle shifters.
3/16 Consumer Reports buys a new 2014 Forester
'The Subaru Forester is one of the most researched cars on the Consumer Reports website. Consequently, buying the first redesigned-for-2014 Forester that we could get our hands on was a top priority. And it just arrived at our Auto Test Center.
Our Forester is the most popular trim: a Premium model with the continuously variable transmission. Since we live where it gets cold, we added the $500 all-weather package, which includes heated front seats and mirrors. Not like we had much choice, anyway; basically every Forester Premium sold around here brings these heated accoutrements. Our Forester also has various add-ons, like a $272 self-dimming mirror, a $75 cargo tray, and $147 splash guards. The sticker came to $26,814—pretty much right in the sweet spot for small SUVs nowadays. Just how vital is the Forester to Subaru? One sign is my email inbox, which has several "The 2014 Forester Is Here!" messages from local Subaru dealers. With all the excitement, you'd think the Forester was a SRT Viper or something. Another sign: a local dealer is already offering the Forester for $500 under invoice. That's crazy for a car that is still warm from being driven off the transport truck. Then again, you can't throw a stone in New England without hitting a Subaru dealer, so competition fuels the deals.'
the original article
3/15 drink and run in wine country this summer in Sonoma, Santa Barbara, Willamette Valley, Healdsburg, and Kolona BC
"Destination Races (www.destinationraces.com) and Subaru of America announced today that Subaru has signed on to be the Presenting Sponsor of the 2013 Wine Country Half Marathon series. The series consists of "boutique" destination running races held in scenic wine regions, complimented by wine, food and entertainment activities.
Produced by Destination Races of Sonoma, California, the series began in 2004 with the Napa-to-Sonoma Wine Country Half Marathon, scheduled in 2013 for Sunday, July 21st. The series includes other US events in Santa Barbara wine country, Saturday, May 11, the Willamette Valley of Oregon, Sunday, September 1, Healdsburg, California, Saturday, October 26 and Northern Virginia, Saturday, June 1. An inaugural Canadian event is slated for Saturday, September 7, in Kelowna, British Columbia. The first three events in the 2013 series have already sold out.
"Subaru will play a prominent role in our US events, helping to enhance the experience for our participants, while building brand association and loyalty", said Matt Dockstader, President of Destination Races. Subaru is also the official vehicle of the Wine Country Half Marathon series and will provide the lead race vehicle and transportation for VIP. Subaru will host various hospitality functions and offer a Grape Stomp competition after the race. Subaru owners receive special benefits, such as a post-race brunch and VIP parking.
Tim Tagye, Promotions and Sponsorship Manager for Subaru, sees the partnership as a natural fit. "Destination Races is able to blend a healthy activity with fun, customer-driven wine and food events in popular wine regions. Subaru is all about the active lifestyle, combining fun and functionality, and making our customers feel special." ...."
the press release
3/14 more on the Viziv concept car at the Geneva auto show from msn.com
"What is it? Viziv may be hard to say, but it's apparently derived from the phrase "Vision for Innovation" — which essentially means the Viziv may provide a few clues to the future design philosophy of the Subaru brand.
What's hot? It's really hard to say what's hot and what's not. Clearly it looks dramatic. As with many concepts of this nature, the Subaru crossover is merely a design study, although that could change.
What's not? Subaru claims the Viziv represents a direction of new designs and new technologies enhancing the Subaru brand into the future. It's a future-generation crossover concept embodying the brand values of "enjoyment and peace of mind." Be honest, Subaru, you made all that up just now, didn't you?
How much and when? This isn't something you can order from your Subaru dealer. Yet. But as with concepts of the past, if enough show-goers and customers provide positive feedback, Subaru might be encouraged to move forward toward production. So if you like it, jump on a flight to Geneva. (Although truth be told, Subaru would probably prefer it if you simply "liked" it on Facebook.)
MSN Autos' verdict: If the Viziv is providing clues about a future model, we like the look of those clues. This is exactly what a charismatic brand such as Subaru should be doing."
read the original article
3/13 Subaru's warranty in the UK is now 5 year/100,000 miles
. It would be good if the US powertrain warranty was extended to 5 years or 100,000 miles from the current 5 years or 60,000 miles. The warranty on Certified pre-owned is 7 year or 100,000 miles.
"Even though Subaru is experiencing record sales around the globe, things are much different for the Japanese automaker in the UK. Sales are falling in the UK and they had to recently drop the WRX, WRX STI and Impreza starting in 2013. We reported here in December that a spokesman for Subaru confirmed that there isn't enough demand for the cars in the UK, so they will be axed from the UK line-up. Now the Japanese automaker has decided to drop their ETCo aftercare package and replace it with a new 5 year, 100,000 mile warranty instead of the previous 3 year 60,000 mile plan." read
the orginal article
3/12 brief, concise article on the different suspension in the BRZ and the FR-S/GT86
"The BRZ has a firmer suspension up front and makes a difference in driving performance. He says, it has a "slightly sharper and more weighty steering." Watson says the Toyota GT 86 feels "looser and a little more playful and a bit more tail happy." The firmer suspension of the BRZ can cause it to bounce more at lower speeds but Watson notices the trade-off is at higher speeds, where it feels more planted in the corners. He says, "if you want the sharper driving sports car, get the BRZ." He continues, "If you want to go drifting and practice tail-slides, get the GT 86."
the original article
3/11 Subaru to fund pet car safety restraint research
Subaru today announced a partnership with the Center for Pet Safety, a registered 501(c)(3) non-profit research and advocacy organization dedicated to companion animal and consumer safety, to fund testing of pet car safety restraints.
Currently, there are no performance standards or test protocols in the U.S. for pet travel products. Although many manufacturers claim to test their products, without test standards, these claims cannot be substantiated. Together, Subaru and the Center for Pet Safety will create standards for testing restraints, while announcing those that perform best.
"The Center for Pet Safety conducted a pilot study which showed that the majority of pet safety restraints currently on the market do not provide acceptable protection in a crash situation," said Michael McHale, Subaru's director of corporate communications. "As many of our owners have dogs, we feel it's our responsibility to help them keep their pets as safe as possible when they journey with us."
The Center for Pet Safety conducted rigorous crash testing on commonly available pet safety restraints using realistic, specially designed, crash test dogs, not live animals. A 55-pound crash dummy dog was used to see how the seat belts would hold up in a collision at 30 miles per hour, patterning the same motor vehicle safety standards used to test child seats. Of the four popular dog car harness brands, none held up in the tests. All of them demonstrated that they either could lead to plausibly serious or fatal injuries for not only the canine but driver, too.
"We are thrilled to have the support of Subaru as its love for pets is as deep as ours," said Lindsey Wolko, Center for Pet safety's founder and CEO. "We have received requests from all over the world from manufacturers who want guidance on developing a safer harness and, through this partnership, we can finally conduct additional testing to help develop a suitable standard, provide the needed knowledge-base to manufacturers, as well as determine the top performers." The Center for Pet Safety is not affiliated with the pet product industry. The organization uses scientific testing and references Federal Motor Vehicle Safety Standards to study pet products and establish criteria and test protocols to measure whether pet safety products provide the protection claimed by advocates and intended by the manufacturer." The
Center for Pet Safety
3/10 VIZIV diesel hybrid concept at the Geneva auto show March 5-17
. the official press release
"SUBARU VIZIV CONCEPT" is a future-generation crossover concept that represents the new design direction and technologies that will take the Subaru brand into the future. "VIZIV" is a coined word inspired by the phrase "Vision for Innovation" to express Subaru's future vision of innovation and the future direction of the brand...
A future-generation crossover concept providing high efficiency and performance on all road surface conditions and driving environments has been created with a new Subaru design philosophy."Subaru Boxer Diesel Hybrid", as a proposal to the future of Subaru power units, was mounted in the "SUBARU VIZIV CONCEPT". The powertrain is a plug-in hybrid system that combines a 2.0-litre Subaru Boxer diesel engine and high-torque-compatible Lineartronic (CVT) with a front motor that provides both vehicle drive and power generation, and two independent rear motors for vehicle drive only. By achieving solid environmental and road performance with this powertrain, Subaru's "Enjoyment and Peace of Mind" driving experience will be further advanced....
"Independent-rear-motor-driven symmetrical AWD" system which is leading the way to a future generation of Subaru AWD technology has been adopted for the SUBARU VIZIV CONCEPT. Subaru is constantly refining its unique AWD systems according to the development philosophy "Four-wheel management". "Independent-rear-motor-driven symmetrical AWD" system provides fine-tuned control of the four wheels to match the travel environment and road surface conditions.
Two motors exclusively developed for rear wheels' drive control the rear right and left drive power freely. Coordinated management system of the front and rear motor controls the division of drive power between the front and rear wheels. It increases Subaru's trademark active safety performance. Turning the steering wheel increases the drive power applied to the rear, creating a handling characteristic that responds nimbly to driver operations. Turning the steering wheel back increases the drive power applied to the front, creating a handling characteristic that emphasizes stability.
In stop-and-go city traffic, all wheels are driven by the motors when starting from rest, providing high starting torque and powerful acceleration, but low fuel consumption with quiet ride.
By independently controlling the drive power applied to the left and right rear wheels, the rear drive system provides more torque to the outside rear wheel and less to the inside rear wheel when cornering to generate inner-directed yaw momentum on the vehicle and achieve extremely quick and smooth "on-the-rail cornering". Besides helping acceleration and all-terrain performance, this groundbreaking AWD system also uses drive power to help turn the vehicle. Along with its thrilling handling and cornering that responds faithfully to driver operations, it also offers outstanding handling stability that ensures a high level of secure feeling and confident drive..."
read the
entire press release
, and check out the Viziv website
http://www.subaru-global.com/special/viziv/index.html
-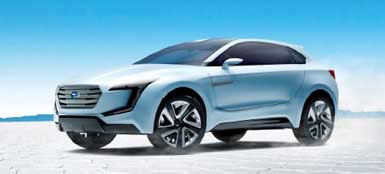 -