RESEARCH


model overview, snapshot 2013 or 2014 or previous model years
> Outback: 2014, 2013, more
> Forester: 2014, more
> Legacy: 2014, 2013, more
> Impreza: 2014, 2013
> WRX, STI: 2014, 2013
> BRZ: 2014, 2013
> Crosstrek, 2014, 2013
>Tribeca: 2014, 2013, more
lnterest and Special Finance Rates
Payment Calculator
Sales Quote from Joe Spitz, Seattle area
Search Inventory
My Schedule I Contact
Subaru Dealer List US by state, Canada, Mexico
Current MSRP price overview
Safety crash tests, airbags..
GTP Guaranteed Trade Value
Canada Subaru into Canada
Subaru Dogs in their cars
Forum, add comments
Badge of Ownership
Archives research older models
Subaru Baja archive page
Winter Driving tips, chains
Gas Economy Chart cost to drive, tips
Subaru News reviews, articles, links
Used Subarus for sale
Certified Pre-Owned program
Keyless entry, Alarm, Immobilizer key
Tire Pressure Monitor TPMS
Tires, wheels, tires chains FAQ
Navigation Systems
Air Filtration dust-pollen filter
Subaru Speak glossary, terms
Maintenance 2014, 2013, 2012...
Warranty info
Towing info
Safety ratings
Recalls
Tech tips, tricks, hints, tips wanted
Winter car care tips
Subaru Links a full page
Dealer list by state A-M; N-W; Canada dealers
Alaska residents
Shippers car movers, transporters
VIP program
CAFE Fuel economy standards
Diesel?
Hybrid or electric Subarus?
Medical Modifications
Subaru Concept cars
Subaru history
Subaru advertising
Malcolm Bricklin
Customer comments
Subaru stuff
Subaru Pictures new & old

sitemap much more..

other sites
cell phone laws
crash tests:
summary by model,
nhtsa.gov, safercar.gov, iihs.org;
Carfax,NADA,KellyBlue Book, Edmunds

Independent Subaru Repair Smart Service, in Shoreline & Mukilteo, Wa


Finance Rate webpage, December 6- January 6, 2014. For the NW Seattle area only
> financing is through Subaru/Chase with no prepayment penalty, no loan fees, no buy down fees, on approval of credit.
new 2013 Outback and Legacy 60 mo rate raised to 0.90%
new 2014 BRZ 1.90% 24-63 mos, 2.90% x72 mos, 2013 BRZ 0.90% to 60 mos, 1,90% 72 mos
> 2014 Forester 1.90%-24-36-48 mos, 2.90% 60-63-72 months
> 2014 Outback and Legacy 0.90% x24-36-48 months, 1.90% x60-63-72 months
> 2014 Impreza 2.90% 24-36-48-60-72 mos
> 2014 WRX, STI 2.90% to 60-63 mos
> 2014 BRZ 1.90% 24-36-48-60, 2.90% x72 mos
> 2014 Tribeca 1.90% x 24-36-38 mos, 2.90% x 60-63-72 mos
> 2013 Outback rates 0.0% 24-36-48 1.90%, 60-63 0.90%, 1.90%x72 months
> 2013 Forester rates 0.0% 24-36-48-60-63 mos, 1.90% 72 months
> 2013 Legacy rates 0.0% 24-36-48, 0.90%x60-63, 1.90% 72 months
> 2013 BRZ 0.90% 24-36-48-60, 1.90% x72 months.
> 2013 WRX, STI, Crosstrek 2.90% 24-36-48-60 months
> 2013 Impreza- 1.90% 24-36 mos, 2.90% 48-60-63-72 months
> 2013 Tribeca rates 0.0% 24-36-48 mos, 0.90% 60mos, 1.90% 72 months
> Lease rates- available on 2014s and 2013s. Ask your local dealer.
> Payment calculator I GTP Guaranteed Trade Value- what is your car worth
>Find a Subaru dealer Alabama-Montana; Nebraska - Wyoming; Canada; Mexico. Dealer news and updates wanted.
> Buy a Subaru in Shoreline/North Seattle or the greater NW. Discounted prices. I've been selling Subarus since 1996.
Have a Subaru? Get your Subaru Badge of Ownership

Introducing the all new, redesigned 2015 WRX and STI sedan at the LA Auto Show November 20-21, and open to public Nov 22-Dec 1


Thank you for visiting. There is no paid advertising here. If you like and use the site, please help spread the word and mention www.Cars101.com online, tell friends...



12/6 some early 2015 WRX photos from the LA auto show


12/5 FINAL DAY FOR 2014 FORESTER ORDERS

12/4 Forester orders cut off tomorrow, they end Thursday 12/5!
This is really early. And only one days notice isn't enough. If you want a specific car, tomorrow is the final day to order it.
This means production is filled through the end of the 14 model run and they don't want new special orders entering the system.
2015 orders will be available in March (no changes announced yet)

12/3 November sales total 36,621. That's 8,415 cars more than November 2012's 28,206
YTD sales 384,411. Subaru hopes to blast through the 400,000 total number on their way to 415,000+ total sales for 2013.
Outback 8,852, down 13% from 10,124 11/12
Forester 13,410, up 135% over 5,703 11/12
Crosstrek 5,311, up 158% over 2,060 11/12
Impreza 3,767, down 17% from 4,552 11/12
Legacy 2,911, down 22% from 3,723 11/12
WRX/STI 1,507, up 11% over 1,353 11/12
BRZ 756, up 43% over 527 11/12
Tribeca 107, down 35% from 164 11/12

11/24 Walkers Renton Subaru moved into a new building at 555 SW Grady Way, Renton, Wa 98058
Their old building was at 720 Rainier Ave S, Renton, Wa, 98055 on 11/21/13

11/22 Crosstrek/Crosstrek Hybrid and Impreza brochures now at dealers

11/20 WRX at LA Auto Show! All new 4 door sedan expected to arrive March, 2014
A marriage of the Impreza sedan body with Forester 2.0XT engine

2.0L direct injection, 268hp@5600rpm, 258 lb-ft torque (see 14 Forester XT)
6 speed manual with Continuous AWD
optional Sport Lineartronic CVT with Paddle Shifters and SI Drive which determines if the CVT acts as a 6 or 8 speed. (see 14 Forester XT)
The CVT's AWD is VTD which is electronically control 45/55 front/rear power split. VTD is also used on 3.6R Outback and Legacy

Body- see 2012-2014 Impreza sedan
Interior- see 2012-2104 Impreza and 2014 Forester
A unique flat bottomed steering wheel
Windshield raked out 8 inches
Upper console display with various driver selectable readouts, gauges, and maintenance reminders
A flat bottom steering wheel.

LED low beam headlight on upper models
Option package including Keyless access, pushbutton start, Harman/Kardon audio, navigation

11/18 concept- at the LA Auto Show - 2015 Legacy concept car
A modern 2 door look, with brawny fenders and angular hawk-eye headlights (LED?) as Subaru reworks the current overly conservative model. The Legacy is a sturdy work-horse and a great value but its classic, very practical 3 box hood-passenger compartment-trunk format is clearly behind the style curve.

11/16 2014 Forester navigation SD update on Forester built before June 20, 2013
Available on 2014 Foresters with navigation built before June 20, 2013 - check the VIN plate on the driver's door jam - there's a free SD card update. Make an appointment with your dealer service dept. It's service bulletin 15-166-13R Customer Satisfaction Navigation SD card Update Program for 2014 Forester, and the SD card will need to be ordered. Changes include earlier turning directions, various screen updates with font, menu, and cancel trip buttons etc, and improved navigation, audio, and phone automatic muting functions. Again, its only on 2014 Foresters built prior to June 20, 2013

11/15 Subaru's Mastercard program through Chase is being discontinued September 30, 2014
New applications for the card won't be accepted after 11/30/13. Current card holders will continue to earn points and Subaru Bucks Reward Dollars until September 30, 2014. Points and Subaru Bucks will be honored and valid for the normal 4 year period. Subaru says the program, first offered in 2002, has been a success but not a big enough one to continue it.

11/11 advertising and 6th annual Share The Love Event with up to $10,000,000 donated.
From November 21- January 2, 2014, Subaru will donate $250 for each new car sold to the buyers choice from a group of 6 charities, one of which is a local charity selected by the dealer. In each of the past 5 years there have been 5 charities, each receiving $1m when the funds were dispersed, for a total of $5m/year. This year, with increased sales, Subaru will donate up to $10m!
Of the 5 charities selected by Subaru, 3 are returning from previous years: ASPCA, Make-A-Wish Foundation, and Meals On Wheels. New this year are the National Park Foundation and Teach For America, replacing 2012's USO and Alzheimer's Association. Plus the new 6th individual dealer selected charity. This is the first time there has been either a 6th, or a dealer selected, charity.






11/9 New VIP program for eligible active and reserve military personnel.
This is a great deal. The vehicle price is dealer invoice including options and destination minus 2% and minus all zone/regional dealer and customer cash and incentives in effect at time of purchase. Financing/leasing is available, on approval of credit. Most vehicles will available for VIP purchase/lease but check with your local dealer for exclusion, like the new Crosstrek Hybrid for example isn't available.
There are some rules of course... Military members have to be active or reserve Army, Navy, Marine, Coast Guard, National Guard, or Air Force and will need to provide a recent Leave and Earnings statement, or DoD duty status confirmation letter, or a Subaru Military Status Eligibility Form filled out by the dealer and customer with name, rank, DoD ID number, and rank from a valid Military ID card (note: updated 11/18- the Military ID card itself is not to be copied)
The Military VIP program is only for active and reserve personnel and their spouse living at the same address. It's not available to retired personnel, is not transferable, and doesn't apply to other family members such as parents, children, or siblings.
Participation by dealers is voluntary. Normally Subaru sends the dealer a VIP authorization form after a potential VIP customer requests the form through their company or organization, and prior to their visiting the dealer, but not with this new Military VIP. There is no pre-authorization, so Subaru suggests dealers get authorization from Subaru after the military customer has visited the dealer but before completing the transaction just to make sure all forms are correct. Contact your local dealer for pricing and information



11/7 on distracted driving and young drivers without a geographical sense of where they because when they were young they watched a video screen instead of looking out the window
"It's 8:10 a.m., first period at King's High School in Shoreline (Washington State), and the subject of the day's drivers' education class is the brain.
"Driving is boring," says instructor Matthew St. Pierre in a firm wake-up voice strong enough to command the attention of 23 sophomores. "So you end up doing other things: talking on the cellphone, texting, singing to the radio." The problem, says St. Pierre, is you can't do these things and drive safely. "Multitasking is a myth," he says.
As an instructor with Swerve Driving School, which has a contract with King's High School, St. Pierre, 30, has seen the future of driving in America — and it is distracted, often by electronic devices that compete for new drivers' attention.
The essential challenge for teaching teen drivers today, he says, is getting them to understand the limits of the human brain. As an example of how distracted the brain can be, St. Pierre shows his students a short video of two teams passing a basketball and asks the class to count the number of passes the team in white makes. At the end of the video, the class calls out the correct answer — 13. St. Pierre asks, "How many of you saw the dancing bear?" The class is dumbfounded — what dancing bear? When he replays the video, it's clear: a person in a bear costume moonwalking in the middle of the video. Lesson: You can't see what you're not looking for.
Another multitasking lesson involves giving students two tasks, first separately and then together — such as repeatedly writing a phrase and counting to a certain number. He times them to show how much longer it took to complete the dual task and how many more errors were made.
St. Pierre also advocates "commentary driving," asking students to describe out loud objects they see on the road, especially as they approach intersections. "This keeps them alert and forces them to concentrate," he says.
Scott Walmsley, owner of Driver Education Services Seattle in the Fremont neighborhood and a driving instructor since 1995, says many teens who have grown up constantly connected to an electronic device find it harder to concentrate on driving.
The trend that concerns him even more than texting is what he calls "being extremely geographically challenged." Unlike teens in previous generations, who grew up looking out the car window as their parents drove, Walmsley says today's teen passengers are so fixed to electronic screens that they barely lift their heads to see where they are going.
"Not knowing their way around — that's a huge problem," says Walmsley. "I know kids who have lived in Ballard for 16 years and can't find their way to the Ballard Bridge." He advises his students to ride in the front seat and notice where they're going when they're not driving. Another technique is to let them find their own way. "As the lessons go on, I step down the level of assistance," he says.
"By the fifth lesson, I might just tell the student to drive to the Space Needle, Northgate, Husky Stadium, downtown or some other well-known location," he says. "I want them to at least be able to point the car in the right direction."
A former graphic designer, Walmsley, 60, teaches teens to drive using a combination of humorous Power Point slides, videos and an arcade-style video game he created by connecting two Logitech steering wheels to a PlayStation 3 console. He also recommends Fastlane Street Racing to his students, an app that helps them with steering. New drivers in Washington must pass a course from a state-certified driving school, where they get a minimum of 30 hours of classroom instruction and six hours of driving in a school car equipped with an instructor brake..." read the entire article

11/5/13 Outback and Legacy rear seat headrest entertainment DVD player port installed MSRP price reduced effective 11/1/13. Includes two rear seat facing DVD players built into the front headrests, and headphones. Was $1609, now for cloth interior $899, leather interior $999. Available on all models.


10/26 sales- Subaru raises the sales bar with a record setting year.
With more than 2 months left in the year, and they're the busiest months for Subaru, 2013 sales have exceeded all of 2012.
2012's total was the best year ever in the company's 44 year history, a record setting 336,441 cars sold. That number was passed on October 25th, leaving all of November and December to set a new bar. Subarus always sell well in snow season, so the new target for 2013 is over 410,000. And next year? The only question is how many cars Subaru can supply to hungry US buyers. They're working hard at SIA in Lafayette to bring more cars to the market- cutting off the slow selling Tribeca, kicking Toyota out, and planning on a factory expansion. But that won't help now or perhaps even in 2014 depending on how fast they can retool the Tribeca assembly line, and Subaru will have to scramble to find more cars to meet US demand.


10/25 And the train rolls on.. Forester is now Yahoo.com SUV of the year.
Almost everyone appreciates the 14 Forester, and while there are some things they could fix on the 2015, you can't argue with the sales numbers
"2014 Subaru Forester, Best SUV: Buyers looking for a capable, sure-footed, dependable machine will love the 2014 Forester. Sure, its look is bland and its plastic interior lacks creativity, but it does everything one could ask of it. It's easy to drive, compliant and stable, not to mention its soccer-mom practicality. And at $33,220 for our test car, it's well priced. Subaru knows something simple: What's not broken needs no fixing.
We graded on something of a curve, but in fact it's rare to have a new model fall short in the global auto industry. Even the lowest-scoring vehicle in our field offers some improvement in most ways from those a few years old..." check out all the Yahoo.com winners


10/24 after years of silver and dark gray dominating car colors, is it about to change?
But whats gaining on silver? Its white. White? Zzzzzzz. This year Subaru has brought 2 new earth tone beiges to market- Burnished Bronze on the Forester and Tungsten on the Outback - and both are growing in popularity as alternatives to silver that are also light, easy care colors that hide dirt. Earth tones?
The article below about coming colors says there are 11 browns, 6 yellows, and 7 greens, (so maybe we'll see the return of the emerald green that defined the 1990s Legacy and Outback). The article also says powder blue is gone, and yes, Subaru's Sky Blue only made in for 3 years on various 2009-2012 models.
The article "Move over, silver.
After more than a decade as the world's favorite car color, silver is falling in popularity to white. PPG Industries, the leading supplier of automotive paints, says 25 percent of the vehicles it supplied in the 2013 model year were white, up 3 percent from the prior year. Silver and black tied for second, with 18 percent each.
White dominates in Europe, North America and Asia. Only in South America is silver still king.Apple Inc., with its all-white stores and gadgets, made white a high-tech color. The variety of whites -- from flat shades to creamy pearls -- is also contributing, says Jane Harrington, PPG's manager of automotive color styling.
But if you don't relish a whiteout on the freeway, never fear. Automakers are currently scouting colors for the 2016 and 2017 model years, and Harrington is showing them some eye-popping options, from a pink-tinged bright red developed in Asia to a rich dark gray with faint green highlights.
Eleven different browns -- from light copper to dark chocolate -- and an equal number of grays are part of PPG's annual color show for automakers at its automotive center in the Detroit suburb of Troy. There are six yellows and seven greens, from seafoam to dark olive. One notable absence: Powder blue, which is increasingly confined to electric cars or hybrids.
Harrington and her international team determine color trends by watching fashion, architectural paint colors and other predictors. She thinks we'll see more deep jewel tones like teal and more earthy metallics, like reddish orange, in the coming years. With the end of the recession, drivers don't mind being showy again, she says
Car buyers could also see taxi-like yellows and other flat, bright colors, which are growing in popularity thanks to small, funky entries like the Kia Soul.
Pastel tones, like mint green and very light pink, are also in the mix.
PPG will take its color tour on the road to Los Angeles, Europe and Asia and will then start working with individual automakers on their choices. Companies typically choose eight to 10 colors for every model. PPG won't say how many cars it supplies paint for each year, but it works with every major car company.
"They think about the vehicle and how that color will translate," Harrington said. "That color, sparkle and finish helps define the car's character." read the original article


10/23- If Subarus didn't also make Camrys at SIA in Lafayette, they could build more Outbacks and Legacys.
Note- the article says SIA makes the Forester at SIA, but its Outback, Legacy, and the soon-to-be-late Tribeca.
"Fuji Heavy Industries Ltd (7270.T) plans to double the production capacity of Subaru cars in the United States to cater to growing demand for the sport utility vehicle in the North American market, the Nikkei reported.
Fuji Heavy's subsidiary Subaru of Indiana Automotive Inc produces 270,000 cars a year at a plant in the U.S. state of Indiana, the business daily said.
The plant makes 170,000 Subaru Forester SUVs and contract manufactures 100,000 Camry midrange sedans annually for Toyota Motor Corp (7203.T), according to the Nikkei.
The U.S. accounts for 50 percent of Fuji Heavy's global car sales. The company will invest about 40 billion yen ($407.5 million) to increase the plant's annual capacity to 370,000 cars by 2016, the newspaper reported. Fuji Heavy will soon begin talks with Toyota to end contract manufacturing of the Camry and will produce only Subaru vehicles at the plant, the business daily said." read the original article

10/21 not all Subaru dealers are alike .... most hire from outside, with either blind ads to bring in new people or hiring away acquaintances or referrals from other dealers. Few dealers actually train employees for growth or promotion. Read about Patriot Subaru where they do things differently.
Patriot Subaru in Saco, Maine, has its own culture, to say the least.
There is a gym in the basement and an organic garden out back. You see recycling bins, not trash cans. Employees can bring their dogs to work whenever they want.
"We create this environment because this is what we believe in," General Manager Brian Beattie said. "We believe in recycling. We believe in the environment and organic gardening and dogs, and so do these people. It makes it feel more like home."
It is not for everyone, but for like-minded employees there are plenty of opportunities to play a bigger role in the organization.
Patriot Subaru is one of two of this year's 100 Best Dealerships To Work For honorees to fill all open management positions since the start of 2012 from within. The other was Yark Fiat of Toledo, Ohio. In addition, Fiat of Austin [Texas] filled all 2012 management openings from within, although in 2013 it hired a used-car manager from outside.
In its 10 years of business, Patriot Subaru has never hired a manager from outside the store, Adam Arens, the dealer principal, said.
Beattie is one of the people who climbed the ladder from within. He started at the store when it opened in 2003 and took over as general manager this spring when Arens relinquished a portion of his daily duties.
Within the past year the store also promoted one of its employees to sales manager and put one of its finance managers in charge of all trade-ins.
The home-grown management adds to the homey feel that Arens, a Florida native who previously worked at JM&A Group, wanted to instill. He said he wanted to replicate the customer service mentality of Walt Disney Co., which has a mantra that every person is a potential employee and a potential customer.
"We're always recruiting, even if we don't have a space open," Arens said.
That includes managerial positions. But as a single-point store, openings are scarce. So the store gets employees ready by slowly handing off more responsibility.
There are no porters at Patriot Subaru to keep the lot looking tidy, no new-car manager, no used-car manager. Salespeople do those jobs, too.
One of the salespeople has responsibility for the used-car lot, Beattie said. That person is tasked with making sure that the used cars are clean and fueled. Another person oversees new-car deliveries.
"We want our employees to take on leadership roles no matter where they are in the organization," Beattie said. "Anybody can be a manager -- you just put a title on them. But you can't make them a leader."
This is not to say that they're being overworked. A shift at Patriot Subaru is eight hours. The standard work week is about 45 hours, though employees can work longer if they want. Attrition is nearly nonexistent. Arens says no employees have left in the past two years.
Beattie started out in the car business working at another import-brand dealership in Maine. He started working at that store even though friends had warned him not to, and learned the hard way that burning out good workers can harm a business.
At that dealership, salespeople had to work 12-hour shifts daily, arriving before the store opened and staying until it closed. Some people could handle it, Beattie said, but it was grueling for those with children. A number of talented people left. "I had a child when I was there," he said. "I called [the dealership] up and said, 'My daughter was born at 5 o'clock in the morning. I'll be back in two days.' And they said, 'Why do you need two days?' That was their response, and it told me everything I needed to know about the organization."
Patriot Subaru celebrates its 10th anniversary in November, and Arens is rewarding the longest-tenured employees with a Caribbean cruise with their spouses.
The lack of turnover and the consistency it brings seems to have paid off for sales. Three years ago, Arens said, the store averaged sales of 120 new and used vehicles per month; now it averages 220. "When somebody walks in the front door of your dealership or the front door of your house, if they recognize somebody in there, they're more comfortable," Beattie said. "Sales becomes easy when there's a relationship." read the entire article


10/20 Tribeca is finally kaput, but will what eventually inherit the mantle of Subaru's 7 passenger remains a source of rumor.
Most stories have the heir apparent being a Subielander adapted off a Highlander.
"Having done a sports car together, Subaru maker Fuji Heavy Industries and Toyota will now jointly develop a hybrid sport utility vehicle and sell it under their respective brands as early as 2017, the Nikkei reported. Subaru recently launched a new SUV model built on a proprietary hybrid system for horizontally opposed engines but that vehicle travels just 20km per litre of petrol, lagging behind the fuel economy offered by Toyota and other automakers.
With the US set to adopt stricter fuel economy requirements over the medium term, Fuji will use Toyota technology to upgrade its hybrid system. It will stick with horizontally opposed engines while working to bring fuel efficiency to the level of Toyota hybrids, the Nikkei said.
Fuji Heavy will save time and money on development and Toyota, which holds a 16.5% stake in the firm, can strengthen its systems business by supplying hybrid technology outside the group.
The hybrid vehicles will likely be manufactured at Fuji Heavy's Yajima plant in Gunma Prefecture. The two automakers may even develop plug-in hybrids together, sources told the Nikkei.
Fuji Heavy and Toyota formed a business and capital tie-up in 2005. Two years later, Fuji's Indiana plant began manufacturing some of the Camry sedans Toyota sells in the US.
The sports car project produced the Toyota GT86 and Subaru BRZ." read the original article

10/19 advertising... its still about love... as in I love life which why I drive a Subaru (its safe)
"After focusing on reliability, relationships and "love," in its ads, Subaru of America's' going back to the well with a creative theme broached a few years ago: a near-miss with death.
Subaru and agency Carmichael Lynch, Minneapolis are working on a new ad called "They Lived," which revisits the normally taboo topic of death by car accident.
In the spot still under development, we follow a wrecked Subaru from the trooper handing it off to the wrecker and the wrecker to the junkyard. Each person who sees the mangled vehicle stares in horror until they're told the uplifting news: "They lived."
Finally, we see the family that survived the crash climbing into their new Subaru Outback (which is the same color as the wrecked car). "We lived, thanks to our Subaru," says the driver.
The spot closes with the brand's long-running tagline: "Love. It's what makes a Subaru, a Subaru."
Dean Evans, Subaru's chief marketing officer, showed a sneak preview at an Automotive News marketing conference in New York. He said it's generating some of the highest scores ever in research. The new TV spot will roll out this fall as part of "safety pillar" breaking in November and December, said Mr. Evans...
... Subaru used a similar approach right down to the junkyard and same-colored cars three years ago. In the spot, we saw a man driving to a junkyard to visit his wrecked Subaru. After retrieving his datebook from the back seat, he reflects: "My Subaru saved my life. I will never forget that."
Subaru denied it is switching gears on marketing strategy. The automaker routinely rotates through themes of safety, adventure, longevity and reliability, Mr. McHale said. The "They Lived" spot will be part of a previously planned return to a safety theme..." read the entire article

10/18 finally...its the long anticipated the end of the road for the slow selling Tribeca,
If you're looking for a new one, there won't be many 2014 models- orders for them were accepted starting 8/1/13, prices were announced 8/13, and then orders were abruptly cut-off after 8/18.
Subaru's next 7 passenger will probably be born with combined Subaru-Toyota parentage, some form of hybrid technology, and hopefully a functional 3rd row.
The statement "Subaru of America, Inc. has confirmed that production of the Tribeca model will cease in January 2014 with last deliveries to retailers in February 2014. The Tribeca debuted as Subaru's mid-size SUV in 2005 and has sold approximately 78,000 vehicles to date.
SOA will support the effective sell down of the 2014MY Tribeca and the company has announced that it plans to return to the mid-size SUV segment with a three-row vehicle in the future."

10/16 Seattle Auto Show, 10/16-20 at CenturyLink Field
Its worth going to.... 2013 Seattle Auto Show
See the all new Hybrid - its on a rotating stage so you don't get to sit in it but you can see the car.
Test drive Subarus- there are Outbacks, Foresters, Crosstreks to drive. Even with Eyesight!
Sign up at the kiosk in Subaru display for a email coupon good for $250 off a new Subaru purchased by January 14th, 2014! See coupon for details of course.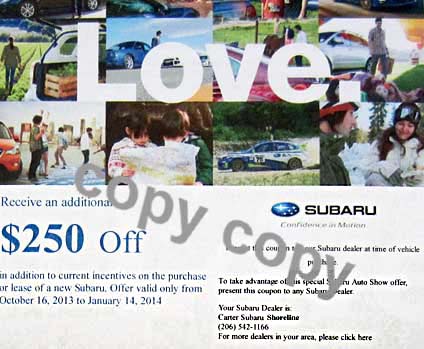 click for more photos


10/14 2014 Crosstreks arriving at car lots
Few changes- new blue steering wheel emblem, new Quartz Blue color replaces marine Blue. The big change for the Crosstrek is the all new Hybrid, Subaru's first, due late November.

10/13 Congratulations to Subaru!
Forester is Motor Trend's SUV of the Year
"Subaru has a knack for making the right size vehicles for the marketplace, with just the right level of capability people want. As the SUV landscape has changed and traditional body-on-frame SUVs have been overtaken by unibody crossovers and sport/utes, Subaru has changed as well. It moved from selling smaller wagons to making unibody crossovers, and these vehicles resonate with buyers. The company's Forester and Outback have gotten larger over time, but not so large that they scare off loyal Subaru fans. Subarus aren't over the top or ostentatious; they're honest and smart. The redesigned 2014 Subaru Forester has better efficiency, added power, and increased cargo volume, without a significant increase in overall size. The new Forester provides a comfortable ride with a roomy interior. Its off-road capability is plenty for the majority of sport/utility buyers. It offers a lot of value for the money. And it accomplishes all this while still being fun to drive.
Motor Trend SUV of the year competition,
Subaru provided two models on opposite ends of the spectrum: the 2.5i Premium with a six-speed manual and the turbocharged 2.0XT with a continuously variable transmission. The base 2.5-liter four returns for 2014, now with a six-speed manual instead of a five, and its fuel economy has improved. The 2.0XT is powered by a new turbo flat-4 engine, with 26 more horsepower, 32 lb-ft more torque (available at a lower rpm), backed by a CVT instead of the four-speed automatic in the previous generation. Its fuel economy also improved for 2014..."
Read the entire article
of note is that Subaru didn't supply, nor Motor Trend test or comment in depth on, the Forester model people purchase, which is a 2.5, Premium, Limited or Touring with the CVT and disappointing (IMHO) low mode.


10/9 Tribeca replacement- Its long been rumored that the Tribeca replacement would have more than a small dash of Toyota (think Highlander-ish), and here's more on the rumor. is this a stretched Outback 7 passenger?
"Having done a sports car together, Subaru maker Fuji Heavy Industries and Toyota will now jointly develop a hybrid sport utility vehicle and sell it under their respective brands as early as 2017, the Nikkei reported. Subaru recently launched a new SUV model built on a proprietary hybrid system for horizontally opposed engines but that vehicle travels just 20km per litre of petrol, lagging behind the fuel economy offered by Toyota and other automakers.
With the US set to adopt stricter fuel economy requirements over the medium term, Fuji will use Toyota technology to upgrade its hybrid system. It will stick with horizontally opposed engines while working to bring fuel efficiency to the level of Toyota hybrids, the Nikkei said.
Fuji Heavy will save time and money on development and Toyota, which holds a 16.5% stake in the firm, can strengthen its systems business by supplying hybrid technology outside the group.
The hybrid vehicles will likely be manufactured at Fuji Heavy's Yajima plant in Gunma Prefecture. The two automakers may even develop plug-in hybrids together, sources told the Nikkei." the original article

10/8 safety- what's coming... not resting on past or current success, Subaru is planning ahead.
The next version of Subaru's award winning Eyesight will have a much wider field of view, be able to see and react to traffic signals and brake lights.
At the speed technology is going, as fiction, science, and Star Trek continues to merge, in coming years we'll all be talking to internet connected wrist phone watches linked to eyeglass or contact lens screens so we read and respond to emails, browse websites, view maps as we drive or walk. And the car ... the very concept of it will be different. Actually driving will be a thing of the past. Cars, like Borgian transport devices, will drive us to home, work, bar, theater, restaurant, Mom's house, school etc, drop us off by the front door, go a parking/recharge spot (a prs, pronounced purrs), then find, or rescue, us up after a tap of the wristphone car app, like Trigger did with a whistle. Accidents will be a thing of the past except for those involving older manual control cars still being actually 'driven', an antiquated skill practiced by fewer and fewer people able to afford the massive insurance required for public street driving. Driving will be known as 'touring', as in I'm going to tour to work, lets do a Sunday tour to see the fall leaves, or I'll tour over to your house and pick you up at 8, etc etc. We'll all be connected and addicted like a Borg, and yes override/disconnect buttons in cars will be outlawed... Of course, go back 75 or 150 years, and look forward from then and our modern world would seem both wondrous and frightening.
Here's an article on Eyesight updates being introduced overseas that also will be coming to the US.
"Subaru's EyeSight collision avoidance system has been given a major upgrade this week, some of them laying foundations for future self-driving models.
Already the top-ranking system in the inaugural round of pre-collision safety tests undertaken by America's Insurance Institute for Highway Safety (IIHS), Subaru says its EyeSight system is now even more advanced.
The upgrade brings improvements to the system's stereo camera technology, boosting colour recognition and allowing EyeSight to see vehicle braking and fixed traffic lights.
Linked to the Adaptive Cruise Control, the system can respond to activated brake lights or a red traffic light by applying the Subaru vehicle's brakes if the driver does not react in time.
EyeSight also has the ability to detect lane markings and street sights, other vehicles - including motorcycles and bicycles - and pedestrians. Lane Keep Assist and Lane Departure Prevention Assist are now featured, adjusting steering to keep the vehicle in its lane. The upgrade has also brought a 40 percent increase in the system's viewing angles and visibility distance.
Subaru says that a number of these features will be integral in developing autonomous driving technology, which it is currently experimenting with for future testing and production models. The updated EyeSight system will be rolled out across new models over the coming year." read the original article

10/7 2014 BRZ brochures available.
9x11, 20 pages. There is a good supply of 2013s models available. No changes for the 14s except Galaxy Blue has been dropped, there are a few different logo emblems, the Limited keyless access fob has been redesigned.

10/6 advertising. aiming for the heart, this ad has Dad teaching twins in drive in a 90-94 manual transmission Legacy sedan
"Lance Acord directed this Instagram-filtery sliver of life featuring a family and their new and used Subarus. Parents may want the best for their kids, but that doesn't mean they're gonna teach the kids to drive in the new car. Nice touch making them twins." watch the video

10/5 finance rates and other incentives can vary by region.
For example, cars sold in Southern California and Florida apparently come with prepaid maintenance for a few years. I'm not sure if this is all models or only certain ones. Different parts of the country might have other lease, purchase, or finance rate incentives that vary by model. Subaru has incentives to the dealer, they haven't had or needed, customer rebates in a long time.
According to a recent interview by Automotive News with Chief Marketing Officer Dean Evans, "The added maintenance [coverage] is to help dealers in the Sun Belt to get seeded with customers. It helps bring people in. It is just for Florida and half of California." read the interview

10/4 Heartland Automotive, supplier of various dash and interior parts for Outback, Legacy and Tribecas made in Lafayette, is growing along with Subaru
Heartland Automotive
"Heartland Automotive, a supplier of dashboards and other interior parts to Subaru of Indiana Automotive, plans to double the size of its Lafayette plant and add 224 jobs — the current workforce is 91 — in the next two years.The expansion is a major ripple effect of SIA's announcement in May that it will step up production with a $400 million plant expansion and 900 new full-time jobs." from the Journal and Courier


10/3 Thinking about a used Certified Subaru?
Its the Certified Pre-Owned Love Springs Twice sale event, October 1-31 with 0,99% financing for 48 months on 2010-2014 Certified Subarus, 1.99% for 60 months on 2011-2014s, on approval of credit





10/2 Crosstrek Hybrids are now available for special ordering.
Click for specs and options
related news, regarding Hybrid availability "Fuji Heavy Industries said Wednesday that, starting this month, it will double the number of Subaru XV Hybrids made at its Gunma plant to 2,000 units a month in response to brisk sales.
The hybrid has been selling well since its release in June, causing buyers to wait five months for delivery, the plant's director, Masahiro Kasai, said during a media tour of the facility.
The initial sales target for the XV Hybrid was 550 units a month, but more than 9,000 have been ordered in its first two months on the market. Fuji Heavy currently only sells the vehicle in Japan but plans to release it in North America this fall." the article


10/1 Crosstrek Hybrid prices announced. The cars are expected late November/early December.
There are two models, Hybrid and Hybrid Limited. 2014 Crosstrek specs and options
The Hybrid is MSRP $25995 + $825 dest = $268320. That's $3000 more than the 2.0i Premium but includes climate control, back-up camera and other upgrades.
The Limited is MSRP $29295 + $825 dest = $30120. That's $4800 more the 2.0i Limited but includes navigation/gps and moonroof which is a $2100 upgrade on the 2.0i Limited.

10/1 September Sales
31,775 total, another record setting month for Subaru- this is now the new record
YTD sales 313,407, which is 28% more than the 245,643 YTD 2012.
Outback 8,143, down 23% from 10,583 in 2012
Forester 10,620, up 755 over 6,066 2012
Legacy 2,847, down 31% from 4,124 in 2012
Crosstrek 3,536
WRX, STI 1,167, up 8% over 1,079 2012
Impreza 4,622, down 7% from 4,992 in 2012
BRZ 704, up 39% from 508 in 2012
Tribeca 116, down 175 from 139 in 2012


9/30 final day to order a 2014 WRX or STI.
After today its just looking for inventory, hoping to find the right model, color, and features


9/27 WRX AND STI ORDER CUT-OFF DATE IS MONDAY 9/30!
It's a September surprise... giving only a few days advance warning, Subaru today announced that 2014 WRX and STI orders will be cut-off on Monday evening Sept 30th. Its a sad event, this is the start of the end of the current version which is a great car, one that is recognized as a hard-charging, all wheel drive performance winner.
That means if you want a 2014, especially a 5 door model which supposedly won't be available at all in the 2015 model, you should order one right away.
The redesigned 2015s (presumably sedans only) will be at the LA auto show late November and order-able starting in 2015.

9/27 safety. Outback and Legacy Eyesight system tops the IIHS's new crash avoidance ratings, they are the #1 pick
"...A new test program by the Insurance Institute for Highway Safety (IIHS) rates the performance of front crash prevention systems to help consumers decide which features to consider and encourage automakers to speed adoption of the technology....
Moderately priced and luxury midsize cars and SUVs are the first to be evaluated in the new IIHS test program. These include 74 vehicles, all 2013-14 models. Seven earn the highest rating of superior when equipped with optional autobrake and forward collision warning systems. They are the Cadillac ATS sedan and SRX SUV, Mercedes-Benz C-Class sedan, Subaru Legacy sedan and Outback wagon, Volvo S60 sedan and XC60 SUV....
The highest-scoring cars and SUVs have autobrake and substantially reduce speeds in both the 12 and 25 mph tests. Most of these systems prevent the 12 mph collision.
Subaru's EyeSight performed best. It helped the Legacy and Outback avoid hitting the target at both test speeds. Next best was Cadillac's Automatic Collision Preparation. The system helped the ATS and SRX avoid hitting the target in the 12 mph test and reduced the ATS's speed by 15 mph and the SRX's speed by 19 mph in the 25 mph test.
"We want to help get the most effective systems in as many vehicles as soon as possible. That means a speed mitigation system like Subaru's EyeSight that can prevent crashes at low and moderate speeds," Zuby says. "At the same time, we want consumers to know that forward collision warning alone can help them avoid crashes, and it's a feature that's available on more models than autobrake." the entire article on IIHS.org

9/25 advertising- Q&A with Dean Evans, Chief Marketing Officer, by Automotive News
"Dean Evans has spent nearly half his life working in the auto business and more than half that time in digital marketing.
The past two years have been at Subaru of America, where Evans, 45, is chief marketing officer, the same post he held earlier at automotive Internet marketing company Dealer.com. He also has worked at Jaguar, Land Rover and Aston Martin North America, as well as smaller digital companies and start- ups. At one time, he managed an auto dealership in San Francisco.
At Subaru, which has had rapid sales growth over the past several years, Evans' challenge has been to incorporate more digital tools into the brand's marketing mix without rewriting its underlying strategy, which targets what it calls "experience seekers."
"This is the flag we march to," Evans told Automotive News. Subaru figures 60 million people fit its definition of experience seekers, an ample pool of potential buyers.
"We can sell more to them because rather than a new type of demographic, it is more of the same demographic," Evans says. "We are better at reaching more people who align themselves to us."
With a digital guru leading its marketing, Subaru spends 25 percent of its marketing budget on the Internet and social media, up from 15 percent two years ago, and it's paying off. In the past two years, Internet leads have quadrupled and the closing ratio, the percentage of leads that result in sales, has jumped 50 percent. ...
How much of your marketing spend goes to TV?
It is probably up into the 50 percent range and digital is 25 percent. Digital was more like 15 before.
Where did you cut your spending?
Print -- because the pie is only so big. Fuji Heavy Industries said we believe in what the marketing department is doing. The pie got a little bigger with TV up, digital up. Print went down and events stayed flat.
What is an "experience seeker," the buyer Subaru targets in its marketing?
While most people live to collect possessions, experience seekers live to collect memories. They are not chasing materials, they are chasing life experiences and they do stuff.
How are you going mainstream without losing loyalists?
We have moved our media buy. We spend more on television. We are out there more and getting more exposure to the experience seeker. Love has always been our core. Our storytelling changed. When I got here you had to make them laugh or cry. I said let's bring more humor to the emotion.
How much do you spend on marketing compared with other automakers?
Today, when you look at the volume, we are the 10th-largest brand. When you look at marketing spend, we are 22nd. I like to remind my boss and Fuji Heavy Industries that what we have is one of the most efficient departments in the automotive space.
What brand values do you market?
We asked customers what they think about us and have four frequent responses. First, we build vehicles that last a long time. Second, those vehicles are ready for adventure -- like the Outback and the Forester. Third, we have safe vehicles. Fourth is versatility. Those are the four brand attributes. When you bring them together, you get Love.
And "Love" is still the tag line for Subaru marketing. What changes did you make in the campaign?
A few things. We fine-tuned our creative. We like and claim to be an emotional brand. Our TV creative has continued to get more emotional. Secondly, we have refined our lead generation capabilities. Converting Web site visitors to leads, the ratio is improving.
For example?
On Subaru.com we make the phone numbers bigger and the phone number is on top, so many click to call. The phone number used to be buried. Now people call faster. Those are examples of our digital activities so our media spend goes further.
Do you see connections between TV and the digital world?
The younger generations are not watching television. They are using the Internet and watching what has been traditional TV from a smartphone or the computer. There are blurred lines. We call that video advertising that is part of the digital budget today, but we see that soon becoming part of the TV budget.
For example we have a favorite on television, "Portlandia," which is a show we really love. If you go see "Portlandia" from Netflix and you run it, there are places where you can run a commercial and you can't fast-forward. We learned a traditional 30- or 60-second commercial format doesn't work -- a 10-second format works better.
What is the next frontier for Subaru as a brand?
Customer service. We have increased volume and vehicle quality has standardized. Customer treatment has to be one of the differentiators, and we are focused on how to better do that for us.
How are you improving loyalty and driving sales through service?
We did it with Care Connect to use technology to automatically communicate with the customer and to automatically get them back into the store. That was one of the first initiatives I took on when I got here. That is one of the reasons we are out of capacity. They do not go to Jiffy Lube. We are communicating with automated systems, and that is driving our service, and of course, it does spill into sales.
How are you marketing to buyers in the Sun Belt and Southern California, where you want to increase sales?
We put more TV and cable in the Sun Belt. We added some creative: You drive through rainstorms and hurricanes, traction environments. We added incentives: a 3-year/36,000-mile warranty for free. Obviously our awareness is lower. People do not necessarily think they need all-wheel drive in the Sun Belt like in the North. The added maintenance [coverage] is to help dealers in the Sun Belt to get seeded with customers. It helps bring people in. It is just for Florida and half of California.
Your incentives have been well under $600 for the first seven months of the year. Toyota and Volkswagen have spent nearly three times as much. How do you keep them so low?
We are fortunate enough where we have this finite amount of product we can build and we are smart enough to build more demand than there is product to sell through marketing. It is always better to have one fewer than one more.
How do you lead a team?
I hope I bring positive energy, motivation, creative freedom and the general direction that people know where I want to go. When you have a powerful sales organization and marketing team sitting here, they [the marketers] are often the punching bag. If sales go down, the sales chief says the commercials suck.
I learned you drive more demand with digital and you can record that demand. [Before], the only number we had from the field is some guy at the sales desk making phone calls and asking, "How much showroom traffic do you have?" Today we measure lead volume, phone volume and service appointment volume digitally. You can go back to the [sales] organization and say we generated 650,000 opportunities." read the entire article


9/22 summer ends, fall starts. Sunday September 22 is the first day of fall.
time to get your all wheel drive together

9/20 WRX and STI road racing on Top Gear
Watch the guys have fun throwing STIs around the dirt and gravel rally course at the Dirtfish Rally School near Seattle. The episode ends with a race between a STI, Aston Martin, and speed boat. Watch the Off Road episode. Want to learn to drive? Dirtfish Rally School.

9/18 Tribeca orders cut off.
Is this the end? There are some 2014 models already available on lots and more are scheduled to arrive but if Subaru isn't accepting new orders they could be planning to sell out of exisiting inventory. The production could be moved to the Outback

9/16 2014 WRXs and STIs are now arriving at dealers

9/14 Black boxes, and what the car, including your Subaru, knows about you
"When Timothy P. Murray crashed his government-issued Ford Crown Victoria in 2011, he was fortunate, as car accidents go. Murray, then the lieutenant governor of Massachusetts, was not seriously hurt, and he told the police he was wearing a seat belt and was not speeding.
But a different story soon emerged. Murray was driving more than 100 miles an hour and was not wearing a seat belt, according to the computer in his car that tracks certain actions.
The case put Murray at the center of a growing debate over a little-known but increasingly important piece of equipment buried deep in the innards of a car: the event data recorder, more commonly known as the black box.
About 96 percent of all new vehicles sold in the United States have the boxes, and by next September, if the National Highway Traffic Safety Administration has its way, all new cars will have them. The boxes have long been used by car companies to assess the performance of their vehicles. But data stored in the devices are increasingly being used to identify safety problems in cars and as evidence in traffic accidents and criminal cases.
To federal regulators, law-enforcement authorities and insurance companies, the information is an indispensable tool to investigate crashes. But to consumer advocates, it's only the latest example of governments and companies having too much access to private information. Once gathered, they say, the data can be used against car owners, to find fault in accidents or in criminal investigations.
"These cars are equipped with computers that collect massive amounts of data," says Khaliah Barnes of the Electronic Privacy Information Center, a Washington, D.C.-based consumer group. "Without protections, it can lead to all kinds of abuse."
Fourteen states, including Washington, have passed laws that say that, even though the data belong to the vehicle's owner, law-enforcement officials and those involved in civil litigation can gain access to the black boxes with a court order. In these states, lawyers may subpoena the data for criminal investigations and civil lawsuits, making the information accessible to third parties, including law enforcement or insurance companies that could cancel a driver's policy or raise a driver's premium based on the recorder's data.
Current regulations require that the presence of the black box be disclosed in the owner's manual. But the vast majority of drivers who do not read the manual thoroughly may not know that their vehicle can capture and record their speed, brake position, seat belt use and other data each time they get behind the wheel.
Unlike the black boxes on airplanes, which continually record data including audio and video, the cars' recorders capture only the few seconds surrounding a crash or air bag deployment. A separate device extracts the data, which are then analyzed through computer software.
The lack of standardization among manufacturers has made it difficult to extract the data. Until recently, crash investigators needed an automaker's proprietary reader as well as the expertise to analyze the data. The safety administration's regulations will help enable universal access to the data by using a commercially available tool.
"For most of the 100-year history of the car, it used to be, 'He said, she said,'" says Thomas Kowalick, an expert in event data recorders. "That's no longer going to be the way." read the original article

9/13 About Eyesight
"Inching forward in heavy traffic toward the ski slopes of Niigata, Japan, Tomohiro Azuma cursed as the car in front stopped suddenly, forcing him to slam on the brakes of his Subaru Legacy.
"There was a voice in my head saying, 'Damn, too late!'" Azuma, 46, said of the near-collision in February. "Then my car stopped with a jerk and for a moment I didn't know what had happened."
The information technology manager from Tokyo had averted a pileup thanks to a feature called EyeSight, which stopped his car when the gap with the vehicle ahead became perilously small. The technology has helped Subaru build a reputation as a leader in safety -- typically the domain of high-end brands like Mercedes-Benz and Volvo - and buck falling sales in its home market.
"Subaru may not be the carmaker with the best technology globally, but in Japan it's No. 1," said Takashi Morimoto, a consultant at Frost & Sullivan in Tokyo. "Thanks to successful marketing, from the consumer's point of view, it's the front-runner."
.... EyeSight monitors traffic via two cameras on either side of the rearview mirror. It can slow the car or brake automatically, and it sounds an alert if there is danger of a collision or the driver is swerving outside the lane.
Subaru says its system is an affordable alternative to those in luxury brands, which often include radars. The company acknowledges that stereo cameras aren't as precise because they operate much like a human's eyes. A dirty windshield or rain or snow can hobble EyeSight, and sudden events such as an animal or pedestrian dashing in front of the car are hard for the system to detect immediately....
Subaru has yet to sell Eyesight heavily in the U.S., where the brand markets its vehicles as safe and also fun to drive. EyeSight is available on the 2013 Legacy and Outback models as part of a package of extras that can cost more than $4,000. The company says 7 percent of cars sold in the first half in the U.S. had EyeSight.
Subaru says it has no plans to offer EyeSight as a standalone option in the U.S. because capacity constraints at a supplier mean it can't secure enough components to meet the demand in its home market..." read the entire article


9/12 Fuji stock, and, sales, is up up up
To say that Fuji Heavy Industries' Subaru is having a good year is like saying Mike Tyson is a good boxer -- it just doesn't do it justice. In fact, thanks to its Impreza and Forester, Subaru has seen record-breaking sales. And the streak is likely to continue -- which, in a surprising twist, is also great news for Toyota.
When I turned 18, I got a Subaru Impreza RS, and it was a blast to drive. Moreover, it was affordable and got great gas mileage -- even with all-wheel drive -- and when I totaled it by plowing into the back of another car, neither I nor my passengers were injured. Now that I have a family, I drive a Subaru Impreza Outback Sport, and barring another accident, I'll probably drive it for years to come. It's a great car.
And that's not just my opinion of Subarus. U.S. News and World Report's "Best Cars" survey ranked the 2014 Subaru Forester at No. 3 for best small SUV under $30,000, while the 2013 Impreza came in at No. 7 for best affordable compact car -- a highly competitive segment. What's more, Kiplinger awarded the Forester a place in the "12 Best Cars With the Highest Resale Value, 2013," an award that measures a vehicles overall value and appeal. Clearly, Subaru has quite a bit going for it, and that's driving sales.
According to its first-quarter results, Fuji Heavy's operating income jumped 301.8%, thanks in part to surging Forester and Impreza sales. In fact, in Japan, Forester sales increased nearly fivefold and Impreza sales doubled, compared with the same time last year. Moreover, Subaru's U.S. vehicle sales rose 29.1%, while global vehicle sales rose 15.3%, for a total of approximately 191,000 units sold. That, in turn, has affected Fuji Heavy's stock, which rose from $16.10 a share last September to $51.22 as of now -- a 221% increase.
Fuji Heavy has now raised its projected full-year net income forecast by 11 billion yen, or approximately $110.8 million. That's great news for investors...." read the entire article


9/10 Who is driving these days
"Driving in America has stalled, leading researchers to ask: Is the national love affair with the automobile over?
After rising for decades, total vehicle use in the U.S. -- the collective miles people drive -- peaked in August 2007. It then dropped sharply during the Great Recession and has largely plateaued since, even though the economy is recovering and the population growing. Just this week the Federal Highway Administration reported vehicle miles traveled during the first half of 2013 were down slightly, continuing the trend.
Even more telling, the average miles drivers individually rack up peaked in July 2004 at just over 900 per month, said a study by Transportation Department economists Don Pickrell and David Pace. By July of last year, that had fallen to 820 miles per month, down about 9 percent. Per capita automobile use is now back at the same levels as in the late 1990s. Until the mid-1990s, driving levels largely tracked economic growth, according to Pickrell and Pace. Since then, the economy has grown more rapidly than auto use. Gross domestic product declined for a while during the recession but reversed course in 2009. Auto use has yet to recover.
Meanwhile, the share of people in their teens, 20s and 30s with driver's licenses has been dropping significantly, suggesting that getting a driver's license is no longer the teenage rite of passage it once was. Researchers are divided on the reasons behind the trends. One camp says the changes are almost entirely linked to the economy. In a few years, as the economy continues to recover, driving will probably bounce back, they reason. But they acknowledge there could be long-term structural changes in the economy that would prevent a return to the levels of driving growth seen in the past.
The other camp acknowledges that economic factors are important but says the decline in driving also reflects fundamental changes in the way Americans view the automobile. For commuters stuck in traffic, getting into a car no longer correlates with fun. It's also becoming more of a headache to own a car in central cities and downright difficult to park.
"The idea that the car means freedom, I think, is over," said travel behavior analyst Nancy McGuckin. Gone are the days of the car culture as immortalized in songs like "Hot Rod Lincoln," `'Little Deuce Coupe" and "Pink Cadillac." "The car as a fetish of masculinity is probably over for certain age groups," McGuckin said. "I don't think young men care as much about the car they drive as they use to." That's partly because cars have morphed into computers on wheels that few people dare tinker with, she said. "You can't open the hood and get to know it the way you used to," she said.
Lifestyles are also changing. People are doing more of their shopping online. More people are taking public transit than ever before. And biking and walking to work and for recreation are on the rise. Social networking online may also be substituting for some trips.
A study by University of Michigan transportation researcher Michael Sivak found that the decline in teens and young adults with driver's licenses in the U.S. was mirrored in other wealthy countries with a high proportion of Internet users....
Economists say many Americans, especially teens and young adults, are finding that buying and owning a car stretches their financial resources. The average price of a new car is $31,000, according to the industry-aligned Center for Automotive Research in Ann Arbor, Mich. "We're not selling to everyone. We're selling to upper-middle class to upper class," said Sean McAlinden, the center's chief economist. The rest of the public, he said, buys used cars or takes the bus. Then there's the cost of insurance, maintenance and parking. The price of gas has gone up dramatically over the past decade...
"I don't think it's a change in people's preferences. I think it's all economics," McAlinden said. ... Give a person a good job 25 miles away and they'll be at the dealership the next morning." The decline in driving has important public policy implications. Among the potential benefits are less pollution, less dependence on foreign oil, reduced greenhouse gas emissions and fewer fatalities and injuries. But less driving also means less federal and state gas tax revenues, further reducing funds already in short supply for both highway and transit improvements. On the other hand, less driving may also mean less traffic congestion, although the impact on congestion may vary regionally. Phineas Baxandall, senior analyst for the liberal U.S. Public Interest Research Group, says driving declines mean transportation dollars could be put to other uses. "You just don't want to spend money you don't have for highways you don't need," he said." read the entire article


9/8 Subaru sales are booming, so are other companies
below is a small table of the top 11 car brands in the U.S. YTD August 2013 (and Subaru is doing quite well at #11), along with a list of other companies with strong increases for the year.


The top car companies in the U.S. YTD August 2013


subject to correction


rank

brand

cars sold YTD

+/- for the year

% of U.S. market

1

Ford

1,649,821

+ 13.5%

15.5%

2

Chevrolet
1,365,544
+31.5%
12.8%

3

Toyota
1,313,525
+ 9.5%
12.3%

4

Honda

944,267

+11.4%

8.9%

5

Nissan

782,369

+12.1

7.4%

6

Hyundai

493,116

+2.8%

4.6%

7

Dodge

413,258

19.9%

3.9%

8

Kia

378,370

-2.2%

3.6%

9

Jeep

317,921

-2.5%

3.0%

10

GMC

303,254

+10.9%

2.9%

11

Subaru

281,652

+29.3%

2.6%

Other companies up a substantial amount this year are listed below in descending order of their % increase. 5 of the companies are luxury cars

20

Cadillac

119,586

+31.5%

1.1%

32

Jaguar

11,134

+30.3%

0.1%

31

Porsche

28,456

+27.7%

0.3%

13

Ram

240,727

+24.8%

2.3%

18

Buick

141,880

+15.7%

1.3%

19

BMW

188,997

+14.8%

1.8%

22

Audi

101,346

+14.7%

1%


-




Top vehicles sold in the U.S. YTD August 2013, compared to YTD August 2012




rank

car

total YTD 2013

compared to YTD 2012

1

Ford F Series

499,050

+22.1%

2

Chevy Silverado

328,269

+25.4%

3

Toyota Camry

287,119

+2.3%

4

Honda Accord

256,926

+17.5%

5

Dodge Ram

234,642

+25.1%

6

Honda Civic

230,578

+8.5%

7

Nissan Altima

229,297

+8.9%

8

Toyota Corolla/Matrix

210.296

+5.3%

9

Honda CRV

207,643

+8.6%

10

Ford Fusion

206,321

+13.4%


and Subaru ranks

38

Subaru Outback

81,930

+9.8%

42

Subaru Forester

73,752

+46%

64

Subaru Impreza, WRX, STI

54,210

-5.9%

82

Subaru Crosstrek

34,483

new model

92

Subaru Legacy

30,505

- 3.1%

234

Subaru Tribeca

1,132

-19.2%




9/7 about 0-20 oil. new 4 cylinder Subarus, and many other cars, now require 0-20 oil. Is 0-20 new to you? Read what Click and Clack of CarTalk have to say about it...
Dear Tom and Ray:
I just bought a new Mazda, and the owner's manual states that I should use 0W-20 oil. I wonder if that is too lightweight for summer travel at interstate speeds, and would it not cause the engine to wear more than using 5W-30? The vehicle is a CX-7 with a 2.5-liter I-4 non-turbo engine. I like getting 100,000-plus miles on my vehicles: I currently have an '03 Protege with 120,000 miles and a '97 Toyota with 140,000, and I would want this CX-7 to get that kind of use. Please advise on your feelings about this 0W-20 oil. — Jim
Ray: It's good stuff. My brother uses it in salads.
Tom: For years now, car manufacturers have been pressuring oil companies to make oil better and less viscous. And they've done it.
Ray: Just because oils are less viscous (thick), that doesn't mean they don't lubricate, dissipate heat or protect well against wear and tear. It just means they do all that stuff while creating less friction, which means you get better mileage and longer engine life.
Tom: You're probably not old enough to remember when cars routinely took 40-weight oil in the summer and 20-weight oil in the winter. That stuff was real sludge. You could still see the dinosaur bones in it.
Ray: Then, multiviscosity oils were invented. So, for instance, you could use a 10W-40 oil that would act like a 10-weight (thinner) oil when the temperature was low and a 40-weight (thicker) oil when the temperature was high.
Tom: And, through the years, as lubricant technology has improved, the viscosity of the oils has dropped, to the point where we can now use a zero-viscosity oil in cold weather. That means the engine uses less energy to push its parts through the oil. That energy goes into miles per gallon instead.
Ray: It also means the oil coats the inside of the engine more quickly — in a fraction of a second after startup — which protects the engine from wear and tear during cold starts, and makes it last longer. It also means the engine starts more easily in cold weather. Pretty good stuff, huh?
Tom: We've seen no problems as cars have gone from 10W-40 down to 5W-20. And while the 0W-20 is fairly new, I don't expect any problems from that, either.
Ray: That said, most vehicles have "severe duty" recommendations in the owner's manual. They'll tell you that if you're planning to climb Pike's Peak with a trailer, if you're using your car as a taxi or if you live where it's regularly above 100 degrees out, you qualify for special maintenance procedures. Those can include more-frequent oil changes and/or use of a different oil.
Tom: So, if that describes you, Jim, check your owner's manual and look up the severe-duty recommendations. But if you're just driving the car like the rest of us, I'd go with what the manufacturer suggests. Click and Clack's CarTalk.com


9/6 dealer closing- Ambassador Subaru in Moscow Idaho, open since 19071, closing 9/30/13. Kendall Subaru in Lewiston, Idaho will be the area's Subaru dealer.


9/5 the internet is changing the way everyone researches, shops for, and buys cars.
Subaru is shrinking brochures (the 2014 Tribeca doesn't even get one) and encouraging people to download apps and images. Of course, the car companies then know who is interested and can market directly to potential buyers.
"Automakers trying to reach young buyers face a conundrum: How do they sell a car to people who stay away from a showroom?
"They won't come into the stores to educate themselves," said Peter Chung, general manager of Magic Toyota and Scion in Edmonds, Wash. "They'll do that online."
More than half of the younger buyers surveyed by AutoTrader.com, a car-buying site, said they wanted to avoid interacting with dealership sales representatives.
In response, automakers like Cadillac and Toyota are starting to embrace technology that tries to take the showroom to the buyer. Known as augmented reality, it embeds images and videos in a picture on the user's smartphone or tablet. The result is a far more detailed view of the image, often in three dimensions with added layers of information.
...At the root of the interest among automakers is the wish to reach young buyers, who spend a lot of time looking at images of cars online, said Stephen Gandee, vice president for mobile and emerging technologies at Edmunds.com, a car-buying site. Much of the research in buying a car is done online today, and not just among young buyers. But automakers and dealers want to create a deeper connection.
"The emotional side of shopping — you can't beat pictures," said Mr. Gandee, who is helping oversee the redesign of Edmunds.com's Web site to try to capture more of the emotional and visual appeal of the car-buying experience. He said the site expected to have its own augmented reality prototype by next year.
Dealers are trying to change the way they communicate with a generation of car buyers who prize information and speed over the personal connection dealerships offer.
Many younger buyers no longer even test-drive a car before buying it, said Mr. Chung, the general manager of Magic Toyota and Scion. Instead, they read reviews and add features to their vehicle online before going to the dealership with the exact model and price they expect shown on their smartphone.
That is one reason Mr. Chung and other car dealers expect augmented reality to serve as a powerful selling tool in place of a sales associate.
"The consumer is no longer coming in and looking at 10 colors," Mr. Chung said. "They've seen all 10 colors online and know what they want." read the entire article.


9/4 Subaru sells 41,061 cars in August- the best month ever in the company's history, a whole new record.
The previous best month are this past May with 39,892 and December 2012 with 35,512.
Going back, August 2009 was Cash For Clunkers and set a huge new record of 28,683. Subaru's fortunes have changed since then.
By model, August 2013
Forester 13,163, up 89.2% over August 2012
Outback 10,163 , - 9.9% from 11285 August 2012
Crosstrek 4757
Impreza 6874, up 43.8% over 4719 August 2012
Legacy 3954, up 2.1% over 3782 August 2012
WRX, STI 1235, up 81.4% over August 2012
BRZ 868, up 39.3% over 623 August 2012
Tribeca 137, down 12.7% from 157 August 2012
YTD Subaru is at 281,652 (a 29.3% increase over YTD 2012's 217,780) and the goal of over 400,000 for the year is well in reach


9/3 Subaru, rebuffed in prior attempts to build a factory and expand in China, has a new partner and a new plan
9/2 Subaru buyers aren't going for the looks
"Subarus have become more mainstream in appearance, but buyers are still quirky. They say they don't need all the latest and greatest features. Subaru buyers want just enough to improve the safety of their cars -- which get high ratings on safety -- and enough connectivity to plug in their phones.
For instance, Subaru didn't add its optional distance control, called EyeSight, until last year. It's still not available on the BRZ coupe or the Tribeca mid-sized crossover. The EyeSight driver assist system uses a stereo camera for adaptive cruise control, pre-collision braking and lane departure warning.
Subaru only has two Boxer engines, a four- and a six-cylinder. Its first hybrid, the XV Crosstrek Hybrid, goes on sale in November.
Interiors have been called "basic" in some reviews. And the 6.1-inch infotainment touchscreen on the redesigned 2014 Forester was criticized by autoblog.com as "a bit dated and small, with small touch pads instead of easy-to-use knobs for volume and tuning."
But Subaru keeps selling. Alexander Edwards, president of consulting firm Strategic Vision in San Diego, said his survey showed Subaru buyers believe their vehicles are made better than most other vehicles, "which makes some of the other high-tech safety features not as necessary."
They're also a bit arrogant. They believe they are better drivers than average, Edwards says. "This may be why Subaru buyers state significantly less often that they wish their vehicles come with safety features such as blind spot detection and lane warning departure systems."
In-car entertainment also isn't rated as a high priority by Subaru customers, he said.
It doesn't matter that Subarus aren't head-turners, said Ernie Boch, Jr., CEO of Subaru of New England, the larger of the remaining two privately own-ed U.S. Subaru distributors. "Subaru hasn't become trendy, and that is an important aspect of their cool factor. Once you become trendy, you are done -- like a restaurant.
"When you have a hit record, would I rather hang out at No. 3 for eight weeks or be No. 1 for one week?"
Shaun Del Grande has owned Capitol Subaru in San Jose, Calif., since 2007. He also has Hyundai and Kia franchises.
He says Hyundai and Kia buyers, like Subaru buyers, want good value. But Subaru has positioned itself to attract "people who are not followers -- they may look at other Subaru drivers and give a quiet nod," Del Grande said. "We joke that people have their car named before they pull out of the lot. These people love their cars. They are smart people and analytical people who are attached to their cars." read the complete article

9/1 the 4,000,000th car made at Subaru's factory in Lafayette is a blue Outback
'Second-shift production at Subaru of Indiana Automotive Inc. was delayed Wednesday (August 28) so that associates and executives could admire a blue, 2014 Subaru Outback, the 4 millionth vehicle produced at the Lafayette plant, which opened in 1989. A cheer rose as the car rolled out in a cloud of smoke to a song written and produced by an SIA associate.
"It's the most produced vehicle and also the leading-selling vehicle built at SIA," said Tom Easterday, executive vice president.
"Outback sales in the last four years have tripled in the United States.
Since production began at the plant near Dayton on Indiana 38, the Subaru Tribeca and Baja; the Isuzu P'UP, Rodeo, Amigo and Axiom; the Honda Passport; and the Toyota Camry have rolled off assembly lines, and each million-vehicle milestone has been celebrated. SIA produced its 3 millionth car Sept. 29, 2009. Easterday said No. 5 million likely will arrive in 3½years. "We will be adding additional production next year with the next generation Legacy Outback," he said, "and we also will be adding, in 2016, the new Impreza production." About 900 more employees will be added, too."

8/31 2014 Imprezas due in November, not October as previously reported

8/30 the redesigned 2015 WRX and STI sedans will be shown LA Auto Show 11/22-12/1 at the LA convention Center.
There won't be a 5 door hatchback available

8/28 What are you doing next weekend? Visit the West Coast Subaru Show, the largest Subaru show on the west coast. Mud pits, awards, camping out, and Subarus Subaru Subarus. Sponsored by Subaru, and Smart Service in North Seattle/Shoreline and Mukilteo, and All Wheel Drive Auto in Kirkland among others. Its in Longview, Wa, September 6-8. West Coast Subaru Show

8/27 2014 WRX and STI brochure now at dealers
22 pages. New smaller 9x11" format. Mostly same exterior photos as the 2013 brochure.


8/26 Safety ratings from NHTSA
2014 Legacy gets top 5 Star rating for Overall, Frontal, Side and Rollover crash tests
2014 Outback gets top 5 Star rating for Overall, Frontal, and Side crash tests. 4 Stars for Rollover
2014 Forester gets top 5 Star rating for Overall and Side crash tests. 4 Stars for Frontal and Rollover
more safety ratings

8/25 a Mama turtle found a safe place at Capitol Subaru in Oregon to lay her eggs. And the dealer built a barrier to protect to spot she buried them.
Read the article 'Employees at Capitol Subaru of Salem came into work to find a surprise left in their parking lot.
A turtle from a lake that is on the middle of the property had crawled onto the parking lot and laid eggs.
"She crawled out underneath the fence and was looking really hard for a place to lay her eggs," said Carrie Casebeer of Capitol Subaru.
The turtle laid her eggs near sand and gravel. She has not been seen since." the article and photo, and another photo

8/24 Canada gets a STI 4 door Tsurugi Edition for 2014. US has the Limited, but will SoA also have a special end of run model?
"In Japanese culture, a "tsurugi" is a double-sided broadsword — the perfect name for a car that blends aggressive performance with sophisticated design."
Leather trimmed interior, 10" Kicker subwoofer, 18' Enkie 5-split spoke alloys. Starting MSRP. $41,495. the official website


8/23 2014 prices announced for BRZ, Crosstrek, Impreza, and Tribeca
> BRZ, $100 increase on all models. Destination increased $25 to $795. 2014 BRZs expected late September. Aha now included with navigation. BRZ Premium automatic and Galaxy Blue color dropped. No other changes for 2014. MSRP including destination: Premium manual $26,390, Limited manual $28,390, Limited automatic $29,490. 2014 BRZ webpage
> Crosstrek: No price increase. Destination increased $25 to $825. 2014 Crosstreks expected late September. Aha now included with navigation ($100 increase). No model or feature changes announced. Hybrid price not announced, hybrid still expected December. MSRP price including destination Premium manual $22,820. Premium CVT $23,820, Limited CVT $25,320. 2014 Crosstrek webpage
> Impreza: No price changes except on Limited models ($200 increase). Destination increased $25 to $795. Expected to start arriving late September. Rear view back-up camera now standard on Limiteds (that's the $200 increase). Aha included with Navigation ($100 increase). A few new colors (new deep sea blue, quartz blue, jasmine green, and marine blue is gone) and satin white is now available in either ivory or black interior. No other model or feature changes announced, which means there are still too many overlapping Impreza/Crosstrek models. 2014s expected in September November. MSRP price including destination: 4 doors 2.0 base $18,690 manual, $19690 CVT, Premium manual $20,590, $21,090 CVT, Limited $22,990. 5 door models: base manual $19,190, $20,190 CVT, Premium manual $21,090 (includes all weather pkg), $21590 CVT, Limited $23,490. Sport Premium manual $21,590, Sport Premium CVT $22,590, Sport Limited $23,990
> Tribeca continues on for another year. Delivery expected starting late September. New Carbide Gray color replaces graphite gray. There is still only one model, the Limited, and all now have the moonroof, back-up camera (displays in rear view mirror), black roof rails, auto dimming rear view mirror with compass. These features were the optional $1500 moonroof package on 2013s. Destination up $25 to $825. MSRP including destination and the added features is $34920 which is the same as last year.


8/22 Lithia company owns a number of dealerships, including some Subaru dealers
This is an interesting article on buying and selling used cars. The company had centralized and controlled all used car buying functions and essentially strangled the process to death with their corporate mindset. They have since reversed the policy, empowering managers to make decisions, and sales are increasing now that individual dealerships can control the purchase and sale of used cars. The manager of their Oregon City Subaru dealership talks about aggressively seeking out used Subarus to fill the lot, which is necessary if you want a Subaru dealer with a full used car lot. The article highlights the pitfall of corporations squashing individual incentives, then the climb back up the sale ladder due to respecting and empowering the individuals, and the process of buying used cars in the age of the internet. The article

8/16 Was the SVX (1990-1996), long endeared to fans of Subaru's skill and quirkiness, a knock-off? Say it ain't so...
"The Subaru SVX remains one of the most distinctive Subarus ever built, and was full of exciting details that made it seem a bit like someone stole a little commuter spaceship from the year 2163. But how much of that look is original, and how much came from a 1985 concept car?
"Stolen" is probably the wrong word to use here, really. Car design details and trends come and go like ocean tides, sweeping everyone up in their particulars before washing back out to the big design sea. Even so, Giugiaro's radical design for the SVX sure looks a hell of a lot like the Ghia/Vignale concept built on a Mustang SVD platform.
At the time, Ford owned Ghia, who was redefining Ford's design direction, most notably with the at-the-time revolutionary Taurus. A Ghia-ized Mustang certainly made sense, and this concept was one possible direction.
In fact, magazines like Motor Trend speculated it might be the direction for upcoming Mustangs, as they wondered aloud about "Tomorrow's Mustang?"
It was a reasonable guess, and while it didn't literally come true, the Subaru SVX brought almost everything the show car offered to the public about six years later, in 1991. Giugiaro may not have inspected the car in person, but it's a pretty safe bet that Italdesign was at least aware of the car, which was shown at the Chicago Auto Show in 1985.
It's not that there's a hint of the Ghia car in the SVX, it's that all the details that make the SVX so distinctive are in there, and the overall proportions and shape are quite similar...." read the entire article

8/15 Outback and Legacy- new Tungsten color has the warm ivory (beige) interior. There's a whole lot of interest in the color but at least here in the NW people are disappointed its not available with the gray interior.


8/14 2014 Legacy photo pages now up exterior photos, interior photos

8/13 what is the furture of Subaru- in a scramble for growth are they going to confuse buyers with muliple almost identical models
"Profits and sales are heading toward records after the company benefited more than most Japanese carmakers from the weakening of the yen and as new models such as the BRZ sports car have become so popular that U.S. consumers need to wait months to get one. The success is leading President Yasuyuki Yoshinaga to worry whether the niche maker of all-wheel-drive vehicles is getting too big.
"We're standing at a major turning point for Subaru," Yoshinaga said in an interview this week in Tokyo. "It shouldn't just be about volumes. We should be making cars only Subaru can make that are a little more expensive and more profitable than the competition."
Debates are raging internally whether to expand Subaru's lineup of cars, make a push for cheaper vehicles for markets such as India or stick to the products the company sells well, Yoshinaga said. Executives at the company, which counts Toyota Motor Corp. (7203) as its biggest shareholder, will begin discussions this month through next year to determine the long-term direction of the Tokyo-based company, he said.
"Some people in the company may want to make mass-market products or cheaper cars, but is this really the right direction for Subaru?" Yoshinaga, 59, said. "We're not a carmaker that can grow as big as Toyota. And even if we could, reaching that sort of scale would mean we'd stop being Subaru." akaki Nakanishi, founder of Nakanishi Research Institute Co. and Japan's top-ranked auto analyst this year by Institutional Investor magazine, said Subaru is better off small.
"Subaru is a niche product," Nakanishi said. "They have a strong partner in Toyota, which is complementing Subaru's product development so that they can focus their strategy on being a niche player."
While the company has a midterm target of reaching 850,000 units by March 2016 and estimates deliveries to reach 1 million by the end of the decade, Subaru may be speeding ahead of schedule. Sales climbed 13 percent to 724,000 (7270) units in the year ended March and may rise to 752,000 this fiscal year, according to the company's latest forecasts" read the entire article


8/12 competition for the Outback? Imitation is the sincerest form of flattery?
Next June there will be a redesigned 2015 Outback available, and a new VW competitor
"Volkswagen Group of America may take aim at the Subaru Outback with a rugged, all-wheel-drive wagon based on the next-generation Golf, sources say.
VW has approved an awd version of the redesigned Golf-based Jetta SportWagen that is due in the United States in late 2014. Sources familiar with VW's product plans say the automaker is leaning toward turning the awd version into a spin-off model with higher ground clearance and body cladding, similar to the Alltrack concept shown at the New York auto show in 2012. A VW spokesman declined to comment.
VW already sells an Outback rival in the actual Australian outback. That car is a modified Passat wagon called the Passat Alltrack, but VW discontinued the Passat wagon in the United States when it launched the Chattanooga-built Passat in 2011." read the original article

8/11 top Subaru technician is Jason Sherrill.
"Aug. 7, 2013 Subaru of America, Inc., today announced that Jason Sherrill of Wyoming Valley Subaru in Kingston, Penn. is this year's Subaru U.S. National Technician Competition Champion. He will represent the United States in the Subaru International Technician Competition to be held this November in Takao, Japan.
This is the fourth year that Subaru of America, Inc. has hosted the competition. The three-part competition is comprised of a one hour written test to gauge the contestants' academic knowledge followed by two hands-on technical challenges.
Sherrill is a shop foreman who has been a Subaru technician for nine years and holds the title of Subaru Senior Master Technician. Sherrill participated in the 2011 competition, finishing in second place. For his first place win, as well as entry into the Technician finals, Sherrill was presented with a plaque from Subaru of America and a recognition gift from Subaru parent company Fuji Heavy Industries.
Overall rankings: 1st Place: Jason Sherrill -- Wyoming Valley Subaru, Kingston, PA 2nd Place: Mark Jurkovski -- Morrie's Subaru, Minnetonka, MN 3rd Place: Bret Carter -- AutoNation Subaru West, Golden, CO
Runner-up Group (in no particular order): Daniel Overfield -- Yark Subaru, Toledo, OH Danny Squires -- Carr Subaru, Portland, OR Gregory Knothe -- Rancho Grande Motors, San Luis Obispo, CA Greg Sampley -- Maple Hill Subaru, Kalamazoo, MI Jason Ewing -- North Park Subaru, San Antonio, TX Jeffrey Sparrow -- Mastro Subaru, Tampa, FL Jeremy DeGroodt -- Capitol Subaru, San Jose, CA John M. Hollingsworth, Jr. -- Subaru of Kennesaw, Marietta, GA Matthew Bahr -- Bill Kolb, Jr Subaru, Orangeburg, NY William Wright -- Pence Subaru, Midlothian, VA." the press release

8/10 What makes a Subaru a Subaru? Its not only love... its an engine too, specifically a boxer engine
"What makes the 2013 Subaru Legacy different? A unique boxer engine, like that featured in Porsche models, offers engineering benefits compared to the more standard engines used in Toyota Camry, Honda Accord, Nissan Altima, and pretty much every other midsize sedan. While the Legacy does offer standard all-wheel drive, it does suffer in fuel economy, reaching up to 32 mpg on the highway compare the the more standard 40 mpg from other automakers.
There are only two car manufacturers in the world that use "flat" engines, Porsche and Subaru. The flat layout, also commonly called "boxers" due to the opposing cylinders punching towards one another horizontally when fired, has two undeniable engineering benefits. The first is that the engines lend themselves to being mounted very low within the car, allowing a lower center of gravity. Secondly, the natural positioning of the cylinders in this configuration effectively cancels a lot of the vibration inherent in other engine designs, eliminating size increasing balancing solutions. One major problem of the boxer engine is that only two car companies do all of the research and development on evolving the design. Literally scores of car companies refine the inline and "V" bank type of engines. For Porsche, this issue isn't so critical because they need only wring ever more power out of the boxer design." read the original article


8/9 NW area dealer incentives- Subaru has very strong dealer incentives if you lease a 2013 Outback, Legacy, and Impreza. Subaru wants you to love your car but not love it so much that you keep it forever and don't replace it. Thus Subaru is encouraging leases with dealer incentives, and your best price on those models is on a lease. And this is supposedly the final month for 2013 Legacy and Outback lease.









Did you know Subaru makes small engine and portable home generators? Parent company Fuji also has Robin America with l engines for lawnmowers, jets skies, generators etc. They make Subaru generators including quiet inverter ones. Subaru generators


This website is happily created and maintained by Joe Spitz, selling Subarus since 1996 in the Seattle - Puget Sound and greater Northwest area including Idaho, Montana, California, Oregon, Alaska. This independent unauthorized website is not approved or supported by any dealer or by Subaru. There is no advertising. If you like the site, please tell friends, mention it online.

Yes, you can Buy a Subaru from me I check Inventory I Contact I my schedule I about I customers say I forum/comments
join me on facebook, linked-in, twitter,

All photos, text, formatting © J. Spitz 1996-2013, Unauthorized reproduction prohibited 11.2.13
Disclaimer, Privacy, my other site is www.usedbooks101.com