5/22/17 2017 Outback, Crosstrek and Legacy factory orders end tomorrow 5/23 at 9pm EST.
That's very little advance notice.
If you want a specially equipped 2017 Outback, Crosstrek or Legacy, please order today or tomorrow because after that its too late.
This also means the 2017 model sell-down is right now for best supply and price.
Dealers have a lot of inventory, especially Outbacks and that means they're motivated sellers.
2018 orders will start in late June, with a delivery ETA perhaps of late July but realistically August.
The 2018 Outback, Crosstrek, and Legacy are all getting some excellent upgrades.
The Crosstrek will be all new, a Crosstrek version of the 17 Impreza, and the Outback and Legacy are getting a new front grill, headlights, interior trim and other minor upgrades but the big news is the improved audio systems with Android Auto and Apple Carplay!
If those features are important, then you'll want to wait for the 18s.
No more 2018 details, prices, or specs have been announced yet but they will be available once the orders start.
Subaru will offer financing as the 18s arrive but the rates probably won't be as low as what the 17s have, at least at first, and depending on how many 17s are still on lots.



5/18/17 2018 Forester prices and features announced. Orders now accepted
Despite just two days ago (5/16) saying 2018 Foresters would be orderable on 5/22, Subaru today announced the 2018 prices and started accepting orders.
ETA for cars ordered now would be July.
Destination increased $40 to $915 (AK $1065)
Most prices increased $200
There are very few changes for 2018,
Model lineup remains the same.
The big news is the 2.5i Premium CVT Package #16 Black Edition gets Paddle shifters which is a huge improvement! It gives the driver full transmission control for improved safety and performance getting on the highway, passing on 2 lane roads, towing a small trailer, improved snow driving and downhill control. This is long overdue and is the first Forester 2.5L CVT with paddles shifters. The 2.0XT CVT models have always had paddle shifters.
Audio systems remain the same with no Android Auto or Apple Carplay. Sorry, you'll have to wait for the 19s.
Colors remain the same.
Sephia Brown is still on Touring models only but is now available with either black or the Saddle Brown interior.
Audio systems remain the same with 6.2" on the 2.i base models, and the 7" system on all others. No Android Auto or Apple Carplay this year (sorry).
2.5 Premium CVT models come in a new "Black Edition". Available starting August, the 2.5 Premium Black Edition (its package #16) includes paddle shifters (finally full transmission control on a 2.5, its long over due!), steering responsive LED headlights, fog lights, black cloth with leatherette bolsters, black leather steering wheel with silver stitching, black interior and exterior trim and logos, 18" black alloys, cargo tray, stainless exhaust tip.
This is similar to the 500 black 2017 Crosstrek Special Edition models that were available earlier this year.
Limited models get standard cargo/luggage area cover
2.5 and 2.0XT Touring models get standard Eyesight and Navigation



5/16/17 2018 Forester order system should be open on 5/22 with ETA in July.
Very few changes expected for the 2018s- there will be no Android Auto or Apple Carplay. Sorry. That will all come on the 2019 Forester due next year

5/11/17 Subaru sells 1,000,000 cars worldwide in a single year for the first time
"Subaru Corporation announced they have reached 1 million vehicles sales for the first time ever. They will thank U.S. consumers with a new SUV.
Subaru, one of the smallest global automakers, hit a major milestone this week. Subaru Corporation announced global sales of Subaru vehicles rose 11.1 percent to 1,065,000 units, surpassing the one million mark for the first time. Subaru's fiscal year ended March 31, 2017 and the final numbers have been tallied. They can thank U.S. consumers.
Subaru needs to thank U.S. consumers for the big milestone where it sells around 60 percent of its global production. The rest is split between, Japan, Australia, Canada and Europe. The small Japanese automaker has seen a significant rise in sales in the U.S., where Subaru has carved out a niche with their all-wheel-drive crossovers. Subaru of America will thank U.S. consumers in a big way.
Outback, Forester and Crosstrek lead the way. The Subaru Outback, Forester and Crosstrek are the top three models sold by Subaru of America (SOA). Subaru sales in North America marked an all-time record for the 8th consecutive year. SOA is celebrating their 50th anniversary in the U.S. next year where the majority of the brand's growth has occurred. They have a celebration planned with new anniversary models coming in 2018. They also have a new SUV coming.
The 2018 Subaru Outback wagon, Impreza compact and Legacy sedan are all manufactured at Subaru of Indiana Automotive's (SIA) plant in Lafayette where the upgraded-facility celebrated their 30th anniversary on May 3. The maker of the SUV-alternative Outback, Legacy sedan and Impreza sedan and 5-Door compacts has ramped up production of its cars in the US. SIA stopped production of the Toyota Camry to make room for the new Impreza when the first model rolled off the line in November. There's more new models coming.
What's next for Subaru? U.S. consumers will see the new-generation 2018 Crosstrek arriving this summer and will feature refreshed exterior styling, it will grow slightly in size, ride on an all-new platform, and enjoy better fuel economy with a new direct-injection 2.0-liter boxer engine. It will also come with several Eyesight upgrades, including the addition of Lane Keep Assist, High Beam Assist, and Reverse Automatic Braking when an obstacle is detected backing up.
New Crosstrek Hybrid A new Crosstrek Hybrid is coming with fuel-sipping technology that's being developed now. Subaru says the new hybrid Crosstrek has been in the works for quite some time. The hybrid model will arrive later in the year after the new-generation Crosstrek gas model makes its dealer launch..."
read the entire article
from torquenews.com

5/10/17 About the Takata airbag recall
Subaru has a website with news about the Takata airbag recall, and a link to type your VIN in to see if your car is involved.
Then call your local or selling dealer to get information and timing about airbag availability
Consumerist magazine just did a wrote an article
Consumerist

5/6/17 an article about Subaru incentives and 0%
"Even Red-Hot Subaru Offers Deals On Some Cars. Subaru is America's hottest car company. However, even it offers very attractive deals to pull in customers, a sign that no car company is immune from the incentive wars which have swept the industry.
Subaru sales car unit sales rose 11.3% in March to 54,871 and for the first three months of the year are up 9% to 144,250. First quarter car sales industry wide rose fell 1.6% to 4,033,045. Kelley Blue Book expects Subaru's April numbers to be as impressive as those of the first quarter
Subaru excels in the manufacturer of high gas mileage, low price, and durable cars. And, it is famed for it four-wheel drive technology which has been one of the company's hallmarks for years. The base price of its cars runs from $18,395 for the Impreza sedan to $26,695 for its WRX sports car. Subaru has only seven basic models–the Impreza, Legacy, Crosstrek, Forester, Outback, BRZ, and WRX.
One of the most popular hooks used to draw new cars companies is 0% APR financing. Bank cars loans often carry interest rates of 3%. The car companies which offer the deals take some risk that interest rates will spike over the next several years. Subaru offers 0% financing on its 2017 Legacy, Outback, and Forester. The Impreza and Crosstrek have financing of 1.9% APR, a sign the car is selling crisply. The fast WRX sports car has a 2.9% APR offer.
Each of the offers carry standard disclaimers:...
... Other car companies have much more aggressive offers. Incentives are near an industry wide high point, as U.S. auto sales slow after nine years of expansion. The attractiveness of Subaru's models must not be quite enough in management's opinion. It has been sucked into the incentive vortex"
read the
original article
by Douglas A. McIntyre, April 30, 2017 on 247wallst.com
5/2/17 April sales totals 52,368, an increase of 1,988 cars (8%) over 50,380 April 2016
Subaru rolls along the sales freeway at a steady speed, with April 2017 being the best April ever, the 65th consecutive month of increased sales, and the 38th consecutive month over 40,000.
Top volume for the month is the Forester at 14,761, a 2% increase over April '16, and the Outback with 14,469, a 1% increase over April 16 sales.
But the big winner for the month is the Impreza with 8,038, more than double April 2016 volume and easily surpassing the Crosstrek's 7218. This is probably the biggest month Impreza has ever had, or at least in a long time. Perhaps having a staggering 240 Impreza model, transmission, and color combinations is working.
The Crosstrek was down 5% from April 2016. The all new 2018 coming late summer that was shown at the NY auto this month and with many new features (Apple Carplay, Android Auto, better blind spot detection symbols etc etc) some potential Crosstrek buyers are waiting.
The Legacy is down 21% for the month. Its a great buy with 0% and good lease programs, but Subaru sedans still struggle, and Subaru cut back the supply earlier this year. It should increase when the updated 2018 model is released this summer, again with Android Auto and Apple Carplay.
Forester 14,761, an increase of 261 cars (2%) over 14,490 April 16
Outback 14,469 cars, an increase of 175 cars (1%) over 14,294 April 16
Impreza 8.038 cars, an increase of 3,202 cars (66%) over 4,836 April 16
Crosstrek 7218 cars, down 389 (-5%) under 7,607 April 16
Legacy 4,399 cars, down 1,192 (-21%) under 5,591 April 16
WRX, STI 3,039, down 57 cars (-2%) under 3,096 April 16
BRZ 444 cars, down 22 cars (-5%) under 466 April 2016



5/2/17 May- low finance rates continue.
This is a good time to shop for a WRX/STI, or Outback, Forester and Legacy since the 2018 versions of all these are due in the next 2-3 months.


5/1/17 Step up ... an article from automotive news about the future according to Subaru President Tom Doll
There's a lot to read between the lines.
from Automotive News' Jack Walsworth "Subaru dealers continue to set sales records in the U.S., but they are not keeping up in their service departments, the brand's U.S. president says.We just don't have enough service capacity," Subaru of America President Tom Doll told Automotive News during the New York auto show in April. "With all the vehicles that we've sold over the last five to seven years, the retailers need to invest their profits in expansion."
Subaru's sales success is outpacing retailer capacity investments, he said.
Led by two of its most successful nameplates, the Outback and Forester, the automaker sold 615,132 vehicles in the U.S. last year, a 5.6 percent increase from the previous record of 582,675 sales in 2015.
To put the brand's capacity dilemma in perspective, Subaru sold 182,898 Outbacks alone in 2016 in the U.S. That is nearly equal to the brand's total sales volume in 2006 -- 200,703.
Since late 2013, Subaru has offered financial incentives to its retailers to expand and invest in their service departments. Doll said more than 400 of the brand's 630 U.S. stores have opted into the Fixed Operations Expansion program, exceeding the automaker's expectations. But the network's service capacity is not keeping pace with the growing opportunity.
"I always say all profit is temporary," Doll told Automotive News. "If you're not investing the bulk of that profit back into the business, at some point, you're going to fall further and further behind."
Doll added that in some metropolitan areas, service departments already are operating on double shifts and weekends but still can't keep up with demand due to the high sales volumes.
"Now they need a bigger footprint," Doll said. "If they've maxed out adding shifts or adding technicians and service advisers or expanding their hours, now they have to actually build out. If you ever go to some of our locations in the Pacific Northwest or Southern California, we're in great spots. The issue is they're too small. Given the size that we're selling, we need them to expand their footprints a little bit."
With Subaru targeting a 9 percent sales surge in 2017 for a ninth straight year of record U.S. results, it's clear there's going to be even more service customers in the future.
Additionally, two key model introductions are on the horizon, a redesigned Crosstrek and the three-row Ascent, which both figure to further cash in on the crossover craze and contribute even more sales to the brand.
The Ascent alone, which fills a glaring product gap, could boost the automaker's U.S. sales by as much as 60,000 vehicles annually.
read the original article
by Jack Walsworth
4/30/17 an article on the 2018 Ascent, from Forbes
Like other articles, this one is short on hard specifics but is proves that subaru has people talking, and that's their goal
"At 17-feet in length, and catering for up to eight passengers, the Ascent is the biggest production vehicle Subaru has ever built. And if initial reaction to the SUV is any indication, the Ascent could turn out to be the brand's most popular model. Revealed this month at the New York International Auto Show, the huge 8-seater SUV is destined for the North American market by 2018...."
read the entire article
4/28/17 2018 Crosstrek- a few specs and photos
Initial features and some photos from the NY Auto Show are available on my
2018 Crosstrek webpage
The cars are not expected anytime soon, the ETA is late summer so this is very early information.
The 2017s are available now and a great car (I've had a 2013 and a 206 Crosstrek)

4/26/17 2018 WRX and STI orders are now available.
The ETA given for orders placed today is June (late June), but that's subject to change


4/25/17 2018 Crosstrek mini-booklets from the NY Auto show arriving at dealers, limited quantity

4/24/17 Ray Magliozzi of Car Talk writes about tires sizes and tread depth, and why its important to all wheel drive.
The conversation was about replacing only 1 (damaged) tire instead of all 4
"....When a mechanic measures your tire and says it's a 9, it means that you have 9/32 inch of tread left. Most tires start out with about 12/32. When you get to 2 or 3, you'll see the tire's wear bars.
Stopping distances are much longer on wet roads when tread depth gets below about 4/32. And performance on snowy roads degrades below 5/32. Since you bought an all-wheel-drive vehicle, I'm guessing weather is an issue where you live. That means those 7s are already getting near the end of their useful lives. Also, you are endangering your all-wheel-drive system by using tires of different sizes.
So what do you do? Manufacturers have different recommendations about how similar tires should be to one another (check your own owner's manual). But most suggest a tread difference of no more than 2/32 or 3/32 inch.
One solution is to simply keep the new tire you bought and buy three more. That's the best option from a mechanical point of view. Another option is to have that new tire "shaved" to match its axle-mate. That involves taking a new tire and paying a tire store $30 to turn it into a tire with 15,000 miles on it."
4/22/17 2018 WRX and STI prices, models and features announced on 4/20.
Orders are not yet available (soon, but not yet) with delivery expected in June.
Prices increase $300-$900.
All models get a new front grill and front bumper, front power windows power off-delay, fixed position roof rack crossbar mounting points on all models, rear seat center armrest with cupholder, revised/retuned/tweaked electric power steering, clutch, and suspension.
The most requested feature, Android Auto and Apple Carplay, is not on the 2018 WRX or STI.
New features vary by model, and include LED steering responsive headlights, LED fog lights, Recaro seats, 19" alloys, pushbutton start, upgraded brakes and brake rotors.
WRX Premium gets the larger 7" audio which is a significant improvement (faster processor, better audio, better backup camera display etc) over the 6.2' system from last year thats still in the WRX. Premium manual transmission gets a new optional Performance Package with Recaro seats (power driver's seat), Jurid brand brake pads, red front and rear brake calipers, and no moonroof (saves weight, slightly lowers center of gravity) for msrp $2050
Optional Eyesight (on WRX Limited CVT) gets all new new features including Eyesight Assist Monitor (EAM) which displays Eyesight information on the inside of the windshield, and Auto Vehicle Hold (AVH) which usesd the electric parking brake to hold the when stopped in traffic or at a light
WRX Limited gets LED low/high beam steering responsive headlights, LED fog lights, pushbutton start, power lumbar support added to the power driver's seat
WRX LImited CVT with optional Eyesight gets new features including
> Eyesight Assist Monitor (EAM)- displays Eyesight information on the inside of the windshield
> Auto Vehicle Hold (AVH) used the electric parking brake to hold the when stopped in traffic or at a light
> High Beam Assist (HBA)- a sensor will switch between high and low beams depending on outside light and approaching traffic
STIs get upgraded Brembo front/rear brakes, larger and drilled front and rear rotors, 19" alloys. New option packae includes Recaro front seats and pushbutton start
STI Limited gets the recaro front seats
Note- Android Auto and Apple Carplay is not available
check out my 2018 WRX and STI features, prices, and options



4/22/17 Earth Day 2017
Many Subaru dealers have a small garden tool display, with free paper disks with seeds embedded
photos here
4/19/17 Pan Grier to be star-in-residence at the Dining Out For Life fundraiser to benefit HIV/Aids event hosted by Subaru, in Charleston SC, April 27th
Pan Grier has been a movie star since the early 1970s in Coffy and as Foxy Brown in 1974s Foxy Brown.
She has been involved with Dining Out For Life for 7 years according to the Subaru press release.
Read about Pam Grier and the Charleston fundraiser
DiningOutForLife
in your city



4/17/17 2017 Forester orders close 4/27 11pm, for June delivery
2018 orders will open "mid-April" for July delivery and we'll have some information on the 2018s at that time.
Not all 2017 models will be available to order, it will depend on how many are ordered.
Note- today is 4/17 which is mid-April so we should be more information soon.

1/12/17 the all new 2018 Subaru Ascent 7 passenger lives! Finally....
This is a big deal for Subaru. A 7 passenger opens a whole new market for them and will help keep momentum.
It's the first new vehicle since the 2013 Crosstrek which was a hit, and the 2013 Scion/Subaru-Toyota/Subaru BRZ which is absolutely great looking but not a hit. Speaking of the BRZ, I'm hoping people looking for a rear drive sports car with great handling will check out the 2017 BRZ Limited with the new Performance Package.
The rumors about this long awaited 7 passenger being called Ascent were right after all...
Introduced today at the NY at the NY Intl auto show, the new 7 passenger will be built in Lafayette and available next spring.
This will be the 3rd model based on the new global platform. 1st was the current 17 Impreza, 2nd the new 2018 Crosstrek due fall 2017 (already people are waiting for it!), 3rd will be this Ascent due next spring, 4th the new 2019 Forester due June (?) 2018, then the 2020 Outback and Legacy due in 2019. And reportedly an electric car at some point.
Engine- a new turbocharged 4 cylinder engine. No hp and no 6 cylinder has been announced.
The current 2017 2.0 4cylinder turbo Forester XT has 250hp, the WRX has 268hp.
Dimensions
2018 Ascent is 198.8" length x 78.3" width x 72.4" height, wheelbase 117"
The 2017 Outback is 189.6" length, 81.9" width, 68.1" height, wheelbase 108.1"
The Tribeca (2006-2014) was 191.5" length, 73.9" width, 67.7" height (incl crossbars), wheelbase 108.2",
The Ascent is longer, but the important dimension is the longer wheelbase which allows for more middle and rear seat room, and better rear seat access. We'll have to wait for final dimensions to know if the Ascent will be a practical and functional 7 passenger or if will be a larger 5+2. This is important distinction- a 7 passenger has room for 5 people with rear seats 2 adults could ride in (at least for a short trip) whereas a 5+2 has room for 5 plus 2 small people tightly crammed into the 3rd row for short trips.
No 6 cylinder was mentioned and it might not be offered. A turbo 4 cylinder could be a fine choice if it has enough power, if it takes regular gas, if it will tow, and if it gets good enough fuel economy to offset any lack of power at all speeds.
The Tribeca was promoted as a 7 passenger when it was really a 5+2, and people (including car reviewers, bloggers, and the salespeople expected to sell the car etc) who looked at Subaru's grand new 7 passenger went away shaking their heads. If they had come expecting to see a 5+2 (instead of a 7passenger) they would have had more favorable first impressions,
The first Tribeca (2006) used Subaru's 3.0L H6 which put out 250@6000rpm, torque 219@4200rpm on Premium gas. It just wasn't enough power and was quickly replaced in 2008 models with the 3.6L with more power on regular gas. But it was too late. Buyers never returned in enough quantity.
Hopefully Subaru isn't coming out with a small engine to again test the American buyer's desire for easy highway on-ramp acceleration, quiet cruising, and then plenty of passing power at all speeds, using regular gas.
If the 3.6L had been in the 2006, people (including car reviewers, bloggers, and the salespeople expected to sell the car etc) would have had a much better first impression about the car's driving, and a new Tribeca 5+2 3.6L might still be available today.
Other new standard Ascent features reportedly include the safety upgrades including Eyesight, Blind Spot Detection/Rear cross traffic alert, reverse auto braking, 8 USB ports, either middle row bench or captains chairs, 5000lb towing capacity (from the turbo 4cyl?). Available Spring 2018.

4/8/17 The Crosstrek and Impreza hatchbacks are riding a new wave of popularity.
New? Not really. Hatchbacks and small station wagons have always been around, they just got side-lined by SUVs and Crossovers.
Hatchbacks and wagons have about 5.5-6" ground clearance (normal for a car), the Crossovers and small SUvs sit higher (like the Impreza vs Crosstrek, old Legacy wagon vs Outback). The larger Ford Explorer replaced the Crown Victoria wagon.
Small station wagons have always been around. I think the difference between a hatchback and a small wagon is the hatchback is shorter, and the hatch's gate is more sloped. The hatchback's slope is good for fuel economy which is why they replaced the station wagon's squared-off but more practical tailgate. The Scion, Honda Element, Nissan Cube, Kia Soul are all small, high roof, square back small station wagons.
Think Impreza hatchback to a Legacy wagon. And new Impreza hatchback is almost the same size as the old Legacy wagon (except the Legacy's more squared off rear gate allowed for much more cargo and dog space).
But I also think small wagons will come back, like car and house colors, clothing and hair styles, they all come and go and then come back again ... and I think we'll see new small wagon with high MPG wagons again, simliar size/shape as the old Corolla/Matrix, Escort, Legacy, Camry, Civic, Accord etc and going into the more distant past, the Datsun 510, Toyota Corona, VW Squareback, Toyora Tercel, Chevy Vega, Ford Pinto, AMC Eagle and Pacer, Chevy Nova II, Ford Falcon etc etc.
If Subaru really wanted to increase Impreza/Crosstrek sales, they'd make a version with a slightly squared-off rear like the Foresters.
> here's a recent article on the current crop of hatchbacks from Casey Williams of the Detroit Free Press and seen in the Seattle Times
"Before there were crossovers, there were hatchbacks. Now that crossovers have proved to be America's preferred vehicle, its shorter predecessor is making a comeback.
A new generation of exciting five-doors follows a simple formula: Take an athletic commuter car, pack in a bigger cargo area, and toss in lots of stuff. And, it's a segment that roundly offers a manual transmission for driving enthusiasts.
New models from Honda, Chevrolet, Subaru, Toyota and some old favorites help rejuvenate a segment that used to be for the young and penniless.
"Hatch buyers are better educated, make more money and are used to products with more oomph," says Steve Majoros, marketing director for Chevrolet cars and crossovers. "They are also more urban than rural and are a bit older because of income. Hatchbacks add a dimension of personality and design — factors people are demanding in cars today."
According to Majoros, hatchbacks represent about 10 percent of model sales. Exclusivity, bolstered by some automakers offering hatchbacks only in certain regions, created its own demand.
For years, Civic owners and fans have seen the sporty Civic Hatchback in Europe as something of a forbidden fruit," says Jessica Pawl, spokeswoman for Honda. "We've found the hatch buyer is looking for something a little more individualistic, aimed toward their active lifestyle."
Millennials and Gen-Xers, raised on SUVs and crossovers, look to hatchbacks as efficient transportation that can slip through traffic during the daily commute, yet carry bicycles, surfboards or camping gear on weekends.
Hatchback compacts are typically shorter and slightly heavier than their sedan counterparts, and cost about $500 more...."
read the entire article about the various models

4/6/17 2018 refreshed Outback to be at the NY Auto Show, along with the new Crosstrek.
NY International Auto Show
(NAIS) April
14 - Apr 23
. Its going to be a busy show!
A multitude of upgrades make this upgraded Outback worth waiting until July for.. Upgraded audio systems with android auto and apple carplay. Steering Responsive headlights, Rear view camera steering angle lines, Auto locking doors, 10 second power off delay, new interior color added (gray). improved blind spot symbols, quieter, smoother riding....
The 18 Outback keeps the same model lineup - 2.5i, Premium, Limited, Touring, and 3.6 Limited and Touring. All CVTs.
There are a lot of new features but the biggest change is a seemingly little thing... its automatic locking doors. They're are now (finally) available. I think its the most asked for feature and this will be the first Subaru to have it. Most people just assume the doors lock automatically when the car is driven. Now they will.
New 6.5" and 8" audio systems with Android Auto and Apple Carplay. Optional navigation is TomTom with three years of free map updates. The 6.5" system is on the current 17 Impreza and is better than the 6.2" system it replaces, but the 8" system is significantly better and hopefully will be on the 18 Outback Premium in addition to the Limited and Touring models.
New interior Titanium Gray. Continuing are the Slate Black and Warm Ivory, and Java Brown on the Touring models.
New rear seat USB outlets for the back seat passengers.
The rear view backup camera now displays steering lines that move as the steering wheel is turned, indicating where the car is heading in reverse
Steering Responsive Headlights are now available, and are much better than the steering responsive fog lights on the 2017s.
Lane keep assist now starts at 37mph instead of 40,
The blind spot symbols are larger, brighter, and moved from the far side of the mirror to the inner side of the mirror housing for increased visibilty
The tire pressure monitoring system (TPMS) detects individual tire pressure changes so you don't have to check all 4 tires for the one that's low.
Thicker front driver and passenger window glass to reduce wind noise
Redesigned 18" wheels on Limited and Touring. 2.5i and Premium models continue with 17" silver alloys.
Climate control temperature readings are now on the two dual front zone left/right side dials, and the clock display is larger again
Subaru Starlink audio system (Android or iPhone required) includes Aha, Pandora, iHeart radio, Stitcher, Calendar, Music Player, News and Weather and now includes the same new features found on the 17 Impreza including Magellan navigation (by subscription), eBird local sightings and bird watching locations, Best Parking to locate and compare parking rates, Yelp, Glympse location sharing with friends, Quick Guide car informaton and guide, Eventseeker local events, and RightTrack by Liberty Mutual monitors driving habits (but you have to opt in for this one).
Upgraded steering, suspension and CVT transmission to improve steering feel, ride, and transmission response.
4/5/17 March sales and YTD sales
It was a tough month for most car companies, especially those depending on sedans
Most news articles anticipate 2017 car sales to be down or flat compared to 2016.
What is selling are SUVs, crossovers, and pickup trucks.
Down for the month- Hyundai - 8%, Ford -7.5%, Fiat Chrysler -5%, Toyota -2%, Honda -1%.
Up for the month- Nissan +3%, VW up almost 3%, GM up almost 2%.
But Subaru is known for SUVs and wagons... Outback, Forester, Crosstrek, Impreza....
Subaru's total 54,871. That's an 11% increase over the 49,285 cars sold a year ago March 2016, and the 64th consecutive month of monthly sales increases.
In a down month for car sales, that's excellent. Even exceptional
Will Subaru be able to continue their growth as they produce more and more vehicles? Increased inventory could lead to even more downward price pressure and discounting to make room for incoming stock and also to compete with other brands deep discounts and rebates. Will Subaru continue to hold back on customer cash rebates? The 0%-1.49% finance rates work like cash rebates, but not all buyers finance and they expect deals in lieu of financing.
The next 6 months will see the 2018 models arriving and that always helps sales. Some people wait for the last of the outgoing models hoping for a clearance price, and others shoppers are waiting for the new models and changes... like the Android Auto and Apple Carplay many new 18 models will get.
When? Outback, Legacy, Forester, and WRX STI arrive around June-July, and the all new Crosstrek around September. WRX and STI specs and prices are expected soon (mid April), and the all new 2018 Crosstrek will be unveiled at New York April auto show after which some folks will postpone buying a 17 Crosstrek, and other folks won't care about all the new features on it. The 17s models will continue to sell.
March sales by model
Top sales goes to the Outback, outselling the Forester by 103 cars.
The Crosstrek held firm at 7120 which is pretty much what it did 3/16.
Legacy is the only model down for the month (down 654 cars, -12%). The 18 model might help.
The low volume BRZ should be helped with a Spring weather boost and as people discover the new Limited with Performance Package, and the Series.Yellow (only 500 made)
Outback 15,909, up 1,787 cars (+13%) over 14,122 3/16
Forester 15,803 up 1,519 cars (+11%) over 14,284 3/16
Crosstrek 7,120, up 147 cars (+2%) over 6,973 3/16
Impreza 7,653, up 2,460 cars (+47%) over 5,193 3/16
Legacy 4,897 down 654 (-12%) under 5,551 3/16
WRX, STI 3,050 up 313 cars (+11%) over 2,737 3/16
BRZ 439 up 14 cars (+3%) over 425 3/16
March YTD sales by model
Outback, Forester, Crosstrek, WRX/STI, and Impreza are all up for the year or at least holding firm.
Down is the BRZ and Legacy.
Outback 42,572 YTD 2017, up 5,301 cars (+14%) over 37,271 YTD 2016
Forester 41,476 YTD 2017, up 3,049 cars (+8%) over 38,427 YTD 2016
Crosstrek 20,238 YTD 2017, up 688 cars (+4%) over 19,550 YTD 2016
Impreza 18,584 YTD 2017, up 4,577 (+33%) over 14,007 YTD 2016
Legacy 12,703 YTD 2017, down 1,775 cars (-12%) under 14,478 YTD 2016
WRX, STI 7,690 YTD 2017, up 237 cars (+3%) over 7,453 YTD 2016
BRZ 987 YTD 2017, down 224 cars (-18%) under 1,211 YTD 2016



4/4/17 2018 Crosstrek teases
Subaru released some early teaser info on the 18 Crosstrek that will be shown at the NY Auto show on 4/14 and then go on sale later this summer (Sept?).
There will be a lot more information soon but here are some of the details
Its going to be a good upgrade .... more power, better ride and handling due to the all new and much stiffer platform and slightly larger overall size, Active torque vectoring will improve cornering, Xmode will improve downhill slick road driving, better audio with Android Auto and Carplay, Eyesight gets steering responsive headlights, available Reverse auto brake with back-up beeper (the beeper is the important part), Rear view camera gets visual steering lines to aid backing up, the Tire pressure monitoring will tell you which tire is low, and the Limited finally gets a power driver's seat (but its only 6 way which means no lumbar support).
Not all cars will get all the features but overall it all looks good!
The details will tell the full story but can Subaru keep the price down?
upgraded 2.0L with direct injection and 152hp, up from 148hp
upgraded transmissions- either a 6 speed manual which replaces the 5 spd, or a CVT with Paddle Shifters with 7 gear-settings which replaces 6 gear-settings
Size:
Wheelbase is now 104.9" which 1.2" longer. A longer wheelbase has better ride and handling.
Length and width- its .6" longer and .9" wider for slightly more interior room and better ride and handling.
Models
>
2.0i base
6 speed manual
6.5" am/fm/bluetooth audio with Apple Carplay and Android Auto connectivity
Power windows with auto up/down driver and front passenger windows.
Tilt-telescoping steering wheel with audio and cell bluetooth controls
Manual height adjust drivers seat
Trip computer, Alarm system, roof rack rails, 17" machined alloy wheels, black unpainted outside mirrors, rear window privacy glass etc etc
>
2.0i Premium
ADDS to 2.0i base
6 speed manual or optional CVT with Paddle Shifters and Xmode
All Weather Package with heated front seats, heated outside mirrors, front wiper de-icers
Leather wrapped steering wheel,
Starlink emergency connectivity (first year free)
Either black cloth interior or gray cloth, with orange stitching
Optional packages... Moonroof, Eyesight, blind spot detection and rear cross traffic alert driver safety
>
2.0i Limited
with CVT with Paddle Shifters and Xmode
ADDS
Power driver's seat. (but I'm disappointed that its only a 6 way seat which means no lumbar support!)
LED headlights and LED daytime running lights
8" audio with CD player, Apple Carplay, Android Auto connectivity
Power driver's seat, 6 way
18" machined alloy wheels
Leather trimmed interior
Steering responsive headlights (these are excellent)
Automatic climate control
Keyless access/pushbutton start
Exterior chrome trim
Turn signal outside mirrors
Optional Eyesight includes high-beam headlight assist (high beams are auto on/off)


4/3 Fuji Heavy Industries officially becomes Subaru Corporation.
Also sells off its' Subaru Industrial Products (previously known as Robin) to Yamaha effective this coming September 2017.
Costco is still selling Subaru brand pressure washers
From Janes "Fuji Heavy Industries (FHI) - one of Japan's 'big three' Tier 1 defence manufacturers - has changed its name to Subaru Corporation.
The group, which has produced Subaru vehicles since the late 1950s, said the name change is effective from 1 April.
Subaru said the move supports its bid to strengthen the branding of the corporation, which in turn reflects the group's strong growth in the automotive market in the past decade.
At a ceremony to mark the name change in Tokyo, Subaru unveiled both a new version of its Impreza car and a large-scale model of the Bell 412EPI helicopter - or Subaru (Bell) UH-X - which the company is developing for the Japan Ground Self-Defence Force (JGSDF)."
From Automotive News "This is not the first name change in the company's history.
Chikuhei Nakajima established the Aircraft Research Laboratory in 1917.
In 1918, it was was renamed the Nakajima Aircraft Factory.
In 1931, it was incorporated as Nakajima Aircraft Co. Ltd.
After World War II, the company reorganized as Fuji Sangyo Co. Ltd. in 1945 and made the switch from aircraft manufacturing to civilian goods, the company said.
In accordance with the Enterprise Reorganization Act in 1950, Fuji Sangyo Co. Ltd. split into 12 companies, which included Fuji Kogyo , Fuji Jidosha Kogyo and Utsunomiya Sharyo .
Those three companies would then join Omiya Fuji Kogyo and Tokyo Fuji Sangyo to form Fuji Heavy Industries Ltd. on July 15, 1953.
Fuji's automobile business began in 1958 with the introduction of the Subaru 360 minicar."


4/1/17 2018 Crosstrek will be at the NY International Auto Show (NAIS) April 14 - Apr 23.

4/1/17
Sales tax in Washington State's King, Pierce and Snohomish counties
, basically the I-5/Puget Sound area (Tacoma, Seattle, Everett, Bellevue, Redmond etc) increases .5% starting 4/1/17 due to the Sound Transit 3 funding bill passed last November. Yearly car licenses fees increased March 1st


3/29. March special finance and lease rates extended though 4/3

3/20/17 WRX and STI orders will close on Wednesday March 22 10pm EST, 7pm PST
With only 2 days advance notice, Subaru announced today 3/20 that Wednesday 3/22 is the last day to order a 2017 WRX or STI with delivery expected in May.
2018 models will be available to order mid April with delivery expected in June.
Model upgrades, specs, and prices will be available at that time.

3/20/17 Spring is here... the first day of spring
3/17/17 on cars and data
All cars record and store data related to airbag deployment including vehicle speed, seatbelt use, steering wheel position etc. This information is in Event Data Recorder. The Subaru owner's manual has a small section about it,
But Subaru hasn't said what data is collected by the various other Subaru Starlink functions or connected 3rd party services.
The Starlink emergency connectivity function (the overhead blue and red buttons on many Subarus, powered by SiriusXM, with an ATT antenna connection) monitors the cars functions and location and will notify the vehicle owner and dealer if there's an issue.
Then there's the Subaru Starlink app. Its almost all new Subarus. You use it by downloading the Starlink app onto an Android or iPhone paired to the car. Some of the Starlink app cloud functions are location based (Starlink functions are not all the same, they vary by model). One of the Starlink functions, Right Track, Is by Liberty Mutual insurance and monitors your driving (you have to sign up for this this one to work). There are other apps for weather, sports teams, stocks, news and etc.
Starlink audio systems- SiriusXM radio knows where you are and what you listen to.
Navigation- if you use navigation, it knows where you are and where you've been.
This is just something to be aware of, Subaru already knows who buys their cars, where they live and etc, and doesn't have any deep secret agenda with this information that we should be overly concerned about, certainly no more so than what the cell phone companies or computer search engine companies know.
Here's a general article on the subject from the Seattle Times.
It is not about Subarus but is something to be aware of.
"You probably know that you should delete all the data off your phone before you give it away and wipe the hard drive on your computer before you sell it.
But have you considered all the data stored on your car, and what you should do with it when you get rid of the vehicle? Maybe not.
Tony Aquila, CEO of Solera Holdings, a company that collects and analyzes data from cars, thinks you ought to be focusing on the privacy threat your car represents.
"You can learn more about you from your car than you can from your house," Aquila said.
As Aquila and others note, cars have become mobile computers. Not only do they have numerous processors within them, they also have sophisticated arrays of sensors and many now can be connected to data networks or the internet. Cars these days are constantly collecting data and in many cases are transmitting it to car manufacturers and others.
"There's a tremendous wealth of data there about how you drive and where you go and when you go there," says John Simpson, director of the privacy project at Consumer Watchdog, an advocacy group. "It is potentially tremendously revealing."
Cars have been collecting data since at least the late 1970s, when environmental regulations required manufacturers to keep track of and limit vehicle emissions. The amount of data cars generate and store has grown exponentially since then.
Many of the major components in cars, like brakes, engines and even tires, now have sensors on them that collect data about how they're being used. Many cars now have navigation systems that track where drivers go. Many have sophisticated infotainment systems that store users' address books and include apps that may collect and store other personal information.
And cars are starting to collect even more data than that. Many now have cameras and radar systems that can detect other vehicles. Some now have cameras inside the cockpit that attempt to determine whether drivers are too drowsy to drive. The number of sensors and data collected will only increase with self-driving vehicles.
Privacy advocates worry not only about what could be done with all the data that cars are collecting, but also that much of it is being gathered without users' explicit permission.
"Most people have no clue that the information is being collected," says Dorothy Glancy, a law professor at Santa Clara University who has focused on the issue of privacy in cars.
Car manufacturers, their partners and even policymakers have largely focused on the positive benefits of this data collection. Most cars made in the last decade have so-called "black boxes" that save pertinent information taken from sensors immediately before accidents that can be used to help determine their cause. And nearly all vehicles made since the mid-1990s also have on-board diagnostic ports that auto service providers use to diagnose problems.
Meanwhile, manufacturers have been pitching connectivity in cars as a way to provide popular apps and services and as an important service and safety tool. Manufacturers can use the information to alert owners when they're due for a service checkup or when they ought to replace their tires or brakes.
But the information gleaned from cars could be used in other ways that many people might find troubling. It could be used in states other than California to charge people different interest rates based on how they drive. It could be used to determine whether someone was having an affair.
Similar data could also be used to revoke drivers licenses or potentially by employers in ways that could affect drivers' employment, if you speed or regularly drive under the influence. And it could be combined with other data to market all kinds of services to consumers. And that's not to mention that the connections used to transmit data could also be used by hackers to seize control of a car.
While a Ph.D. candidate at the University of Washington, Miro Enev showed that researchers could identify individual drivers with only five to 10 minutes worth of data from the brake sensor in a car. A data scientist who now works for Nvidia, Enev worries that so-called deep learning techniques, where artificial intelligence is applied to large databases to find interesting patterns, will be used to analyze all the data being collected from cars. What manufacturers and their third-party partners discover may not be used for the benefit of car owners.
"It becomes a very slippery slope as far as what is possible," Enev says. "It's basically a big can of worms."
The original article
3/15/17 2017 WRX and STI orders are starting to be closed off.
Without any notice from Subaru, some 2017 WRX and STI models are no longer available to be ordered, depending on model, option package and color.
Currently WRX (code HUN), WRX Premium (code HUO), and STI (code HUS) models are still available to be ordered.
Availability of all other models depends on the color and/or Option Package selected, with some less common models and colors most likely to show no longer orderable.
Contact your local dealer to check inventory and if a specific car can be ordered.



3/13/17 Impreza recall- a software update for rear view camera, audio, and touch screen issues
Subaru is recalling more than 25,500 model year 2017 Impreza cars to address rear-view camera display screens that can go blank or freeze, leaving owners without the ability to know what is happening behind them when backing up.
more? http://www.carcomplaints.com/news/2017/subaru-recalls-2017-impreza-rear-view-camera-screens-fail.shtml



3/9/17 From Everett to Seattle to Tacoma, license and registration fees double starting this month March 1st, and the sales tax goes up starting next month, on April 1st, all due to the new regional Sound Transit 3 bill.
Residents in the greater Puget Sound urban areas of Pierce, King, and Snohomish counties will see a major jump in yearly license fees due to the Sound Transit 3 bill that was voted on and passed last November.
License plate and registration fees for new cars, as well as late model yearly renewal fees, will almost double. Fees will be based on the original MSRP value of the car regardless of actual price paid or where the vehicle was purchased. In the case of Subaru that means all new license plates/registration and most near new model renewals for the core Pierce, King, and Snohomish residents will increase to around $325-550.
And also due to Sound Transit 3, starting on April 1st 2017, sales tax in the same Puget Sound urban areas in Pierce, King, and Snohomish counties will increase by .5% (ie current sales tax will increase by .5%). Add the current sales tax, plus the statewide Washington State .3% transportation tax, and the new .5%, and that means most people buying (buying only, not leasing) from dealers in the Puget Sound urban area will pay 10%-10.5% sales tax depending on the exact municipality where the dealer is located. Note- the sales tax on leases is based on the buyer's address, not where the car is purchased.


3/7/17 We have to wait until April for details on the US spec 2018 Crosstrek
The European version of the 2018 Crosstrek is called by its original name, the XV, and is at the
Geneva Auto Show
starting today. There will be some differences between the European and US versions and we'll have to wait for the
NY International Auto Show
(NAIS) April
14 - Apr 23 for details on our model.
The 18 Crosstrek is a raised up version of the Impreza so there a number of similarities and, like the Impreza, is based on the new global platform.
Here are other new features on the European one
New colors... the prototype on display in Geneva is orange, but will we see that here?
An electric parking with the CVT
Tighter steering ratio 13:1 vs current 14:1
Active torque vectoring on some models
XMode electronic downhill descent control on CVT models
Read more... http://www.subaru-global.com/ms2017/geneva/



3/4/17 Every April, Consumer Reports puts out the Annual Auto Issue full of reviews, critiques, and recommendations
.
It's available at bookstores and news stands, and online now.
Read about their suggested buys/don't buys for tires, the coming self, or near-self driving cars, about confusing automatic transmission controls, new electronic safety devices, and the best new and used cars values, the repair frequency for all the individual models etc etc.
The best companies- to come up with a list of top car brands overall, they combined a mix of road test scoring, reliability, owner satisfaction, and the percent of a company's models they recommend. And the #1 car brand for the second year in a row is... Audi. Then comes #2 Porsche, #3 BMW, #4 Lexus, #5 Subaru (which dropped from last year's #2 ), #6 Kia, #7 Mazda, #8 Tesla, #9 Honda, #10 Buick. The list continues on to #31 plus there are comments and explanations for the rankings.
Their Top 10 new car picks include Miata (sports car), Chevy Impala (large sedan), Audi Q7 (luxury SUV), Prius (compact hybrid), Honda Ridgeline (truck), Toyota Highlander (midsize SUV), Chevy Cruse (compact car), Toyota Yaris iA (subcompact), Kia Optima (mid size sedan), and the Subaru Forester is the top small SUV.
In the very useful specific model reliability ratings, Subaru does ok but some models suffer from an average repair rating as they age.
There are some oddities in the magazine- some top cars are barely mentioned, others mentioned frequently etc, but overall CR, and especially this April issue, is always a handy guide when you're considering a new car.

3/2/17 February 2017 sales
45,500 for the month, a 3489 car increase (8%) over 42,011 over February 2016
That's 63rd of monthly increase over the previous year
YTD is 89,379 cars, an increase of 6267 cars (+8%) over YTD 2016's 83112 total
Countdown- with a year goal of 670,000 cars (-) January 43,879, (-) February 45,500 that means there are only 580,621 cars to go.
February by model
Outback and Forester remain the top sellers, with the Outback slightly ahead by 657 cars.
The Crosstrek again holds its own with a minimal gain. Perhaps teasing the 2018 model so early has hurt current sales as people hold out for a redesigned Crosstrek with a power seat, upgraded audio with Android Auto and Apple Carplay etc due this Fall
The 2017 BRZ Limited with very nice optional Performance Package, and the Limited Series.Yellow models are now available and should help sales in March. While only 500 of the Series.Yellow bumbleBRZs will be made, any volume helps when only 344 cars were sold in February.
The 2017 Impreza is doing well, despite some 8' audio system issues.
Outback 13,477, an increase of 1,525 cars (+13%) over 11,952 2/16
Forester 12,820 an increase of 581 cars (+5%) over 12,239 2/16
Crosstrek 6,611, an increase of 482 cars (+8%) over 6,129 2/16
Impreza 5,826, and increase of 1,394 cars (+31%) over 4,432 2/16
Legacy 3,924, a drop of 530 cars (-12%) under 4,454 2/16
WRX, STI 2,498, and increase of 118 cars (+5%) over 2,380 2/16
BRZ 344 and drop of 81 cars (-19%) under 425 2/16



3/1/7 March special finance rates- no change
Subaru's low finance rates Washington State area for March 2017 remain the same with 0% available on Outback, Forester and Legacy, 1.90% on Crosstrek, BRZ, and Impreza.
This is the ;last month for low rates on 2016 models but there are probably none left.
3/1 advertising
from autoweek
"1979: Subaru wagons start aiming at campers, dog owners
Subarus are bigger and have AWD now, but the targeted demographic hasn't changed much
The idea of a non-truckish four-wheel-drive station wagon was still a radical one in 1979, though American Motors was gearing up to release the Eagle for the following model year. Subaru started selling four-wheel-drive Leone wagons for the American market in the 1975 model year, and they found a devoted niche following in places with lots of snow and outdoorsy behavior. Here's a magazine ad for the Subaru 4WD wagon from April, 1979.
Like the four-wheel-drive Toyota Tercels and Honda Civics that came a few years later (but unlike the true all-wheel-drive Eagle), this Subaru had to be switched between front-wheel-drive and four-wheel-drive using a lever, and the lack of a center differential meant that drivers couldn't run four-wheel-drive on dry pavement without risk of tearing up the tires or worse. This proved to be too confusing for many American drivers, but enough dog-owning camping aficionados purchased these cars to lay the groundwork for the big-selling all-wheel-drive Subarus of our current century.
read the
entire article and see some ads
2/27/17 A 3 year old 2014 Outback is one of the most dependable midsize SUVs according to JD Power.
"Participants in the annual J.D. Power U.S. Vehicle Dependability StudySM (VDS) are the original owners of 3-year-old vehicles and they report problems related to design and defects. By analyzing this data, J.D. Power identifies what has gone right and what has gone wrong with these cars, trucks, SUVs, and vans. Each year, the company's findings are published in the VDS.
To provide consumers with an easily understood, visual representation of the findings, J.D. Power calculates Power Circle Ratings to convey a model's performance in the VDS, relative to its competitors. Consumers can then make smarter decisions about the used vehicles they buy."
read the entire article.



2/24 Impreza gets top Safety Plus rating from IIHS.org
The new Impreza gets Good or superior rating in all categories.
4 door sedan http://www.iihs.org/iihs/ratings/vehicle/v/subaru/impreza-4-door-sedan
5 door wagon http://www.iihs.org/iihs/ratings/vehicle/v/subaru/impreza-4-door-wagon



2/21 Impreza advertising- more Subaru loves love and loves that love sells
Carmichael Lynch launched a pair of new spots for Subaru which chart familiar territory for the brand.
The sentimental "Moving Out," shows two parents watching their young child packing up his stuff into their Subaru Impreza, apparently moving out. When the spot pivots to the reveal, accompanied by the line, "We always knew that our Subaru Impreza would be there for him someday, we just didn't think that 'someday' would come so fast," it certainly doesn't come as a surprise.
Still, the approach has worked for the brand in the past and highlights the family friendly vehicle's durability in an emotional way.
Another spot focuses on another key brand selling point and advertising staple: its safety features. In this case, "Rewind" takes a look at how a nasty accident could have been avoided with the vehicle's obstacle detection feature. A third spot, "More," will rollout next week and feature both a puppy and a baby.
"The all-new Impreza advertising campaign focuses on the intimate experiences that unite us all," Subaru of America senior vice president, marketing Alan Bethke told Adweek. "With major gains in handling performance, crash safety and ride comfort, the 2017 Impreza offers customers a smooth and trusted ride, ready for wherever the road takes them.".....
Senior Vice President-Marketing: Alan Bethke, National Advertising Manager: Brian Cavallucci, Advertising Production Specialist: Michelle Shoultes Agency: Carmichael Lynch
the entire article

2/20/17 BRZ Limited Series.Yellow aka the BumbleBRZ (only 500 of the Series.Yellow will be made) and Limited with Performance Package #02 now arriving at dealers.
These are both excellent upgrades with better handling and brakes
2/18/17 Subaru of America announces a months-long plan to celebrate its 50th Anniversary (1968-2018) coming up on February 15, 2018
which is the day Subaru of America was reportedly founded (February 15, 1968).
As part of the celebration, some 2018 models will have a 50th Anniversary special edition (models and details to be announced later).
And next month, on April 1, 2017, Subaru's parent company Fuji Heavy Industries (FHI), formed in 1953, will cease to exist. In an acknowledgement of the tidal wave of subsidiary Subaru's success (mostly in the US), Fuji will rename itself Subaru.
The once small part of Fuji now claims the corporate title.
Most people never heard of Fuji Heavy Industries and would have assumed Subaru was always made by Subaru anyway, so this change makes some sense. But Fuji (soon Subaru) makes a wide array of things, including helicopters, buses, parts for Boeing jets, throught Subaru Industrial Power Products they make all sorts of small motors and equipment such small home generators, pressure washers etc. Subaru brand home pressure washers are even currently still for sale at Costco (I saw them today). They made small engines for Polaris ATVs from 1968-1998. Check out
www.subarupower.com/subaru-history
.
As part of this refocusing however, the entire Subaru Industrial Power Products division has been sold to Yamaha US effective October 2017.



2/15/17 Subaru gets approval from California DMV to test self driving cars.
From yahoo.com "The parent company behind Subaru--the Japanese automaker that produces the popular Outback wagon and has mastered the art of pulling on consumer heartstrings with ads featuring dogs--now has a permit to test self-driving cars on public roads in California.
Subaru's parent company is Fuji Heavy Industries . FHI announced in November at the L.A. Auto Show that it is changing its name to Subaru Corporation. The name change will occur in April.
The California Department of Motor Vehicles, which issues autonomous vehicle permits, recently added Subaru to the growing list of companies testing self-driving cars on its public roads, an addition first reported by TechCrunch.
There are now 22 automakers, suppliers, and tech companies with autonomous vehicle testing permits. Other companies with autonomous vehicle testing permits includes Waymo, Delphi, Nvidia , Ford , GM's Cruise Automation , and Mercedes .
There's been at least one hint that Subaru's parent company Fuji Heavy Industries has been preparing for a future that involved autonomous vehicles.
Last year, FHI announced that all of Subaru's next-generation vehicles--including its sedans and crossovers, gas-powered, and future all-electric cars--will use the same design platform. The common platform, which will help FHI reduce manufacturing and engineering costs, is designed to improve stability and comfort while reducing noise and vibration.
At the time, FHI said these kinds of performance and handling improvements will be necessary to achieve the enhanced straight line stability required in autonomous vehicles."
The
original article
, the
Ca DMV list of self driving cars


2/12/17 Subaru isn't sponsoring the NW Flower and Garden show this year!
After many years of being a major sponsor of the Northwest Flower & Garden Show held yearly in Seattle, Subaru is not involved. Lets hope this is a one year aberration. The show demographics is really perfect for Subaru buyers. It's very well attended and Subarus displays were fun and got a lot of attention.
But this year Toyota is the auto sponsor. Sigh. Maybe Toyota paid more or maybe Subaru is so focused on the Impreza TV ads that they just forgot to sign up (who knows). So if you want to see some great gardens, assorted plants, yard art, gardens tools and ephemera, and a very large selection of exotic plants and bulbs for sale, and yes, a Toyota or two but not me, the show is Feb. 22-26. www.gardenshow.com


2/9/17 Will President Trump's trade policies affect Subaru
...
from the Nikke Asia Review
"Mazda, Subaru brace for Trump's trade policies. Smaller automakers more exposed due to limited US production
<Tokyo- With U.S. President Donald Trump demanding that even Japanese automakers put "America first," Mazda Motor and Subaru maker Fuji Heavy Industries are growing concerned over the potential impact of tariffs and other trade protections that could limit access to the world's largest car market. "We don't know what direction things will go," Mazda President and CEO Masamichi Kogai told reporters Sunday when asked about Trump's pledge to renegotiate the North American Free Trade Agreement. "What's important for us is to develop more attractive products and boost sales."
Ford Motor CEO Mark Fields, one of the loudest critics of the Japanese auto market, had once served as president and CEO of Mazda as part of the companies' past partnership. "I have no particular comments" regarding Fields, Kogai said.
Mazda expects to sell 1.55 million cars worldwide for the fiscal year ending in March, with the U.S. accounting for 15%, or about 230,000 units. But roughly 80% of the vehicles it sells in the country are shipped from Japan and the rest from Mexico. Exchange rates have a huge impact on sales.
Trump is calling for a 35% tariff on cars made in Mexico, which would make it a significant burden to build vehicles in the country. For an automaker of Mazda's size, building a new plant in the U.S. will be a challenge. It could face a tough decision depending on what Trump's policies shape up to be.
Six Japanese companies -- Toyota Motor, Nissan Motor, Honda Motor, Mitsubishi Motors, Fuji Heavy and Mazda -- currently sell autos in the U.S. market. Toyota had previously promised to invest $10 billion in the country, and made another announcement Jan. 24 on its roughly $600 million investment in a plant in Indiana. President Akio Toyoda has also met with Japanese Prime Minister Shinzo Abe.
Fuji Heavy's only overseas factory is located in Indiana. The automaker just doubled annual output capacity there in December to around 400,000 vehicles, hiring an additional 1,500 or so workers and bringing the total to about 5,500. It plans to ramp up capacity to 440,000 units by fiscal 2018.
Fuji Heavy has doubled annual sales in the U.S. to about 615,000 units in the five years through 2016, accounting for 60% of global sales. Its exports from Japan were hit hard by the strong yen earlier this fiscal year, but the recent softness in the currency is expected to mitigate the expected drop in profits. The company is hoping to sell up to 670,000 vehicles in the U.S. in 2017. But it is looking to produce just around 60% of the vehicles locally -- less than Toyota and other big automakers. It will be affected significantly by any tariffs or movements in the exchange rate
....
read the entire article

2/7/17 Redesigned Monroney stickers introduced in early 2017
Subaru started using a redesigned Monroney window price sticker in early 2017. The new sticker is less colorful, and the right side is devoted to the specific car and features.


2/2/17 January 2017 sales
Subaru rolls on, selling 43,879 cars in January 2017, up 2,778 cars (+7%) from 41,101 January 2016.
With a goal of 670,000 cars, that means there are only 626,121 cars to go.
Outback, Forester, and Crosstrek continue as Subaru's top sellers (most Subaru buyers look at wagons/crossovers), Legacy slumps 13%, the 2017 Impreza is doing ok despite concerns about the audio system's performance.
Outback 13,186, up 1,989 (+18%) over 11,197 1/16
Forester 12,853, up 949 cars (+8%) over 11,904 1/16
Crosstrek 6,507 cars , up 59 cars (+1%) over 6448 1/16
Impreza 5,105 car, up 723 cars (+16%) over 4382 1/16
Legacy 3,882, down 591 (-13%) under 4473 1/16
WRX, STI 2,142 cars, down 195 cars (-8%) under 2,336 1/16
BRZ 204 cars, down 157 (-43%) under 361 cars 1/16



1/23/17 2018 Crosstrek will be remodeled, based on the new 2017 Impreza.
First showing at the
Geneva auto show
starting March 7.


1/18/17 Subaru expects continuing growth in 2017
With all the growth comes greater need for larger dealer service/maintenance facilities or and faster assistance/advice and repair turnaround, and for Subaru has been talking about that for a while. One of the things about the cult of Subaru is that the new cars have always been a bit hard to get, dealers don't have lots of unsold inventory sitting on lots. It is good, and it felt good, to get that new car. You can expect that to change as Subaru produces and pushes more and more and more cars to dealers in their race for yearly growth. At what point are bragging rights simply that?
Here's an article from Automotive News "Subaru is targeting a 9 percent sales surge in 2017 for a ninth straight year of record U.S. results, despite a plateauing overall market.
And then comes the real big jump.
The arrival of a long-awaited three-row SUV in 2018 could add as many as 60,000 units annually, pushing the brand well above 700,000 units. The runaway sales are putting Subaru on pace to hit U.S. sales of 850,000 vehicles in 2020, up 38 percent from 615,132 last year.
"We're not done yet," Subaru of America President Tom Doll said of his brand's red-hot performance, at the Detroit auto show. "I should be more cocky than I am, probably."
Subaru is cashing in on the market shift to crossovers, with an all-wheel-drive lineup anchored by the Outback and Forester. The likely arrival of a redesigned Crosstrek this year will further bolster sales, as will the overhauled Impreza, the ad campaign for which begins in late February.
The biggest risk, Doll said, is the threat of dealership service capacity falling behind the rampant expansion.
"We have grown so fast over such a short time, the service part of our network hasn't kept up," Doll said. "That's where we've made a lot of investments in fixed operations expansion."
Dealers have until March 31 to sign up for the nationwide fixed operations expansion program. So far, about half of U.S. Subaru dealers have opted in, Doll said. Participation rates are highest in markets where Subaru has a historical presence and still sees robust growth, including around Philadelphia, Washington, Denver, Seattle and Portland.
So far, about 15 percent of the service facility expansions have been completed. The build-out should be finished in 2019, Doll predicted."
The original article

1/10/17 2018 WRX and STI get some upgrades, at dealers around May
Same engine, same power, sedan only (no 5 door).
all models- new door panels, thicker/quieter door glass,
WRX- new front grill, new suspension, improved shifter and power steering, optional Performance Package on Premium models includes power Recaro seats, upgraded JURID brake pads, redesigned wheels, and deletes the moonroof. WRX CVT with optional Eyesight gets upgrades including an all new LED windshield display.
STI- new front grill, new steering responsive headlights, 19" wheels, upgrade Brembo yellow painted brake calipers, larger drilled rotors, new electronic DCCD, Recaro power front seats standard on STI Limited and optional on STI


1/4/17 132 cars. That's the number of cars Subaru beat their 2016 goal of 615,000 for the year by.
2016 total 615,132. 9th year of year-over-year increase
2015 total 582,675
2016 was a huge year for Subaru. Their best year ever. 615,132 is an increase of 32,457 cars (6%) over 2015's total 582,675
How do they do it?
Crossovers are very popular and that's what Subaru is known for- Outback, Forester, Crosstrek, and 5 door Imprezas.
And emotion based marketing (dogs, children growing up, fond memories etc), aggressive finance rates (0%) and lease programs, and dealer's discounting prices...
December sales total 63,177, a new one month record, and the 6th month in a row over 50,000
Outback 20,695 cars, a new single month record for any model. Up 4628 cars (29%) over 16,067 Dec 2015
Forester 18,015 cars, Up 1218 cars (7%) over 16,797 dec 2015
Crosstrek 10,299 cars, A Crosstrek monthly sales record. Up 2139 cars (26%) over 8090 Dec 2015
Legacy 5960, up 201 cars (3%) over 5759 Dec 2015
Impreza 5126 cars, down 933 cars (-15%) from 6059 Dec 2-15
WRX, STI 2938 cars, down 151 cars (-5%) under 3080 Dec 2015
BRZ 214 cars, down 199 cars (-48%) under 413 Dec 2015
2016 sales totals
Outback 182,898 cars, up 30,604 cars (+20%) over 152,294 cars 2015
Forester 178,593 cars. Up 3401 cars (2%) over 175,192 cars 2015
Crosstrek 95,677 cars. Up 6750 (+8%) over 88927 2015
Legacy 65,30, up 4859 cars (8%) over 60447 2015
Impreza 55,238, down 11,547 (-17%) under 66785 2016
WRX, STI 33279, down 455 cars (-1%) under 33734 2015
BRZ 4141, down 1155 cars (-22%) under 5296 2015
The top seller for the year is the Outback with 182,898 cars, which is 4305 more than the Forester (178,593). The Forester might have sold more but with so many models, Option Packages, and colors (117 choices), inventory is a problem.
Coming in behind the Outback and Forester is the Crosstrek. Look for increased sales when the upgraded 2018 model is available late this Summer or early Fall.
The redesigned 2017 Impreza is now available with Android Auto and Apple Carplay audio systems (look for that on many, but not all, 2018 models).


12/30/16
The 9th Share the Love Event ends on January 3, 2017
note- Subaru contributed app $23,400,000 to all the 2016 Share the Love charities this year


12/23/16 on 12/21 Subaru broke the 600,000 mark and passed 2015's total sales total with another 11 days to go in the calendar year
"Subaru announced that is has set its eighth consecutive sales record ahead of the year-end close on
January 3
by selling 582,675 vehicles as of
December 21
.
The automaker has been on a long streak of sales success with consecutive sales increases dating back to 2009."
With the all new 2017 upgraded Impreza creating buzz, 0% financing on it's most popular models (Outback and Forester), and extremely aggressive under-invoice prices, Subaru is riding 2016 to yet another record.
12/18/16 Subaru parent company Fuji Heavy Industries sells off its small engine company Subaru Industrial Products (previously known as Robin) to Yamaha in order to focus on Subaru cars.
Yamaha Motor Corp USA's Outdoor Power Equipment division has announced the acquisition of Subaru Industrial Power Products. The acquisition is a result of an agreement between parent companies Yamaha Motor Co., Ltd., and Fuji Heavy Industries Ltd., both of Japan, and is expected to be completed by Oct. 1, 2017. Fuji Heavy Industries is ceasing the production and sale of multi-purpose engines, etc. at the end of September 2017.Acquisition of technology will let unit sell EH Series V-Twin Overhead Valve multi-purpose engines both within Japan, overseas. YMUS will continue after-sales service for Fuji Heavy Industries' multi-purpose engine business in North America
The press release from earlier this year
"Fuji Heavy Industries recently announced a name change to Subaru Corporation along with an operational change that will focus all engineering and financial resources on the quickly growing automobile division. The Industrial Power Products division will close after fulfilling all order commitments for 2017. Product parts and support will remain available indefinitely.
Subaru Industrial Power Products and Subaru Automobile have seen tremendous growth in recent years. With more demands for resources, the company will focus on the automobile division — in efforts to continue leading the industry in a number of automotive categories around the globe.
To make the transition as smooth as possible for its customers, Subaru intends to continue to supply spare parts for a reasonable period to meet market requirements. Additionally, customers will see no change in quality assurance of products.
Effective immediately, FHI suspends all new development projects of the industrial business. This includes not only newly received inquiries but current on-going projects as well.
FHI will temporarily maintain the production, supply and servicing of existing models... "

12/12/16 Owning stock in Fuji/Subaru sound good if you like their cars and while they make good cars, is it a risky investment?
here's one opinion,
by columnist Mr Berko
"Dear Mr. Berko: It's good to see your column back again in a South Florida publication. Two years ago, we bought a Subaru Outback crossover. We liked it so much that we bought a Subaru Forester as a second car late last year. I'd like to buy Subaru stock, but I can't find it listed anywhere. Where can I find it? And please tell me whether you think the stock is worth buying. — NE, Fort Lauderdale, Fla.
Dear NE: You're looking in all the wrong places. Though you probably know that the demand for Subaru's Outback and Forester models is so strong that Subaru is in the process of expanding its American plant to produce another 100,000 vehicles by the spring of 2017, you probably didn't know that when spelled backward, "Subaru" is pronounced "you are a bus."
Subaru (the Japanese name for the Pleiades star cluster, or the Seven Sisters) is the automobile manufacturing division of Fuji Heavy Industries (FUJHY-$18). The company is the 18th-largest automaker (by production) in the world. Subaru is different from its Japanese competitors in that 75 percent of its cars and parts are still made in Japan. Its only overseas manufacturing facility — which is in Lafayette, Indiana — is currently in the process of trying to handle record demand. Owning shares of parent Fuji Heavy Industries is the only way to own shares of Subaru. Fuji should earn $2.54 a share this year, and its 70-cent dividend yields 3.8 percent....
SNIP
....Though Subaru is earning record revenues in the U.S., the story isn't so positive in the rest of the world. Sales in Japan are off 3 percent from a year ago, and revenues from China and Europe remain flat. As a result, the price of FUJHY shares has fallen 66 points in the past dozen months. Despite all that, Thomson Reuters, Charles Schwab and Credit Suisse have "buy" ratings on the stock and the price talk of $21-$24 in the next dozen months.
Whereas Ford and GM will probably post lower revenues in 2017, the consensus is that Subaru could have an eighth consecutive record sales year in the U.S. And helping next year to be another record year will be the Subaru Impreza, a compact sedan to be built at the expanded Lafayette plant on a new global platform. Next year should be a good year for FUJHY, and there's a possibility that FUJHY's superb management team will increase the dividend.
According to Market Watch, there are 17 brokerages following FUJHY. Nine have "buy" ratings. Two have "overweight" ratings. Five brokerages rate FUJHY a "hold." And one brokerage recommends that investors "sell." I'd buy the cars because of their impressive reputation for quality. But my gut tells me not to buy the stock. Something doesn't feel right to me."
read the entire article
12/8/16 2017 full color Impreza brochures arriving at dealers. 25pgs

12/2/16 November sales
51308 for the month
an increase of 5,238 cars (11%) more than November 2015
60th month of monthly sales increases over the same month the previous year. That's 5 years of improved monthly sales!
33rd month of sales over 40,000 cars and 5th consecutive month with sales over 50,000
YTD 551,955, an increase of 25,554 cars (5%) over 526,401 YTD 2015
That means Subaru wants to sell 63,045 car December to reach their goal of 615,000 cars for the year!
November 2016 sales
Outback is the top seller for the month and for the year with 162,203 YTD
The Forester is #2 for the month and for the year with 160,578 YTD
Crosstreks continues to gain fans as a good urban sized car though its rounded rear and tight cargo space make it too small for families, big dog owners, and active users
The 2016 Impreza is pretty much sold out, with the all new, US assembled (Lafayette) 2017s due this month and expected to sell around 6000-8000 per month once production is up to speed.
The BRZ limps along with almost no availability. The Performance Package (available March 2017) will help sustain the model for another 6 months.
Outback 17,769, +4690 cars (+36%) over 13,079 Nov. 2015. YTD 162,203, up 25976 cars (+19%) over YTD 2015 137,227
Forester 14,596, + 941 cars (+7%) over 13,655 Nov 2015. YTD 160.578, up 2183 cars (+1%) over YTD 2015 158,395
Crosstrek 8,271, +1485 cars (+22%) over 6786 Nov 2015. YTD 85,448, up 4611 cars (+6%) over YTD 2015 80837
Impreza 2,032, -2892 (-59%) under 4924 Nov 2015. YTD 50112, down 10,614 cars (-17) under YTD 2015 60726
Legacy 5,814, +1045 cars (+22%) over 4769 Nov 2015. YTD 59,346, up 4658 cars (+9%) over YTD 2015 52688
BRZ 235, -141 cars (-38%) under 376 Nov 2015. YTD 3927, down 956 cars (-20%) under YTD 2015 4883


12/1/16 December special interest rates are the same as November, no change, through 1/3/16

11/28/16 1998 Impreza 2.5RS photo page
photos of a exceptionally clean and original Rally Blue Pearl 1998 Impreza 2.5RS 2 door with only 21,800 miles
1998 Impreza 2.5RS
photo page
11/23/16 Crosstrek Premium with Option Pkg #15 Special Edition production has ended.
Subaru confirms that the production of the pure red or crystal black Premium Pkg #15 Special Edition has ended and no more will be produced. They are available at dealers.
Reportedly it was only 2000 cars total of the red and black colors. Last year it was 1500, all pure red. This is only the Premium Pkg #15 Special Edition, all other Crosstreks continue.



11/21/16 2017 Impreza rates announced
1.90%x24-36-48 months, 2.49%x60-63-72 months
cars still expected December
11/14/16 2017 Impreza manual transmissions can now be ordered for February delivery
The manual models are the Impreza 2.0i base 4 door and 5 door and the all new Impreza Sport 4 door and 5 door that comes with factory short throw shifter, sport tuned suspension, 18" alloys, led fog lights etc.
This is a new Sport 5 door model and not to be confused with the 2016 and previous Sports, and does not come with roof rails. And is the first 4 door Sport model.



11/10- 11/13 2016 Seattle Auto Coupon, and test drive a 2017 Impreza
Buying a new Subaru in the next 90 days? Go to the Seattle Auto Show on yesterday through this Sunday 11/13 and enter your name and info at the kiosk in the Subaru display and Subaru will send you a discount coupon. I understand its for $500- but no promises on the amount. And for some reason its not valid on the 2017 Impreza but is valid on all other models. The expiration on the coupon is 90 days (3 months) so its definitely worth doing to save $500. When you enter your info, check the 'do not contact' box or you'll get emails.

And there is a 2017 Impreza available to test drive at the auto show, so if you're considering getting one here's an opportunity to drive one a month before they arrive at dealers.
The person who sent me the top of their coupon (the lower coupon part is not shown here) is interested in a Crosstrek, but it would be for the model you selected except the 17 Impreza. Be sure to print and bring entire coupon to the dealer when you get your car.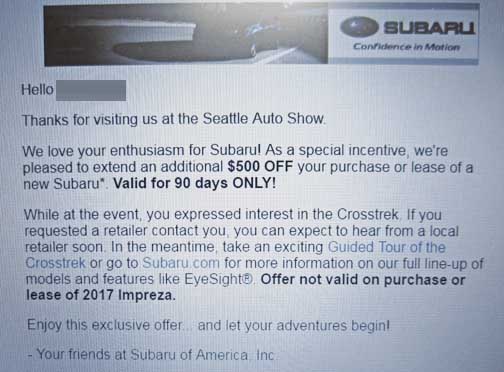 11/7 Seattle Auto Show is November 10-13 at Century Link Field

11/5 The latest issue of Consumer Reports (December issue) has the annual auto manufacturer reliability study and Subaru drops from 5th down to 11th place just under Honda (#10).
At the top is Lexus and Toyota, then surprisingly Buick is #3, followed by Audi, Kia, and Mazda...
Note that CR is using a new scoring system with graphics and colors which are a bit harder to decipher and see compared to the old ones.
The December issue also reviews a whole lot of Christmas gift ideas, and kitchen, house, tech tools and electronic gadgets.
Its always good information for shoppers and researchers and you can buy the magazine at your local bookstore, or subscribe online at consumerreports.org



11/3/16 November finance rates remain the same as October with 0% continuing on 2017 Outback, Forester and Legacy.
The 2017 Crosstreks expected this month (November)
October sales total 53,760, a 4% increase over 51,629 October 2015
Subaru's top #3 is the Outback, Forester, and Crosstrek, and yes they're all wagon models.
Outback is the big seller this month with an increase of 22% over 2015 to 18,008.
Forester is #2 and has been in tight supply since their huge August sales of 19,658.
Crosstreks continue to pretty much sell out...
Subaru is counting on the 2017 Impreza to do well next year. The 5 door will be popular but they're hoping the sedan gains ground. Subaru has never had a high volume sedan. For now, the supply of 2016 Imprezas is very low.
YTD total is 500,647, which leaves the goal of 615,000 within reach.
October sales by model
Outback 18,008, an increase of 3279 cars (+22%) over 14729 10/15. YTD 144,434 (2015 YTD 123,148)
Forester 15330, an increase of 158 cars (1%) over 15172 10/15. YTD 145,982 (2015 YTD 144,470)
Crosstrek 8367, an increase of 1054 cars (14%) over 7313 1/15. YTD 77,177 (2015 YTD 74,051)
Legacy 6137, an increase of 448 cars (8%) over 5688 10/15. YTD 53,532 (2015 YTD 49,919)
Impreza 3010, a decline of 2300 cars (-44%) from 5340 10/15. YTD 48,080 (2015 YTD 55,802)
WRX, STI 2579, a decline of 434 cars (-14%) from 3013 10/15. YTD 27,750 (2015 YTD 28,164)
BRZ 330, a decline of 44 cars (-12%) from 374 10/15. YTD 3,692 (2015 YTD 28,164)



10/18 2017 Impreza specs and details available
Factory orders will be accepted starting Monday 10/24/16 for delivery in December 2016.
Manual transmission orders will start in December with deliveries in February 2017, and manuals are even available with optional moonroof, upgraded Harman/Kardon audio, and Blind Spot Detection packages!
There are many changes and new features including standard Android Auto and Apple Carplay on all models, a completely redone Sport hatchback and sedan model with manual transmission short throw shifter, 18" wheels, and upgraded suspension available in February.
Other new features include power drivers seat on Limiteds, a power window off-delay function so the power windows work briefly after the engine is turned off, new 8" audio system with new Starlink smartphone app that has a navigation function, Yelp and more.
Full details and mechanical specs aren't available yet but here's the page with early information
2017 Impreza page
(and if you're in the Seattle area and want to order one, please call....)



10/8/16 2017 Crosstrek brochures now arriving at dealers. 25 pages.
Note: the brochure doesn't include specs or photos of the Premium Option Package #15 Special Edition available in Pure Red or Crystal black with metal gas and brake pedal covers, rear spoiler, gloss black front grill, gray and silver 5 spoke alloy wheels, black rear badging, Moonroof, Pushbutton Start, Blind Spot Detection/Cross traffic alert, Front footwell and front console storage bin Red LED lighting, Turn signal outside mirrors, 6.2" audio system with 6 speakers, bluetooth, Sirius/XM etc (its the standard Premium audio system).


10/4/16 September sales total 54,918, an increase of 1848 cars on Sept 2015
YTD total 446,887. The sprint is on to go to reach the stated 615,000 goal. The final 3 months of the year are typically very strong for Subaru (fall and winter weather), and 615,000 cars for the year is within reach. Subaru would be pleased with the bragging rights that comes when they break 600,000 barrier, and that should be easy. But the hoped for goal is 615,000 and expect to see a lot of 'please love us' advertising, internet, and email activity, and of course for the incentivized low finance rates (0%) to continue. Online researchers have even been getting website popup offers for a free Starbucks mug if they go for a test drive (not sure how that translates to sales though).
Subaru volume has always been utility based- Outback, Forester, Crosstrek and the Outback Sport before the Crosstrek
The Outback and Forester are consistently the top 2 sellers and have been forever.
In August, the upgraded 2017 Forester exploded all previous single model monthly totals with a stunning 19,658. With depleted inventory, Forester sales in September fell to 15883, and is #2 for the month behind the Outback 16978
Year to Date 2016
#1 Forester 130,652
#2 Outback 126,426
#3 Crosstrek 68,810
Subaru is hoping the new Impreza due in December will lift that model's volume, especially the sedan which has always been a slow mover.
The 2017 BRZ is a big improvement over the 2016- the LED lights and the new rear spoiler are good looking and standard on all models, the new steering wheel audio and bluetooth controls are long overdue, the Limited's digital gauge is fun and has good info (ok, so maybe gimmicky but I like it) and the big draw will be the Performance Package which can now be ordered on the Limiteds. Yes its still a rear wheel drive Subaru.
sales by model
Forester 15883, up 519 cars (+35) over 15364 9/15
Outback 16978, up 1852 cars (=12%) over 15126 9/15
Crosstrek 8261, up 847 cars (+11%) over 7414 9/15
Legacy 6027, down 250 cars (-4%) from 6277 9/15
Impreza 4786, down 769 cars (-14%) from 5555 9/15
WRX, STI 2682, down 350 cars (-12%) from 3033 9/15
BRZ 300, down 1 car from 301 9/15



9/30 Subaru updates the wiper motor casing recall inspection first announced in 2011, now including some 2010 through 2014 Outback and Legacy. #WTK71


9/22/17 2017 Crosstrek specs, features and prices announced.
Orders available today 9/22/17
Deliveries expected starting late October.
No changes for the 2017 models except a few minor features added to the Premium Package #15 Special Edition
Hybrid models have been dropped (they were dropped mid 2016 model)
Premium Special Edition (SE) is now fully available. Price increase for the package is $100. Its now available in Black as well as Pure Red. The 2017 SE gets a rear spoiler, metal pedals, black rear Crosstrek badge, redesigned gray/silver alloys, gloss black grill. The 2016 version was limited to only 1500 models.
MSRP prices increased $100 on all models.
Destination increased $25 from $850 to $875 (to ak $1025)
The total price increase is $125.
2017 Crosstrek specs

9/20/16 2017 BRZ- the optional Performance Package is now available to order.
If you want a BRZ, the Performance Package is worth getting and MSRP is only $1195.
Its available on the Limited with manual transmission only, model code HZE pkg#02. Its not available on the Premium or Limited automatic.
The ETA (estimated time of arrival) given for cars ordered now will be January with delivery in late Dec 2016 or Jan 2017
The Performance Package includes Brembo brakes with red calipers, SACHS shocks, and wider 17x7.5" black alloys.
The Performance Package is standard on the 500 Limited Series.Yellow models expected March 2017
9/15/15 2017 The Outback 2.5 and 3.6 Touring in the brilliant brown color has been discontinued after a total of 2000 car have been made.
Apparently brilliant brown was always planned as a short run of only 2000 cars.
This was also true of the original brilliant brown 2013 Outback Special Appearance package which was also a limited production run.
There is a still a good selection of the brilliant brown 2017 Outback Tourings available nationally and some are still being shipped, but they wont be available for long....


9/13/15 Forester's optional wheel arch moldings have been dropped.
Due to unspecified production issues, wheel arch moldings are no longer available.
I'm not sure they were ever actually available or put on a 2017 Forester. Its probably related to adhesion, to them staying on the car.
This also happened on the 2014 Foresters - wheel arch molding were presumably available but were dropped before they were ever put on cars.


9/7/16 2016 Impreza and Crosstrek orders shut off.
No advance warning and the actual cut-off was probably on 9/1



9/3 August 2016 soars to new heights with a record 60,418 cars sold in one month!
What a month August 2016 was... an increase of 15% over the 52,697 sold August 2015, a new top total monthly record, the best month ever for both Forester and Outback models, plus it breaks the 60,000 barrier.
60,418 cars is more than Subaru of America sold in any of its first 9 years, through 1976. It was 1977 when Subaru sold 80,826 in a year.
The previous best month was December 2015 with 56,274 sold.
August 2016 numbers were done with exceptional Forester, Outback and Crosstrek volume (again, a record month for Forester and Outback models), and a tight supply of Impreza, WRX STI, and BRZ.
The new 2017 Forester with blind spot detection, reverse auto braking, and Eyesight v3 is basically selling as fast it rolls off the delivery trucks. With a model best record of 19,658 sold in August, the Forester should be the first model to break the 20,000 in a month.
Outback was the big gainer for the month due to increased supply, with 17,358 representing an whopping increase of 56% over 8/15 sales, and its best month ever.
The Crosstrek continues to move quickly, and with better supply expected as 2017 Impreza production moves to Lafayette, its numbers should increase.
Legacy sales are increasing with August sales of 5800, which is a very strong 35% increase over 8/15 sales, but this pales next to the Toyota Camry for example, with 32,864 sold in August, so there is a lot of room for growth.
Imprezas are in very short supply as the 2016 sell down continues. There are still some 2016s coming in (not many), and the 16s can no longer be ordered (ended August 31), and the anticipated, redesigned 2017s are ETA late November.
There are a few of the upgraded 2017 BRZs starting to arrive nationally, but the desirable Performance Package is due in December (winter) and yes, worth waiting for.
August sales by model
Forester 19,658, up 2093 cars (+12%) over 17,565 8/15
Outback 17,355, up 6245 cars (+56%) more than 11,113 8/15
Crosstrek 8,787, down 12 cars from 8,799 8/15
Legacy 5,800, up 1519 cars (+35%) over 4,281 8/15
Impreza 5,319, down 1755 (-25%) from 7,074 8/15
WRX, STI 3194, down 173 cars (-5%) from 3,367 8/15
BRZ 302, which is 196 fewer (-39%) than 498 sold 8/15



9/2 September finance rates- 0% continues on 2017s
Outback and Forester 0% to 48 mos continues, Legacy 0% extended to 60/63 months



8/27/16 Navigation map updates
2012 and newer models with navigation can get map updates
2016 and 2017 navigation models can get the 3 years of free updates when available
www.SubaruMapUpdates.com
8/13/16 Subarus sells its share in Japanese car and motorcycle maker Suzuki
from
Asia Nikkei
, "TOKYO -- Fuji Heavy Industries said Wednesday it has sold all of the 5.78 million shares it holds in Suzuki Motor for 18.5 billion yen ($182 million).
Using the Tokyo Stock Exchange's off-hours trading platform, the Subaru maker divested its 1.18% stake in Suzuki on Tuesday. Fuji Heavy will book 9 billion yen in profit from the sale in results for its April-September first half. No changes will be made to projections for the fiscal year ending in March.
The two companies began a cross-shareholding relationship in 2000, but reasons for the arrangement appear to have diminished. Fuji Heavy explained the sale as a way to "respect the underlying purpose of the corporate governance code applied last year." The guidelines urge companies in cross-shareholding arrangements to offer rational explanations to investors.
Meanwhile, Suzuki sold its 1.75% stake in Fuji Heavy for 52.7 billion yen on Tuesday. Fuji Heavy plans to retire all shares bought back at the end of this month."
In the past, Suzuki manufactured compact cars for the Subaru maker, and Fuji Heavy produced continuously variable transmissions for Suzuki."
the official press release
"Tokyo, August 10, 2016 – Fuji Heavy Industries Ltd. (FHI) today announced the Company sold the entire shares of common stock it held in Suzuki Motor Corporation (Suzuki; Head office: Hamamatsu City, Shizuoka; Representative director and president: Toshihiro Suzuki) on August 9, 2016.
In December 1999, FHI and Suzuki announced the formation of a strategic relationship and agreed to hold shares in each other as a symbol of the alliance. FHI acquired 5,780,000 shares in Suzuki, which were held until the sale which took place yesterday.
In November 2015, FHI established Corporate Governance Guidelines with the aim of the Group achieving sustainable growth and increasing its corporate value in the medium and long term. The guidelines were developed respecting the Corporate Governance Code that was introduced by the Tokyo Stock Exchange under the Securities Listing Regulations. In the process of refining the Group's cross-shareholding policy according to the principles of the guidelines, FHI decided to sell its entire shareholding in Suzuki.
The sale of these investment securities does not require any revision to FHI's projection of consolidated results for the fiscal year ending March 31, 2017.
The FHI Group will continue to work on the enhancement of corporate governance as one of the top priorities of management in order to gain the satisfaction and trust of all its stakeholders.
Details of Sale
(1) Securities sold: Common stock in Suzuki Motor Corporation
(2) Number of shares sold: 5,780,000 (FHI's entire shareholding in Suzuki)
(3) Transaction contract date: August 9, 2016"

7/31/16 July sales totals 52,093, an increase of 1576 cars (3%) over July 2015
July 16 YTD is 331,551, an increase of 8616 cars (or 3%) over 322,925 YTD 2015, and puts Subaru on track to come very close to 600,000 for the year.
Looking at July numbers, the top volume Outback and Forester are doing well. The Outback is up substantially and the Forester is steady though down for the month. As more upgraded Foresters with the new Eyesight and Blind spot detection etc become available, its numbers should increase.
And to help that, Subaru has 0% financing on 17 Outback, Forester, and Legacy (check your local dealer for rates in your area). And Subaru is planning to make more Outbacks and Legacys that ever, so dealers should have a supply.
Subaru has been talking up the massively all new 17 Impreza due later this fall (with Carplay and Android Auto), and that's not helping current 16 model sales. But the supply of 16s is already a bit low and that's according to Subaru's plans.
As for the BRZ, the 17 model should motivate some people who aren't excited by the current version.
And the WRX and STI are low production cars- one month sales are up, the next down, but there is always strong interest.
July sales by model
Outback 14,704 cars, which is up 3841 (or +35%) more than 10863 July 2015
Forester 14,856 cars, which is down 955 (or -6%) below 15811 July 2015
Crosstrek 8,480 cars, which is down 95 (or -1%) below 8575 July 2015
Impreza 5,200 cars, which is down 1327 (or -20%) below 6527 July 2015
Legacy 5,212 cars which is up 712 (or + 16%) over 4500 July 2015
WRX, STI 3,288 cars, which is down 428 (or 12%) 3716 July 2015
BRZ 353 cars, which is down 172 (or - 33%) below 525 July 2015.
7/28 Subaru confirms in a news release that the 2016 Crosstrek Hybrid has been discontinued
Subaru stopped accepting new orders for the slow selling Hybrid on March 7, 2016. There was no advance warning. Boom- no more orders accepted.
There is still a good supply available nationally so if you're looking for a Crosstrek Hybrid, now is the time.
Rambling thoughts on the Crosstrek Hybrid...
The Crosstrek is one of Subaru's recent success stores, with June sales of 7658. While Subaru doesn't separate 2.0 and Hybrid models in the published monthly counts, the 2.0 models make up the vast majority of Crosstreks purchased.
The Hybrid was a successful car when you consider that it was Subaru's first US hybrid. It got a lot of attention, was new technology, an all wheel drive mini SUV with good ground clearance, and it fit Subaru's practical, and very green, demographics.
So what went wrong? One reason the car didn't sell was price. While it was very well equipped (perhaps too much so), the Hybrid cloth model MSRP of $27245 was $1300 more than the top of the line Crosstrek 2.0 Limited's $25945 msrp, and the Hybrid Touring's $30845 sticker price was a whopping $4900 increase over the Limited. The hybrids were better equipped, but still...
Yes the Hybrid was zippier with it's secondary battery powered 15hp motor but most Crosstrek buyers weren't expecting a performance car, and yes the Hybrids did ride quieter than the 2.0 versions but Crosstrek buyers weren't necessarily looking for quiet quiet.
What the hybrid shoppers looked at was the fuel economy rating and they didn't get past that. They came to see a HYBRID with high fuel economy, an all wheel drive, practical, utility oriented, decent riding Subaru for their family, dog, camping, skiing, gardening, and commute lifestyle.
They hoped for 40+mpg, all wheel drive, and a roof rack.
The real issue, or at least one of the issues, was that Hybrid fell victim to what I think of as the Tribeca Effect. The Tribeca was initially marketed as a 7 passenger, and while it did have 7 seats it was really a 5+2, and by that, I mean not a true 7 passenger. Back in 06 when the Tribeca was introduced, people came to see Subaru's first 7 seater expecting something similar to a minivan or at least Explorer, Pilot, or 4Runner etc, and they left disappointed with the lack of functional 3rd row access and space. It just wasn't a good 7 passenger, and if the car had been billed as a 5+2 (ie seating for 5, and 2 more in a pinch-so to speak) people would have had much more positive, all important first impressions. They would have known what to expect when they came in.
And yes the first Tribeca 3.0L engine was underpowered and took premium gas, and the car was a bit expensive, and the 3 grill look was polarizing (though I liked it). Does anyone miss the BlueConnect bluetooth system?
Think Subaru Baja mini truck with a tailgate width of 47" when a sheet of plywood is 48".
While Subaru has always made high quality, if somewhat 'different' cars, the Tribeca was just mis-marketed, and the Baja wouldn't sell as a truck with a 47" tailgate width.
In hindsight, so was the Hybrid. In an age of 40++ mpg Priuses loudly shouting hybrid hybrid hybrid HYBRID, the Crosstrek was a minnow swimming with whales. It was rated at 1mpg combined more than the Crosstrek 2.0 versions, and just like with the Tribeca, first time viewers looking at Subaru's Hybrid said, 'why'. Why would I spend that much more to get so little. The 2016 2.0 models are currently rated at 26/34 30 combined mpg vs the Hybrid at 30/34 31 combined mpg.
Yes the soon-to-be late Hybrid is zippier (sort of), quieter, better equipped and mostly GREEN, but it's not much of a HYBRID. It's just not. Subaru said it was "hybrid assisted" but that didn't go far enough to change expectations. Perhaps if Subaru had named it the Crosstrek 15 (for the useful 15 additional hp), or the Crosstrek Plus (plus mpg, plus quiet, plus extra features etc), or just the Crosstrek Green people would have more receptive. But naming it the Hybrid and Hybrid Touring led first time viewers down the wrong path expecting to find high MPG, and they didn't look a 2nd time because right next to it on car lots was the less expensive, equally capable all wheel drive Crosstrek 2.0, which they bought and still are buying in quantity. (Disclosure- I have had 2 Crosstreks, a 13 and now a 16 and like them).
Dropping the Hybrid means Subaru can focus on, and make more, 2.0 models. Thats a good thing. Another good thing is that if you want a Crosstrek Hybrid, its a great car, well equipped, has a roof rack and ground clearance, and it's green, and is still available.
Subaru has something planned to replace it (a plug in?) coming, but exactly what that will be, and when, is a question...?
And when Subaru comes out with their new 7 passenger in a few years, hopefully there won't be a Tribeca Effect.


7/20/16 2017 Outback brochures available at dealers

7/17/16 2017 BRZ details and prices announced, and orders now available
Subaru is stepping up the game, hoping to excite driving enthusiasts and invigorate the slow selling BRZ sport cars with slightly more power, improved handling, upgraded interior, and optional Performance Paackage.
> More power- new intake and exhaust adds 5hp to 205hp, and more torque to 156lb ft. Gearing has been changed to 4.3.:1 for better acceleration
> Upgraded suspension as Subaru moves to strengthen the BRZs reputation as a tight, responsive sports car.- new rear stabilizer, springs, shock absorbers. The stability control system has been revised, and the 'sport' setting has been renamed 'track'. Stiffer chassis and strut tower braces.
> New look- new rear spoiler (standard on Ltd, optional on Premium), LED headlights, LED fog lights, redesigned 17" alloys and front fender trim,
> Interior- new steering wheel with audio and bluetooth controls. Limited models get gloss black interior trim, redesigned instrument panel gauges with 4.2" LCD trip/performance computer,
> Performance Package- optional on Limited models- Brembo brakes with 4 piston red calipers, 12.8" front discs, and 12.4" rear, new Sachs brand shocks..
> Limited Performance Package Series.Yellow. Available March, 2017 only 500 made. Limited, manual transmission, with Performance Package. Black leather trimmed alcantara seats with yellow stitching (seats, steering wheel, shift boot, door trim, floor mats), yellow BRZ logo on seatbacks, silver BRZ logo on floor mats, frameless rear view mirror, black outisde mirrors, black 17" alloys, Brembo brakes, Sachs brand shocks,
Prices
Premium + $100 to $25495 + $820 destination = $26,315
Limited + $250 to $27645 + $820 destination = $28,465
Performance package (Limited, manual trans only) adds $1195
Limited Series.Yellow $29615 + $820 destination = $30515 (the 2016 Limited Series.Blue was $28485 including dest)
Limited automatic +$250 to $28745+ $820 destination = $29,565



7/13 2017 manual transmission 2.5i and Premium Foresters (model codes HFA, HFE) can be ordered starting July 13, with delivery ETA in October.


July 13, 2016 lower finance rates announced on 2017 Outback, Forester, and Legacy starting at 0%, and 2016 Outback and Forester 0% rate extended

0% financing available on 2017 outback Forester and Legacy for 48 month, .90%for 60 months.
new rates announced starting July 13, available through August 1, 2016
Note-
these new rates are not retroactive to July 1st (sorry).
on approval of credit, NW/Seattle area
new 2017 Outback 0%x24-36-48 months, .90%x60, 1.90%x72 months
new 2017 Forester 0%x24-36-48 months, .90%x60, 1.90%x72 months
new 2017 Legacy 0%x24-36-48 months, .90%x60, 1.90%x72 months
2017 WRX continues at 2.90%
new 2016 Outback 0% x 24-36-48-60 mos, 1.90%x72 mos
new 2016 Forester 0% x 24-36-48-60 mos, 1.90%x72 mos

July 3, 2016 June sales 46,598, which is 2263 more than June 2015's 44,335 total. Thats a solid increase of 5%
YTD total 279,458, which is 7040 (3%) over YTD 2015 272418.
Subaru continues its roll but at the midpoint through the year isn't quite halfway to the goal of 615,000 cars. But Subaru says now that the SIA (Subaru of Indiana Automotive) is making more Outback and Legacy, the supply should increase. Thats good, but Subaru corporate will need to restrain themselves so not to flood the market with cars because part of the Subaru allure has been that they're popular, can be hard to get, and they sell quickly. Once every dealer has a lot of unsold inventory sitting on the lots, will Subaru become just another company where the dealer needs to hard sell the cars (to varying degrees) to move the constant incoming stream of inventory the company requires them to take (and sell)?
Subaru already has low finance rates starting at 1.49% on the 2017 Forester, Outback, and Legacy which are only starting to arrive.
The sales leader for June is the Outback, which is Subaru's safety leader with new 2017 features including Reverse Automatic Braking and High Beam Headlight Assist. The all new top of the line fully equipped 2017 Outback Touring is now available, with brown leather, low profile standard roof rails, and chrome trim and badging. The Outback Touring, with sticker prices approaching (and sometimes exceeding) $40,000, is aiming up toward the low end of the low end of the near luxury (or premium) car market.
The 2017 Forester gets some much needed upgrades including Blind Spot Detection/Rear Cross Traffic Alert, the latest version of Eyesight, and improved insulation for a quieter ride.
The WRX and STI models are as popular as ever, and supply is getting better.
June 2016 totals by model
Outback 13,417, up 2505 cars (+23%) over 10912 6/15
Forester 12029, down 2029 cars, (-14%) from 14058 6/15
Crosstrek 7658, up 601 cars (-9%) over 7057 6/15
Impreza 4994 cars, down 72 cars (-1%) from 5066 6/15
Legacy 5023, up 497 cars (+11%) over 4526 6/15
WRX, STI 3130, up 964 cars (+45%) over 2166 6/15
BRZ 347, down 203 cars (-37%) from 55 6/15
YTD 2016
Total 279458 cars. Thats up 7040 cars, +3% over 272418 YTD 2015
Half way through 2016, Subaru is on track for 559000 cars for the year. With a stated goal of 615,000 cars, Subaru would like to be closer to 300,000 cars at this mid point. The busy winter cold weather selling season is ahead however and Subaru needs over 53000 cars per month to break 600,000 cars for the year (that's the minimum "we did it" goal).
Outback YTD 77386, up 6069 cars (+9%) over 71317 YTD 2015
Forester YTD 80255, down 573 cars (-1%) from 80828 YTD 2015
Crosstrek YTD 43282, up 1332 (+3%) over 41950 YTD 2015
Impreza YTD 29765, down 1541 cars (-5%) from 31306 YTD 2015
Legacy YTD 30357, up 1184 cars (+4%) over 29173 YTD 2015
WRX STI YTD 16006, up 971 cars (+6%) over 15035 YT 2015
BRZ YTD 2407, down 402 cars (-14%) from 2809 YTD 2015
July 1- July 1 to August 1 finance rates announced.

major changes include
2016 Legacy 0%x60 months
2017 Outback, Forester, and Legacy 1.49%x48 mos, 1.90%x60-63 mos,
on approval of credit


June 27- 2017 Outbacks and Legacys starting to arrive


June 27 2016 Crosstrek Premium Special Edition now available
Only 1500 made. Its a Premium with Option Package #15. Last year there was a yellow 2015 Special Edition,
This year, the 2016 Crosstrek Special Edition is Pure Red, with black cloth, and red stitching on the seats, door panels, leather wrapped steering wheel, console armrest, shift knob and boot.
It has sharp looking red and gloss black dash trim. Amazing what you can do with a bit of plastic.
All have standard Blind spot detection with rear cross traffic alert, turn signals in the outside mirrors, power moonroof, modular cupholder in the center console with retractable cover (like the STI), 6.2' audio, red LED footwell lighting, red and gloss back dash trim...
Crosstrek pages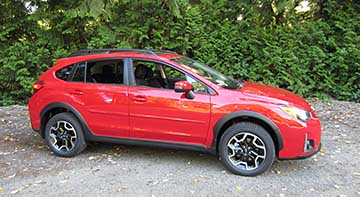 June 24 2017 Forester brochures now available


June 21- 2017 model rates and leases announced for Forester, Outback and Legacy. WRX rates were announced late May

Outback 1.90%x 24-26-48 mos, 2.49%x60-63-72 mos
Forester 1.90%x 24-26-48 mos, 2.49%x60-63-72 mos
Legacy 1.90%x 24-26-48 mos, 2.49%x60-63-72 mos

6/21/16 2010 WRX with a shopping cart cargo basket, Seattle, June 2016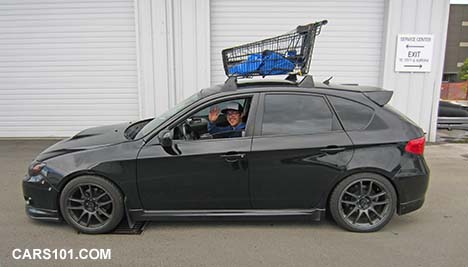 6/4/16 2017 Forester page is up, but not finished.

6/3/16- a new remote start is now available with full long distance range on pushbutton start Foresters, Outbacks, and Legacys.
This new remote start replaces the current factory installed optional remote start available on pushbutton start cars that never has worked well (extremely short range, weak signal). The new system uses a 2nd fob with an excellent signal and around a 400 ft range. This is similar to the remote start system that has been available on models with standard keyed ignition. This new system can be installed on 2014-2017 Foresters and 2015-2017 Outbacks and Legacys with pushbutton start. 2017s ordered with optional remote start will have this new system.



6/2/16 2017 Forester MANUAL transmission factory orders won't be available until August, with delivery (depending on production) in October.
Not many companies even make manuals anymore.
The manual is available in a base model (code HFA) and Premium model (code HFE). The Premium adds standard All Weather Pkg (heated seats/defrosting mirrors, front wiper de-icer), 10 way power driver's seat with power lumbar, panoramic glass moonroof, dark tinted glass, roof rails, alloy wheels, very nice 7" high-resolution touchscreen audio, rear spoiler, automatic climate control....


6/1/16 May sales- Subaru ekes out an small increase despite a rough month due a big recall on Outback and Legacy!
Total sales for May 2016 is 50,083, a small increase of 522 cars, or 1%, over 49,561 for May 2015.
But its the best May ever, and the 54th consecutive month of sales increases.
Usually May is usually the start of the current model sell-down as arrival of the new model approaches, but this year Outback and Legacy sales were hobbled by a month long stop sale/do not drive recall to replace defective steering columns and then a last minute website glitch over Memorial Day weekend that prevented dealers from searching inventory.
The 2017 Outback, Legacy and Forester are all still expected to start arriving in July.
WRX and STI will be on lots the first week or so of June.
June 2016 sales start with the same interest rates as the May, so Subaru is not concerned at this time about clearing the 2016s before the 17s arrive.
May 2016 sales
Outback 12,4045, 20 cars (0%) more than 12,384 May 2015. (stop sale recall halts most sales)
Forester 15,309, 152 cars (1%) more than 15157 May 2015
Crosstrek 8,467, 591 cars (8%) more than 7,876 cars May 2015
Legacy 5,265, 265 cars (5%) more than 5000 May 2015 (stop sale recall halts most sales)
Impreza 5,928, 285 cars (5%) more than 5,643 May 2015
WRX, STI 2,327, 568 cars (20%) less than 2895 May 2015 (tight supply, 17s expected early June)
BRZ 383, 223 cars (37%) less than 606 May 2015

5/26/16 2017 Outback and Legacy orders available today Thursday 5/26 starting at 4pm

OUTBACK 2017 Outback Limiteds get standard moonroof, dimming rear view mirror, and pushbutton start.
2017 MSRP 2.5 Limited is now $31218 vs 2016 $29634 on a 2016 without the moonroof, keyless access.
2017 Outback 3.6 Limited is $33,571 vs 2016 $32,077.
So if you do not want a moonroof, get a 2016 Outback Limited now.
More information soon.
Ordering in Wa State? My
contact info


5/25/16 2017 WRX and STI finance interest rates announced

2.90% x24-36-48-60-63 months, on approval of credit. NW area, at least through May 31st.
June rates will be announced on June 1st
The cars are expected soon.

Are you in Wa? order one in Shoreline Contact


5/20/16 2017 Forester orders now accepted. Delivery in July.
That was fast... the model features, prices, colors, and most option and accessory details were just released yesterday and orders are already available today! Usually there's a little more time than that between info release and order availability.
Perhaps Subaru marketing is pushing this out hoping to quickly to bring people back into the dealerships and also to create blog talk and news as a distraction from the Outback and Legacy stop sale/do not drive steering column recall. The recall is getting widespread attention, as well as slowing down sales at the dealers and even production of those models in Lafayette.
I wonder if 2017 Outback/Legacy model info and ordering will be pushed back to make up for time lost, and if there will be a new, strong incentives on the 2016 Outbacks (0% for example) to bring people back in.
Anyway, since the Forester is made in Japan, it won't be affected by the recall, and the 2017 availability should bring people in to dealers who have been holding back waiting for the new upgraded Forester.

Are you in Wa? order one in Shoreline Contact



5/19/16 2017 WRX/STI full color brochures arriving at dealers now with the cars expected in June.

5/19/16 2017 Forester model details and prices released.
5/16/16 Must see "Military Might"
. Watch a new black STI Limited (in a camo wrap) driven by Tanner Foust, compete in a military road and survivability test along with a hot pink Dodge Ram, a new Jeep Willys, and a Abrams M1 tank on
Top Gear USA season 7, espisode 5
. Watch until the end when the STI


5/16/16 The Outback and Legacy Stop Sale/Don't Drive steering column recall quickly changes production plans at SIA in Lafayette.
Subaru is slowing down new car production in order to ship correct replacement steering columns to dealers. They know people are driving a rental while their new car has been towed to a dealer. We'll have to wait and see if this affects people's opinions of their new car and purchase experience, and also how it affects the arrival of the 2017 models.
"Subaru is cutting back on production and overtime at its Indiana plant to free up parts for a big recall. The car-maker has to fix a steering problem in more than 50,000 new Legacies and Outbacks made in Lafayette.
Subaru has more than 4,000 workers in Lafayette, its only factory in North America. Thanks to this recall, as many as 3,000 of them may miss out on daily and Saturday overtime for the next few weeks.
Factory VP Tom Easterday says that'll free up parts to repair steering issues in 2016 and 2017 Legacies and Outbacks — ones made at the plant between February 28 and May 6.
"So any parts that were scheduled to be used for the overtime production, those parts will now be shipped directly to the dealer to help out with our customers that would need to have the part changed," Easterday says.
That means less production and lower inventory until mid-June, which could affect sales. But he hopes they'll make it up — and let workers make up the overtime — later this year.
That's when the factory plans to add more Outbacks and new Imprezas to its production lines.
Easterday says they've hired a thousand new workers to make those vehicles, with 200 more set to be hired in June. He doesn't expect the recall to slow that process."
the original article
5/14/16 Whoa... Subaru's parent company Fuji Heavy Industries steps behind the curtain and with a wave of the magician's wand, will reappear on April 1, 2017 (next year) as Subaru!
Presuming stockholder approval, the company, which has had a number of identities and products over the 60+ since it became Fuji Heavy, will rebrand itself with the name of its best known product, Subaru. With Subaru's recent growth, many new Subaru car owners are not familiar with the company, they don't know and never heard of Fuji Heavy Industries.
In the past few years, Subaru brand pressure washers, generators, and lawn mowers with Subaru engines (previously known as Robin America) have been sold at Costco, Home Depot etc. Subaru would like their other divisions to benefit form their reputation.
So Fuji.. er Subaru... wants you to know they're more than a car company.
a bit of background.... Fuji, not to be confused with Fuji the film company, makes small engines, car parts, industrial machinery, parts for Boeing, helicopters for the Japanese Self Defense Force, Raytheon Hawker, and Eclipse Aviation business jets but they're best known for Subaru cars.
Fuji Heavy Industries traces its roots to the Nakajima Aircraft Company, an early Japanese aircraft company and leading supplier of Japanese fighter components during World War II. That explains Subaru's use of the aircraft heritage boxer engine in their cars.
At the end of World War II, Nakajima was broken up by the Allied Occupation government into separate companies. On July 15, 1953 five of the companies, Fuji Kogyo, Fuji Jidosha Kogyo, Omiya Fuji Kogyo, Utsunomiya Sharyo and Tokyo Fuji Sangyo formed Fuji Heavy Industries..
On a side note, another part of Nakajima evolved into Prince Motor Company which in 1966 merged with, and is now known as, Nissan and was the minority stockholder in Fuji.
Subaru minority owner/partners included Nissan with 20.4% from 1968-1999, GM from 1999-2005, Toyota from 2005 to the present now holds 16.5% of Fuji. In 1989 Subaru and Isuzu opened the Subaru Isuzu Automotive factory in Lafayette, Indiana. When Isuzu sold their part to Subaru in 2001, it was renamed Subaru Indiana Automotive and is still where all Outbacks and Legacys are assembled. All Bajas were also assembled there with Isuzu's unused capacity. Then Toyota assembled Camry there until last year. Current SIA expansion plans will have the plant producing Imprezas by the end of this year.
Confused? Fuji no doubt hopes to simplify things by being Subaru- a name we know.
Here's the official press release
Tokyo, Japan - Fuji Heavy Industries Ltd. (FHI; Head Office: Shibuya-ku, Tokyo; President & CEO: Yasuyuki Yoshinaga) today held an extraordinary meeting of its Board of Directors and resolved to change its company name to SUBARU Corporation with effect from April 1, 2017 (tentative date). Implementation of the name change is subject to shareholder approval for amendments to the Company's Articles of Incorporation at the 85th General Meeting of Shareholders scheduled for June 28, 2016.
The origins of FHI date back to the foundation of the Aircraft Research Laboratory (later to become Nakajima Aircraft Co., Ltd.) in 1917. After going through a number of reorganizations, FHI was established under its current name in 1953. Since then, the Company has expanded its businesses ranging from aerospace and industrial products segments to its primary business of Subaru automobiles which began with the introduction of the Subaru 360 minicar in 1958.
Today, the Subaru automotive business operates in more than 90 countries worldwide and continues to achieve strong growth thanks to the support of its customers around the globe. For the fiscal year ending March 2017, Subaru projects its global vehicle sales to exceed one million units (1,050,000 units on a consolidated basis) for the first time in its history.
In its mid-term management vision "Prominence 2020" announced in May 2014, FHI set a corporate vision for 2020 of being "a high-quality company that is not big in size but has distinctive strength". To this end, the Company is focusing on two initiatives: enhancing the Subaru brand and building a strong business structure.
FHI is taking the opportunity of the 100th anniversary of the 1917 founding of Nakajima Aircraft to change its long-familiar company name and unify it with its brand name. The purpose of this shift is to further accelerate our efforts to enhance the Subaru brand and achieve even greater growth for Subaru as a distinctive global brand in the automotive and aerospace industries.
Under our new company name, we will continue to seek sustainable growth by offering Subaru's distinctive value of "Enjoyment and Peace of Mind" to customers worldwide, pursuant to our management philosophy of aiming to be "a compelling company with a strong market presence built upon its customer-first principle".
Brief History of Fuji Heavy Industries Ltd.
1917: Chikuhei Nakajima establishes the Aircraft Research Laboratory.
1918: The Aircraft Research Laboratory renamed the Nakajima Aircraft Factory (then incorporated as Nakajima Aircraft Co., Ltd. in 1931).
1945: Nakajima Aircraft Co., Ltd. reorganized as Fuji Sangyo Co., Ltd., switching from aircraft manufacturing to production of civilian goods.
1950: In accordance with the Enterprise Reorganization Act, Fuji Sangyo Co., Ltd. split into 12 companies, including Fuji Kogyo, Fuji Jidosha Kogyo, and Utsunomiya Sharyo.
1953: Five of the 12 companies, including Fuji Kogyo, contribute capital to establish Fuji Heavy Industries Ltd. (FHI acquires and merges with the five companies in 1955).
Origin of the Subaru Name: Subaru is a Japanese name for the Pleiades star cluster. Subaru was the first brand to use a Japanese name for its vehicles. The name symbolizes the unity of the six companies related to Nakajima Aircraft that merged to form Fuji Heavy Industries.
5/13/16 Recall and Stop Sale/Do Not Drive on some new 2016 and early production 2017 Outbacks and Legacys assembled after February 29th that might have a bad steering column.
Recall #WTD-65
Around 52,000 (48,500 U.S. and 3,500 Canadian) 2016 and early 2017 Outback and Legacy might have an improperly manufactured steering column that can come loose resulting in a loss of steering and control.
Vehicles assembled within the production dates and VIN range have to be visually inspected by a Subaru dealer.
Subaru is first working to inspect cars already purchased and being driven.
This is a "Stop Sale/Do Not Drive" recall where dealers cannot sell or test drive vehicles until they have been inspected and the steering column replaced if necessary.
The problem was discovered May 3 when the owner of a 2016 Outback reported trouble. Subaru says there have been no crashes or injuries.
If necessary, dealers will make arrangements to send a technicians to a customer's location to inspect the steering column. If they weren't manufactured properly, they will be replaced starting in mid-May.
The company will offer loaner cars until parts are available but some people whose cars aren't driveable haven't even gotten their license plates or their new car purchase experience survey yet.
Subaru of America spokesman Mike McHale said. "We have the details of the owners and are contacting them directly," he said. Subaru does not know how exactly many cars will have the problem. The problem affects cars worldwide, but McHale said he did not know the number.
The vehicles to inspect include
2016 models made Feb. 29 - May 6, 2016.
2016 Legacys with VIN G3045004 to G3059641, 2016 Outbacks with VIN G3307507 to G334-6346
2017 models made from April 18-29, 2016.
These 2017s are early fleet and corporate cars. No 2017s are available for sale and no 17 prices or specs have been announced yet.
2017 Legacys with VIN H3002001 to H3002024, and 2017 Outbacks with VIN H3200001 to H3200048
Note
: If you have a Subaru, recalls are noted on your MySubaru.com account.
From NHTSA "An incorrect setting of a tool used in production of the steering column may have resulted in improper machining of one of the steering column shafts. If this improper machining condition exists, the steering column shaft may not engage properly. If this were to occur, the steering wheel may rotate freely and the driver would lose the ability to steer the vehicle. (steering column) Production Dates Feb 29, 2016 - MAY 06, 2016
To remedy this condition, it is necessary to inspect the lot number of the steering column. If the vehicle contains a steering column with one of the
affected lot numbers, the steering column must be replaced. Until the vehicle has been inspected, owners are advised not to drive their vehicle.
How Remedy Component Differs from Recalled Component :The Steering column shaft will be machined to meet original specifications intended for this part."
link to the official recall on NHTSA



5/7/16 2017 Outback and Legacy preliminary information starting to come out.
Stay tuned for more details soon.
Cars due late July
New Eyesight safety features include Reverse Automatic Braking and High Beam Assist.
2017 Outbacks and Legacys with optional Eyesight get new Reverse Automatic Braking which uses 4 sensors in the back bumper to detect an object and help stop the car when going backwards. Eyesight also gets High Beam Assist to switch the headlights between high and low settings when an oncoming car is detected.
Return of the popular Outback Limited Special Appearance model, last seen as a 2014 model.
All new top of the line in Outback Touring model, very similar to the Limited Special Appearance 2012-13-14 models, is available with either the 2.5i and 3.6 engine. Its gets all new heated steering wheel, standard Java Brown leather interior with ivory stitching, Navigation, gloss black dash trim, dark gray front grill, dark gray machines finished 18" alloys, new silver finish, low profile roof rails, new chrome badging and lower accent trim. Brilliant brown color is available on the Touring model, this color was previously on the 2013 Outback Special Appearance Package (if its the same color).
Return of the Legacy Sport.
The Legacy Premium Sport, last seen as the 2014 model, returns after 3 years. Available with the 2.5L engine, the Sport package includes new 18" Sport model alloys, a dark gray front grill, fog lights with gloss black surround, chrome lower rocker panel trim, and silver outside mirrors with integrated turn signals. The interior is two tone black and gray cloth with blue stitching, carbon fiber-patterned plastic door and dash trim, with gloss black door switches and steering wheel controls.

5/3/16 April sales
Total 50,380 cars, which is an increase of 3,139 cars (7%) over 47,241 April 2015, and new record for April.
53rd month of increased sales and 26th months with over 40,000 car sold.
Subaru is anticipating a strong Fall season as more Imprezas come on the market from the expanded SIA (Subaru Indiana Automotive) plant in Lafayette.
April 2016 sales by model
Outback 14,294, an increase of 1760 car (14%) over 12,534 April 2015
Forester 14,490, an increase of 513 cars 94%) over 13,977 April 2015
Crosstrek 7,607, an increase of 671 cars (10%) over 6,936 April 2015
Legacy 5,591, and increase of 315 cars (6%) over 5,276 April 2015
Impreza 4,836, a drop of 475 cars (down 9%) from 5,311 April 2015
WRX, STI 3,096, an increase of 383 cars (14%) over 2,713 April 2015
BRZ 466, and drop of 28 cars (down 6%) from 494 April 2016
April 2016 YTD sales 182777, up 4,255 cars (2%) over 178,522 YTD April 2015
YTD sales by model
Outback 51,565, up 3544 cars (7%) over 48,021 YTD 2015
Forester 52,917, up 1304 cars (3%) over 51,613 YTD 2015
Crosstrek 27,157, up 140 cars (1%) over 27,017 YTD 2015
Legacy 20,069, up 422 cars (2%) over 19,647 YTD 2015
Impreza 18,843, down 1,754 cars (9%) from 20,597 YTD 2015
WRX, STI 10,549, up 575 cars (6%) over 9,975 YTD 2915
BRZ 1,677, up 24 cars (1%) over 1,653 YTD 2015



4/22/16 Earth Day
Subaru supports National Wildlife Foundations Monarch butterfly habitat program and is giving away 50,000 Butterfly Heroes Garden Starter Packets with milkweed seed packs through Subaru dealers.
"April 1, 2016. Subaru Joins National Wildlife Federation and Others in Leading the Drive to Save Monarch Butterflies
"As part of the National Wildlife Federation's Garden for Wildlife program, Butterfly Heroes seeks to connect gardeners, kids and families alike to help create new habitats for monarch butterflies...
With monarchs currently migrating north through the United States on their way to their summer homes, it's essential for their survival that they find plenty of milkweed along the way.
here are photos
of the free Garden Starter packets and seed packs available at Subaru dealers, April 2016

4/21/16 2016 Outback, Forester, and Legacy orders end Monday 4/25
That means 2017 model information, prices, and orders will be available soon
4/19/16 2017 WRX and STI orders available starting today!

Delivery expected in June
2017 options, packages, info


4/15/15 2016 Crosstrek Premium Special Edition (Option Package #15) prices announced.
Cars expected in June.
MSRP: $24,245 + Special Edition Option Package #15 $2200 = $26,445 (including destination)
1,500 to be made
Pure Red color with black cloth interior with red stitching on the shift knob, door panels, and steering wheel.
Black dash trim with red accents
CVT transmission
Includes
Moonroof, Pushbutton Start, Blind Spot Detection/Cross traffic alert, red LED front footwell and front console storage lighting, turn signal outside mirrors,
The SE will have the standard 6.2" audio system
more information



4/14/16 2017 Forester gets updated!
2017 changes announced, and they're everything we hoped for (almost).
Model and transmission line-up remains the same as 2016.
Lots of much needed safety technology upgrades.
Mild front end freshening.
Quieter ride
this is early info and will be changed and corrected as more details are released
The cars are expected to arrive early July. Prices and orders are expected soon.
new look- the front bumper, front grill, headlights, and taillights all get mildly redesigned.
Quieter ride- thicker door glass, redesigned door seals, acoustic windshield, more underfloor insulation
Steering wheel - redesigned
new alloy wheels, machined black and silver
2.5i CVT fuel economy up slightly to 26 city/32 highway, 28 combined, from previous 24 city/32 highway, 27 combined
2.0XT fuel economy continues to be 23 city/28 highway, 25 combined, same as 2016s
Stereo- no changes expected, same as 2016 models, so no Android Auto or Carplay.
Still missing- height and/or power adjustable front passenger seat, rain sensing front wipers,
upgraded Eyesight- optional on Premium, Limited and Touring models. Upgraded to v. 3 with color cameras, and now includes Lane Keep Assist, all new for Subaru High Beam Assist (HBA) which switches the headlights between high and low beams when another car approaches, all new for Subaru Steering Responsive Headlights (based on steering wheel position), and all new for Subaru Reverse Automatic Braking to help stop parking lot mishaps. The Reverse Automatic Braking uses 4 ultrasonic sensors in the rear bumper. Exact details of what models get what features are to be announced.
new Blind Spot Detection with Rear Cross Traffic Alert.
new Heated steering wheel- a first for Subaru. Standard on Touring models
new Memory front driver's seat - all new on Forester
Forester 2.5 Touring and XT Touring
optional Eyesight
new- standard Blind spot detection with rear cross traffic alert,
new- standard Heated steering wheel!
new- standard pushbutton start
new- XT Touring with optional eyesight gets Active Torque Vectoring which helps with hard cornering
new color- Touring only, Sepia bronze metallic
new interior- Touring only- saddle brown leather interior
new machined black and silver 18" alloys
new- redesigned steering wheel
Forester 2.5 Limited
new- standard Blind spot detection with rear cross traffic alert,
new- optional Eyesight
new machined black and silver 17" alloys
new- redesigned steering wheel
Forester 2.5 Premium and XT Premium
new- optional Eyesight with Blind spot detection with rear cross traffic alert
new- optional power rear gate (part of a package, to be announced)
new- standard X Mode with hill descent control now on Premium CVTs (not manual)
new- standard rear spoiler- body colored
new machined black and silver 17" alloys on 2.5i, and 18" alloys on XT Premium
redesigned steering wheel
2.5i
still available with manual transmission or optional CVT
redesigned steering wheel



4/11/16 2016 Forester, Outback and Legacy orders expected to close soon
Want a 2016 model? You better order it now.... the 2017s are expected in late June/July/August so 2016s orders will be closing soon.
Some 2016 models or colors are already no longer available, such as some Forester manual transmission models.
No 2017 model changes have been announced or confirmed yet though there are many rumors. 2017 orders should be available in early to mid May.

4/2 March sales increase (just barely).
49,285 which is another record, its the best March ever, but it just barely exceeded March 2015 by 174 cars (March 2016's 49285 to March 2015's 49111).
Subaru is extremely proud that this is the 52nd month of sales increases and the 25th month with sales over 40,000.
And 2016 YTD 132,281 is another record, with 1,116 cars or +1% over 131,281 cars YTD March 2015 (which was the previous best first quarter).
March 2016 by model
Outback saved the month.
All models are down except the WRX/STI (up 226 cars), and Outback (up a strong 1618 cars, +13%).
The big declines were Forester -5% and Legacy -10%.
The 2016 Forester is starting to wind down and the popular Eyesight is hard to keep in stock, and the Legacy is a great car that can't grab a big market share.
But watching these numbers go up or down every month is like watching a boat... it rocks up and down with the waves but what's important is if it keeps moving ahead. Subaru makes a great car, and likes the big lead-in "best month ever" story line, the monthly growth is what makes data crunching marketers and big desks happy, but the real story unfolds at the end of the book, on the last day and page of the year .... was it a good year, hopefully it was as good or even better than last year but whats important, what got Subaru to be the larger company it is today, is if Subaru made a better car this year than last year, were there fewer recalls than previous years, and did they hold their own against the rising tide of competitors jealous of and completely imitating their advertising and style and targeting their AWD market? The auto industry analysts and survey companies only like sales increases, ie they'd bet on the hare.
But not every month or year has to have growth be better for it to have been a success, ie growth is good but is not the only measure of success.
Coming months? Many Forester buyers want hard to find Eyesight models, or are waiting/hoping for the coming 17s to have blind spot detection, and many Impreza buyers will wait for the all new 17 model due later this year (Android Auto and Carplay!). Crosstrek buyers have bought everything available. Outback and Legacy models will start clearing out as 17s get closer, due this summer
the month
Forester 14,284, down 683 (-5%) from 14,967 3/15. This is the first Forester drop in a while, YTD the Forester is up, see below
Outback 14,122, up 1618 cars (+13%) over 12,504 3/15
Crosstrek 6,973, down 189 cars (-3%) from 7162 3/15
Impreza 5193, down 171 cars (-3%) from 5364 3/15
Legacy 5551, down 597 cars (-10%) from 6148 3/15
WRX, STI 2737, up 226 (+11%) over 2471 3/15
BRZ 425, down 70 cars (-14%) from 495 3/15
YTD by model, March 2016
Forester YTD 2016 38,427, a 2% increase (+791 cars) over YTD 2015 37,636 car
Outback 37,271, an increase of 1784 cars (+5%) over YTD 2015 35,487 cars
Crosstrek YTD 2016 19550, down 531 (-3%) from YTD 2015 20,081 cars
Impreza YTD 2016 14007, down 1279 cars (-8%) from YTD 2015 15,286 cars
Legacy YTD 2016 14478, up 107 cars (+1%) over YTD 2015 14,371 cars
WRX, STI YTD 2016 7453, an increase of 192 cars (+3%) over YTD 2015 7,261 cars
BRZ YTD 2016 1211, and increase of 52 cars (+4%) over YTD 2015 1,159



3/24 2016 WRX orders ending tomorrow 3/25.
That's not much advance warning! 2017 model orders should be available early May 2016. No changes for 2017 models have been announced.


3/20 Skagit Subaru in Burlington, Wa. purchased early March 2016 by Dwayne Lane Auto Group and renamed Dwayne Lane's Skagit Subaru
Skagit River Subaru, aka Skagit Subaru, was bought early March 2016 by Dwayne Lane's Auto Family from the Tapley Family Auto Group. Tapley company founder Don Tapley sr and wife Sharon Tapley, and son DJ Tapley, had owned the dealerships since 1987. Renamed
Dwayne Lane's Skagit Subaru
. Also purchased at the same time from the Tapley Family Auto Group was Skagit Mazda and Skagit Ford and they were renamed Dwayne Lane's Skagit Mazda and Dwayne Lane's Skagit Ford-Lincoln. All the dealerships are located at I-5 Auto World in Burlington, just north of Mt Vernon, Wa. Note: company founder Dwayne Lane passed away March 18, 2016 at 80yo. His son Tom Lane is running the company.


3/14 change in Subaru corporate title
Current SoA Chairman and COO Tomomi Nakamura is being promoted from Corporate Senior VP to Corporate Executive VP.
He and SoA CEO/President Tom Doll have started the process of moving Subaru from their long time Cherry Hill, NJ location to Camden NJ.


3/13 Should I warm up my car?
Warming up a car takes miles of driving and there is no reason to wait or let a car idle for that long, but you should always let a cold car idle for 10-20-30 seconds, more if its cold outside, to let the oil circulate. Then drive calmly for the first mile or so.
I would recommend that always always always.. whether a brand new car or an old one, if you want a car to last, treat it nicely when its cold.
Here's a Q & A from the Bend Oregon Bulletin at http://www.bendbulletin.com/business/4105648-151/warming-up-subaru-not-necessary#
"Q: I have a 2013 Subaru Impreza. I have to wait until the blue thermostat light on the dash goes off before I drive the car. Do you think this is necessary? It seems like a waste of gas.
A: It is a waste. When the engine is first started, this light will be red for a moment during its self-test, then turn blue until it goes off when the engine is "sufficiently warmed up" — as per the Subaru owner's manual.
Does this mean you shouldn't drive the car until the blue light goes off? Subaru would like you to wait, but I don't think it's necessary. Like any engine, 15 to 30 seconds of initial warmup, unless temperatures are extremely low, then operating the vehicle gently until it is "sufficiently warmed up" is the best and most efficient way to bring the catalyst system up to temperature to minimize emissions and maximize fuel efficiency. I'd consider the blue light a reminder, not a mandate."


3/12/16 2017 Impreza to be shown at the NY Auto Show March 23
This is will be Subaru's first US car on their new Global Platform that will become the underpinnings for future Subaru.
What to look for in a new Impreza?
Slightly larger
Longer wheelbase for a smoother ride and bigger back seat
More practical 5 door cargo door and body design. It's tight in the current the Impreza 5door and Crosstreks due to the aerodynamically focused slope of the rear gate.
More integration of the safety technologies- Eyesight and Starlink internet connectivity.
And hopefully with scheduled US production and other benefits described below, Subarus will keep the same price points.
Here's the press release
Tokyo, March 7, 2016 – Fuji Heavy Industries Ltd. (FHI), the manufacturer of Subaru automobiles, has unveiled an overview of the Subaru Global Platform,which is currently under development as the architecture to be used for all the Company's next-generation vehicles. The Subaru Global Platform is part of the six initiatives to enhance the Subaru brand described in the Company's mid-term management vision, "Prominence 2020,"announced in 2014. Together with the
horizontally-opposed engines, Symmetrical All-Wheel Drive (AWD), and EyeSight that represent Subaru's core technologies, the new platform will constitute the basic foundation of the next generation of Subaru vehicles. Marking the launch of the new concept, FHI President Yasuyuki Yoshinaga said, "The Subaru Global Platform lifts Subaru's automotive technology to new heights, and marks the next step in the evolution of "Enjoyment and Peace of Mind," the value; that Subaru offers to its customers. This new platform represents the culmination of the know-how we have developed over many years, and we are confident that it will allow us to produce vehicles that live up to our proud traditions and meet the high expectations customers have of Subaru. We continue to work on designing ever-more attractive vehicles that offer the customer both enjoyment and peace of mind."
Main Features of Subaru Global Platform
The next-generation platform is designed with the future in mind, and looks ahead to 2025. The main features include: Subaru's biggest-ever enhancement in overall vehicle performance 1. Emotionally engaging "Dynamic feel" that goes beyond high performance 2. The world's highest levels of safety Single design concept for development of all models, adaptable to electrification in the future
Subaru's Biggest-ever Enhancement in Overall Vehicle Performance
1. Emotionally engaging "Dynamic feel" that goes beyond high performance. The new platform will make possible a new type of driving experience, appealing directly to the senses and offering unparalleled smoothness and comfort—all backed up by excellent performance and specifications. Specifically, the new platform will further refine Subaru's dynamic feel in the following areas: (1) straight line stability, (2) noise and vibration suppression, and (3) comfort.
(1) Straight line stability
The new platform dramatically increases rigidity throughout the body and chassis (a 70% to 100% increase over present models) and incorporates substantial improvements to the suspension system and achieve a lower center of gravity, bringing about highly responsive steering that allows drivers to control the vehicle precisely as they want. The eradication of unnecessary movement in handling makes the car seem to grip the road surface, achieving a traveling performance that looks ahead to the need for enhanced straight line stability in the autonomous vehicles of the future.
(2) Noise and vibration suppression. Optimized frame structure and stronger joints between parts allow the new platform to improve overall torsional rigidity by 70% over present models. This distributes the resonance and distortion throughout the body, greatly reducing vibrations from the steering wheel, floor, and seats. It achieves a quietness that goes beyond vehicle class.
(3) Comfort The new platform increases the rigidity of the suspension mounting, improving the absorption of the suspension without warping the body of the car, and providing a smooth and comfortable drive whatever the irregularities in the road surface. By mounting the rear stabilizer directly to the body, the new platform reduces the body roll of the vehicle by 50% compared to present models.
2
The world's highest levels of safety
Active safety- The new platform achieves a center of gravity that is 5 mm lower than present models. Together with the major improvements in rigidity and the evolution of the suspension system, this lower center of gravity makes possible a more stable driving experience than ever before, and offers outstanding danger avoidance capabilities on a level with a high-performance sports car.
Passive safety - Thanks to a frame structure that enables more efficient energy absorption in the event of collision and the enhanced body rigidity resulting from the increased use of high-tensile steel plates including materials formed by the hot press method, impact energy absorption is improved by 40% over present models. The platform anticipates further improvements in strength and new materials and has the potential to continue to offer the world's highest levels of collision safety even in 2025.
Single Design Concept for Development of All Models, Adaptable to Electrification in the Future -The new platform will offer a single unified design concept for all Subaru models. Planning the main specifications of all vehicle types at one time and flexibly adjusting these basic specifications to match with the requirements of different models will strengthen the entire Subaru lineup while still allowing the Company to develop models that take advantage of each model's strengths.
The new concept allows one design concept to be adapted not only to gasoline engines but also to hybrid vehicles, plug-in hybrids, electric cars, and other types of alternative power units for which demand will increase further.
Development based on a single design concept makes it possible to use limited development personnel and facilities efficiently to develop a diverse range of models and to direct the resulting savings into areas that can make our products more competitive.
It will also become possible to produce platform components for multiple models in the same one production facility, rather than manufacturing them in different factories as has been the case in the past. This will increase production efficiency at Subaru's factories and at our partner companies. The new unified design concept will also make it easier for our two factories in Japan and the Subaru of Indiana Automotive plant in the United States to carry out bridge production of multiple different models on a single line, making our global production system more flexible.
The Subaru Global Platform that offers these benefits will be used in the development of all Subaru vehicles from now on, beginning with the next-generation Impreza, due to hit the market in 2016. FHI remains true to its management philosophy- to become "a compelling company with a strong market presence" on the basis of "customer-first" policy. The Company will continue to pursue engineering excellence and offer its customers "Enjoyment and Peace of Mind" to achieve FHI/Subaru distinctive presence"
Heres the original press release http://www.fhi.co.jp/press/file/uploads/news-en/0307-Subaru-Global-Platform-en1.pdf

Heres an article from Chris Bruce at autoblog
"Subaru will follow a current industry trend by introducing a modular chassis later this year, and the so-called Subaru Global Platform will underpin all of the Japanese automaker's future models. We'll see it first on the new Impreza, which will go on sale in the second half of 2016.
Subaru claims its new platform offers 70-100 percent greater rigidity compared to the company's current models, and the stiffer chassis means less vibration travels through the vehicle to the steering wheel and seats, which results in an easier time for the driver. A 40-percent increase in impact energy absorption should also mean improved safety.
Customers might experience a more exciting drive from the future Subarus, too. The company claims the new platform lowers the center gravity by 0.2 inches, which should sharpen handling. The engineers now mount the rear stabilizer directly to the body, which is said to reduce body roll by 50 percent over current models. It also supports hybrid, plug-in, and EV drivetrains to adapt to the future.
After the Impreza lets us experience the Subaru Global Platform later this year, the company already has other models with it under development. For example, the XV Concept from Geneva hints at a sharper look for the next-gen compact crossover. The new WRX reportedly joins the range in 2017 and possibly gets an extra boost from hybrid power. A seven-passenger CUV also joins the US lineup in 2018. So much new product on the way could let Subaru keep up its brisk sales pace for years to come.'
the article http://www.autoblog.com/2016/03/07/subaru-global-platform-future-models/

Here's an article from Automotive News
"Subaru is embarking on engineering, design and technology overhauls to keep the small-scale, niche brand competitive in a global industry in which high volumes matter like never before.
The first two changes will debut in the next-generation Impreza small car arriving in the second half of the year: a new modular platform Subaru says will improve safety and driving performance, and a new design language dubbed Dynamic X Solid to enliven the brand's image.
After those moves, Subaru will roll out new automated-driving technologies beginning with a traffic-jam autopilot.
Yasuyuki Yoshinaga, president of Subaru-maker Fuji Heavy Industries Ltd., said the new technologies and design language are pillars of his plan to boost global sales to 1.1 million vehicles in the fiscal year ending March 31, 2021.
"We want to further extend Subaru's strengths," Yoshinaga said while unveiling the initiatives at Fuji Heavy's headquarters here.
The new platform aims to cut costs while improving safety and dynamics. Executives repeatedly said they benchmarked top European brands and compared the new platform's high-speed emergency evasive handling to that of German sports cars.
Dubbed the Subaru Global Platform, it will underpin all the brand's nameplates. It can accommodate gasoline, hybrid, plug-in hybrid and all-electric drivetrains.
Subaru expects to save money because it will be possible to produce components for multiple models at any one factory. This will enable Subaru to shift production among factories in the U.S. and Japan quickly to adjust to changing demand.
Subaru can also focus its limited personnel and engineering resources on variations of one platform.
The new platform should be able to underpin Subaru vehicles through 2025 with regular improvements, executives said.
Subaru aims to channel savings into better performance, said Tetsuo Onuki, vice president of global engineering. The goal is a better product without raising sticker prices, he said.
Among the improvements:
Body rigidity improves 70 to 100 percent.
Center of gravity is lowered for better handling.
Collision impact absorption improves 40 percent.
Noise and vibration is reduced 15 percent.
"Starting with the car coming out this year, we will advance to the next level, using the new Subaru Global Platform to provide Subaru with more safety and fun every year," said Naoto Muto, executive vice president for global engineering.
More dynamic styling is part of the improvement. The new looks were first explored in the Viziv 2 Concept in 2014 and fleshed out in the Viziv Future Concept crossover and Impreza Concept shown in October at the Tokyo Motor Show.
The design language beefs up the stance and body volume to imbue the cars with a more rugged, sporty aura. The front fascia is more chiseled; the fender flares are more muscular.
Subaru's safety strategy also entails new autonomous driving targets based on the brand's camera-based EyeSight system.
Next year, Subaru will introduce a new traffic-jam assist function that will allow the vehicle to start and stop automatically in slow traffic and steer automatically around curves.
Subaru's current system requires the driver to re-engage acceleration manually once the vehicle has stopped. Existing technology does not feature automatic steering.
By 2020, Subaru said it will introduce a semiautonomous highway driving function. That system will enable automated lane changing and automated steering around curves, by combining radar sensors and GPS mapping with EyeSight.
Subaru is relying on the changes to stoke its surging sales for continued gains. Subaru targets its eighth straight year of record sales and ninth year of growth in the U.S. in 2016. U.S. sales are expected to increase 5.5 percent to 615,000 vehicles."
the original article https://www.autonews.com/article/20160312/OEM03/303149991/how-subaru-plans-to-stay-competitive


3/9/16 April advertising campaign... Subaru Loves the Earth 2016
Subaru and the National Wildlife Foundation (NWF) will be working together this April to support the NWF's Butterfly Hero Program highlighting the serious decline in the Monarch butterfly population. The 90% Monarch population drop is huge.
I hadn't heard about this before so that you Subaru for focusing on this issue.
The Butterfly Hero program encourages planting gardens which support the Monarch and other pollinators. "The Monarch caterpillars feed exclusively on the leaves of the Milkweed plant and there are several dozen species of the Milkweed so no matter where you live there is at least one milkweed species naturally found in your area."
In Washington State
Read much more at
http://www.nwf.org/Pollinators/Monarch/Milkweed-Resources.aspx
,
Find your Milkweed species at
http://blog.nwf.org/2015/02/twelve-native-milkweeds-for-monarchs/
Even I can plant milkweed and in Washington State and it's Showy Milkweed and Mexican Whorled Milkweed
More resources...
http://monarchjointventure.org/images/uploads/documents/MilkweedFactSheetFINAL.pdf
or
www.plantmilkweed.org
3/7/16 Subaru closes off 2016 Crosstrek Hybrid factory orders effective immediately.
Without the usual order cutoff warning a few weeks given a few weeks in advance, Subaru today (3/7/16) announced they won't be accepting any more orders for the 16 Crosstrek Hybrid. Orders for the other Crosstrek models will continue to be accepted. No reason for the sudden and unexpected cutoff was given, but this will allow the factory to build more of the fast selling Crosstreks.


3/5 advertising 2015 Share The Love (STL) results
from November 19, 2015 - January 2, 2016 Subaru donated $250 for each car purchased to the buyer's choice of charities. The 5 charities to choose from were ASPCA, National Parks Foundation, Meals On Wheels, Make-a-Wish, and the 5th charity was a local organization chosen by each dealership.
The 2015 STL results
total $18,999,884, 24% increase over $15,353,281 in 2014's STL
#1 local charities chosen by the dealers $10,441,516,
#2 Make-A-Wish $2,808,911
#3 ASPCA 2,565,459
#4 Meals-On-Wheels $1,655,521
#5 National Parks Foundation $1,528,437



3/2/16 February sales
42,011 for the month, 653 cars more than 41,358 February 2015.
24th month with sales over 40,0000
51st month with a monthly increase over the previous year
Up for the month: Forester, Outback, Legacy, BRZ, WRX/STI
Down for the month: Crosstrek, Impreza,
February 2016 by model
Forester 12,239, compared to 11,489 2/15
Outback 11,952 compared to 11,632 2/15
Crosstrek 6,129 compared to 6,406 2/15
Legacy 4,454 compared to 4,342 2/15
Impreza 4,432, compared to 4,826 2/15
WRX, STI 2,380, compared to 2,359 2/15
BRZ 425, compared to 334 2/15


2/24/16 Buyers of a Certified car with Starlink get a free year of Safety Plus
,
This is just like a new car buyer, and they also have the same 180 days to extend it at a discounted price. The dealer will activate at time of purchase.



2/15 Subaru rack accessories to be supplied by Thule, replacing Yakima. Starting this spring.


2/9/16 new Crosstrek Premium Special Edition (SE) available late spring, all are Pure Red

To be shown at the Chicago auto show Feb 13-21
1,500 to be made
Pure Red color (not the standard Venetian red)
Cloth interior with red stitching on the shift knob, door panels, and steering wheel.
Red accented dash trim
CVT transmission
Includes
Moonroof, Pushbutton Start, Blind Spot Detection/Cross traffic alert, front footwell and front console storage bin red LED lighting, Turn signal outside mirrors,
The SE will have the standard 6.2" audio system (not the 7" navigation system).
Prices and details to be announced
2016 Crosstrek specs


2/3/16 January sales, and its set a new record for January totals.
its more impressive considering the record December (best month ever) which should have pulled some sale from January
January 2016 total is 41,101 total compared to 40,812 for January 2015
Up for the month - Forester, Legacy, BRZ and Impreza sales were up slightly over January 2015
Down for the month - Outback, Crosstrek, and WRX/STI were down slightly from January 2015
By model
#1 Forester 11904 1/16, compared to 11,210 1/15
#2 Outback 11,197 1/16, compared to 11,351 11/5
#3 Crosstrek 6,448 1/16, compared to 6,513 1/15
#4 Legacy 4,473 1/16, compared to 3,881 1/15
Impreza 4,382 1/16, compared to 5,096 1/15
WRX, STI 2,336 1/16, compared to 2,431 1/15
BRZ 361 1/16, compared to 330 1/15. These low BRZ numbers remind me of the Tribeca's final lingering months. Its barely worth making 300 or so cars, but then there's the Scion FRS to figure in. I understand there will be a special yellow BRZ coming- no details yet



1/26/16 2015 AAAS/Subaru SB&F Prize for Excellence in Science Books
"Four groundbreaking books that present scientific information in innovative ways to young audiences have earned the 2015 AAAS/Subaru SB&F Prize for Excellence in Science Books.
Each of the winners invites readers to explore their own world or to prepare themselves to explore other worlds. One introduces the world of microbes to the very youngest readers, while another connects the exploration of the physical world to the medical advances of the last century. A third "trains" the astronauts who will be the first humans to set foot on Mars, and the fourth shows youngsters how to explore the environment through the eyes of a naturalist.
AAAS and Subaru of America, Inc. co-sponsor the prizes to recognize recently published works that are scientifically sound and foster an understanding and appreciation of science in readers of all ages. This year's prizes — which promote science literacy by showcasing the importance of outstanding science writing and illustration — recognize the work of four authors as well as an illustrator.
"AAAS is pleased to join with Subaru to celebrate these outstanding science books and authors," said Alan I. Leshner, chief executive officer of AAAS and executive publisher of its journals, Science, Science Advances, Science Translational Medicine, and Science Signaling. "By encouraging young people to engage with the world through exploration and discovery, the winning books help lay the groundwork for a lifelong relationship with science."
The 2015 prizes recognize efforts in four categories: Children's Science Picture Books, Middle Grades Science Books, Young Adult Science Books, and Hands-on Science Books. Winners will receive $1,500 and a plaque on 13 February during the 2015 AAAS Annual Meeting in San Jose, California.
Tom Doll, president of Subaru of America, Inc., congratulated the winners for their outstanding contribution to science writing and illustration. "As a technology company, we are delighted to be able to support AAAS in activities that promote children's exploration of science and technology," he said.
The prizes are administered by the AAAS review journal, Science Books & Films (SB&F). SB&F editor-in-chief Maria Sosa noted that the 180 books considered for the prize across all four categories represented the largest number of submissions since the program's inception. "This year's competition was intense," she said. "Publishers and authors have certainly upped their game with this year's offerings. It bodes well for the integration of reading and science in formal and informal science education."
"These books make it easier to connect the Next Generation Science Standards (NGSS) and the Common Core Standards," said Shirley M. Malcom, head of the AAAS Directorate for Education and Human Resources. "These books provide solid science information in really enjoyable packages. It's refreshing to be able to avoid the tradeoff between reading for pleasure and pleasurable reading for information "
The 2015 prize recipients are:
WINNING CHILDREN'S SCIENCE PICTURE BOOK- Tiny Creatures: The World of Microbes, by Nicola Davies. (Illustrations by Emily Sutton.) Somerville, MA: Candlewick, 2014.
WINNING MIDDLE GRADES SCIENCE BOOK- Mission: Mars by Pascal Lee. NY: Scholastic, 2013.
WINNING YOUNG ADULT SCIENCE BOOK- Extreme Medicine: How Exploration Transformed Medicine in the Twentieth Century by Kevin Fong. NY: The Penguin Press, 2014.
WINNING HANDS-ON SCIENCE BOOK- The Kid's Guide to Exploring Nature by Brooklyn Botanic Educators. (Edited by Sarah Schmidt.) NY: Brooklyn Botanic Garden, 2014
Background on the Prizes
The prizes began in 2005 when four lifetime achievement awards were given to authors of children's science books. It honored authors whose books promoted science literacy. Today, the AAAS/Subaru SB&F Prize for Excellence in Science Books continues to recognize stand-out science books.
Finalists were selected by a group of judges made up of librarians, scientists, and science literacy experts. Out of nearly 180 books up for consideration across all four categories, the judges selected 13 finalists. These finalists were then submitted to a second round of judging, and the winners were selected."
the press release
1/22/16 advertising Subaru a sponsor of Portlandia with Fred Armisen and Carrie Brownstein.
"Portlandia creators and stars Fred Armisen and Carrie Brownstein have teamed up with longtime partner Subaru for a four-part Web series tied to their hit IFC show. In "Talkative Driver," Armisen plays an unusually chatty car service driver discussing his every thought with increasingly impatient passengers.
Subaru, which has been a partner since the debut of Portlandia in 2011, has been integrated into the show since Season 2.
"This year we wanted to evolve the partnership a little bit," said Blake Callaway, evp of marketing and digital media at IFC. "So we went to the writer's room and created this first standalone Web series."
In addition to the Web series, which people can watch on
IFC's website,
Subaru will continue to be integrated in the satirical sketch comedy's sixth season. Dos Equis will also come on board, and Geico returns for a so-called "near-show integration"...'
the article
1/14 Starlink app and navigation press release from SEMA auto show in Las Vegas.
"Magellan SmartGPS Navigation to Power Future Subaru Vehicles Equipped with the Subaru Starlink Platform Powered by Clarion's Smart Access System
January 4, Las Vegas, NV – Magellan's SmartGPS navigation has been selected to be included with Subaru vehicles featuring the Subaru Starlink platform. The Subaru Starlink infotainment systems, available in Subaru vehicles, utilize Clarion's advanced Smart Access™ cloud connectivity platform to seamlessly sync and control cloud-based applications directly through the infotainment system's screen, providing immediate access to Magellan's SmartGPS navigation.
Designed to support both Apple iOS and Android smartphones, the Subaru Starlink app brings continuously updated cloud applications to the vehicle's center stack display. Drivers can then access all Starlink approved apps and services effortlessly, including Magellan's SmartGPS, allowing for safe access and display on the vehicle's touch panel.
Magellan SmartGPS navigation will be available on future Subaru models.
SmartGPS Navigation Software
Magellan's SmartGPS navigation iOS and Android apps for connected car bring Magellan's proven smartphone navigation to Subaru vehicles by connecting to the Subaru Starlink platform. The SmartGPS navigation app provides a voice-guided full navigation. As a GPS industry pioneer, Magellan's navigation and routing engines have been developed and proven through years of R&D and testing.
"Magellan is honored that its SmartGPS navigation has been selected by a company as innovative and well-known as Subaru to be the GPS navigation solution for its future vehicles," commented Pierre Parent, President of Magellan. "This partnership gives Subaru customers access to our award winning navigation, which provides added value to Subaru's award winning vehicles."
Magellan's SmartGPS navigation for Subaru will use an advanced cloud-based mapping solution. This ensures customers that their maps for GPS navigation are never outdated. Using a STARLINK phone app to "connect to the dash", Subaru customers can safely and easily use their Magellan SmartGPS navigation app on the infotainment touch panel.
"Magellan has been a great partner throughout the process of us working together to bring their premium navigation solution to Subaru's Starlink platform," stated Allen H. Gharapetian, Vice President of Marketing & Product Planning for Clarion Corporation of America. "We only provide the finest and most innovative solutions to our key customers such as Subaru so we feel confident that Magellan's SmartGPS navigation apps will be an excellent addition to the Subaru STARLINK platform powered by Clarion's Smart Access."
the orginal press release


1/10/16 oil consumption lawsuit settlement proposed
Some Subarus use oil. Its true. This is an industry problem, its not just Subaru. Check out the article Consumer Reports did on this issue last June (
read the CR article
). The "oil consumption" (notice its not 'oil burning') seems to be related to the use of lighter 0w-20 oil in low friction engines that allow some of the oil to be forced by the rings. Its not smelly blue smoke coming out the back and it doesn't seem to be clogging catalytic converters (or at least I haven't heard), its just evaporating. It becomes a problem when engines use a quart every 1000-2000 miles or so. Engines use some oil, they always have, and when we changed oil every 3 months or 3000 miles it wasn't as noticeable as it is now that the interval is 6 months or 6000 miles. The low friction engines are designed for improved economy and more power because the engine itself requires less power to keep itself running (low friction = turns over easier).... progress and new technologies bring both new improvements and new problems.
I'm not an automotive engineer but this simple explanation seems somewhat reasonable. Engines that are driven harder with fast starts, or with higher compression such as manual transmissions that are revved up or downshifted to slow down, seem to use more oil.
Subaru certainly is aware of the problem and is working to resolve it.
Check your oil every 2 or 3 gas station visits for example - on flat ground, and after the engine sits while you pump the gas- and if you think you're using oil, contact your dealer and they will start an oil consumption test.

updated 2/4 models included in the settlement include some but not all
2011-2014 Forester CVT transmission
2011-2015 Forester manual transmission

2012-2013 Impreza CVT transmission
2012-2015 Impreza manual transmission

2013 Crosstrek CVT transmission
2013-2015 crosstrek manual transmission

2013 Outback CVT transmission
2013-2014 Outback manual transmission

2013 Legacy CVT transmission
2013-2014 Legacy manual transmission

1/10/16 Here's the article on the proposed class action settlement
"Subaru of America has agreed to settle a class action accusing it of knowingly selling cars that have a defect causing them to burn excessive amounts of oil. Subaru has agreed to extend warranties on affected vehicles, and reimburse vehicle owners for expenses related to the defect.
On Jan. 4, the lead plaintiffs asked the court to approve this preliminary settlement. "This proposed settlement will provide most class members with as much or more compensation as they may have obtained had this case proceeded through certification and trial," the lead plaintiffs assert.
The original class action lawsuit filed by lead plaintiffs Keith Yeager and Michael Schuler alleged that Subaru knew that certain models of vehicles had defective piston rings that would cause extra oil to burn off the engine. According to the class action lawsuit, Subaru did not tell consumers about the oil burning defect, and that deception caused car owners to spend "considerable money on extra engine oil, but also on engine repairs trying to fix the underlying problem."
In addition, the class action lawsuit claims that Subaru "improperly denied many warranty repairs, and then, more recently, secretly changed the scope of its warranty coverage without telling affected drivers." Since the original filing, seven other named plaintiffs have been added to the Subaru class action lawsuit, alleging the same defect in different model vehicles and states.
To settle the oil burning defect class action lawsuit, Subaru has agreed to increase the warranty on vehicles with the defect from the original 5-year / 60,000-mile warranty, to an 8-year / 100,000-mile warranty.
In addition, Subaru has agreed to compensate vehicle owners for the following expenses: "(i) vehicle repairs (including parts and labor); (ii) rental cars; (iii) towing; and (iv) the purchase of up to six quarts of oil per vehicle." Subaru has agreed to pay 100% of those costs, if claimants can provide reasonable proof of their expenses.
Finally, Subaru has agreed to provide a free "oil consumption test" as well as "TSB repairs" for any owners or leasers of defective vehicles.
The Subaru oil burning defect lawsuit is asking the court to certify a Class of all "current or former owners or lessors of [defective Subaru models] originally purchased or leased in the continental United States and Alaska." Notice of the settlement will be mailed directly to Class Members, who will have to file claims to receive compensation.
The actual Subaru models that are part of the potential settlement and details on the claim filing process were not immediately available. Keep checking TopClassActions.com or sign up for our free newsletter for the latest updates. You can also mark this article as a "Favorite" using your free Top Class Actions account to receive notifications when this article is updated.
The plaintiffs are represented by Matthew D. Schelkopf and Jospeh G. Sauder of Chimicles & Tikellis LLP, Eric H. Gibbs, Dylan Hughes, and David Stein of Girard Gibbs LLP, and Richard D. McCune, Jae K. Kim, and Michele M. Vercoski of McCune Wright, LLP."
the original article
http://topclassactions.com/lawsuit-settlements/lawsuit-news/297643-subaru-settles-oil-burning-class-action-lawsuit/
1/6/2016 2015 ends with a surge in sales and the best month ever with a new record of 56,274 cars sold, an increase of 6,351 13% over the previous best of 53,070 September 2015.

For the record.... Subaru sold 48,928 cars in 1976, 183,242 in 1986, sales dropped in the early 1990s but recovered to 120,748 cars in 1996, they sold 200,703 in 2006, and now they're poised to break 600,000 in 2016

December sales by model
#1 Forester- 16,797 Dec 2015 compared to 15,163 12/14.
#2 Outback- 16,067 Dec 2015 compared to 14,772 12/14
#3 Crosstrek- 8,090 Dec 2015 compared to 5,482 12/14
#4 Impreza- 6,059 Dec 2015 compared to 5,808 12/14
#5 Legacy- 5,759 Dec 2015 compared to 5,457 12/14
#6 WRX/STI- 3,089 Dec 2015 compared to 2,812 12/14
#7 BRZ- 412 Dec 2015 compared to 416 12/14

2015 total sales 582,675. Thats an increase of 68,982 or 13% over 2014 total sales 513,693
It was a great year to be Subaru. Subaru's share of the total U.S market is now around 3.3%
Sales of all models is up up up except the rear wheel drive Scion FRS/Subaru BRZ clone.
60% of sales are to buyers new to Subaru! Marketing love love love and dogs dogs dogs works. And all the positive reviews... some days it seems Subaru can do no wrong.
Now Subaru has to keep these new buyers from drifting to yet another brand when it again comes time for a new car.
Subaru can help create loyalty
> the first two oil changes and one tire rotation and 1 new cabin air filter should be included free with every purchase.
> Subarus come with a 3 year/36,000 mile roadside warranty, and that service should be extended to cover any other Subarus in the owner's name.
> Subaru GTP guaranteed trade program is offered on cars up to 6 years from date of sale, and they could extend that to 8 years to keep older car owners from trying another brand
> loyalty incentives to repeat buyers that can be as simple as a Subaru jacket or something similar, a free 2 year maintenance/oil change program, perhaps a small price or interest rate discount.
Crosstreks continue to be the hard to find, an overnight success 3 years after its 2013 model introduction. The new 2016 model's 7" upgraded audio and blind spot detection has of course been getting people to take a 2nd look. The base 2.0i and Premium model 6.2" audio system is disappointing.
The top selling 2016 Forester's upgraded 7" audio system on all except 2.5i base model, has helped the Forester compete with the #2 selling 2016 Outback's blind spot detection.
The Forester retains the classic straight-forward utility, functionality and safety of the Subarus that helped establish the company's current reputation. It may be square but it works!
Outback with current safety technology (seat cushion airbags, upgraded eyesight, blind spot detection) and a comfortable, quiet ride is now a car people aspire to.
The 2016 WRX and STI are, as always, strong cult favorites, despite missing a 5 door hatchback version since the 2014 model. The WRX CVT is a good compromise for the performance buyer who doesn't want to shift. While the paddle shifters work, they should be made a little more responsive, with a crisper shift response.
The Impreza, first offered in 1993, still does well even with competition from its higher sitting Impreza Crosstrek sibling ... or perhaps its because of the Crosstrek. Can we say that those early Impreza hatchbacks were the first mini-utes?
The BRZ is a beautiful car, especially the Premium model which has clean, classic lines without the fussy rear spoiler on the Limited. But it's a rear wheel drive car in an all-wheel-drive world and sales continue to drop year after year from the high of 8587 cars sold its first full year (2013 model). I wonder how long Subaru will continue to make it (the answer is.. as long as Toyota wants to buy and market them as Scion FRSs)
2015 total sales by model
#1 Forester 175,192 for the year, which is an increase of 15,293 or 10% over 2014 159.953
#2 Outback 152,294 for the year, which is an increase of 13,504 or 10% over2014 138,790
#3 Crosstrek 88,927 for the year, which is an increase of 17,971 or 25% over 2014 70,956
#4 Impreza 66,785 for the year, which is an increase of 8789 or 15% over 2014 57, 996
#5 Legacy 60,447 for the year, which is an increase of 8177 or 16% 2014 52,270
#6 WRX/STI 33,734 for the year, which is an increase of 8242 or 32% over 2014 25,492
#7 BRZ 5,296 for the year, which is a decrease of 2208 or -29% from 2014 7504


12/14/16 Subaru Ambassador Program grows
Subaru supports enthusiasts with the Subaru Ambassador Program begun early this year.
Ambassadors are expected to spread the word at their local events, clubs, meetings, forums etc.
Ambassadors will get a variety of Subaru gifts to hand out at these events, including discount coupons.
Get more information here
https://www.subaruambassador.com/