SUBARU TRIBECA specifications, options, prices, colors, photos and more -
2014, 2013, 2012, 2011, 2010, 2009, 2008, 2007, 2006
TRIBECA HOMEPAGE
-

***

Please read- this unofficial independent Subaru research site by Joe Spitz is designed to help you learn about Subarus. It is not sponsored, authorized, supported or approved of by Subaru or any dealer and is not connected to, or affiliated with, any dealer. Always contact your local dealer. Information subject to change, correction.

***
| | |
| --- | --- |
| Silver 2006 B9 Tribeca | quartz silver 2009, 2008 |
This is an unofficial indenpendent Subaru research site by Joe Spitz who is solely responsible for all content.
This website is not authorized or sponsored by SoA or any dealership.
Buying a Tribeca? Discounted prices. Contact Joe Spitz, Seattle/Shoreline Washington
unauthorized reproduction strictly prohibited. thanks for visiting. you are here http://www.cars101.com/tribeca.html v 10.27.13
---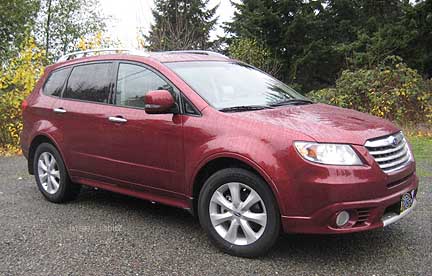 ruby red touring model, with silver roof rails and body colored trim. 2010 shown (same as 2011)
*******




10/18 its the long anticipated the end of the road for the slow selling Tribeca,

If you're looking for a new one, there won't be many 2014 models- orders for them were accepted starting 8/1/13, prices were announced 8/13, and then orders were abruptly cut-off after 8/18.

Subaru's next 7 passenger will probably be born with combined Subaru-Toyota parentage, some form of hybrid technology, and hopefully a functional 3rd row.

The statement "Subaru of America, Inc. has confirmed that production of the Tribeca model will cease in January 2014 with last deliveries to retailers in February 2014. The Tribeca debuted as Subaru's mid-size SUV in 2005 and has sold approximately 78,000 vehicles to date.

SOA will support the effective sell down of the 2014MY Tribeca and the company has announced that it plans to return to the mid-size SUV segment with a three-row vehicle in the future."

8/18 2014 Tribeca orders stopped.

Is this the end? There are some

2014 models

already available on lots and more are scheduled to arrive but if Subaru isn't accepting new orders they could be planning to sell out of exisiting inventory. The production could be moved to the Outback


8/13 2014 prices and specs announced.

The Tribeca continues on for another year. Delivery expected starting late September.

There is still only the Limited model.

New:

all 2014s have a standard moonroof, back-up camera (displays in rear view mirror or optional navigation screen), black roof rails, auto dimming rear view mirror with compass. These features were the optional $1500 moonroof package on 2013s.

Destination up $25 to $825.

MSRP including destination and the new added features is now $34920 which is the same as last year's 2013 model if you included the then optional moonroof package

New

Carbide Gray color replaces graphite gray

8/1 orders now available on 2014 Tribecas.

Prices and specs not released yet.


8/8/12

- 2013 model prices and features released. The only model for 2013 is the Limited. Both Premium and Touring models have been dropped. No price or feature change except a Brake override system has been added, and Venetian Red replaces ruby red. Destination raised $20 to $795 form $775



7/25/11 Rumored

Confirmed - new colors reportedly include a new deep indigo blue and new ice silver. Gone- azurite blue, steel silver
2012s expected to arrive mid-late September 2011.
5/27/11- new March 2011 Synthetic oil is now required on all 2011 models
Synthetic oil is required for optimum engine performance and protection. Conventional oil may be used if synthetic oil is unavailable. Conventional oil may be used if replenishment is needed, but it should be changed to synthetic oil at the next oil change.
Note- your owners manual might not indicate this depending on the printing date. This change was reportedly made around March 2011. Now all 2011 Subarus use Subaru synthetic oil since the 2011 Forester 2.5Ls, and all turbos ( WRX, STI, Forester XT, Legacy GT) have required it since the start of the model run. All 2011 models use 5w-30 except the Forester X which uses 0w-20
2011 maintenance schedule
5/23/11 Tribeca rumored to be at the end of the model run. Its possible, but in my opinion the Tribeca will continue and there will be a 2012 model if for no other reason than a replacement is not yet ready. No doubt Subaru is a working on one, perhaps with Toyota who has a number of suitable vehicles from the Toyota and Lexus luneup. Subaru's only comment on this rumor is that is a rumor.
9/7/10 2011 prices, details released. No changes or price increase announced. Line remains exactly the same with Premium, Limited, Touring models. Ruby red now come with gray interior.
9/28/09 2010 prices announced. 7 passenger only, there is no 5 passenger model (see Outback instead if you want a 5 passenger).
There are 3 models for 20120- 3.6R Premium, 3.6R Limited, and new top of the line 3.6R Touring model. The 'R' in the 3.6R is new for 10s though has been used on other 6 cylinders -Outback, Legacy- starting in 2005
Like all 2010 models, there are new Option Packages. These are factory installed only.
New colors for 2010 are Azurite Blue, Sky Blue, Graphite Gray, Steel Silver, Crystal Black (replacing Obsidian Black, Harvest Gold, Quartz Silver, Nerwport Blue, Diamond Gray)
New features include a 6 disc CD changer stereo with 385watt Harman/Kardon audio upgrade with h/k amp, upgraded speakers, XM satellite radio (3 mos free) (std Limited, Touring models).
Touring model gets a new auto dimming rear view mirror with 3.5" LCD rear vision camera display, silver roof rails, HID low beam headlights.
Fixed position roof rack optional on Premium, Limited. Roof Rails are now an option on the mid-range Premium model, std on Touring
April 2009 - 2009 is the final year for the 5 passenger model. All 2010 Tribecas will be 7 passengers (really a 5+2). If you want a 5 passenger check out the 2010 Outbacks
12/20/08 Tribeca owners using MySubaru.com take note- Subaru incorrectly sent all 07-08 Tribeca owners a recall notice only supposed to go some 08-09 owners. It's the VDC G Sensor recall. A correction email was sent. See recalls for more info
12/10/08 new accessories iPod-iPhone interface for Legacy, Outback, Tribeca. iPod interface controls your iPod - iPhone through the factory stereo. Also recharges it except for 4th gen Nano and 2nd gen iPhone. Applicable on Tribeca 2009-2008-2007 without Satellite radio or DVD system. Available factory or dealer installed
12/4/08 inspect the VDC G sensor on some late 2008 and early 2009 models for installed backwards. The sensor is in the center console and if it is backwards, must be re-installed to point forward as indicated by the arrow on the sensor. See recalls for more info
8/26/08 new 2009 SE package prices and details announced on 5 and 7 passenger models. Includes leather interior, heated front seats, memory driver seat, rear ac on 5 passenger (already standard on all 7 passengers), upgraded stereo with CD changer, illumination package (footwells, door, center console). Note: late availability.
7/5/2008 2009s arriving at dealers. 2009s start arriving early July.
6/12/08 2009 prices and details announced.
2009: new Ruby Red color.
5/23/07 2008 prices and details announced. Big improvments! new 3.6L engine running on regular gas replaces 3.0L the preferred Premium. New front grill, new rear tailgate, new larger rear cargo area side windows, new larger side view mirrors... all good upgrades
5/16/07 crash test results 2008 Tribeca gets 5 Star crash rating from NHTSA.gov on front and rear driver and passenger crash tests, plus a 'no-tip' in the rollover test! see the full report
11/20/2006 crash test result: Tribeca, Legacy GT sedan with Navigation, Forester XT Sports are on the list of only 13 cars that earned the top rating from Insurance Institute for Highway Safety.
6/14/2006. The new chrome/polished stainless steel mesh grille which is standard on the 2007 SE model, also fits the 2006. Part number J101SXA150
6/2006 Prices, options, changes for 2007 model
9/29/05 pricing for new 5 passenger with Navigation system announced, see prices below. Available October 2005.
9/12/05 First Crash test results are in! 5 stars from nhtsa.gov
May 20 cars are arriving at dealerships! The 7 passenger is better as a 5+2.
March 31, 2005 prices announced!
Car and Driver magazine, March 05 issue
Feb 22: colors, model codes announced, factory orders now available
Introduced Jan 10, 2005 at the Detroit Auto Show. Expected at dealers in May, 2005.
Designed by Andreas Zapatinas, Head of Advanced Design. He has also worked for Fiat and Alfa Romeo.
What Subaru says... the press releases
June 9, 2006 "An overview of the new features for the 2007 Subaru B9 Tribeca model line includes significant safety enhancements, ride comfort improvements to the suspension system, new audio and entertainment upgrades, three new exterior colors and a new grille treatment. A new Special Edition package consisting of 18" chrome alloy wheels, XM satellite radio package and chrome mesh wire grille is now offered for all models and all color combinations."
December 17 2004 the name changed "Upon receiving feedback from Subaru owners, potential customers, and business partners on the name that was originally announced, the Subaru B9X, Subaru has reconsidered and changed the name to B9 TRIBECA for the all-new vehicle. We feel that the name B9 TRIBECA has a greater resonance in the North American marketplace and will more effectively position the car when it is launched next early summer. B9 of B9 TRIBECA denotes Subaru's signature, horizontally-opposed Boxer engine and the 9 comes from Subaru's product line-up category codes. Tribeca is a vibrant New York City neighborhood with many distinctive boutiques, galleries, and restaurants, where young artists work and cutting-edge trends are created that attract worldwide attention. Its name is an abbreviation of Triangle Below Canal Street (a triangle-shaped area south of Canal Street and north of Wall Street in Manhattan)."
November 5, 2004
SUBARU PREVIEWS ALL-NEW SUBARU B9X CROSSOVER UTILITY VEHICLE
Advance Look at All-New Design Theme And First-ever Subaru With Seven Passenger Capability
MIAMI BEACH, FL– Subaru of America, Inc., today announced the name of its all-new crossover utility vehicle, the Subaru B9X at the 2004 South Florida International Auto Show.
The all-new 2006 Subaru B9X is the first-ever Subaru crossover utility vehicle with available seating for seven passengers.
"This is a significant milestone for Subaru," said Kunio Ishigami, Chairman, President and CEO of Subaru of America, Inc. "The Subaru B9X combines a bold new design with the trademark Subaru Symmetrical All-Wheel Drive system, and is our first seven passenger vehicle."
The world premiere for the Subaru B9X will occur at the Detroit Auto Show and represents a step into a new market for Subaru. The Subaru B9X is equipped with the legendary Subaru Symmetrical All-Wheel Drive system and features an all-new design theme, delivering added style to the capability, safety and durability Subaru is so well-known for.
"It is no coincidence that we are here in Miami, a market well-known for it's trend setting style, with an all-new Subaru," said Fred Adcock, Executive Vice President, Subaru of America, Inc.
"This vehicle represents more than just a new style of Subaru. With its fun-to-drive handling and interior flexibility, this is also a Subaru that will appeal to a larger audience. The new B9X is the logical step for a current Legacy or Outback owner looking to move up in size, flexibility, feature content and refinement."
The broad appeal of the Subaru B9X, like that of the recently redesigned 2005 Subaru Outback and Legacy, expands the Subaru product line with a vehicle that is larger than the Outback.
Combined with superior ride and handling for the segment, the Subaru B9X will also appeal to customers looking for greater cargo capacity, expanding the Subaru brand's appeal to a new group of customers.
A Bold New Look and Bold New Name
There are three key elements to the new design found on the Subaru B9X. One of the key focal points of the all-new 2006 Subaru B9X is the bold new grille and fascia design. A central air intake is flanked by two "wings" that relate directly to the history of Subaru as an aircraft manufacturer – illustrating the Subaru commitment to engineering excellence.
Also prominent in the new design is a curved roof line that expresses a sense of dynamic motion.
Finally, powerful fender and wheel forms create the feeling of agility and driving performance.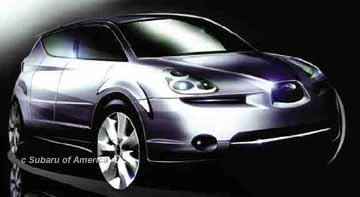 an artist concept rendering, c. SoA
The Subaru B9X design theme first appeared on the 2003 Geneva Show Car, the Subaru B11S, and was further refined on the Subaru B9SC and R1e concept cars, which both made their U.S. debut at the 2004 North American International Auto Show. As a model which has inherited this design theme, Subaru has named this vehicle the B9X.
The 2006 Subaru B9X will be built at the Subaru of Indiana Automotive plant in Lafayette, Indiana.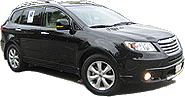 -
-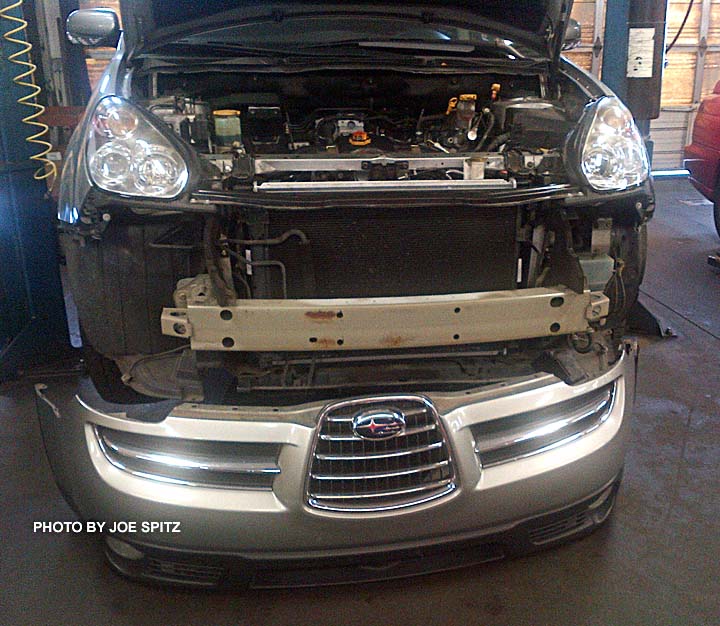 2006 with front bumper cover removed