October 2011
2012 models
No major changes for 2012 models.
2012s arriving at dealers early October.
New stereos include Bluetooth, USB, wireless streaming on all except base models
Ruby red pearl now with gray interior, it was ivory in 2011.
new Alloy wheel option package on base models includes 17" alloy wheels, fog lights and all weather package for $995 list price
5/27/11- new March 2011 Synthetic oil is now required on all 2011 models
Synthetic oil is required for optimum engine performance and protection. Conventional oil may be used if synthetic oil is unavailable. Conventional oil may be used if replenishment is needed, but it should be changed to synthetic oil at the next oil change.
Note- your owners manual might not indicate this depending on the printing date. This change was reportedly made around March 2011. Now all 2011 Subarus use Subaru synthetic oil since the 2011 Forester 2.5Ls, and all turbos ( WRX, STI, Forester XT, Legacy GT) have required it since the start of the model run. All 2011 models use 5w-30 except the Forester X which uses 0w-20
2011 maintenance schedule
August 31, 2010- Fold-In outside mirrors are now available for the 2010 Outback and Legacy! The non-breakaway power outside mirrors on all 2010 Outback and Legacy were a source of concern for many people. This was fixed on 2011s, and now these fold-in mirrors are available as replacement for the 2010s, in all the colors so no painting is required. Mirrors kits (including left and right side) are MSRP $199.95 from your local Subaru dealer.
Standard unheated mirror kit is part #SOA635985, Heated mirror kit is part #SOA635086
6/23/10 2011 Outbacks starting to arrive at dealers
5/7/10- 2011 Outback and Legacy prices and features released. No major changes or price increases. Destination increased $30 to $725. All models get fold-in mirrors, a few new colors, the number of Option Packages is reduced slightly especially on the Premiums. The Harman/Kardon stereo gets XM radio (with a $300 price increase), the optional Moonroof Package includes a new auto dimming mirror/compass/Homelink with rear view back-up camera. Navigation now includes the auto dimming rear view mirror with compass.
Still no Memory Seat on any model. Other changes, and there are sure to be some, will be noted as the cars arrive starting in June.
A few new optional items are offered like chrome rear gate garnish, side window drip moldings, new mobile internet wi-fi from autonetmobile.com.
New colors include Carmel Bronze Pearl with ivory interior (replaces Harvest Gold), and Ruby Red Pearl with ivory interior.
Hundreds of choices of 2011 models: There are 9 Outback models for 2011 with 22 Option Packages and 9 colors for a total of 198 possible model, transmission and color combinations, plus there are 5 PZEV emission Outbacks with 15 Option Packages and 9 colors for another 135 possible combinations. And then there are many individual options and upgrades. Your delaer might not have the exact model you want and an order can take from 6-12 weeks +/-.
4/19/10 Outback and Legacy model information released. Early information only and orders accepted. No feature changes, prices, or specs announced yet, so no word on fold-in mirrors for example or any other changes/upgrades for the 2011s.
The Outback model line seems to remain the same as 2010, with 2 less Option Packages. The models are 2.5i manual or CVT, Premium manual or CVT, Limited CVT, 3.6R 5AT, 3.6R Premium 5AT, 3.6R Limited 5AT. Major Option Packages reduced. New colors: Caramel Bronze Pearl replaces Harvest Gold, and Ruby Red Pearl added. Sunroof package now includes new auto dimming mirror with back-up camera.It works well, see 2010 Tribeca page for pictures, and is not available with navigation.
8/27/09 Top Safety Pick - 2010 Subaru Legacy and Subaru Outback are the Insurance Institute for Highway Safety's newest Top Safety Pick award winners. "To qualify for Top Safety Pick, a vehicle must earn the highest rating of good in the Institute's front, side, and rear tests and be equipped with electronic stability control. Criteria to win are tough because the award is intended to drive continued safety improvements such as top crash test ratings and the rapid addition of electronic stability control, which is standard on the Legacy and Outback." IIHS.org
June 26, 2009. 2010s now arriving on car lots. All new and redesigned, slightly larger interior space but overall length is 1" shorter, more rear seat room, 3.6L 6 cylinder (used in the Tribeca) replaces 3.0L. 2 new transmissions for the 2.5L models - 6 speed manual and CVT (continuously variable transmission) automatic. No XT turbo model, it's gone. Premium name replaces SE. Premium models are available with a number of 'Option Packages'. Prices announced 4/29. Production started early May. 2.5i list price increase $700 but the Limited went down $300. The new larger engine 3.6L Outback now starts $1100 less than the 3.0L version in 09. Production starts 3/27 in Lafayette.
March 2009
2010 Outback- All new and redesigned 2010 Outback first showing will be at the NY Int't Auto Show in April. Larger inside but 1" shorter overall! Taller, more rear seat legroom, slightly more ground clearance. The 4 cylinder has new 6 speed manual or automatic CVT transmissions. The 3.6L from the Tribeca replaces the 3.0L. Framed windows are a first for the Legacy and Outback. No Outback turbo, 2009 is the final year. Cars expected in June-July?
2010 - All new 2010 5th Generation Outback wagon and Legacy sedans- completely redesigned.
New body, new interiors, new tranmissions, new engines, pretty much new everything...
The Outback model line- the overall Outback wagon line comes with either 1 2.5L 4 cylinder or a 3.6L 6 cylinder models. The turbo Outback has been discontinued.
4 cylinder- there are 3 2.5i models, a base 2.5i, mid-range 2.5i Premium (replaces SE), and top of the line 2.5i Limited.
6 cylinder. New larger 3.6L engine used in the Tribeca (replaces the 3.0L). The 3.6L has very good power and runs on regular gas and is very a welcome upgrade! There are 3 models with the 6 cylinder. They are: new base 3.6R, new mid-range 3.6R Premium model, and top of the line 3.6R Limited. Subaru says the 'R' means is their code for a DOHC normally asperated (not a turbo) engine but in the past it has supposedly meant other things (like Revolution during tghe GM days) depending on who you ask and what training class it was.
Other brief highlights.
>The cars are a bit larger overall and have a much more open and spacious feel inside. But the overall car size is actually .8" shorter!
> Interior space and rear seat room has gone up dramatically. There's a lot more back seat room (finally) and the front seats are a bit wider and perhaps even softer (thank you) etc. This was accomplished by increasing the wheelbase slightly andc carefully maximizing the available space, all in a mid-size car, without losing the quality, comfort and driving traits that have made the Outback a great choice since 1990.
> Frames doors- all models have framed doors. If you're familiar with the Legacy/Outback line from 1990-2009, you know the windows were always 'frameless', now all models will have door frames. This adds rigidity and hopefully will reduce that ever-present wind noise from the outside mirror area that Subarus have been prone to.
> For some reason the outside mirrors don't fold-away. Huh? Perhaps that will change.
> Option Packages. A new way of doing things. It's almost impossible to have the exact right car for every buyer. There are just too many possible combinations, some features sell here, others sell there- popularity can be based on region and driving conditions, like warm vs cold climate, wet vs dry, city vs country, lots of snow vs no snow.
So starting with the 10 models, Subaru is offering models with 'Option Package' upgrades. The 'Option Packages' are all described below. What this means for the buyer are more choices.
For example, on the previous mid-range 2.5i SE model (now the 2.5i Premium), the All Weather Package was standard. Like it or not you got heated seats etc. Starting with 2010s, it's an option on the Premium. While I personally would want it, not everyone does - some to save money, others live in warm climates where All Weather Pkg's heated seats are silly.
And tall people don't like sunroofs (less headroom), other people really like them. The Sunroof is also now an option on the mid-range Premium where it was not previously available at all before, and is an option on the Limited model where is previously was standard.
2009
Models: 2.5i (was the 2008 Outback), 2.5i SE (was 2008 Outback 2.5i), 3.0R Limited (was the 2008 3.0R LL Bean). Subaru has dropped the LL Bean affiliation. XT models are the same. Prices announced late May 2008. Cars expected mid June 2008. New color, Seacrest green is a very light, silvery green. PZEV (partial zero emission vehicles) now required in CA, CT, NH, NY, MA, MS, RI, VT, WA, and OR. VDC electronic stability control now standard on all models. New Harman Kardan 440 watt stereo standard in all except 2.5i model. Dark tinted windows standard on 2.5i Limited, XT and 3.0R models. 2.5i Limited gets alloy wheels used on 08 XT and 3.0R. 3.0R no longer has standard auto dimming mirror/compass or wood steering wheel. This is the final year for this 4th generation. 2010 model are expected to be redesigned.
12/10/08 new accessories iPod-iPhone interface for Legacy, Outback, Tribeca. iPod interface controls your iPod and iPhone through the factory stereo. Also recharges it except for 4th gen Nano and 2nd gen iPhone. Applicable on all Legacy, Outback, and Tribeca 2009-2008-2007 without Satellite radio. Available factory or dealer installed
SPT turbo heat shield applicable on 2009-8-7-6-5 Legacy GT and Outback XT turbos. Helps keeps the turbo warm, retain heat which increases performance.
more to come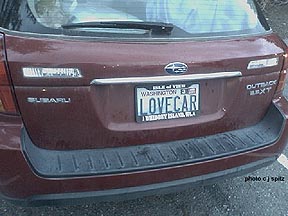 ---
2008 All Outbacks are wagons, the Outback sedan has been dropped. All Legacys are now sedans. So if you want a wagon it's the Outback, and if you want a sedan it's a Legacy. Most noticable change is an all new grill so the car has a very different look, also new headlights and tailights, new alloy wheels, new colors, new cloth interior. New telescoping steering wheel with tilt, includes cruise control. Top of the line 3.0R LL Bean 6 cylinder and XT 4 cylinder turbo model steering wheels have audio and SI Drive controls. VDC, electronic stability control, is optional on 2.5i LL Bean and 2.5i Limited LL Bean, both also include Navigation, and VDC continues to be standard on the 3.0R LL Bean and XT turbo. 2007's Outback Basic has been renamed the Outback and has re-designed steel wheels with full wheel covers. Tire pressure monitoring is standard on all models. Key and remote is now one piece instead of separate key and remote as in previous years. All models are now pre-wired for either XM or Sirius satellite radio (was only XM for 2007). EPA fuel economy ratings lower due a change in testing standards.

2007 Price drop on most models! New model: low price Outback Basic 2.5i. Many models dropped: SE, VDC, base 3.0R 6cylinder, XT cloth, Limited 2.5i 5spd manual. Those were all dropped. New colors, fold down rear seats on sedans. All models with MP3 player and aux (iPod) plug, pre-wired for optional Remote Start (auto only), and for XM satellite radio. Tire Pressure Monitoring System TPMS on all except 2.5i Basic. VDC (vehicle dynamic control) all wheel drive traction control system on Limited XT and LL Bean models. SRSLabs WOW stereo for certain models. SI Drive (Subaru Intelligent) on XT models. Horsepower and torque figures on turbos and 6 cylinders has changed due only to a change in test methods. No change in actual power.
12/21/06 12/21/06 2 new 4 cylinder LL Bean models announced with Navigation: 2.5i LL Bean and 2.5i Limited LL Bean. Available late January to Feb.

2006 available mid July. The base cloth model turbo XT has been dropped but a new cloth 6 cylinder model, the 3.0R wagon, replaces it. The 3.0R sedan has been renamed the 3.0R LL Bean sedan. Navigation is optional on the XT Limited and 6 cylinders, and standard on the VDC which is an uncommon model. All models now have standard air filtration and Immobilizer key. A few new color combinations, slight price increases.
11/1/05 new models Subaru announces 2 new models. The all new Outback 2.5i SE and the return of the Outback 2.5i Limited 4 cylinder sedan, both available in mid December. The SE package is a 2.5i with CD changer, navigation, climate control, etc in only 2 colors.
9/29/05 New models: Subaru announces the return of the cloth model Outback XT that was originally discontinued for the 2006my, available starting October 2005. More information below of course.
10/5/2005 Kelly Blue Book rates the Outback best Resale Value

2005 available late May 2004. This is a very major 5 year remodel as Subaru moves the new Legacy and Legacy Outback line up-scale.
There's a more contemporary look, smoother and quieter ride and many other features available such as dual climate control, power passenger seat, and 2 new models with 250 horsepower.
Still safety oriented, every Legacy Outback now has 6 airbags. (2 front, 2 front side, 2 front and rear side curtain)
Ground clearance has been increased at least 1" to 8.4"- 8.7" so it remains a very rugged road and family capable car for campers, skiiers etc.
The Outback has not abandoned it's dependable and economical 4cylinder Japanese heritage even as a few of its new higher end models compete in a luxury market not usually associated with Subaru. Fuel economy has been increased slightly on the 2.5i models!
All models are built in Lafayette, Indiana.
Models for 2005: Outback 2.5i replaces the Outback, Outback 2.5i Limited replaces the Outback Limited,
High-performance Outback XT and XT Limited with the new 250hp turbo engine.
6 cylinder LL Bean, and 3.0R VDC wagon and sedan. The 3.0L H6 (Horizontal 6 cylinder) is upgraded to 250horsepower from 212hp.
New dashboard, body panels, seats, and available dual climate control systems and power passenger seats etc make the Outback a good choice for a wide range of budgets.
Safety: Along with the new emphasis on comfort, power and style, there remains Subaru's long-term focus on safety.
All Legacy and Outback models get 8 airbags: front, front side, and front and rear side curtain airbags
Prices are very competitive, destination is now $575 (Alaska $725). Please see my 05 spec pages linked above for full price, invoice, option and specifications
Emissions: The basic 2.5i models have 2 emission models, Fed and Ca spec, just as in 2004.

compare the Outback to other cars, compare 2006, 2005 engines and transmissions

2004 few changes. New look splash guards and wood trim. New lower accent colors for LL Bean and VDC, H6 models get new look alloy wheels, new leather color on shift handle, new logos. NEW California spec cars for 4 cylinder models. SULEV 2 (super-ultra low emission) or Partial Zero Emission (PZEV) vehicles for sale California and the NorthEast and a few neighboring states. These will not be available outside those states. Destination increases $25 to $550.
2003 No major changes for the Outback. OnStar standard on H-6 models, new colors, new suspension springs for smoother ride, new front grill. The base Outback now with All Weather package and CD (no cassette) standard. Small price increases, and the Outback actually is less than 2002 comparably equipped. 2003 New mid-year models: Available after February 2003, 2 new models announced: Audio Edition and H6 wagon. The Audio Edition is focused on warmer climate areas and the H6 wagon is focused on folks wanting more power than the 4 cylinder car buying client expects
2002: 6 cylinder available in the Outback Sedan. Minor changes include different tires, keyless remote, colors, cupholders, dome, door, ignition switch lights, in-glass antenna, re-designed rear center headrest (wgn), sedans have an inside trunk release, and door panel woodtrim now standard. Destination/delivery increased $30
2001: 3.0L 6 cylinder available on 2 new Outback models- LL Bean and 3.0R VDC.
2000: 5 year major re-design. The car is substancially re-designed and refined with a smoother ride, new standard power driver's seat, new dashboard, more cargo area with less wheel well intrusion and etc
1999 there were few changes. Keyless remote is now standard. SSV (Special Service Vehicle) Outback sedan model is introduced for public safety agency use only, this model is only made for one year.
1998 the Outback Limited offered with either 2 sunroofs or no sunroofs. In January 1998 the upgraded 30th Anniversary (1968-98) models were introduced and the SUS (Outback sedan) went national.
1997: the Limited Outback was introduced. A sedan version, the Outback SUS (short for 'Sport Utility Sedan') was available in very small numbers in the New England area only. The 2.5L engine is tweaked for 1997 and has 10 more hp than the '96 plus runs on regular fuel, not premium. The manual tranmission now uses the 2.5L engine and the hill-holder clutch is discontinued. New separate door lock switch. All models have a non-functional 'hood scoop', it's just for looks.
1996: First year for the 'real' Outback with 7.3" ground clearance. Also first year for the 2.5L engine, which in '96 runs on premium fuel and is only available with an automatic transmssion. The manual uses the 2.2L engine and has the hill holder clutch.
1995: The first Outback is a 1995 Legacy L wagon with special trim. This 1995 model is not the Outback as we know it.
The Legacy is a line of cars with 2 models: Legacy and Outback
There are many versions of the Legacy and Outback, and they share 2 body styles, a wagon or a sedan




ENGINE (these are not official codes, they are only for this table)
A: 2.5L 4cylinder, 175hp
B: 2.5L turbo charged 4 cylinder, 250hp
C: 3.0 6 cylinder, 250hp
Transmission (these are not official codes, they are only for this table)
D: 5spd manual
E: 4spd SportShift Automatic
F: Reinforced 5spd manual
G: 5spd SportShift automatic

2006 LEGACY and OUTBACK engine/transmissions

feature

Legacy

Outback

model name

Legacy
2.5i, SE

Legacy 2.5i Limited

Legacy GT Limited

Outback 2.5i, SE

Outback 2.5i Limited

Outback
XT Limited

Outback 3.0R wagon

Outback 3.0R Limited-LLBean

Outback 3.0R Limited VDC

body style

wagon

sedan

wagon
sedan

wagon
sedan
wagon
wagon, sedan
wagon
wagon
wagon, sedan
wagon
Engine

A

A

B

A

A

B

C

C

C

transmission, standard
D
D
F
D
D
F
G
G
G
transmission, optional
E
E
G
E
E
G
--
--
--
2006
2005
new 2005 LEGACY and OUTBACK OVERVIEW compare the models
The Legacy is a line of cars with 2 models: Legacy and Outback
There are many versions of the Legacy and Outback, and they share 2 body styles, a wagon or a sedan




Engine (these are not official codes, they are only for this table)
A: 2.5L 4cylinder, 165hp
B: 2.5L turbo charged 4 cylinder, 250hp
C: 3.0 6 cylinder, 250hp
Transmission(these are not codes, they are only for this table)
D: 5spd manual
E: 4spd SportShift Automatic
F: Reinforced 5spd manual
G: 5spd SportShift automatic

2005 LEGACY and OUTBACK engine/transmissions

feature

Legacy

Outback

model name

Legacy 2.5i

Legacy 2.5i Limited

Legacy GT

Legacy GT Limited

Outback 2.5i

Outback 2.5i Limited

Outback
XT

Outback XT Limited

Outback 3.0R Limited-LLBean

Outback 3.0R Limited VDC

Outback 3.0R Limited sedan

body style

wagon

sedan

wagon
sedan

wagon
sedan
wagon
sedan
wagon
wagon
wagon
wagon
wagon
wagon

sedan

Engine

A

A

B

B

A

A

B

B

C

C

C

transmission, standard
D
D
F
F
D
D
F
F
G
G
G
transmission, optional
E
E
G
G
E
E
G
G
--
--
--
Subaru tips, web page comments are always welcomed.
This page is maintained by Joe Spitz who is soley responsible for content.
Please contact me if you're interested in a Subaru - new or used.
Thank You, and Happy Car Shopping. Joe