2002 SUBARU OUTBACK 3.0R VDC STATION WAGON


vehicle dynamics control
The Outback 3.0R VDC was introduced in 2000 as a 2001 model
It was the top of the line through 2004.
Available as a station wagon and a sedan.
This page is about a 2002 Limited VDC station wagon.
The 6 cylinder was also standard on the VDC sedan and the Outback 3.0R LL Bean wagons and sedans.
VDC is an acronym for Vehicles Dynamics Control (VDC). It might not have been the best name for a car.
VDC was first offered on the 2001 VDC. Its standard on every car Subaru makes by 2012 models.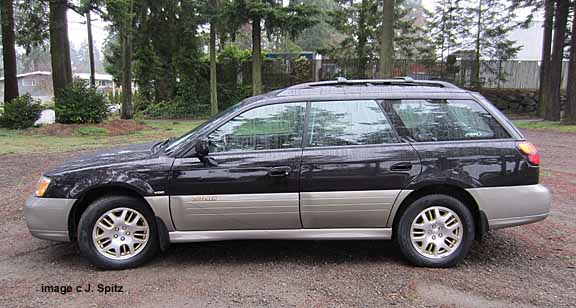 side view of the 2002 Outback VDC Limited. Yes it was raining.




2002 Outback VDC. model code 2BZ. MSRP was $32,420, invoice $29,369, including $525 destination. Plus options. This was a well equipped model, there weren't many options.


ENGINE 3.0L DOHC H-6 (horizontally opposed) 6 cylinder engine. 212 horsepower @ 6,000 rpm. 210 lb.-ft. of peak torque @ 4,400 rpm.174 lb.-ft of torque @ 2,200 rpm. Premium gas recommended but not required.


TRANSMISSION 4 speed automatic
ALL WHEEL DRIVE VDT all wheel drive system with VDC
VTD is Variable Torque Distribution. It automatically transfers powers front to back, normally a 45/55 power split.
VDC is Vehicle Dynamics Control which combiines electronic stability control system and full time traction control. VDC used muliple monitors and sensors to measure and determine body lean, wheel speed, steering wheel, brake and gas peddle positions, and then uses brakes, throttle control, and engine management to help maintain stability and driver control.
Subaru also offered a 4 cylinder Limited, and a 3.0R LL Bean Limited in 2002.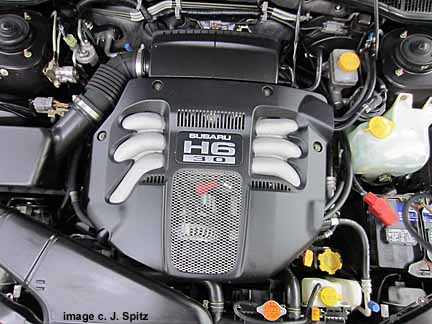 The 3.0L 6 cylinder boxer engine. 2012hp at 6000 rpm.
Has a timing chain.
Runs on regular gas but runs better on Premium.

The engine was Introduced in 2001 and used through the 2009 Outback when it was replaced by the 3.6L. Models with this engine were called 3.0R...

add comments or photos
on the forum
Thanks for visiting. You are here- http://www.cars101.com/subaru/outback/2002-vdc.html v 2.17.12

Note- this unofficial independent, unauthorized Subaru research website is by Joe Spitz and designed to help you learn about Subarus. It's not authorized, approved, sponsored, or supported in any way by Subaru or any Subaru dealer anywhere. Information is unconfirmed. Comments and links have been edited and summarized. All information, content, photos, and text is by Joe Spitz, and subject to change, correction. Send all comments, corrections to me, Joe Spitz.

---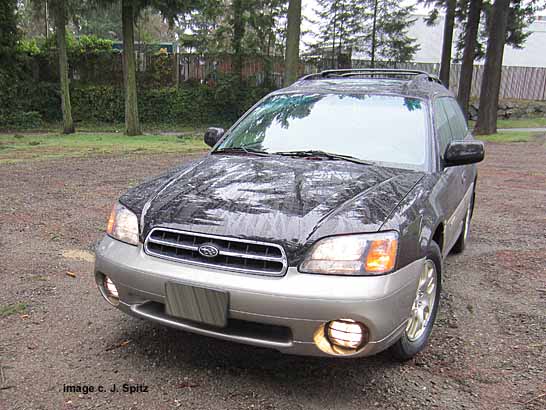 front of the Outback. Fog light and headlights are on. It was raining.
-
-
2000-2004 OUTBACK DIMENSIONS
-

Body Dimensions

Wheelbase 104.3"
Overall width , 68.7", 78.2" including mirrors
Overall height 62.2" with roof rails, 63.3" with roof rail crossbars
Overall length 187.4",
Turning radius 36.7 ft
Curb weight 3,715 pounds
Ground clearance 7.3"
Cargo Dimensions.

42" width between wheel wells on floor
30" height at rear gate
47.75" width between top of wheel wells
68" cargo length with rear seats down
44" cargo length with rear seats up


COLOR this car is Black Granite Pearl with Titanium Pearl color lower accent.
other colors available in 2002- Regatta Red, Timberline Green, Wintergreen Metallic, and White Frost Pearl, all with Titanium Pearl lower accent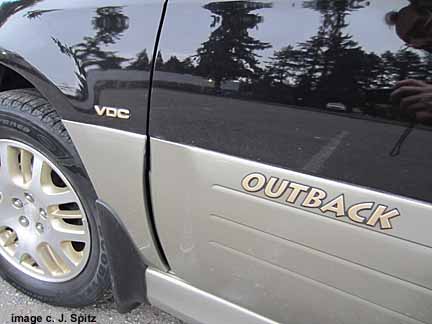 Outback and VDC logos
-
-
2002 OUTBACK LIMITED VDC STANDARD FEATURES
l

NEW for 2002 VDC: cabin air filtration and a VDC OFF switch.

McIntosh 200 watt 11 speaker stereo CD/Cassette am/fm/weatherband, rear subwoofer speaker (only in VDC).
Momo brand steering wheel - mahogany and leather
Automatic climate controls with outside temperature gauge
Power windows, locks, mirrors.
All Weather Package- heated seats, defrosting outside mirrors, windshield wiper de-icer.
Leather trimmed seats leather wrapped steering wheel and shift knob
Side impact airbags, both front seats.
Dual sunroofs with shade, front one pops up, rear retracts

VDC emblems
UV tinted glass
Gold accented 16" alloy wheels
225/60R16 M+S Bridgestone Potenza tires
Body color door handles and mirrors
Fog lights
Roof rack with cross bars
Rear cargo tray with cargo cover
8 way power driver's seat
Rear sear armrest
16" alloy wheels

-


-
PHOTOS OF A CAR -



This particular Outback VDC was originally a Subaru of America company car, probably driven by an employee. It was first sold in the Seattle area in December 2002 with around 7600 miles. These photos were taken when the car was again for sale in Seattle with 82,131 miles in February 2012.


-


black granite pearl with titanium lower accent


side view of the 2000-2004 Outback


all 2000-2004 Limited had dual moonroofs- front one pops-up, rear one slides back.


3.0L H-6 engine. The other engine was a 2.5L 4 cylinder


16" alloy. Originally it had new for 2002 225/60R-16 M+S Bridgestone Potenzas. You can (almost) see the gold color in the edges of the alloy wheel spokes.


this is the grey leather interior in all 2000-2004 Limited with wood trim and leather interior. This is the VDC model with Momo steering wheel, Mcintosh stereo etc


notice the rear speaker on the left- McIntosh audio only


only 82,131 miles, February 2012


Momo designed wood and leather steering wheel


-


Single zone climate control.


Only the VDC had the McIntosh 200w stereo with am/fm/weatherband, CD, cassette and weatherband. It was a nice sounding system though the buttons were small.
The display on the climate control and stereo could be made brighter for better daytime visibilty by pressing and holding the Off button for a few seconds..
The new for 2002 VDC off button is below.





close-up of the rear subwoofer speaker.


drivers door panel


close-up of the 2000-2004 fog light, cruise and heated front windshield wiper switches. All Limiteds had the wood trim.


gray leather interior


rear seat with armest and rear cup holder. The yellow arrow points at the rear seat cupholders and the side airbag logo on the side of the seat.


the seat belt holders, and strap to pull the seat cushion forward to fold the seatbacks flat


the seat flipped forward.




the rear seats folded flat. The headrests have to be removed and they can be put into the back of the seat so they don't get lost, Notice how the seat cushion makes for a good barrier so things don't slide into the back of the front seats.



close-up of the rear headrest upside down in the back seat

2002 Outback showroom brochure