EverythingSubaru Outback Archives 1995-1997
Subaru Outback history, options and prices
Links

Sitemap for much more information
Homepage
Used Cars for sale Seattle
Classified buy/sell private party Buy/Sell, Free! Post your For Sale or Wanted ad here
Subaru Pictures new & old
Factory warranty, maintenance schedule and towing
Links. Service, parts, groups, clubs, homepages ... Is yours here?

Insitute For Highway Safety crash tests


Outback SSV. Made for one year only. See the 1999 section for all the info on this public safety model

Legacy Outback Archives 1995-1997

options, prices, specs for the Legacy Outback
Outback history - 1997 - 1996 - 1995 - comparisons


---


this is an unofficial website.
Sitemap for all other years, models and more...


Mica Ruby Outback


All contents and formatting c. J Spitz. Unauthorized copying or reproduction prohibited. contact.
some photos courtesy SoA

you are here http://www.cars101.com/outback_archive95-97.html v5/26/06
---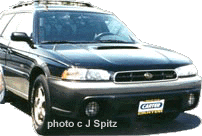 note the Hood Scoop on 97-99 models
About the Legacy Outback...
For the history of Subaru please visit my homepage.
The Legacy Outback is a car based alternative to the traditional truck-based sport utility vehicle (SUV).
With 7.3" of ground clearance the Outback is a high riding, "rugged road" vehicle with excellent emergency handling and traction and the safer, more comfortable ride of a car.
The competition for the Legacy Outback are the truck based SUVs: Explorer, Grand Cherokee, 4xRunner, S-10 Blazer, Pathfinder, Rodeo/Passport...
The Outback's all-wheel-drive system is full time and instantly reacts to changing road conditions. On dry, wet, dirt, or snowy roads this means superior traction at all speeds, so whether merging on the freeway or pulling across a street intersection, in a Subaru you know you'll always have maximum traction. And it really is fun to drive in the snow.
The beauty of all-wheel-drive by Subaru of Canada explains it well.
Subaru's all-wheel-drive is more efficient than the 4x4 system used in Sport Utilities (Explorer, 4Runner, Blazer etc) which is only for slick roads and must be activated manually when needed.
Outback History
1995: The first Outback is a 1995 Legacy L wagon with special trim. This 1995 model is not the Outback as we know it.
1996: First year for the 'real' Outback. Also first year for the 2.5L engine, which in '96 runs on premium fuel and is only available with an automatic transmssion. The manual uses the 2.2L engine and has the hill holder clutch.
1997: the Limited Outback was introduced. A sedan version, the Outback SUS (short for 'Sport Utility Sedan') was available in very small numbers in the New England area only. The 2.5L engine is tweaked for 1997 and has 10 more hp than the '96 plus runs on regular fuel, not premium. The manual tranmission now uses the 2.5L engine and the hill-holder clutch is discontinued. New separate door lock switch. All models have a non-functional 'hood scoop', it's just for looks.
Outbacks? There are 2 Outbacks.
Legacy Outback on this page.
Outback Sport is a version of Subaru's Impreza line.

Note: I have tried to provide the initial information so you can determine your interest in Subarus from the comfort of your home or work. If you're interested in a new or used Subaru or other used vehicle please contact me.
Thank you.

Subaru tips and web page comments are always welcomed.

Interested in affordable national internet access? Contact Eskimo North. Say you saw Joe Spitz's page.



That's me in the back of an Outback and there's lots of room.

There's almost 44" from the back of the rear seats to the gate.
There's 67" of flat cargo length with the rear seats folded down.

Enough for the dog... and more.... like camping.... and that's why Subaru is the #1 selling wagon in the U. S..


1997 Limited Outbacks: from the right- white. rio red, sidney blue, black
1997 Legacy Outback

New for 1997 Legacy Outback:
New model for 1997: The Outback Limited with leather, weatherband stereo with electric antenna, special Limited badging, special colors. Includes the Cold Weather package (heated seats, mirrors, block heater).

New: 2.5 L now has 165 hp on regular unleaded gas instead of 1996's 155 hp on premium fuel.
New: Manual trans now comes with the 2.5L, but no hill holder clutch is available anymore!
New: hood scoop standard on all models.
New: colors.


All-wheel drive is standard on every Subaru
Engine: 2.5 liter DOHC fuel injected 4 cylinder 16 Valve boxer engine , 165 horsepower, 162 Ft lbs torque
Ground clearance: 7.3
Towing capacity: - 2000# towing capacity
Power steering -variable assist rack and pinion
Wheels/tires: M&S 205 / 75R 15 Michelin tires, 15" alloy wheels, 5 spoke
Brakes: 4 channel Anti-Lock Brakes. Heavy duty 10.7 vented front disc with dual caliper pistons, 10.5" rear disk.


Dimensions:
Overall Length:185.8"
Width: 67"
Height: 63"

Turning radius - 37 ft

Cubic foot capacity all Legacy wagons
Outback: rear seat up: 36.5
Outback rear seat down: 69.9
L, Brighton, GT: Rear seat up: 36.1
L, Brighton: rear seat down 69.6
GT wagon rear seat down: 68.6 (sunroof)

Economy
manual transmission (no hill holder clutch available) 21 city - 27 hgwy
automatic trans 21 city - 26 hgwy

15.9 gal. fuel tank
Safety:
reinforced doors, roof, steering column,
front / rear crumple zones,
5 mph bumpers,
rear seat headrests
Child-proof door locks
Limp Home" electronic engine management system.

Dual front air-bags.

PRICES
incl. $495 delivery, plus tax/license fees

Manual
Automatic

1997 Outback

$22,990
$23,790

1997 Outback Limited

$24,690 (uncommon model)
$25,490

1997 Outback Feature

1997 Outback

1997 Outback Limited

Power windows, locks, mirrors
Air conditioning
Cruise control
Tilt steering wheel
Dual front cup holders
Height adj. driver's seat
Hieght adj. fronm shoulder belts
Interval front wipers
Rear wiper/washer/defroster
Mud flaps
Floor mats
Roof rack
Fog lights
Rear bumper scuff protector
Rear cargo mat
Passenger visor vanity mirror
map lights, dome light, rear cargo light

S

S

1997 Outback feature

1997 Outback

1997 Outback Limited

Outback Limited special gold badging, stripes

na

S

Cold weather package: heated front seats, defrosting outside mirrors, engine block heater $400.

0

S

Leather interior: seat surfaces, door panels, shift lever, steering wheel

0
$1295
(seating surfaces and door trim only!)

S

AM/FM/Cassette

S
4 speakers

S
4 speakers, with weatherband receiver and electric antenna

Tweeters $100

0

0

CD player, in dash single disc $400

0

0

CD Changer 6 disc under-seat $695

0

0

Keyless entry (made by Code Alarm) $225

0

0

Dual Illuminated visor vanity mirrors $125

0

0

Rear spoiler, trailer hitch, rear dust deflector, front bug guard,

0

0
1997 Legacy Outback colors

Outback
with Slate Metallic lower accent
Grey cloth interior

Outback Limited
with Slate Metallic lower accent
Grey leather interior

Deep Sapphire Pearl (blue)

Sidney Blue Pearl

Mica Ruby

Rio Red

Spruce Pearl (green)

Mica Black Pearl

Glacier white

Glacier White
---
All new for 1996: First year for the Outback as a separate model really distinct from the L model.
New for the 1996 model was the front Outback bumper with larger integrated fog lights, raised suspension with 7.3" ground clearance, bubbled roof, larger front disc brakes, the new for 1996 2.5L engine, new Outback seat material, height adjustable driver's seat, cold weather package etc..

1996 Outback Specifications and options

see 1997 specifications for all other information.

Warranty: transferable 3 yr/36,000 miles bumper-to-bumper, 5 yr/60,000 Powertrain
Manual transmission: $22,490 including destination/delivery
Automatic transmission: $23,290 incl. destination/delivery
Manual transmission:
2.2 liter, 135 hp, sequential multi-port fuel injected, single overhead cam boxer engine with Hill-holder clutch
economy: 23 city, 30 highway regular unleaded fuel recommended
15.9 gal. fuel tank
30,000 mile tune up spark plug change interval, 60,000 timing belt replacement
Automatic transmission:
2.5 Liter 155 hp, dual overhead cam, sequential multi-port fuel injected engine (new for 1996)
economy: 21 city, 26 highway, Premium unleaded fuel recommended
15.9 gal fuel tank
Towing capacity - 2000#
30,000 mile tune up
60,000 timing belt replacement and spark plug change interval
Standard features:
all-wheel-drive with 7.3 ground clearance
Power rack and pinion steering, variable assist
Power windows, locks, mirrors
Cruise control
Air conditioning
Fog lights with stone guards (new for 1996)
Auto off headlights
Alloy wheels, 5 spoke 15"
Brakes: anti-lock brakes, 4 channel with 4 wheel discs: 10.7" vented front with dual caliper pistons, 10.5 solid rear

Overall Length:185.8"
Width: 67"
Height: 63"
Turning radius - 37 ft

Safety:
Dual airbags, anti-lock brakes, front and rear crumple zone, door beams, re-inforced roof and steering column pillar

More Standard features 1996 Outback:

Bubbled roof (raised roof line) new for 1996
am/fm/cassette with 4 speakers, 80 watts
cup holder (2 in front)
front interval wiper
rear wiper, washer, defroster
tilt wheel
tinted glass
roof rack
mud flaps
floor mats
chromed tailpipe tip
height adj. driver's seat with lumbar
height adj. front shoulder harness
front headrests (no rear headrests in '96)
rear bumper cover
rear cargo mat
cargo area cover
cargo area acc. plug
cargo light
front acc. plug (ashtray/lighter was optional)
storage bin above spare tire

Options for 1996 Outback

Tweeters (2 for $100)
Single CD in slot beneath stereo ($420)
CD Changer under front pass. seat ($595?)
Keyless entry -unlocks all doors at once ($225) no alarm was available
Ashtray and lighter ($80)
Cold weather package ($400) heated seats, mirrors, engine block heater
lluminated visor mirrors ($100)
Dual overhead map lights ($100)
Rear spoiler - color matched to body ($290)
Leather interior ($1295)

1996 Outback Colors

All with lower grey accent and grey cloth
Mica Ruby (medium red)
Glacier White
Deep Saphire (dark blue)
Spruce Pearl (dark green)

There was no Limited model in 1996.
There was no factory sunroof in 1996.
end 1996 Outback
---

start 1995 Outback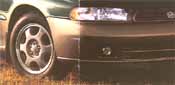 The front of the 1995 Outback Notice the projector beam fog lights, 2 tone paint, and normal ground clearance.
New model for 1995. The all new Outback was an 'Active Safety Group' all wheel drive Legacy L wagon with the 2.2 liter engine,
PLUS
2 tone with gray lower accent trim
15" alloy wheels
upgraded woven cloth (like the 1996 Outback)
projector beam fog lights
height adjustable driver's seat
roof rack
floor mats
mud flaps
etc.
It had the standard L model suspension with normal ground clearance. It did not have the bubbled roof, larger 2.5L engine, raised suspension with ground clearance etc. That all came in 1996.
Visit Legacy Archive Page for more detailed information on the Legacy that became the 1995 Outback.

1996-1999 Model SUV and 4wd Comparisons including Subaru Outback and Forester
1998 Outback
comparison
Engine
Overall length x width x height
in inches
Ground Clearance
in inches
cargo capacity in cubic feet
rear seat up/down
Turning Radius
in feet
Subaru Legacy Outback wagon
1996-1998
2.5-L 4 cyl
165 hp
185.8 x 67.5 x 63.
7.3
36.5/69.9
37.ft
Isuzu Rodeo 4wd
3.2 V-6 205 hp
184.1 x 70.4 x 68.8
7.1
or more depending on tire size
33.0/81.1
40ft
Ford Explorer
4.0 V-6 160 hp or
4.0 V-6 215 hp or
5.0 V-8 215 hp
188.5 x 70.2 x 67.7
6.7
42.6/81.6
40.ft
Chevy Blazer
4.3 V-6 190 hp
183.3 x 67.8 x 64.2
7.5
37.3/74.1
50 ft
Toyota 4Runner
2.7 4 cyl 150 hp or 3.4 V-6 183 hp
178.7 x 66.5 x 69.3
9.8
44.6/79.7
39 ft
Nissan Pathfinder
3.3 V-6 168 hp
188.5 x 70.2 x 67.7
7.2
42.6/81.6
40 ft
Jeep Cherokee 4dr 4wd
2.5 4 cyl 125 hp or 4.0 I-6 190 hp
167.5 x 69.4 x 64.0
8.1
32.9/69.0
38 ft
Jeep Grand Cherokee
4.0 I-6 185 hp or 5.2 V-8 220 hp or 5.9 V-8 245 hp
177.2 x 70.7 x 64.9
8.3
40.9/79.3
39 ft
Mercedes Benz ML320
3.2 V-6 215 hp
180.6 x 72.2 x 69.9
8.4
44.7/85.4
na
Lexus RX300
3.0 V-6 220 hp
180.1 x 71.5 x 65.7
7.7
39.8/75.2
na

1998 Forester comparison
Model

Engine
overall length x width x height
in inches
Ground Clearance
in inches
cargo capacity in cubic feet
rear seat up/down
Turning Radius
in feet
Subaru Forester
2.5 4 cyl
165 hp
MPG- auto trans: 21-26
175.2 x 68.3 x 65.0
7.5
33.2/64.6
38.3 ft
Toyota Rav-4
4 door, 4 wd
2.0 4 cyl 127 hp
163.8 x 66.7 x 65.2
7.5
26.8/57.9
38 ft
Suzuki Sidekick
4 door 4wd
1.6 4 cyl 95 hp or
1.8 4 cyl 120 hp
158.7 x 64.4 x 66.5
7.5
21.0/45.0
35 ft
Kia Sportage 4dr 4wd
2.0 4 cyl 130 hp
170.3 x 68.1 x 65.0
7.9
25.8/55.4
na
Honda CRV
2.0 4 cyl 126 hp
177.6 x 68.9 x 65.9
8.1
29.6/67.2
na
Jeep Wrangler
2.5 4 cyl 120 hp or
4.0 I-6 181 hp
153. x 66.7 x 71.1
8.5
11.5/38.9
39 ft
This page is maintained by Joe Spitz who is soley responsible for content
Thank You, and Happy Car Shopping. Joe