Current and Archived Subaru Impreza Research website with specs, details, colors, prices, year by year changes...

all Subaru Impreza years and models from 2017, 2016, 2015, 2014, 2013, 2012, 2011, 2010.. through 1993...
including 2.0i, Outback Sport, Premium, Limited, SE, 2.5GT, RS, TS, L, LX, Brighton, WRX, STI... 4 door sedans and 5 door hatchbacks

*******
Start your Impreza Research here
always being updated
prices, options, what changed year by year, engines, specs, colors, photos and more
Impreza 2.0i Premium, Limited, Sport, 2.5GT, 2.5i, LX, GT, Outback Sport, WRX, STI, Special Edition,4 door sedan, 5 door hatchback....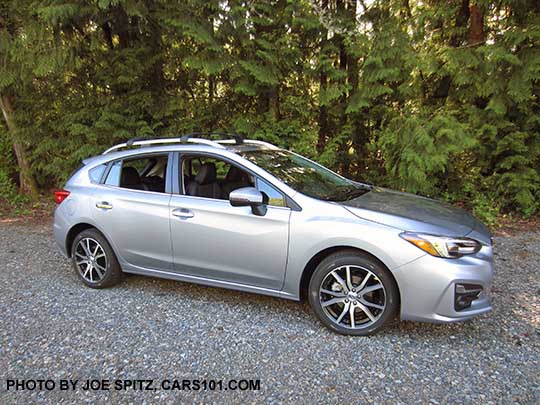 ice silver 2017 Subaru Impreza Limited 5 door hatchback. 17" machined alloys, silver door handles and roof rack rails.
.


scroll down for a brief summary of the yearly changes
this is an unofficial unauthorized research website



2017 Impreza 2.0L homepage, 5 door hatchback exterior page #1 I 4 door sedan exterior page #2 I interior photos I options and upgrades
2016 Impreza 2.0L homepage,
2015 Impreza specs, details I exterior #1 4 door and features I exterior photos #2 5 doors I interior photos I options and upgrades I window Monroney price stickers
2014 Impreza 2.0i specs, details, exterior photos, interior photos, and photos of options and upgrades
2013 Crosstrek model homepage,
2013 Impreza 2.0L homepage, photo page #1, photo page #2, photo page #3
2012- Impreza specs, exterior photos, interior photos, and photos of options and upgrades I 2012 WRX, STI specs, WRX photos, STI photos I
2012- concept car shown at the LA auto show November 2010
2011- WRX and STI specs, options, WRX photos page 1, STI photos page 3 I 2.5i, Premium, Outback Sport; photos pages- page #1, page #3
2010- WRX, 2.5GT, STI, exterior photos, interior photos I 2.5i, Premium, Outback Sport photos pages- 2.5i and Premium I Outback Sport
2009- WRX, 2.5GT, STI I 2.5i, Premium, Outback Sport, 09 WRX exterior photos; interior photos; 09 photo pages 2.5i and Premium - Outback Sport
2008 WRX and STI specs, WRX photos1 (the outside); WRX photos2 (the inside); STI photos1, photos2; Navigation Audio system
2008 Outback Sport, 2.5i specs, photos1 (exterior), photos2 (interior), Navigation Audio system
2007 WRX STI specs, photos; Outback Sport, 2.5i specs I 2006 WRX STi specs, photos; Outback Sport, 2.5i specs, photos
2005 WRX-STi specs,photos; Outback Sport, RS specs, photos I 2004 Outback Sport, RS, TS; WRX STi; 04 photos
2003 specs, features, options
2002 specs, features, options
2001-1999 specs, features, options
impreza-rs-2001
2002 Outback Sport a photo page
2000 Outback Sport photo page
1998-1997 specs, features,
1998 Impreza 2.5RS photo page (photos taken Nov 2016)
1996-1993 specs, features,

******

Please read- this unofficial independent Subaru research site by Joe Spitz is designed to help you learn about Subarus. It is not sponsored, authorized, supported or approved of by Subaru or any dealer and is not connected to, or affiliated with, any dealer. Always contact your local dealer. Information always subject to change, correction.

-
Joe Spitz, fleet-internet Subaru sales at a Seattle area Subaru dealer. Buying a Subaru? Contact for Discounted prices
all photos, text, info © Joe Spitz, unauthorized copying prohibited. thanks for visiting. You are here http://www.cars101.com/impreza.html v 6.1.17

Homepage I special interest rates specials I Sitemap

2012 camillia red Impreza 2.0i Sport
the all new 2012 Impreza 4 and 5 door is rated at 27/36 MPG. It was due summer 2011 but due to the earthquake it was delayed until November.

2/26/2011 a custom 2011 STI cabriolet - a STI Limited sedan with a power convertible top. They plan on building 5 of them.. $74995. From Manchester Subaru, Manchester NH. Click for more photos

A 2002 WRX fixed up for breast cancer awareness


back-to-back Outback Sports- on left 2011 Marine Blue Pearl, on right 2010 Newport Blue Pearl with roof racks installed


2010, 2009, 2008 STI 5 door superwagon, with BBS wheel upgrade


2010-2009 Impreza 2.5GT is the automatic WRX. No automatic WRX for 2011.


2009 WRX, silver. Note the new gray alloy wheels


2011 and 2010 Impreza 2.5i sedan. Camillia Red Pearl


redesigned 2008-2009-2010 Outback Sport 5 door


Outback Sport


2006: a new look, more power, more airbags..


2008 WRX Premium 4 door sedan


2007 STI Limited- only 800 made


2002-05 San Remo Red RS sedan (05 shown)


2008 red and white STIs, side by side. The red has the standard 5 spoke alloys. Check the 2008 WRX and STI page for many more photos


2004 WRX and STI


2003 Sonic Yellow WRX wagon. Not many sonic yellows were produced


2003 WRX in Alaska, thanks Eric W.
What's new
The Impreza is made in Japan. Introduced in 1993, it's a made up name. Impreza is event in Polish, in Italian its an emblem or device with a motto.



2013 models- few changes for the 2013 models They arrived early September. The 2.0i Impreza base model stereo gets upgraded to the one in the Premium - it gets the handsfree bluetooth, steering wheel controls, wireless audio streaming and USB/aux jack in the center console armrest. The 2.0i has 4 speakers, the Premiums have 6 speakers. A few color changes- camillia red is replaced by venetian red, sage green is dropped, and the 2 tone paint is no longer available on the Sport models (it was never offered on anything except a Sport). The big change is the new Impreza based XV Crosstrek 5 door introduced late September 2012. It quickly sells out. The Crosstrek is not marketed as an Impreza even though it is basically a raised Impreza 5 door with wheel arch moldings, 8.7"clearance, a larger gas tank (15.9 gallons vs 14.5 gal). Its rated at 25/33 mpg instead of 27/36 for the Impreza 5 door models. The Crosstrek is also rated to tow 1500lbs, the Impreza is not rated to tow at all.

4/2/12 PZEV emission goes national and is required on all Foresters and Impreza. All Foresters allocated to dealers, and Imprezas allocated or ordered starting 4/1/12 will have PZEV emissions which adds $300 to the MSRP.

5/27/11- new March 2011 Synthetic oil is now required on all 2011 models
Synthetic oil is required for optimum engine performance and protection. Conventional oil may be used if synthetic oil is unavailable. Conventional oil may be used if replenishment is needed, but it should be changed to synthetic oil at the next oil change.
Note- your owners manual might not indicate this depending on the printing date. This change was reportedly made around March 2011. Now all 2011 Subarus use Subaru synthetic oil since the 2011 Forester 2.5Ls, and all turbos ( WRX, STI, Forester XT, Legacy GT) have required it since the start of the model run. All 2011 models use 5w-30 except the Forester X which uses 0w-20
2011 maintenance schedule
4/2011 Unveiled- the first look at the 2012 Impreza 2.0Ls. Subaru's little car grows, the engine shrinks, the CVT gets 36mpg
The new Impreza 4 door and 5 door was shown to the public for the first time at the NY Auto Show today though press had face time with the car a few weeks ago.
Completely redesigned, this new Impreza rides on a 1" longer (104.1") wheelbase, and has about 30% more interior room which is where it really counts. Rear seat legroom grows 2". The doors are larger for easier access.
With a new 148hp 2.0L 4 cylinder boxer engine and new CVT, fuel economy is expected to be rated at 27/36 - a nice jump over previous models - especially for highway driving - and at the top end of all-wheel-drive offerings. The Impreza CVT will have paddle shifters like the Legacy and Outback, and is smaller and quieter version. A 5 speed manual, not a 6 speed, will be offered.
All models gets a standard driver's knee airbag, a first for Subaru! Thats also important. And a new electric power steering system draws less power from the engine than a belt driven power steering pump.
Trim levels are reportedly 4 door base, Premium and Limited, and 5 door Sport, Sport Premium and Sport Limited. Leather will be an option for the first time in an Impreza (other than WRX/STIs).
No mention of whether there will be a model for the active lifestylers, campers, and skiiers that Subaru has long courted...an upgraded Outback-type version of the 5door with a bit more ground clearance, fender flares or wheel arch moldings, bumper finishers and covers etc. Hmmm... something similar to the Impreza XV concept at the Shanghai car show this April 19 perhaps (a not so subtle hint?).
The larger interior will be appreciated. But its the high MPG that is sure to please current Subaru owners who have waited, sometimes not so patiently, for Subaru to lead the way with a efficient all wheel drive. And the new Impreza is designed to draw new buyers in for a look. Subaru's goal is to grow in the warmer, drier regions where all wheel drive isn't important and sales have always been low.
27/36 MPG is not hybrid or diesel economy range but its a big improvement over the current models. The 148hp is down from 175hp in previous years but bigger engines don't get the fuel economy.
Due this summer, expect a ongoing trickle of information and details as the Subaru PR machine gets to work.

The 2012 WRX and STI are no longer considered an Impreza since the 2012 Impreza is an all new model. WRX STI webpage

4/2011 2012 Impreza- See the 2012 Impreza today, live unveiling on Subaru's site http://www.subaru.com/auto-show/index.html.. In the meantime see the 2012 concept photos
7/30/11 Synthetic oil - Subaru is now recommending using Subaru Synthetic 5W-30 oil for 2010 and prior turbo engines (WRX, STI), and requiring it for all 2011 turbo engines. The oil change interval does not appear to have changed. This oil is also recommended for all non-turbo vehicles.
May 2010. To enhance the new car experience, Subaru will send owners a welcome packet with a guide to owner benefits booklet with company contact info, various websites etc. However, they're not including contact info for your dealer which should be the first place you go for specific questions about operating the new car, or for service, comments, help, advice etc. Plus you can request a free 'Badge of Ownership' to put on the car to show and help spread the Love. If you currently have a Subaru, you can get one too. Here's my webpage with photos of the badges and links.
2011 model year
WRX and STI expected Septmeber 2010.
2.5L models arriving ar dealers late June 2010.
The 2011 2.5L 4 cylinder line continues much the same as 2010 with a few changes but nothing major.
The models are 2.5i sedan/wagon, Premium sedan/wagon, Premium sedan/wagon with Power moonroof Value Package, Outback Sport wagon.
The Power Moonroof Value Package includes fog lights, all weather pkg, moonroof and replaces the 2010 Premium 'SE' package.
Premium with Moonroof pkg and Outback Sport models get a new stereo with single disc CD player/am/fm, 6 speakers, and hands-free Bluetooth with steering wheel controls, audio streaming, and USB.
Navigation is not intially available on any model.
Due late 2010, not currently available Option Package (#31, 32): Power Moonroof with Tom-Tom Navigation for Premium and new Outback Sport SE models. No prices or dates announced yet.
Transmissions are the same manual 5 speed, and automatic 4speed Sportshift with no changes announced.
New on 5 doors- the rear gate trim is now body colored, replaces chromed. see photos below.
New colors includes Marine Blue Pearl and Sky Blue, and new 2 tone for the Outback Sport is Marine Blue Pearl over steel silver accent. Marine Blue is only a shade or two darker than the Newport Blue color it replaces.
Gone on all 5 door hatchback- rear chrome trim on 5 doors has been replaced by body colored trim. See photos above. The sedans still have the chrome trim
New on Outback Sport
Due late 2010, not currently available Outback Sport SE with Option Package #32: Power Moonroof with Tom-Tom Navigation. No prices or dates announced yet.
Colors: solid 1 tone colors on Outback Sport Outback Sport will be available in solid colors for the first time in years, with monotone Sage Green (ivory cloth) and Camillia Red (gray cloth). The obsidian black Outback Sport now comes with ivory tan interior (was dark gray in 2010)
Gone- Newport Blue Pearl is gone, replaced by Marine Blue.

6/21/10- 2011 WRX and STI available for ordering. No prices yet
3/23/10- 2011 WRX a few upgrades announced. A more aggressive look and upgraded suspension. Wider fenders, new headlights, new front grill, fog lights surrounds, front lip spoiler, wider wheels/ tires. The track is app 1.5" wider front and rear, firmer rear subframe bushings. The 2011 wheels will be 17 x 8-in. (replaces 17 x 7) and tires 235/45R17 (replaces 225/45R17). No official word on the STI changes yet but news expected soon.
---

2010 model year
2/24/10 STI SE and WRX Limited arriving on lots. STI SE is selling quickly, especially the 125 white ones. Reportedly only 500 SEs will be made in all colors.
1/12/10 STI SE and WRX Limited available starting March 2010
12/2/09 STI SE price The handling and suspension package STI SE model available in early Spring 2010 will have a MSRP of $33,690 ($32995 +695 destination) which is $2000 less than the current base STI MSRP of $35,690. Quantity will be 'limited' and it will be available initially with 125 Aspen White ones. Other colors available are WR Blue, Dark Gray and Obsidian Black.
11/24/09 New WRX, STI models - Subaru will introduce a new 2010 Impreza WRX STI Special Edition (model code ALU) handling/suspension package, and WRX Limited (model code AJP, ALP) at the LA Auto Show, December 4-13.
The STI Special Edition (SE) will have upgraded performance suspension derived from the Japanese domestic market spec C and custom spec C wheels. It will have halogen headlights instead of HID with no power hi/lo adjustment, a single-disc CD player with 4speakers instead of the 6 CD changer with 10 speakers, manual air conditioning instead climate control, and body color side mirrors without turn signals. It will be available in a limited run of 125 Aspen White one, and also black, wr blue and dark gray.
The 2010 Impreza WRX Limited adds HID headlights with power hi/lo adjustment, leather interior and Sirius satellite radio to the WRX Premium model. Prices to be announced.
Available mid August 2009. No major model, equipment or power changes for the 2010 Impreza. the model line up remains the same with 4 cylinder 2.5i, Premium, and Outback Sport, and 4 cylinder turbo WRX, GT or STI models. No new tranmissions. Retail list prices are the much the same though dealer cost crept up very slightly. The WRX still has Summer Tires so you may want to buy All Season tires if this is driven all year. The 4 cylinder Premium now has a new SE Option Package which includes sunroof, fog lights and the All Weather pkg for net List price of only $500 after discount which makes it a heck of a bargain. This is the first time the Premium has had the All Weather Pkg though it has been on WRX Premiums for a few years now. The front grill on all 2.5i models has changed.
Navigation now includes Bluetooth. Optional Media Hub with USB port and Media Hub with Audio Streaming is available and these replace the iPod interface that was optional on previous models and will play your USB connected device through the radio. All model codes have changed to accomodate SoA's new 'model plus optional feature' ordering system. Example, an 2009 WRX Premium 5door (code 9LP), with Navigation would have a distinct model code (9LQ), but for 2010 it would be a WRX Premium (model code ALO) plus Option Package #14 (Navigation). Anyway, this new order and model code system is being used on all 2010 Subarus.
Color changes- Camillia Red Pearl now available, Sunlight Gold Opal has been dropped, and Paprika Red Pearl with silver accent is new for Outback Sport.

2009 WRX. It's official, the 09 WRX will have more power. The first one will be shown the X Games in Los Angeles July 31. With a larger turbo and easier flowing catalytic converter, it now makes 265horsepower@6000rpm and 244 ft torque @4000rpm (up from 224hp@5200rpm, 226torque@2800rpm).
The 09 WRX also gets revised suspension with larger stabilizer bars and stiffer springs, lower profile 225/45R 17" all season Dunlop SP Sport 1 tires with new gray alloys, new grill (think Tribeca?), upgraded tilt and telescoping leather wrapped steering wheel with red stitching, side moldings, and carbon black checkered cloth with red stitching.
The 09 Premium package picks up a new sunroof, plus fog lights, All Weather package, aero package, upgraded stereo..
All new 2.5i GT Premium 4 and 5 door models have the automatic 4speed Sportshift trans and the 224hp and 226ft torque like the current 08s have.
Dark carpeting is standard with all interiors.
Stay tuned for more details.
2009 2.5i, Premium, Outback Sport. Few changes. 2.5i gets VDC, rear disc brakes, brake assist, incline start on manual transmissions, body colored door handles and outside mirrors, and raised lip on the center console. Premium gets a power sunroof. Outback Sport gets chrome door handles. Dark carpeting is standard with all interiors. New colors: paprika red pearl, sunlight gold opal, and sage green with silver 2tone on the Outback Sport

2008 model information The 2008 Impreza is all new and now based on the Legacy platform, so it really is totally different. All models include front, side, and front and side rear curtain airbags, Immobilizer chipped key, anti-lock brakes, power windows-locks-mirrors, a/c etc etc. The ride is significantly smoother than previous models, there is finally more back seat room, the rear seats fold flat in sedans (long overdue).
There is a 4 door sedan and 5 door wagon. List prices start at $17640 for the 2.5i sedan, $18140 for the 5 door 2.5i wagon. The optional automatic transmission is now the SportShift with manual mode. VDC (vehicle dynamics control) is available on all models except the base 2.5i. Navigation-DVD audio system is available on the 2.5i Premium and has very good resolution, tilting screen and more. Navigation does not include Hawaii, Alaska.
The Outback Sport 5 door wagon has standard All Weather Pkg with heated seats, heated front wiper de-icer and heated defrosting outside mirrors.
Roof Rack is now available on all models including sedan, and is quick on-off.
The WRX is available as a 4 door sedan and 5 door wagon. The ride is no longer as 'firm', it is definitely smoother and more refined. Navigation is available on top of the line model. List price for the sedan starts at $24995, wagon starts at $25495. VDC is standard on all models. The STI sedan is gone, replaced by the 5 door wagon, and is available in 3 models. List prices start at list price $35,640 with 5 spoke alloys, upgrades include a forged BBS wheel and fog light package, and Navigation is available.

2007 12/21/06 New mid-year 2007 model announced: 2.5i SE sedan with upgraded stereo, moonroof, climate control
Updated August 21 with 2007 prices and features. Cars expected in August. A few new colors. STI Limited is the same price as the STI! Price drop $300 on 2.5is. Other prices remain the same. 2.5i gets storage box instead of ashtray, new gray interior trim, Outback Sport SE gets iPod auxiliary plug instead of ashtray, MP3, Sirius radio (subscription required), climate control, 240 watt CD changer, subwoofer/amp. WRX, STI get 120 watt CD changer, MP3, auxiliary input plug, Sirius radio pre-wired, leather wrapped steering wheel.
2007 STI Limited model, 800 to be produced, individually numbered, Satin White or Urban Gray, with silver 17" alloys. A small rear trunk lip spoiler and no roof vane spoiler, black painted brake calipers w/ white lettering. Other upgrades are leather heated seats, sunroof, fog lights, iPod plug, fog lights, upgraded carpeting, sound installation, darker metallic trim, auto dimming mirror/compass. STI gold or silver wheels are now color specific, see colors below

2006 available starting late July
Update March 2006 Subaru Impreza is a 'gold standard among small cars' from IIHS.org, a Top Safety Pick
New front end on all models. All models now have dual stage front airbags, new tailights, center armrest, outside temperature guage, air filtration, front seatback net, and front and side airbags.
Models grow 2" to 175.8 from 173.8
WRX is available in 2 new models for a total of 3 models. New for 2005 is a base WRX TR (Tuner Ready) sedan and a WRX Limited sedan and wagon (replaces the previous Premium sedan), in addition to the standard WRX sedan and wagon.
The WRX with automatic transmission is available in Limited only.
All WRXs get new larger 2.5L engine with 230hp and Active Valves, 17" 7spoke alloys, engine immobilizer key, 4 piston front, 2 piston rear brakes with red painted calipers, Body colored side ground effects, leather steering wheel...
New for 2006 WRX Limited package finally available on sedan and wagon, includes leather (a first on the WRX), sunroof, all weather package and more
STi renamed STI (capital I) and gets new day-time running lights (DRL), lower profile hood scoop, steering wheel sensor added to improve the DCCDs response in cornering, roof-vane spoiler.
RS sedan and wagon models renamed 2.5i (like the Legacy/Outbacks) and the 2.5L horsepower is increased to 173 (from 165hp) with the addition of i-active valves.
Impreza 2.5i sedan and wagon now have 16" alloys, air filtration and either gray or beige interior.
Outback Sport continues with an optional Special Edition SE discount package with leather steering wheel and shift knob, 260 watt CD changer with subwoofer and 6 speakers, armrest, auto dimming mirror/compass and rear spoiler.

2005
WRX gets new design 16" alloy wheels, climate control with air filtration, smoke headlight lens, new door panel armrests with power mirror controls, body colored lower trim replaces black, upgraded speakers, silver stereo CD changer, re-designed keyless remote fob, new center console with 2 cupdolders, new color.
STi gets Helical Front differential, rear wheel arch fender flares, CD changer, Immobilizer keys, new remote entry fob, new climate control buttons, new door armrests with power mirror controls, new center console
The low priced TS wagon renamed RS wagon and the RS sedan/wagon are the lowest price Subaru for 05. The RS sedan has actually dropped in price. New models: RS sedan has optional Sport Package model and Outback Sport has optional Special Edition (SE) package (late availability, August 2004?). New colors.

2004: All Imprezas get a new front end with new larger headlights, rear end and tailights, new seats, new dashboard gauges, and of course the new for US 300 hp WRX STi. WRX gets optional Premium Sedan including All Weather pkg, sunroof and spoiler. WRX available April 2003, STi in May in very limited quantities

2003: very few changes. TS gets cruise control, RS and Outback get keyless entry and dual vanity mirrors, RS gets trunk light, WRX gets illuminated ignition key ring and new limited production Sonic Yellow color. Yellow is available in both sedan and wagon, but the sedan is only available with the rear spoiler and has a separate model code. App 1,500 yellow WRXs will be made.

2002 is the first major re-design, turbo rally WRX finally availble in the US/Canada. Models available: wagons- TS, Outback Sport, and WRX turbo. Sedans- RS, and WRX turbo sedan. See spec pages for yearly changes.

1993 introduced

This page is maintained by Joe Spitz.
Again, Thank You, and Happy Car Shopping. Joe