2011 Subaru Impreza STI Convertible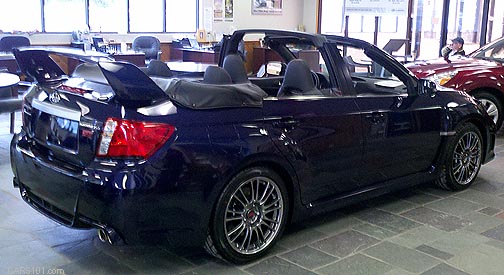 no... you don't need glasses... yes they cut off the top
SUMMER STARTS JUNE 21st AND WINTER STARTS DECEMBER 22nd, 2011-
THIS IS A 4 SEASON, 4 DOOR CONVERTIBLE
Tired of driving your normal 305 horsepower 2011 STI Limited sedan?
Drive something (very) different. Impress yourself, spouse, partner, date, coworker, fellow skiier, and everyone else you know
> Did your neighbor run out and buy an STI after seeing yours?
> Are you at that point in life where the 'same old' is just old?
> Did you get the promotion at work (or maybe you didn't)?
> Is the divorce final and you're driving a 99 Forester?
> Did the Last Kid graduate?
> Do gray days bother you?
> Is your new app selling?
> Is it your time...?
Do you love cars? the answer is blowing in the wind..
Put on a huge smile ... Take off the top... Let in the light ... .. Manchester Subaru in Manchester, New Hampshire has the Subaru for you!
Take a new 2011 Subaru STI Limited, cut off the top, and turn it into a Manchester convertible with a Power Top.
Smile... this is a fun car from dealer that got brave and did something a little different!
Good for them. And good for you if you like something different.
The cars are custom built by NSC, Newport Specialty Cars, 1037 South Melrose #A1, Placentia, CA 92870 (newportspecialtycars.com)
STI features:
6 speed manual transmission,
All Wheel Drive with driver controllable front/rear power split (DCCD) with front and rear Limited slip,
SI drive- 3 modes for economy or power,
Super Sport ABS,
Brmbo Brakes
18" alloy wheels,
Climate Control A/C,
HID headlight with power height adjustment
Power windows, locks, mirrors,
Rear wing....
They plan on making 5 of these ... $74,999
Sales? EMAIL Jack Berkowitz at subieman@comcast.net
other awd convertibles: Porsche 911 C4, C4S ($100,000+); Audi TT S, A5, RH Spyder; Nissan Murano (due mid 2011), Bentley ($250,000+); Buggati Grand Sport; Lamborghini Galardo ($255,000+)....

---

All info and specs subject to change, correction. Please send comments regarding this website or tips on other cars etc to Joe Spitz - Contact.
Thanks for visiting. You are here http://www.cars101.com/subaru/impreza/sti_convertible.html V 6.19.11

Note: This unofficial independent Subaru research webpage is by Joe Spitz and is not authorized, sponsored, or approved by Manchester Subaru.
Please contact Manchester Subaru in Manchester, New Hampshire if would like to purchase a convertible STI.
---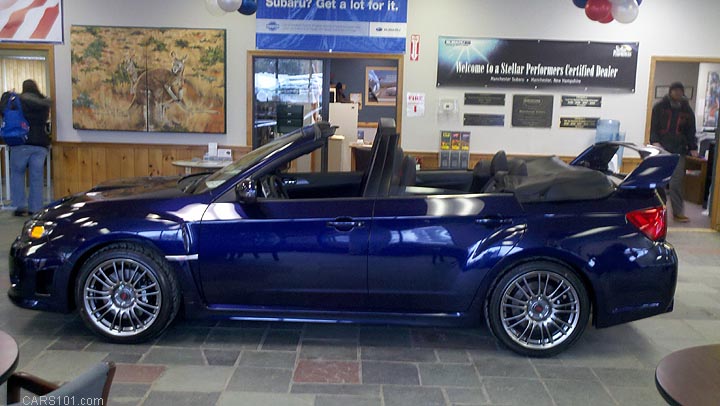 2011 STI convertible - Plasma Blue Pearl shown.
-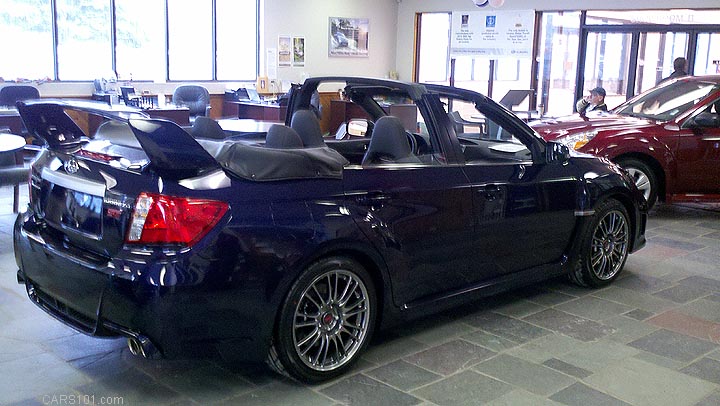 18" alloys, rear wing, tonneau/boot cover
-

gray leather interior-- All Weather Package with heated seats etc
-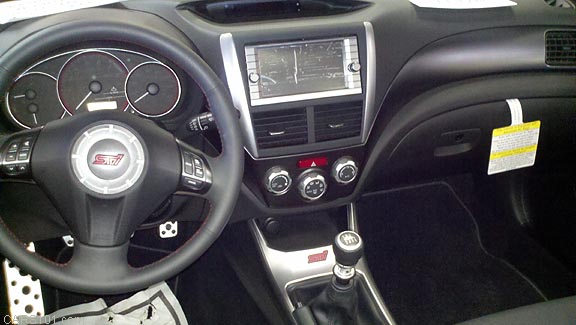 Navigation system with GPS, CD/DVD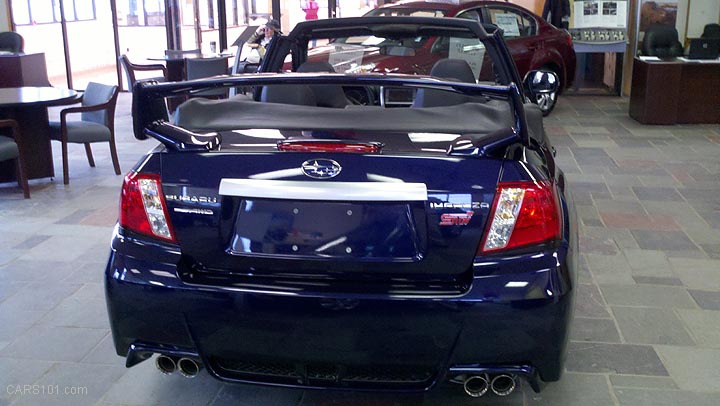 quad exhaust tips
-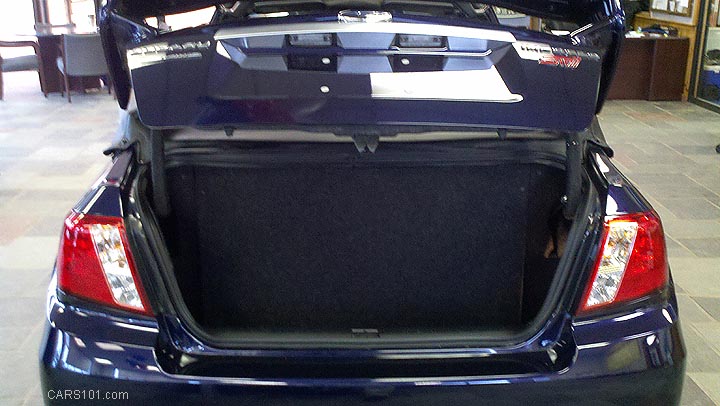 still some room for luggage and groceries