2012 Subaru Impreza concept car
this page is no longer updated
GO TO THE 2012 IMPREZA webpage for specs, prices, links and more

---
This 2012 Impreza concept car was shown at the 2010 LA car show November 19-28, 2010.
Dramatic and low slung stylized concept of the completely redesigned, new 2012 Impreza that will be released mid 2011.
"Confidence in Motion" is the catch-phrase
An assertive stance, bulging fenders, glaring headlights...
maybe its not the final production version but its a far cry from the current 4 cylinder Imprezas available now.
> A new 2.0L boxer 4 cylinder with 146hp, CVT, an all wheel drive... will this get 35mpg+?
> an aggressive front grill and bulging fenders similar to current 2010/11 Legacy, with a hint of the flying wing used a few years ago.
> the rear end has a touch of the current WRX/STIs
> Subaru's "EyeSight" accident avoidance system.
See the 2012 Impreza at the NY Auto Show April 22- May 1 (open to press a few days earlier)
more Subaru concept cars - homepage - imprezas homepage
Thanks for visiting. you are here. http://www.cars101.com/subaru/impreza/impreza2012concept.html v 8.19.11
Please read This unofficial independent, unauthorized Subaru research website is designed to help you learn about Subarus. It's not authorized, approved, sponsored, or supported in any way by Subaru or any dealership.
---
4/22/2011 XV Concept The 2012 Impreza has now bew shown at ther NY Auto show April 20, 2011. There are 4 and 5 door base, Premium and Limited model but no mention of, or replacement for, the popular Outback Sport has been announcemd.
The XV Concept shown at the Shangai car show April 19, 2011 looks like an new updated version of the Impreza Outback Sport. Time will tell.
TWO VIEWS OF THE SUBARU XV CONCEPT... is it the next Outback Sport
4/13/2011 "Demonstrating the outdoor, active lives of its customers, Subaru of America, Inc. will debut the all-new Subaru Impreza at its New York International Auto Show news conference via 3-D video. In a show first, conference attendees will don 3-D glasses to experience the lives of Subaru owners – from mud running, to yoga, to car driving – as its new model is revealed to the world. The automaker will also share the global reveal live with the public in "2-D" on Subaru.com (http://www.subaru.com/auto-show/index.html)
Marking its best sales in company history, Subaru's April 20 news conference will take place (time to be determined) on the floor of the Jacob Javits Convention Center in New York City. Media will watch the all-new Impreza come to life in 3-D, hear from Subaru leadership and be the first to see the 2012 Impreza 4-door and 5-door models.
Subaru fans not attending the auto show can watch the live news conference and unveiling at Subaru.com. Subaru will also address fans' questions during a live question-and-answer session the same day (time to be determined). The "Q&A" will be streamed on the 2012 Subaru Impreza Facebook page. Enthusiasts can submit their questions about the 2012 Impreza – the most fuel efficient all-wheel drive car in America* – on Facebook throughout the day.
"This distinctive idea helps us communicate that the 2012 Subaru Impreza is designed especially for people who enjoy an active lifestyle," said Thomas J. Doll, executive vice president and COO, Subaru of America, Inc. "The 3-D news conference and live streams will help us share an exciting day for our brand and our franchise with the media, our loyal customers and fans -- in a uniquely Subaru way."
4/11 2011- Another teaser from Subaru, the silhouette of a new crossover 'XV Concept' to be shown at the Shanghai car show April 19-28, 2011. Is this a preview of the 2012 Impreza 5 door hatchback? Thats very possible since the 2012 Impreza will be at the NY Auto Show the next day. And the US and China are big markets for Subaru. Or is this a hint of an all new car...
and there was an Impreza Outback Sport XV at the 2010 Geneva Auto Show over a year ago... see below

teaser of the Subaru XV Concept Crossover to be shown at Shanghai auto show April 19-28, 2011. Is this the next Outback Sport?
'Fuji today announced that it will exhibit the "Subaru XV Concept" as a world premiere at the 14th Shanghai International Automobile Industry Exhibition (Auto Shanghai 2011) slated for April in Shanghai, China (Press day: April 19 and 20; Open to the public from April 21 through 28).
The Subaru XV Concept is a design concept car that defines a new generation of crossover vehicle, blending exceptional SUV practicality with a fashionable form. It was specifically designed for customers who are looking for a vehicle offering looks, benefits and a packaging that stretch beyond those from the populated crowd of existing crossover models. At its heart is the core theme of "Enjoyment and Peace of mind", and a promise to deliver, in line with Subaru's new brand statement, "Confidence in Motion". With truly innovative styling, this new generation design concept car combines Subaru's Crossover-like driving excitement with a revolutionary inspiring feel, playful nature, the proven comfort and reliability of the renowned Subaru's Symmetrical AWD (All-Wheel Drive) system...
The press conference is scheduled at the Subaru booth on April 19, at 11.00.
The special site opens today at 11:00 on the Subaru Global Site. http://www.subaru-global.com/xv_concept.html
here is the Impreza XV" from the March 2010 Geneva Intl Auto Show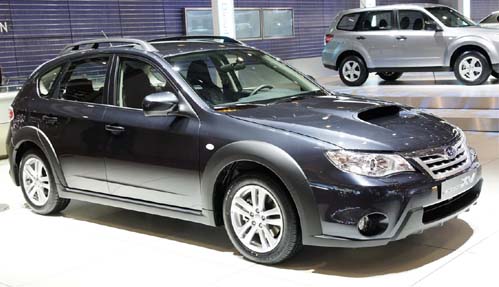 Impreza Outback XV concept shown at the March 2010 80th Geneva International Motor Show
from Subaru 2/5/2010: The "Subaru Impreza XV", developed on the basis of the iconic Impreza 5-door model, offers a new crossover styling. Exclusively designed front grille and wheel arch, and specially equipped roof rails and a roof spoiler accentuate the uniqueness of this special Impreza version.
The available 2.0-litre Horizontally-opposed petrol engine and the turbo boxer diesel engine comply with European EURO 5 regulations for enhanced environmental friendliness.
Length x Width x Height: 4,430 x 1,770 x 1,520mm (1,515mm for Diesel model). Wheelbase: 2,620 mm
I wouldn't expect the diesel version to come to the US
*********************
4/6 2011- 2012 Impreza teaser ... a 2.0L CVT with 146hp getting 36mpg on the highway. That's great fuel economy, a big long-needed improvement over the current models. Subaru trickled out some information about the 2012 Impreza that is going to be debuted at the NY Auto Show April 22- May 1 (open to press a few days earlier) and is due later this summer. We can expect more information to be released over the next few weeks. The photo the released is a silhouette, a side shot, and pretty dark with little body detail.

the silouette of the 2012 Impreza sedan - a teaser from Subaru, 4/6/11
'Subaru of America today announced the world debut of the all-new Subaru Impreza 4-door and 5-door models at the 2011 New York International Auto Show. The new 2012 Impreza will deliver 36 MPG, the highest fuel economy of any all-wheel drive car on sale in the U.S. The new design will provide a roomier interior and improved levels of comfort and refinement.' Subaru press release
'The fourth-generation Impreza, which goes on sale later this year in the U.S. as a 2012 model, is expected to feature Subaru's new generation four-cylinder boxer engine, which will be offered in displacements of 2.0 and 2.5 liters. Subaru said output on the 2.0 engine remains the same, at 146 horsepower, while torque climbs from 141 to 145 pound-feet.' insideline

11/27/10 the Impreza concept car at the LA car show is a clue to Subaru's future look
'Future cars to have similar design to the Impreza... Unveiled last week at the LA Auto Show, the Subaru Impreza Design Concept is set to inspire more than just the one compact car. In fact, according to Subaru's top designer Osamu Namba, the vehicle foreshadows a design language that will shape all future Subaru models. The "Confidence in Motion" design language displayed in the concept will more directly flow through to the Impreza, but Namba says to expect many of the cues to be reflected in the future generation of models, with design traits like the front grille and headlights sure to become staples of Subaru's new vehicles.
In an interview with AutoCar, Namba admitted that in the past there were design "inconsistencies" at Subaru, and the goal is now to bring all models in line, so you'll know a Subaru when you see one. New Subaru models are also expected to get a lower and wider stance from now on, while taller models like the Tribeca and Outback will be varied somewhat. As for the WRX and STI, they will continue to also differentiate themselves from the rest of the lineup, with aggressive race-inspired features.' the article

---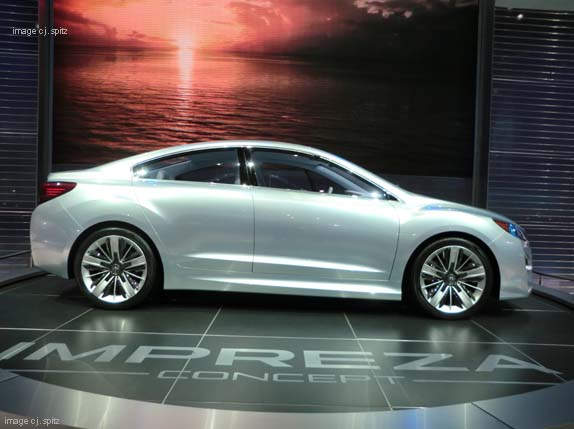 -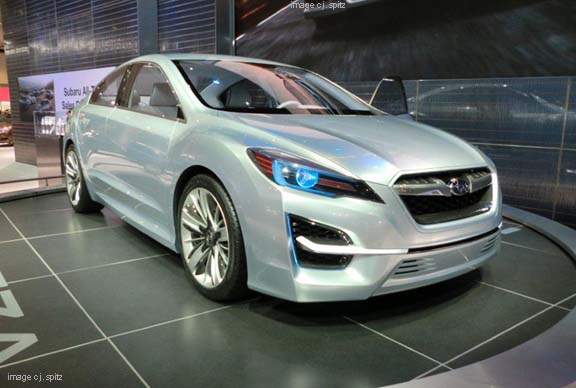 -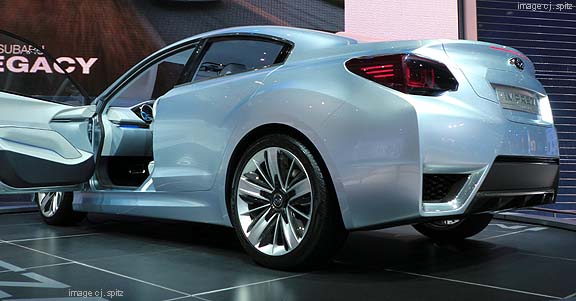 -