Everything Subaru Impreza Archives 1993-1996:
L, LS, Sport, Outback, Brighton: sedan, coupe and wagon
Impreza Archives 1993-1996

ON THIS PAGE
1993 Impreza
1994 Impreza
1995 Impreza
1996 Impreza

other pages
1997-1998 Impreza page
1999-2000-2001 Impreza page
all other years sitemap

Subaru Homepage It all starts here... new Subarus.
Used Cars for sale in Seattle
Forum, classified ads
Links. Service, groups, homepages, .. is your's here?
Subaru Speak: commonly used terms
Sitemap

Everything Subaru in Seattle


Impreza Outback Sport

****

Please read- this unofficial independent Subaru research site by Joe Spitz is designed to help you learn about Subarus. It is not sponsored, authorized, supported or approved of by Subaru or any dealer and is not connected to, or affiliated with, any dealer. Always contact your local dealer. Inspect any vehicle prior to purchasing. Information always subject to change, correction.

****

all text, formatting. photos c. joe spitz. unauthorized reproduction strictly prohibited.
you are here http://www.cars101.com/impreza_archive93_96.html v 5.10.09
The basics about the Subaru Impreza
Introduced in 1993, the Impreza has consistently been top rated and there have been few really major changes.
The Impreza is Subaru's small car and comes as a 2 door coupe, 4 door sedan or 5 door wagon.

Impreza sedan
Among the changes: front wheel drive models were dropped, high and low end models were introduced and then dropped, and in 1995 the Outback Sport Wagon was introduced
The Impreza fits many budgets and lifestyles. In the same size class as the Toyota Corolla, Honda Civic, Ford Escort etc, the Impreza offers Subaru's dependability, is the one of the few compact wagons available and is the only such vehicle to offer all-wheel-drive.
Outbacks? Many folks confuse Outbacks. There are 2 Outbacks. Both started in 1995.
Outback Sport is a version of Subaru's Impreza line
Legacy Outback is a version of Subaru's larger Legacy line.
Both Outbacks are excellent cars and usually one test drive will tell you which model will fit your needs best.
---
I have tried to provide the initial information so you can determine your interest in Subarus from the comfort of your home or work.
If you're interested in a new or used Subaru or other used vehicle please contact me. Thank you, Joe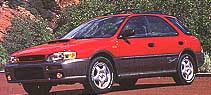 1997 Outback Sport. The 1996 didn't have the front hood scoop that you can see on this one.




Impreza coupe with spoiler

start 1996 Impreza

1996 Impreza

All models are now all-wheel-drive

Safety:
Dual air bags,
Side door beams (meets 1997 standards)
Child-proof rear door locks
5 MPH bumpers (body colored)
Crumple zones front and rear
Drop down motor

Prices: incl delivery, prep.
ADD $800 for optional automatic transmission. Check availability of each model/trans below
The auto. trans. was standard on LX models
Brighton: $13,990 (no auto. trans. available)
L coupe, sedan: $16,090
L wagon:$16,490
LX coupe: $17,790
LX sedan: $18,290
LX wagon: $18,690
Outback wagon: $18,090
Model
Brighton coupe
(only model)
L
coupe, sedan, wagon
LX coupe, sedan, wagon
Outback wagon
Engines: 4 cyl. boxer, sequential multi-port fuel injected, distributorless ignition
16 valve SOHC
1.8L: 110 hp, 110 torque@4400rpm
2.2L: 135 hp, 140 torque@4400rpm
1.8L
2.2L
2.2L
2.2L
Manual Transmission

S

S

S coupe only
NA sedan

S

Automatic transmission
$800. unless it's standard

NA

0 on coupe and sedan only

S sedan
0 coupe

0

Brakes

power front disc, rear drum

Power 4 wheel disc, 4 channel Anti-lock

Rear Stabilizer bar - for better handling

NA

S

S

S

wheels/tires

175\70SR14
steel wheel

195/60HR14 with steel wheel
195/60HR14 with 5 spoke alloy wheel on sedan, steel on other models,
O- alloy wheel

185/70HR14 Raised white letter all season.

Steel wheel with hubcap.
5 spoke alloy wheel optional
Air conditioning

S

S

S

S

Power windows, locks, mirrors

NA

S

S

S

Standard on all models

Power steering, power brakes, all wheel drive, etc plus some amenitities like
Front cup holders (2 cups)
Tinted windows
Tilt steering column
Rear defroster, with wiper on wagons
Rear Cargo cover (wagons only)
and etc

Model reminder 1996 Impreza

Brighton coupe

L coupe, sedan, wagon

LS coupe, sedan, wagon

Outback wagon

Am/FM/Cassette
40 watt, 2 speakers

80 watt, 4 speakers, optional CD player

Rear spoiler with rear braker light

NA

coupe only

sedan, coupe only

NA

Fog Lights (projector beam)

NA

S- coupe only
O- on other models

S- coupe only
0- other model

0

Fold flat rear seats

NA

wagon only

S

S

Remote trunk release

NA

S on coupe, sedan

(not necessary on wagons where the power lock unlocks the rear gate and then you use the handle to open it)
Outback package -Outback model only:
2 tone paint (lower gray)
Outback cloth
Special wheel covers (hubcaps)
Roof rack
Mud flaps
Rear bumper protector
Cargo area plastic mat with tie-down hooks
end 1996 Impreza
1995 Impreza models
2 door coupe, 4 door sedan, 5 door Sport Wagon, Outback Sport wagon


In 1995 the Impreza came in a wide array of models: base Impreza, L, 2.2L, LX, and Outback.
1995 is the first year for the Outback version of the Sport Wagon and also for the 2.2L engine to be used in the Impreza line.

There were two engines used in the 1995 impreza, the 1.8L and the 2.2L.


Impreza base model: coupe and sedan FWD (front wheel drive) or AWD
L model: coupe, sedan and sport wagon with 'active safety group' (AWD and anti-lock brakes with 4 wheel discs)
2.2L AWD model: coupe, sedan and sport wagon
LX 2.2L AWD model: coupe, sedan, sport wagon
Outback Sport wagon

The all new 1995 Outback Sport Wagon was a L Sport Wagon with the 'active safety group' plus special two-tone paint, Outback woven cloth seat material, raised white letter tires, cargo tray in the rear, roof rack, mud flaps, floor mats, and the Outback logos and graphics. The ground clearance was 6.3", the same as the L Sport Wagon.
As did all 1995 Imprezas, the Outback Sport came with either the 1.8L engine and manual trans, or the 2.2L engine and automatic transmission.

Engines: 4 cyl. boxer, sequential multi-port fuel injected, distributorless ignition

1.8L: 110 hp, 110 torque@4400rpm
2.2L: 135 hp, 140 torque@4400rpm

Manual transmission available with 1.8L engines. The only 1.8L with auto. trans was on the base Impreza model
Automatic transmission available only with the 2.2 L engines. There were no 2.2L with manual. trans.

Economy: city/highway
1.8L fwd- manual 24/32, auto 24/30 (base Impreza model only)
1.8L awd - manual 23/28
2.2L awd 22/29

All-wheel-drive

0ptional on L models as a stand-alone option
Standard on L models with 'Active safety group' package (incl ABS, 4 wheel discs)
Standard on all 2.2L engine models and on all LX and Outback models

Brakes

base model Impreza: front disc, rear drum - no anti-lock
L : front disc, rear drum - no anti-lock
L with Active Safety Group: front and rear disc with anti-lock
LX: front and rear disc with anti-lock
Outback Sport Wagon: front and rear disc with anti-lock

1995 Impreza Standard safety features:
dual airbags (new for 1995)
side door beams (meets 1997 standards)
5 MPH bumpers
front/rear crumple zones
Dimensions:
wheelbase: 99.2"
ground clearance: 6.3"
curb weight: 2400-2900 pounds

1995 Impreza Features:

The base Impreza was an uncommon model. It had no radio, no a/c, didn't even have hubcaps....

L models:
Air conditioning
titl wheel
rear defroster
Am/Fm/Cassette, 4 speakers
Power mirrors
Tacometer
passenger vanity mirror

LX models
Alloy wheels
Rear stabilizer bar
Rear spoiler
Cargo carpeting and light
Upgraded cloth
Power antenna
Body colored door handles/side moldings



Outback Sport wagon, new model for 1995
It's a L Sport Wagon with the 'active safety group' plus ....
special two-tone paint, Outback woven cloth seat material, raised white letter tires, cargo tray in the rear, roof rack, mud flaps, floor mats, and the Outback logos and graphics.
The ground clearance was 6.3", the same as the L Sport Wagon.
The Outback Sport came with either the 1.8L engine and manual trans, or the 2.2L engine and automatic transmission.
Options on all models : cruise control, CD player, center armrest etc. Power windows and locks were not on 1995 models

COLORS 1995 Impreza COLORS

Color

Coupe

L coupe

2.2L
coupe

LX
coupe

Impreza
sedan and Sport Wagon

L
sedan and Sport Wagon

2.2 L
sedan and Sport wagon

LX
sedan and Sport Wagon

Outback
Sport: 2-Tone with Slate Metallic lower accent

Caribbean Green Met.

na

beige

beige

beige

na

beige

beige

beige

na

Crimson Pearl

na

na

na

na

na

gray

gray

gray

na

Glacier White

na

na

na

na

gray

beige

beige

na

na

Hunter Green Met.

na

beige

beige

beige

na

beige

beige

beige

gray woven
cloth

Brilliant Red

gray

gray

gray

gray

gray

gray

gray

na

gray woven cloth

Aegean Blue met.

gray

gray

gray

gray

gray

gray

gray

gray

na

Deep Navy Pearl

na

na

na

na

na

na

na

na

gray woven cloth
end 1995 Impreza
---
1994 Impreza
S= standard, 0=option, na= not available
fwd= front wheel drive, awd= all-wheel-drive


The 1994 Impreza, the 2nd year for this line, was very similar to the 1993 models.

There were 3 versions: base Impreza 4 door sedan, the L and LS 4 door sedan, and L and LS Sport Wagon

All Sport wagons came with fold down rear seats, rear wiper/washer/defroster, cargo cover,
Most L model options came packaged in the Value Option Groups Listed in the table below.


Warranty: 3year/36,000 mile bumper to bumper
5 years/ 60,000 powertrain.

ENGINE: 1.8 L 4 cylinder 16 valve SOHC aluminum alloy boxer engine with distributorless igntion and Multi-port fuel injection.
Horsepower: 110 @ 5600 rpm
Torque: 110 @ 4400 rpm
Steering: Rack and Pinion, engine rpm sensing variable power assist
Fuel capacity: 15.9 US gallons

NOTE: For more info and specs please see 1993 Impreza info below

1994 Feature, option

1994 Impreza sedan

1994 L
sedan and Sport wagon

1994 LS
sedan and Sport Wagon

All models: 1.8L engine with 5 speed manual or 4 speed automatic transmission
S=manual trans
na=auto
na=AWD

This manual transmission, front wheel drive sedan only model, came with very few options or accessories.

S=Manual trans
0=auto
0=AWD


na= Split-fold down rear seat on the sedan



See "Value Option Groups" listed below for options

Auto trans.
S=AWD

This model came fully equipped with
Passenger side Air-bag
Anti-lock brakes with 4 discs
Power windows, locks, mirrors
Air conditioning, cfc free
Am/Fm/Cassette, 80 watt, 4 speakers
Power sunroof
60/40 split fold down rear seat on the sedan model
Cruise control

1994 Impreza L model "Value Option Groups"

1994 Impreza L model "Value Option Groups"
Group 1:
L model plus:
power windows, door locks, mirrors
Passenger side Air-bag
air conditioning
40 watt AM/FM stereo, 4 speakers
Group 2:
front wheel drive Impreza L model plus:
power windows/locks/mirrors,
Passenger side Air-Bag
Sunroof, electric tilt/slide back
AM/FM stereo, 40 watt, 4 speakers
Group 3:
Impreza L model plus: Passenger Air-Bag
Anti-lock brakes with 4 disc brakes
Power windows/locks/mirrors
Air conditioning
AM/FM 4 speaker, 40 watt stereo
front wheel drive models also get 14" wheels
end 1994 Impreza
1993 Impreza
First year! This is an all new car for 1993

The 1993 Impreza was available with Front-Wheel-Drive (fwd) or All-Wheel-Drive (awd)

Models available:
Impreza: base model available as a front wheel drive sedan only
Impreza L: sedan or Sport Wagon
Impreza LS: Sedan or Sport wagon
Dimensions: all models
wheelbase: 99.2"
Length: 172.0"
Width: 67.1"
Height: 55.1"

Engine:
1.8 L 4 cylinder 16 valve SOHC aluminum alloy boxer engine with distributorless igntion and Multi-port fuel injection.
Horsepower: 110 @ 5600 rpm
Torque: 110 @ 4400 rpm
Steering: Rack and Pinion, engine rpm sensing variable power assist
Fuel capacity: 15.9 US gallons

Safety:
Driver's Air bag
Front, rear crumple zones
height adjustable front shoulder belts, rear outboard shoulder belts
Child-proof rear door locks
5 MPH impact bumpers
Side-impact door guard reinforcing beams

1993 Impreza Equipment, Options

Impreza

L

LS

Manual transmission with hill-holder clutch
Fuel economy:
front wheel drive: 25/31 mpg
all wheel drive 24/30 mpg

S

S

na

Automatic 4 speed
Fuel economy
front wheel drive: 24/30 mpg
All wheel drive: 23/28 mpg

na

0

S

All-Wheel-Drive, full time

na

0

0

Brakes: Power assisted
9.4" ventilated front discs,
9.0" rear drums
9.4" ventilated front discs,
9.0" rear drums
10.4" ventilated front discs,
10.3" rear discs
Anti-lock brakes

na

na

S

Wheels/tires

13"
165/80HR13

fwd:13"
165/80HR13
awd: 14"
175/70HR14

14"
175/70HR14

Power windows, power locks

na

S on most but

0 on fwd manual models

S

Air conditioning

0

S
0 on fwd sedan with manual

S

Mirrors

driver's side, manual

dual power
0 on fwd manual sedan (dual manual)

dual power

Model Reminder 1993 Impreza

Impreza

L

LS

Tilt Steering wheel
Rear Window defroster
Rear wiper, wagon only
Remote fuel door and trunk release
Cup holder, 2 in the dashboard
Front door map pockets
Tinted glass
Automatic off headlights

S

S

S

Fold down rear seats

na

S sport wagon only
na on sedan

S

Interior cloth

cloth

upgraded cloth with cloth door trim
luxury velour cloth and door trim
AM/FM stereo, 40 watt, 4 speakers

0

S
0 on fwd sedan with manual

na

AM/FM/ Cassette, 80 watt, 4 speakers

na

na

S

Cassette

0

0

S

Body color door handles moldings, mirrors

na

na

S

Alloy wheels

na

A on awd models only

A

Floor mats
Mud flaps
CD player

0

0

0

1993 Impreza Colors

Impreza

L

LS

white, grey cloth
White, beige cloth
Aqua Frost, grey cloth
Aegean Blue, grey cloth
Amethist, Grey cloth - sedan only
Hunter green, beige cloth
Crimson Pearl, grey cloth-sedan only
Wagon only:
Cardinal red, grey cloth
Ebony, beige cloth
White, beige cloth
Aegean Blue, grey cloth
Ebony, beige cloth (wagon only)
Amethyst, grey cloth - sedan only
Hunter green, beige cloth
Crimson Pearl, grel cltoh (sedan only)
Again, Thank You, and Happy Car Shopping. Joe