SUBARU BADGE OF OWNERSHIP PROGRAM
THE ICONS ARE SHIPPED LOOSE.


they have adhesive self-stick backing and can be used in any order.


This person has had 7 Subarus and has lifestyle icons for biking, motorsports, and water sports



they're not big

Request your free 'Badge of Ownership' to put on your car and help spread the Subaru Love.
Go to BadgeofOwnership.com to order your badge.
Have your VIN handy. It takes 4-6 weeks to arrive.
This program began May 2010.
All photos, text, formatting © J. Spitz. Unauthorized reproduction prohibited. thanks for visiting. if you like or appreciate this site, please help by mentioning it online or telling friends.
you are here http://www.cars101.com/subaru/badgeofownership.html v 2.8.15 homepage I contact
Note: This is an unofficial independent, unauthorized Subaru research website by Joe Spitz designed to help you learn about Subarus. It's not authorized, approved, sponsored, or supported in any way by Subaru or any dealership. All info subject to change, correction, frequent updating. Comments and corrections are welcomed.


**************************************************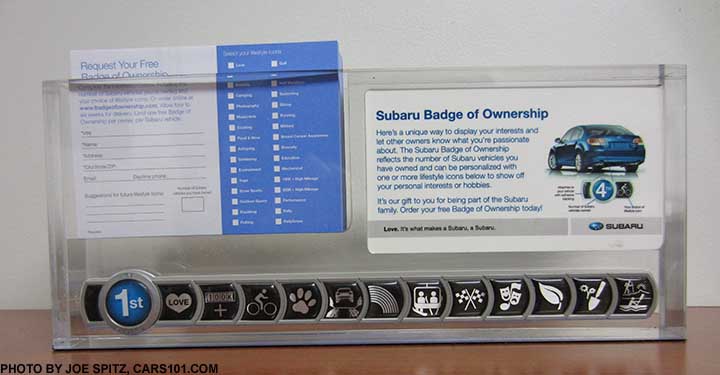 2011 Subaru Badge Of Ownership dealer countertop display with mail-in postcards
-


-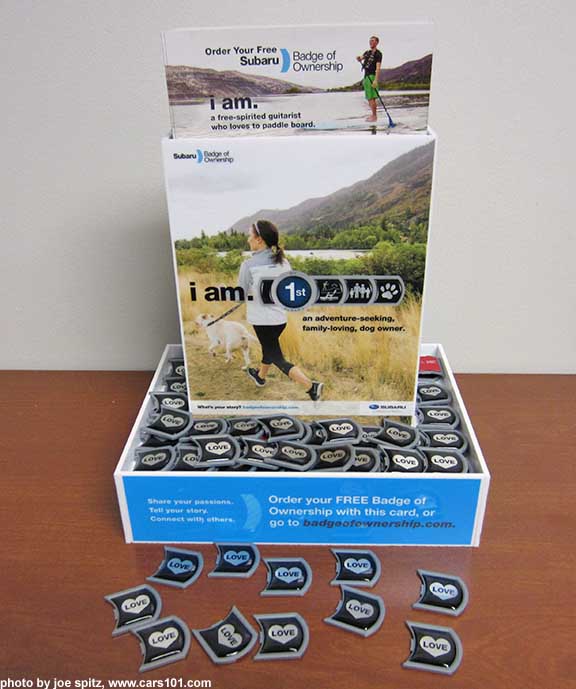 2015 Subaru Badge of Ownership countertop display with Love icons and mail-in postcards
-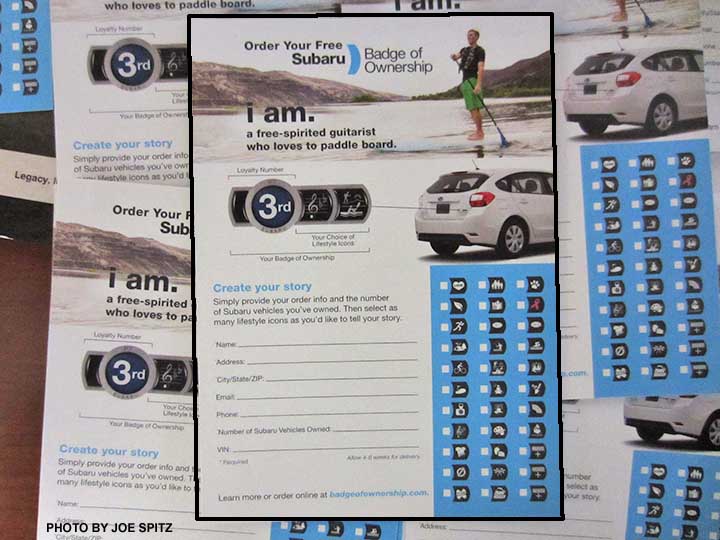 this is the mail-in postcard included with the 2015 badge Of Ownership countertop display
-
Here are the lifestyle icon emblems available. You can also suggest others to Subaru


These are the first icons available at the beginning of the program in May 2010. Snow Sports, Outdoor Sports, Biking, Mechanical, Animals, Performance,
LBGT Lesbian/Gay, High Mile, Gardening, Love, Environment, and Music/Art.
*************************

HERE ARE SOME LATER ADDITIONS

| | | | | |
| --- | --- | --- | --- | --- |
| running, new June 2011 | yoga, new June 2011 | photography- new March 2011 | camping, new March 2011 | education/teaching |
| cooking, new March 2011 | over 200,000 miles | family | rally | military |
HERE ARE SOME PHOTOS OF CARS SEEN ON THE ROAD
HAVE A BADGE ON YOUR SUBARU? ADD YOUR PHOTO ON THE FORUM OR SEND IT TO ME
-

2015 Outback with many Subaru Badge Of Ownership Lifestyle Icons





their 2nd car, with Subaru badges for water sports, gardening, and high miles 100,000+


badge of ownership with icons for boating, biking, skiing,
performance


1985 Subaru Brat with Jimi the dog and icons for animals and high miles



a 2008 white STI, their 7th car, with pets, music/art, and rally. April 2011
***********************

DO YOU HAVE A BADGE? ADD A PHOTO ON THE FORUM.

Photo of your badge? Add a photo of it here on the forum.


This Subaru is their 3rd one. Yes, apparently the '3rd' emblem was sent crooked but they used it anyway. Subaru badges for love, gardening, pets, music/art, and the environment


a 2008 white Impreza 5 door, their 4th car, with love, sent May 2011


You can stick them anyplace on the car but the usual places are the rear - either the left or right under the logos - or on the side of the car behind the front wheels. This one is on the right under PZEV

more soon


-

HAVE A BADGE ON YOUR SUBARU? TAKE A PHOTO AND ADD IT ON THE FORUM.