2012 SUBARU IMPREZA EXTERIOR PHOTOS AND IMAGES
these are photos of the Exterior of the 2012 Subaru Impreza
click for interior photos and images I options and upgrades I 2012 Impreza specs I homepage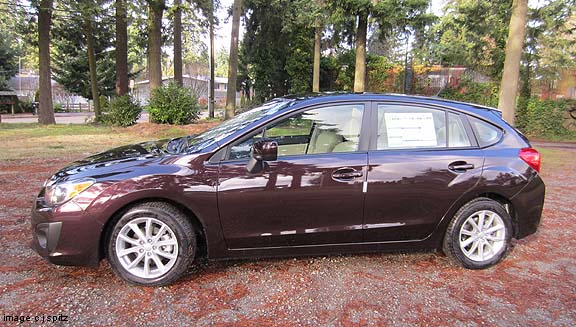 Impreza 5 door. new deep cherry pearl color is very dark and in the sun the dark red glitters, but at night or when it rains, the color can appear almost black.

Thanks for visiting. If you like the site, please tell friends about it. you are here- http://www.cars101.com/subaru/impreza/impreza2012photos1.html, v 3.6.12
Please read - this independent, unofficial, unauthorized Subaru research site is happily created and maintained by Joe Spitz. It is designed to help you learn about Subarus. It is not sponsored, authorized, supported or approved by Subaru or any dealer and is not connected to, affiliated with, or supported by a dealer. Always contact your local dealer. Inspect any car prior to purchasing. Information is always subject to change, correction, updating.
---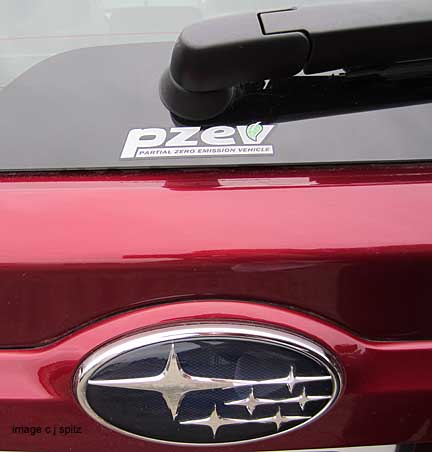 new PZEV logo seen in late February 2012 on the rear window of 5 door. Starting with April 2012 production, all new Imprezas and Foresters will have PZEV emissions.


Perhaps this is the new logo that will be on all the models since it can easily be placed anywhere.



-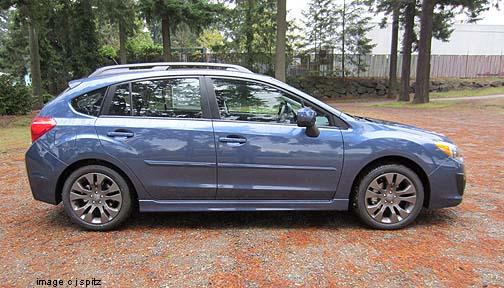 Marine Blue Pearl Sport- The Sport models have the roof rails, gray alloys. This one has optional body side moldings
-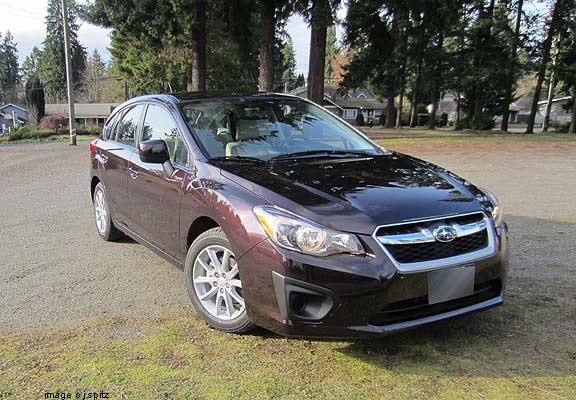 deep cherry pearl
-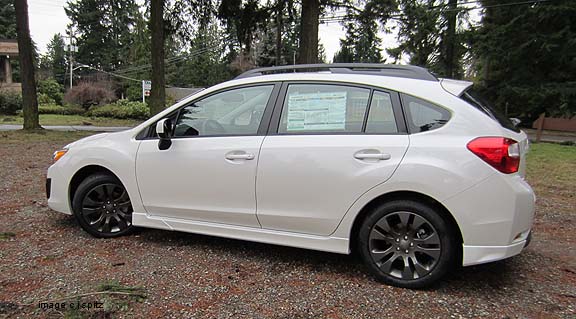 -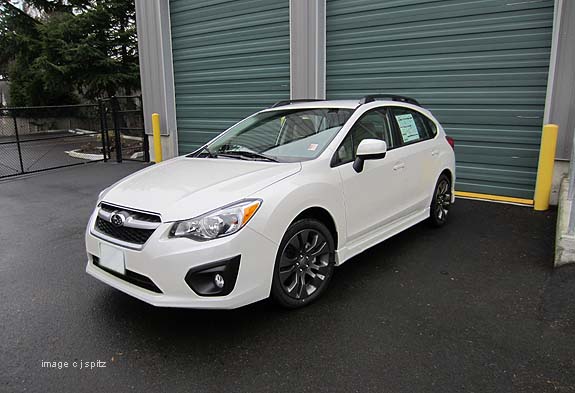 -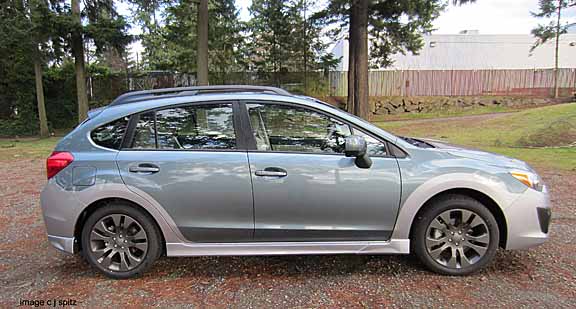 two tone Sport- sage green with ice silver accent

-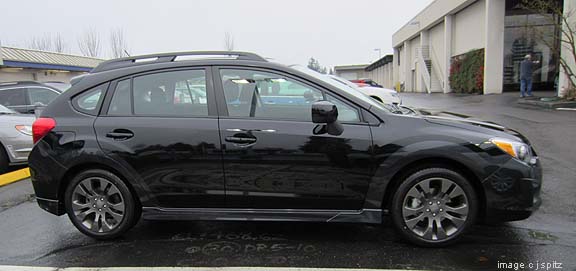 obsidian black pearl over dark gray 2 tone Sport. Its very hard to see the lower dark gray accent
-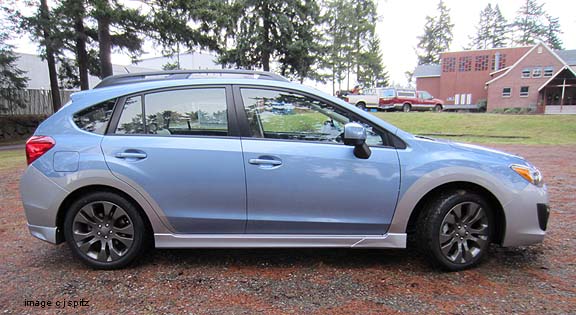 Sky blue over ice silver accent, only available on Sport model
-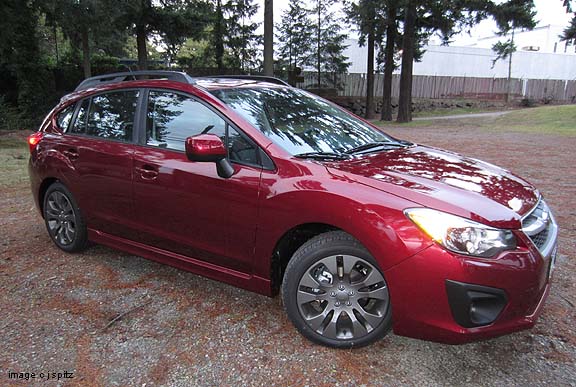 camillia red Sport
-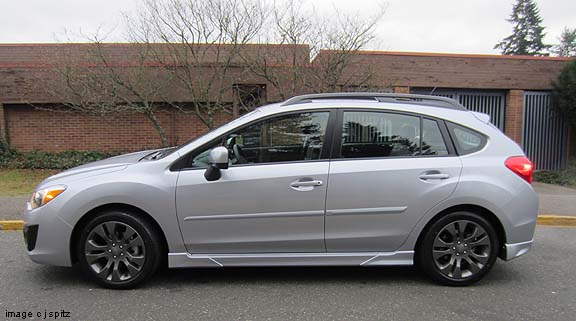 ice silver Sport with body side moldings, aero splash guards, strake kit
-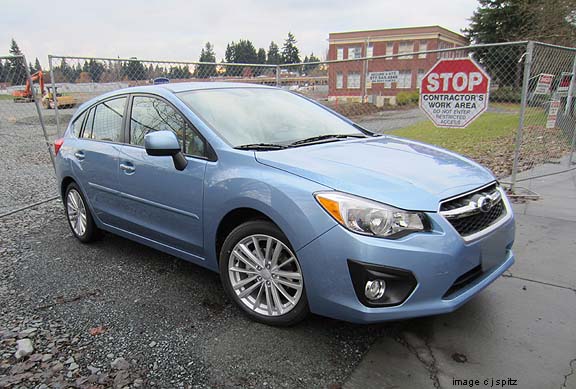 sky blue 2.0i Limited 5 door with optional body side moldings
-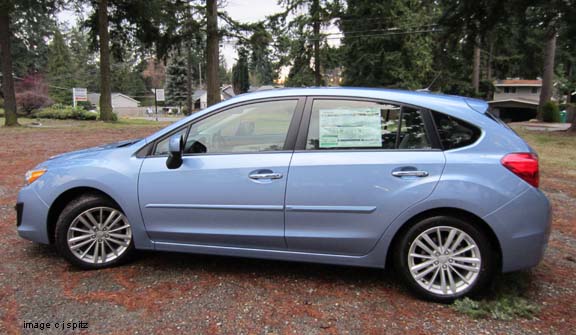 2.0i 5 door, sky blue. The 2.0i models don't have the roof rails or gray alloys. Shown with optional side moldings.
-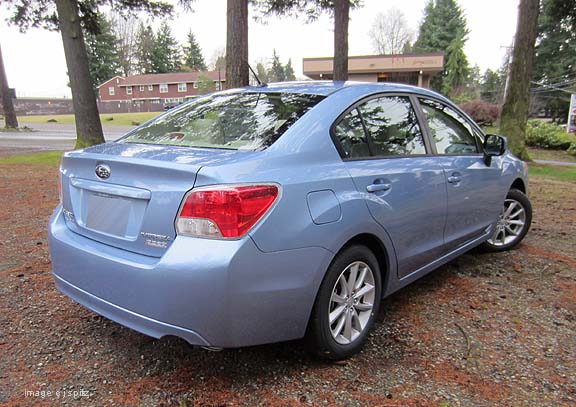 rear view of a sky blue 4 door Premium sedan, sky blue color
-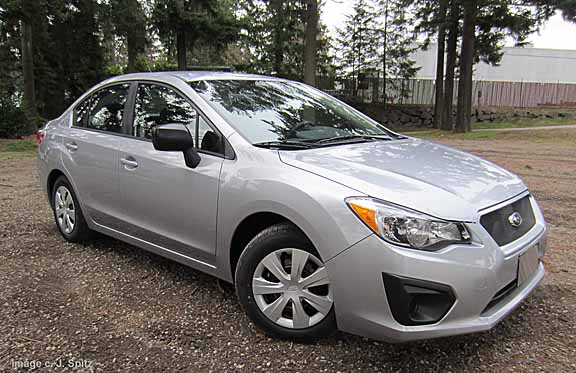 2.0i 4 door with optional mesh grill
-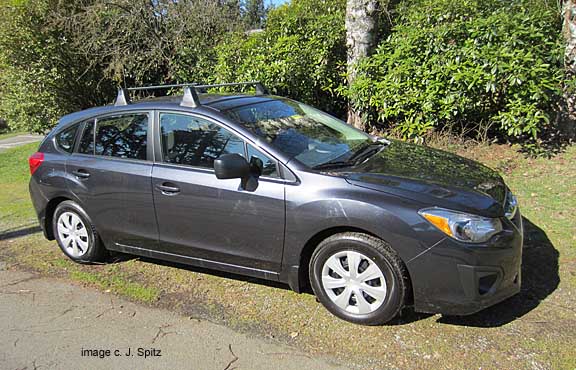 2.0i 5 door with optional roof carrier base kit
-


deep cherry pearl


5 door, deep cherry pearl


deep cherry pearl 5 door rear view


side view, Sport, two tone sky blue with silver lower accent color


sport model, sky blue with ice silver lower accent


sage green with ice silver trim


sage green metallic with ice silver trim



4 door Limited sedan. The Limited has chrome trunk trim, optional on other sedans. Ice silver shown.


2.0i base or Premium sedan with standard body colored trunk trim, ice silver shown


2.0i base sedan.


sedan, 2.0i base with 16" wheels with plastic wheel covers


2.0i Limited sedan with 17" silver alloys


ice silver Limited sedan


Sport, ice silver


sky blue 2.0i model (no roof rails)


rear view or 2.0i 5 door


side view of sky blue 2.0i Limited model with optional side moldings


2.0i 5 door Limited. All 2.0i Limiteds have chrome trimmed fog lights. sky blue


Sport, ice silver


Limited 2.0i. Notice the chrome timmed fog lights


top- 2.0 models have chrome trim center grill bar
below- Sport models have brushed center grill bar



Sport, white shown


satin white pearl sport


satin white pearl


satin white pearl


sky blue sedan, Premium shown


Premium 4 door sedan, sky blue


Sport model front grill has a brushed silver center bar


base 2.0i sedan. Notice the wheel covers?


Camillia red Sport


camillia red


Sport Premium


camillia red Sport


dark gray Sport


dark gray Sport


camillia red 2.0i Premium or Limited


dark gray Sport with optional rear spoiler


Sport with optional rear spoiler


Sport with optional rear spoiler


5 door with gate open


2.0i Limiteds have chrome door handle strips, Ice silver shown



Limited 2.0i models door handles have a chrome strip. Marine blue pearl


sky blue 2.0i Limited door handle


all models have body colored outside handles except 2.0i Limiteds with the chrome strip. Ice silver shown


2012 Sport with aftermarket cargo box
-

5 door gate, close-up of body colored gate trim. Camillia Red


Camillia Red 2.0i Premium


the 2.0L engine


notice the hood prop


headlights, fog lights, grill with chrome bright bar.
(5 door Sport models have a brushed silver bar)
Only 2.0i Limited have fog lights with chrome trim.


2.0i Limiteds is the only model with the chrome trim fog lights


2.0i and 2.0i Premium 4 and 5 door without optional fog lights


Sport standard foglights, optional on 2.0i base and Premium sedan, don't have the chrome trim. Sport shown without front underspoiler


chrome trunk trim is optional on all sedans, standard on the Limited sedan


regular gas, 14.5 gallons

oversized mirrors are attached to the door.With the lower windshield there is space for a small window (that window used to be called a wing window or vent when they opened).


body colored outside mirrors on all except base 2.0i which are black


putting the mirror on the door created space for another window.


4 door sedan trunk. The trunk supports are enclosed.

more to come
-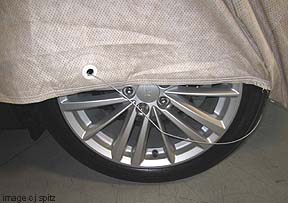 peek-a-boo October 2011
-
| | |
| --- | --- |
| whats under there? October 2011 | surprise! October 2011 |
| 5 door. Its not a Sport model if it doesn't have roof rails | Premium 5 door (no fog lights) |
| Limited 4 door | Sport, with optional aero splash guards |
| | |
| | |
| | |
-


-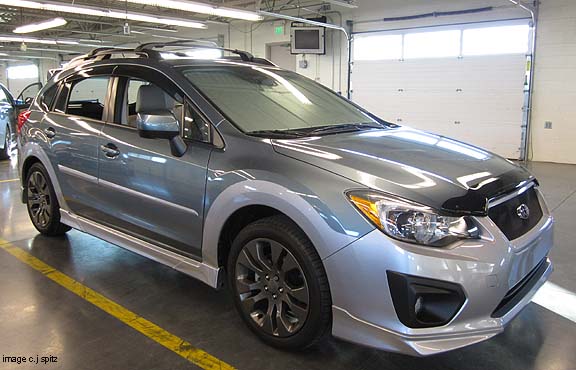 Sport, with a lot of upgrades including mesh grill, front underspoiler and much more
-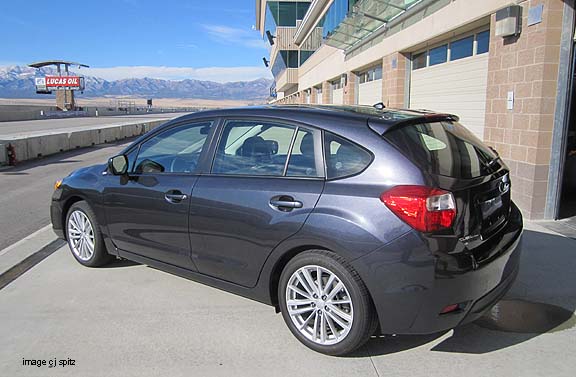 5 door, dark gray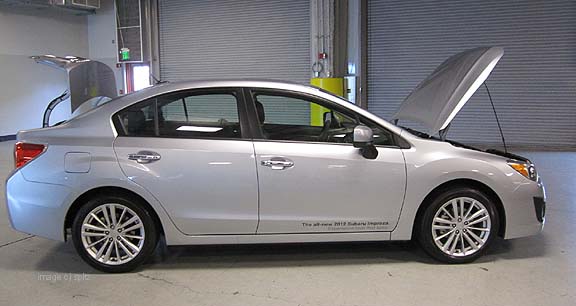 2012 Impreza 4 door Limited at an indoor training class, October 2011
-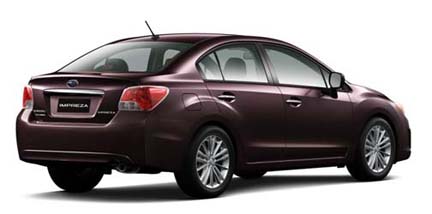 early 4 door concept image
-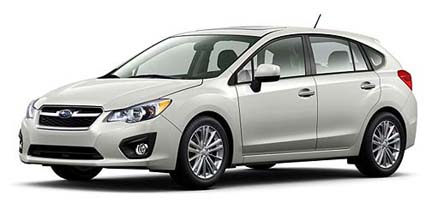 .
early 5 door concept image

early 4 door
-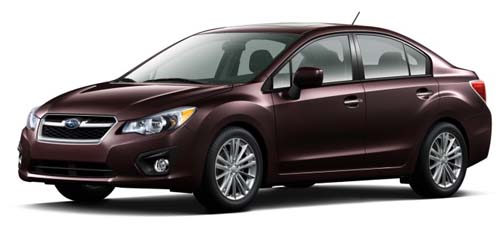 early 4 door image