Research Subaru Legacy price, options, colors, specs, engines and more.
Learn about the Subaru Legacy, all models and years, 2014, 2013, 2012, 2011, 2010, 2009, 2008, 2007, 2006, 2005, 2004, 2003... 1990
.

Everything Subaru, since 1996

Homepage
New models FAQ, prices,
options, specs
Archives
Rebates, interest rates
Payment calculator
Safety ratings
Maintenance schedules
Warranty info

New cars for salein Seattle
Used Subarus for sale
Sitemap

Crash tests hwysafety.org,
nhtsa.gov. NADA, Kelly, Carfax



Start your Subaru Legacy Research here

2016 Legacy specs

I photos when available

2015 Legacy specs

I Exterior Photos

Page #1

,

Page #2

I

Interior photos

I

Options and Upgrades

I

auto show debut photos 2014 Legacy Specs

I

exterior photo page

I

interior photo page

I

Monroney window sticker 2013 Legacy Specs, options

;

exterior photos

,

interior photos

,

options photo page

,

Monroney window sticker

,

press release

(3/29/12)

2012 Legacy specs - exterior photos

,

interior photos

,

options photo page

,

Monroney window stickers 2011 Legacy specs, options, colors

, interior photo

page 1

, exterior photos

page #3

I

2010 Legacy specs,

photo pages- interior

#1

, exterior

#3

,

#4

I

2009

,

2008

, photos

exterior

,

interior

;

2007, photos

I

2006

,

photos

I

2005

,

photos

I

2004, 2003, 2002, 2001, 2000, 1999-1998, 1997-1995, 1994-1990

or

sitemap

Please read- this unofficial independent Subaru research site by Joe Spitz is designed to help you learn about Subarus. It is not sponsored, authorized, supported or approved of by Subaru or any dealer and is not connected to, or affiliated with, any dealer. Always contact your local dealer. Information subject to change, correction.


new color for 2014 - tungsten metallic, in the sun you can see the beige tones, in the shade it's silvery


Background: introduced in 1990 the Legacy has been Subaru's best seller.

The Legacy has come in a variety of sedan and wagon models including the popular Outback wagon starting in 1996.

Other models over the years have included the L, LS, LSi, turbo Sport (92-94) etc, most with the 2.2L engine.
The 2.5L engine was new in 1996 in the Outback, GT and LSi models.

The Legacy Outback introduced in 1996 is now considered a separate line though it is based on the Legacy platform.

All wheel drive became standard in 1997- front wheel drives were always pretty uncommon anyway.
Special models have been offered over the years- in 1994 there was the Alpine Sport, in the 1999 the 30th Anniversary edition L, in 2003 and 2004 the SE etc
2005 the 4th generation Legacy and Outback was introduced. Powered by a 2.5L 4cylinder with an optional 2.5L 4 cylinder turbo, the re-designed 2005 Legacy is available in 2.5i, Limited and GT wagon and sedan versions. The 3.0 6 cylinder was not available in a Legacy sedan until the 2008 3.0R model

2007 was the last year for Legacy wagon, it was dropped for the 08 models. All 2008 and newer Legacies are sedans, and all Outbacks are wagons.
2009 models all have standard VDC electronic stability control.
2010 models completely redesigned- bigger interior, new transmissions, framed doors, 3.6L engine replaces 3.0L... introduced at the NY auto show April 2009

These unofficial research pages are by Joe Spitz, internet Subaru sales in Seattle, Washington. Tips, comments welcomed. Buying in Seattle? contact


all new redesigned 2014-2010 Legacy- 2.5i Premium shown. Azurite blue color was available 2010 and 2011.

all photos, text, formatting c. by Joe Spitz unauthorized reproduction strictly prohibited
you are here: http://www.cars101.com/legacy.html v 6.11.15

About the Subaru Legacy..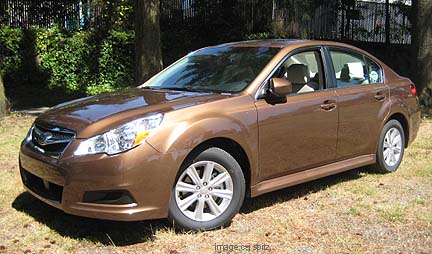 new color for 2011, available 2012 and 2013 - Carmel Bronze Pearl with ivory interior
-


2005-2009 Legacy- seacrest green Legacy 2.5i SE shown..

Made by Subaru in Lafayette, Indiana


8/13/13 2014 models are pretty much the same as 2013s. Available late June 2013. The 3.6 Premium is dropped so the only 6 cylinder is the Limited. The 2.5i premium gets an upgraded stereo with 4.3" display screen, Hd radio, and satellite radio (free for 4 months). Eyesight, now in its 2nd year, is now optional on the Premium model in addition to the Limited. Its not available on the base or Sport models. There's a new 17" alloy wheel/fog light package #21 available on the base 2.5i model. New colors are Tungsten metallic (pale beige, it replaces caramel brown) and Carbide Gray (replace graphite gray).
The 2015 model next year will be redesigned.


3/30/12 2013 Legacy, some early specs-
gone: GT turbo, 2.5 Premium with manual transmission, 3.6R Premium models dropped.
New 2013 Legacy features include: new 2.5L engine, 2nd generation CVT, upgraded suspension and steering, Eyesight safety system and more
All models get upgraded suspension and steering, brake override system, new front grill, larger fog lights, slightly redesigned headlights, and new alloy wheels.
Limited models get the new Eyesight active cruise control is available on Limited models with moonroof and navigation. This all new system use two forward facing cameras to measure and control distance to the leading car when cruise control is on, it also has lane sway/departure that buzzes a warning when turn signals aren't used, brake activation when an object is in front of the car and an impact is imminent (low speed only, under 20mph)
New colors: twilight blue replaces azurite blue, and venetian red replaces ruby red.

3/30/12 final day for 2012 factory orders for all Outback, Legacy, Forester, and Tribeca models. 2012 orders for Forester, Tribeca, Outback and Legacy end at 3pm today 3/30. This is early for Foresters, perhaps the 2013 model will get some updates (CVT?) in advance of the 2014 make-over. Outback and Legacy manual transmission and 3.6L models had already stopped on 3/6. Dealers will continue to receive 2012s but in diminishing numbers. Low production models will sell out quickly. Subaru already announced 2013 Outback and Legacy details yesterday.


October 2011
2012 models
No major changes
2012 arriving at dealers early October.
New stereos include Bluetooth, USB, wireless streaming on all except base models
new Alloy wheel option package on base models includes 17" alloy wheels, fog lights and all weather package for $995 list price

5/27/11- new March 2011 Synthetic oil is now required on all 2011 models
Synthetic oil is required for optimum engine performance and protection. Conventional oil may be used if synthetic oil is unavailable. Conventional oil may be used if replenishment is needed, but it should be changed to synthetic oil at the next oil change.
Note- your owners manual might not indicate this depending on the printing date. This change was reportedly made around March 2011. Now all 2011 Subarus use Subaru synthetic oil since the 2011 Forester 2.5Ls, and all turbos ( WRX, STI, Forester XT, Legacy GT) have required it since the start of the model run. All 2011 models use 5w-30 except the Forester X which uses 0w-20
2011 maintenance schedule

August 31, 2010- Fold-In outside mirrors are now available for the 2010 Outback and Legacy! The non-breakaway power outside mirrors on all 2010 Outback and Legacy were a source of concern for many people. This was fixed on 2011s, and now these fold-in mirrors are available as replacement for the 2010s, in all the colors so no painting is required. Mirrors kits (including left and right side) are MSRP $199.95 from your local Subaru dealer.
Standard unheated mirror kit is part #SOA635985, Heated mirror kit is part #SOA635086

5/7/10- 2011 Legacy and Outback prices and features released. No major changes or price increases. Destination increased $30. All models get fold-in mirrors, a few new colors, the number of Option Packages is reduced slightly especially on the Premiums. GT Premium model is dropped, the GT Limited is only available with dark gray leather with new silver stitching (taupe leather not available), new carbon-fiber looking dash trim, and the moonroof is now standard on the GT. The Harman/Kardon stereo gets XM radio (+$300), the optional Moonroof Package includes a new auto dimming mirror/compass/Homelink with back-up camera. Navigation now includes the auto dimming mirror/compass/homelink.Still no Memory Seat on any model. Other changes, and there are sure to be some, will be noted as the cars arrive starting in June.

Hundreds of choices of 2011 models: There are 9 2011 Legacy models with 22 Option Packages and 8 colors for a total of 176 possible model, transmission and color combinations, plus 3 PZEV emission models with 9 Option Packages with 8 colors for another 72 combinations, plus there are many individual options and upgrades. So dealers might not always have what you want. A factory order can take 6-12 weeks +/-.

4/19 Outback and Legacy model information released. Early information only and orders accepted. No feature changes, prices, or specs announced yet, so no word on fold-in mirrors for example or any other changes/upgrades for the 2011s.
The 2011 Legacy model line seems to remain much the same with 2 less Option Packages, and no GT Premium model. The models are 2.5i manual or CVT, Premium manual or CVT, Limited CVT, GT Limited manual, 3.6R 5AT, 3.6R Premium 5AT, 3.6R Limited 5AT. GT Premium model dropped. New Caramel Bronze Pearl color replaces Harvest Gold.

8/27/09 Top Safety Pick- 2010 Subaru Legacy and Subaru Outback are the Insurance Institute for Highway Safety's newest Top Safety Pick award winners. "To qualify for Top Safety Pick, a vehicle must earn the highest rating of good in the Institute's front, side, and rear tests and be equipped with electronic stability control. Criteria to win are tough because the award is intended to drive continued safety improvements such as top crash test ratings and the rapid addition of electronic stability control, which is standard on the Legacy and Outback." IIHS.org

6/24/09 2010s now arriving on car lots. All new and redesigned, slightly larger, more rear seat room, 3.6L 6 cylinder (used in the Tribeca) replaces 3.0L. 2 new transmissions for the 2.5L models- 6 speed manual and CVT (continuously variable transmission) automatic. All GTs are now manual. Premium models are available with a number of 'Option Packages' Prices announced 4/29. Production started early May. 2.5i list price drops $800, no change for the 10 2.5i Limited. The new 6 speed GT Limited is up $1100 but the Legacy 3.6L Ltd drops $1570. Production starts 3/27 in Lafayette. Announced 6/18/09, EPA fuel economy ratings for the new CVT is 23/31, combined 26. That's a major improvement over the old 4 speed automatic.

March 2009, 2010 Legacy info released late March. All new and redesigned 2010 Legacy first showing will be at the NY Int't Auto Show in April. Larger inside but 1" shorter overall! Taller, more rear seat legroom, slightly more ground clearance. The 4 cylinder has new 6 speed manual or automatic CVT transmissions. The 3.6L from the Tribeca replaces the 3.0L. Turbo GT is a manual transmission only. Framed windows are a first for the Legacy and Outback. Cars expected in June-July?


2010 The all new 2010 midsize Legacy sedan is longer, wider. taller, faster, and has new more fuel efficient 6 speed manual or CVT automatic transmissions.
All 2010 Legacy and Outback 5th generation models are all new and completely redesigned. New body, new interiors, new tranmissions, new engines, pretty much new everything...
The 2010 Legacy Model Line- the overall Legacy sedan line remains similar to previous years, with 4 cylinder, turbo and 6 cylinder models.
4 cylinder- there are 3 models, a base 2.5i, mid-range Premium (replaces SE), and top of the line Limited.
4 cylinder turbo GT models. The GT specB performance model is dropped! All 10 GTs will have a 6 speed manual transmission, with no automatic available in the GT. There are 2 models- Premium and Limited. Turbo unit moved to lower front center (see image above)
6 cylinder. New 3.6R models have the larger 3.6L engine used in the Tribeca. It has good power and runs on regular gas and is very a welcome upgrade! There are 3 3.6R models- the base 3.6R, a new mid-range 3.6R Premium model, and top of the line 3.6R Limited.

Other brief 2010 Legacy highlights.
The cars are a bit larger and have a nice more open and spacious feel inside. Interior space has increased but the overall length and size has not gone up dramatically. There's a lot more back seat room (that's a good thing), the front seats are a bit wider and perhaps even softer (thank you) etc. All carefully done to maximize the available space in a mid-size car but not lose the quality, comfort and driving traits that have made the Legacy a great choice since 1990.
Frames doors- all models have framed doors. If you're familiar with the Legacy/Outback line from 1990-2009, you know the windows were always 'frameless', now all models will have frames. This adds rigidity and hopefully will reduce that ever-present wind noise from the outside mirror area that Subarus have been prone to.
Huh? For some reason the outside mirrors don't fold-away but perhaps that will change.
Option Packages. A new way of doing things. It's almost impossible to have the exact right car for every buyer. There are just too many possible combinations, some features sell here, others sell there- popularity can be based on region and driving conditions, like warm vs cold climate, wet vs dry, city vs country, lots of snow vs no snow.
Starting with the 10 models, Subaru is offering models with 'Option Package' upgrades. The 'Option Packages' are all described below. What this means for the buyer are more choices.
For example, on previous mid-range SE models, the All Weather Package has been standard. Like it or not, you got heated seats etc. Starting with 2010, it's an option. While I personally would want it, not everyone does- some want to save money, others live in warm climates where All Weather Pkgs and heated seats are silly.
Tall people don't like sunroofs (less headroom), other people really like them. The Sunroof is now an option on the mid-range Premium where it was not available at all before, and is an option on the Limited model where is previously was standard.
Patience. please understand that with all the choices now offered, dealers may not carry in-stock the particular combination you want and will have to order it for you. Be patient.
Hill Holder and Electronic Parking Brake (with auto release): standard features on all models include a Hill Holder to help hold the car when starting on a hill, and an electronic parking brake system which eliminates a manual brake (no foot or hand brake).
Laser cut keys. There is finally a key lock cylinder to open the trunk. The lock is out of sight under the lip, but it there and easy to use. 18.5 gallon tank replaces the 16.9 gallon tank.

New transmissions - All 2.5L 4 cylinder models (not turbo) come with either a new 6 speed manual which replaces the 5 speed manual, or a new automatic Lineartronic CVT (continuously variable transmission) with paddle shifters and 6 'gears'. The CVT gets mush better fuel economy (23/31mpg) than the old 4speed automatic it replaces that has been used for years (and years)..



2009: Prices announced May 30, 2008. New 3.0R non-Limited model. 3.0R LL Bean name has been replaced by the 3.0R Limited. A name change only, because Subaru has stopped the affiliation with LL Bean. All except GT manual now include VDC electronic stability control.

12/10/08 new accessories iPod-iPhone interface for Legacy, Outback, Tribeca. iPod interface controls your iPod and iPhone through the factory stereo. Also recharges it except for 4th gen Nano and 2nd gen iPhone. Applicable on all Legacy, Outback, and Tribeca 2009-2008-2007 without Satellite radio. Available factory or dealer installed SPT turbo heat shield applicable on 2009-8-7-6-5 Legacy GT and Outback XT turbos. Helps keeps the turbo warm, retain heat which increases performance.

2008 For 2008 Legacy wagons are discontinued and all Legacys are now sedans, and Outbacks are wagons. 2007 was the last year for the Legacy wagon. No price increase. The top of the line is the new 3.0R sedan 6 cylinder. This model comes with Bilstein Suspension and SI Drive like the GT specB, 5spd automatic SportShift transmission and new steering column Paddle Shifters etc. The GT specB continues, with new cloth, so there are now 2 performance models. All Legacys are lightly re-designed with new rear end, a new steering wheel that now telescopes as well as tilts and has cruise control, with upper end models also getting steering wheel audio and SI Drive controls One piece key and remote replaces the separate key and remote, Tire Pressure Monitoring is standard on all models. Satellite radio is now either XM or Sirius (was XM only). Re-designed outside mirrors with turn signals on the GT and 3.0R.


2007 price drops on many models. iPod plug, MP3 standard on all models. All models pre-wired for optional XM Satellite radio, and remote start (auto trans). Manual transmission dropped from Legacy SE wagon. New SI Drive (Subaru Intelligent Drive) standard on GT turbos. SI Drive allows the driver toselect from 3 drive modes designed for better economy, more aggressive driving, or most aggressive driving. GT Limited (there is no regular GT) gets Tire Pressure Monitoring System TPMS. GT LImited with Navigation gets the upgraded VDC, Vehicle Dynamic Control, all wheel drive system with traction control previously only on the Outback VDC wagon and Tribeca. GT spec.B now a full but limited production model, only 3000 cars (was 500 in 2006). The 07 spec.B gets Subaru's first 6 spd manual transmision, memory power driver's seat, new gray leather with blue alcantara, Torsen limited slip rear axle and special floor mats.

11/20/2006 crash test result: Legacy GT sedan with Navigation, Tribeca, Forester XT Sports are on the list of only 13 cars that earned the top rating from Insurance Institute for Highway Safety (iihs.org).

2006 available mid July. Minor price increases. 4 cylinder horsepower now 175 (from 168). The base cloth model GT has been deleted which means all GT models are GT Limited with leather and sunroof etc.

Manual transmission has been deleted on 2.5i Limited and GT Limited wagon, you can still get a manual transmission on the GT sedan, 2.5i or 2.5i SE models.
New 2.5i Special Edition SE model includes sunroof, power driver's seat etc.
Navigation system now available on GT Limited sedan with automatic transmission as well as on a few Outbacks.
Limited production GT spec.B sedan with upgraded Bilstein suspension, special leather interior, 18" alloys and more available October, 2005. Only 500 witll be made, all titanium colored with brick red leather, Navigation system each with a numbered plaque. The spec.B is the only way to get Navigation on a manual transmission.
New color interior combinations but for the most part they remain the same.

12/5/05 Crash test results: 2006 Legacy is a 'Top Safety Pick' Gold Award winner from Insureance Institiute for Highway Safety. iihs.org. Top Safety Pick winners reflect an elite fraction of the car market.


2005 available late May 2004. This is a major 5year remodel as Subaru transforms the Legacy line with an all new focus on comfort, a more current look, safety with 6 standard airbags, and performance with the 2.5L turbo Legacy GT. The similarly new Legacy Outback model, more commonly called the Outback, also gets the same make-over but is on the Outback page

There's a new much more contemporary look, upgraded suspension for a smoother, quieter ride, and many other features.
The models are 2.5i replacing the Legacy L, a new 2.5i Limited, and the GT and GT limited gets the new 250hp turbo engine. There is all new dashboard, body panels, new seats and etc etc. Along with the upscale emphasis, there is a focus on safety and all models have 6 airbags: front, front side, and front and rear side curtain airbags
2004 There are now 2 emission-control models for the 4 cylinder only, not the H6 cylinders. The ' Ca' spec model for sale in California, Maine, Mass, New York, Vermont and the 'Fed' spec model for sale in the other 45 states. The L SE has been renamed L 35th anniversary and now includes power driver's seat and floor mats, new color wood trim. No major changes for the GT.
2003: Major changes to GT line, new L SE (Special Edition) model.
2002: No major changes. All models get delay-off dome light, 2 cupholders in center console. All wagons get smaller center rear headrest for improved visibility. All sedans get emergency trunk release. GT models get the All Weather package, illuminated ignition switch, woodgrain door trim. Colors: new Silver Stone Metallic replaces White Birch, Reggata Red Pearl replaces Winestone. $30 price increase (GT more due to all weather pkg ), $30 delivery increase.
2001The Brighton model discontinued, so the least expensive model is the L. The L and GT models remain very much the same. The big Legacy news for 2001 is the Outback Limited H-6 models. This 6 cylinder engine is only available in 2 Outback versions.
2000 the Legacy extensively re-designed. The 3rd generation Legacy is longer, wider and more powerful, with improved safety components, side air bags on some models, limited slip rear axles, completely new rear suspension, new dashboard, power seat and a lot more. 2.5L engine now standard on all models.
1999-1997-1998 30th Anniversary models
1997-1996-1995 1996 2.5L engine offered on select models
1995 1st re-design. Outback model introduced.
1994-1993-1992-1991-1990: 1st generation. There were minor yearly changes, see sitemap

This page is maintained by Joe Spitz who is responsible for all and any content.
Thank You for visiting, Joe