2012 Subaru Window Stickers
looking for the 2013 window stickers or the 2011 window stickers


scroll down for window stickers on this page
Outback - Legacy - Forester - Impreza - WRX, STI - Tribeca
What is the Monroney sticker.
All new cars are required to have an information label, commonly called a Monroney sticker or the window sticker. It's named after Almer Stillwell 'Mike' Monroney (March 2, 1902 – February 13, 1980), the Democratic Oklahoma U.S Senator who sponsored the Automobile Information Disclosure Act of 1958. The information disclosure label was named after him.
Please read - this independent, unofficial, unauthorized Subaru research site is happily created Joe Spitz, and is designed to help you learn about Subarus. Its not sponsored, authorized, supported or approved by Subaru or any dealer, and is not connected to, affiliated with or supported by a dealer. Always contact your local dealer.
images have been edited for size, content. subject to change, correction. reproduction prohibited.
Thanks for visiting. If you like the site please mention it online and tell your friends about it. comments, corrections are welcomed. You are here: http://www.cars101.com/subaru_windowstickers2012.html, 16x, 9.5.17
homepage, contact

2012 Outback window stickers

cars will have different installed options. Image edited for size.
-
this is the redesigned window sticker used later in the model year, starting around May 2012.
2.5 Premium model shown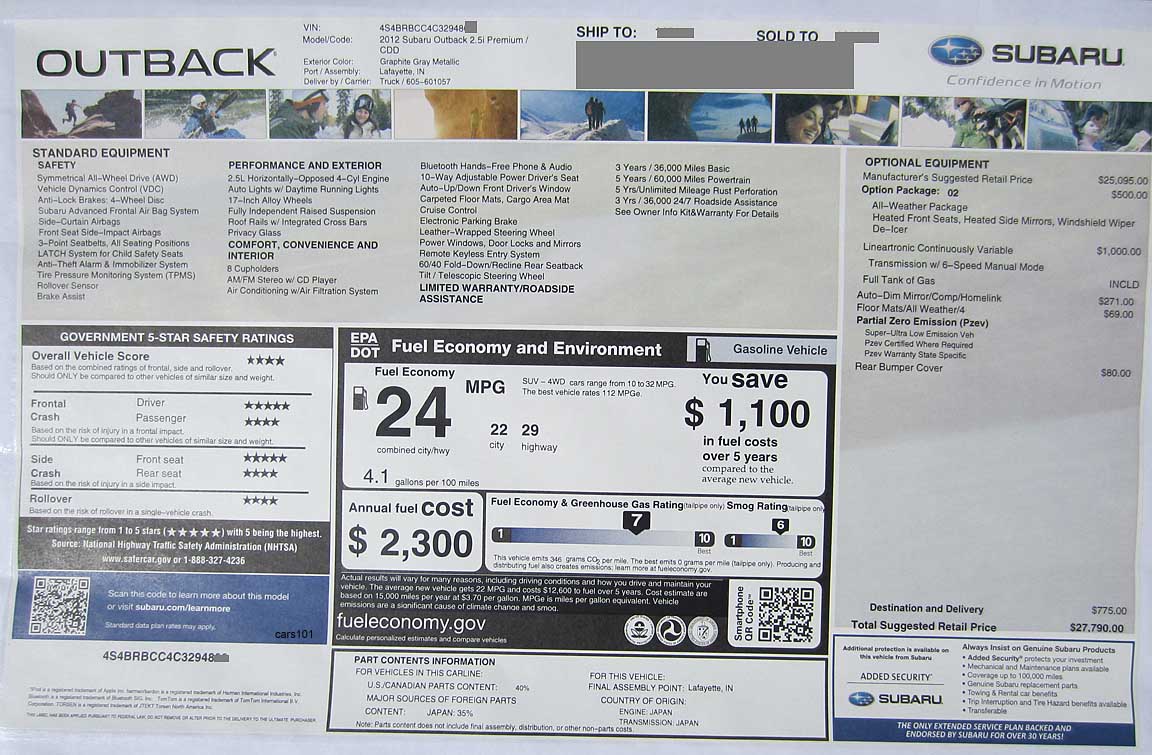 -
2012 Outback 2.5i with the new optional Alloy Wheel Package #11. Its a bargain.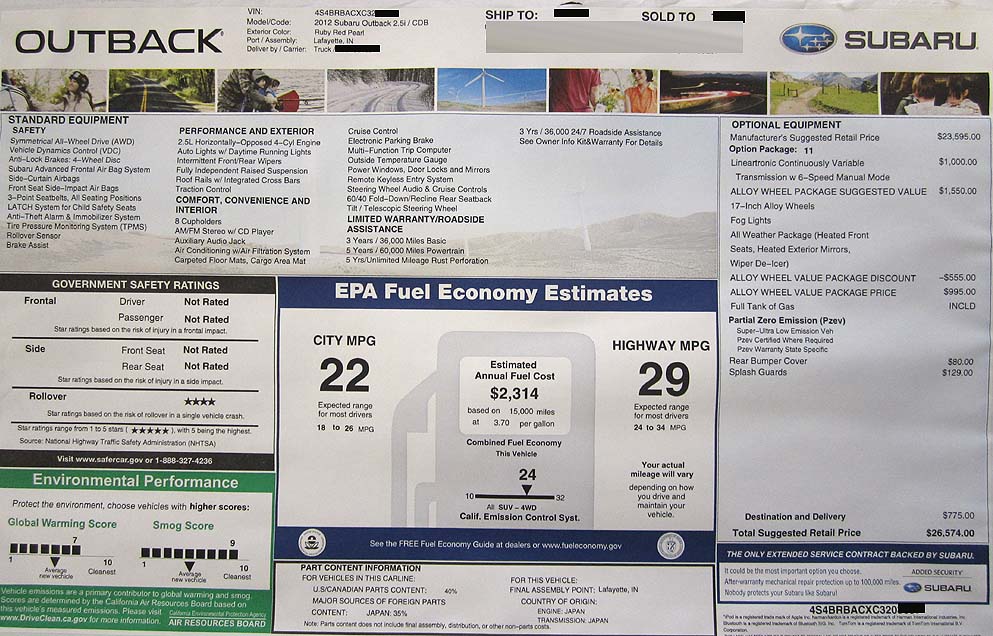 -
2012 Outback 3.6R Premium. Graphite Gray. early sticker before crash testing. With Option Package 07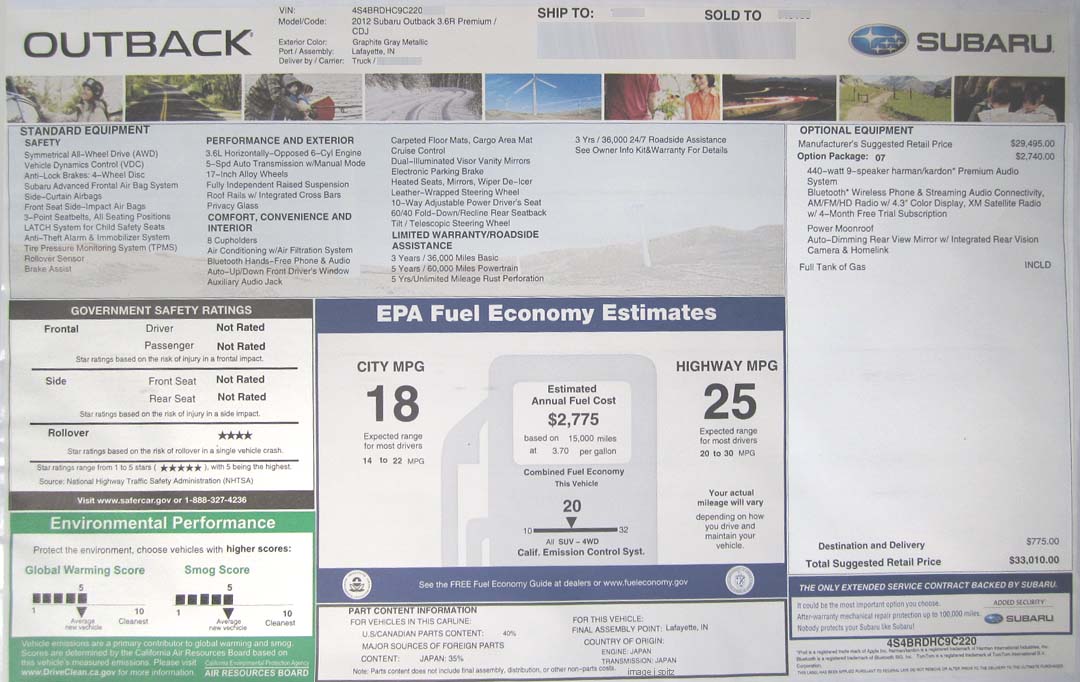 -
2012 Outback 2.5i Premium, CVT transmission, cypress green pearl, with PZEV emissions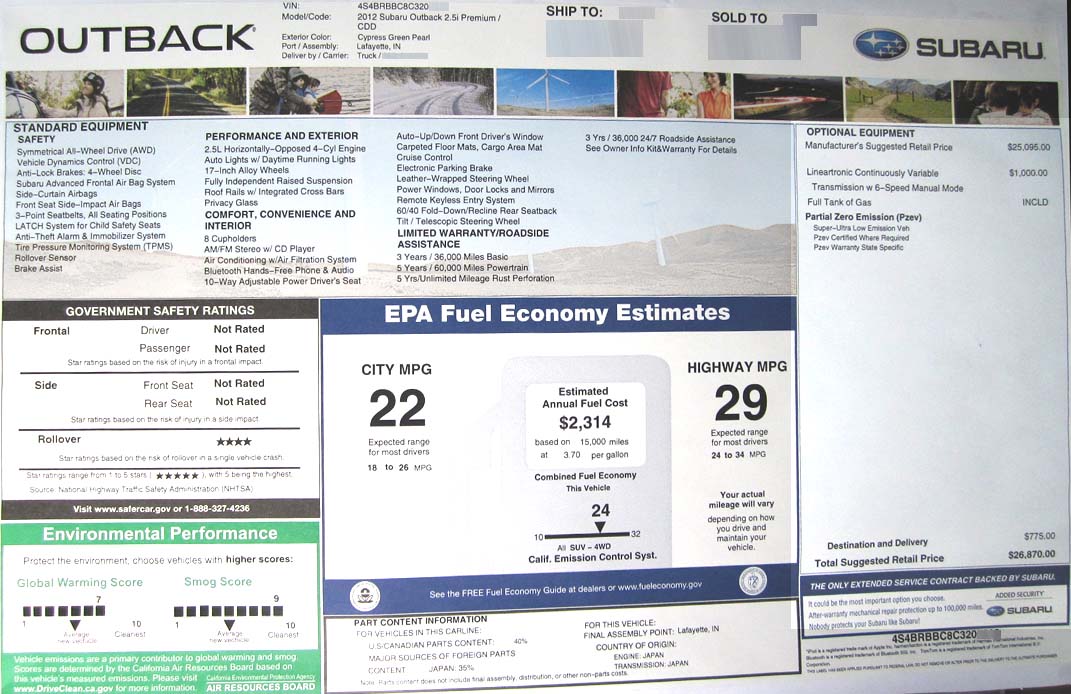 -
2012 Outback 2.5i Limited, satin white pearl, with PZEV emissions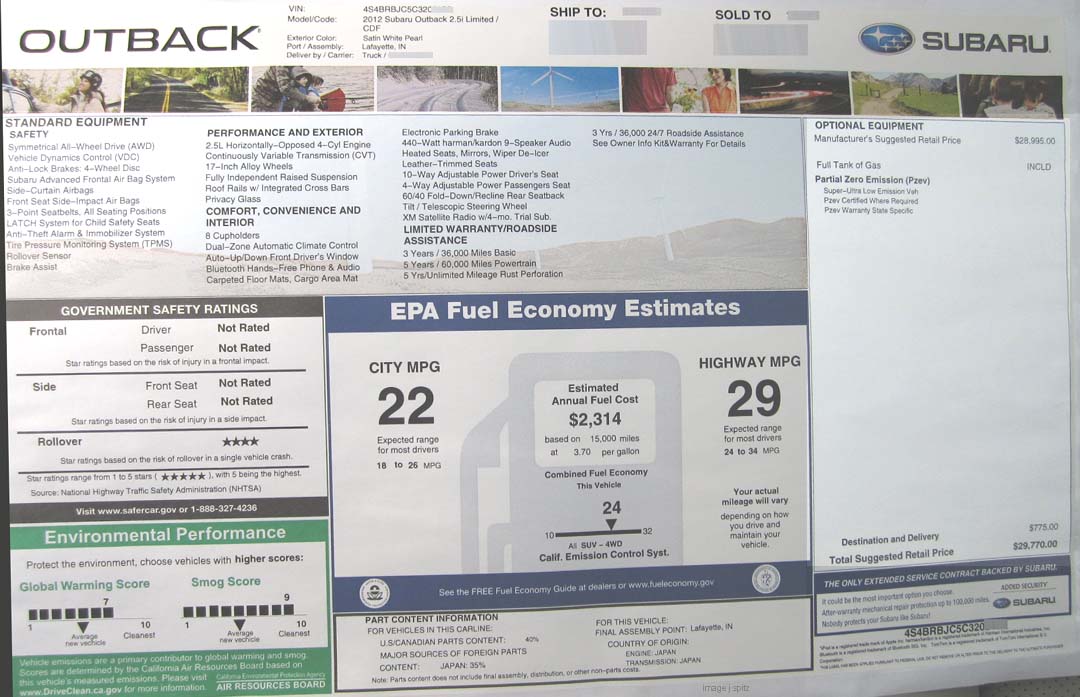 ---
top
2012 Legacy window stickers
cars will have different installed options. Image edited for size.
-
this is the redesigned window sticker used later in the model year, starting around May 2012.
2.5 Premium model shown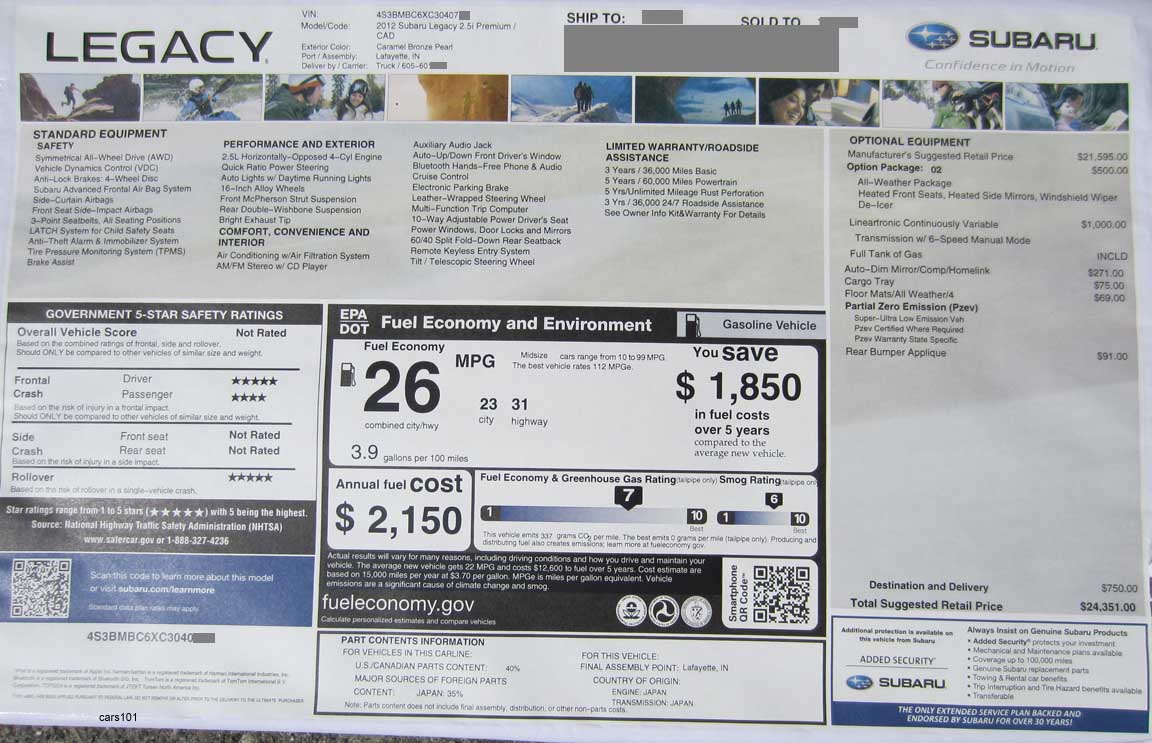 -
2012 SUBARU Legacy 2.5i CVT window price sticker, model CAB with new for 2012 option package #11 alloy wheel value package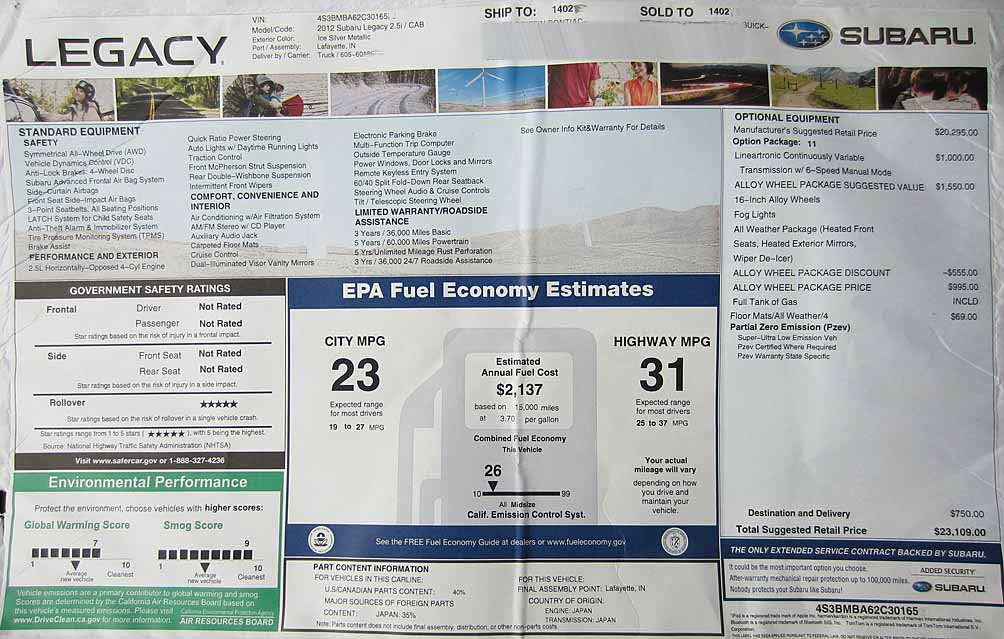 ***************************************************


EARLY 2012 SUBARU LEGACY 2.5 PREMIUM MONRONEY WINDOW STICKER
Premium shown with CVT transmission, All Weather Package, and PZEV emissions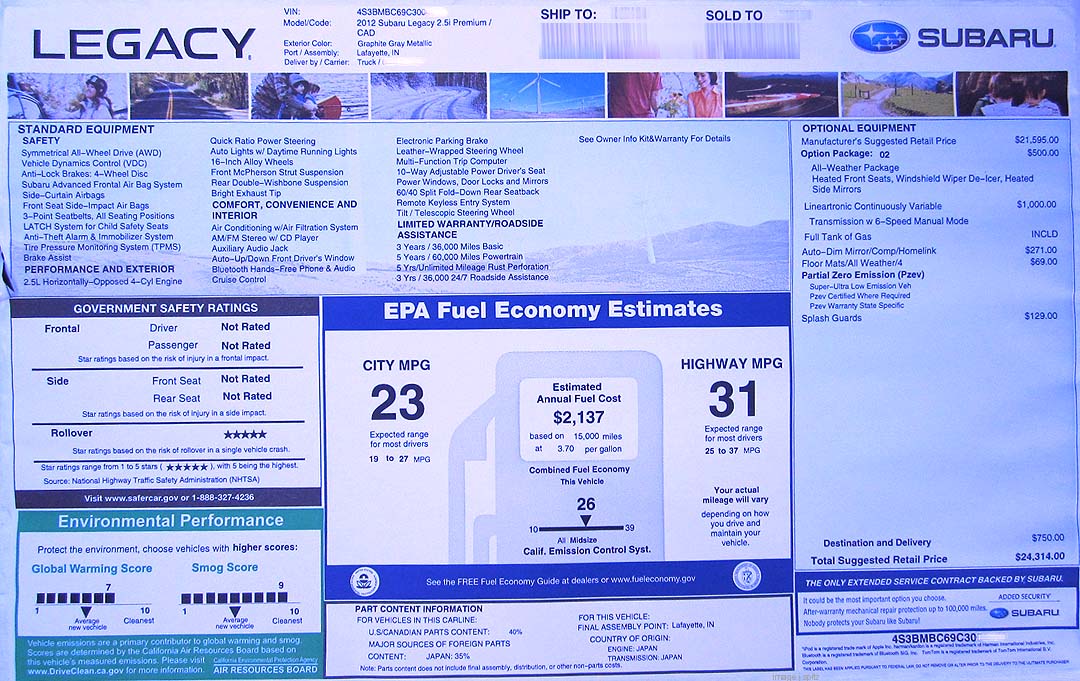 -
2012 Legacy 2.5GT Limited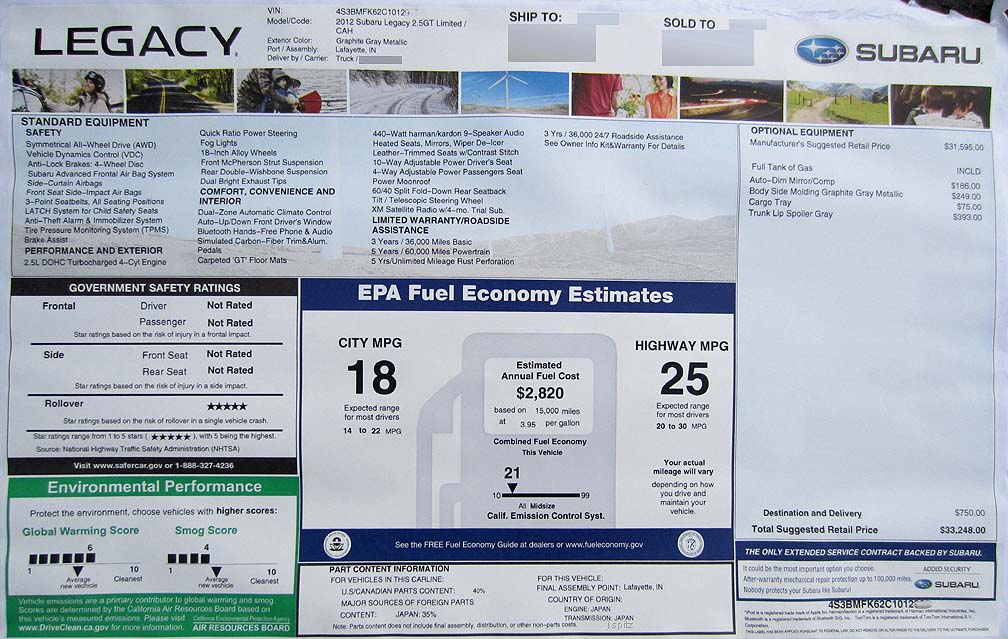 ---
top
2012 Forester window stickers
cars will have different installed options. Image edited for size.
-
this is the redesigned window sticker used later in the model year, starting around May 2012.
2.5X Limited model shown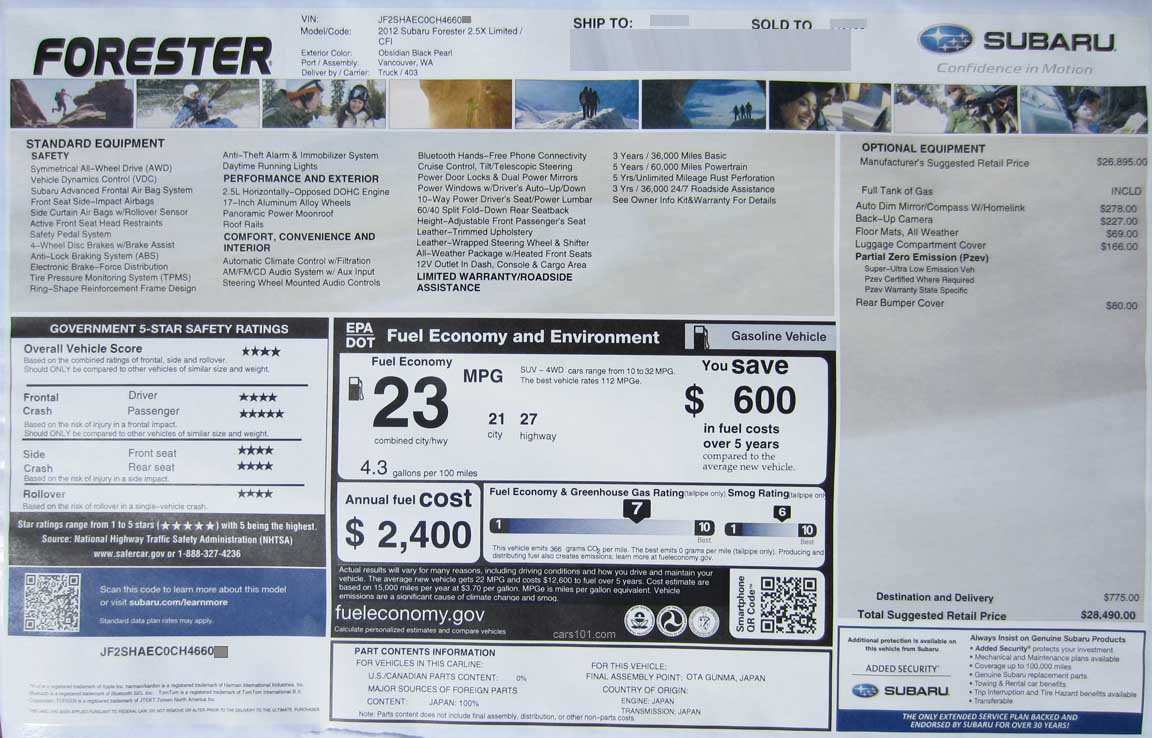 -
2012 Subaru Forester Limited with pkg 10 navigation features and price Monroney window sticker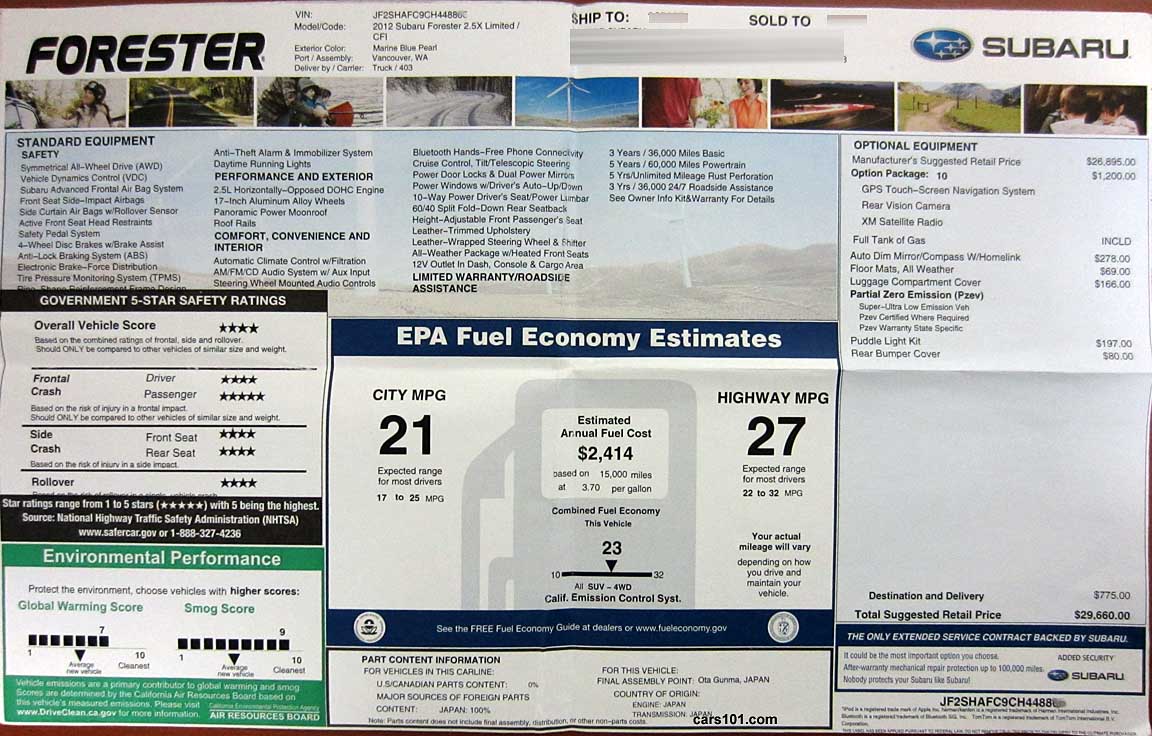 -
2012 Subaru Forester X, manual transmission, with the Alloy Wheel/Roof Rack Package, PZEV emissions, and optional fog lights
early sticker before crash test ratings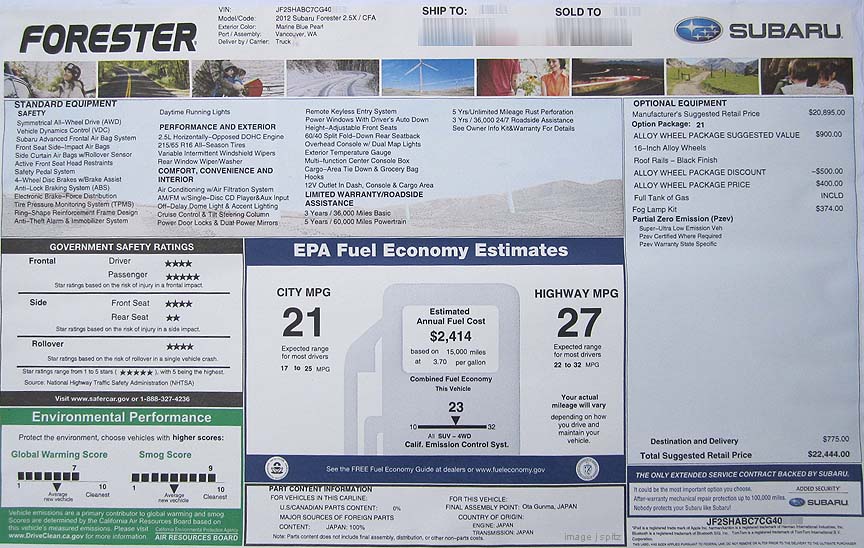 -
Forester X Touring- top of the line X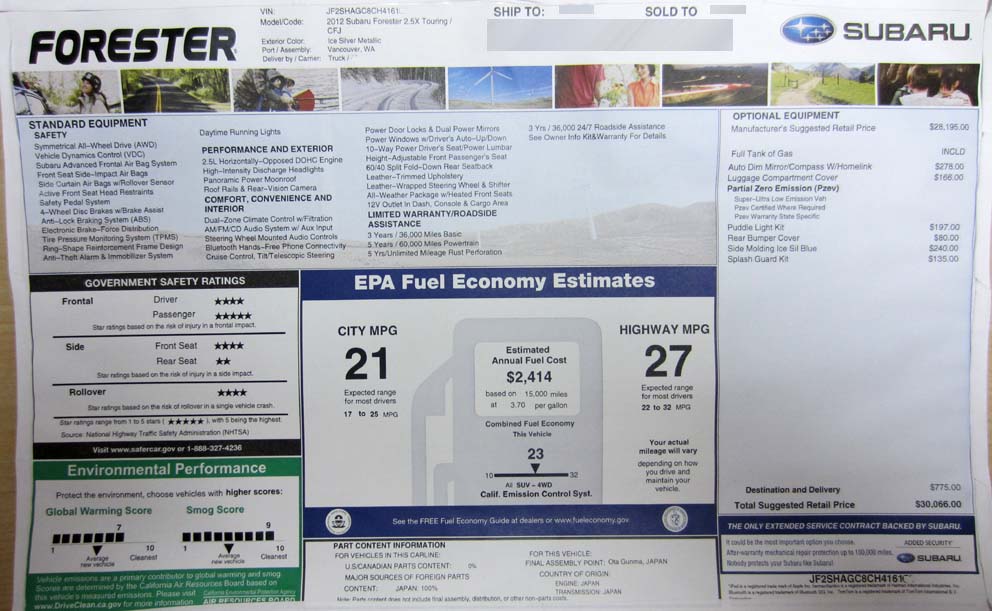 -
2012 Forester XT Touring model- this is the top of the line XT turbo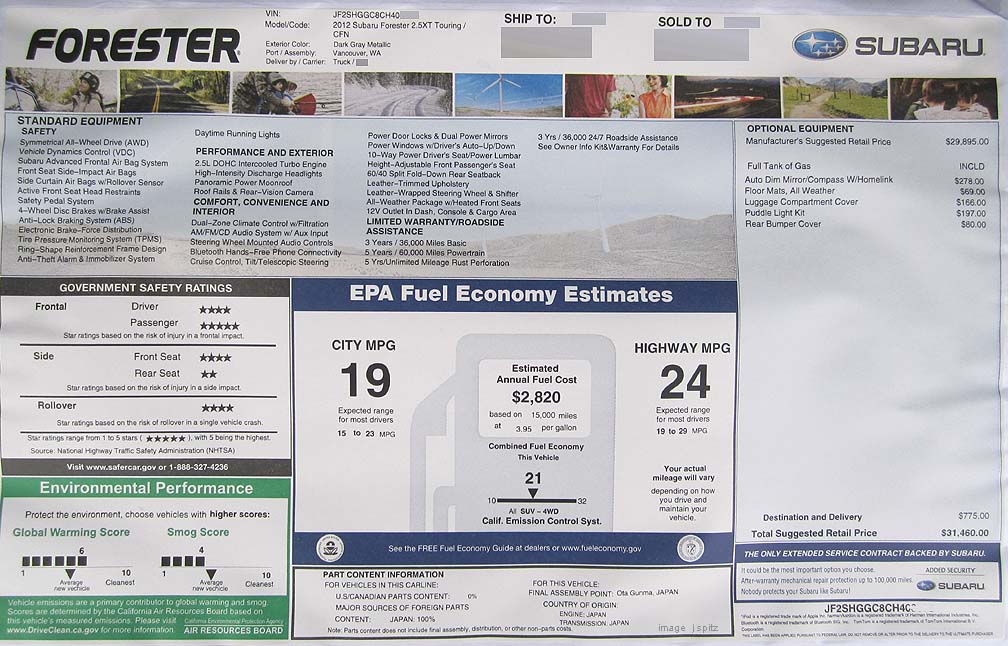 ---
top
2012 Impreza window stickers
cars will have different installed options. Image edited for size. May be before crash tests werre performed
-
2012 Impreza 2.0i 4 door sedan, CVT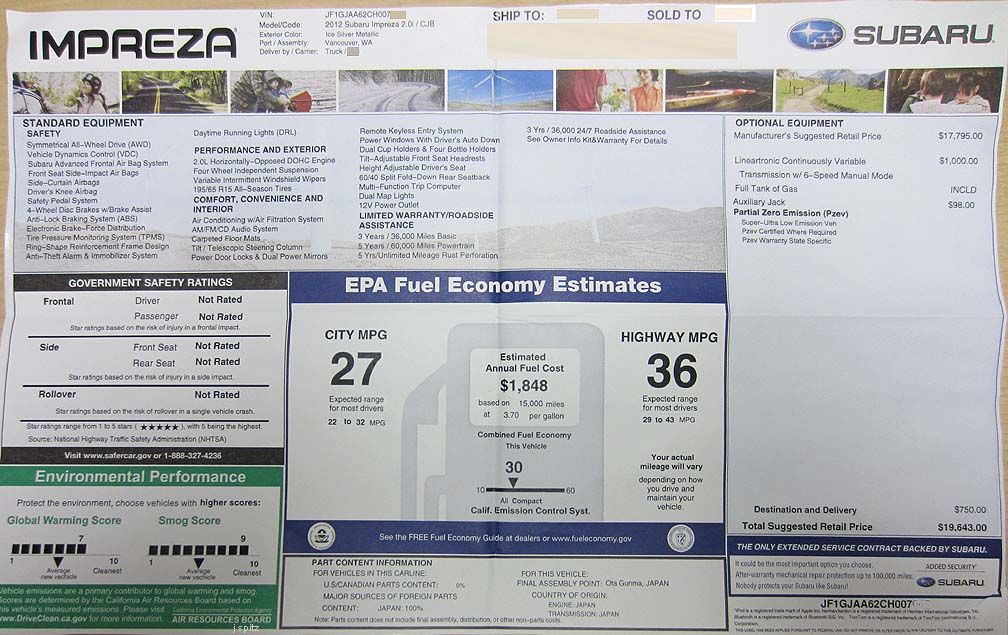 -
2012 IMPREZA 5 DOOR SPORT LIMITED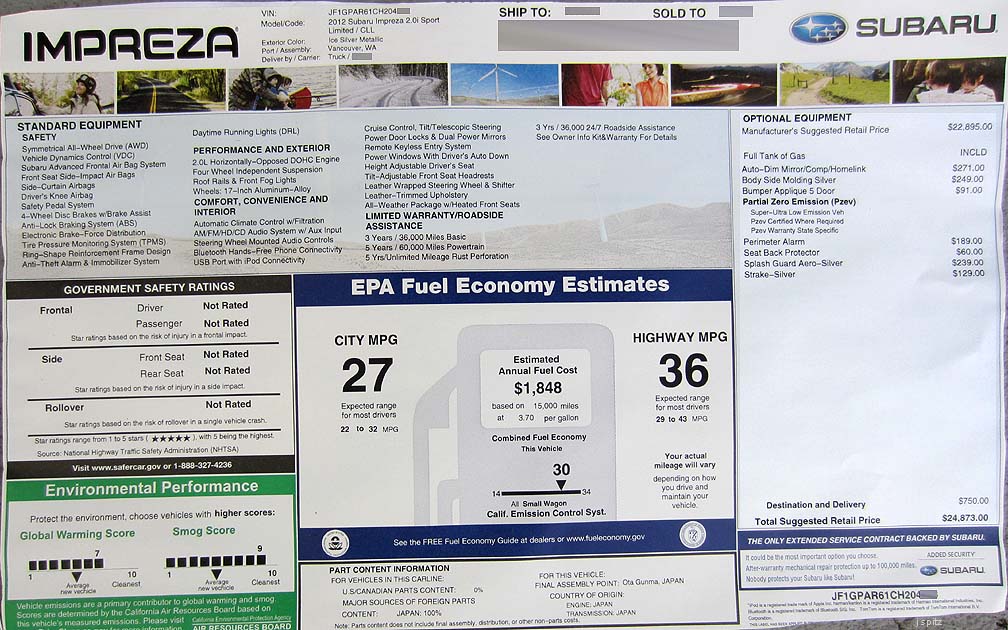 ---
top
2012 WRX and STI window stickers
cars will have different installed options. Image edited for size. Made before crash tests were performed
-
this is the redesigned WRX window sticker used later in the model year, starting around May 2012
base WRX sedan shown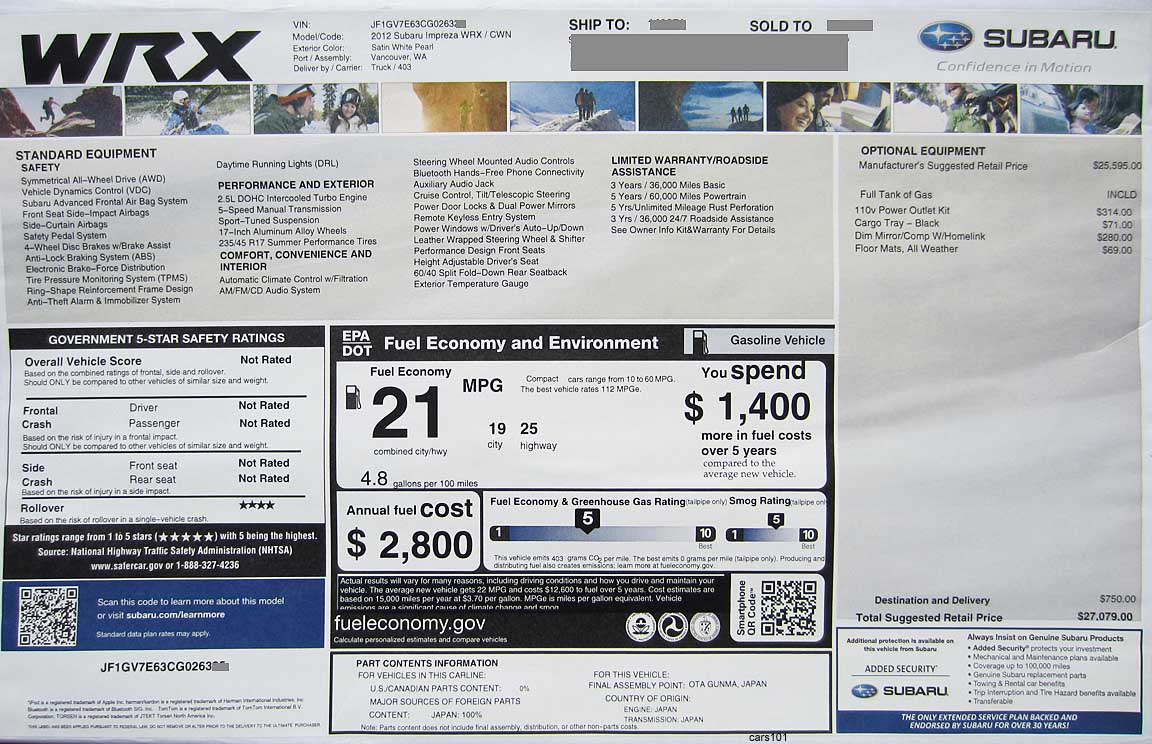 -

2012 WRX Premium 5 door. New Ice Silver shown
notice it still says Impreza WRX STI even though the 2012 WRX and STIs are not considered Imprezas anymore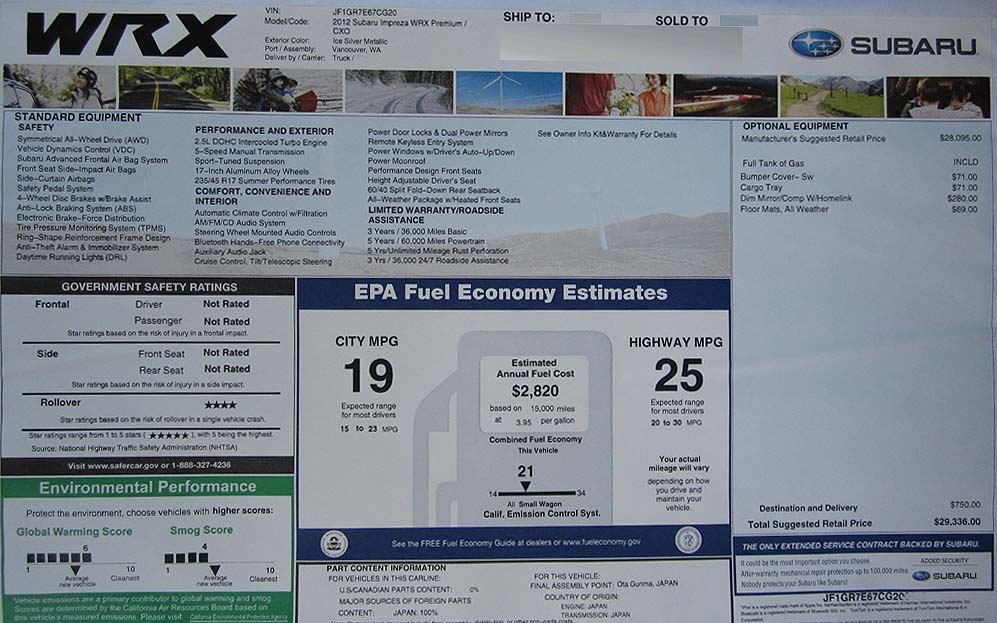 -
2012 WRX Limited 5 door, dark gray shown
notice it still says Impreza WRX STI even though the 2012 WRX and STIs are not considered Imprezas anymore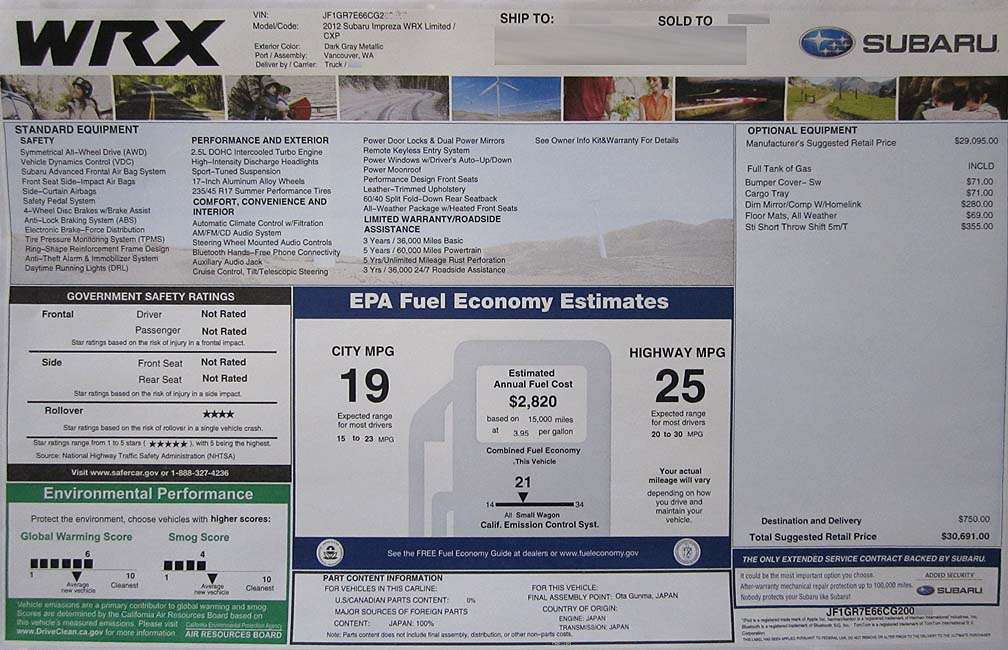 -
STI
2012 4 DOOR SEDAN, model code CWV
notice that it still says Impreza WRX STI even though the 2012 WRX and STIs are not considered Imprezas anymore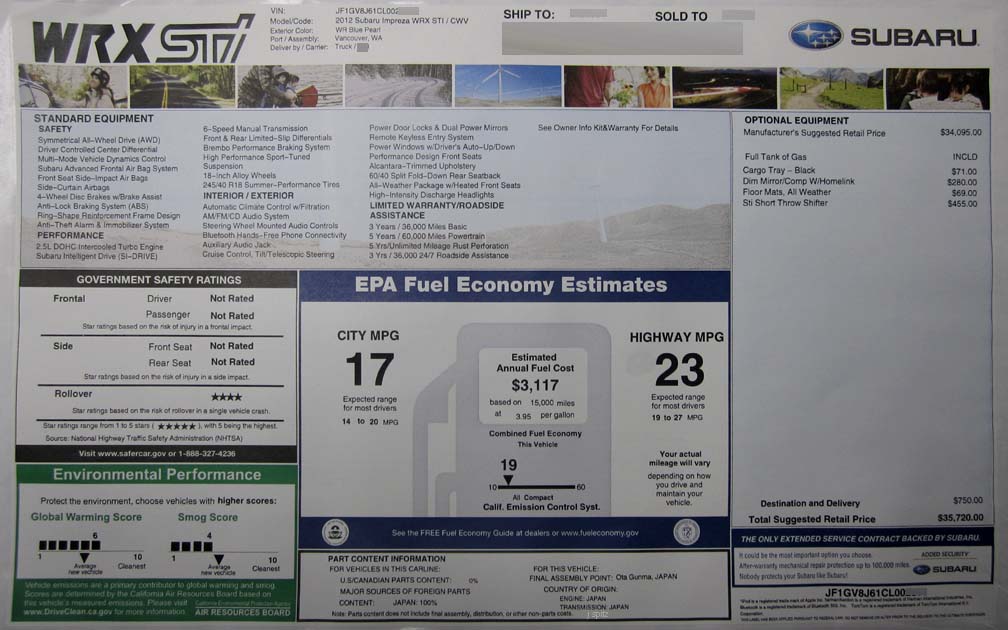 ---
top
2012 Subaru Tribeca window stickers
cars will have different installed options. Image edited for size.
-
2012 Limited Tribeca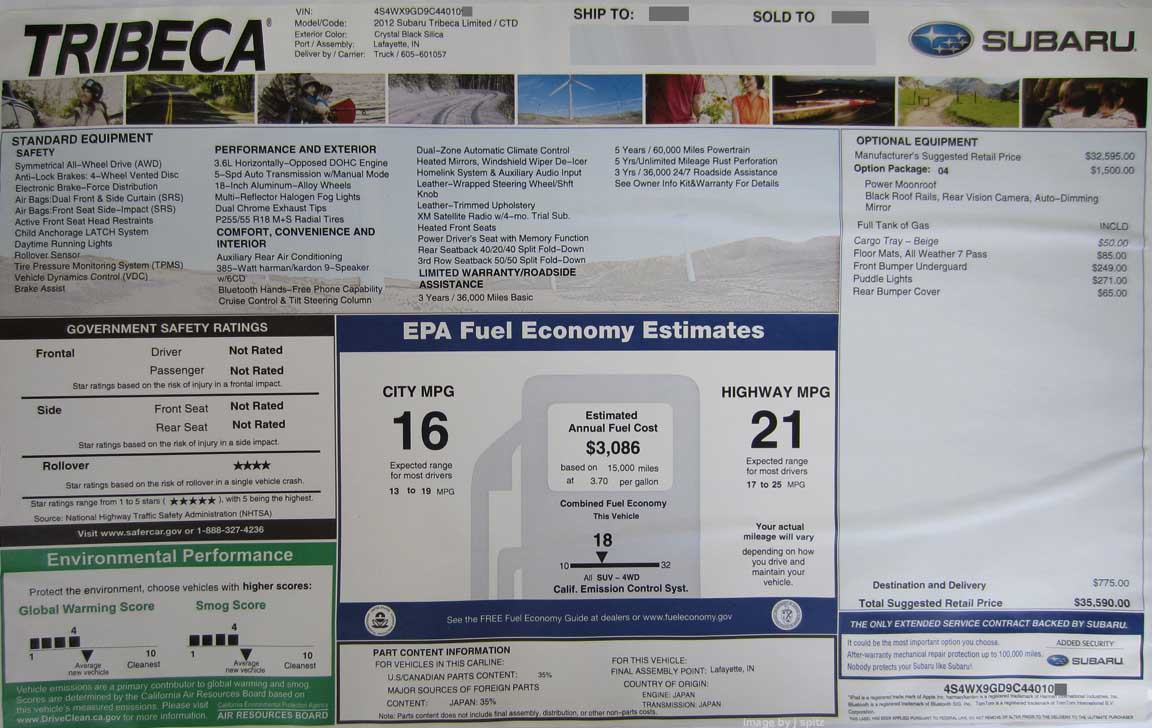 -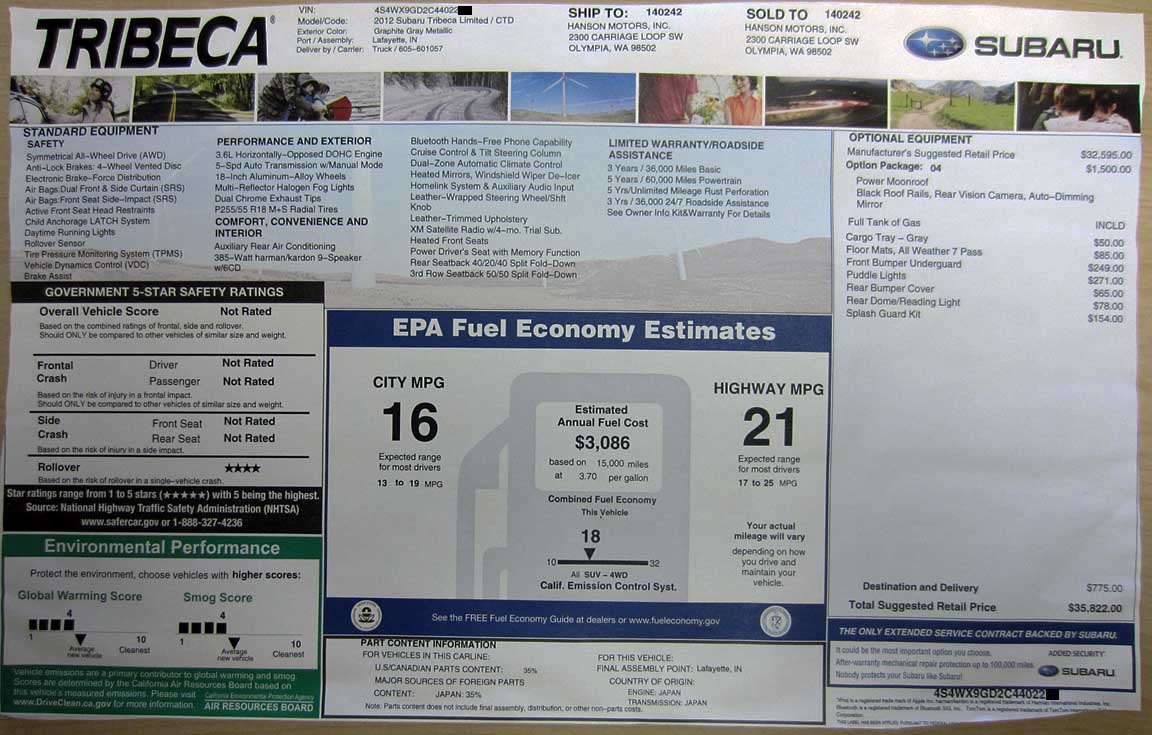 ---

top
the end