2011 Subaru Window Stickers

scroll down for Monroney window stickers
2012 or 2010 window stickers
What is the Monroney sticker.
All new cars are required to have an information label, commonly called a Monroney sticker or window sticker. It's named after Almer Stillwell 'Mike' Monroney, the Oklahoma Senator who sponsored the Automobile Information Disclosure Act of 1958.
Please read - this independent, unofficial, unauthorized Subaru research site is by Joe Spitz, and is designed to help you learn about Subarus. It is not sponsored, authorized, supported or approved by Subaru or any dealer and is not connected to, affiliated with or supported by a dealer.
Always contact your local dealer and inspect any car prior to purchasing.
images have been edited for size, content. All info subject to change, correction. reproduction prohibited. Homepage
Thanks for visiting. Tell your friends about the site. you are here: http://www.cars101.com/subaru_windowstickers2011.html v 10.11.11
---
top
2011 Outback window sticker
more to come, check back
cars will have different installed options. Image edited for size
-
2011 Subaru Outback Limited PZEV Monroney sticker- notice the PVEZ emissions, and the model has not been crash tested yet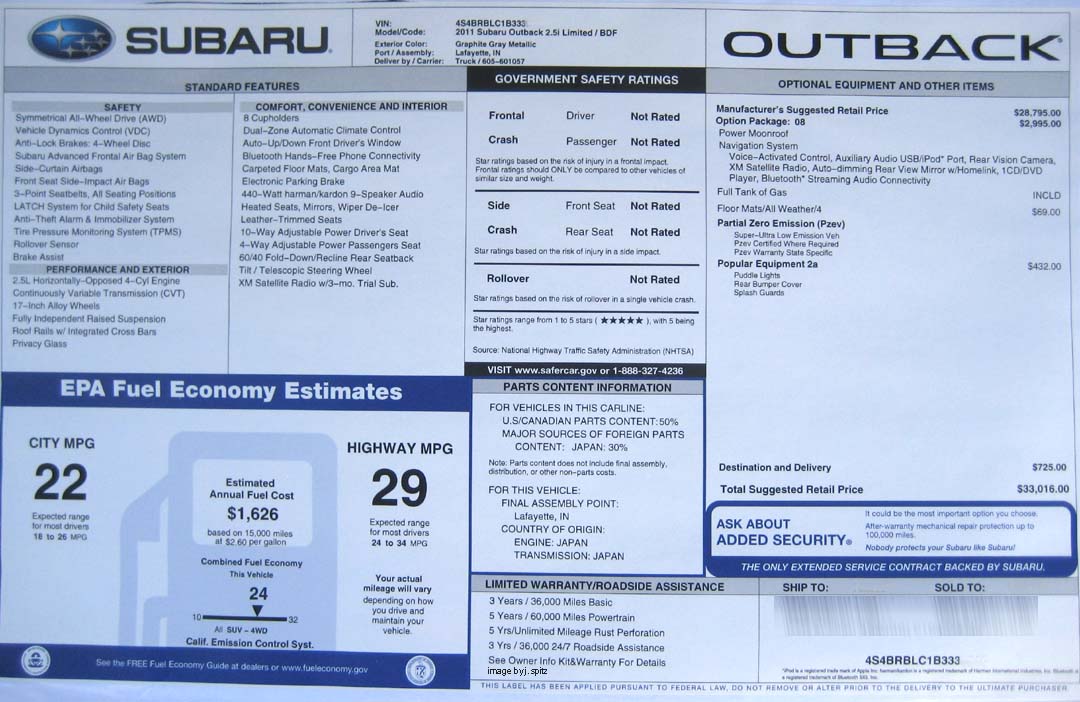 -
2011 Outback Premium with CVT Monroney label, before crash tests were done
notice the PVEZ emissions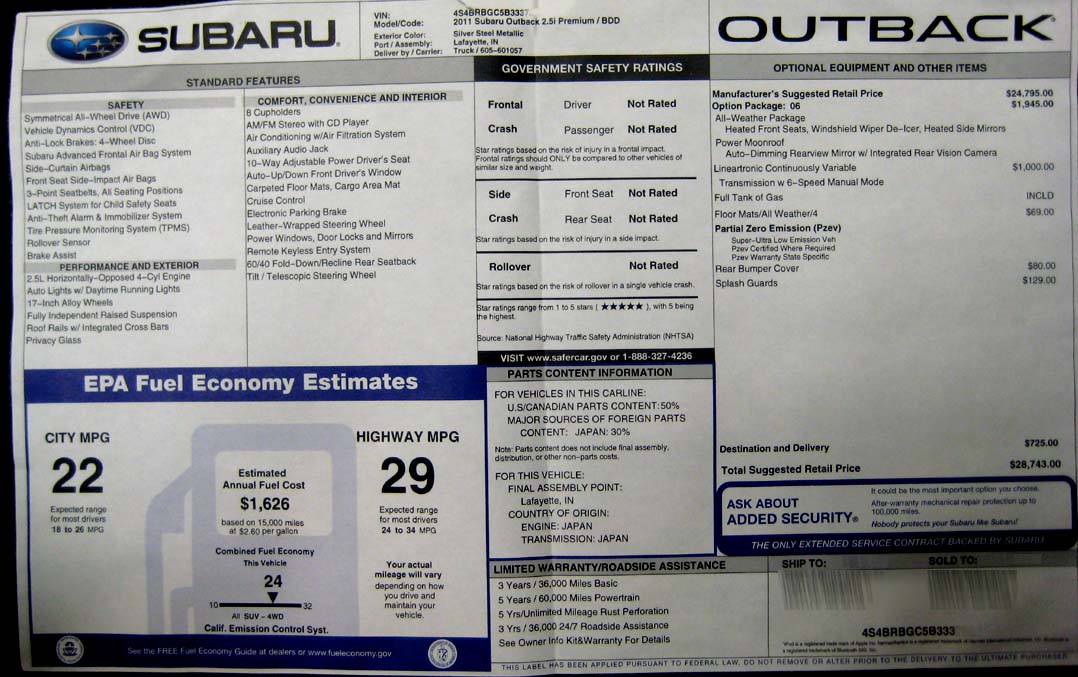 ---
top
2011 Legacy window sticker
more to come, check back
cars will have different installed options. Image edited for size
-

2011 Legacy Premium, CVT
notice the PVEZ emissions, and the model has not been crash tested yet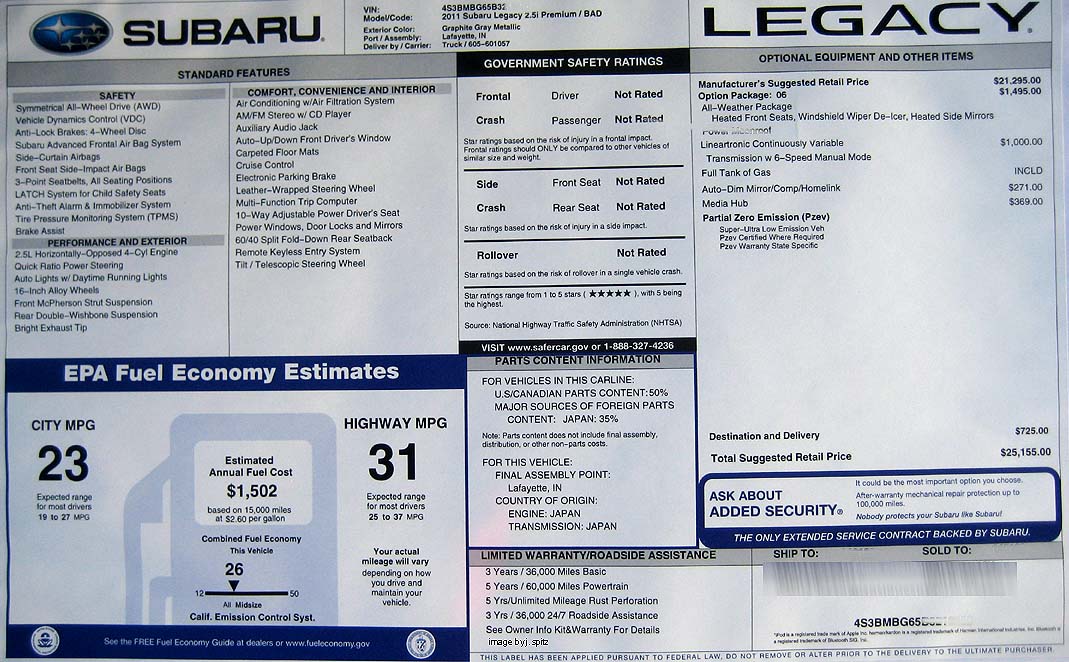 ---
top
2011 Forester window stickers
not yet available, check back
cars will have different installed options. Image edited for size.
*****

2011 Forester monrony window sticker with star safety ratings- April 2011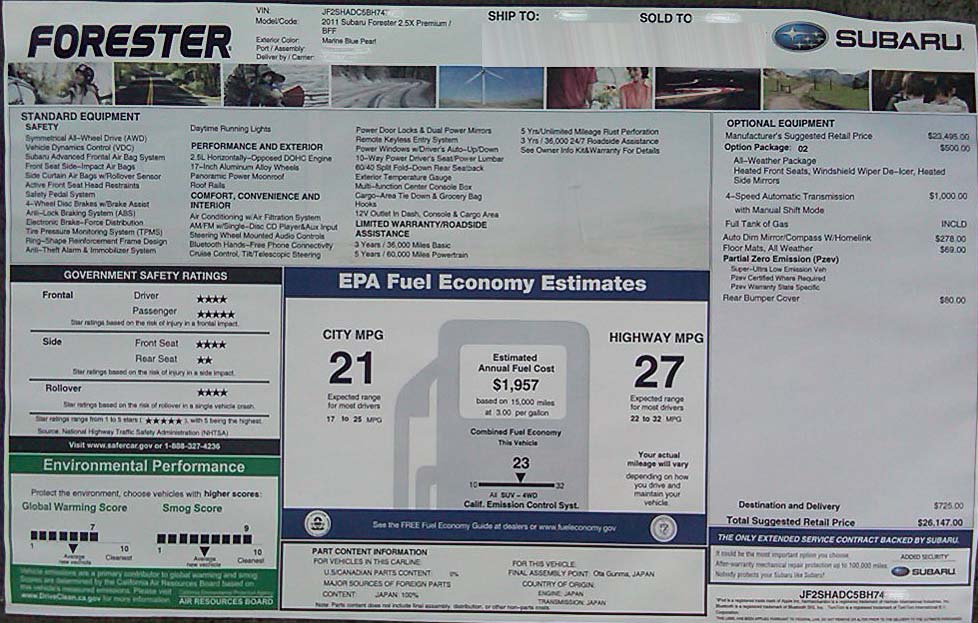 ---
2011 Forester XT Touring Window Sticker, with optional Navigation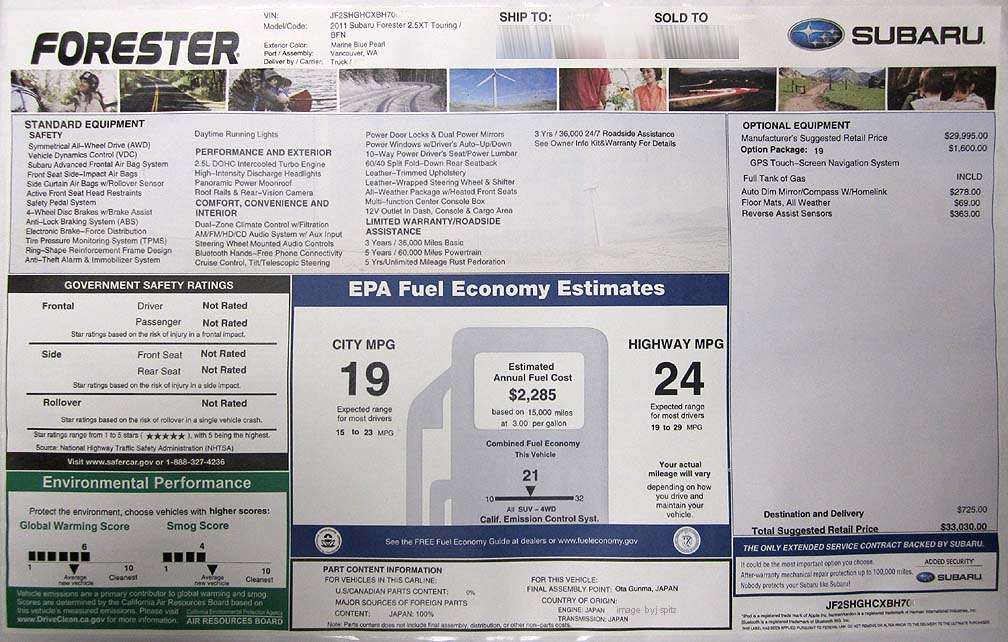 -
2011 Forester 2.5 X Premium, automatic transmission, all weather package #02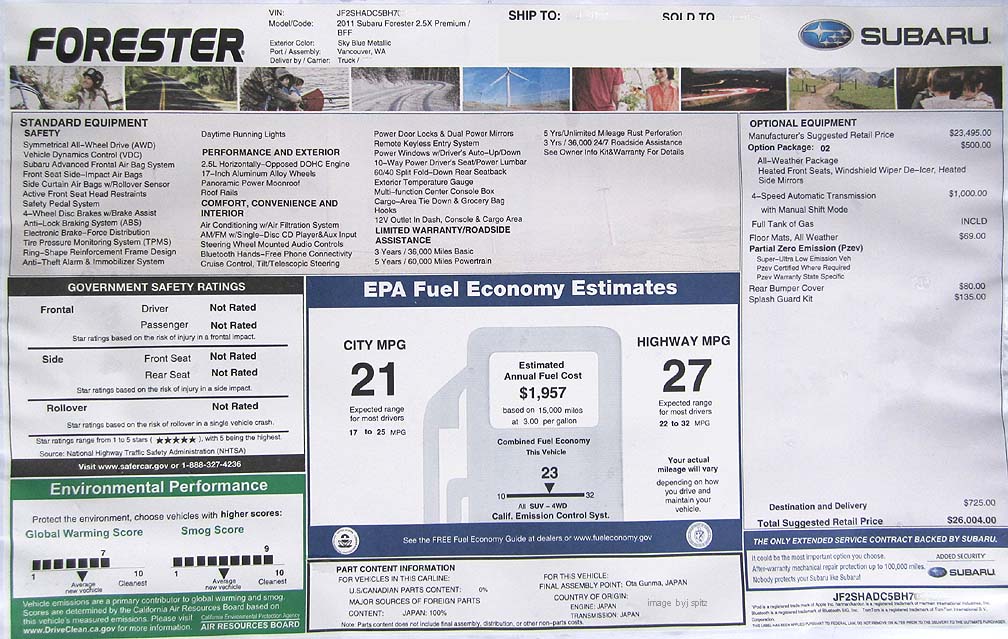 *
2011 Forester Premium with with portable Tom Tom Navigation GPS, Option Package #33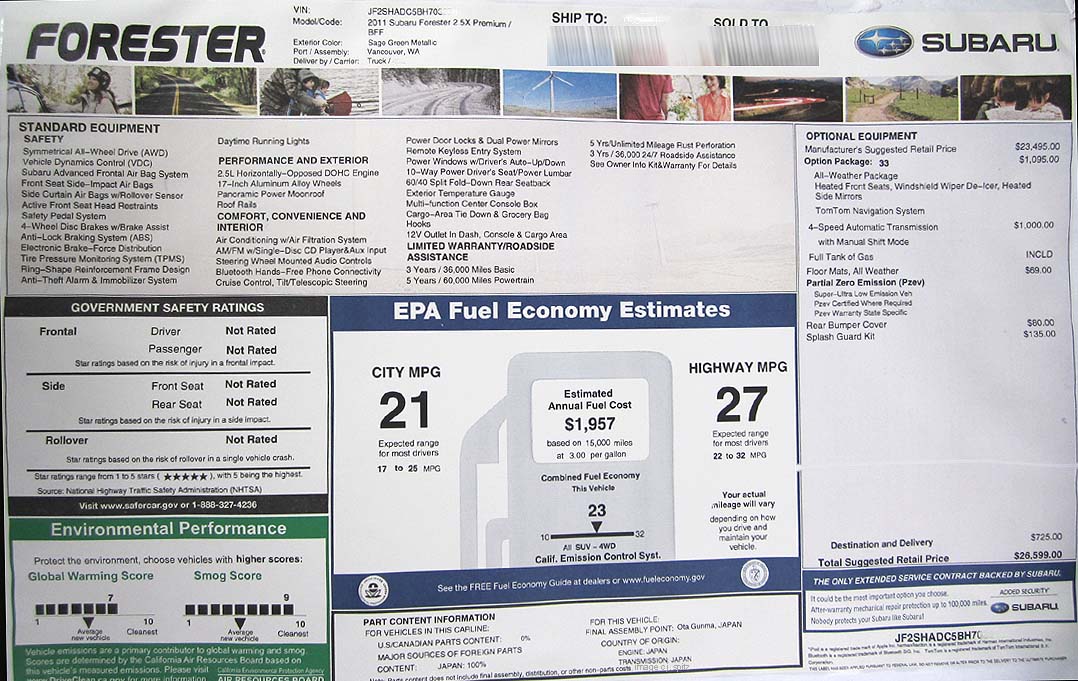 *
Subaru Forester 2.5 X Limited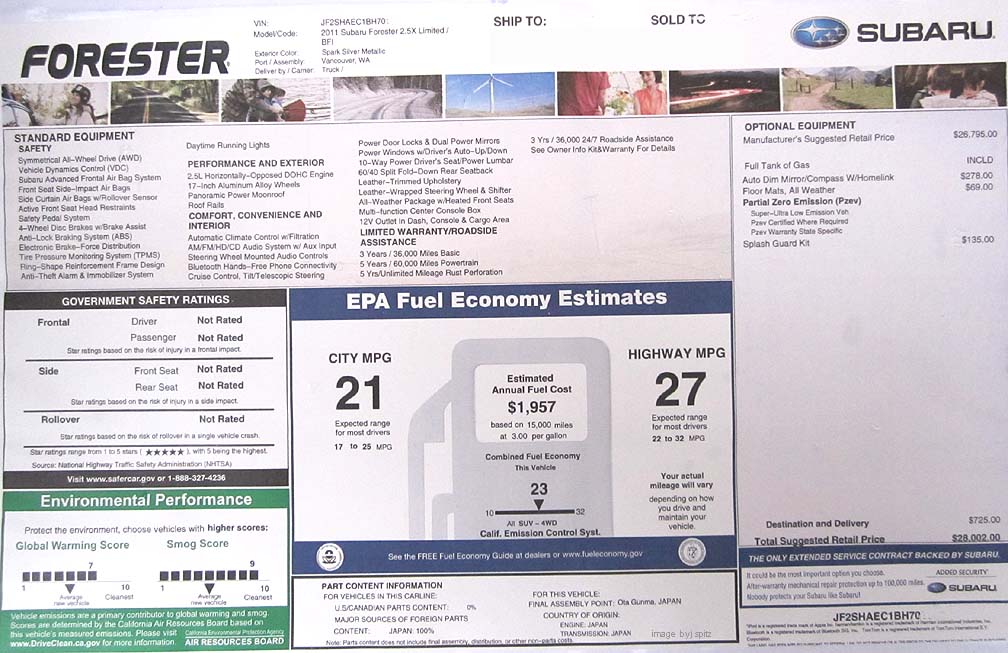 *
---
top
2011 Impreza window sticker
more to come, check back
cars will have different installed options. Image edited for size. May be before crash tests were performed
-

Impreza 2.5i Premium 5 door with Moonroof Value Package
notice this model has not been crash tested yet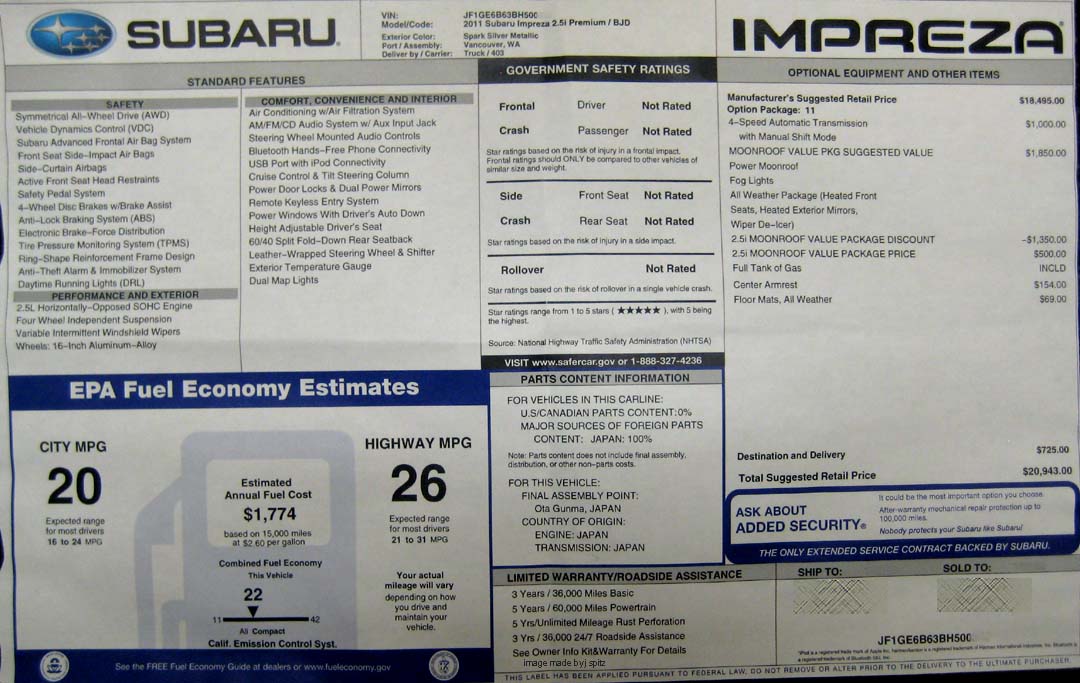 -
2011 Subaru Impreza Outback Sport with optional portable Tom Tom Navigation GPS, includes moonroof. Option package #32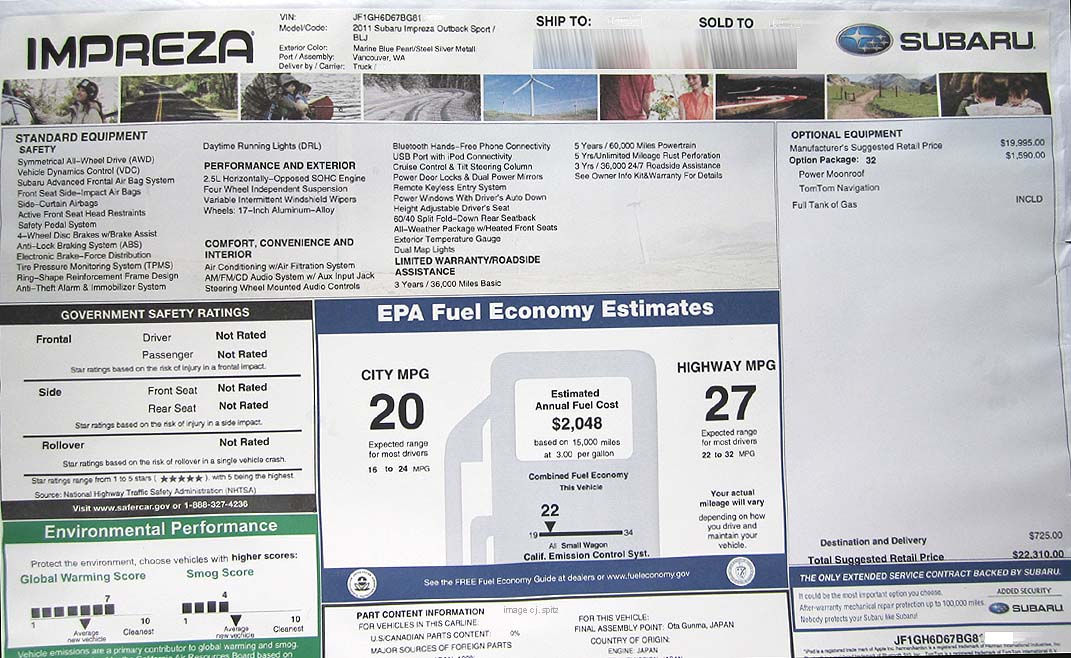 -
2011 WRX Limited 5 door with great optional equipment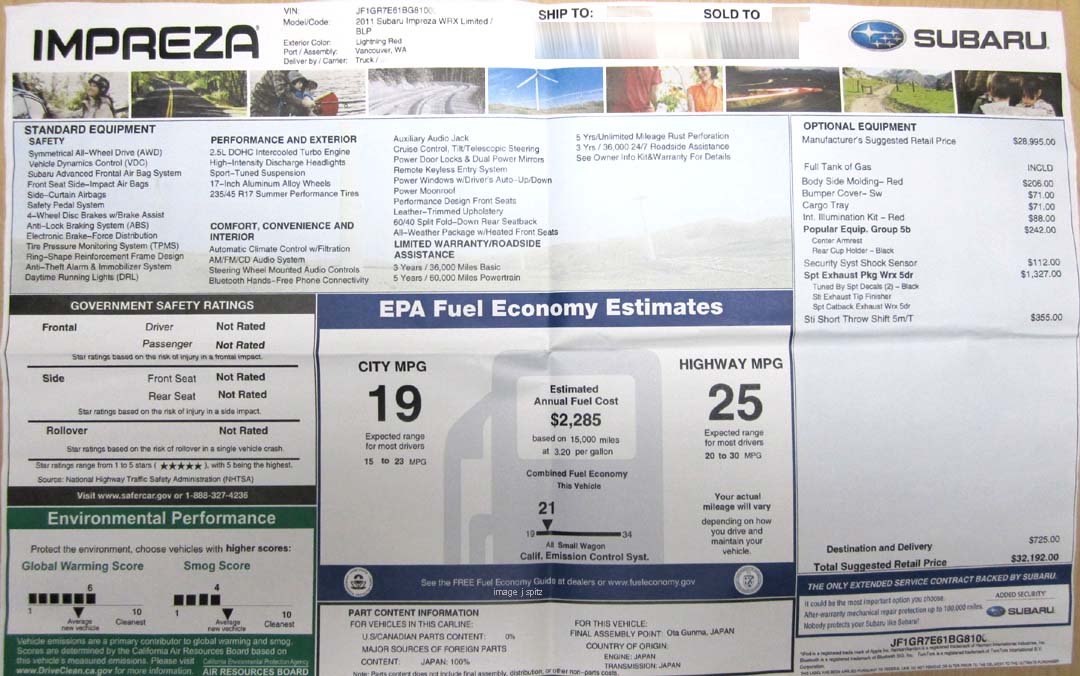 -
Impreza WRX Premium 4 door sedan
early car, not yet crash tested


---
2011 WRX PREMIUM 5 DOOR- NEW, REDESIGNED MONRONEY WINDOW STICKER, OCTOBER 2010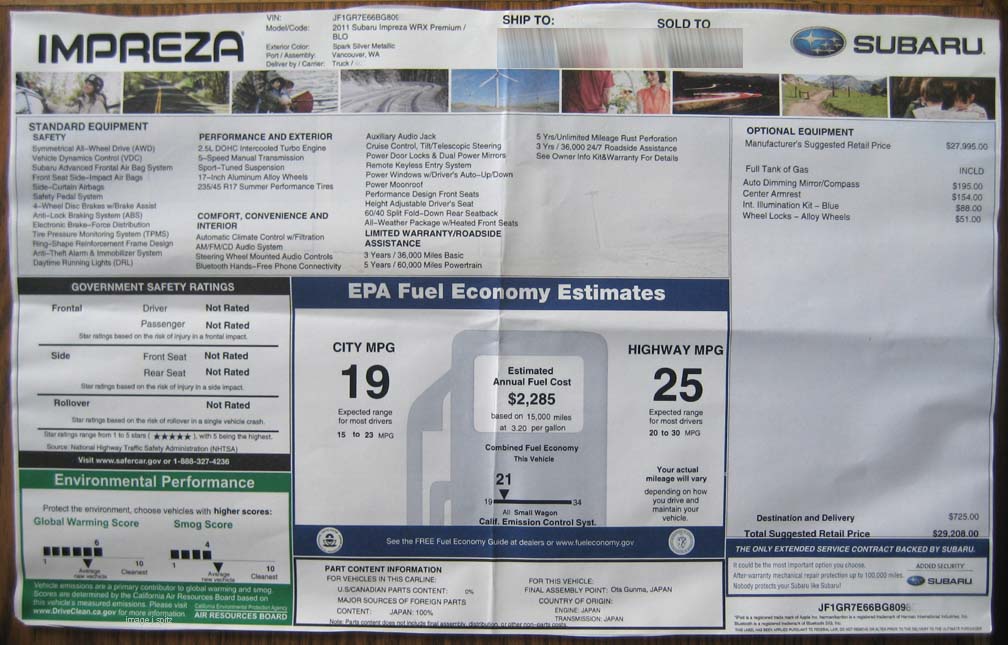 -
WRX Premium 5 door with optional SPT Catback exhaust
-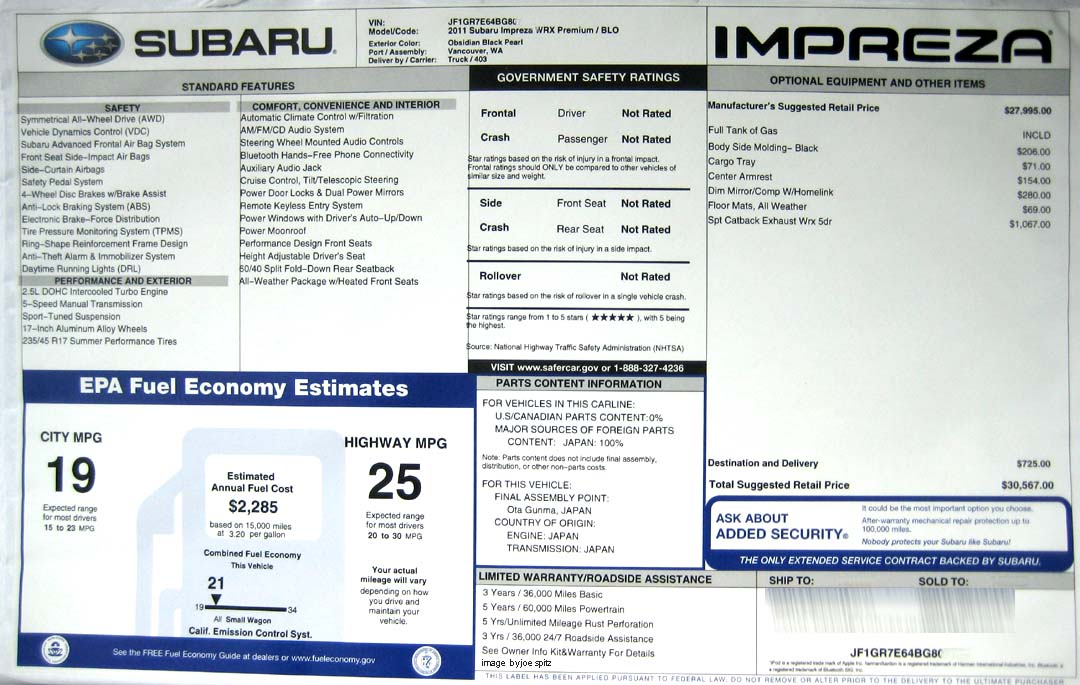 -
2011 Subaru STI 4 door sedan Monroney window sticker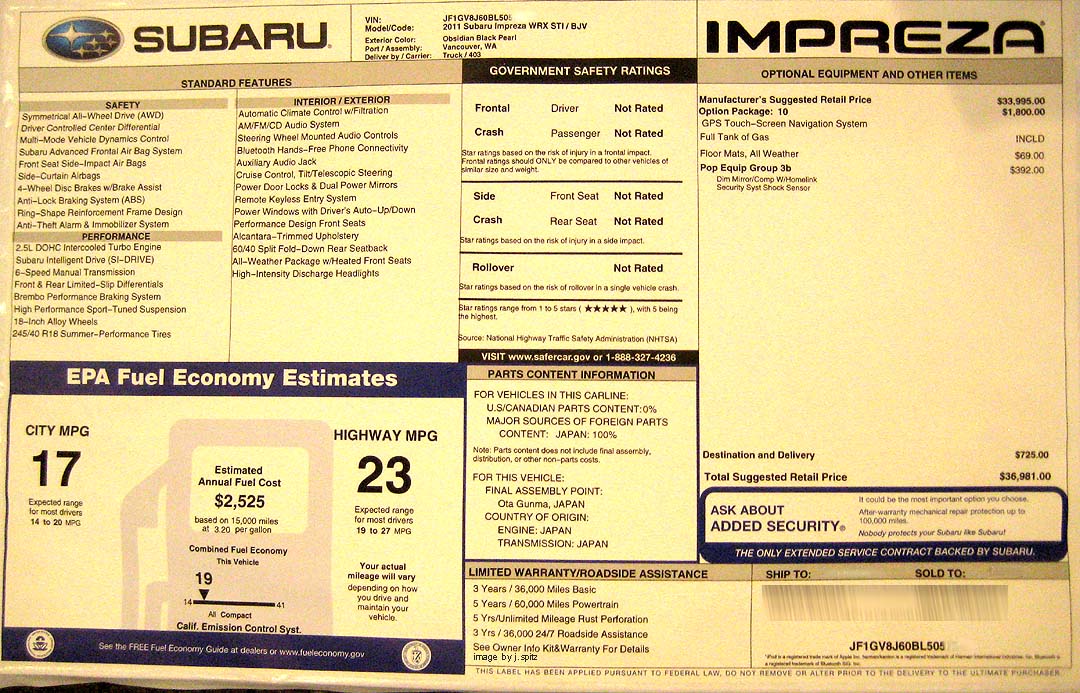 ---
top
2011 Subaru Tribeca window sticker
cars will have different installed options. Image edited for size.

2011 Tribeca Monroney window sticker- Premium (base) model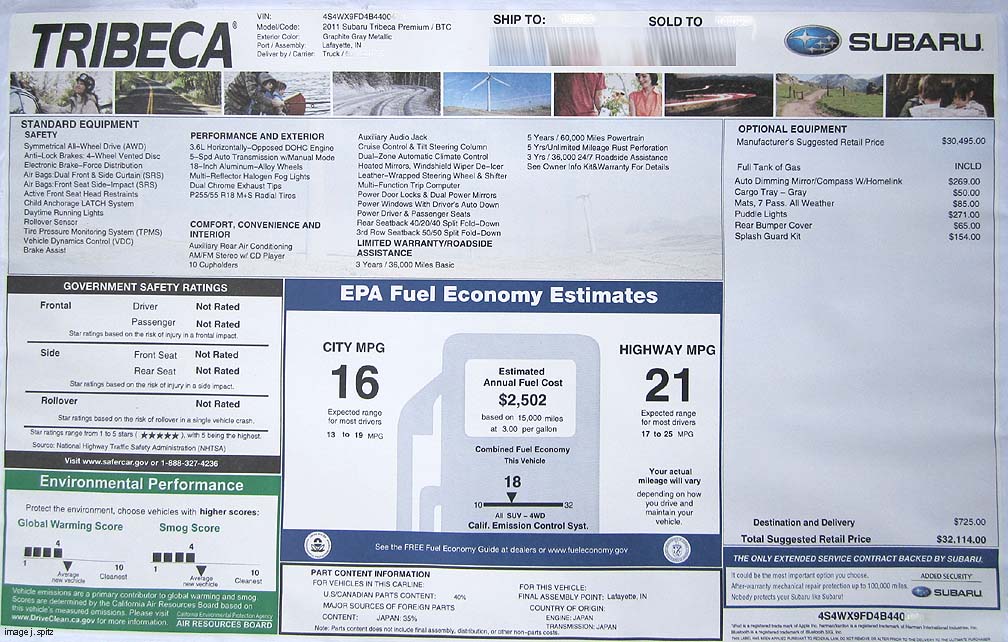 ---

top
the end