Subaru Baja information pages: research prices, options, colors, photos, specs, history, links...
current & archived specs

Homepage
Used Cars in Seattle
Sitemap search this site

Other sites
NADA, Kelly Blue Book, Carfax
Crash tests hwysafety.org, nhtsa.gov

March 2005 Consumer Reports, April auto issue: Subaru is highest-quality manufacturer In the US with fewest repairs per new car; Baja is a 'Recommended Buy'

RESEARCH THE SUBARU BAJA
Subaru 4 door all wheel drive truck made for 4 model years, 2003, 2004, 2005, 2006

Please read- this unofficial independent Subaru research site by Joe Spitz is designed to help you learn about Subarus. It is not sponsored, authorized, supported or approved of by Subaru or any dealer and is not connected to, or affiliated with, any dealer. Always contact your local dealer. Information always subject to change, correction.

pick the year to research
2006 | 2005 I 2004 I 2003
photos: 2005 canopy photos - 2004 photos

Baja production stopped April 2006.

Want to buy or sell one? They are only available used. Check my Baja forum, add a for sale or wanted message
My *unofficial* figures show a total of 33,132 produced. No, I don't have a breakdown by model or colors.

September 2005: The hard tonneau that is standard on the turbo is now available

The Baja was introduced in 2003 as a multi-purpose 4cylinder vehicle with room for four passengers and a cargo bed for occasional home and sport use. The introduction of an optional turbo in 2004 was hoped to widen the appeal. Based on the Legacy-Outback platform, some people call it the 'Outbrat'. In 2005 the turbo model with leather included a new hard bed cover (more below)


An unofficial independent website not supported, authorized, sponsored or paid for by Subaru or any dealership
comments welcomed. All photos, formatting, text © J. Spitz, contact
reproduction strictly prohibited
you are here: http://www.cars101.com/baja.html v 1.8.14
---
Whats New
Made by Subaru in Lafayette, Indiana
7/21/2009 Baja recall Subaru is recalling 15,633 20095-2006 Bajas for possible cracks in the fuel hose connection on the outlet pressure side of the fuel pump. Dealers will replace the fuel pump bracket including all nipples with a new and stronger design part. The recall is expected to begin during September 2009. Owners may contact Subaru at 800-782-2782 or the NHTSA safety hotline at 888-327-4236 . Recall #WVJ-20 from safercar.gov
2006 The 2006 Baja is expected at dealer in August. A new remote keyless entry system and security system is now standard, very few other changes. Prices, options, colors added July 2005. Only 3 colors for 06. Production stopped April 2006.
2005 available June 04. All models get power outlet in center console, rear seatback net pocket in center armrest. Turbo with Leather comes standard with new hard tonneau bed cover available November 2004. New optional Homelink available with the auto dimming mirror/compass available Novermeber 2004. New colors.
2004, available December 2003.new 2.5L Turbo model replaces the Baja with 2 models: a manual or automatic SportShift with cloth interior, and automatic SportShift transmission with leather, Heated front seats (no defrosting mirrors or front deicer were ever available on the Baja, see photo page) and more. The Baja Sport remains much the same with a few changes incl. medium gray interior trim, new exterior colors etc.
2003 Available in late August 2002, the all new 2003 Subaru Baja is designed to combine the practicality of a truck and comfort of a 4 door car with high-riding "rugged road" all-wheel-drive capability.
Many folks compare it to other similar but now gone car-truck combinations like the Subaru Brat, Ford Ranchero, Chevy El Camino etc. The front of a car and the back of a truck...
The concept vehicle shown in 2000 was called the ST-X ("Subaru truck xperimental") and had a SPT supercharged 230hp 6 cylinder engine, 8.5" ground clearance, dual range high/low 4x4 system, a canvas manually retractable sunroof, and the ability to carry a 4x8 sheet of plywood. The bed opened into the passenger area like the Chev Avalanche.
Many of these features did not make it into production.
The Baja production vehicle is based on the Legacy platform with the 165hp 4 cylinder 2.5L engine, and the running gear, brakes, interior, dashboard and high-riding suspension of the Legacy Outback, and of course the rear bed of a pick-up truck.
The rear seats and rear wall fold flat creating almost 7.5 feet of cargo bed length.
The Baja has 4 passenger seating with the most of the standard power, comfort and safety features found the 2003 Outback.
The first original 2003 Bajas all had leather interiors- 2 tone leather steering wheel and seating surfaces, power driver seat etc. When the lower priced Sport was introduced 5 months later in January 2003 with a cloth interior, no power seat etc, the Baja became known as the Baja Classic.
This unofficial page is maintained by Joe Spitz who is soley responsible for content.
For a no pressure shopping experience in Seattle contact Joe Spitz
Thank You, and Happy Car Shopping. Joe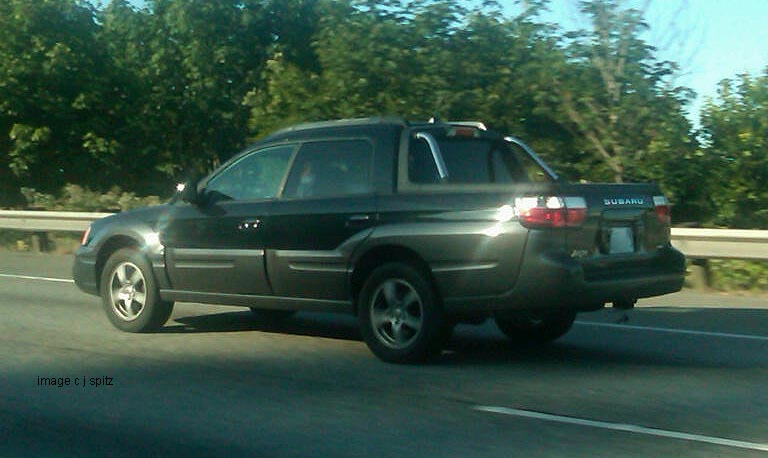 seen on the highway July 2011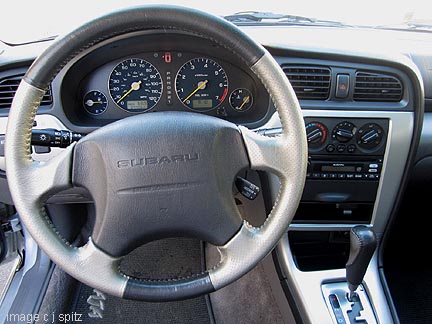 original 2003 Baja had a 2 tone steering wheel