RESEARCH THE 2013 SUBARU TRIBECA
an unofficial 2013 Subaru Tribeca Research Page. Includes options, specs, colors, prices and much more
an unofficial website by Joe Spitz designed to help you learn all about these fine cars .
Are you looking for the 2014 or the 2012 model specs?
-

ON THIS PAGE- photos- Updates and whats new for 2013 - Option Packages - 2013 Prices - Warranty and Maintenance Schedule - Mechanical Specifications - Safety Features - Dimensions - Cargo Dimensions - Standard Features - Option Packages - Individual Options - DVD, Navigation - Accessories & dealer upgrades - Interior colors - Exterior colors - Dashboard warning lights, emergency, flat tires etc - speed - Order a car -

--

Other pages- check out a full page of Tribeca photos, Monroney window stickers

Buying in the Northwest, Wa, Or, Mt, Id, Ak? Joe Spitz, internet sales, Seattle, Wa. selling Subarus since 1996 in Seattle. Contact -
subject to change, correction. comments, corrections welcomed. All photo, text, formatting © joe spitz :: unauthorized reproduction prohibited
Thanks for visiting. Like this site? Please tell friends about it, mention it online.You are here http://www.cars101.com/subaru/tribeca/tribeca2013.html v 9/7/13

Please read - this independent, unofficial, unauthorized Subaru research site is happily created and maintained by Joe Spitz. It is designed to help you learn about Subarus. It is not sponsored, authorized, supported or approved by Subaru or any dealer and is not connected to, affiliated with, or supported by a dealer. Always contact your local dealer. Inspect any car prior to purchasing. Information is always subject to change, correction, updating.
---
Homepage I Current Model FAQ, overview I Current interest rates & rebates I Contact I Sitemap
---
click for a page full of Tribeca photos
-


-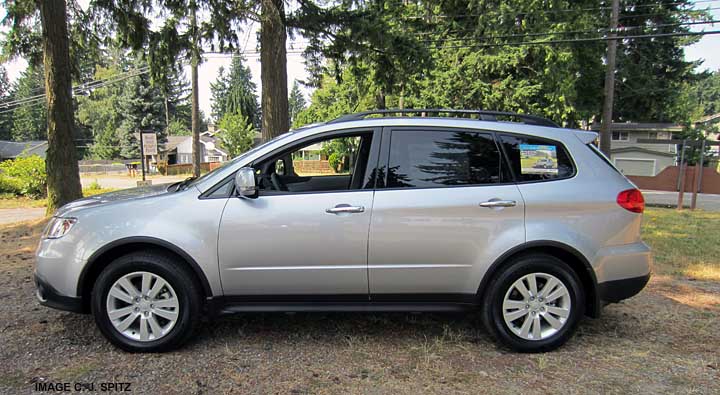 ice silver Limited with roof rails

click for a page full of Tribeca photos


Whats new, Updates, Notes, Comments
Tribeca homepage


8/6 recall- 202 2013 Tribeca and 2014 6 cylinder Outback and Legacy with the 5 speed automatic (the only transmission available with the 6 cylinder)
A total of 202 cars, 2013 Tribecas and 2014 Outback/Legacy with the 5 speed automatic transmission might have a parking rod that was damaged during assembly. As a result, the transmission might not hold in Park mode and might roll, or might not properly release when the transmission selector is moved out of park mode.
To minimize the chance the car might roll, always use the parking brake which is a good idea anyway. This is recall #WQJ-46, 5 EAT parking rod.

6/17/13 XM satellite radio upgrade on 2013 and 2014 models purchased on or after June 17th purchases
Any 2013 or 2014 model year cars with factory installed satellite radio purchased on or after 6/17/13 will get XM All Access free for 4 months (dealer installed satellite is free for 3 months). This is an upgrade over the XM Select package previously included for 4 months, and includes all the premium channels including NFL and Nascar radio, Howard Stern, and XM internet radio for home computers, tablets, and smartphones. Satellite radio is included with all 2013 AND 2014 Navigation systems, all Outback and Legacy Limiteds, Forester Tourings, and all Tribecas. Register for the upgrade and XM home at www.siriusxm.com/getallaccess

4/29/13 orders close early on Wednesday 5/1/13 for all 2013 BRZ, Impreza, Crosstrek and Tribeca
If there's something specific you want, these are the final days to special order a 2013.
8.8.12 2013 Prices and specs released.
The Limited is the only model for 2013.
The cars are expected late August
Premium and Touring versions have been dropped.
Few other changes
New- Brake override system (BOS) so when both gas and brake pedals are accidentally pressed at the same time, the brake overrides the gas and the car stops
Colors- New Venetian Red Pearl replaces Ruby Red

******************************************

-
2013 TRIBECA MAINTENANCE SCHEDULE
and new car break-in
-
-
the full maintenance schedule
Break-in period for the first 1000 miles
Don't race the engine, keep RPMs under 4,000 for the most part and vary the speeds with normal city/highway driving.
Break-in period for the first 1000 miles
Don't race the engine, keep RPMs under 4,000 for the most part and vary the speeds with normal city/highway driving.
3.6R models- the first oil change is required at 3months/3,000 miles.
Service schedule
Oil- Use 5W-30. Regular oil is ok, synthetic oil is recommended.
Subaru does have some conflicting information about regular vs synthetic oil. Synthetic is recommended.
Its required to replace the oil and filter every 7,500 miles or 7.5 months. With stop and go or hard driving, towing etc its recommended to replace every 3750 miles or 3.75 months
First oil service- the first oil/filter change on a 3.6L engine is required at 3months/3,000 miles.
7,500 miles/7.5 months- oil/filter service, rotate tires. equal tread is required on all tires.
15,000 miles/yearly- repeat 7500 mile service, replace cabin air filter, check hoses, belts, brakes etc
30,000 miles/30 months- 15k service plus replace air filter and brake fluid. inspect other all fluids, filters,
60,000 miles/60 months (5 years)- repeat 30k service plus spark plugs. 3.6L models use transmission fluid. 2.5L CVT does not.
90,000 miles/90 months- repeat 30k service plus replace all fluids, filters
105,000- replace timing belt on 2.5L models. The 3.6R Timing chain does not need replacement
Radiator fluid is Super Coolant long life. The first replacement is 11 years.
2.5L CVT Transmission: Life Time oil and should not need to be replaced unless driven under hard conditions, towing etc-change every 24,855 miles. Note- there is no CVT oil dipstick.
Radiator fluid is Super Coolant, with over 10 year replacement schedule.

-
WARRANTY
AN-

Bumper-to-bumper: 3 year/36,000 miles. Includes Wear Item warranty covering pre-mature wear: brakes, clutch linings, remote batteries, wiper blades etc.
Roadside assistance 3yr/36000 miles by the Cross Country Motor Club at 800 261-2155, break-down, lock-out, flat repair etc
Powertrain: 5 year/ 60,000 miles
Corrosion: 5 year/100,000 miles
Note Warranties do not cover wear or damage due to abuse, lack of maintenance or competitive driving. Exclusions may apply, wear replacement may be one time.
subject to change, correction.
top
--
2013 OPTION PACKAGES WITH MSRP LIST PRICE
-
Navigation is the same system used on all previous Tribecas
#01- standard, no charge
#04- Moonroof Pkg, auto dimming mirror/compass with 3.5" display rear view backup camera (by Gentex Co), black roof rails $1500
#08- Moonroof Pkg + Navigation, auto dimming mirror/compass, roof rails. Navigation GPS 7" touch screen, back-up camera, h/k 385w audio, CD changer, black roof rack rails, auto dimming mirror/compass, $3700
#17- Moonroof Pkg+ Navigation + DVD rear seat entertainment. Navigation GPS 7" touch screen, back-up camera, Harman Kardon amplifier with 10 h/k speakers incl subwoofer, black roof rack rails, auto dimming mirror/compass, Rear seat DVD system, 9" screen, wireless headsets, audio/video inputs, $5500
-
2013 FACTORY MSRP PRICE
your price might vary according to dealer mark-up or discounts.
subject to change, correction
-



Notes, Updates

Prices released 8.8.12.
No price increase for 2013 model.
Destination now $795 (was $775), Alaska destination now $945
Residents of CT, HI, MA, ME, NH, NJ, NY, RI, VT: price and destination may vary, please contact your local dealer
Navigation is the same system used on all previous Tribecas.
Interest Rates, rebates page

Option Packages
#04 Sunroof Pkg, incl sunroof, rear view auto dimming mirror w 3.5" backup camera display, black roof rails,
#08 Sunroof Pkg + Navigation/GPS Pkg, incl Navigation with back-up camera, sunroof, h/k audio,
#17 Navigation/GPS, rear seat DVD, sunroof pkg;


NOTE These are List prices. Your actual price may vary due to rebates, incentives, dealer mark-up or discounts, and options. Always contact your local dealer
subject to change, updating

2013 Model


base

dest

total
MSRP

.

option pkg
#04 $1500

option pkg
#08 $3700

optional pkg
#17 $5500

Limited, model code DTD

$32,595

$795

$33,390

.

$34,890

$37,090

$38,890

-
2013 SPECIFICATIONS
subject to change, correction, updating.

Basics: a mid-size, uni-body SUV with standard 7 passenger seating

Location of Factory
Subaru of Indiana Automotive factory, Lafayette, Indiana. Production started April 1, 2005
Engine
3.6L 24 Valve (code EZ36D)
Camshaft timing chain
Composite resin intake manifold
DAVCS dual active variable valve control system, variable valve timing
Sequential fuel injection
Direct electronic distributorless ignition
Spark Plugs: NGK SILFR6C11
Plug Firing Order 1-6-3-2-5-4
Ignition Timing 15* BTDC
Compression 10.5:1
Oil, oil filter capacity 8.5US qt. 5w-30 oil
Idle speed, parked, 700rpm +/- 100
Horsepower
256@6000rpm, torque 247@4400rpm
Transmission, gear ratios etc
2nd generation 5spd Automatic SportShift is standard. No manual transmission has ever been available on the Tribeca.
Ratios 1st gear: 3.540:1, 2nd: 2.264:1, 3rd: 1.471:1, 4th: 1.00:1, 5th: 0.834:1, Final drive 3.583:1 Reverse: 2.370
SportShift Manual mode max speeds will automatically upshift at: 1st gear 25mph, 2nd 59mph, 3rd 95mph
When cool the engine will shift at higher RPMs to shorten the warm-up time.

All Wheel Drive

VDC button

VTD (variable torque distribution) varies power electronically from front to back. Includes a limited slip rear differential. 45/55 front/rear power split,
VDC (vehicle dynamics control) stability control system or 'skid' control. When the VDC senses that the vehicle is sliding due to understeer or oversteer, it will use individual wheel brakes and/or reduce engine power to help correct the slide – adding to driver control. It monitors steering wheel position, wheel speed body lean and applies brakes and/or reduces engine power to help correct the vehicle path.
Traction Control System (TCS) all speed, all wheel 4 wheel traction control system which detects a loss of traction and applies brakes to the wheel or wheels as necessary.
Fuel economy-city/highway 16/21mpg
Gas: regular unleaded 87 octane
City/Highway 16/21 MPG
Fuel tank capacity
16.9 US gallons. Tank is safely located under middle seat. Low fuel light comes on with app 3-3.5 US gallons remaining
Brakes
4 channel, 4 sensor Anti-lock with Electronic Brake Force Distribution
Dual Piston Front, Single Piston Rear.
Size: 12.3" front ventilated disc, 12.4" rear ventilated disc
Steering
speed sensitive variable assist rack-and-pinion
Steering ratio
18.0:1
Steering wheel turns lock-to-lock
3.44
Turning Circle
curb-to-curb 37.4ft; wall-to-wall 40ft
Wheels
Alloy 18 x 8jj" Offset 55 (2.17) PCD 114.3
Tires
Goodyear Eagle LS2 255/55 R18 104H all weather MS, Raised Black Letter,
All with Tire pressure monitoring system (Needs to be re-synced whenever tires or wheels are replaced).
Tire Pressure Front 33psi, Rear 32psi recommended
Chains tire chains cannot be used due to clearance. If you do lots of winter driving, consider a set of snow or ice tires or possibly spider spikes.
Spare Tire
temporary, mounted under rear of car. Tools in cargo area and there a small storage bin as well
Curb Weight
Premium 4,150; Limited 4,214; Touring 4,256
Towing
Tow 3,500 pounds with transmission cooler and trailer brakes.
2000 pounds without transmission cooler.
Tongue weight: 200 pounds, 300 pounds with transmission cooler
Trailer brakes are required when the trailer and its cargo exceed 1,000 lbs.
Emergency towing: you can't flat tow a Subaru automatic transmission behind a tow truck or motorhome, you have to use a flatbed. In an emergency however, you can tow it for a short distance (under 31miles) at very slow speed (under 20mph).
Ground Clearance
8.4" at exhaust pipe
Angle of Approach, Departure
Approach angle: 17*
Departure angle: 21*
Ramp breakover angle 19*

---

-


2013 SAFETY
subject to change, correction updating

2013-2006 models are all Top Safety Picks with good performance in front, side, rollover, rear tests and standard electronic stability control.



3 middle row child seat tethers are on
the back of the seats


arrow points at the 3rd row child seat tether in the rear gate sill,
There are no 3rd row child seat anchors.

new for 2013 Brake Override System BOS

when both gas and brake pedals are accidentally pressed at the same time, the brake overrides the gas and the car stops
Brake Assist
senses panic stops and boosts brake pressure
Roll-Over Sensor
when a roll-over is detected deploys side-curtain airbags and cinches front seatbelts
Back-up warning sensor
Beeps faster as the vehicle gets closer to an object while backing up, starts beeping at 4-5 ft. With high-low-off' volume switch
Auto-off headlights, auto off with igntion
S, auto off with ignition. (daytime running lights are also standard)
Airbags
Dual front occupant sensing airbags, dual stage deployment.
Driver's front airbag knows where the seat is positioned,
Passenger front seat senses occupant weight
Roll-Over Sensor pre-deploys curtain airbags and tightens front seatbelts.
Dual front seat-mounted side airbags
Front and rear side-curtain airbags
Seatbelts
7 lap and shoulder belts. 2 front, 3 middle, 2 rear (opt). Outside shoulder harnesses are height adjustable
Child seat LATCH system
Tethers 3 for middle row, and 2 in optional 3rd row
Anchors, 2 in middle row.
Childproof door locks.

S

Tire pressure monitoring system
Measures tire pressure, a dashboard warning light illuminates when under about 27 psi. System needs to be re-synced whenever tires or wheels are replaced. See more below
Daytime Running Lights

S

5 mph Impact Bumpers

S

Side Impact beams in doors

S

Front and Rear crumple zones

S

Active front headrests

S

Rear headrests for all seats, adjustable

S

Safety pedals

the pedals are designed to minimize foot injury in a front end accident

Break-away engine

designed to drop under passenger compartment in an accident

Dead battery and rear gate locked?
Note: there is no key access to unlock the rear gate (ie no key in the rear gate), and if the car's battery is dead the only way to open the gate is to climb in the back and to get to a small lever on the inside of the gate, and then it can be opened from the outside. Or jump-start the car of course and then use either the remote or the power door locks.
-
2013 DIMENSIONS
scroll down for cargo room and seat measurements

Always double check and confirm all information before buying
Subject to change, correction.

model

7 PASSENGER

Passenger volume
133.5cf
Cargo volume (see images below)
74.4" with 2nd and 3rd row folded flat
37.6cf with 3rd row folded flat
Wheelbase
108.1"
Track front/rear
62.0"/62.0"
Overall Length
191.5"
Width
73.9"; 88.8" including mirrors
Height
68.1" with roof rails, 66.7" without roof rails
Head Room, front
40.3" no sunroof; 38.9" with sunroof
Head Room, 2nd row
38.2"
Head Room, 3rd row
36.2"
Leg Room, front
42.3"
Leg Room, 2nd row (depends on seat position)
34.3"
Leg Room, 3rd row (depends on middle seat position)
30.9"
Shoulder Room front/rear
58.1"/57.5"
Shoulder Room, 3rd row
51.3"
Hip Room, front/rear
54.0"/54.6"
Hip Room, 3rd row
51/3"
top

cargo dimensions

2013
(also 2012, 2011, 2010, 2009, 2008)

Cargo Capacity, Folding Seats

All seats folded flat- 74.4cf
behind 2nd row- 37.6cf
behind 3rd row- 8.3cf
Maximum Payload 1,464-1,560 pounds

Seats fold down- middle row 40/20/40, rear row 50/50


Cargo and Seat Legroom Dimensions: unofficial and hand measured
Subject to change, correction.
-

A 40" wide at bottom of gate, 44" at center
B 16.5"
C 44" to top of 3rd row headrests.
D 67-78" the middle row slides app 8" so it's a range
E 32" floor to roof
F 21.5"
G 43"
H 18.5"
I 13"
J 18.5"
K 56"


front seat to brake pedal goes from 14.5-23" legroom, shown at 23"


rear seat legroom goes from 9-18" legroom depending
on front seat position. Shown at 18"
(the box under the driver seat is for the navigation system disc)
top
-
2013 Standard Features


subject to change, correction, updating

-
Standard on all 2013 Tribecas



model code DTD


new for 2013 Brake Override System BOS- stops car when both brake and gas pedals are opressed at the same time


3.6L H6 engine with 5 speed automatic transmission
VTD all wheel drive system
VDC stability skid control system
TCS traction control system
Roof Racks: fixed position roof rack crossbar kit is the roofrack system. Upgrade to black colored Roof Rails as part of the sunroof package.
Courtesy lighting: center console, footwell, door courtesy lights
BlueConnect hands free phone calling
Power windows, illuminated, with auto-down driver's window.
Power locks, illuminated
Power driver's seat, 8 way, heated, with lumbar support |
Memory Driver's seat, 2 position
Power passenger seat, 4 way, heated, with lumbar support
Slate gray leather interior
Dual Front Zone Climate Control Air Conditioning
All Weather Pkg: heated front seats, front wiper deicer, defrosting outside mirrors.
Air Filtration System, for interior air
Front wiper: variable intermittent, de-icer to warm/defrost blades
Rear wiper: 2 speed, de-icer heats wipers warms, defrosts blade when frozen
Outside Mirrors: power, heated defrosting, with integrated turn signals
Leather wrapped steering wheel and shift knob
Tilt steering wheel (not telescoping)
Cruise Control with steering wheel controls
Integrated Rear Spoiler
Electro-Luminescent Gauges
Trip computer, 7" screen, with instant, average fuel economy, distance to empty, elapsed time etc
3rd row seating, 50/50 split fold flat easy tilt/slide middle seat for 3rd row access.
Rear Air Conditioning, cold air only, with 4 overhead vents and rear fan control
Super Coolant, long life radiator fluid.


standard on Limited con't

Overhead console with handsfree Bluetooth.
Lights- Daytime Running Lights are on when headlights are off
Lights- Projector low beam, multi-reflector halogen high beam
Lights- Headlights auto on-off with igntion
Lights- Fog Lights
Courtesy lighting: footwell, doors, overhead console, cargo area and tailgate
Tinted Privacy Glass
Anti-theft chipped Immobilizer key with small size integrated remote
Keyless entry with Security ignition disabling system
10 Cupholders: 2 front, 4 middle; 4 door bottle holders
Tire Pressure Monitoring System warns of low tire pressure at app 27.2psi
Power sockets, 12 volt, 2 in the front console, 2 in the cargo area
Overhead console with sunglass holder
Bright metal outside door handles
Dual exhaust, bright tips
Illuminated vanity mirrors
Sun Visors with extenders
Carpeted floor mats
Cargo area tie downs
Carpeted floor mts

No roof rails are available. Fixed postion crossbars are an option

Stereo upgraded 385 watt Harman/Kardon Premium Audio, AM/FM/ 6disc CD changer, MP3, 6 Speakers: 2 rear door dual cone woofer/tweeeter, 2 front lower door woofers, 2 front upper door tweeters, dual voice coil subwoofer, steering wheel controls, in-glass antenna, Aux plug, XM Satellite radio, 3 mos free. To activate, get your ID by tuning to Sat station 000, then call 800 547-8118

Request your free 'Badge of Ownership' Photos, link here

top
start options

c
2013 OPTIONAL PACKAGES
individual options are below

these are factory or port installed prices. Dealer installed prices will vary. Subject to change, correction,
-

Popular Package 1/3: (code TYG ivory, TYI gray) Roof rack fixed position crossbar set, Splash guards, Cargo tray, Cargo area cover, Rear bumper cover: $651
Popular Package 2/4: (code TYH ivory, TYJ gray) Roof rack Aero cross bars, Splash guards, Cargo tray, Cargo area cover, Rear bumper cover: $631
Utility Package 1: (code TYK) Auto Dimming Mirror with compass, Security System Shock Sensor, Puddle lights $576. na with moonroof package


end packages
top
start individual options

-
2013 OPTIONS
A= available, S = standard, -- or NA is not available

These are factory or port installed prices. Dealer installed prices will vary. Subject to change, correction.
-


Navigation System Includes rear view camera and XM satellite radio (800-547-8118 to activate) with roof fin antenna. Kenwood 7" touch screen. Uses yellow pages for phone and address look-up (no white pages). Computer and discs are under driver's seat. May be issues working with GPS in Alaska and Hawaii. Navigation disc updates from store.kenwoodusa.com

DVD rear seat entertainment system, Kenwood. 9" screen in headliner in front of middle row. Includes wireless headsets, remote rear audio/video inputs. Will also play through Navigation screen when the vehicle is stopped.


2013 option

model code

Leather, with vinyl trim. Non perforated. 3rd row is matching vinyl
Auto dimming mirror with compass $196. (standard with optional Navigation)
Security system, shock sensor $104
Remote Engine Starter $386
Rear Bumper Cover $67
Rear Dome Reading light, requires sunroof, $81
na with rear seat entertainment DVD
Luggage Cargo Cover Retractable $161
Luggage Cargo Cover, vinyl hooks in place $78
Cargo net, rear (by rear gate) $48
Cargo net, rear seatback: $64
Cargo Tray $50
Roof Rack, Fixed position Aero Cross Bars $215 (na with sunroof)
Roof Rack Aero Cross Bars, $195 - req roof rails includes with package #04, 08, 17
Roof Rack Cross Bars, Round $359 req roof rails includes with package #04, 08, 17
All weather rubber floor mats, 2 rows, does not incl 3rd row $60
All weather rubber floor mats, all 3 rows $85
Front bumper underguard $263
Hood protector $89 (dealer has to install)

Moonroof air deflector $89 req moonroof included in packages #04, 08, 17
Puddle lights, 4, located by each door under the car. $276
Splash Guards, black, $158
Trailer hitch, wired, with insert, Transmission Cooler $714. 1 1/4" receiver
Wheel Locks $52

2013 model
Subject to change, correction.

2013 Dealer Installed Accessories and Parts
Subject to change, correction.

these items and more are available from your local parts dept
Not all items are available on all models. Some items may be available factory installed, see option and option packages above. Installation can be done by your local dealer etc. Subject to change and correction of course.

Kayak Carrier
Bike Attachments- trailer hitch mounted or roofrack mounted
Roof Cargo carriers- standard or extended length
Heavy duty roof cargo basket
Moonroof Air deflector
Dog guard
Battery warmer
Engine block heater
Anti-slip cargo mat, 5 pass only (requires cargo tray)
Cargo area spotlight
Picnic/travel cooler-warmer
Rear bumper corner moldings
Car cover, car cover bag
Ashtray see 2006 photo page 2
-
2013 INTERIORS
same as 2011, 2012
scroll down for exterior colors


Slate Gray leather



Desert Beige leather



close-up of leather with gray stitching

more to come

colors change depending on the light. always see a color in person
Subject to change, correction
| | | |
| --- | --- | --- |
| Deep Indigo Pearl | crystal black silica | Ice Silver Metallic |
| satin white pearl | Graphite Gray Metallic, dark gray | new Ventian Red Pearl |
-
-
2013 TRIBECA COLOR BY MODEL
subject to change, correction
****

model

code

Deep Indigo Pearl (DIP)


Ice Silver Metallic (ISM)


Crystal Black Silica (CBS)

Graphite Gray Metallic (GG1)

new Venetian Red Pearl (VRP)

Satin White Pearl (WHI)

Limited
Slate Grey or Desert Beige Leather
DTD

beige leather

gray leather

beige leather

gray leather

gray leather

beige leather
top
Emergency: towing, dashboard warning lights, jump starts, flat tires
Always call a professional like Subaru's Roadside Asistance 800 261-2155 or your own emergency service folks. And read the owner's manual.
Information here is unofficial and subject to change and correction, and a Subaru trained mechanic should repair or diagnose any and all issues!
Towing your Tribeca:Tow on a flat bed truck only. However if you have no choice but to tow on the ground there's potential transmission damage, keep the speed under 20mph and the distance under 31 miles, and any damage probably won't be covered by the warranty!
Warning dashboard lights. Always take to a mechanic and have it checked out!
This isn't a full list, there's a lot more in the owners manual.
Subject to change, correction.

Low fuel light comes on with app 2.6 US gallons left.

Low tire pressure light TPMS- steady illumination when a tire is low, flashes there's a problem with the system. Take to mechanic.
VDC off light comes on when you have temporarily disabled the VDC system or when there's a problem with the system. Take to mechanic.
AWD light (AWD = all wheel drive) flashes if the vehicle is driven with mismatched or low tires which is always bad on an all-wheel-drive.

Indicates the transmission fluid is too hot. Slow down and avoid hard driving, hills, stop-go traffic etc. Take to mechanic.

Indicates rear differential fluid is too hot. Park, let it cool down and if the light goes out it's ok. Take to mechanic.

Indicates that there is a problem. Or a loose gas cap. Anyway, slow down and take to mechanic.
Jump starting
1.Connect one jumper to the positive (+) terminal on the dead battery and connect the other end to the positive (+) terminal of the good booster battery.
2. Connect one end of the other cable to the negative terminal of the good battery and clamp the other end of the cable to the strut mounting nut.
Flat tires
The Tribeca has TPMS Tire pressure monitoring. When a tire's pressure drop below appr. 27psi a dashboard warning light goes on. It doesn' t say which tire so check all of them. Using compressed tire inflator sealant may help get you home etc but will damage the TPMS sensor. When a tire or wheel is replaced, the sensor has to be programmed.
The spare is outside under the back.
To lower the spare, remove the subfloor storage lid in the cargo area, take out the jack and remove an access cover and cap. Get the hex-headed hoist shaft tool in the tool kit and fit it into the hole and put the wheel lug nut wrench onto it and turn it counter clockwise. Be sure to remove (not simply keep it open) the subfloor storage lid before turning the wheel nut wrench, otherwise the lid may be damaged. To replace the spare just wind it back up until you hear a few clicks and make sure the tire is tight.
---
Speed tests- if you know of one that show be here let me know
2008 Tribeca- from caranddriver, October 2007
yes this is a 2008 test but should still be reasonably accurate

Type front-engine, 4-wheel-drive, 7-passenger, 5-door wagon
Engine: DOHC 24-valve flat-6, aluminum block and heads, port fuel injection
Transmission: 5-speed automatic with manumatic shifting

Displacement: 222 cu in, 3630cc
Power (SAE net): 256 bhp @ 6000 rpm
Torque (SAE net): 247 lb-ft @ 4400 rpm

C/D TEST RESULTS:
Zero to 60 mph: 7.7 sec
Zero to 100 mph: 22.8 sec
Street start, 5–60 mph: 8.4 sec
Standing ¼-mile: 16.1 sec @ 87 mph
Top speed (governor limited): 128 mph
Braking, 70–0 mph: 173 ft
Roadholding, 300-ft-dia skidpad*: 0.77 g

FUEL ECONOMY:
EPA city driving: 16 mpg
C/D observed: 18 mpg
*Stability-control-inhibited.
Ordering a car
Usually takes 8 weeks. Any incentives are those in effect at time of delivery, not order.

This 100% unofficial page by Joe Spitz who is solely responsible for all information.
Information subject to change and correction, not responsible for typos, errors, omissions.
This site is not authorized or supported by Subaru or any dealership.
Tips, comments welcomed.
homepage, contact
Many thanks, Joe