Subaru Customer Comments to Joe Spitz
What buyers of Outback, Forester, WRX, STI, Legacy, Crosstrek, Tribeca, BRZ, Impreza have to say
comments and photos are welcomed Some letters have been edited for brevity or spelling.
YES its true that I also get emails from people who didn't buy from me, from folks who aren't happy. Some are angry at me because I don't spend enough time replying to lengthy emails or to emails with fake names or phone numbers. Some are angry because I asked if they wanted to buy a car, or they're angry at car dealers in general, some don't just don't like me and are angry at me.
Those emails aren't here.
Home page? send your web page address, I'll put it here. It doesn't have to be about cars.
Jim Koscs- automobile writer and reviewer http://audamotive.com/
Came up from Oregon http://users.kattare.com/~jalltucker/
http://homepage.mac.com/supermarkus/PhotoAlbum1.html
She sells Real Estate in Seattle: Forester from Serena
Thank you to all who have sent letters and emails!
Joe Spitz, internet sales, Seattle contact - homepage
Thanks for visiting. you are here http://www.cars101.com/customer_comments.html Updated 11.2.14
-

Dan, Kiersten, thank you for the photo of your new 2015 Outback pulling a trailer. October 2014




hers and his... a 2009 Legacy and 2011 Outback, both steel silver. September 2011


Joy B's 2012 Impreza Sport in Washington State, December 2011


Karen V's 2012 Impreza Sport Limited on the beach, Washington State, 12/2011


2011 Forester at Trindad Beach in N Ca, Marine Blue


2003 WRX I sold to Alaska, thanks Eric W.


2010 Forester being driven up to Alaska


what a great fold out roof top tent! Thanks Kevin & Amanda C, 2010 Forester


Ella is the dog next to her Subaru, Jan 2011

Chris ordered this 2013 Outback 3.6R with wheel arch moldings. Then he added the rally armor mud flaps and cargo box

emails and letters, comments and observations
********************************
Hi Joe! We has a calm 4th and absolutely love the car.  I already got a parking ticket too:). It's perfect for what we need it for and very comfortable and meets all of our standards.  Thanks for taking the time to work with me in getting this car.  I really appreciate it. I've been meaning to call you back but the baby keeps me busy
and not letting me sleep much. On a scale of 1-10 we are 100% satisfied not only with the car but the service that you offered us as well. So 10 is out score. Thanks KI, July 2013
---
I never thought I'd say this about buying a car, but it was a pleasure buying our Forester from you! T and R, July 2013, 2014 Forester

---
We think that we made a right choice with buying a Forester, and are pleased with the kind of customer care we've received so far from you and your dealership. Thanx again, and will surely recommend your dealership to friends and family. 10 out of 10 seems like a right rating. Mike Z, 2013 Forester, February 2013

---
Hi Joe, I'm back. I absolutely love the Forester. It drives like a dream. I haven't played with the stereo much, but have made several phone calls through the hands-free system. This car is so far advanced technically from anything
I've ever had, it takes some getting used to. Since the start of my trip, I've averaged 25.5 miles per gallon. I filled it up (wasn't empty yet!) in Kalama on the way back home and haven't had to fill it yet.
Happy, happy! KS, 2013 Forester, October 2012
---
Except for the fact that the car is SO much smarter than I am, we LOVE it. I am actually reading the entire manual!
We were most impressed with the time and patience you had to help us set up the Bluetooth system and to show us the tricks of downshifting and on and on and on. We have never had this kind of tutorial or concern from any Subaru salesperson, and we are in our 8th Subaru between us. Kent commented that you have sold a car and gave us great care and treated us with respect and no begging or threats ( we have had both at agencies in the area) and, though the sale is complete, you are still with us! Awesome!
We have told everyone about our Joe friend and about your fine agency. I nearly had my neighbors convinced to come down to see you when they happened into a Volvo agency in Bellingham and found a 2009 with 100 miles for very little money. I will keep at the task since many friends are envious of our new red chariot. We appreciate your time, continued contact and concern and, believe me, if there is a question, we will call.
Again, if you are in the area, feel free to call and come visit our home. Sincerely, K and D, 2013 Outback October 2012

---
Sorry I missed your call yesterday.Everything with the Impreza is working out wonderfully. We are really enjoying the car and starting to get the hang of all the functions. Thank you again for all the help. It was amazing process for me. I always heard horror stories about how difficult it is to purchase a new car, and you made it very easy. I was incredibly happy by how straight forward you were. Thank you! J.A., 2012 Impreza April 2012

---
Dear Manager, Thanks for your email regarding the purchase of our new Outback. We felt Joe Spitz and Travis (loan manager) were both great to work with. Very knowledgeable, without making us feel like we were being pushed to buy from your dealership. We had already been to one other Subaru dealership before coming to you folks and the difference was refreshing. We felt you were fair with us and will give us excellent service in the years to come. Of course we will recommend you to our friends. Sincerely, B and P McM. Granite Falls, Wa. March 2012

---
through Joe Spitz and received great service. I first started researching about the car a few months back and came across cars101.com. The site is maintained by Joe and is very well detailed and offers a lot of information about Subaru. I gave Joe a call and received the best offer out of the gate compared to two other dealerships. He is fair and honest and extremely easy to work with. I will definitely be back here when I need a new car. Thanks again for making my first car buying experience amazing!
---
Hi Joe, it's been quite a while since we took delivery from you of our brand new 2006 Subie Outback 6 cyl. 3.0. What a gem that vehicle has been to date! 87k miles and still running strong. Three years ago, we picked up a used '98 Outback locally here in Eastern Oregon. It has the 4 cyl. engine and true to character, we just had to have head gaskets and radiator replaced. Also, as with some of your other contributors, we too have had squirrels munching on the high tension ignition wiring, so had to replace those. Despite having had this second vehicle all that time, I only recently had occasion to open the Owners Manual, and what should I find? A sales contract and business card, from none other than Joe Spitz! How weird is that? In the middle of the Grande Ronde valley with a population of less than 25,000 in the county, that the car we picked up, was one you sold to the original owner-- way back in '98!


Love the six cylinder tho' it just purrs at highway speeds and still gives plenty of power when needed.
We keep telling folks to get in touch with you if they need a Subaru. Not in the market yet, but will definitely come back to you when we
are ready again. Every best wish M and E L., Oregon 11/2011

---

Dear Joe, I want to thank you for the exceptional personal service you extended to theis 'foreigner'. I've learned this month that Doctors are at the top of the list of "hard to replace". Right by them is 'my' dealership where I had been a customer for years and years. I can check that off my list to find now. Thank you!
Your direct, honest approach was refreshing and very appreciated. You do more than sell a person a car- you remove the mystery of what is the best buy etc, advising and educating the consumer in the process.
Thank you so much!! I'm enclosing a bit of Texas flavor as a thank you. Hope you enjoy the story inside and the boot scottin music inside. Kay T, June 2011

---

(on Yelp 5/30/11). I can't speak highly enough about this dealership and particularly Joe Spitz. He was very personable, up front, and honest. He's a great guy to talk to if you just want to skip the nonsense and get a reasonable price. Highly recommended. If nothing else, shoot him an email, he's happy to help you regardless of your circumstances. http://www.yelp.com/user_details?userid=h3j5zej-0xt4O_a8baKHNw

---

Hey.....so far I love the car. Very solid feeling, and everywhere I look it's really well built. I drove the old 240 series Volvo's for years, as they were bullet proof,and this appears to be the reincarnation of them. Kinda wishing I'd sprung for a sunroof now, but will maybe treat myself next time. No big effort really, as I combine it with a visit with family. Cheers, AO in Canada, March 2011, 2010 Forester

---

Hi Joe, We are very much enjoying our new car. We have a mile of mud/gravel to get to the main road and that's why we bought it, but I cringe hearing the mud flap :(
I bought the dog a nice dog bed that fits in the passenger seat and a blanket for when she is in the back. She goes just about everywhere we go. I am enjoying using manual coming down our road. In first gear I only have to use the brakes twice. Thank you for all your help. We will definately call you with any questions and recommend you to any of our friends looking for a Subaru. Regards, SR and VJ, 2011 Forester, 1/2011

---

Thanks for the note, Joe! It took me a little time to get used to the new car, so I wanted to hold off on writing you. Here are my thoughts: We enjoyed doing business with you. Once we settled on the price (you drove a hard bargain!), I really appreciated your straight talk about the options.
In terms of the car itself: I really love it! This is our third Outback, and each one keeps getting better. The car drives incredibly well -- very smooth and solid on the road. We've already been up to Stevens Pass three times and felt very safe and secure on the road. The engine feels a lot more powerful than our other Outbacks' engines, though they're all four-cylinders. It's a quiet ride, and the various controls are well-positioned and intuitive to use. I am glad we got the short-throw shifter, as it makes the six-speed a lot of fun to drive. I absolutely love the back-up video camera and agree with you that it'll likely be standard on new cars in a few years.
I'm surprised to find that I like the hill holder. I've been driving standard for nearly 20 years and never had it, so I scoffed. But, truth be told, I have to drive out of a very tricky downtown garage several times a week. It has a steep grade leading up to the ticket booth, which the hill holder makes much less aggravating. I like the stereo (stock system that comes with the premium) and also appreciate the bright interior lights. The back seat is really spacious.
Things I'm less fond of are the seat warmers and moonroof. Though I'm thrilled to have the seat warmers after driving our 1999 OB every day, I find that the high setting gets very hot, very fast, and the low setting is so low I can barely feel it. The controls on our 2006 OB, which dial through several levels, are better. And the moonroof is a bit disappointing after having the double moonroof on our 2006. It's really small, and the tilt mode opens it up only an inch or two. But, again, it's a big step up from the
1999 I've driven all these years.
Thanks again for working with us. The whole transaction went well. I even sold our 1999 Outback in record-breaking time. I posted it on craigslist the day after we picked up our new car, and it sold 22 hours later for the Kelly Blue Book price ($6700), with two guys wanting to buy it at the very same time. I sold it to the guy with the cash in his pocket. It was sad to see him drive it off until I got into our shiny new one!
Thanks again, and best wishes for the new year -- MB and LM , 2011 Outback Premium manual transmission 12/2010
---

Hi Joe, I'm loving the car! Works great in all this wet weather... not to mention all the potholes and crummy roads. Much smoother ride than my Protege5. I'm a pro with the heated seats. :) Thank you! PL 12/2010

---

It all went smoothly. I drove back to border around 2:30pm, 5 minutes in US custom, then 15 mins in Canadian customs, the guy over there even asked me how I got a such good deal, the we went to RIV office which is just across the street, I paid RIV fee and went home, today morning i got the form 2 from RIV by email, and I drove the car to Canadian tire for inspection, half hour done, everything was ok, no any modifications necessary, then I drove to the insurance broker, got the license on, time was 11am today. Thanks again for your help about everything. LG in Vancouver BC, October 2011. used 2010 Subaru Forester

---

My husband and I went out of our way to seek out this dealer and sales person, upon the recommendation from our son. (There were other dealerships far closer.) He was right on with this person.
We never felt any pressure. He was extremely knowledgable not only about his own product, but with our questions of others as well. He made this an enjoyable experience. We had no burning desire to buy a car during this visit, but Joe made it so easy that we actually did buy a car that day!
Would that there could be more salespeople like Joe Spitz. Thank you for our new Subaru Outback. We WILL be back when it is again time to buy another car! Judy and Joe, 9/10 2011 Outback Limited

---

Hi Joe, Greetings from Calgary. Clearing the car at Blaine Customs took 45 minutes. Clearing Cutoms and Immigration on the canadian side took 1 hour.
Everything went very smoothly. The car drove beautifully avering 32.4MPG. Joe , you are an Officer and a gentleman. We enjoyed doing business with you.
If you are ever in Calgary, give me a call and I will buy you a drink. Best regards, AR 9/23/10 2010 Impreza Premium

---

Hi Joe, Thanks for your call Saturday. Ironically, I was in the middle of waxing that shiny black Forester...I think I spent 4 hours at least, and doubled up the wax on the
hood and front. Everything is great and the car has surpassed our expectations in all areas. We couldn't be happier. Thanks again for your wonderful service. You might see me in this week as I have extras on order. Thanks again Joe and we'll see you soon. D. and J. R. 2010 Forester 7/10

---

On Yelp- I was in the market to Lease a Subaru - 2010 Tribeca Model. I went and checked out all of the other local dealerships and their inventory. I was most happy with the salesman I worked with - Joe Spitz at Carter Subaru of Shoreline. He was very knowledgable, not only in car specifications, but financing as well. He was able to
get me the best deal available locally. Joe can be reached at joe@cars101.com. His website is http://www.cars101.com
<http://www.yelp.com/redir?url=http%3A%2F%2Fwww.cars101.com> . If you are comparing models...this does a great job in explaining the differences, and options available. I am a satisfied customer and would recommend Joe to anyone looking for a new car. from Michael M, 6/10

---

LOVE LOVE my new car. love it. Just sent your contact information to my friend - she's looking to buy a 2011 sometime this summer. You can count on me for referrals in the future. Thanks, MT, 2010 Outback, May 2010

---

Hi Joe, The new Forester in working great, Cameron loves all the room in the back seat. It's a definite change from the last model. I'm not convinced all the changes
are to my liking but I'll see as I become familiar with it. Does seem a radical departure from Subarus of the past, more sedan, SUV like and less of the rugged
compactness of the traditional models. It is now the only Subaru in our fleet. I sold the 05 today to a nice young woman from Idaho who needed a safe ride for her 5 year old. Thanks for the service, I'll send people your way. See you again in five years or so. All the best, RC and DA 2010 Forester March 2010

---

Doing Well: I've bought several new cars over the years and all of the sales lines and strategies have been used on me, and I'd just like to say that I truly appreciate how straight up Joe Spitz was with us through the entire process. I'm one of those people who does my research before any large purchase, and I didn't feel like he tried to put anything over on me. That was refreshing. We live in a remote state where there is only one local Subaru dealer, and I fondly refer to them as "those extortionists over at .. ".
I was pleasantly surprised by my experience with Carter Subaru, and I would just recommend that they continue to recognize the wealth of information that is out there for car buyers today and to continue to be honest with people.
Improvement Needed: They don't need to change a thing. We bought our car over the internet from out of state, and had a very good experience. My only negative comment in the survey had to do with the car not having been washed when my husband picked it up, but I think that had to do with some sort of malfunction in their washing facility at the dealership. These things happen. No big deal. BA, 2010 Outback, Jan 2010 (note- she is correct, it was cold and hoses were frozen).

---

Joe, Absolutely no buyers remorse. except having a car payment for the first time in my life is a little nerve racking... I really got the exact car I have been wanting since I saw the first newport blue one on the road. Isn't it always about the color with us girls :) I also really like the subaru all wheel drive, reliability, and style. I still love my red vanagon the most, I like sitting up high, but the stress of never knowing when I was going to break down was getting to be too much. that and trying to drive in bad weather. The only problem with this car is that I do not want to drive it anywhere, If I had a garage I would park it in there and just go out and look at how pretty it is. I am so afraid someone is going to put a ding in the door. and I am afraid I will probably want to leave it parked if the roads are bad for fear someone will run into me. I am sure I will relax after the first ding. It has just been 19 years since I got a new car... last night was the first time I drove it. I went out to see my horse. I was so nice to not worry about breaking down on a back road in the dark rain. One problem though with the subaru is that it still smells too new. I am going to fix that by getting a bag of hay pellets to throw in the back and toss in some leather tack and my muddy boots and it will smell a lot better I think. I also can't get over the fact that I hear the engine up front. That will take some getting used to. My ears are trained to listen for explosion I am nervous about having my car in the parking lot at work tommorrow. I think I will park it way in back. I am sure I will see you again sometime if I come in for service or something. Thanks again for everything. AD, used 09 Outback SE, 11/09
---

Hi, Joe. The ride home was quick! I left the Seattle area at about 12:30 on Friday (noon), and was back in Fairbanks at that same time on Sunday. The car drove beautifully. I am smitten. The suspension is fantastic, as is the comfort level of the seats. I had no back or bottom fatigue at all after or during the trip, and the odometer went from 6.9 miles to 2178 between when I picked it up Thursday night and when I arrived home on Sunday! The steering is a little numb compared to previous model years and the front door panels rattle, but aside from that I have no complaints at all. Thanks again for waiting late for me to arrive and for all your service at the dealership! JT, Juneau, Ak new 2010 Forester, 10/2009

---

Day by day, in each way, we find additional affection for the lovely (2010) Harvest Gold Outback. Slowly we are beginning to understand it - and slowly it is beginning to understand us. We have begun (slowly) to apply the first of many coats of Armorall to the plastic surfaces. Deep peace reigns here in Brier. Thanks- E&C W, 8/09, new 2010 Outback Premium

---

Joe- Thanks so much for your very informative site about the 2010 Legacy. Though I bought from a dealer closer to home here in the Midwest, your site confirmed my research and I wish I'd just seen your site in the first place! It would have saved me so much time and visits to numerous other sites to collect the information you had organized so well. If I know anyone looking to buy, I'll tell them to read your information first. Thanks again! Matt in Mo, 2010 Legacy, My first Subaru

---

We like the car very much. Still learning the various features, but some are similar to our previous Cadillac. Thanks, we will certainly refer potential customers to you, should we have any. Cdr BW. 2010 Outback 7/09

---

Thanks for helping us find a good fit for our needs and wants. The used 2008 Outback has been just fine in sun and rain. And the tires - just rotated - are a good match for the car. Carter Service has been very helpful on a couple of minor things.
If there is one basic feature that I would improve, it would be to have the turn signals equipped with an adjustable volume control, since the audible signal is faint (to our 55+ ears) and it can be difficult to be sure that a signal has been turned on. (note- there is a buzzer that can be installed aftermarket)
Overall, a very nice car and quieter than our Saab 9-5. As a bonus, my wife doesn't kick the doors to keep them open when getting out (the Saab's heavy doors tended to swing back in). The other features that I particularly like are the lit displays of the center console, and the ease of using the air conditioning and sound system controls. I am looking for some kind of after market item that will hold my cell phone while it is charging. Thanks again for taking the time to help us sort out the options. J and A G. 2008 Outback, 6/09
---

Hi Joe We made it back safe and sound to Calgary on the way to Alaska. The drive was very scenic but a bit too slow; there was lots of road construction adding delays. I appreciate you checking in with us; I've never had a car salesman do that. Thanks for making the whole transaction easy and surprise-free. And for not pressuring us to buy lots of extra crap we didn't need. I will definitely recommend you to anyone I know who may be looking to buy a car. Cheers, DB new Forester 6/09

---

No Buyer's Remorse here, Joe. I have driven the car 150 miles so far and it feels like a typical Subaru, my fourth. I think it is going to be just what we wanted; a complete replacement for our 2000 Legacy Wagon and if gas stays below $3 we'll be really happy.
We appreciate your sales style, Joe, and would easily recommend you to any friends who are looking for a car. M will email a friend who has an older Outback now and wants to replace it. Thanks again. M & M, Woodinville, Wa 5/09

---

Hi Joe...ride home was good. She likes her car which is important. I like all the safety aspects of this car in snow country and being able to avoid a second set of tires and rims for snow. The only thing we'll do is sipe the during their first rotation. Thanks for making this purchase easy. Pat, Impreza, 4/2009

---

Everything is going great so far. I really like the way it feels to drive, I haven't had an AWD car before. At least we're prepared for the snow. TM 1/31/09, (Impreza Outback Sport)

---

Hey Joe, not sure if you will remember me but my wife and I bought a 2004 Red WRX from you in Oct 2003 and had a great experience dealing with you and recommended you to everyone we knew looking for a great deal on Subarus. Our Subaru has been an excellent car and now has over 71000 miles on it with zero problems, not ONE.
We are now living in Canada and I am in the market for a new car and I am looking at a car that is quite different from a Subaru but I am finding the experience horrible. It reminded me how much I enjoyed my experience buying a car from you and wished I was still living in the US and could deal with you again. Unfortunately I now measure all car salesmen against you and they dont even come close! Even your business manager was a great guy!
Not sure if you are interested in this kind of information but I was ranting and raving to my wife about how much I hate dealing with all this car buying crap and how I wish it was the same way when I bought from you and my wife suggested that I email you and tell you that :)
At any rate I hope things are going well for you and thanks again for my great car buying experience 5+ years ago. Take care, AQ 1/31/09
---

Joe, I just wanted to take a moment to thank you for you help during the purchase of my 2009 Outback. I love the car and am getting nice compliments about it from my friends. I really appreciate the deal you got for me and your knowledge about Subarus. Thanks again, Norm 1/09

---

I am very happy with Joe Spitz at Carter Subaru in Shoreline. The dealership was located about 80 miles from my home. I traveled there based on other customers reviews of Joe Spitz at the Carter dealer in Shoreline and it was well worth my time to travel there. After my experience with my local dealer when I purchased a 2006 WRX, I decided to travel to a better dealer. Thank you Joe! from JS, 09 WRX Premium, 12/08

---

Dear Joe, I just wanted to thank you for your patience, kindness and understanding. I really appreciated your matter of fact attitude. I love my new car! The Forester is delightful and my boys love it too. They expecially like the moonroof which they would keep open even in the pouring rain if I let them.
Thank you again. I wouldn't hesitate to recommend you and Carter Subaru to anyone buying a car. EK, 10/08, Subaru VIP, 2009 Forester

---

Car is great. I love the feel and drive of the car, not to mention the beautiful exterior. Thanks again for all your help, and well come to you with any further questions.
J and H, 08 Outback Sport, 9/2008.

---

Hello Joe, It's Jason. I am absolutely loving the Impreza! This is my first weekend since I have purchased it, and I am already taking the car, dog, and a friend out to Lake Quinalt. We are staying out there for a couple of days and are going to do some hiking, swimming etc. I purchased that bumper cover you recommended, some all weather floormats, and clamps to switch over the old roof rack attachments.. Also another interesting thing I figured out was how to improvise a little dog barrier for my Shiba. The cargo cover attaches to the car via some square posts..all I did was rotate the cargo cover 90 degrees up, and the cargo cover itself keeps him from making it over the seat..It obstructs my vision a little bit, but works! So all in all I am very happy with the car and it is pretty much everything I was looking for. thank you again!
JS, Outback Sport, July, 08

---

Just wanted to give credit where credit is due. Thank you to Joe Spitz at Carter Subaru in Seattle. I spent less than an hour dealing and got my 08 STi ordered and on its way. Great deal that couldn't be matched by any other local dealer I delt with. He also said that he would give me any customer or dealer incentives that would be around when I take delivery. He gave me thet price right off the bat. I recommend him 100%. 2008 STI, BC, May 2008

---

Dear Joe, I had a wonderful drive back to Minnesota in my very quiet, very comfortable, very good mileage new Forester. Thank you so much for all your help - I love my new car and the buying experience was perfect. Sincerely, JP, 09 Forester Premium, April 08

---

Hello, Joe, Thanks for checking in. The car is wonderful, and the engine is powerful. Just wish I had a bigger glove box or a smaller manual :) Also thanks for your good and efficient service when I bought the car. RS, 08 Outback, March 2008, Microsoft

---

Joe,
Just wanted to send a note to say thanks for all the help in procuring our new Tribeca. Through the use of your extensive web site and personal instructions things have gone very smoothly and our vehicle is registered, licensed and driving us around. At the border and insurance agent I met a couple of people who were not as fortunate in receiving accurate and detailed instructions from their vendors and who were having troubles or delays with the rigmarole of importing. I was able to offer a friendly hint based on your advice to us.
Love the vehicle and look forward to many years of care free driving. Love comments like 'it's gorgeous! I want one' – referred to you of course.
Have a great Christmas! Chuck and Jennifer B, BC, Canada, (Dec. 4, 07)

---

Dear Joe
Just to let you know that I have my car and it looks really good. I drove back from Toronto yesterday. It is a comfortable car to drive and it is the right size: it corners very well and has lots of pick up and go. In short a happy customer. The shipping and customs stuff went without a hitch and was relatively inexpensive.
Regards, Tom H., Forester X, (Canada, Oct 2007)

---

Joe, For your information I've got inspection notice ( Form 2) yesterday via e-mail, only three days after border crossing, and I sent my wife to Canadian tire today
for inspection. My insurance agent came to my house to do the paper work. All done and I've completed the process. Thanks, Dan K, September 07

---

"I just got through with importing a new 2007 Subaru Forester into Canada and I was really happy with the results so I thought I would share my experience. Granted, I think I got somewhat lucky and hit it at the right time (the 2008 Forester's are being sold in the US now so they are clearing out 2007's plus I hit on a $2000 factory rebate).
In the end, after every last expense I had to pay to get the car imported, inspected and insured, I saved literally 25% (everything converted to Cdn) off the price of buying the same new vehicle from a dealership here in Vancouver. Ridiculous but true. Of course, this percentage hinges a lot on the current strength of the Cdn dollar so keep that in mind. I was quite skeptical going in but ended up very happy with the result. My starting point was a website I found at http://www.cars101.com/, which has an entire section on how to import to Canada that is quite up-to-date and accurate. The site is run by a guy named Joe Spitz. He's the guy I dealt with directly. Joe was quite a breath of fresh air to deal with..." July 1, 2007 read the full posting

---

Joe, we just got home this afternoon. We used the break in schedule and got 33 mpg the first 500 miles. Then we hit mountains and it dropped a little. The whole 1620 miles averaged 31 mpg, including two days in Vegas. So, I'm happy with the purchase. Handles superbly, and has great pick up from all speeds. Thanks for your courtesy, it was a pleasure doing business. I'll fill out the Subaru survey when it comes, and I've already given recommendations to a few folks. Thanks again, Chuck, 08 Legacy, 5/07

---

Hi Joe, I just wanted to reported back to you that our drive back to Edmonton, AB was great in our new Outback. The border crossing was hassle free as I followed your instructions. The car gave great gas milage, the trip computer showed 26.9MPG. And this was driving relatively fast, averaging 70-85 mph through the mountains. Since I got back, there have been a lot of interest from my co workers and families, so you may be getting a few more calls from up here. I have also posted my experience with you and Carter Subaru at the following site, hopefully you will get a few more Alberta and British Columbia customers..." LH, May 30 2007

---

You are correct Joe - found the owners manual and the outside temp display - very cool! My daughters love it too which they never thought they'd say about a Subaru. Subaru has always been 'my car' (this is the 4th model I've owned) but they're sold on this one...Thanks again...WP, Alaska, 3/07 (07 Outback Ltd sedan)

---

Dear Joe, Everything went smoothly, my daughter has her new Suraru wagon and is delighted with it. The only small hitch was when the young lad who picked
up the car from you couldn't figure out how to turn off the running lights. One phone call fixed that. Again, let me thank you for your exceptional help in helping me to arrange for importing the car into Canada. You went way beyond what you were responsible for and I thank you for you kindness and attention. If anyone
I hear of wants a new Subaru, I will for sure send them to you with the strongest recommendation I can. Best regards, JS, Legacy GT, Alberta, Ca. (07 GT wagon) 2/2007

---

Joe, The car (07 GT sedan) is nice and I am really happy with it. Thanks for making it so easy, if I have any questions I won't hesitate to call. I.S. 2/2007

---

Hi Joe: Love the car. Need to put the kibosh on the DVD player as A (daughter) and one of her friends "made" me wait in a parking space while they watched the end of The Sound of Music. . . The power of two six year olds with a remote should never be overlooked. The puddle lights are very cool. I do need to follow up on the pedal extenders since I am so short but I feel very safe driving the Tribeca—driving a "modern" vehicle is quite lovely. Cheers, A&R P., Tribeca with DVD, Navigation, 8/06
---

Hi Joe, We're home now; it was a smooth ride from Carter Subaru. We like our new Legacy Limited a lot. Thank you. CL, East Wa, 07 Legacy 2.5i Limited sdn 7/06

---

Joe, the car is wonderful! I am so enjoying driving it back and forth to work....I need to find a different place to go, I think. Thank you for making it very easy on Sunday. We will let you know if there are any issues, but so far, so good. Again, thanks. SB, 06 Outback LL Bean, 6/06

---

The STI is wonderful. It is a very powerful car, and I now understand your repeated encouragement to drive with care. It is very easy to get to irresponsible speeds in this car. I am taking my time with (son) Martin in the car and we are enjoying the drive back home. Thanks again for everything.
BL, 2006 STI, Edmonton, Canada, 5/2006
PS. a few days later: My worst mileage stretch was shade under 25 mpg, while I logged a solid 28 mpg (!) between Vancouver and Kamloops.

---

Hi Joe, The car is great, I love it. I plan on reading the manual and I"ll call with questions! Thanks, JB, 2006 Outback, April 2006

---

The car is excellent! The more I drive it, the more I like it. I'm getting used to the size difference between it and my motorbike manuevering around town, and got it out on the highway this weekend for a run up to Snoqualmie. That model was definitely the right choice for me. Thank you again for your help, and for making it so simple.
Keith, 2006 Outback 2.5i Limited, 2/06

---

Joe, I just wanted to thank you for a very enjoyable car purchasing experience. Living up in Everett I had many options for car dealerships makes and models. My research really paid off. From what I had found out in all my Internet surfing, Carter Subaru is one of the best dealerships in the state. I can now verify that. The car is awesome. It has turn my commute from being a real pain to a great pleasure. The car handled beyond my expectations driving home tonight in the heavy rain. The automatic transmission makes the stop and go freeway driving bearable. I put in one of my favorite CD's, turned on the heated seat and my stress levels went down to zero. All my friends and family were very impressed, made allot of then jealous. Again thanks for all your help. Also just wanted to let you know your web site cars101.com was a great resource. Thanks, MJ, Everett, Wa 1/06

---

Hello Joe Spitz, John and I just wanted to let you know that we rec'd our new Forester this week and everything was as expected, and we are very happy with the car and the service that we have rec'd from you. Thank you for helping us to buy our new Subaru without stress and worry. Now I'm just concerned about Augustine volcano, which is erupting right now. I do have my tarp ready though to cover my new car, haha. Thanks so much, J and JL, Anchorage, Alaska 1/06

---

Joe, Thank you for your phone call the other day. The car is great. I am slowly breaking it in. It is a dream to drive. Thanks for the photos as well. My parents were happy to see I choose a good car. Honestly, I was not looking forward to the car buying experience especially after my experience at another dealer, however you made it a pleasure. Thank you for listening to me and finding exactly what I was looking for. You helped make this experience excellent and I appreciate your help.
Thanks again, MR, Impreza 2.5i wagon, Seattle, 1/06

---

To Canada
http://www.subaruoutback.org/forums/showthread.php?s=&threadid=3822
http://legacygt.com/forums/showthread.php?t=24153
---

Joe, Thank you so much for making my car purchase easy and worry free. I was completely satisfied that I was getting the best possible deal with no strong-armed sales
"tactics"... and best of all, I am thrilled with my '06 Subaru Outback. Sincerely, Kendra, Seattle, WA 12/05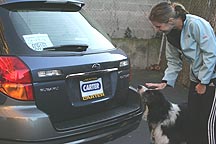 Kendra and her furry friend, 12/05

---

Hi Joe, The car arrived today here in Juneau. I went and picked it up this afternoon. It looks great. Thanks for all your help! LR, 2006 Legacy SE wagon, Juneau, Alaska 10/05

---

Hi Joe, Thank you very much for everything. I was careful with my drive and I followed your advice. After one hour drive in the WRX wagon, I had no doubt that this is a great handling and performing car. Your photos captured a great day! I wanted to take the opportunity and thank you for making this transaction so smooth and great. As a fellow auto sales person I have to compliment you for your performance, punctuality, thoroughness and integrity. These qualities are unfortunately diminishing in most businesses and people like you give "customer service" a true definition. It was my pleasure to do business with you and I greatly appreciate everything you did.
Best Regards, MH, in Oregon, 10/2006

---

Joe, thanks for the great deal on the 2006 Outback. It looks and drives great, no buyers remorse from me. I appreciate the time you took to show me the car and make the deal. I will definitely recommend you to folks I know looking for a Subaru. ER, 2006 Outback, 9/05

---

Hi Joe, After a week of driving the Tribeca and just past the 1000 miles, we love it. My wife's been driving all over and loving it. She seems to be running around for errands all the time. Fortunately she is out of town a lot (Flight Attendant) so I get to drive when she is not around. The handling is amazing. I haven't read the manuals but plan to do it this weekend. I also need some cleaning cloth and solutions for the leather (beige) as it does get dirty pretty fast. I haven't seen one on the road yet.
My brother is still shopping for his car. Regards, LD, 06 Tribeca with DVD, Navigation 7/05
Hi Joe,

---

Thank you so much for your follow-up with me on the Forester. Everything is perfect. We really enjoy the Forester and its utility. Now, I am getting the small desire to have a WRX again. When the 2006 WRX/STI literature comes out, let me know. And, if you happen to have a significant sale on 2005 WRX/STI's let me know. I know we really
enjoyed our 02 WRX and its performance. Again, thank you for your attention to the details and your commitment to total customer satisfaction. JH, 05 Forester, 6/05

---

Hi Joe, No problem - I called Chase Manhattan and they changed the address without a problem. Just thought you'd like to know. Thanks again for all the help getting the car. We are comfortably situated up here in Alaska after a nearly grueling 6 day drive up Hwy 97 and the Alaska Hwy. It was beautiful. And the car performed beautifully. We had the oil changed before departure, and in a few hundred miles we'll get it changed again. Take care, BC, 2005 Impreza Outback Sport SE, 6/05

---

Joe, Thanks for the letter.The honeymoon still isn't over with my Baja. People stop me on the street and ask me about it, even the wild life in the neighborhood comes round to check out my Carter Subaru! See attachments. SS, 05 Baja turbo with leather, 6/05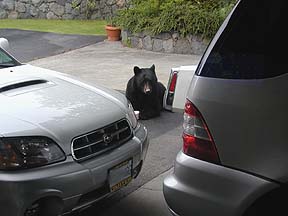 (notice the wildlife, it's a black bear)
---

Joe: It was a pleasure meeting you today. Thanks for the frank advice and guidance. We consumers certainly don't know the car market, options and etc., and I sure appreciate the sound advice and honesty. Both are sometimes rare in any business and it is good to have confidence in someone, such as yourself. The car drove very solidly home. A great ride, plenty of power to pull the pass, and very quiet inside. All features I was hoping for in the car. My wife loved it - an important component to family happiness. I will share your name with others looking for a Subaru. Alisa is the reference who gave me your name. I will pass on your exceptional customer service to others. Thank you. Gene S, 3/27/05, Outback 2.5i
---

Thanks for all your help. You made a traumatic experience relatively pain free! I love the car so far and can't see any reason for that to change. I do have to use cruise control on the roads here, as I can't "feel" when I'm going 50 mph like I could with the Toyota. Everyone I tell about the new car has nothing but raves about Subaru. My
boss told me that the Forester was her most favorite car ever. I also tell everyone how wonderful it was dealing with you. My son asked if I have an anti-theft device on the car. I wasn't sure and haven't been completely through the book yet. If not, he strongly urged me to get it but I never had one of those before. Anyway, thanks again for all your help. MD, 12/31/04, 2005 Forester X

---

Dear Joe, Just wanted to let you know that Nancy and I love the car, and that I really appreciated how smooth and effortless the entire transaction was. It was particularly refreshing to be able to minimize the hassle of negotiations and to get a thorough and efficient orientation to the car. I've kept your card and will certainly recommend you to anyone who asks about the car and is looking at Subarus!
I have gone ahead and contacted the Subaru America website, and sent them the following message: "Just wanted to let you know how happy we are with our 2005 Subaru Outback XT, and to also let you know how wonderful and truly hassle-free the purchasing experience was with Joe Spitz at Carter Subaru in Seattle. This was by far the easiest and most pleasant car purchase I've ever had. Mr. Spitz gave an extremely thorough and efficient vehicle orientation. I will definitely recommend him and the vehicle to others, and want you to know how great he is!" JS 12/9/04, 2005 Outback XT Limited

---
Joe- Got your note this past week. I couldn't be happier with the car thus far -it's comfortable, smooth and so much more powerful than my old '88 GL that
it feels like a 6 cylinder to me - and I really appreciate the sport shift feature! Anyway, thanks for your assistance - it was a pleasure doing business with you.
SG 11/04 2005 Outback 2.5i

---

Joe, Just wanted to send you an email to say thank you! The WRX is Great, Ive only got around 1200 miles on it so far. Oh and thank you for mailing the plates, they saved me a drive up there. Thanks Again! Russ H 10/04 WRX

---

Joe, Thanks for the inquiry and all your help in purchasing the car. I just sent off a "thank you" note to you, a first for me after a car purchase! Your professionalism, knowledge and integrity made this a pleasant experience for us. We haven't used the car since we drove home, but we sure like the way it looks parked in fron of the house! B. & D. L, 9/04, 2005 GT wagon 9/05

---

Joe, I've got your message. We love our new Outback! Heather digs it bigtime. I will give you top marks when the survey arrives. I have nothing but good things to say about you and Carter. If we buy a Subaru again, I will go straight to Carter. This whole experience has given me perspective on the Puget Sound Subaru dealers. In addition to being happy with our purchase, I must say that it's been very interesting to see how a very successful business like Carter does their thing. Joe, I am impressed and I will be back. Thank you, MW, new Outback, 5/04. Pt. Townsend, Wa

---

Hi, Joe, we arrived in Fairbanks yesterday after a 5-day trip. We had no problems, the car did fine, and the weather was nice until the last day. The Alaska Highway is paved the whole way.Thanks for your help in the purchase of the car.Regards, CH, 04 Forester, 5/04

---

Hi Joe: Just a note to let you and Bob Weintraub know how much we appreciate your assistance in getting our new car. We love the Subaru and were so happy to get the exact options we wanted. (Not easy for us Alaskans to achieve under normal circumstances.) You followed through with all your promises and made the transaction effortless. We were happy to reflect our appreciation in the Subaru survey which we filled out and returned. Thanks for everything. Sincerely, K& F S. April 04
---

Hey Joe. The car's great - no buyer's remorse. No problems with the Girl Scout cookies, either. I was like a 16-year-old this weekend trying to think up excuses to go drive somewhere. My brother-in-law was looking for a toothpick and I offered to run down to the store and buy some. He thought I was joking. Thanks, GM April 04, Outback

---

Thanks Joe. All is great. Thanks for making the purchase easy and truly "hassle free"!!! Steve D. March 2004

---

Thanks Joe! The car drives like a dream. Especially going up to Stevens and Crystal ski resorts. Thanks for making this car-buying experiece one of the easiest and simplest ways to buy a new car. And then there's always that new car smell. Love that too. Stay in touch. Gary and Jan, Outback Limited 1/2004

---

Joe, thank you and Dan (business mgr) for your professionalism.You made the buying experience very easy and enjoyable. All car sales should be this easy. We love the car and if anyone we know needs a Subaru, we'll send them your way. Again thank you and have a happy holiday. John and Kathi H. used Lincoln LS, Dec 2003.

---

Dear Joe, I took my Forester into the snow near Verlot for cross-country skiing on the weekend. It performed tremendously on the unplowed road! I got the extended
warranty wrapped up. Thanks for the deal. See you at my first oil change. Regards, Jana R, new Forester, 12/03

---

Joe, The Forester handled really well on my first trip over Snoqualmie Pass. There was a sudden hard freeze that turned the road into a sheet of ice and I had to wait 2.5 hours for a couple of jacknifed semis get untangled at the top of Easton hill. I got out of the car to talk to another trucker and could not stand up on the ice. I was thinking I needed studs for this car although these tires did fine on the ice. I never noticed it slipping at all. Sten and Linda B., 04 Forester, 12/03

---

Hi Joe, I LOVE the picture! This morning I drove to Tacoma and back and things were fine; it's interesting getting used to where everything is, AND to try to hold back on speed (for this break-in period)! I'm sure that I'll come up with some questions in the next few days so I'll just e-mail you, as it's the easiest way for me to communicate w/you given my crazy schedule these days. Thanks again for making the transaction relatively painless yesterday - spending money is always a pain, but you made it less challenging to part with it, PLUS what I just spent it on is SO MUCH FUN! Talk to you soon, Jennifer N. WRX wagon, 12/11/03
---

Hi Joe, WE LOVE THE CAR!!!! We took it over the pass yesterday evening, and it drove like a dream. We hit several icy patches on Blewett and were amzazed at how well it handled. I think we just became life-long Subaru owners... Thanks for all your help. You have been great to work with! L and AD, WRX wagon 11/03
---

Hey Joe: I just arrived home (Bend, Oregon). Thanks for everything you did to make all this happen. I still cannot believe that I own an LL Bean Edition Outback.... I never
would have gone this route until you made me an offer that I just could not refuse. The car is just awesome!!! Thanks you so much. I have been telling as many people as I can about it and who you are....I hope some of them give you a call...and I will continue talling people I run into the great service of Carter Subaru and the
fantastic salesperson of Joe Spitz....you are what makes carbuying a pleasure. I would like to write a letter to the owner of Carter Subaru telling him of
my great experience. Who would I send it to and what is their address? Thanks again for everything. SW 10/03

---

Joe, Car is great but... I'm like a kid in the candy store... can't wait to get that 1k miles on it. Got my bumper cover and armrest already. Thanks again. Jim WRX 10/03

---

Good evening Joe. I really like driving my Outback. I love the CD sound system. Frank has forward the picture to a lot of friends. Everything is going along fine and
we appreciate your help. Thanks. PBL, 10/03

---

Hello! I love driving my new SUBARUooooom! It drives so smoothly. I have 178 miles on it now. Over half a tank of gas still. I can hardly hear the engine after driving the diesel for six months. It is fun showing it to everyone. You know you should have left more business cards in the car. The back area is great. I am always hauling something around; it is just my height! I know I will love using it in my business. Thanks again for your help. L amd M J, new Legacy GT 10/03

---

Joe, Thanks for a friendly, professional, hassle-free buying experience. I have bought many cars over the years, including 2 Saabs, 3 Mercedes, a Land Rover, a BMW and a Porsche. This was my best dealership experience yet. I will certainly recommend you to my friends. Sincerely, Pete S. PS -- I love driving the car. Sept 5, 03

---

I am very pleased with the new car (Outback). Thank you so much for your wonderful help! I really appreciate it! I was very nervous but you were very kind and patient with me. Thank you again! I have told lots of people here at Swedish about you! Take care. Susan B., July 20, 03

---

Hey all, my STi hunt ends: After an exhausting search and contacting every dealer west of the Mississippi, and being told that there was no way I would find a car sitting on a lot for under $5K over MSRP, my search is over.
In June (2003), Subaru hosted their ride-and-drive at Firebird Raceway in Pheonix where all of the dealers sent staff to try the car. While there, discussions among dealers went as follows; "since every other dealer is charging $5K I guess we should too".

When the second allotment arrived the phone began to ring. All the dealers said "Your Blue car is here, $5K over sticker price ..."
After answering the phone all afternoon I finally just let the next call go to voice mail. Another dealer called. "If you are still interested in an STi, we got some in over the weekend, we selling for MSRP no hassles".

Well I picked my self up off the floor and called.
Not only did he have cars but after a 20 minute conversation Joe had my buisness and my deposit.
Another quick call and the financing was done.
The only thing was I would have to fly to Seattle from LA to pick up my car. And then drive it back 1100 miles.
Oh this was to good to be true :)
After the flight I arrived at the dealer and in less than 30 minutes I was on my way back to LA. THIS WAS BY FAR THE EASIEST CAR BUY I HAVE EVER BEEN INVOLVED IN. (And there have been many). Thank you, Joe. Mark J in Los Angeles, Ca. WRX STi July 2003
(this was posted on www.imprezawrxsti.com)

---

Joe, Thanks for the help you gave Wendy and me with the purchase of our two new Subarus a couple weeks ago. You made the chore of buying a car much easier with your "no games" pricing. There a couple of dealerships closer to where we live, but you made the drive to Carter Subaru worthwhile. Wendy and I love our new Subarus! My Baja holds my paramotor just great as you can see in the attached photos, and Wendy's new Outback takes on our 22-foot expedition sea kayak with ease. We have to go to Pullman in two weeks to pick up our son from WSU, so I am looking forward to the comfort of the Outback with its 6 CD sound system, cruise control, and AC. Should be a bit more fun than our previous trips! Thanks again for helping us out. Randy S, April 2003

---

Dear Joe, Thank you for all your help. I did the online line survey for the dealership and left a few nice comments for you. So I'm loving the car. Thanks for the help with the "ding". I would like to know what It would take to get an STi. Definately a white one. The fiance wants wants mine and I'm really thinking about stepping up. Let me know. Thanks. Jeff K, April 03

---

Joe, It's been a week since I bought an Outback VDC wagon from you at Carter Subaru. I am delighted with the car more and more as I learn its systems and capabilities. In fact, I am so satisfied with my purchase that I have not experienced the usual "buyer's remorse". Thanks for making it so easy. -Greg March, 2003

---

Dear Joe. Hi, my name is Andrew and I bought a WRX from you back in June of 2002. My father is currently looking at the Forester and I had nothing but good things to say about Carter Subaru, so he asked me if I could get you in contact with him. His name is Richard, and he can be reached at xxx-xxxx or alternately via email at @hotmail.com. Thanks again for a pleasant buying experience! Sincerely, Andrew, Feb 2003

---

Hi Joe, The car is great! I can't wait to reach 1000 miles so I can really see what it's made of. I was wondering when you expect my license plates to come in. Thanks again. -RD Jan 03, WRX

---

Joe, I just wanted to thank you for the buying experience I had yesterday purchasing my Blue WRX Wagon at Carter. As a busy professional who travels every week, I appreciated your prompt replies with inventory and prices. Being able to come in, drive a WRX, choose one, and then drive it out the door in less than 2 hours was a huge benefit to me. My wife was also appreciative of you going over the WHOLE car with us in person. She remarked that with our other 2 car purchases nobody had taken as much time as you did in walking us through the car. This experience shows me that you truely know your internet customers and can provide an outstanding buying
experience. I also wanted take the chance to tell you that Adam was the person who referred me to you. You can be sure that I will pass on your name to friends of mine who would like a Subaru.Thanks again for everything, Mike D., Jan 03

---

Joe: Thanks for the phone call last week. I have started this e-mail several time and it got put off. The 03 Outback is working great. I have about 700 miles on it. My only concern how to keep the key entry bobble from swinging around and hitting the column when I go over speed bumps. Have a nice weekend. Tom M January 2003

---

Dear Joe, maybe you remember me, I bought a blue Forester on 12/30/02. I just wanted to thank you for all your help. I never thought buying a car was so easy. I love driving it around and am glad I made the purchase. Right now I'm the envy of all my friends. If I hear of someone who needs a subaru, I'll send them your way. Thanks again for help and time. Happy New Year. Thanks again. Liz (Forester 12/02)

---

I got the car and I LOVE it! Just got here yesterday. It really is a beautiful car. There is only one other WRX in town, and people have been asking about it. I have been giving out your name and telling alot of people about Carter Subaru. I'm willing to bet you'll be getting some more business. I appreciate all your help. CR, WRX in Alaska October 02

---

Joe, The car is doing great, actually, it's more fun than I had ever expected. Can't wait to see how it performs in snow when the season comes. :) -CH (WRX 9/02)

---

Joe has the most data about Subaru's that I have ever seen. I was so impressed by Joe that I drove almost 250 miles from Salem, Oregon to Seattle to buy a 2003 Forester XS. He made me a great deal, which I could not pass up and the car is fantastic! Most sales people don't know the difference between the 2002 and the 2003 model. Joe's web site has all the details! I highly recommend Joe and would drive to Seattle again when I buy another new Subaru. DB, 8/03 (03 Forester XS 5spd)

---

Joe, The Legacy is absolutely wonderful! We have been having fun driving it all over the city. Yes, we are being kind to it, however.
Everything is smooth, new, fresh, clean, and good. We are very happy with our decision! Thanks again for all your time during this purchase. We appreciated it! MK August 02 (02 Legacy L)

---

Hi Joe, I absolutely love the car!!! That was the easiest car deal I have ever made....so thank you. Take care, AJ 8/02 (02 WRX)

---

Hey there, Joe - Photo looks great, thanks. And the car is stellar, we're both excited. Have already passed your name on to some friends, though they won't be serious for another few months. Take care, BS August 02 (01 Legacy L)

---

Well, the car is blast to drive. As you know some rattles appeared in the trunk area, and I'll come and service the car next Wednesday. The technician drove with me yesterday, and said something about the door must be fixed. Anyway, thanks for the positive experience in buying a car straight, without hassles. Will let you know how the car is doing after some longer trips I
plan for the next two months. VM, July 02

---

Joe, thanks, the car is great. Most of my friends (primarily climbing partners) are just pleased that I'll no longer have an excuse for not driving. At any rate I'm enjoying the new car, and I wanted to thank you and Dan for making it's purchase a pleasurable experience, NF Feb 02 (Outback Sport)

---

HI Joe, The car is great. I love it! LOVE IT. Thank you again for all your help and I think my brother will be coming to see you shortly. I have been really busy with work and school stuff that I haven't had the time to thank the people I need to. I like the picture and
yes, my boyfriend is very pleased with my purchase. Have a great one and a good valentines day. Talk to you soon. Thanks again!
LH (Honda Civic) Feb 02

---

Hi, Thanks you! The car is doing great and it is really nice to drive. The all-wheel drive is great to have on my quarter-mile long, switch back, super steep driveway... I'll be taking it up to the Pass this weekend to test out it's snow-handling capabilities!
Should be fun. Thanks! LT, Feb 02 (Legacy L wagon)

---

Hi Joe: The car is working out very well for me. The AWD and ABS are great. Even better than I remember my 88 4WD Subaru handling in snow. I made it out of our neighborhood the past few days, which can be a chore. I look forward to heading home tonight and climbing the hill on Simonds road. The photo is great. Thanks very much. I will keep in contact. Thanks again, we love the car. J&J T. Jan 02 (Legacy L)

---

Hi Joe. Thanks. The car is an absolute joy!! I can't drive near schools anymore tho . . . . . . . . car won't go that slow!! Is this my midlife crisis toy? Oh well. I will keep in touch to let you know how things go. Thanks again for your help. LW (WRX, Jan 02)

---

Hey Joe...I LOVE the car. Finally had time to lay the back seat flat and put Hannah, the corgi, in it and knew I had bought the perfect car...she can see out of the windows! Broke the car in good today...grandchil kicking against the back of my seat with her wet shoes...decided I did need leather... life is so messy. I love the car, Joe...fits nicely in my old garage.... I'll do an ad campaign. JM Jan 02 (02 Forester S)

---

Hi Joe, B. and I wanted to wish you a Happy New Year, and thank you again for selling us such an incredible new Subaru!!! It's a great ski car and our dog loves it too. We actually sold our other Subaru in less than a week after we put an ad in the paper and the new family is so excited... plus they live fairly close to us so we will still see it. Thanks again. N & B, Jan 02

---

Thanks Joe. The car is running great. I took it down to Portland for my niece's wedding. The family was impressed. I'm really
impressed with the handling. Wonderful car on the freeway, too - so much extra power. I'm probably going to go up to the mountains soon just so I can get the feel of it in the snow. Maybe I'll take up skiing again - I've got the prefect car. Thanks, again. JN,12/01 (2002 Outback Sport)

---

Thanks Joe, We've been waiting for the picture! Looks great... The car has been fine, it's running a little smoother now but it's still a tad rough at 2.5-3.5K rpm. After a few more miles we'll see how it likes the 4K territory. Just had the rear latch adjusted when you saw me. It wasn't closing completely about 20% of the time. Otherwise, we've been very happy with the vehicle. Please tell Hugh thanks for us too. And happy holidays to you both as well! L&G, 12/01 (2002 Outback)

---

Hi, I just want to send a follow-up e-mail after my purchase of a used Nissan pickup truck from you early last week. Thank you so much for making the car buying experience so easy. Despite the fact that this was not one of your high-end used cars, I still feel like you treated me with the same respect you would anyone else, and I greatly appreciate it. The truck is beautiful and I've come away a very satisfied customer. Please pass along a thank-you to both Dans in financing as well. They were very cool too, and patiently answered all my questions until I understood the process. Good luck over the holidays! Sincerely, RK, 11/01

---

Thanks Joe - I'm enjoying the heck out of the car. Still trying to learn all the buttons, though. Take care - B. 11/01

---

Joe: My face hurts from smiling so much. ck 11/01 (WRX)

---

Joe, The car is great! Right now its in the shop receiving an electronic mirror. I'm driving a loaner car for the day. Thank you very much for the pictures and the up-front, courteous service. I appreciate it. Best, EK 10/01 (02 Forester)

---

Joe, I love my Outback! It's a great car. I'm looking forward to taking it off road, maybe next weekend. I've been to preoccupied with the Mariners. I'm watching the game as I send this email; scoreless at the bottom of the sixth. I'm about ready to have a nervous breakdown! I'll be sure to say hello when I come up to pick up my tags. Take care. Blessings, Doug 10/01

---

Joe, Love the WRX! I haven't had this much fun with a car since my last Porsche, which was pre-kids. Thanks, Dan, 10/01

---

Hi! Most fun I have had driving a car in years (sorry Mr. Porsche!). Easy to handle and plenty of power (even at < 4,000 rpm).
Thank you by the way, you sell great cars and sell cars great. DS 10/01 (WRX)

---
Joe, thought I'd let you know of some places we've been together.
Took my parents and a friend (all tall people) to watch the eagles on the Skagit. My dad was just as impressed with my car as he was with those magnificent birds.
Snowshoeing at Mt Rainier- getting waved through the chains checkpoint.
Cycling near the Columbua River- everyone appreciated the carrying capacity for bikes and gear
Backpacking in the Teanaway area- instant a/c when it was hot and buggy outside-ever see a mosquito freeze?
Driving on a Forest Service road and passing 2 guys in a 4WD truck with astonished looks on their faces.
Kayak trip in coastal BC (I promised I'd keep my sweet spot secret). Mommy and the Minnow look great together and with a little help from a step stool, loading the boat on top is no problem.
Car camping in the wagon with rear seats flat- I was sleeping in the womb.
The most miles I've driven in a year (10K) but every mile an adventure.Thanks, LK, October 2001 (Legacy wagon)

---

Hi, Joe. Loving my car (02 Outback). It's everything I wanted. Took it over to Winthrop this past holiday weekend. EPA estimates must be based on going 70MPH. Filled up in Burien and drove home. Then from West Seattle, over the North Cascade Hwy to Winthrop and then back to Sedro Woolly was 384.5 miles. I put in 13.859 gal of gas. I was impressed. Made me decide that I really didn't NEED the little extra kick that the six would have given going over the pass. Also.......... have my plates come in yet? Could you drop them in the mail to me? Thanks. TR, Sept 01

---

The car is great, it is getting better gas milage than I expected. Thanks, R. August 2001

---

Hi Joe! I had my car up to Carter for it's 6,000 mile service on Friday, the 20th, and looked for you. You must have had the day off.
Thanks for the card and the picture of me with my car. I continue to enjoy my car. In fact I am finally taking it to Sportsrack.com to fit it out with a bike and boat rack. Of course I will say you referred me. It's obvious you really care about your customers. I spent 20 years at Northwest Airlines in customer service, and I know really good service when I get it. Everyone there is really nice and takes good care of me. I will stay in touch. Hope all is well with you. Take care and enjoy the rest of your summer. Your Friend, Leslie L., July 2001

---

Hi Joe, Laura and I love our new 2001 Forester! She drives it to work everyday..so my time behind the wheel is limited (bummer). I have discovered how easily it handles...as did our '96 Legacy. There are so many wonderful bells and whistles. It's great. I especially like the huge sun roof (next step-convertible!) We will always own and drive a Subaru. That's for sure. Thanks for everything. Jean, July 2001

---

Last summer I needed a nice looking, reliable, 4wd vehicle without a lot of haggling banter and you made it happen, with an incredible price. Joe, you were the beginning and end of my carsearch circle and I actually got the chance to discuss "The Last Picture Show" with a pre-owned car salesman instead of how much "I can afford"...very refreshing, much appreciated, and you can bet I will soon be back for my next auto purchase. Everyone appreciates quality hard work, thank you. Martin 7/01

---

Joe, Thank you yet again for making this whole experience quite pleasant - something I had never even heard of happening. :)
I got the letter from you, and the service guys have already contacted me this morning and set up an appointment. Thanks yet again.
Gene Z, 6/01

---

The WRX is great, a lot of fun to drive. I'm happy with it so far, had the oil changed already and it went into the shop today to get the alignment checked. My wife likes the color and the look of it. I recommended you to a guy at the dealership who was looking at my car. He was looking into buying one. I gave him my phone # if he has any ? to call me and I will give him one of your cards.
Again thanks Joe I'm loving the car getting a lot of ?s about it and admiring stares. Dan J, 4/01
---

Joe, I just wanted to drop you a note to thank you for the very professional job you did, in assisting me with the purchase of my new 2001 Subaru Forrester. I had my doubts that I would be able to purchase the vehicle over the phone, but you made the process quick and easy. I appreciated your no nonsense approach to coming to terms over a price and found that you were very knowledgable about the product. I was delighted that you were able to obtain the car so quickly so that it was in Seattle when I
arrived after moving from Boston. I especially appreciated your prompt return of phone calls and general overall attentiveness to my needs. I'll stop by and say hi when I bring the car by for servicing. By the way, thanks for the tip about Central Market. It's great.
Take care and thanks again, Brian 12/2000

---

Hi Joe. Thanks again for selling me the RS. The car is great.
Joe and Carter Subaru were recommended to me by quite a few people on the i-Club bulletin board (http://www.impreza-rs.com)
My experience at Carter Subaru was wonderful.
I was moving from Philadelphia to Seattle to start a new job after college. I needed a car pretty much on arrival, I knew I wanted an RS, and I knew that I didn't want to pay an arm and a leg for it. So I decided that the best way to go would be to order the car.
I called up Joe, told him exactly which options I wanted in the car and that I wanted to do a factory order. We talked about the price, he faxed the purchase order, I signed it and faxed it back.
All in all my experience with Joe Spitz and Carter Subaru in Seattle has been nothing but great. If you're in the market for any Subaru give Joe a call (well, you're on his website already). Thanks again for a great car! Max. 9/2000

---

"Joe, you are the Man". We had a great drive home, in probably the nicest car we've ever owned. Seattle was a much faster paced town then our Montana ski town of Whitefish, but the car performed perfectly. This is the only way to buy a car. Your web site made it too easy. The complementary ride from downtown Edmonds to your dealership was "fab". Once we got to Carter
Subaru, you helped us through all the details, etc. Your quick lesson of all the options was really great, most salesman would just want somebody out the door. We are fantastically happy about the entire deal. Next "RU" I get, I'm going straight to your web page. We'll recommend you and your web page to everyone. See Ya .... Randy D. in Montana. 9/2000

---

(from someone who purchased and then referred a friend, and went out for "Dinner on Me")
Joe- Joan and I finally got together for "dinner on you" last night. The food, view, drinks and company were all top notch! AND Joan has a really hot car! Thanks for dinner- we toasted you and Subaru... Gael 7/2000

---

Joe, I tried the seat warmers a few days ago when I had a chill. Unexpectedly, and probably no surprise to you - I love it! I'm so glad they came with my car! All is well and I'm getting acquainted with it day by day. Feels really good. Again, thanks for helping me find the RIGHT car. Blessings, Elaine, July 2000

---

Hi Joe, I have been so busy of late... I rear ended this guy on Monday after I drove off with my car from you on Sat. I have never been laughed at so much! Just got it back from the bodyshop. They did a great job and I am so glad to have it back. I love the car. Thanks for selling subarus! I'm going to Italy the 11th......I'm storing the car safely at my sisters during the trip. What a life! Doris, 6/00 (her 2nd purchase)

---
Joe, Once again I just wanted to thank you for the experience I had at Carter Subaru. I felt genuinely at ease in the atmosphere at your facility. So far I absolutely LOVE my car! I told a friend what I bought over the weekend, and he quickly became jealous. Overall I would rate the experience at your facitity 10 of 10. Thanks Jeff, Olympia, Wa, 4/00

---
Joe- The "Outback" is fantastic on snow and ice and I love the heated front seats. Thank you for all your help and without a doubt you're the best salesman that I have ever worked with. Thanks again-Cheers - Don 1/2000

---

Hi Joe, My car-buying experience at Carter Subaru was the most pleasant I've ever had. You listened to what I wanted and did not try to sell me stuff I didn't need. Even the financial negotiations were not unpleasant; I felt that I got a fair price with very little hassle. And 15,000 miles later, I love my little Subie! (Impreza Outback Sport). from V and B. 1999

---

Joe: We love the GT. It was the perfect choice. Now Jim kids me about finding excuses to run out for an errand with my new toy just as he did when he bought his 325ic.
And I do want to say that dealing with Carter Subaru was the most professional car buying experience I have had. In the past when I purchased my Audis and first Subaru (oops, not from Carter), the sales person was like a s-l-o-w ping pong ball bouncing back and forth between the sales manager and the customer trying to come to a final sales price--it took forever. At Carter, your sales manager was right there with you and we concluded to an acceptable price quickly and decisively. Even your finance manager did not try to hard sell us all the extra warranties, special under and overcoatings etc. Just a quick "are you interested?" and when we said "nope," he moved right on to signing all the paperwork. Quick and easy.

The custom leather seats are comfy. And by the way, I walked by a Mercedes SLK this morning parked at Bellevue Square. And guess how the leather seats were stitched? Just like my new GT! Classy!
P.S. Kudos to your receptionist for remembering my name and that I was the one that bought that red GT. She has a great knack for remembering names and trying to help out. It was nice to hear a voice instead of an automated answering machine where I had to punch several buttons to get to the sales dept and then no one answered and I had to leave a general voice mail.
P.P.S. Thanks for the great web-site. Without it and the extensive amount of historical information it contained, I would have hesitated to drive all the way over to north Seattle. But it was worth the trip. Thanks again. Nancy, 1998
---

Hey Joe! The car was great driving the Alaska Hwy up to Fairbanks. I gripped gravel, surfed frost heaves and stopped in record time to avoid a collisionwith a moose and her calf. Very Paul Hogan!
Buying the car out of Seattle couldn't have been easier, from accessing the website, calling the toll-free number and having you guys even pick me up at my hotel in Seattle for the test drive.
Many Juneauites have admired my car. I have one prospect for you already. Will pass your card on to her.
From S.S., Alaska, 1998

Joe -- feel free to use all or part of my comments on your webpage. Thanks again. Car is still doing great. I'll send an update once it gets below zero here.....
---

Thanks for your efforts to try to find me the car I needed: first, the '96 Legacy wagon, then the '96 Legacy Outback.
I have, for the time being, gone back to my true love: my 1985 GL wagon and am having a low mileage engine from Japan installed in her and the CV joints replaced with new assemblage.
When I had AAA tow her from her "resting place" near the waterfront to my home, the driver said, "Why would you consider having this just towed away after this? This is still a really nice car! You should get it fixed!"
And then he told me about the low mileage engines shipped over from Japan, Since I am really fond of my faithful old Suburu (despite that weak engine), this was music to my ears, so I guess I'll drive her for a few more years.
My son and I appreciated your low key sales approach and agreed you were our favorite sales person, and believe me, we saw lots of them.
When I'm ready for another car in a few years, I'll see if you're still at Carter Subaru! By the way, your web site is great!
from A.M. 1998
---

Joe, you're welcome to use our names if you like.
The best thing about our car-buying experience with Joe Spitz and Carter Subaru was that Joe and the dealership delivered everything that was promised (and more). From the price of the car, which was below our expectations, to the patient and thorough manner in which Joe explained and/or demonstrated the features and benefits of the car, the warranty, and the dealership, we came away from the experience confident in our selection and without a single regret.
We highly recommend Joe to anyone consideringthe purchase of a car.
from R and M. DeLorme, 1998
---

Hi Joe,
I am sending this email to let you know that I really appreciate how you helped me find my perfect car. I am so happy with how everything turned out that I thought it would be good to sum up my particular car buying experience for others to read about on your website…
When my '83 Subaru with 197,000 miles on it recently broke down (temporarily), my friends threatened to have me committed if I went ahead with my plans to buy a new engine for it! Okay, it was true that I could afford a new car, but I really didn't want to deal with the hassle of looking for a car and talking to a car salesman (this did not sound like my idea of fun). Besides, I am usually particular about big things that I buy and I knew this meant that I would need to do a lot of research before I made any decisions
regarding a new car.
I liked the Outback Limited, but was disappointed to find that I couldn't get a '99 or '98 Ltd in blue (my favorite color). In fact, I nixed the idea of buying a '99 when I saw the new sandstone trim on the Ltds (what's up with this color? I don't know what the public consensus is, but personally I think it is gaudy!). I had previously seen a beautiful blue/slate Outback Ltd parked near my school, but not having any info on pre-'98 Ltds and since it was the only one I had ever seen, I assumed it was a custom color. So at this point I thought my only choice was to find a '98 white/slate Ltd (the only other acceptable color as far as I was concerned).
After a frustrating encounter with uninformative salespeople at a local Subaru dealership (one salesman told me that he had been selling Subarus for 4 years and that the Ltd had always had a lower sandstone trim!), I was unhappily ready to hire an independent car advisor to find a ' 98 white/slate Ltd for me.
As a last attempt to get more info on earlier Ltd configurations, I posted a message on an internet subaru newsgroup asking about the '97 Ltd (e.g. did it come in blue/slate?, have a sunroof option?, etc). Joe saw my posted message and sent me an email
answering all of my questions and provided a link to his great Subaru info website. How nice! Joe also mentioned that he currently had a '97 Sydney-Blue/Slate Outback Ltd at Carter Subaru. Of course, I sent Joe additional emails asking a lot of other questions,
and he was totally cool to answer all of them. He even put '97 Outback Ltd specs on his
website the same day that I sent him an email asking about them :) I felt better about the whole car buying thing when I went to Carter to meet Joe and see the car. Joe was really nice, patient, and knowledgable about all the very specific questions that I asked (and I had a long list of them!). Joe didn't pressure sell me at all and I felt completely comfortable talking with him. The car was exactly what I wanted! It was a beautiful blue/slate, with low miles, loaded with neat options, and the price was very fair. I bought the car that same night and Joe stayed after Carter normally closes while I gathered more info and went through the car purchase paperwork.
Well, I have my new car now and I love it! I feel really lucky to have it because I know it is a uncommon color for the Outback Ltds. I also feel that I wouldn't have this perfect car if it had not been for Joe being so internet-savvy and willing to help. He made the car buying process that I was dreading an actual pleasant experience.
I would certainly highly recommend Joe to anyone I know who wants to buy a Subaru in the future.
Thanks Joe! Jessica C. Bellevue WA, December 1998

---
some letters have been edited to remove personal stuff etc
It's true that sometime I get emails from folks who don't buy from me and aren't too happy, but there's no sense including those here.
Thank you for visiting.
Bye,
Joe Spitz