Subaru Hybrid and Electric Cars
Homepage
CAFE gov't fuel economy standards
Fuel Economy what gas costs, what you spend
Current model FAQ, overview
Archives previous models
Subaru history USA
Subaru Speak glossary
Maintenance schedule
Warranty, towing information
Maintenance
Links
Sitemap for much more

Note: this unofficial independent, unauthorized Subaru research site is designed to help you learn about Subarus and is not authorized, approved, sponsored, or supported in any way by Subaru nor is it connected to or affiliated with, sponsored, supported, or approved by any dealership. Comments and links have been edited and summarized. Info subject to change, correction, updating contact

photos, formatting, text, © J. Spitz. Unauthorized reproduction prohibited
you are here http://www.cars101.com/subaru/hybrid.html v 10.22.09
RUMORS AND MORE RUMORS: stories of hybrid and electric Subarus
edited for brevity, content etc
10/21/09 Hybrid in 2012, but not in the US? 'Subaru will add its first hybrid vehicle in 2012 as part of a push to improve the fuel economy average of its fleet and meet more stringent emissions regulations. The gasoline-electric drivetrain will be offered as a version of an existing model line, said Ikuo Mori, president of Fuji.
Speaking today on the sidelines of the Tokyo Motor Show, Mori did not say when the hybrid will be coming to the United States. But he said the car will help Subaru meet tougher U.S. fuel economy rules that begin in the 2016 model year.
The Subaru brand boss declined to say which model would be offering the hybrid powertrain but suggested it will be in a smaller vehicle. He said the hybrid system will showcase typical Subaru driving characteristics but stopped short of confirming it will be all-wheel drive.
At this year's Tokyo show, Subaru is showing an awd hybrid touring car that has two motors, one for each axle. That car loosely resembles the Outback wagon.
Subaru has been developing its own hybrid drivetrain based on technology from Toyota Motor Corp., which owns 16.5 percent of Fuji Heavy.' the article

---
Tokyo, June 4, 2009 – Fuji Heavy Industries Ltd. (FHI), the maker of Subaru automobiles, today announced the launch of its Subaru Plug-in STELLA electric vehicle (EV), which is equipped with a high-performance lithium-ion battery. The model will be sold in Japan directly through FHI. Delivery will start from late July and around 170 units of delivery in total will be planned in this fiscal year (by the end of March 2010). After-sales services will be provided through some Subaru dealerships designated by FHI.

| | |
| --- | --- |
| | |
| Length, Width, Height | 3,395, 1,475, 1,660 |
| Curb weight | 1,010kg |
| Passenger seating | 4 |
| Max. speed | 100km/h |
| Per-charge driving distance | 90km (10-15 mode) |
| Electric motor | Permanent magnet synchronous system |
| Max. power output | 47kW |
| Max. torque | 170N??m |
| Drive-train | Front-wheel drive |
| Battery type | Lithium-ion batteries |
| Total voltage | 346V |
| Total energy | 9kWh |


The Subaru Plug-in STELLA was developed based on the Subaru STELLA mini car. It combines the EV system with the compact and light body, which offers an adequate and convenient means of transportation for daily commuting. It also achieves 90km* range of driving featuring the most appropriate number of batteries required for city driving. (*Claim based on Subaru research. Driving range when driven in 10-15 mode of Japanese Ministry of Land, Infrastructure, Transport and Tourism.)
The EV can be re-charged up to 80% of its capacity in 15 minutes using the quick charging system, whereas it's also fully rechargeable in 8 hours with AC100V household power outlet or 5 hours with AC200V. The car not only offers zero CO2 emissions during driving but also dramatically reduced level of CO2 produced in the process of electric generation, compared to the petrol engine vehicle's emissions level. The Subaru Plug-in STELLA's new mobility combines utility, practical driving range and environmental friendliness.
The electric motor of the EV, mounted in the engine room, generates 47kW of maximum power output. The Subaru Plug-in STELLA offers powerful and smooth acceleration, making full use of the advantages of the electric motor. It generates maximum torque from the start. It also recovers inertia energy in deceleration through a regeneration system, which further enhances the energy efficiency.
The manufacturer's suggested retail price of the Subaru Plug-in STELLA is 4,725,000 yen (including consumption tax). It was approved by the "Next Generation Vehicle Promotion Center" as a vehicle whose users are offered a subsidy of 1,380,000 yen at a maximum. Additional tax reduction will also be expected due to special measures conducted by Japanese Ministry of Land, Infrastructure, Transport and Tourism.
FHI pursues the perfect integration of a pleasant and reliable driving with environmental considerations in its vehicle development philosophy. In its efforts to constantly enhance its current power unit line-up, FHI positions the EVs as one of the viable solutions and key technologies for environmental preservation, and it will further research and develop its EVs.
---
May 22, 2009 Hybrid- Subaru is the latest in a line of carmakers announcing plans to enter the hybrid market hopefully by 2012. "We will take advantage of our alliance with Toyota," said Ikuo Mori, president and chief executive at Fuji Heavy, after a news conference launching the revamped Legacy model. He did not specify which Subaru might get the hybrid treatment.
Other companies planning to introduce a first hybrid in the next few years include Audi, BMW, Hyundai, Mazda, Mercedes, Porsche and Volkswagen. The movement toward hybrids, the most fuel-efficient vehicles on the road, accelerated rapidly due to higher fuel-efficiency standards and tougher emissions rules recently enacted in the United States in May 2009. Automakers must meet average efficiency standards of 35.5 miles per gallon by 2016, four years sooner than previous planned. Europe and Japan are also implementing tougher regulations.
---
January 2007: all-new 2.0-litre diesel (click here for info), hopefully makes its first appearance in Europe in Legacy and Outback early next year.
January 13, 2007: Subaru, best known for their quirky all wheel drive vehicles will be selling a pure electric vehicle microcar by 2009 called the R1e, a vehicle that it has developed with the Tokyo Electric Power Company. In the area that TokyoEPC operates, there are 150 high-voltage charging stations for electric cars, with plans to expand. The underlying specifications of the R1e include an electric motor that produces the equivalent of 54 horsepower, which is about the same as what the regular gas-powered R1 makes. Its battery pack affords the car a small-ish range of 50 miles, but the car can be recharged to 80-percent capacity in just eight minutes. A full charge takes about six hours. Despite the low range, Subaru says that the car has a lifespan of about 120,000 miles or ten years. Subaru only hopes to sell 100 units per year at the beginning, with more to come.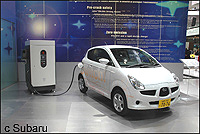 R1e electric car, in Japan 2009? No plans for a US model announced.

Subaru article on what's coming, Winter 2006
Subaru Diesel is coming.
10/5/06 " 'Odd Layout Has Its Advantages'. Though the refresh of the Legacy and Outback midsize models were key to the brands display at this years Paris motor show, theres much bigger news back at home camp. Alongside these introductions, Subaru confirmed that it would be building its own turbodiesel engine, something that its never done before. And while diesel power is a hot topic, Subarus oil burner will be different: its making a huge splash by choosing to defy convention in developing the worlds first boxer (horizontally-opposed) diesel engine.
Subaru and the boxer engine have a lengthy history; much like the Japanese brands symmetrical all-wheel drive system the boxer engine has become a hallmark of the brand. Currently, every vehicle sold in North America is powered by either a horizontally opposed four, or in upper-model vehicles a horizontally opposed six. There are a few exceptions, most of which are domestic-bound models such as the G3X Justy (a Daihatsu), the Traviq (an Opel Zafira), and its own, tiny kei-segment R1 and R2 which use miniscule, sub-one-liter inline-fours..." more
9/28/2006 .. Subaru of Europe President Hiroyuki at the Paris motor show speech says 'I'm pleased to announce that the development of the world's first horizontally opposed diesel engine, the Subaru Boxer Turbo Diesel is nearly complete.
The superb rotational balance of the horizontally-opposed engine allows low vibration because the pistons counteract each other to cancel it out. Moreover, with its firmly supported crankshaft, the crankcase construction is strong enough to resist huge combustion pressure. The horizontally-opposed engine's character is proving an excellent match for a diesel engine.
Also, the adoption of a thin journal for the crankshaf and turbo charger placed under the cylinder block enhances all the advantages of the Boxer Engine, which are "Low center of gravity" "Low vibration" "High rigidity & compactness" This deliver diesel's powerful torque from the engine to the wheels, and increases traction, making the Subaru Boxer Turbo Diesel yet another achievement of Subaru's advanced technology.
Last but not least, the Subaru Boxer Turbo Diesel boasts lower CO2 emissions in consideration of the environment. I anticipate unveiling the Subaru Boxer Turbo Diesel engine next year at Geneva Motor Show' says more

January 14-22, 2006 Subaru shows B5-TPH and R1e hybrid concept cars at the 2006 North American Int'l Auto Show in Detroit news release

concept Subaru B5-TPH 3door hatchback hybrid at 2005 Tokyo Auto Show, photo c SoA
10/14/2005: Tokyo Auto Show, Subaru displays the B5-TPH (turbo parallel hybrid) concept car, a 3door hatchback using the 1st hybrid boxer engine. The front end is similar to the 2006 Impreza and Tribeca. With a turbo parallel hybrid powertrain there's small 13-horsepower motor between the vehicle's engine and its automatic transmission. It's expected to produce 300+ hp, increase low end torque, improve fuel economy, and reduce emissions.
info courtesy edmunds.com, forbes.com, cardesignews.com
Automobilemag.com "Subaru B5-TPH is a stylish coupe/wagon/crossover ..Subaru stresses is not the next Impreza
Forbes magazine "Subaru is the Roswell, NM of automakers"
Edmunds.com "Starring at the Subaru stand will be the B5 concept..
Cardesignnews "Subaru will unveil the snappily named B5-TPH concept..
3/24/06 More on a diesel in Europe, from msnbc.com
1/26/06 Hybrid battery experts expect lithium-ion to be the shape of things to come for hybrids from Businessweek.com
1/5/06 Lithium-ion batteries similar to those that run notebook computers and cell phones could revolutionize the auto industry, from Businessweek.com
10/7/05 Will Toyota to make use of excess plant capacity at Subaru's Layfayette plant for hybrid production?
9/30/05 autoindustry.com on the B5-TPH, for 'Turbo Parallel Hybrid', Subaru is to display a high-powered hybrid concept car at the 39th Tokyo Motor Show. Called the B5-TPH, for 'Turbo Parallel Hybrid', the three-door coupé combines a 260 bhp 2.0 litre 'boxer' engine with an electric generator/motor fitted between the engine and transmission. The car's four-cylinder horizontally-opposed petrol engine features a Miller Cycle system which improves engine efficiency by reducing pumping losses thanks to a combustion expansion stroke that is longer than the compression stroke. Normally this system makes an engine sluggish at low speeds but thanks to the electric motor, standing-start torque is boosted beyond even an Impreza Turbo's.
The electric motor itself produces 10 kW and 150 Nm torque while the petrol engine has a 191 kW output with 343 Nm torque. A new type of manganese lithium ion battery charges to 95 per cent capacity in five minutes and operates not just in city driving but also when cruising.
10/14/05 From New Zealand
9/28/05 Small Hybrid at Tokyo auto show 10/19, from autoweek.com
9/27/05 Tribeca Turbo Diesel for Europe? Subaru and Saab working with Porsche
9/2/05 Japan's biggest power company teams with Fuji (Subaru parent company) to develop quick-recharge electric vehicles.
9/2/05 New Zealand Autocar.com Subaru is developing a pair of diesel engines!
8/19/05 Subaru hybrid update. Is a Subaru in the works; is hybrid economy over-rated?
September 7, 2005. SoA confirms stories (see 9/2, 8/19 below etc) that parent company Fuji Heavy Industries (FHI) is developing technology for future environmentally friendly vehicles, including a Turbo Parallel Hybrid (TPH) and Lithium-ion capacitor (Li-ion) and is working toward trying practical applications for these environmental technologies in its future products.
"The Turbo Parallel Hybrid (TPH) is a revolutionary powertrain system to be applied to hybrid electric vehicles (HEV) that the company plans to test launch in the Japanese market in 2007. The TPH is a strategically important technology for the power source of clean-energy vehicles and will be incorporated with the Subaru core technologies including the horizontally-opposed Subaru Boxer Engine and Symmetrical All-Wheel-Drive System. FHI has been developing the TPH in view of its future mass production. The TPH system places a thin, 10-kW motor generator between a vehicle's engine and its automatic transmission. The combination of the motor generator and the turbo-charged Subaru Boxer engine, which adopts the Miller cycle, creates a system that not only provides power in the mid-speed ranges when the turbocharger is active, as with conventional turbo models, but it also delivers excellent acceleration and fuel economy for practical use. This superb, all-range performance has been enabled by motor assist, a feature that is designed to boost engine torque at low revolutions. Compared to the SSHEV (Sequential Series Hybrid) system that FHI had previously developed, the TPH excels in cost performance as it uses a more compact motor and a smaller battery. In order to bring out even better driving performance from the TPH, Subaru is planning to equip the system with highperformance manganese lithium-ion batteries, which are currently under development at NEC Lamillion Energy, Ltd. That company was jointly established by NEC and FHI in 2002 for the development of secondary batteries.
The Lithium-ion capacitor (Li-ion) is anticipated to broaden the possibilities for batteries in future automobiles. The Li-ion capacitor drastically enhances energy density, while retaining the inherently superior capability of instantaneous charge/discharge and the high durability of regular capacitors. The Li-ion capacitor's negative electrode uses newly developed Li-ion occlusive carbon material, while its electrolyte is also made of Li-ion. The technique called pre-doping enables occlusion of large amount of Li-ion on the negative electrode in this new capacitor, which helps boost the capacity of the negative electrode, and increases the electrical potential difference, thereby making achievement of high voltage
possible without deterioration in positive electrode performance. Furthermore, the principle of the Li-ion capacitor holds the potential for greater versatility and increased performance of capacitor occlusion. Many new materials to be used for high-energy accumulation in capacitors have been tested, and some
progress has been made in that area of research. The application of certain new materials to the positive electrode, combined with the pre-doping technique of the Li-ion capacitor, will theoretically double the estimated accumulation capacity of capacitors available in today's market. FHI is currently conducting performance tests on prototype cells of the new Li-ion capacitor. The eventual successful commercialization of Li-ion capacitors for compact cars would open up many other
business opportunities, including helping to meet the increased demand for new hybrid buses, trucks, and passenger vehicles. This new capacitor also has the potential to be an alternative to conventional lead batteries in the future.
PZEV Vehicles Subaru currently manufactures PZEV vehicles in its U.S. plant. PZEV vehicles meet California's SULEV (Super-Ultra-Low-Emission Vehicle) exhaust emission standard for 15years/150,000 miles. Additionally, they meet the zero-evaporative emission standard and have a 15 year/150,000 mile emission defects and performance warranty. The SULEV standard is 90 percent cleaner than the average 2003 model year vehicle. According to the Air Resources Board of the California Environmental Protection Agency, gasoline vehicles meeting PZEV emissions standards sometimes even have lower emissions than some hybrid or alternative fuel vehicles. These vehicles with PZEV emissions rating have such tight pollution controls, and the burning of fuel is so complete, that in very smoggy urban areas, exhaust out of the tailpipe can actually be cleaner than the air outside. In fact, 28 percent of all 2005 model year Subaru vehicles sold in the state of California met the PZEV requirements. What separates the Subaru PZEV vehicles from other competitors is that no sacrifice in performance was made to achieve the emissions rating. In fact, Subaru makes the most powerful PZEV engine available in the U.S. today."

August 20, 2005 from Gizmag.com: (edited)... the news this week that Subaru plans to produce the R1e electric car is some of the most mouth-watering news we can imagine for EV fans. The R1 is already on sale in Japan with a traditional Internal Combustion Engine (ICE) but since the R1e electric concept car was first shown at the Tokyo Motor Show 18 months ago, the fans have been begging for the car to go into production.The R1e electric vehicle will be powered by an advanced, high energy density, manganese lithium-ion battery that FHI developed in conjunction with NEC and in Japan the battery can be charged by taking power from single-phase 22V AC outlets traditionally used for home air conditioners in Japan. Utilising advanced power control technology, the R1e is designed to travel more than 200 kilometers (125 miles) on a charge, and with its 2+2 layout in such a small-car form factor, the R1e looks to be immensely practical and an ideal alternative to ICE vehicles which are expected to be feeding a heroin-like (keep you poor and make you sick) addiction for fossil fuels which could be costing US$10 a gallon by 2009.
Shorter than typical Japanese minicars, the R1E offers easy parking and flexibility, courtesy of its 2 + 2 cabin.
The Subaru R1E features a 2 + 2 layout. While its high-performance battery and advanced power control technology place environmental considerations at the forefront, the R1e also has strong sporting pretensions, with the ICE R1 on sale in Japan apparently highly regarded for its go-kart-like handlking and spirited performance from its diminutive 660cc motor.
The R1e will be powered by a light, compact, brushless motor with high output and excellent reliability. We can't wait!
Interestingly, whereas now we see a car with an "e" descriptor designation the car is electric, we expect the ICE acronym will grow in popularity over the coming years as it can no longer be assumed that a car has an internal combustion engine.

August 19, 2005, Tokyo, from edmunds.com: Subaru plans to debut a hybrid version of the Legacy with a turbocharged engine that delivers 30-percent better fuel economy than a conventional gasoline-powered model, according to media reports....

August 16, 2005 Drivers upset as hybrids fall short on fuel economy By James R. Healey, USA TODAY
So many people have complained about disappointing fuel economy of gas-electric hybrid cars that the federal government is telling automakers to consider putting more realistic mileage labels on their cars or do a better job warning buyers that they won't get the advertised mileage. Poor fuel economy has been among hybrid owners' top gripes, according to consultant J.D. Power and Associates, as much as three times as high as for other small cars and even surpassing that of owners of gas-thirsty sport-utility vehicles. EPA testing rates hybrids at 47 to 63 miles per gallon in combined city-highway driving, depending on model and equipment. Honda and Toyota, the only hybrid sellers, don't dispute that hybrids fail to deliver that. But they say hybrids' fuel-economy shortfall isn't much different from that of gas engines. Grundler says manufacturers can publicize any fuel economy numbers as long as they are no higher than what the vehicles receive from EPA. "They would simply print a different label based on information they have developed."
Hoping to clarify things for automakers, EPA is taking the unusual step of circulating this statement: "Long-standing EPA policy allows manufacturers to voluntarily use lower fuel-economy label values when they believe that a vehicle may be inappropriately represented by the EPA-calculated label." But nobody's willing to go first. "If your competitor is advertising EPA (fuel economy ratings) and you're not, you're at a disadvantage," Honda spokesman Andy Boyd says. Instead, Honda has "definitely been stepping up our efforts" to tell buyers they might not get the fuel economy they expect. The risk of disappointing mileage-conscious hybrid buyers will grow as more hybrids hit the market later this year. "The last thing we want to do is discourage further development and market penetration of this (fuel-saving) technology," Grundler says. "Potential reputation damage to the technology is a very valid point. We hope that doesn't come out of this," Michels says.

February 2005 : http://www.iii.co.uk/news/?type=afxnews&articleid=5184890&subject=companies&action=article
(this article has been edited)
Tokyo - Toyota Motor Corp and Subaru parent company Fuji Heavy Industries Ltd plan to form a technological partnership in hybrid vehicles, the Nihon Keizai Shimbun reported without citing sources.
Hybrid vehicles run on both an electric motor and an internal combustion engine, such as a gasoline engine.
Under the partnership, Toyota is expected to supply its hybrid power system to Fuji Heavy, which will use it to make hybrids a mainline product in the North American market, which accounts for 35% of its sales, the business daily said.
In return, Fuji Heavy is considering supplying Lithium ion batteries to Toyota for use in hybrid vehicles. This battery that Fuji Heavy co-developed with NEC Corp may be suitable for cars because it is small and highly vibration-resistant, it said.
Subaru is too small to be able to justify production of its own hybrid system and can't sufficiently reduce production costs, according to a report in Japan's Nihon Keizai Shimbun newspaper. Subaru would therefore scrap its own system, and roll out a Toyota-powered car in 2008.
"Until now, Fuji Heavy has been developing its own hybrid vehicle technology. But the firm intends to fully incorporate the Toyota hybrid vehicle technology, which has a lead in the field with its Prius passenger car, because its overall output was only about 590,000 vehicles in 2004 and the cost burden would be too big if it tried to commercialize the technology on its own," the newspaper said in a report posted on its Nikkei Net Interactive website.
It noted US automaker General Motors Corp, Fuji Heavy's top shareholder, formed a partnership with Germany's DaimlerChrysler AG in December to jointly develop hybrid vehicle technology. But it said that effect is believed to focus on developing technology for use in large vehicles with engine displacements of 4.5 liters or more, and is not expected to be applied anytime soon to vehicles with engine displacements of around 3 liters, Fuji Heavy's strength.
"For this reason, Fuji Heavy aims to save time on development by teaming up with Toyota, which is challenging GM for the title of the world's leading automaker in terms of global sales," the report said.