top
11/22 Its official... previously known as the Impreza Concept XV, the new Impreza with 8.6-inches of ground clearance will be here next fall as the XV Crosstrek, or simply Crosstrek. Will it be a branch off the Impreza family tree or a separate new sapling springing from the roots? It has already been crash tested in Europe coming up with a top 5 star rating - watch the crash video http://www.euroncap.com/Player.aspx?nk=d27e03c4-f2c1-41ba-82bc-7bf904ae50ac)
Still to be announced is if it will have the 2.0L or 2.5L here, and at which US car show it will first be shown ... NY, Detroit, or...?
11/14 LA auto show- Hollywood fantasy car competition
(updated 11/22- the winner of the 2011 Design Challenge is the Smart car entry 341 Parkour)
"Now in its 8th year, Design Los Angles is an automobile designers conference held at the LA Auto Show during the second opening press day.The conference allows designers and design industry professionals to meet and discuss common interests and issues...
Each year for the past eight years, the Design Challenge theme is chosen by the Design Los Angeles Board of Directors... Automotive design studios from around the world are invited to participate and this year, studios from Germany, Japan and the U.S. competed to design "Hollywood's Hottest New Movie Car."
Entries are judged based on various factors including: how the vehicle reflects its brand attributes relative to the movie plot; how the vehicle relates to the targeted audience or brand; the level of imagination; the character development of the vehicle; and the uniqueness of the combination of story, car and character." The design competition website
Subaru's entry is a sleek 4 passenger off-roader on a mission to save humanity by bringing back a new supply of (dilithium crystals).
The vehicle is the 'Horizon' - as in, to go beyond - and is built to withstand everything Earth's tormented ecology can throw at it.
The passengers in this future save-the-earth trip to the frozen side are Alcyone (aka SVX), Maia, Merope, and Pleaides the magical cat. All are named after the star cluster Pleiades, which is also the Subaru star logo. Nice movie tie-in. Oh, thats right, this is all a movie tie-in. Anyway, I am sort of curious as to how this future cat's magical powers have evolved since my 2011 cat already has the power to get me to do anything she wants (which mostly involves food, lap, food, nap, food, cat wants out, food, cat wants in... ).
Here are images of the car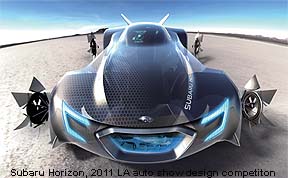 -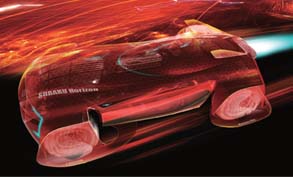 Here's the official movie plot
"After 200 years since the rotation of the Earth has stopped, the Earth was split into two, distinctly different hemispheres, the Daysphere and the Nightsphere. Humans have been living in a highly developed civilization in the Nightsphere, away from the sun's harmful
electromagnetic waves. There is no sunlight, but they had electricity sourced from an innovative energy plant that powered the megacity. It seemed the technology driven human civilization was flourishing as always, but there was a threat slowly casting a shadow down upon them.
The fuel of the power generation system, a rare crystallized mineral, was running out of energy. The mineral is known to be found only in the pole of the Daysphere, a place from which no human has ever come back alive.
A team of 4, Alcyone- the driver, Maia- the navigator, Merope- the mechanic, and Pleiades their magical cat, has been formed to venture to the other end of the world, tasked to bring back the crucial mineral. The Ultra Subaru HORIZON has been specially developed to take them on their journey. It is to withstand the strong electromagnetic field, chemical imbalances, scorching heat, and raging storms of the Daysphere. The skilled team is off to save their world in this action packed adventure!"
Subaru Design Tokyo Studio; Vehicle Title: Subaru HORIZON. Movie: Divided.
Design Team: Project leader - Takashi Hagino; Exterior design - Yoshifumi Tomita, Yoshiaki Sakaguchi, Tomoyuki Kato;
Interior design - Yohei Noshiro; Character design - Masashi Kaneda; Digital Modeling - Takamitsu Watanabe
the Subaru design page
11/10 Impreza XV going to be the Crosstrek?
"Earlier this week, SOA applied for US trademarks for XV CROSSTREK and for CROSSTREK. Since SOA, and not FHI, applied for these trademarks, it might be inferred one of these marks will be used for new Subaru XV when it arrives in North America". the NASIOC posting
still another level of Impreza 5 doors... 2.0i, Premium, Limited, Sport Premium, Sport Limited, 2.0i Crosstrek, Crosstrek Premium, Crosstrek Limited, or will the XV/Crosstrek become another line.
11/8 LA auto show and Tokyo auto show. LA auto show 11/16-27, Tokyo auto show 11/30-12/11
At the LA auto show Subaru will show another concept of the BRZ, the Concept BRZ-STI. This is just before the production version BRZ is finally unveiled at the Toyko show. Subaru is also showing a new hybrid 'Advanced Tourer Concept' wagon.
No mention if there will be an Impreza XV at the LA show, or if that is planned for the Detroit or NY car shows.
'Tokyo, November 7, 2011 - Fuji Heavy Industries Ltd, the maker of Subaru automobiles, announced its presentation at the 42nd Tokyo Motor Show 2011. It will focus on "Enjoyment and Peace of Mind" which is the core value provided to the customers through the Subaru automobile experience, the foundation being Subaru's global brand statement "Confidence in Motion".
"Confidence in Motion" is materialized in the concept car "SUBARU ADVANCED TOURER CONCEPT" which achieved its main goal to become a "Revolutionary Sports Tourer". Also showcased will be the "All-New SUBARU IMPREZA" and the "SUBARU BRZ" – the latter a rear-wheel drive sports car currently under joint development with Toyota Motor Corporation carrying the Horizontally-Opposed Boxer engine. The exhibition will also feature Subaru's original and latest technologies....
.. Exquisitely balancing the enjoyment of driving with environmental friendliness, the car, under its product concept of "Revolutionary Sports Tourer", embodies Subaru's theme of "Confidence in Motion".
The well established sports power unit, the Horizontally-Opposed Subaru Boxer engine, is now with direct fuel injection. This highlight mixed with Subaru's downsizing concept and original Hybrid Electric Vehicle (HEV) expertise has enabled Subaru to make considerate progress on its unique Symmetrical All-Wheel Drive (AWD) technology. An even sportier drivability and advanced environmental friendliness are both attainable in this new concept car...'

9/30 hybrid rumors, first in Japan in 2013 as a 2014 model. When will it be in the US..?
"Beyond the obvious Toyota, if any other make were to build hybrid cars, you might expect it to be Subaru. The small Japanese company's cars are revered for durability and standard all-wheel drive, and their drivers are often assumed to be on the liberal side of center. Subaru owners tend to cluster in mountainous enclaves of progressive politics, and data show their owners skew more Democratic than almost any other brand.
Now, at last, Subaru's hybrid plans are coming clear. The company will launch its first hybrid vehicle in Japan within two years. That car will be a model of the Subaru Legacy mid-size sedan, most likely for the 2014 model year.
But according to a Subaru of America executive who briefed GreenCarReports on condition of anonymity, while development of the hybrid-electric drive technology is largely done, the company is still debating which vehicle will debut the hybrid system for the U.S. market. Candidates include the popular Forester compact crossover utility vehicle, the equally popular Outback mid-size crossover, and perhaps the Legacy sedan as well.
Subaru could choose to put the system in its lowest-mileage vehicles (the larger Legacy and Outback), or increase the mileage of a more fuel efficient vehicle (the Impreza sedan or hatchback) to give the company a gas-mileage champion halo car...
...Since 2005, when Toyota purchased the share of Fuji Heavy Industries (Subaru's parent company) previously owned by General Motors, industry analysts had assumed that the small company would adopt Toyota's Hybrid Synergy Drive system--as Nissan did for its 2008-2011 Altima Hybrid, and Mazda plans to do.
But Subaru is a stubbornly independent company with a strong engineering culture. Aside from Porsche, it's the sole company offering horizontally opposed engines, which are smaller and give vehicles a lower center of gravity than inline engines. Fitting Toyota's hybrid to a pancake engine might have posed its own challenges, but Subaru's engineers developed their hybrid system internally, along with the lithium-ion battery pack. And so the Subaru hybrid that will launch as a 2014 model will be a mild hybrid--a technology that Toyota doesn't offer.' read the complete article
8/9 2012 Impreza XV... next stop Europe at the Frankfurt auto show.. And some form of the XV is coming to the US, maybe as an Impreza Outback Sport replacement or as a separate model. Will it be at the LA Auto Show November 18-27?
'Fuji Heavy Industries Ltd. (FHI), the maker of Subaru automobiles, today has announced that it will exhibit the all-new "SUBARU XV" (European specifications) as a world premiere at the 64th Frankfurt Motor Show in September 2011. The new model will be unveiled at the Subaru press conference, scheduled at 9.30am on September 13th.' the press release
8/4 Subaru is going to show an "important world premier" at the LA Auto Show November 18-27.
According to the press release "..Ford alone will feature three world debuts, General Motors will unveil two and Fiat, Mitsubishi, Subaru and Volkswagen will also show important world premieres... ". Here is the press release
Subaru has so many new cars due in the coming years, what could this one be?
The Subieyota is scheduled to be introduced in December at the Tokyo auto show.
How about a hybrid? Subaru has been talking up an all-wheel-drive hybrid for years and we're all waiting. LA would be the natural place to show it off. The Forester is due for a make-over so it could be that, or maybe a CVT version. The current Legacy GT is ho-hum fun and could use some spicing up, perhaps a version like the old specB will be unveiled. There have been (false) rumors of the moribund Tribeca's demise, it seems there will be a 2012 model after all but a real 7 passenger is clearly needed. Could this be the first concept of a Tribeca replacement due in a few years, another Subaru/Toyota joint effort? The WRX and STI redesigns aren't expected for around 2-3 years.
Or will this LA Auto Show unveiling be a new, ready for sale production version of the 2012 Impreza due to arrive at dealers late November anyway. Maybe the first US showing of a much needed XV concept based Outback Sport replacement? Stay tuned for more... The LA Auto Show
7/16 Impreza XV- The XV small crossover will be built near Kuala Lumpur, the capital of Malayasia, starting October 2012.
It is confirmed the XV will be available in Australia, New Zealand, Asia, probably China.
No word yet on US availability or at which auto show it will appear... will it be the LA Auto Show November 16, 2011, Detroit's N. American Int. Auto Show January 9, 2012, or the NY Auto Show April 5, 2012?
"Singapore's shrinking car market has prompted motor and property group Tan Chong International (TCIL) to spread its wings in Malaysia, Indonesia and Thailand. Its regional expansion is being spearheaded by a joint venture with Fuji Heavy Industries - the manufacturer of Subaru cars - to assemble the XV crossover in Malaysia.
The first cars will roll out of Tan Chong Motor Assemblies' plant just outside Kuala Lumpur in October next year. TCIL executive director Glenn Tan said that the plant will assemble 5,000 cars in the first year with the number projected to grow by 10% a year." the article

7/12 The Impreza XV concept crossover SUV will be sold in NZ in 2012. It was previously announced it would be available in Australia.
No word (yet) on which US auto show will host its debut... will it be the LA Auto Show November 16, 2011, Detroit's N. American Int. Auto Show January 9, 2012, or the NY Auto Show April 5, 2012?
"The appearance of Subaru's new XV crossover in trials on roads in Northland this year is the first stage of an ambitious plan by parent Fuji Heavy Industries to boost global sales over the next five years.
The production version of the XV is understood to be earmarked for road tests here in December, in readiness for its launch on both sides of the Tasman in March/April next year.
It will be the first of a handful of new all-wheel-drive models - including a hybrid and replacements for the Impreza WRX and STi - that Subaru plans to launch by 2016 to meet a global sales target of 900,000 vehicles, up from 657,000 last year.
One of the new Subarus will be the real-wheel-drive coupe co-developed with Toyota, although it is not known if it will be available in New Zealand.
The new Impreza sedan and hatchback will follow the XV later next year. Subaru NZ managing director Wallis Dumper would not confirm the XV's appearance in Northland this year, only that the crossover would be launched here in 2012.
The XV has been described as the "little brother" to the Legacy Outback. Subaru is looking for the Impreza-based XV to create its own place in the world, rather than being another member of the Impreza family.
It will be the first model spun off the new Impreza platform and the first to show off the carmaker's new styling direction and its "Confidence in Motion" brand banner, highlighting what Subaru says are its core engineering values of dynamic performance, safety, driving enjoyment and quality...." the entire article
6/7 more on the Impreza XV crossover - Subaru is showing it around, its going to be at the Austrailian car show this July, and it could be built in China if Subaru teams up with Chery.
No mention though if the XV will come to the US as a much needed replacement for the soon to be extinct Impreza Outback Sport
> "After presenting the XV Concept at the 2011 Auto Shanghai, the Japanese manufacturer with an eye for high-performance production cars will be taking the model in Australia, where it will be presented during the Australian International Motor Show in Melbourne on 1 July... "We're delighted to showcase this newest Subaru concept and will be seeking feedback on our stand at the show to gauge the level of possible customer interest in such a car," said Nick Senior, Subaru Australia managing director. the entire article
> "The joint venture between Subaru and Chery is all systems go according to media reports and will be churning out a new small SUV that will sit under the Forester in the Subaru line up. Before any wild stories appear regarding what a future Subaru SUV might look like, its likely that the car in question is going to be the Subaru XV concept that was already shown at the Shanghai Auto Show in April this year. The XV is essentially the Subaru Impreza crossover.
Subaru entered the Chinese market relatively early in 2004 with imported models but did not see big sales until roughly 2008, 2008?s sales stood at just 15000 units but jumped to 57,000 units in 2010. By adding locally produced cars to the line up Subaru will be able to tap a much larger consumer base who would be otherwise put off from buying imported models." the entire article
4/20 Unveiled- the first look at the 2012 Impreza 2.0is. Subaru's little car grows, the engine shrinks, the CVT gets 36mpg
The new Impreza 4 door and 5 door was shown to the public for the first time at the NY Auto Show today though press had face time with the car a few weeks ago.
You can get a 4 door sedan or a 5 door hatchback. The models are 2.0i, 2.0i Premium, 2.0i Limited, and 5 doors are also available as 2.0i Sport Premium and 2.0i Sport Limited.
4/20 2012 Impreza- See the 2012 Impreza today, live unveiling on Subaru's site http://www.subaru.com/auto-show/index.html.. In the meantime see the 2012 concept photos
4/13 more on the Impreza XV concept that will be at the Shanghai car show this April 19-28, 2011.
Sounds very much like the 2.0L Impreza XV that was shown at the March 2010 Geneva Auto Show. It had a 2.0L engine which is what the 2012 Impreza will have and looked like a bulked up Outback Sport- add some ground clearance, fender wheel arch moldings, roof rails, and a front grill similar to the Outback, Legacy, Tribeca etc and you have the XV.
The 2011 Outback Sport certainly could benefit from these changes since its currently very similar to the 2011 Premium model.
At the time, Subaru described the Impreza XV as "developed on the basis of the iconic Impreza 5-door model, offers a new crossover styling. Exclusively designed front grille and wheel arch, and specially equipped roof rails and a roof spoiler accentuate the uniqueness of this special Impreza version."
4/11 Another teaser from Subaru, the silhouette of a new crossover 'XV Concept' to be shown at the Shanghai car show April 19-28, 2011. Is this a preview of the 2012 Impreza 5 door hatchback? Thats very possible since the 2012 Impreza will be at the NY Auto shown the next day. And the US and China are big markets for Subaru. Or is this a hint of an all new car...
'Fuji today announced that it will exhibit the "Subaru XV Concept" as a world premiere at the 14th Shanghai International Automobile Industry Exhibition (Auto Shanghai 2011) slated for April in Shanghai, China (Press day: April 19 and 20; Open to the public from April 21 through 28).
The Subaru XV Concept is a design concept car that defines a new generation of crossover vehicle, blending exceptional SUV practicality with a fashionable form. It was specifically designed for customers who are looking for a vehicle offering looks, benefits and a packaging that stretch beyond those from the populated crowd of existing crossover models. At its heart is the core theme of "Enjoyment and Peace of mind", and a promise to deliver, in line with Subaru's new brand statement, "Confidence in Motion". With truly innovative styling, this new generation design concept car combines Subaru's Crossover-like driving excitement with a revolutionary inspiring feel, playful nature, the proven comfort and reliability of the renowned Subaru's Symmetrical AWD (All-Wheel Drive) system...
The press conference is scheduled at the Subaru booth on April 19, at 11.00.
The special site opens today at 11:00 on the Subaru Global Site. http://www.subaru-global.com/xv_concept.html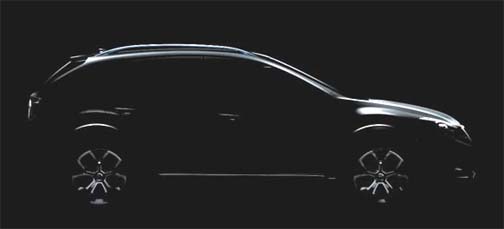 Subaru XV Concept Crossover at Shanghai auto show April 19-28, 2011. The next Impreza Outback Sport?
2011 calendar year news. archived news from 2010, edited for length, content
4/6 2012 Impreza teaser ... a 2.0L CVT with 146hp getting 36mpg on the highway. That's great fuel economy, a big long-needed improvement over the current models. Subaru trickled out some information about the 2012 Impreza that is going to be debuted at the NY Auto Show April 22- May 1 (open to press a few days earlier) and is due later this summer. We can expect more information to be released over the next few weeks. The photo the released is a side shot and pretty dark with little body detail.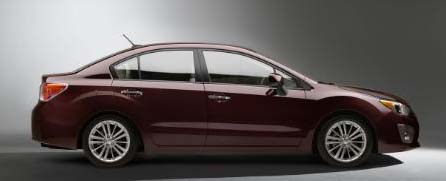 the silouette of the 2012 Impreza sedan - a teaser from Subaru, 4/6/11
'Subaru of America today announced the world debut of the all-new Subaru Impreza 4-door and 5-door models at the 2011 New York International Auto Show. The new 2012 Impreza will deliver 36 MPG, the highest fuel economy of any all-wheel drive car on sale in the U.S. The new design will provide a roomier interior and improved levels of comfort and refinement.' Subaru press release
'The fourth-generation Impreza, which goes on sale later this year in the U.S. as a 2012 model, is expected to feature Subaru's new generation four-cylinder boxer engine, which will be offered in displacements of 2.0 and 2.5 liters. Subaru said output on the 2.0 engine remains the same, at 146 horsepower, while torque climbs from 141 to 145 pound-feet.' insideline
See photos of the 2012 concept from the LA car show 11/2010
3/10 no Subaru hybrid until 2014 model in 2013? The rumor mill churns on...
'Rising gas prices -the national average for a gallon of regular is $3.52, according to AAA - could shift consumers' attention back to fuel efficiency and the smaller cars that deliver it, but Subaru points to its bigger car lineup for its sales success.
Car shoppers thought the automaker's previous Legacy sedan and Forester crossover were too small, said Michael McHale, Subaru's director of corporate communications. Recent redesigns have made both models larger, adding appreciable interior room. McHale also credits some of the success to a reorganization of its U.S. sales regions. "[The change] means we're a bit more in touch with the market," he said.
Fuel efficiency is becoming more important for all automakers, and Subaru has established some initiatives to improve the mileage of its models. A new 2.0-liter four-cylinder engine is on the way, and it will achieve 30 percent better gas mileage than the 2.5-liter four-cylinder that currently powers many Subarus, McHale said.
In a model like the Forester, which has a combined EPA rating of 23 mpg, that type of increase would result in a 30 mpg combined rating with the new engine and other fuel-saving technologies, such as continuously variable automatic transmissions. Further down the road, Subaru expects to launch its first hybrid in 2013 as a 2014 model.
Even though familiar Subaru models have undergone growth spurts in recent years, one of the automaker's upcoming models will be comparatively tiny. Subaru's version of the small sports car it's developing with Toyota — it's been seen in Toyota guise as the FT-86 concept — is set to arrive in 2012. McHale says the car is similar in size to the Mazda MX-5 Miata and will retain the rear-wheel-drive layout seen in the Toyota as opposed to Subaru's customary all-wheel drive.' the article
2/10 Subaru's hybrid Tourer concept to be shown at the Canadian Intl Auto Show, February 18-27, 2011, Toronto, Canada.
1/18 More hybrid rumors.. yes no yes no on using Prius technology... as long as its a Subaru and all wheel drive
'Subaru's fortunes in the United States have certainly been on the upswing over the past few years, but the company does feel it's missing a certain something: a gasoline-electric hybrid vehicle. Luckily, the automaker seems to be readying a vehicle that will plug the perceived gap in its product portolio.
Our sources at Subaru confirm we will definitely be seeing a hybrid from the automaker by 2013 at the very latest. We've learned, however, that the vehicle will not use a hybrid drive system adapted from that used by corporate parent Toyota. Instead, Subaru's system will be unique, and most importantly, compatible with both boxer engines and all-wheel-drive systems.
Details on the system — or even which vehicles will be offered with it — are still fleeting, but if the final product resembles that previewed with the 2005 B5-TPH concept, expect Subaru's hybrid system to sandwich an electric motor between the engine and transmission. Seeing how the automaker has been working with electronics giant NEC to develop lithium-ion battery packs since 2002, such a battery could very well make it into the production hybrid, but Subaru has also been tinkering with lithium-ion capacitor technologies for some time.
Subaru feels the fuel economy offered by its present models can weather any moderate increases in gas prices, but according to Tom Doll, COO of Subaru of America, the addition of a hybrid model will only strengthen its position as an eco-conscious automaker. In the mean time, expect the automaker to ramp up production at its Indiana assembly plant to keep pace with demand for its conventional Legacy and Outback offerings.' the article
1/11 Hybrid rumors ... many Subaru Loyalists are waiting for an all wheel drive hybrid. Well, at least here in Seattle they're waiting for one- does the rest of America care?
The all new redesigned 2012 Impreza with CVT transmission currently on display at Detroit's NAIAS (see it 1/15-23) and due to arrive later this year (please hurry), will hopefully get better economy than the larger 2010/11 Legacy CVT rated at 23/31mpg that's on sale now.
But SoA has been talking up a Hybrid (and down a diesel) for a few years now. The buzz is getting more frequent and it seems America - or at least Seattle - will have their wish-upon-a-star green Subaru all wheel drive hybrid in a few years... maybe. Heres an article from SoA Chief Tom Doll playing it low and slow, keeping the fire smoldering, so stay tuned for a lot more rumors in the next few years..
"Fuji Heavy Industries' Subaru brand is planning a hybrid model for the United States in 2013, although it remains to be seen how big an impact such cars would have on the market, a top executive at its U.S. unit said.
"We're going to need something at some point, even (only) to say we have it because that enhances our brand image in the market," Tom Doll, chief operating officer of Subaru of America, told Reuters in an interview at the Detroit auto show on Monday.
Japan's Fuji Heavy, known for its boxer-engine all-wheel-drive cars, has announced plans to launch its first gasoline-engine hybrid car in 2012 but has not officially disclosed which regions it would sell in, and when.
Last year, Subaru was one of the fastest-growing brands in the United States -- its biggest market -- with a 22 percent increase, putting it neck-and-neck with BMW.
Its market share grew to 2.3 percent, almost doubling in three years, although its spending on incentives was the lowest among major brands, near $1,000 and at one-third of those at General Motors Co.
Doll declined to disclose Fuji Heavy's internal estimate for U.S. sales this year but said he was optimistic about Subaru's continued brisk growth, adding he expected its per-unit incentives to be unchanged from last year's levels.
While hybrids could improve Subaru's brand image, Doll said he was happy with the car maker's current product line-up, which has won over many customers new to the brand with its fuel-efficient, all-wheel-drive models such as the Outback and Forester.
"If gas prices increase moderately and they stay in this $3 range, we have the products that can compete very, very well in the segments that we compete in," Doll said.
"Because remember, hybrids are only 2 percent of the market. And everybody has them out here (at the auto show) so it'll be interesting to see how that all shakes out in the market."
Fuji Heavy last year boosted production at its U.S. factory, in Indiana, to 163,000 units a year from 100,000, and is working on further capacity expansion as Subaru races to fill demand for its Legacy and Tribeca models." read the article
1/15 Hybrid .. Detroit's North American Intl Auto Show brings out the rumors
'According to a new report from Reuters at the 2011 Detroit auto show, Subaru executives are planning their first hybrid model for the United States in 2013. Sound familiar?
That's because one year ago in Detroit, Masatsugu Nagato, the director of the board of Fuji Heavy Industries, Subaru's parent company, promised its first hybrid in 2012. "New cars are coming and hybrid is coming," Nagato was quoted in the New York Times. "So, we want to make it the same timing. From a development point of view, it is very convenient."
HybridCars.com has been tracking Subaru's hybrid announcements for a few years. In May 2009, when Subaru first announced plans to introduce a gas-electric hybrid car by 2012, readers of this website responded with enthusiasm..
In the past few years, Subaru has:
Shown the Subaru B5 TPH (for Turbo Parallel Hybrid) two-seat concept car
Tested its diminutive Subaru R1e all-electric two-seat city car in the U.S.
Launched the limited-run R1e-derived Subaru Stella 50-mile EV in Japan. (According to Japan's Yomiuri Shimbun newspaper, the Stella will be killed off in March.)
Repeated displayed the Subaru Tourer concept
Before Subie fans give up all hope on an all-wheel drive high-mpg hybrid, take notice of a report last week from U.K.'s Autocar website, indicating that Subaru will eventually roll out a number of styling changes that "are likely to feature on a string of new cars, including the Subaru version of the Toyota FT-86 sports coupé and a hybrid variant of the Legacy." The report says that in 2013, Subaru will incorporate the looks of a new Impreza Concept "into a new Legacy hybrid that makes use of Toyota technology." The Toyota hybrid system is likely to use a 2.5-liter turbocharged boxer engine in unison with a CVT gearbox, according to Autocar.
Yet, Tom Doll, chief operating officer of Subaru of America, throws a wet blanket on any enthusiasm for a Legacy hybrid in the United States. On Monday, Doll said hybrids could improve Subaru's brand image, but that he was happy with the carmaker's current product line-up. "We're going to need something at some point, even (only) to say we have it because that enhances our brand image in the market," Doll told Reuters in an interview at the Detroit auto show yesterday... Check back here in one year, when Subaru announces plans for a future hybrid or electric car at next year's Detroit auto show.' read the entire article
1/10 Impreza concept car.. missed it in LA last November? Its back at the Detroit North American International Auto Show, Jan 10-23, 2011. Photos from the LA show here

---
top
.

FUEL Economy in 2011:
ratings, issues, news, EPA and CAFE' news etc

edited for length, content
.
8/20 Much better MPG planned for 2025
'With agreement among the White House, the EPA and NHTSA, and most major automakers (though not all), the U.S. looks to be well on its way to a corporate average fuel-economy requirement of 54.5 mpg by model year 2025.
That translates to 40 to 45 mpg in real-world gas mileage, but it's still a notable increase in fuel efficiency over today's 25 mpg or so.
Now Japan is planning to set new fuel economy rules of its own, reports the Nikkei business daily.
The country is drafting guidelines to require gasoline cars to achieve fleet average gas mileage of 20.3 kilometers per liter (47.7 mpg) by 2020, a 24-percent increase from the 2009 requirement of 16.3 km/l (38.3 mpg)...
But while the two countries' fuel economy ratings aren't directly comparable, the message is clear: Carmakers in North America, Europe, and now Japan too will have to build notably more fuel-efficient vehicles in the years to come.' the article

7/27 New fuel economy standards for the year 2025 to be announced Friday. After negotiations the new goals for 2025 is 54 mpg
7/20 Tom Easterday, VP Subaru of Indiana, on achieving high fuel economy by 2025
'Two years ago the federal government announced that car makers would need to raise their average fuel economy levels to around 35 miles per gallon by 2016. Now analysts are working on increasing those numbers again by 2025 and some car makers are worried that could force them to lay-off workers. The government would like to see mileage improvements of about 5% per year. That would mean car fleets with an average of 56 miles per gallon by 2025. Car manufacturers say that's unrealistic.
"The government forcing that, I think is just going to add to the cost and quite frankly, I think they're ahead of technology," said Tom Easterday, Executive Vice President of Subaru of Indiana. "It may not even be possible to reach those standards that are being talked about."
Easterday pointed to several innovations in the Subaru line, from integration of aluminum and composite materials in their cars, to more efficient drive trains and low resistance tires. He is worried that forcing too many mileage restrictions, too quickly, could cost jobs.
"If it costs too much to manufacture the vehicle, that has to be passed on to consumers," he said. "There's a real concern that would diminish sales overall and cost jobs."
... The government said it's a matter of better air quality and national security. Cars burning less gas, means less pollution and less dependence on foreign oil. The 56 mile per gallon mark is not final yet... " the entire article
Outback MPG comparison - thinking about a midsize Crossover with all wheel drive like the 2011 Subaru Outback? Here are some 2011s that are generally in the same size range as the Outback, though some cars are smaller and others clearly larger.
These are sorted by their Highway fuel economy ratings, and all have automatic transmissions.
The model is whatever was rated at the best city/highway MPG. Price and engine size was not a factor.
#1 Subaru Outback- 22/29 mpg
Chevy Equinox, GMC Terrain- 20/29
Toyota Highlander Hybrid- 28/28
Kia Sorrento- 21/27
BMW X5- 19/26
Ford Edge- 18/26
Honda Crosstour- 18/26
Hyundai Santa Fe- 20/25
Toyota Venza- 20/25
Lexus RX 350- 18/24
Volvo XC70 CrossCountry- 18/24
Dodge Journey- 16/24
Chevy Tahoe Hybrid- 20/23
Suzuki Grand Vitara- 19/23
Nissan Murano- 18/23
Ford Explorer- 17/23
Acura ZDX- 16/23
Land Rover LR2- 15/22
Toyota Highlander- 17/22
Jeep Grand Cherokee- 16/22
Hyundai VeraCruz- 16/21
Infiniti FX35- 16/21
Mazda CX7- 17/21
Nissan Xterra- 15/20
******************
small crossover fuel economy MPG ratings. Forester class
Thinking about a small Crossover like the Subaru Forester? Here are some 2011 all wheel drive crossovers that are generally in the same size range as the Subaru Forester.
These are sorted by their Highway fuel economy rating, and all have automatic transmissions.
The model is what was rated at the best MPG city/highway. Price was not considered.
Mitsubishi Outlander Sport- 24/29;
Hyundai Tucson- 21/28
Kia Sportage- 21/28
Ford Escape Hybrid- 30/27
Subaru Forester 21/27
Honda CRV- 21/27
Toyota Rav- 21/27
Nissan Rogue- 22/26
Jeep Liberty- 21/26
Jeep Compass- 21/26
Jeep Patriot- 21/26
Ford Escape- 20/26
VW Tiquan- 19/25
Honda Element- 19/24
Volvo XC60- 18/24
Acura RDX- 17/22
Dodge Nitro- 15/21
***************
5/29 new EPA fuel economy stickers starting next year on 2013 models
Redesigned fuel economy labels will be required on all 2013 models the Department of Transportation (DOT) and Environmental Protection Agency (EPA) have announced. The new labels, the biggest upgrade in 30 years, will provide more fuel efficiency information, including estimated annual fuel costs and savings, as well as information on each vehicle's environmental impact.



top
SAFETY CRASH TESTS safety news, including recalls etc in 2011
edited for length, content
2011 calendar year news
(archived news from 2010)
12/17 safety- Subaru's are Top Safety picks from IIHS.org. Includes new 2012 Impreza, Outback, Legacy, Forester, Tribeca
'..Again this year every major automaker has at least one winner. Subaru remains the only manufacturer with the distinction of earning awards for every model it builds. Subaru picks up 5 awards, including one for the redesigned Impreza, a small car.
Toyota/Lexus/Scion has 15 winners for 2012, more than any other auto manufacturer. General Motors is next in line with 14, followed by Volkswagen/Audi with 13, and Ford/Lincoln and Honda/Acura with 12 awards apiece. -
Impreza (except WRX, STI). 'Good' (the top) performance in front, side, rollover, and rear tests and standard electronic stability control
Outback - Legacy - Forester - Tribeca

10/18 crash tests. Three 2012 Subarus will be crash tested this year. The 2012 Outback, Legacy, and redesigned Impreza 4 door will be tested. The 2012 Forester continues with the 2011's overall rating of 4 Stars
'The testing will be conducted under NHTSA's enhanced program, which was revamped last year to include tougher crash tests and provide consumers with a single overall safety score for each vehicle. A number of model year 2012 vehicles had carry-over designs from the previous year or have already been tested, and these ratings are already posted online' the PDF
5/31 safety- government wants you to watch the road and is watching what goes into your new car
'As consumers clamor for more tools to help them stay connected to online media on the road, auto makers are coming under fresh pressure to minimize distracting gadgetry in new cars.
"There's absolutely no reason for any person to download their Facebook into the car," U.S. Transportation Secretary Ray LaHood said in an interview. "It's not necessary."
Mr. LaHood is pushing to open new fronts in his long-running campaign against the proliferation of technology-driven diversions... He is also urging auto executives to free up advertising money to create public-service announcements that remind motorists to stay focused on the road, and not to text and drive. BMW AG is the second major car maker after Subaru to say yes. It will launch later this month a television spot that starts with what appears to be a spoof of overprotective parents, but ends with disturbing images of a mother texting behind the wheel, oblivious to the sport utility vehicle that is about to broadside her car. ...
Anyone who has driven a new car decked out with the latest technology knows it is possible for a driver to get a dizzying amount of information about the vital signs of the car, its location, the types of music available from various sources, who's calling on the phone, or even whether a car is hiding in the blind spot.
Dictating commands into voice-activated navigation devices or telephone interfaces can be an involved process, especially for owners new to the gadgetry...
Mr. LaHood compares the effort to change public attitudes toward distracted driving to the long-running efforts to change attitudes and behavior related to drinking and driving. The Transportation Department's 2012 budget requests about $50 million to expand efforts to ticket people texting while driving, following the example of the "Click It or Ticket" campaigns that helped boost seat-belt use to about 85% in 2010. Still, Mr. LaHood says he knows what he's up against in the fight against distracted driving. "We know people are hooked on cellphones and texting devices." he says." ' the entire article by Joseph White
5/30 safety- IIHS finds more small cars scoring well. The Impreza is a Top Safety Pick.
To determine crashworthiness — how well a vehicle protects its occupants in a crash — the Institute rates vehicles good, acceptable, marginal, or poor based on performance in high-speed front and side crash tests, a rollover test, plus evaluations of seat/head restraints for protection against neck injuries in rear impacts. To earn Top Safety Pick for 2011 a vehicle must have good ratings in all four Institute tests. In addition, the winning vehicles must include electronic stability control.
"..The list of cars with the best fuel economy now includes those with the highest crash test ratings in their class, too," says David Zuby, the Institute's chief research officer. "At a time of high gasoline prices, consumers have never had a bigger selection of small cars that earn Top Safety Pick."
The 2011 Subaru Impreza sedan and wagon (except WRXs) is a Top Safety Pick.
All 2011 Subarus - the Outback Legacy, Forester and Tribeca- are a Top Safety Pick except the WRX.
Other small cars to get the Top Safety Pick nod are the Chevrolet Cruze and Volt, 2012 Ford Focus, Honda Civic 2012 4-door, Honda Civic 2011 4-door (except Si) with optional ESC, Hyundai Elantra sedan built after 3/2011, Kia Forte sedan, Kia Soul, Lexus CT 200h, Mazda 3 built after 12/2010 sedan/hatchback, Mini Cooper Countryman, Mitsubishi Lancer sedan (except 4-wheel drive), Nissan Cube, Nissan Juke, Nissan Leaf, Scion and xB, Subaru Impreza (except WRX) sedan/wagon, Toyota Corolla, Toyota Prius built after 12/2010, Volkswagen Golf and GTI 4-doors. Chweck out the full list of IIHS Top Safety Picks
5/21 safety- Subaru's EyeSight system has been in Japan for a few years and will be available in Australia later this year- but not in the US or Canada. Or at least we haven't heard its going to be offered here. Australia is the first overseas market for it. It uses 2 small cameras for the stereo view mounted up high in the center near the rear view mirror. Sounds like a good safety device but if it was used here I can already image the lawsuits... You mean I had to press the brake? I thought it was going to doi it for me and etc.
'EyeSight is designed to protect drivers from frontal collisions, lane drifting and low speed impact. It can also recognise pedestrians, motorcycles and cyclists within its field of vision. It uses small stereo cameras located in a single compact unit near the rear-view mirror to recognise any potential road hazards and alert the driver. This advanced safety system has seven key functions that include the following: Pre-crash braking.. Pre-crash brake assist.. Progressive start control.. Adaptive cruise control.. Lane departure warning..
Vehicle sway warning.. and Progressive motion monitor...' read the press release
5/20- Subaru will sell another car. Just ask Marty what his next car will be because he was in this 2009 Forester stopped in a construction zone when it was hit by a dump truck towing a backhoe. He says that he was pretty shaken up but the passenger space was completely protected! Its hard to even tell what kind of car it was... more photos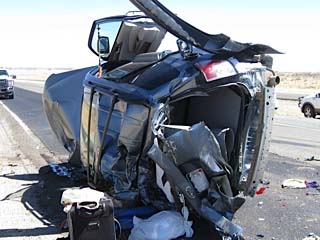 4/29 safety- improvng rear view safety as required by the Cameron Gulbransen Kids Transportation Safety Act of 2007 NHTSA is expected to finalize a rule in 2011 on rear visibility as required by the Cameron Gulbransen Act which requires auto makers to expand the required field of view to enable the driver to see areas behind the motor vehicle to reduce death and injury resulting from backing incidents, particularly incidents involving small children and disabled persons.... Additional mirrors, sensors, cameras, or other technology to expand the driver's field of view can be used but rear view cameras seem to be favored..
---
top
Subaru and Toyota news in 2011
edited for length, contentS

BRZ INFORMATION HAS MOVED ABOVE
SUBARU ADVERTISING and SPONSORSHIP news in 2011
edited for length, content
2011 calendar year news- (archived news from 2010)
top
12/22 'North American-based Subaru Freeskiing World Tour and European-based Swatch Freeride World Tour have joined to establish a new global competitive big mountain freeskiing and snowboarding structure, with stops stretching from Revelstoke, British Columbia, to Verbier, Switzerland. The move comes after years of both tours experiencing incredible growth in both athlete and sponsorship participation.
"This is the natural next step in the evolution of a long-term partnership between both tours," said Adam Comey, president of Salt Lake City-based Mountain Sports International, the company that owns the Freeskiing World Tour. "This is a global sport with a common culture and passion for big mountain riding and a global strategy will best serve the athletes, events, and tour sponsors."
Freeride World Tour organizers are in complete agreement. "The 2012 season will be the next step in globalizing freeride,"...
In 2012, the tours will operate independently as they have in the past, with a joint event in Revelstoke, British Columbia, in January, followed by top Subaru Freeskiing World Tour and The North Face Masters athletes joining the Freeride athletes again at season's end in Verbier, Switzerland, for the Swatch Verbier Extreme, featuring a $32,000 prize purse.
...In addition to event collaboration, the two tours will also follow a unified global event tier and points system, now giving athletes the chance to enter in small, open events that feed directly to the world's biggest freeskiing championships...
The official 2011-12 Subaru Freeskiing World Tour season started this summer in Las Lenas at the Argentinean Freeskiing Championships (Stop #1), then moved to Ski Arpa in Los Andes at the Chilean Freeskiing Championships (Stop #2). The Swatch Freeride & Freeskiing World Tour Revelstoke 2012, Jan 4-12, will be Stop #3 on the Subaru FWT. Twenty-five pre-qualified Freeskiing World Tour athletes will join 25 pre-qualified Freeride World Tour athletes. Fifteen open spots are up for grabs in the qualifier event boasting upwards of 80 freeskiing athletes. Twelve snowboarding athletes from The North Face Masters will join 12 riders from the Freeride World Tour for the snowboarding category of the event...
The Subaru Freeskiing World Tour will continue on to Crested Butte, Colorado, Kirkwood, California, and Snowbird, Utah. An overall Subaru Freeskiing World Tour Champion will be crowned at the Subaru Freeskiing World Tour Championships at Snowbird." the entire article
12/4 Subaru sponsors the Freeskiing World Tour
The 2012 Subaru Freeskiing World Tour kicks off its North American stops January 4-9 with the Canadian Freeskiing Championships in Revelstoke, BC; the US Extreme Freeskiing Championships in Crested Butte, CO on Feb 8-12; the North American Freeskiing Championships in Kirkwood, CA on Feb 22-27; and culminating with the Subaru Freeskiing World Championships in Snowbird, UT on March 14-19, 2012. Athlete registration for Revelstoke will open Dec 7, 2011 at 10 a.m. MST; registration for all other stops will open Dec 15 at 10 a.m. MST at www.freeskiingworldtour.com.
11/19 Share the Love v 4.0 starts today November 19 and runs through January 3, 2012.



Buy a new Subaru and Subaru donates $250 to your choice from the following worthy causes.
Choices for 2011 are American Forests, ASPCA, Make-A-Wish Foundation, Meals On Wheels, Special Olympics
In the 3 previous years Subaru generously donated $1m to each charity. More information and images
11/7 advertising. Remember the Mediocrity ad campaign last year. It was all in good fun, but heres an article that points to the downside.
"Subaru's North American operations have long been known for advertising catastrophes, but rarely have they laid an egg as big as the October 2010 viral campaign for the "2011 Mediocrity". The car chosen to be the butt of the joke was an old Kia Optima, which simply proved that neither the ad agency nor Subaru had the guts to start with a brand-new Camry. If Subaru was hoping for a sales boost for the new Legacy, it didn't happen.
The campaign's long gone, but that doesn't mean we can't take a moment to look at some pictures and make some snarky comments, right?..." check out the entire article
10/19 Subaru sponsored IMBA Trail Care Crew scheduling 2012. Sign up deadline is 11/4
'The deadline for bike clubs, local trail groups and land management agencies to apply for a 2012 Subaru/IMBA Trail Care Crew visit is Friday, Nov. 4th... Thanks to generous, ongoing support from Subaru of America, the International Mountain Bicycling Association will celebrate the 15th anniversary of its Trail Care Crew program in 2012. Two crews of professional educators and trail builders travel the U.S. ten months each year, teaching sustainable trailbuilding, energizing mountain biking communities and bringing together land managers, city officials and trail users...' check out the IMBA website
10/17 advertising
"National Fatherhood Initiative (NFI) has honored Subaru with a Fatherhood Award™ for its "Baby Driver" television commercial.
"Baby Driver" highlights the care and concern good fathers have for their children...
At a time when America is experiencing record levels of father absence, Subaru's ad communicates a timely message about the importance of father involvement in children's lives. While rates of father absence may be high, Subaru's ad also speaks into another significant development in the American family -- the increased role involved fathers are playing in important family purchasing decisions, especially around automobile purchases.
Roland C. Warren, president of NFI, said, "Subaru's 'Baby Driver' TV commercial is worthy of a Fatherhood Award™ because it taps into a characteristic that all good dads have – the desire to provide for and protect their children. Subaru's message of "Love" is clearly communicated through this dad's concern for his daughter's safety on the road, and NFI is honored to recognize Subaru for celebrating dads in this way and providing vehicles that give dads peace of mind."
... "We are very honored to receive a Fatherhood Award," stated Subaru of America, Inc. executive vice president and coo Thomas J. Doll. "'Baby Driver' exemplifies the safety and confidence of Subaru products."... Past Fatherhood Award™ winners include luminaries such as Tony Dungy, Tim Russert, James Earl Jones, Dwyane Wade, Tim McGraw, and Tom Selleck, and corporations such as Google, Johnson & Johnson, AT&T, Chevrolet, and IBM.
All past awardees can be viewed at http://www.fatherhood.org/fatherhoodawards." the entire press release
10/9 advertising 'Confidence in Motion', Subaru's new tag line, brings up the mental image of a happy driver, presumably in an all wheel drive Subaru, securely -dare I say confidently- cutting a curve on a slick road. We've all seen TV commercials like that.. its a creepy dark and stormy night, Mom or Dad is driving... and final shot is the car arriving safely at its destination.
The line could be 'sure footed in motion' but Subaru says that 'Confidence' is about the trust that Subaru's commitment to engineering creates in customers, and 'in motion' refers to Subaru's commitment to building cars that move with the times and anticipates customer expectations. To be used along with Subaru's long standing line "Love. Its what make a Subaru, a Subaru"
9/28 advertising, the 4th Share The Love event charities are American Forests, the ASPCA, Meals On Wheels, Special Olympics and the one chosen by voting on Facebook, the Make-A-Wish Foundation. Subaru donates $250 per car sold from Nov 19 through Jan 3, 2012. Each charity will receive $1m. Last year the charities were the Ocean Conservancy, Big Brothers Big Sisters, ASPCA, Habitat for Humanity, and Meals On Wheels
9/21 advertising and the 'pimpatorial', reviews that are lightly colored advertisments. So, its really not a coincidence that a magazine or website with a positive car review usually has a big ad from the manufacturer nearby? Also the 6:1 ratio rule- the art of balancing 6 good comments with one negative, humorous, or snarky one for realistic effect.
'Once upon a time, this stuff was easy. When Jean Jennings (editor of Automobile magazine) needed a little extra pocket change all she had to do was… make an ad. Like this one, for the Silverado. Or this one, for Jeep (which I swear was still visible less than a year ago). Nowadays, however, you've got to be a little more careful about how you go about lending your "editorial credibility" to one of the brands you're supposed to be covering rather than shilling for. So instead of the straight-up "Hi, I'm Jean Jennings, Editor-in-Chief of Automobile Magazine, and here's why I love Chevy's Silverado" pimpatorial of the past, you've got to layer on the irony, load up on non-car-related distractions (I've got it… a puppet!) and generally avoid the personal testimonial format as much as possible.
> Yes, the pimpatorial game is becoming more subtle… another example: Motor Trend boss Angus Mackenzie's Subaru-funded adventure of personal discovery that happened to be featured in both his magazine and Subaru's Drive Magazine. (spring 2011)
But when it comes to crossing the line between editorial and advertising, isn't more subtlety a bad thing? If the editor of a buff book is going to shill for a product or brand, wouldn't you rather they just come out and do it so you can get on with ignoring conclusions to comparison tests like "Ford has unabashedly pandered to those of us who care about driving by designing an efficient, comfortable mainstream car that absolutely nails the finer points of steering feel, suspension tuning, and overall driver involvement. Our vote goes to the Focus."
Ford has also "unabashedly pandered" to your E-I-C and her appreciation for fat checks… and even if your conclusions are correct, they should be ignored. I'm generally a fan of subtlety, but to paraphrase Homer Simpson, I like my beer cold, my meat red, and my sell-outs shameless." the article with links and an embedded video in permanent replay mode
9/17 advertising
"MWW Group (www.mww.com), one of the top-ten global independent public relations firms, today announced that it has been selected as agency of record for Subaru of America. As agency of record, MWW Group's Consumer Lifestyle Marketing practice will spearhead a program promoting Subaru among lifestyle media and elevating consumer awareness.
The program will draw upon MWW's consumer lifestyle and automotive experts with a wide range of media and influencer relationships in traditional and social channels. It will also leverage Dialogue Digital, MWW Group's digital and social media marketing practice, to further engage Subaru's community of owners and enthusiasts through social media.
"Subaru is among the most innovative and exciting automotive companies in the world. Our campaign will harness Subaru's spirit of adventure, cultural currency, and passionate community to tell the story of this iconic brand," said Michael W. Kempner, president and CEO of MWW Group.
"MWW Group impressed us with their knowledge and leadership in building high profile consumer brands, and their deep level of expertise in the automotive lifestyle sector," said Michael McHale, director, corporate communications, Subaru of America, Inc. "MWW's approach to PR will be invaluable as we craft communications strategies. As leaders in social media, they will be a strategic partner as we more fully tap into the vibrant Subaru community."
"The Subaru account will be led out of MWW Group's New York office along with a West Coast team based in Los Angeles," said David Herrick, executive vice president and general manager, MWW Group New York. "We've built a customized team that brings the right expertise for Subaru from across our wholly-owned network."
8/25 feeling really energetic? Maybe just go watch the Subaru sponsored Ironman Canada Triathlon in BC, Canada.
The Ironman triathlon started in 1978 when a group of US Navy Seals in Hawaii were discussing who were the fittest- swimmers, cyclists or runners- and on February 18, 1978, 15 competitors decided to put themselves to the test.
"This Sunday, August 28th 2011, a record field of professional and age group athletes embark on the challenge of a lifetime at the 29th annual Subaru Ironman Canada Triathlon.
Swimming, biking and running their ways to the title of 2011 Subaru Ironman Canada Champion include last year's professional winners Viktor Zyemtsev and Meredith Kessler. Sunday will also see the return to Penticton of Jordan Rapp, the 2009 champion, who will be looking to topple Zyemtsev after a devastating injury kept him out of the race last year.
In addition to the prestige of winning the event, Subaru Ironman Canada offers a $75,000 professional prize purse and 65 age group slots for the 2011 Ford Ironman World Championship in Kailua-Kona, Hawaii.
However, for most of the participants, competing in the oldest Ironman event in continental North America is not about the prizes. Emergency doctors and physicians, restaurant owners, a belly dancer, human resource professionals, airline pilots, speech pathologists, stay-at-home parents and many more make up the age group athletes from 18 to 79 representing more than 37 different countries. For these individuals pushing themselves to their physical and mental limits, crossing the finish line and completing their Subaru Ironman Canada journey is the real prize.
Taking place in the scenic Okanagan Valley, the event features a 2.4-mile (3.9 km) swim in Okanagan Lake followed by a 112-mile (180.2 km) bike ride and a 26.2-mile (42.2 km) marathon that finishes in the along Lakeshore Drive in downtown Penticton." the website
8/25 pick one of the five charites for the 4th annual Share the Love Event in November.
Check out Subaru's Facebook page and vote every day for one of the five charities that will receive a portion of this year's Share the Love Event 2011. Subaru donates $250 for every new car sold from November 19-January 3 to the charities. In each of the 3 prior Share the Love Events, Subaru donated a total of $15m, this year they want to make it $20m.
The charities from which the 5th one will be chosen are Teach For America, American Red Cross, Children's Miracle Network, and the Make-A-Wish Foundation. The one that receives the most votes will be the "People's Choice" charity. For first 200,000 votes Subaru will donate .10c per vote to the charity receiving the vote. And yes you can vote every day because Subaru wants you to visit their facebook page frequently.
"We are pleased to offer this opportunity to Subaru's online community," said Brian Johnson, National Advertising Manager for Subaru of America, Inc. "This lets our customers get directly involved with our partners and allows them to have a say in who Subaru partners with in this year's event."
So through September 15, vote every day on the Subaru of America Facebook page.
Four of last year's organizations will be back, one of them won't be.. which will it be- Ocean Conservancy, Big Brothers Big Sisters, ASPCA, Habitat for Humanity, or Meals On Wheels. The press release
8/24 advertising- Have an Android tablet? Subaru sponsors the Weatherbug app.. does Subaru sponsor other apps?
"The carmaker is sponsoring the WeatherBug mobile app for Android 3.0 Honeycomb from Google. Consumers using the app will be presented with a Subaru "Driving Forecast" that includes a clear display of the current live, local weather conditions and driving-related forecast information.... The overall theme of the campaign is "The Weather Doesn't Matter If You Have a Subaru." the article
8/5 Subaru Freeskiing World Tour broadcast on The Ski Channel
'The Ski Channel presents Subaru Freeskiing World Tour Kirkwood. Known as one of the biggest Tahoe resorts and for receiving the highest amount of snowfall each year, the broad selection of terrain makes it one of the best places for freeskiing. Through October 25.
7/31 Subaru CD. In 2003 Subaru's spokeman was athlete Lance Armstrong. He overcame illness and obstacles and the odds and kept winning. Subaru's advertising slogan was 'Driven by what's inside'. Subaru came out with a music CD, click here


7/29 advertising- New Chief Marketing Officer. Dean Evans is the new Senior VP/CMO starting September, 2011, replacing the former Director of Marketing Communications Kevin Mayer who left October 2010 to be Director of Chevrolet Advertising and Sales Promotion. Subaru also lost Exec VP and CMO Tim Mahoney who left Subaru for VW in April.
Dean Evans brings to Subaru a strong automotive background including dealer management and a lot of website and lead generation experience. Of course, much of the today's advertising is focused online but creative advertising takes many forms, and traditional venues such as magazines, TV, newspapers, placement, sponsorships etc, still reach active buyers.
Most recently he was Chief Marketing Officer for Dealer.com 2006-11. Prior to that he was Cobalt VP Field Mktg 2006-7, Dealix VP Mtkg 2003-6, Jaguar Land Aston Martin NA CRM mgr 2002-3, Ford CRM director 2001-2, CarPrices.com/Autofusion exec dir development/sales 2000-1, Nextag discount website auto dept mgr 1998-9, Les Vogel Chrysler/Jeep/Dodge, Burlingame Ca (bought by Lithia 2002) Gen Mgr 1996-8, and Chrysler corporation 1991-6. He was a car broker at HM Brown & Assoc Colorado 1990-1.
7/22 advertising. Emmy Awards- Subaru's Baby Driver ad by Carmichael Lynch and RSA Films is nominated for Outstanding Commercial. The Emmy's will be on the Fox network Sunday, September 18, 8pm, hosted by Glee's Jane Lynch.
A link for all the Emmy nominees.
> If you haven't seen the Baby Driver ad, it's all about Daddy's little girl driving a car.
The story of the ad... "You need awards to stay relevant, attract talent and attention," related Randy Hughes, executive creative director at Carmichael Lynch. "The Emmy, though, has a little something extra special--even your mom knows what an Emmy Award is."
Hughes worked on the Emmy-nominated Subaru spot "Baby Driver" as executive creative director/art director, teaming with Carmichael Lynch chief creative officer/writer Jim Nelson. Hughes said he's honored to have "Baby Driver" included in such a creatively rich, high-profile field of Emmy nominees.
"Baby Driver" tugs at the heartstrings as we see a father giving his toddler girl instructions on how to drive--she's sitting behind the steering wheel and isn't tall enough to look out the windshield. The camera cuts away to him outside the car and then back to the girl--who's now a teenager--in the driver's seat. Clearly we've been seeing this teen as her father still sees her--as his little girl. As she backs the car out of the driveway, the dad's voiceover informs us that he knew this day would come--that's why he bought a Subaru.
"We had the idea of a teenager taking her maiden voyage in a car and thought about how we can make a parent talking to a teenage daughter more compelling," recollected Hughes. "That's when we came up with the universal truth of parents always seeing their kids as younger."
While the idea fell into place nicely, the execution didn't initially. "Trying to cast the family--a dad, his teenage daughter and her younger sister--was challenging," said Hughes. "You need to find actors with a family resemblance of some sort and we weren't coming up with what we needed. A talent agency on a whim suggested a real dad and his two daughters who lived around where we were shooting [in Southern California]. They all looked right, fit the specs but weren't professional actors."
Thankfully, continued Hughes, director Scott is adept at working with talent--both professionals and real people. "Jake was great. He got them together and threw the script away, asking the father what he would tell his daughter before sending her off on her first drive. The father spoke from the heart, the daughters were natural. We had it in five or six takes, probably the shortest shoot on record. The performances were simple and strong." the article
7/21 advertising- running through mud in Philadelphia for a good cause, sponsored by Subaru
'More than 5,500 competitors ran, crawled, climbed, and slithered their way through... the (Philadelphia) Merrell Down and Dirty Mud Run.
They navigated an obstacle course - 5 or 10 kilometers for the adults, a mile or 100 yards for kids - that ended with a 20-yard, military style crawl through a mucky mix of sifted topsoil and 12,000 gallons of water.
The event was part competition, part fun, with proceeds going to Operation Gratitude, a nonprofit that sends care packages to the nation's servicemen and servicewomen..
..The Down and Dirty Mud Run was one in a series of races in nine cities this summer. So far, Philadelphia's has attracted the biggest crowd, said Michael Epstein, executive producer of the event for the Merrill footwear company.
A curious fact about the mud run series: 65 percent of the competitors are women. "We're trying to figure that out," Epstein said. "We've struck a nerve. It's a unique way for women to get together and challenge themselves." read the article
> Coming mud events sponsored by Subaru- Richmond Va August 21; New York October 2; Atlanta October 16; Sacramento Night Mud Run October 29, day run October 30 2011
No dogs allowed, yes there's a shower at the end, entry fees are $50-75 (late fees vary by location) with active military or public safety discounts includes the BBQ, tshirt etc. Check out the website, registration, FAQs

7/20 advertising - more on Ludo Bites America. Ludo Bites America is the entertaining new Subaru sponsored fryer sitcom that debuted last night, Tuesday, July 19. Its about tempermental french chef Ludo and his American wife as they travel the US in a silver Subaru Outback Limited. Its hard to see the Subaru connection, the Outback certainly isn't an important part of the show, but then neither is food or cooking, its more about Ludo et femme as they open one night stand restaurants in quintissential American cities like Santa Fe, Omaha and Mobile. In the Santa Fe opener, we get glimpses of Ludo: rolling torillas, tasting hot chilies for the first time, buying cowboy boots, eating a juicy hamburger, stomping a recalcitrant digital scale into submission, and finally putting together the aforementioned one night menu for about 125 paying customers at $37ea in a whirlwind of screaming kitchen drama.
Given Ludo Bite's strong reputation in LA, its assumed he can cook, and the menu looks tasty... One restaurant patron commented that the steak was the best he had ever eaten - it was a hanger steak marinated in red chiles. But there are no recipes, ingredients, methods or processes in the show. This is a straight fryer sitcom about the personalities and drama of pulling off a Ludo Bite's event. And it is an happening event.
Yes, the menus and recipes and more are on Sundance's website.
Next up is Omaha. Thats prime beef country and we'll see Ludo serve a dry aged ribeye with potato pear gratin.
On a more Subaru pertinent note, the Outback had navigation but they didn't use it to find a restaurant. I couldn't tell if the Outback was a 2.5L or 3.6R model...
Ludo Bites Santa Fe is on every night this week, and epsiode #2, Omaha, starts next Tuesday 9pm, and yes I'll watch. I want to know if its a 2.5L or 3.6R...
Ludo Links- the summary of the episodes, the schedule, the recipes, LudoBite's website. read an interview with Ludo.
7/18 advertising - Subaru sponsors new cooking show 'Ludo Bites America' on the Sundance Channel (founded by Robert Redford).
Its a dramatic cooking show about LudoBites, the popular LA/Southern California pop-up restaurant. In the new TV series, French born chef Ludovic Ludo Lefebvre and attorney wife Kristine Krissy Lefebvre travel the US in a Subaru Outback doing their quick 'pop-up' guest turns behind the stove in various restaurants. Drama and good food presumably ensues, along with some Subaru connection.
Known for his innovative, quirky cuisine, Ludo has been successfully doing this since 2007 in the LA area as LudoBites, a pop-up restaurant that travels from kitchen to kitchen, that 'pops-up' here and there with no fixed address or phone number.
Now he's on TV with a corporate sponsor, and it will be interesting to see how they mix in a little special Subie Spice. "...In order to communicate Subaru's "Greater Good" social responsibility initiative, the vignettes focus on green and community building trends. Topics include Pickling, Food Trucks, Molecular Gastronomy, and Grocery Store Restaurants.."
Hmmm.. sounds tasty... wonder if they'll be in Seattle.
The first 3 episodes are Santa Fe, Omaha, and Mobile. It debuts Tuesday, July 19th on the Sundance cable channel.
Ludo Links- the summary of the episodes, the schedule, LudoBite's website, read an interview with Ludo.
> "Sundance Channel, which doesn't take traditional advertising and continues to pursue product placement dollars, has a deal with Subaru, in which one of its vehicles will have an integral role in a new reality series.
The show, which seems to tap into the food-truck craze in major cities, has two restaurateurs cruising in an Outback crossover vehicle and setting up culinary stands for a night only.... In June, Sundance hired Michael Lehrer as vice president, strategic marketing to work on attracting sponsorship dollars. He held a similar role at MTV... " the article
> "Sundance Channel has teamed up with Subaru on an exclusive product integration and branded entertainment campaign tied to the network's upcoming culinary-themed series, "Ludo Bites America." In this series, rulebreaking restaurateurs, Ludo and Krissy Lefebvre, hit the road in their Subaru Outback to open their pop-up eatery for one-night culinary stands in cities across America. The campaign also includes exclusive content consisting of five vignettes tied to themes consistent with the qualities and values of the Subaru brand including, adventure, passion, discovery and social responsibility.
Each episode of the show is accompanied by a Sundance Channel produced vignette highlighting Subaru's distinct and compelling brand features. In order to communicate Subaru's "Greater Good" social responsibility initiative, the vignettes focus on green and community building trends. Topics include Pickling, Food Trucks, Molecular Gastronomy, and Grocery Store Restaurants. Alan Bethke, Director of Marketing, Subaru, explains, "The Sundance Channel campaign as a whole captures the way Subaru owners act and feel and what they care about— to them, travel is about more than the destination; it's about the journey, the adventure, and the discoveries along the way."
"In 'Ludo Bites America,' Ludo escapes the prototypical restaurant world and answers only to his own passion. Both Sundance Channel and Ludo complement Subaru and speak to the lifestyle and spirit of Subaru consumers as well as to the distinctive voice of their brand," said Vanessa Benfield, senior vice president of Partnership Sales & Integrated Solutions, IFC and Sundance Channel. She continued, "We were able to create exclusive customized content that enhances Subaru's overall media mix and delivers Sundance Channel's upscale influential audience." the article
7/11- advertising. Subaru sponsors the Lavender festival in Sequim, Wa July 15-17
"The Sequim Lavender Festival® celebrates its 15th year in the heart of Sequim and in the surrounding Dungeness Valley, during the July 15-17 weekend. Solely produced and managed by the member-growers of the Sequim Lavender Growers Association™, the Lavender Festival will expand its production to include activities and regional attractions for the modern family and multi-aged visitors.
The growers most responsible for the success and heritage of the festival will be showcased and made available all weekend through a self-guided and free "U-Tour" attraction. With a map in hand, visitors may leisurely drive at their own pace and visit the smallest and largest lavender farms located in the Lavender Capital of North America®. Lavender themed gifts and fresh cut bouquets will be available for purchase..." the website
6/24 marketing- Subaru continues its association with PSIA-AASI through 2016
The Professional Ski Instructors of America (PSIA) and the American Association of Snowboard Instructors (AASI) are proud to announce the extension of their partnership with Subaru of America (SOA) as their exclusive vehicle Official Supplier through 2016.
... As the official vehicle supplier of PSIA-AASI since 1995, SOA provides access to its VIP purchase program to all members of the association as well as support for snowsports participation growth initiatives.
Subaru of America supports snowsports growth through PSIA-AASI by sponsoring annual PSIA-AASI Tip of the Day cards that are offered free of charge to snowsports schools and instructors, as well as Go With a Pro television, a show produced annually by PSIA-AASI that encourages ski and snowboarding participation and lessons with professional instructors. SOA is also the title sponsor of YourMountain.org, an interactive website that offers information and tips for a younger audience of skiers and riders. Building on its existing efforts to support the mountain lifestyle, the SOA Master the Mountain tour travels to snowsports areas across the country each winter to offer instruction tips, product demos, and giveaways." read more
6/19 advertising- the car buying cycle and marketing to car buyers
"The BMA (Business Mkt. Assoc.) Philadelphia recently had a panel discussion focused on marketing through distribution channels...
One of the panelists was Brandon Baldassari – Product Marketing Specialist at Subaru of America. He was talking about their marketing messaging depending on where the customer was in the buying cycle and he said they think of the buyer's cycle in three stages – The Heart, The Brain and The Wallet (It sounds a bit like a C.S. Lewis novel).
When a customer is far out in the buying cycle, perhaps thinking maybe they want a new car but have not settled on a manufacturer, they shoot for the heart. I'm sure we can all recall a favorite Subaru ad that spoke to us…at least those to whom their message reached our hearts. My favorite is their Baby Driver ad… and I don't even have kids!
The next step is when a customer settles on Subaru, and are deciding on what model car. This is where their marketing targets their brain. You're active and care about the environment…but are you driving you family to and from soccer games or are you going with friends into the wilderness to go mountain biking. Are you concerned about mileage? what about safety? What is the warranty on the car and what will the value be five years form now? Will this car still be running 10 years from now?
The final stage is the wallet. This is where the marketing starts focusing on the dealership. At this point buyers have made their decision…now they are looking for the best deal.
This multi-level buying cycle is not unique to Subaru or car dealers. ..." read the whole article
6/11 advertising- Subaru signs on as the official vehicle sponsor for the Tour of Utah Professional Cycling Event August 9-14.
"For the rising stars of professional cycling, one of the top prizes at the 2011 Larry H. Miller Tour of Utah will be the new Subaru Best Young Rider Jersey. Subaru of America has signed as a sponsor for "America's Toughest Stage Race™"...
..Each day during UCI stage races like the Tour of Utah, the up-and-coming athletes compete for a race within the race to be named the (Subaru) Best Young Rider... At the Tour of Utah, this athlete then earns the right to wear the light blue Subaru Best Young Rider jersey during the next day's stage...
Subaru Dealers plan extensive activation to promote the association with the Tour of Utah..:
read the the press release, check out the tourofutah.com website
5/21- advertising
Subaru has launched a new ad campaign for the Chinese-American market. Produced in Cantonese, Mandarin and English, it features the 2011 Legacy with TV, print, and website running in key Asian-American markets, including LA and SF.
'Developed in partnership with AdAsia and Park Productions, the TV creative for this campaign, "Sweet Tomorrow," centers on the lives of expectant parents and emphasizes the safety and reliability of the Subaru brand. It tells the story of a young Chinese couple balancing tradition with their Chinese-American lifestyle. The campaign shows the couple preparing for parenthood and introduces Subaru as their choice for safety and comfort in the next chapter of their lives.
The focus on new parents is one way of targeting a younger demographic. Potential Subaru owners in target markets for this campaign are younger than the general market. The early to late 30s demographic is depicted through life stage and style cues, such as preparing for the birth of a child; hobbies; attire and decor...
Subaru has worked with AdAsia on various campaigns, including the 2011 WRX "Manhua" campaign and this year's "Asian Lunar New Year" print creative. Park Productions produced the "Sweet Tomorrow" TV spot with director Lisa Rubisch. "Sweet Tomorrow" is scheduled to run through October 2011...'
5/18 advertising awards for creative internet and TV advertising. The Mediocrity fake car internet campaign was recognized with top awards by both IAAA and Webby.
> Webby Awards started in 1996 and are given by The International Academy of Digital Arts and Sciences for best internet work. Subaru wins the automotive award for the 2011 Mediocrity internet ad campaign. The award will be given June 13, 2011 in New York.
> IAAA is the International Automotive Advertising Award for automotive advertising in all markets, starting in 1995. Subaru won a number of awards this year from IAAA. They also took the top Complete Campaign award for the Mediocrity campaign. Other awards include the 2011 Outback digital brochure silver award in the interactive media/microsites category; Television ad awards include Baby Driver, Gold award in the Passenger Cars Intermediate/Large category; Hockey Mom, and Where Did We Park?, Gold awards for Sport Utility; Honeymoon, Silver award for Sport Utility; and Reunion, Bronze award for Sport Utility.
The Mediocrity website was created around a Huh? factor. It looked like a real car website and no doubt many people had to look more than once before realizing it wasn't. the 2011 Mediocrity (in calendar year 2010) was a thoroughly boring sedan designed to obviously and humorously cater to those who might buy a mainstream sedan. The campaign set up the new Subaru Legacy as the Be Your Own Person alternative to mainstream top selling sedans. Remember Apple's famous Macintosh ads in the 1980s?
"Consumers shouldn't have to settle on a vehicle that's just adequate," said Alan Bethke, director of marketing communication, Subaru of America, Inc. "The Mediocrity campaign was an engaging way to have some fun with this trend toward blandness while offering a better alternative, 2011 Subaru Legacy." the press release

5/17 more thoughts on Subaru's Pete the worst weatherman advertising.
Is the actor playing Pete 'Worst Weatherman' Mertz going to be the next Mr. "Don't squeeze the Charmin' Whipple" actor Dick Wilson?Subaru would hope its commericals are that popular. Dick Wilson earned a good living from squeezing the Charmin.
> from carconnection '...Can't anyone be different and give me entertainment I want? Which makes me think of Subaru. See, Subaru has always gone its own way when it comes to cars. Rarely a dull automotive moment, so to speak. Not just the all-wheel-drive bit, but the boxer engines, the sometimes weird styling, and the general product palette. Remember the Subaru XT coupe? Had anemic engines, a very aerodynamic body (0.29 cd), and weird steering wheel. There was the SVX, the luxo-sports coupe with the powerful flat-six engine and the weird canopy design of the roof. And let's not forget the hideous schnoz of the ill-named B9 Tribeca SUV. To be fair, Subaru has made less contentious and yet great cars - pick any WRX, be it an STI or not, or any Outback, or Legacy wagon GT (six-speed + turbo!!), even the ancient Brat, which I loved.
Subaru cars had been like a multi-colored school of all-wheel-drive fish. This wasn't a mainstream kind of car company. Yet, swimming against the current has served them well enough. However, recently they decided to make cars that appealed to the lots of people, not just snow-bound folks. More conventional styling, same AWD that everybody now has copied, much better interiors, and they are even catching up on the engine technology front - direct injection and displacement downsizing on the new Impreza.
However, Subaru's advertising messages have rarely struck a chord or wowed the people in a consistent manner. They tried to the do the performance thing, then the AWD thing, and a few other forays into interesting avenues (did you see the 'sexy sumo wrestlers' ads in Canada?) And in the '90s in North America, the Paul Hogan ads did have some resonance for a while. But that's it.
So what does Subaru do now? They are doing two things for North America: 1) Pounding the all-wheel-drive message at every turn, and 2) using some cute humor to do. so Witness the newest campaign, Pete, the world's worst weatherman. In short, weather predictions are often wrong, so having an AWD Subaru will shield you from the elements and the associated misery. Pete is always wrong, he knows as much about weather as I know about astrophysics. He's sort of like Miles from Murphy Brown, just more sympathetic.
The ads are short for the most part, less than 30 seconds. So you can watch a bunch of them and not get too overwhelmed. Pete is instantly likable and cutely incompetent. It makes for a nice juxtaposition in each commercial to the competency of Subaru's AWD advantage. Will it make you want to mock your local weatherman? Will this lead to massive sales? Will you flee to a Subaru dealership out of fear of what the weather will bring? Subaru hopes so. Good luck Pete.' the whole blog
5/14 Puppy Bowl participants score
Remember back on Super Bowl Sunday Subaru sponsored the Puppy Bowl with the Kitty Half Time Show...? If you signed up to walk your dog that day, Subaru said they'd send a gift. Well, a lot of people signed up, reportedly more 116,000, and Subaru didn't forget ... one person just received a blue bandana stamped with Subaru logos and dog paw prints. But cats look good in blue too, and it was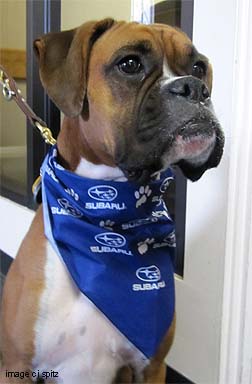 .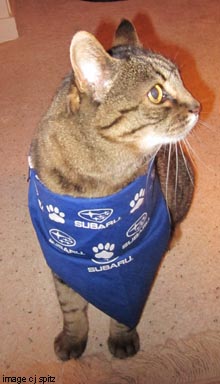 Hanna the dog and Piglet the cat pose in the latest couture
5/11 advertising. There is a new Subaru advertising campaign. No matter how bad the weather or the the weatherman.. er weatherperson.. its all good if you have a Subaru.
An entertaining and involving ad campaign designed to highlight the benefits of all wheel drive, Subaru has unveiled the light-hearted 'Worlds Worst Weatherman' ad campaign.
Subaru already sells when there's snow or cold, wintery, rain slick wet roads where people absolutely associate Subaru with strong, dependable bad weather capability. So in the southern states, Subaru is promoting the benefits of their all wheel drive with the message that 'the weather doesn't matter if you have a Subaru.'
Subaru wants you to associate security and confidence with its all wheel drive cars regardless of what the weatherman says, thus the Worst Weatherman campaign. Everyone everywhere watches weather forecasts. And everyone talks about the weather.
While people in the south-lands may not get Subaru like northern state drivers do, Subaru is making sure everyone has a chance to see what their car can do, via videos, applications, TV spots, Subaru.com blips, Facebook, and YouTube displays.
The underlying truth of the campaign is that people always question forecasts, and sometimes it seems weathermen ... er again... weatherpeople guess at it, using darts or maybe a ouiji board to predict weather. Take a jacket anyway.
In this series of humorous videos by ad company Carmichael Lynch (Melissa Schoenke is account director), inept weatherman 'Pete Mertz' stumbles his way through a series of hokey TV weather broadcasts that highlight both how little he knows about the weather, and how irrelevant weather predictions really are anyway. Especially if you happen to drive a Subaru.
This campaign seems to have the Tim Mahoney touch. He was the previous Chief Marketing Officer who left last month (April 2011) and now works at VW. He had a knack for irreverent entertaining ads like this with a 'Huh?' factor that brought indirect attention to the brand- the Skunk brand Outback clothes detergent and Mediocre sedan campaigns...
In one Worst Weatherman video, the weatherman is no good reading temperature numbers but can identify a picture of the sun, and then forecasts a sunny day. In another he apologizes for 2 suns on the map. In yet another video he mistakes a political election map of Republican red and Democratic blue states for a map of blazing hot (red) and cold (blue) states. In the next video, in the middle of his monologue Pete the weatherman realizes that he has locked himself out of his weather van, and he pretends to flag down a non-existant taxicab. In still another, after looking at one perplexing weather map, all the Worst Weatherman Pete can say to anchorman Jack is a cheery 'now back to you, Jack'. After each video is a shot of a Subaru all wheel driving through some bad weather.
Which, in a side note, brings up the nagging rumor of the rear wheel drive Subieyota that Subaru may/may not be getting. But thats the future (Tokyo auto show?) and another issue ... this is advertising for today. The videos are on Subaru'sYou Tube
In addition to the videos there are widgets.
> Conversation Starter is a string of cute sayings one can use to start up a conversation other than 'hows the weather' or 'nice day outside'. These phrases range from silly and cheesey to obvious pick-up lines, all meant to highlight how almost anything is better than the insipid weather oriented "pretty nice day outside, isn't it?"
Some are one-liners you'd could only say in a bar after some drinks and then be embarrassed about later. It includes such throw-away forgettables like 'If you could have any superpower, what would it be?', 'What one album would you take on a deserted island?' (thats for those of us old enough to actually remember albums), 'When is it okay to put the cart before the horse?', 'What color would you re-paint the White House?', 'If you could change one part of you, what would it be?', 'Which three famous people would you most like to have dinner with?', 'If you were a famous artist, which facial feature would you cut off?", 'What's your most embarrassing moment that doesn't involve a body part?'...
> Wasted time. Want to 'See how much of your life you have wasted on the weather'? Subaru calculates how much time you've wasted over your entire life worrying about the weather. Its depressing. Enter your age - or the number of years you might have actually cared what it was doing outside - and the amount of time you spend checking daily weather forecasts, and get the total number of days you've lost wataching or wondering about the weather. I'll never look at a weather forecast again the same way. And thats the point. Buy a Subaru so you don't have to care about the weather.
> What are the odds. 'What are the odds you'll be struck by lightening' is a device that lets you know the odds of being struck by lightening, or hit by a tornado, snowstorm, thunderstorm, or hail storm based on your location. Pretty slim, unless your'e outside in a storm.
Of course, with our run of severe weather the past 12 months, including drought and wildfires in Texas, dense record setting blizzards in the NE, late snowfalls in the NW, heavy rains and serious floods in the midwest, and tornado swarms in the SE, listening to the weatherperson could just save your life - as long as you and your Subaru can drive out of harms way. You can follow it on the real US weather.gov website. Perhaps Subaru will soon put out some videos of people gratefully driving to safety - in their Subaru of course, with kids and a dog - thanks to Weartherman Pete getting it right.
Be sure to check out the Worst Weatherman



5/5 Subaru Badge of Ownership has 3 new icons available: The new badges for the back of your car are Photography- a camera; Cooking- crossed spatlua and spoon under a chef's toque; and Camping- a tent. Photos and more Badge of Ownership
4/28- eat out for a good cause. Subaru sponsors Dining Out For Life on April 28th when more than 3,500 restaurants will donate a percentage of each check to their local AIDS service organization.
> Find a participating restaurant in your city at diningoutforlife.com. Subaru marks its fifth year as International Host Sponsor of Dining Out For Life, an annual one-day fundraiser for HIV/AIDS care held in nearly 60 cities across North America. On April 28, more than 3,500 restaurants will donate a generous percentage of each check to their local AIDS service organization.
4/27 advertising.. Tim Mahoney ends up at VW. As noted on April 21 (see below), Subaru's CMO Chief Marketing Officer Tim Mahoney left the company. He had been a Subaru guy since 1984, except for a stint at Porsche, and was involved with or responsible for a lot of the fun, interesting, innovative, and effective advertising that has brought attention and sales to the brand. This is an interesting time for a major personnel change with the new Imprezas coming.
The two US companies are similar - in 2010, VW sold 256,830, Subaru sold 263,820. VW, like Subaru, is looking for growth and like Subaru, also has new cars coming to market, including station wagons (Subaru's old Legacy market) and diesels (Subaru doesn't offer their diesel in the US). VW has even offered '4Motion' AWD cars in past but they don't currently. As a footnote, the first automotive use of the horizontally opposed boxer engine that Subaru uses was the air-cooled engine in VWs from 1936 on.
"Volkswagen of America has appointed Timothy Mahoney as the new chief product and marketing officer for the Volkswagen brand. Mahoney will directly report to Jonathan Browning, president and CEO of Volkswagen Group of America and president of the Volkswagen America brand.
In his new role, Mahoney will be responsible for aligning the strategic direction of the brand's product planning and promotional efforts in the US. He comes to Volkswagen from Subaru of America where he served as the senior vice president and chief marketing officer for the past five years. ." the article
4/26 advertising- The 3D film shown at the NY Auto show April 20th when they introduced the new 2012 Impreza was created by Digital Cut of Irvine, Ca . 'Hired by Subaru's event production vendor, Studio Creative (a division of EWI Worldwide), Digital Cut was responsible for producing a six-minute "countdown experience" and a 90-second opening video for the event..
"The biggest challenge we faced was that Subaru didn't have any stereoscopic content," said Digital Cut's President, Brandon Key, "and the budget didn't support an entire running footage shoot in 3D, but they wanted a complete 3D experience." Digital Cut's solution was to use existing 2D footage in a computer generated 3D environment that gave the feeling of a complete 3D world. "The end result works quite well, and gives the viewer a feeling of a completely immersive 3D experience," said Key.
Subaru's use of stereoscopic 3D at an automotive press event is a first, according to Key. "There have been several manufacturers that have had 3D in their public booths over the years, but this is the first time I'm aware of it being done at an event geared to the press." read the press release
4/21 advertising- big change at the top Tim Mahoney, successful Chief Marketing Officer of Subaru is leaving Subaru for an unnamed automaker. No reason was given.
This is a big change and happens just as Subaru starts the long 4-5 month climb to the all important 2012 Impreza release. Mahoney originally joined Subaru in 1984 from SaraLee, and was part of the team (with ad agency Carmichael Lynch) that revitalized and jerked life back into Subaru in the mid-1990s with those great Outback story-teller ads starring Australian actor Paul Hogan. The Paul Hogan ads showed the Outback as the 4 cylinder anti-SUV that could, and often did, go anywhere, and brought a new awareness of Subaru's all wheel drive which became standard on all 1997 models.
In 1999, Mahoney, by then Director of Marketing, left Subaru for Porsche NA. He returned to Subaru in 2007 and under his leadership, Subaru's advertising has again found new traction with the addition of 'Love' to the 'Its What Makes a Subaru, a Subaru' line, and other innovative, entertaining, and outside the box campaigns. Remember 2009's Skunk detergent, or 2010's Mediocrity sedan?
Recognizing the success of the Subaru-love-emotion comapigns, in September 2010, Mahoney was chosen as 2010 Marketer of the Year, and just last month (March 2011), Subaru's advertising was recongized with the Silver Award at the 2011 Advertising Research Foundation (ARF) David Ogilvy Awards for Excellence in Advertising.
Alan Bethke, director of marketing communications, who reporting to Tim Mahoney remains at Subaru. Bethke came to Subaru from Suzuki in 2003 as a district sales manager. He has worked in a number of district sales manager and advertising positions for Subaru, most recently as marketing planning and operations manager. Bethke replaced Kevin Meyer who joined Subaru in 2007
4/19 advertising accolades- Edmunds.com will present Subaru with the 2011 Marketing Breakthrough Award this week at the New York International Auto Show. Subaru is recognized this year for innovative ad campaigns last year that were both quirky and emotionally compelling:
Subaru developed an online campaign featuring a fake launch of the "Mediocrity Sedan" that was positioned to showcase the unique features of the Legacy sedan.
Subaru's "Baby Driver" commercial sent a touching message that resonated with any parent handing the keys over to a teenage driver for the very first time.
The "Honeymoon" ad showed a newlywed couple in a Subaru Outback celebrating their first day as husband and wife in the great outdoors.
Subaru's marketing efforts led to over 263,000 U.S. sales in 2010, the highest full-year total ever for the carmaker.
"Subaru's marketing strategy shows how smart targeted advertising can have a direct positive impact on any car manufacturer's bottom line," said Jeremy Anwyl, CEO of Edmunds.com.
The Edmunds.com Marketing Breakthrough Award is provided annually to a vehicle, company or activity that created significant buzz, displayed out-of-the-box thinking, enhanced the positive perception of a brand and/or increased consumers' consideration of a brand.
The runner-up for this year's award was Chrysler, whose two-minute Super Bowl Ad featuring Eminem created a new level of buzz for the Detroit automaker and its Chrysler 200 sedan. The "Imported From Detroit" spot led to an 87 percent increase in consideration for Chrysler on Edmunds.com in the week after the big game.' the press release
4/13 sponsorship- remember April 28th and eat out for a good cause. Subaru sponsors Dining Out For Life April 28th when more than 3,500 restaurants will donate a percentage of each check to their local AIDS service organization.
Find a participating restaurant in your city at diningoutforlife.com
Subaru marks its fifth year as International Host Sponsor of Dining Out For Life, an annual one-day fundraiser for HIV/AIDS care held in nearly 60 cities across North America. On April 28, more than 3,500 restaurants will donate a generous percentage of each check to their local AIDS service organization.
"Dining Out For Life will raise necessary funds to address the increasing demand for AIDS care throughout the U.S. and Canada," says Dining Out For Life International Board President Stacie Walls-Beegle. "The 56 participating organizations provide critical life-saving services to many people living with HIV/AIDS, and this event is unique because the money raised in each city stays in that city."
"We know that Dining Out For Life is aiming to raise $4 million in just one day, and we're pleased to be able to help," adds Tim Mahoney, chief marketing officer, Subaru of America, Inc. "Subaru and its drivers have a long history of caring about community causes, and we're proud to play a part in helping to raise crucially needed funds in the fight against AIDS."...
Subaru encourages their dealers and drivers to pledge support across the country for this fundraiser. Helping to make a difference, Subaru dealers are teaming up with their local Dining Out For Life beneficiary to make this annual event a nationwide success. J. Dewey of AIDS-Related Community Services (ARCS) in Hawthorne, NY, called the significant relationship that they have built with their local Subaru Dealer, Mid-Hudson Subaru, a "fantastic experience." Employees of Mid-Hudson Subaru, a Wappinger Falls, NY dealership, voluntarily attend Dining Out For Life planning meetings and will hold a joint kickoff event with ARCS at a participating restaurant.
Subaru managers in Los Angeles and Houston are providing additional support for the Dining Out For Life nonprofits in their respective areas, while Prestige Subaru in Asheville, NC, has contributed funding to the Western North Carolina AIDS Project and is helping to promote the event locally. Mid-City Subaru in Chicago also provides helpful promotional support to their local AIDS service organization, EdgeAlliance.
Find a participating restaurant in your city at diningoutforlife.com
4/11 advertising- Subaru will be a major sponsor of this year's Sequim Lavender Festival in Washington State, July 15-17
"Having an automotive manufacturer of this magnitude with world-wide recognition recognizing our festival places us among an elite group of community events in this part of the world," said Paul Jendrucko, media relations spokesman for the festival and co-owner of the Sequim Lavender Co.
"With Subaru's sponsorship comes the pride in knowing that we doing the right things — producing a diverse and community-spirited event, having a fourteen year tradition and sharing our success in cultivating and bringing to market the famous Sequim lavender from plant to pantry."
Other major sponsors so far for the 15th annual Sequim Lavender Festival, which will be held July 15-17, are First Federal, Innovation Law Group Ltd of Sequim and Peninsula Daily News.
For more information, contact Jendrucko at 360-582-1907 or click on www.lavenderfestival.com.
The festival is produced by the Sequim Lavender Growers Association. read the article
4/2 Subaru sponsors IMBA and 4/15 is the deadline to apply online for a summer/fall 2011 Subaru/IMBA Trail Care Crew visit
'Thanks to generous, ongoing support from Subaru of America, IMBA's professional Trail Care Crews have been on the road since 1997, teaching sustainable trailbuilding, energizing the mountain biking community and bringing together land managers, city officials and trail users.
The deadline for bike clubs, land management agencies and community trails organizations to apply online for a summer/fall 2011 Subaru/IMBA Trail Care Crew visit is April 15.' click for more info and details
3/31 advertising accolades - the Subaru love ad campign wins awards and gets more love than ever
'Subaru of America. was honored with the Silver Award at the 2011 Advertising Research Foundation (ARF) David Ogilvy Awards for Excellence in Advertising. The awards, named after advertising legend David Ogilvy, are given to companies that produce research-driven, successful ad campaigns. Subaru won for the "Subaru Love Campaign," which celebrates the legendary love that is felt by so many Subaru drivers about their vehicles.
"We're honored to be recognized with the David Ogilvy Award," said Tim Mahoney, chief marketing officer, Subaru of America, Inc. "Our partners at Carmichael Lynch and Harris Interactive were instrumental in this achievement."
The campaign, which led to the tagline "Love. It's What Makes a Subaru a Subaru," was informed by in-depth research and supported by continuous evaluation that provided insight for future strategies.
The ARF David Ogilvy Awards honor extraordinary and/or creative uses of research in the advertising development processes of research firms, advertising agencies and advertisers. The winning campaigns provide a keen understanding of how research can be used to create powerful, profitable campaigns.' read the press release
Randy Hughes at Carmichael Lynch gets credit as the originator of the agency's Love campaign for Subaru.
3/30- 4/1 Denver Auto Show Colorado Convention Center. Link for the show
3/23 Subaru sponsors getting muddy for a good cause ... walk, run or crawl through the mud. 9 locations for 2011.
'Subaru sponsors the The Merrell Down & Dirty National Mud Run Series with 5K and 10K off road courses filled with Military style Obstacles, Commanding cargo climbs, Wild water crossings, Mud, mud, and More Mud. Post-race BBQ and an awesome Tech Tee. Race alongside local Military personnel, Public Safety Officers and Police Academy trainees, all while supporting our troops through Operation Gratitude. - a volunteer organization that sends care packages filled with snacks, entertainment items and personal letters of appreciation addressed to individually named U.S. Service Members deployed in hostile regions ..'
> 2011 locations and dates: Los Angeles Night mud run April 16, day run April 17; Miami May 1; Chicago night mud run May 21, day run May 22; Dallas June 5; Philadelphia July 17; Richmond Va August 21; New York October 2; Atlanta October 16; Sacramento Night mud run October 29, day run October 30 2011.
No dogs, yes there's a shower at the end, entry fees are $50-75 (late fees vary by location) with active military or public safety discounts includes the BBQ, tshirt etc. Check out the website, registration, FAQs
3/22 Vermont photographer sells photos of muddy Subarus...
"Subaru John Churchman knows mud. The Vermont photographer/artist/farmer lives along the Essex-Jericho line at the end of a long and frequently muddy driveway, and he has slithered his way home more than once in his four-wheel-drive Ford Explorer.
As people across much of Vermont struggle with rutted roads, huge frost heaves and other treacherous travel in mud season, Churchman is reveling in it. The stock-photo photographer for Corbis, Getty and Photolibrary, among others, has sold a muddy-road photo to Subaru for an advertising campaign the automaker recently launched for its four-wheel-drive vehicles. Churchman declined to say how much he was paid for the shot but said it was in the thousands of dollars.
"We truly do need our four-wheel-drive vehicles here," Churchman said Monday. "Mud does take something special. You have to learn how to drive through it and not stop."
The Subaru photo shows a deeply rutted, muddy country road that looks like it could swallow a car whole. The idea: A Subaru could navigate this track, while other vehicles would falter.
Churchman has been shooting stock photography, along with fine-art photos, for 15 years, and he has worked with Subaru before. The agency that handles the car company's account in the United States, Carmichael Lynch in Minneapolis, contacted him recently for the muddy-road shots. "I was shooting mud in Williamstown; it was incredible. I got some great shots," Churchman said. "The roads down there have incredibly deep ruts. I like to get right down into it."
Churchman makes a living as an artist. His farm animals provide the subjects for many of his photos, some of which find their way onto a line of greeting cards he sells under the name of Brickhouse Studios. One of his photos of Middlebury appears on the cover of the Pat Metheny album, One Quiet Night, released in 2003.." the entire article
3/10 New Jersey- microchip your pet for $25 at Subaru of Mt. Olive, Hackettstown.
'On Saturday, April 16th from noon till 3pm, Subaru of Mt. Olive will host a discount microchipping clinic in cooperation with Mt. Pleasant Animal Shelter of East Hanover. Microchipping is a simple procedure, similar to a routine shot and takes only seconds. A microchip, similar in size to a grain of rice, is injected between the shoulder blades. No anesthetic is required. A microchip is permanent pet ID which lasts for the life of your pet. It is read by passing a scanner over the animal which reads a unique ID code that positively identifies the pet.. Microchipping at this special clinic will be at a discount rate of only $25.00 per pet. Appointments are not required. Subaru of Mt. Olive is located at 364 Route 46 West in Hackettstown (New Jersey)'. the article
3/3 March 1-31 The 3rd Subaru Love Spring Event includes posters, balloons, window Spring Love Event hang tags and a free 2011 Farmer's Almanac 'Compliments of Subaru'. Spring starts Sunday March 20, 2011.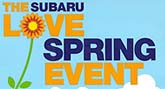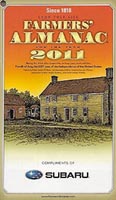 2/23 Northwest Flower and Garden show in Seattle, 2/23-27
A huge show.... lots to see... plants and garden supplies... from old wooden benches to handmade yard art, from walking sticks to the latest orchids... waterfalls and full garden displays to hand tools and potted plants and herbs...
Stop by the Subaru booth for free gifts... lavender soap, a small carabiner, handmade beaded key chain....
in the Washington State Convention Center. the website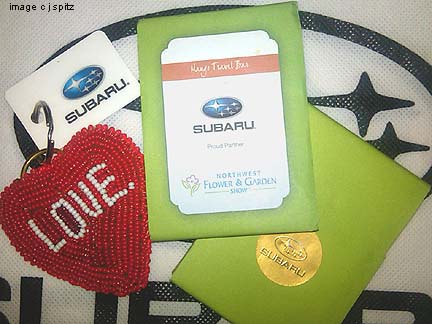 from Subaru booth at the Northwest Flower and Garden Show... handmade beaded heart keychain, mango soap bars, and a Subaru bag. Not shown, seed-paper bookmarks.


2/19 advertising oops ...Subaru of Canada's ad with a sumo wrestler lounging on the hood of a Forester is great but they sold one of the Foresters they used. Oops.. that big Sumo is big enough the car has Sumodents. So what should the new owner so? Get Sumo man to autograph it or get a new car.
"Subaru of Canada made this ad using sumo wrestlers lounging on the hoods of new Foresters. Funny, but not as much to a customer who bought one of the Foresters and found sumo-related dents after he took it home.
The owner told a Subaru forum that he didn't even know his car had been used as a sumo sofa until he complained:
So I picked up my new 2011 Subaru Forester last weekend. Drove it home, parked in the sun to get a good look, and much to my dismay, noticed small imperfections in the hood... as if someone placed something heavy on the hood. Not really dents... just areas where the light reflections show up shallow imperfections.
At first I wasn't going to complain, thinking "it's not noticeable unless you really look..." but every time I looked
Drove back to the dealer (Don Docksteader in Vancouver), and they said "no problem, we will take care of that for you... must have happened when we shot the latest Sumo Wrestler Ad...
Tomorrow the manager is supposed to phone me, and I am wondering what I should ask for:
1. replace with a new Forester that hasn't been sat on by a huge Japanese man. I can guess that would be a difficult discussion.
2. replace the hood with a new Factory painted hood... not sure this is even possible?
3. repair the hood and re-paint it... I am really not in favor of this option, but that is likely what the dealer will offer. Kind of like paying full price for a new car after it has been in an accident and repaired.
4. ask for money back to compensate for the damage.
The estimates for traditional repair run $2,500, thanks to that magical body-work inflation where one dent ripples across several panels; apparently the dealer had six other vehicles that will need fixing due to the shoot.." read the article, see the Sumo video


2/18 Subaru supports literacy and books..
'Subaru in partnership with the American Association for the Advancement of Science (AAAS) announced today that it will donate up to 1,250 science books to Washington D.C. area schools.
Subaru will donate one book for each person who submits a form at their booth at the annual meeting of the AAAS being held at the Washington D.C. Convention Center, February 18th – 20th.
"Subaru is proud to once again sponsor the AAAS this year," said Tom Doll, Subaru of America Executive Vice President and COO. "Assisting science learning in the classroom through top rated educational, yet fun to read literature will help spur the imaginations of future science professionals." In their nine-year partnership, Subaru and the AAAS have worked together to provide scholarships as well as opportunities for women in the science fields. This year the two organizations are also targeting four Washington D.C. area schools that are in critical need of quality science books. The donated books will come from the Subaru / AAAS Science Book and Film "2011 Excellence in Science Books Awards." The winning books were chosen for their outstanding science writing and illustration for children and young adults; the AAAS believes that through good science books, students will have a better understanding and appreciation of science.
Also unveiled today was the 2011 "Subaru Loves Science!" Subaru Forester. Local area (Maryland) dealerships: Herb Gordon Subaru, of Silver Springs, MD, Fitzgerald Subaru of Kensington, MD, and Fitzgerald Subaru of Gaithersburg, MD will have the "Subaru Loves Science!" Forester on display this spring.
Any customer who visits the dealerships during the book mobile tour will have the opportunity to commemorate one of the donated books with a personalized bookplate in their name. The Forester will then be used to deliver the books to the schools.
Washington D.C. area residents are encouraged to attend the free AAAS family science days, sponsored by Subaru, Saturday and Sunday, February 19th and 20th. The event features fun, hands-on science learning activities, plus a jam-packed "Meet the Scientists" speaker series that is designed especially for middle and high school students. Winning science book authors will be signing copies of their award-winning books at the Subaru display on February 19th and 20th. More information can be found here: http://www.aaas.org/meetings/2011/program/fsd/ read the press release

2/16 Subaru Freeskiing World Tour in Crested Butte, Colorado Feb 16-21
Crested Butte was the first ski resort in the lower 48 to have an extreme skiing competition. Lots of history with guys like Seth Morrison , Dean Cummings and Shane McConkey tearing up the slopes in these parts. I'm pretty sure Senor Morrison is still pissed he didn't win this event. These days, the good folks at the Subaru Freeskiing World Tour run the show and what a show it is. You can watch a live feed of the event everyday, from qualifiers to the finals right here on the ski channel. How cool is that! While you'r'e working you can catch the action and witness the insane level of skiing going on these days.
Part of the Subaru Freeskiing World Tour (FWT), a Mountain Sports International (MSI) series, the U.S. Extreme Freeskiing Championships in Crested Butte is the longest running event of its kind, hosting male, female, junior and masters competitors. Bragging rights and a cash purse totaling $20,000 – the largest on the freeskiing circuit – ensure a talented field and edge-of-the-seat excitement as competitors descend steep, technical lines in CBMR's legendary Extreme Limits terrain.
"This is an iconic event for CBMR," said Daren Cole, vice president of sales and marketing for the resort. "Many of the best-known freeskiers in the world have carved out a place in history at this competition. The Extremes are such a unique aspect to the resort and this week they get the spotlight."
For results, photos, athlete profiles and more you can always go to freeskiingworldtour.com.' Read the article from skichannel

2/15 advertising- Subaru owners love their animals and Subaru actively courts them with an ASPCA affiliation, really cute 'Dog Approved' commercials, and the Puppy (Super) Bowl.
'Subaru, which debuted seven commercials during Super Bowl XLV featuring dogs rescued from shelters, was back with several of the favorite 30-second spots during the 2011 Westminster Dog Show.
It was an ideal match. Since nearly 70 percent of Subaru drivers are pet owners, the commercials, including two of the most popular, "Snowballs" and "Donuts," were nearly a continuation of the famous show. Subaru maintains an ongoing partnership with the American Society for the Prevention of Cruelty to Animals (ASPCA). Subaru also supports ASPCA events, and ASPCA Guardian Members receive a discount at participating Subaru dealers throughout the year to thank them for their contributions to animal welfare. Subaru's popularity amongst pet owners stems from the pet-friendly features of their vehicles, especially the Outback and Forester. Last year, AAA named the Subaru Forester one of the best options for dog owners in their Active Lifestyle category. The Forester's low tailgate provides easier access for dogs, and the 68.3 cubic feet of cargo space within is enough room for even large dogs to lie down....' the article

2/14 advertising- Wow... 116,000 people responded to Subaru's call to get off the couch and walk their dog on Super Bowl Sunday. They signed up on Subaru.com and on Subaru's Facebook page. Maybe it should be called Subaru Bowl Sunday. Wonder how many folks people tuned in to the Puppy Bowl and Kitty half-time on Animal Planet? Subaru promised to send freebies to the dog walkers...
The press release, 'Subaru walked a different path for the face-off at Cowboys Stadium, resulting in a 500% increase in planned social and viral engagement. In conjunction with its sponsorship of Animal Planet's "Puppy Bowl VII," Subaru invited owners across the country to walk their dogs on game day. Supporters pledged to participate on Subaru.com and through the company's Facebook page.
More than 116,000 people signed up for the dog walk – a social engagement record for the company. English mastiffs, huskies, beagles and more from Charlotte, N.C. to San Bernadino, Calif. to South Padre Island, Texas enjoyed game day walks. In fact, more than 250 people like Rebecca Simon of Ambler, PA posted about their walk on the Subaru Facebook page.
"It's great that Subaru invited us to walk our dogs on game day," said Simon, the owner of a Subaru Outback and her dog, Eli. "I like being part of a community of dog and Subaru owners across the country."
While other car companies spent three million dollars for 30 second ads, Subaru leveraged its social community and unique brand positioning. Innovative marketing has helped the company achieve new sales heights with the Subaru brand setting yet another sales record in 2010 and giving the company the distinction of being the only car maker with sales increases for the last three years.
"Subaru owners tend to be active and enjoy the outdoors," said Brian Johnson, advertising manager for Subaru. "The Dog Walk event was an ideal opportunity to connect the community with our new 'Dog Tested. Dog Approved.' campaign."
The "Dog Tested. Dog Approved." spots - featuring Subaru's canine stars, Olive and Zelda, performing doggie driving stunts - aired on Animal Planet on Super Bowl Sunday during "Puppy Bowl VII.." the press release
Update- May 15, 2011- Remember back on Super Bowl Sunday Subaru sponsored the Puppy Bowl? If you signed up to walk your dog that day, Subaru said they'd send a gift. Well, a lot of people signed up, reportedly more 116,000, and Subaru didn't forget ...

5/15 update- one person just received a blue bandana with Subaru logos and paw prints.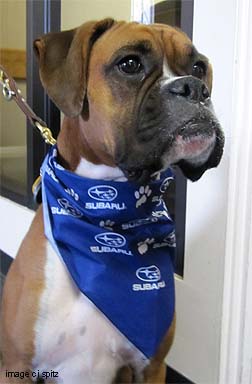 .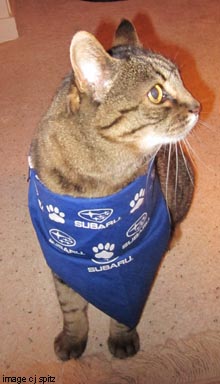 2/13 Sumo wrestler advertising.... Subaru Canada puts out another great Sumo wrestler ad, this one for a 2011 Forester They did a Sumo in 2008 for the 09 Forester.... Watch the 2011 model video. The 2009 Forester Sumo ad
2/12 Subaru Canada is proud to announce that it has renewed its sponsorship agreement with the Canada Winter Games and is returning as the official automotive sponsor for this year's competition, taking place in Halifax, NS from February 11-27.
Held every two years, alternating between summer and winter, the Canada Games are a key event in the development of Canada's young athletes, producing the next generation of national, international and Olympic champions. Subaru last sponsored the Canada Winter Games in 2007 in Whitehorse, YK... As a major sponsor, Subaru has provided Canada Winter Games staff with a fleet of 12 vehicles including 2011 models of the popular Outback and Forester...
... drive a virtual Subaru WRX STI around a snow-filled rally course... Subaru will be giving away free copies of the popular racing game Gran Turismo 5, which features the WRX, to those who post the best lap time each day during the Games.' the Games
2/11 'The Subaru/IMBA Trail Care Crews are on the road again for the program's 15th year. Two teams of professional trail experts will spend a year on the road, traveling America in specially equipped Subaru Outbacks, teaching sustainable trail design and construction techniques to create great, low-impact riding experiences. The Crews also conduct educational seminars for volunteer stewards, professional land managers, city officials and other groups throughout the United States.
The Trail Care Crew program inspires volunteer trail work across the U.S. and abroad by bringing professional assistance to bike and recreation clubs, trail enthusiasts of all stripes and professional land managers.' 2011 spring, summer schedule. IMBA homepage
2/9 advertising- Subaru and Liberty Mutual Insurance sponsors PBS Antique Road Show
2011 schedule: January 3/10/17 Miami Beach; January 24/31/Feb 7 San Diego; February 14/21/28 Des Moines; March 7/14/21 Palm Springs; March 28/April 4 Dallas; April 11/18/25 Billings; May 2/9/16 Biloxi; May 23/30 Wa, DC; June 6 Dallas; June 13/20 Wichita; June 27 Wa, DC
2/8 Share the Love 2010 results announced. $5,000,000 divided up between the 5 charities- Ocean Conservancy, ASPCA, Habitat for Humanity, Big Brothers Big Sisters, Meals on Wheels for a total of $5,000,000. This year according to ASPCA, they were the top choice of customers, receiving more than $1.6m. The 2010 Share the Love was the 3rd time Subaru has donated $250 per car sold at the end of the calendar year to the buyer's choice of the 5 charties, for a total of $5m each year.
1/31 advertising True Love ... its February and Valentine's Day is the 14th ... and that means flowers and chocolates, romantic dinners and moon-lit walks, shiny little baubles (for those whose bank acounts are so inclined), and mostly saying 'Thank You For Being You'. Celebrate it in 2011 with a Subaru Lollipop
Subaru would like a piece of your automotive heart and so February is once again the month for the 'True Love Sale Event'.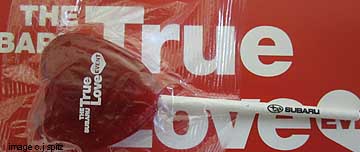 1/31 advertising- 1980s Subaru ad company Levine, Huntley, Schmidt & Beaver, created tag line 'Inexpensive, and built to stay that way', has a reunion in NYC. The company was the center of the book 'Where The Suckers Moon"
'... For Garfinkel and the 60 or so other former employees who attended the reunion, held in the white-walled gallery of The One Club in New York, Levine, Huntley represented "Camelot," a special time (the early 1970s to the early 1990s) and place (New York) in the history of advertising. Former CEO Bob Schmidt compared his old shop to a free-spirited family, including all the dysfunction that comes with it. "Someone called us a benign banana republic," added Schmidt.
The backdrop to the somewhat bare-bones reunion (no music, a few noshes, lots of bottled beers and wine) were print ads of a bygone era, which were affixed to the walls. One, for McCall's magazine, featured a close-up of Yoko Ono, wearing her signature oversize sunglasses. The headline: "One of the dull conformists who reads McCall's."
A campaign for Maidenform featured portraits of men—actors Christopher Reeve, Corbin Bernsen and Pierce Brosnan—rather then models, with quotes from each on what it's like to buy lingerie for women. Small-space ads for Panasonic vacuum cleaners mixed product shots with pithy, provocative headlines like "Let's talk dirt" and "It's a powerful little sucker."......
Levine, Huntley had a good run - 20 years - but ultimately fell victim to the loss of mega-client Subaru and the bottom-line mentality of then corporate parent Grey Advertising Inc. Grey shuttered the shop in November 1991, five months after Subaru split for Wieden + Kennedy. (The divorce followed several years of retail sales declines and a review that was central to Where the Suckers Moon, Randall Rothenberg's memorable book on the "life and death of an advertising campaign.")
In its heyday in the late 1980s, Levine, Huntley boasted profit margins of more than 20 percent, total revenue of about $55 million and a staff of 300, according to Schmidt. Subaru, for which the agency created the line, "Inexpensive, and built to stay that way," represented nearly half of the total....' read the article
1/30 Subaru is the little company that could, can, does, and will continue to... an interview with Subaru marketing guy Tim Mahoney... plus his take on the 2012 Impreza, Subieyota, keeping it all familiar (reading between the lines re all wheel drive vs 2wd again), and advertising love LovE LoVe LOvE love...
'Subaru of America Chief Marketing Executive Tim Mahoney stood in the gallery at Detroit's Cobo Hall on the recent media preview day at the North American International Auto Show while Volkswagen executives introduced their new Passat mid-sized sedan. He smirked, shook his head, and had a satisfied grin on his face.
"I'm glad I'm not them," Mahoney whispered. "Them," are the executives at Volkswagen of America charged with carrying out a plan handed to them by their German parent to grow Volkswagen sales to 800,000 by 2018, up from 256,830 last year. Mahoney is quick to note that even Subaru, with its limited product line of four principal vehicles, outsold VW last year, which had, depending on how you count the company's model lineup, 11 vehicle lines.
Subaru just finished up another satisfying year selling mostly small, all-wheel-drive vehicles, growing sales 22%, the third straight year they've grown by double digits. By comparison, the industry grew just 11 percent. And with some big brands like Saturn and Pontiac exiting the market last year, Subaru also cracked the top-ten biggest auto brands in the U.S.
Mahoney seems happy with such growth, and, more importantly, parent company Fuji Heavy Industries in Japan, seems content with it...
... what he is counting on is that redesign of the Impreza sedan and hatchback due in mid 2011 will attract lots of new buyers just like redesigns of the Forester and Outback crossovers did. Over the last two years, 60% of Outback and Forester sales have been "conquest," which means the buyers were driving a rival brand before switching to Subaru.
"With each redesign of an existing model, we are reaching a lot of new buyers," says Mahoney, who returned to Subaru in 2006 where he cut his teeth in the 1990s after spending nine years as head of advertising for Porsche North America.
Parent company Fuji has a reputation for being conservative and risk averse... "My marching orders are simple," says Mahoney. "Sustainable, profitable growth... no hard sales volume targets."
Subaru's top seller is the Outback crossover wagon, which sold 93,000 in 2010. The Legacy sedan, built on the same platform, sold 39,000. The Forester crossover, which sold 85,000, and Impreza, which sold 44,000, also share an engineering platform. The fifth wheel, in more ways than one, is the Tribeca SUV, a larger crossover SUV that simply never caught on with Subaru loyalists... sold a scant 2,500 Tribecas last year.
Overall, Subaru has gone from 187,000 sales in 2007 to 263,820 last year... Looking at the way Forester doubled sales in a couple of years, Mahoney thinks the same is possible when the new Impreza comes out mid-year. The WRX and WRX STi performance derivatives will follow. Plus, he says, there is still room to grow Outback and Legacy sales. The one additional product known to be coming later this year or in early 2012 is a sports car Subaru is developing with Toyota. It will be built on a Subaru platform and will have a boxer engine. That car, though, would likely add fewer than 10,000 new sales.
Part of the new Impreza's appeal will be fuel economy. The new car, even with Subaru's standard-all-wheel-drive system, should get 35 mpg on the highway...
If there is any lingering question it would be a replacement for the miserable Tribeca, but Mahoney, guarded about future product, seems to indicate that the company is not going in that direction. "When we make mistakes, it usually comes when we stray from what we do best or try to hard to compete too much in the mainstream," he says.
Auto industry analysts say that Subaru is benefitting from baby boomers trading out of big SUVs.... For the last four years, Subaru's ad slogan and strategy has been, "Love. It's what makes a Subaru a Subaru." It signaled a shift from a largely rational message scheme touting all-wheel-drive, safety technology and boxer engines to one that talked about those things in an emotional way. "The big insight for us was pretty simple," says Mahoney. "Subaru owners love, really love, their cars, and we thought it better to have deeply committed zealots star in our marketing rather than celebrities." That was a big change. Subaru had gone through a series of celebrity pitchers along with its revolving ad slogans including Paul Hogan when Subaru launched the Outback in the 1990s, actor Judge Reinhold, tennis great Martina Navratilova and cycling superstar Lance Armstrong.
"We found that people well understood the all-wheel-drive message, but they wanted more to engage with," says Mahoney. Even year-end clearance sales have taken on the love theme. For the last few years, Subaru's campaign has been "Share The Love," in which it donates $500 (actually its $250) to one of a handful of charities such as Habitat for Humanity and Meals On Wheels. Subaru also has a long, impressive list of sponsorships of sporting groups big and small, from The American Canoe Association to National Ski Patrol, prompting executives from Chrysler to recently complain that every time they went looking for an association for Jeep to sponsor they found Subaru was already there.
"We're the little company that could," smiles Mahoney. Make that the little company that can." read the entire article by David Kiley
1/27- advertising- Subaru is a sponsor of the Westminster dog show on Feb. 14
USA Network announced today that the 135th WESTMINSTER KENNEL CLUB DOG SHOW, presented by Pedigree®, will air February 14th and 15th at 8/7c. David Frei will be co-hosting with NBC Sports analyst Mary Carillo. Also joining the team will be NBC Sports' Tiffany Simons as a sideline reporter. On Monday, February 14, USA will air the first hour of the show at 8pm and will then switch over to CNBC for the 9-11pm ET/PT portion of the broadcast. On Tuesday, February 15, USA will air all three hours, including the crowning of the 2011 Best in Show, from 8-11pm ET/PT....
Pedigree returns to Westminster as presenting sponsor for the fifth consecutive year and, as part of their in-show integration, will present an on-air PSA starring Betty White for their adoption campaign. For the first time in WKC history, Pedigree will be the sole sponsor of USA's new social media initiative WKC Character Chatter, which provides fans with a central hub for chatting with other dog fans about all the WKC action on chatter.usanetwork.com. Progressive Insurance and Subaru also return to the show as participating sponsors. To celebrate this year's show, USA has created a Character Story vignette featuring a Subaru owner sharing her story on why Subaru is the best car for her and her dog' read the press release
1/26 Subaru teams up with Wyoming's Jackson Hole resort, part of the Subaru Freeskiing World Tour
Subaru of America, Inc. today announced its partnership with Jackson Hole Mountain Resort (JHMR), in Jackson, WY, through which Subaru will host three events in 2011 including the Subaru Freeskiing World Tour Qualifier and two Subaru Master the Mountain events. Jackson Hole Mountain Resort is known for its award-winning backcountry access, resort-based guide services and massive steeps. Located in Wyoming's Greater Yellowstone Ecosystem and Grand Teton National Park, JHMR maintains comprehensive environmental programs, pollution prevention plans and has achieved ISO 14001 certification with a commitment to reduce greenhouse gas emissions – one of only two U.S. ski resorts to achieve this distinction.
"Partnering with Jackson Hole Mountain Resort is a natural fit for Subaru," said Tim Mahoney, senior vice president and chief marketing officer, Subaru of America, Inc. "Subaru owners love winter fun, and JHMR has outstanding environmental initiatives that align with our environmentally friendly practices and respect for the environment."
"Jackson Hole remains the most magnetic destination for big mountain skiers in the United States," noted Zahan Billimoria, Communications Manager at Jackson Hole Mountain Resort. "Like Subaru, we actively pursue environmental sustainability and seek to respect the forests, wilderness and natural beauty around us...
Since 1998, the Subaru Freeskiing World Tour has been the premier competitive big mountain freeskiing tour in the world. Over the years, these competitions have helped launch the careers of skiing legends such as Kent Kreitler, Ingrid Backstrom, Seth Morrison, Hugo Harrison, and Reggie and Zach Crist. Competitors ski down steep terrain at high speeds over cliffs and rock exposure, combining speed, style and technique in their quest for the top podium spot. Live competition footage will be broadcasted to the blue Subaru Igloo and is also available on freeskiingworldtour.com. "' the press release
1/22 advertising on Super Bowl Sunday... all for the dogs
'Subaru of America, Inc., while enjoying an epic "tail" of record sales, once more separates itself from the pack of Big Game advertisers with its "Dog Tested. Dog Approved." campaign and the new Subaru Game Day Dog Walk Event. The walk event, held on "Super Sunday," February 6, is a healthy, active alternative to sitting on the couch for an all-day football-watching marathon and a great way for dog owners to get outside and show their love for their four-legged friends...
As the showdown in Dallas approaches, dog owners can pledge to walk their dog on Game Day via Subaru.com, or on Subaru of America's Facebook page. Dog lovers who sign up and commit to get outdoors on the big day will see an up-to-the-minute tracker that streams a live count of the number of dogs walking across the country. Those who join on Subaru's Facebook page can also submit a picture and story of their dog for Subaru of America Facebook fans to read and enjoy. On Super Sunday, Subaru of America will take the road less traveled by other automotive companies by foregoing traditional Big Game advertising and sponsoring Animal Planet's "Puppy Bowl VII."
"We know that Subaru lovers tend to be dog lovers, with two-thirds of Subaru owners being pet owners, too so the 'Dog Tested' initiative was created to highlight Subaru owners' love for their canine companions in an engaging, interactive way," said Brian Johnson, National Advertising Manager, Subaru of America, Inc. "What better way to show that love than to commit to doing something healthy and active ? for dogs and their humans during one of the most popular days for lounging on the couch....
Subaru of America has one of the highest dog-ownership rates among all automotive companies and will celebrate those who have participated in the Game Day Dog Walk Event by naming participants on Subaru.com and sending free MVP doggy gift packs to those who pledged to walk their dog on February 6, while supplies last. Free doggy MVP packs include Subaru-branded water bowls, Frisbees, plush stuffed animals, blankets, engraved dog tags personalized by Subaru of America and much more. The 2011 campaign also features new commercial spots viewable on Subaru.com and on Subaru's YouTube Channel where consumers can see Subaru's two favorite dogs, Olive and Zelda, driving around in the snow. The 'Dog Tested. Dog Approved.' campaign and Game Day Dog Walk Event also highlights Subaru's partnership with the ASPCA.' the press release
Note April 14, 2011 if you signed up to walk your dog that day, Subaru didn't forget... one person who signed up just received a blue bandana stamped with Subaru logos and dog paw prints.

---
top
Salespeople, Dealers, Dealer news
2011 calendar year news
(archived news from 2010)
.
12/15 Camp Subaru in Spokane sold. Announced back in June, Camp Subaru is sold and becomes Lithia Subaru of Spokane, Wa and moves to downtown Spokane on Dec 20. SubaruSpokane.com
12/5 New Subaru dealer opens in Hermosa Beach, California. Check out Subaru Pacific, 424-634-7745. Grand opening Saturday 12/10
11/12 Subaru dealer expands to carry electric cars. Subaru of Nashua in Hudson, New Hampshire is opening an electric car dealership this December selling the Wheego eCar, Tesla, plus fuel efficient used cars. Its a good fit with Subaru. The eCar dealer
Saturday October 1st- Rally driver David Higgins signs autographs, at Gillman Subaru Southwest, Houston Saturday October 1, 10:30-1:30
9/14 Subaru dealer is ripped off for $838,000.
Bill Kolb Subaru's (in Orangeburg, NY) comptroller has been indicted for stealing $838,000 over 4 years ending in 2009. Ouch
read the article

9/9 Chase signs up to continue providing Subaru financing for the next 5 years
Chase Auto Finance and Subaru of America, Inc. today announced the renewal of their relationship, Subaru Motors Finance (SMF), extending Chase as the captive auto finance provider for Subaru in the U.S. for an additional five years.
"Subaru of America, Inc. is pleased to announce the extension of our joint financing relationship named Subaru Motors Finance, which services the wholesale, retail and lease financing needs of our dealers and customers," said Thomas J. Doll, Executive Vice President and Chief Operating Officer of Subaru of America, Inc. "This is the third extension of our contract, which speaks to the strong relationship we have with Chase."
Chase Auto Finance has been the captive lender for Subaru for more than ten years through the SMF brand, financing more than 1.1 million Subaru customers. An exclusive team at SMF manages the full spectrum of retail, lease and floorplan finance needs with a variety of customized product offerings for more than 600 Subaru dealers nationwide.

9/5 $300,000 of lot damage - thats a lot of body work!
"The Miller Ford/Subaru car dealership in Lumberton is offering a monetary reward to catch whoever is responsible for causing $300,000 worth of damage in the lot between Friday and Saturday.
Employees at the dealership on Route 38 awoke Saturday to find more than 50 cars scratched, and one with a broken window, Lumberton police said. The cars were parked in the first two rows facing the highway. The dealership is offering $1,000 for information that leads to the arrest of whoever is responsible for the vandalism." the article
8/22 Hail Sale... hail damaged Subarus for sale in Council Bluffs, IA..
Edwards Subaru in Council Bluffs, Iowa has about 60 hail damaged Subarus for sale. Its a variety of models. The amount of damage and resulting discount varies. Call sales at 866 436-3888. Edwards Subaru
7/15/2011 The top salespeople through June 2011
There are lot of hardworking people at a car dealership - from parts, service, admin/office, to the people who clean the cars - and it all starts with getting a Subaru from a salesperson. These are the first people you talk to when considering a new Subaru, they know the cars, they're job is to help you get the right one. There are 1000s of Subaru salespeople in the US, here's a list of the top 50. Its a hard job and these folks have earned the trust of a lot of buyers but so have the other salespeople not listed here and recognition is due to all of them because they're the ones that make a Subaru, a Subaru. And Subaru expects over 90% of a salesperson's customers to respond with top 'very happy' scores on their new car satisfaction survey.
This is an unconfirmed, unofficial list
#1 Ferris Reid- 256 cars, #1 in the US. He's at Georgetown Subaru, Norwalk, CT
#2 Desiree Farey, 240 cars, Irvine Subaru, Lake Forest, Ca;
#3 Craig Parsons, with 189, Groove Subaru, Englewood, Co.
#4 Vincent Rizzo with 169 cars. Metric Subaru, Huntington, NY
#5 Andre Tocci, 159 cars. Rafferty Subaru, Newtown Square, PA.
#6 Mir Masood, 155 cars. Stevens Creek Subaru, Stevens Creek Ca.
#7 Jack Berkowitz, 150 cars. Manchester Subaru, Manchester NH.
#8 Charles Gianakis, 149 cars, Cherry Hill Subaru, Cherry Hill, NJ.
#9 Clayton Earle, 143 cars. Liberty Subaru, Oradell, NJ
#10 Jeffrey Barkan, 139 cars. New to the list Competiton Subaru of Smithtown, St James, NY
#11 Vincent Bovenzi, 135 cars, Van Bortel Subaru, Victor NY
#12 Zhou Kan, 134 cars, New to the list. Fitzgerald Subaru of Gaithersburg, Gaithersburg, Md
#13 Jeff Miletta, with 132 cars. Liberty Subaru, Oradell, NJ;
#14 Bradley Davis, 129 cars. Mark Miller Subaru South Towne, Sandy UT.
#15 Daniel D'Andrea, 128 cars, Grand Subaru, Bensenville, IL
#16 Stephen Appelbe, 126 cars, Manchester Subaru, Manchester, Ma
#16 Lawrence Fung, 126 cars. Carlsen Subaru, Redwood City, Ca
#16 Shawn Pies, 126 cars. New to the list, Van Bortel subaru, Victor, NY
#19 Ahmad Rahimzadah, 124 cars. Livermore Subaru, Livermore, Ca.
#20 Abe Baraka, 121 cars. Bruce Titus Eastside Subaru. Kirkland, Wa
#21 Jamie Cassidy, 120 cars. New to the list, Capitol Subaru, Salem, Or
#21 Harold Gosnell, 120 cars, #1 Cochran Subaru, Monroeville, PA.
#21 Donald Jowdy, 120 cars. Colonial Subaru, Danbury CT.
#24 Ronald Hall, 119 cars, Shortline Subaru, Aurora Co
#25 Margaret Walsh, 115 cars. Van Bortel Subaru, Victor, NY.
#26 Theresa Ali, 113 cars. Van Bortel Subaru, Victor, NY.
#26 Bob Bruggeman, 113 cars. Kerven Subaru, Butler, PA..
#28 Robert Mantell, 110 cars, new to the list, Ramsey Subaru, Upper Saddle River, NJ
#28 Jeremy Vitale, 110 cars, new to the list, Van Bortel Subaru, Victor, NY
#30 Glen Dalton. 109 cars, Cityside Subaru, Belmont. MA.
#30 Mark Moore, 109 cars, new to the list, Stevens Creek Subaru, Steven's Creek, Ca
#32 Donald DJ Dougherty, 106 cars, new to the list, Penninsula Subaru, Bremerton, Wa
#32 Aleksey Petrushkin, 106 cars. Ramsey Subaru Ramsey, NJ.
#32 James Smith, 106 cars, new to the list. Stivers Decatur Subaru, Decatur, Ga
#35 David Leonard, 105 cars, Competition Subaru of Smithtown, St, James, NY
#36 John Hughes, 104 cars. Sheehy Subaru, Springfield, Va
#36 Alix Plaster, 104 cars. New to the list. Walkers Subaru, Renton, Wa
#36 Jeff Young, 104 cars. New to the list, Bob Rohrman Subaru, Lafayette, In
#39 Joe Khattar, 103 cars. Goldstein Subaru of Albany, Colonie, NY
#39 Ronald Kula, 103 cars. Brunswick Subaru, Brunswick, OH
#39 Mark Lidano, 103 cars. Cityside Subaru, Belmont, MA
#39 Michael Reed, 103 cars, Wagner Subaru, Fairborn, OH.
#39 Michael Rhoads, 103 cars, Bob Rohrman Subaru, Lafayette, In
#44 Kevin Suchora, 102 cars, Boardman Subaru, Boardman, OH.
#45 Kevin Baker, 101 cars, new to the list, Charlie's Subaru, Augusta, Me.
#46 Derek Bogdan, 99 cars. Cityside Subaru, Belmont, MA
#46 Dave Denu, 99 cars. Flatirons Subaru, Boulder, Co.
#46 Zachary Heisler, 99 cars. new to the list. Steve Moyer Subaru, Leesport, PA
#46 Michael Nelson, 99 cars, Cityside Subaru, Belmont, Me
#46 Thomas Quinn, 99 cars, new to the list, Liberty Subaru, Emerson, NJ
#46 Glenn Russell, 99 cars, new to the list, Matt Slap Subaru, Newark, De
#46 Frank Taliaferro, 99 cars, new to the list, Concordville Subaru, Concordville, PA
***************************************************
7/9 Kendall Subaru buys Vern Eide Subaru, in Lewiston, Idaho. There's now a Kendall Subaru in Missoula Mt, Fairbanks Ak, Eugene Or, and Lewiston, Idaho.
7/7 dealers using alternative power- Planet Subaru, Hanover Ma added solar power April 2011. Grand Junction Subaru in Colorado also has solar power starting June 2011. Byers Subaru in Ohio has a wind turbine that was installed October 2010.
"Planet Subaru is a fitting name for a car dealership whose showroom runs entirely on solar power. The environmentally-minded Hanover dealership recently completed the installation of 374 solar panels that power the entire dealership's showroom... Morrill estimates that the dealership saves $1,000 a month on its electric bills. A federal grant of $150,000 helped subsidize the project's $450,000 price tag... Adding to Planet Subaru's eco-conscious spirit, the Morrill brothers have set aside five of the dealership's 11 acres for a nature reserve..." read the entire article

JULY 5, 2011 The top new car Subaru dealers in the US through the first 6 months of 2011. Of almost 625 Subarus dealers in the US, these are the top 50 dealers.
All Subaru dealers pay the same for the same car so visit your local dealer. This is an unconfirmed, unofficial list.
#1 Heuberger Subaru, Colorado Springs, Co, 1464 cars
#2 Shortline Subaru, Aurora, Co, 862 cars
#3 Van Bortel Subaru, Victor, NY, 815
#4 Manchester Subaru, Manchester NH, 739
#5 Groove Subaru, Englewood, Colorado,688
#6 Bill Kolb jr Subaru, Orangeburg, NY, 652
#7 Liberty Subaru, Oradell, NJ, 651
#8 Capitol Subaru, San Jose, Ca, 649
#9 Patrick's Subaru, Shrewsbury, Ma, 634
#10 Lithia Reno Subaru, Reno, Nv, 634
#11 Carter Subaru Shoreline, Shoreline, Wa 610
#12 Cityside Subaru, Belmont, MA, 609
#13 Colonial Subaru, Danbur, Ct, 608
#14 Stohlman Subaru, Herdon, Va, 604
#15 Goldstein Subaru, Colonie, NY 598
#16 Stevens Creek Subaru, San Mateo, Ca, 590
#17Carr Subaru, Beaverton, Or, 584
#18 Go Subaru Arapahoe, Englewood Co, 570
#19 Becker Subaru, Allentown, Pa, 556
#20 #1 Cocharan Subaru, Monroeville, PA, 548
#21 Chaplins Subaru, Bellevue, Wa, 524
#22 Wentworth Subaru, Portland, Or 507
#23 Ramsey Subaru, Urbandale, IA, 504
#24 Bill Rapp Subaru, Syracuse, NY 499
#25 Irvine Subaru, Lake Forest, Ca, 497
#26-tie Betera Subaru of Hartford, Hartford, CT 496
#26-tie Walkers Subaru, Renton, Wa, 496
#28 Bruce titus Eastside Subaru, Kirkland, Wa, 493
#29 Carter Subaru Ballard, Seattle, Wa 492
#30-tie Continental Subaru, Anchorage, Ak 483
#30-tie Hannah Subaru, Vancouver, Wa, 483
#32-tie Brunswick Subaru, Brunswick, OH, 474
#32-tie Nate Wade Subaru, Salt Lake City, UT, 474
#34 Baierl Subaru, Pittsburg, Pa 473
#35 Flatiron's Subaru, Boulder, Co 472
#36 Burlington Subaru, Burlington, Vt, 465
#37 Rafferty Subaru, Newtown Square, PA. 464
#38 Northtown Subaru, Amherst, NY 461
#39 Fitzgerald Subaru of Gaitherburg, Gaithersburg, Md, 459
#40 Mike Shaw Subaru, Thornton, Co, 454
#41 Georgetown Subaru, Norwalk, CT, 453
#42 Mike Scarff Subaru of Auburn, Auburn, Wa, 447
#43 Lancaster County Subaru, East Petersburg, Pa, 444
#44 John Howard Subaru, MorganTown, WV, 438
#45 Fitzgerald Subaru, Kensington, Md, 437
#46 Bloomington Subaru, Bloomington, Mn, 431
#47-tie Quirk Works Subaru, Bangor, Me, 424
#47-tie Go Subaru West, Golden, CO, 424
#49 Bob Rohrman Subaru, Lafayette, In, 422
#50 Carlsen Subaru, Redwood City, CA, 421
*******************
6/5 Subaru dealers using renewable power. Grand Junction Subaru in Colorado and Byers Subaru in Ohio both are saving money with renewable power. Byers has a wind turbine that was installed October 2010, and Grand Junction has just installed solar panels this June 2011. Byers' turbine needs wind at least 4-7 mph to work and supplies all of their electricity in the winter, and meets most of their summer needs when power demand due to air conditioning use is high. There have been no problems with the turbine.
"While solar-powered cars may be a few years out, one local dealer has made the leap to a solar-powered company. Ron Bubar, owner of Grand Junction Subaru, has recently led the charge by installing a 20KW solar power array.. this system is one of only a handful of auto dealership systems around the country. Simplicity Solar, a local commercial and residential installation and design company built the system...The 240-watt, Solar World polycrystalline panels are manufactured at plants in Camarillo, Calif., and Hillsboro, Ore... They offer the opportunity for businesses like Grand Junction Subaru to purchase a product that complies with the Buy American Act.
The Grand Junction Subaru system... will produce some 30,000KW of power each year. The array will lower the dealerships' monthly utility bills and dramatically cut its carbon footprint...
As Ron suggests, for a Subaru dealer the idea of going solar is a perfect fit with the culture of an environmentally friendly company. And being first in helping the environment seems to be a company tradition... In recognition of this achievement, the Grand Junction Subaru system will be featured in an upcoming edition of the company publication Drive Magazine... ' the entire article
5/28 New dealer opens May 2011- Ladin Subaru in Thousand Oaks, California
5/15 New dealer opens in Newton NJ, Subaru World of Newton
5/2 Subaru dealer to close in Colorado Vista Subaru, Glenwood Springs, Co hopes to sell its Subaru and Chevrolet dealerships and close by May 31.
5/6 An unofficial list of the top Subaru dealers in the US through April 2011. Of over 600 Subarus dealers in the US, these are the top 50.
All Subaru dealers pay the same for the same car, visit your local dealer for the best deal and best service.

1 Heuberger Subaru, Colorado Springs, Co
2 Shortline Subaru, Aurora, Co
3 Van Bortel Subaru, Victor, NY
4 Groove Subaru, Englewood, Co
5 Manchester Subaru, Manchester NH
6 Lithia Reno Subaru, Reno, Nv
7 Capitol Subaru, San Jose, Ca
8 Carr Subaru, Beaverton, Or,
9 Patrick's Subaru, Shrewsbury, Ma.
10 Liberty Subaru, Oradell, NJ
Stohlman Subaru, Herdon, Va,
Go Subaru Arapahoe, Englewood Co,
Stevens Creek Subaru, San Mateo, Ca,
Bill Kolb jr Subaru, Orangeburg, NY,
Carter Subaru Shoreline, Shoreline, Wa
Colonial Subaru, Danbury, Ct
Cityside Subaru, Belmont, MA
Goldstein Subaru, Colonie, NY
Wentworth Subaru, Portland, Or
Becker Subaru, Allentown, Pa
Irvine Subaru, Lake Forest, Ca
Walkers Subaru, Renton, Wa
Continental Subaru, Anchorage, Ak
Hannah Subaru, Vancouver, Wa
Chaplins Subaru, Bellevue, Wa,
Bill Rapp Subaru, Syracuse, NY
Northtown Subaru, Amherst, NY
#1 Cocharan Subaru, Monroeville, PA
Bruce Titus Eastside Subaru, Kirkland, Wa
Carter Subaru Ballard, Seattle, Wa
Flatiron's Subaru, Boulder, Co
Rafferty Subaru, Newtown Square, PA
Ramsey Subaru, Urbandale, IA
Baierl Subaru, Pittsburg, Pa
Lancaster County Subaru, East Petersburg Pa
Mike Scarff Subaru of Auburn, Auburn, Wa,
Brunswick Subaru, Brunswick, OH
Go Subaru West, Golden, Co
Nate Wade Subaru, Salt Lake City, UT,
Bertera Subaru of Hartford, Ct
Quirk Works Subaru, Braintree, MA
Mike Shaw Subaru, Thornton, Co
Bloomington Subaru, Bloomington, MN
Carlsen Subaru, Redwood City, CA
Fitzgerald Subaru, Kensington, MD
Fitzgerald Subaru of Gaithersburg, Md
Burlington Subaru, Burlington, VT
Evanston Subaru, Skokie, IL
Bob Rohrman Subaru, Lafayette, In.
4/12 salespeople save the day.... Desperate for an STI, a 64 year old thief robs a bank and goes to Herwaldt Subaru in Fresno to get the car but doesn't have enough money, so he robs a second bank and then returns to Herwaldt again where internet sales manager Roger Silva and finance person Jerry Stockdale recognize him from the TV news and hold him for police.
Uh... wow.
Heroes.
And By the way, if you're looking for a great car, the STI sedan is still available - call Roger Silva at 559 304-8898.
Here's the article. Watch a video
"Two Fresno car dealership employees were honored by the city of Fresno for their heroic actions. One of them recognized a bank robbery suspect from a story on Action News.
The dynamic duo's attention to detail was very impressive. Thursday was proclaimed Roger Silva and Jerry Stockdale Day in Fresno. Roger Silva and Jerry Stockdale never expected anyone to make such a big deal. Police say on March 29th 64-year-old Neil Sugarman robbed the Bank of the West Branch in Visalia.
Sugarman then came to Herwaldt Subaru in North Fresno to try to buy an STI sports car. Finance officer Jerry Stockdale was struck by Sugarman's dark makeup.
"He looked like was African-American but you knew he wasn't," said Stockdale. "He had it all over his hands and all over his face."
Stockdale says Sugarman left because he didn't have enough money or a credit history. Internet Sales Manager Roger Silva would later recognize Sugarman on Action News.
Silva said, "When I went home that night and watched the news they flashed his picture and I remembered that hat and the picture looked like he was wearing makeup."
The next day police say Neil Sugarman robbed the Bank of America inside a Merced Save Mart.
Silva says when Sugarman returned to Herwaldt Subaru he immediately went on the ABC30 website.
Silva said, "Then I read the description and saw that he had a green backpack when he left the bank and I walked past Jerry's office and saw the green backpack lying on his desk with the money they're counting out."
Silva let Stockdale know he was calling 9-1-1.
Stockdale said, "Roger called the police. I took him in my office and started counting the down payment."
Stockdale says Sugarman had about $8 thousand in cash.
"I miscounted a few times on purpose to kind of slow it down a little," said Stockdale. "I think he was wondering he's never met a finance guy who couldn't count."
A few minutes later police showed up to arrest Neil Sugarman without incident. The heroes just tried to stay calm.
Silva describes how he felt, "It was just like I don't know, something like a cold feeling went through my body."
Silva and Stockdale say it felt good to do something right. Their families are very proud of their actions.
Silva says Sugarman also spoke to another salesman about rock-climbing. He called it a rush, but not as big a rush as robbing a bank." read the article and watch a video
4/7 New Subaru dealer in Post Falls, Idaho. Parker Subaru takes over Select Subaru. All dealers
3/28 New dealer opens in Metairie, Louisiana. Bryan Subaru. All Louisiana dealers
2/26 What people think about car companies, according to a CR survey. The public's perceptions on brand Safety, Quality, Value, Performance, Environmentally friendly/green, Design/style, and Technology/innovation.
The 2011 Car Brand Perception survey makes for interesting reading.
Subaru makes the top ten, coming in at #10 in a list that includes some of the top car companies. In order #1 Toyota; #2 Ford, #3 Honda, #4 Chevrolet, #5 BMW, #6 Mercedes, #7 Volvo, #8 Lexus, #9 Cadillac, #10 Subaru.
The only category Subaru ranked in is Safety category (in order) Volvo, Ford, Honda, Subaru, Mercedes. Read the entire article
2/25 don't text in Colorado and get free NHL hockey tickets, courtesy of Co Subaru dealers...
'In order to promote safe driving in the Denver area, Subaru. has announced it will provide two complimentary Colorado Avalanche hockey tickets to any Colorado driver who takes the pledge NOT to Text and Drive.
As part of its regional "Subaru Saves Lives" campaign, Subaru is inviting Colorado drivers to visit one of seven participating dealerships before March 13 to sign a contract pledging NOT to text while driving. In return, dealers involved in the promotion will provide participants with a code to redeem two complimentary Colorado Avalanche tickets online..
"Subaru vehicles are known for their safety," said Lee Grodsky, Subaru Denver Zone Director. "However, driver behavior is also a key factor in road safety and by asking drivers to pledge 'NOT to Text and Drive' we're hoping to promote even safer driving, reduce accidents and ultimately save lives."
Participating Colorado Subaru dealers are: Mike Shaw - Thornton; Go West - Golden; Arapahoe- Englewood; Flatirons- Boulder; Shortline- Aurora; Groove- Englewood; Valley- Longmont" Read this first press release from Rachelle Damminger (see below)
2/25 Subaru of America, Inc. today announced the appointment of Rachelle Damminger to manager of corporate communications. Reporting to the director of corporate communications for Subaru, Damminger will be responsible for the company's business and lifestyle media relations as we as the company's social media efforts.' read the press release
1/29 Heuberger Subaru in Colorado Springs remodeling ...
'The fire started at Heuberger Subaru around 12:30 this afternoon on the north end of the building. Construction was being done on the building and the fire may have been caused by a cutting torch spark that spread into the walls. The street was blocked by fire hoses for several hours, making it tough for would-be customers. But since there was no damage inside, the service and sales departments did not close.' the article
1/10/2011
Subaru grows from 2.1% in 2009 to 2.3% of the 2010 US car market and the #9 on the top 10 list, outselling direct competitors VW and Mazda (and also BMW, MB, Mitsubishi, Volvo, Mini, Land Rover, Porsche, Suzuki, Jaguar, Saab, Ferrari, Maserati, Bentley, Rolls Royce...)
The top 10 car companies for 2010, with % market share
#1 GM- 2,211,091 cars sold, 19.1% of the US market;
#2 Ford 1,931,534, 16,7%;
#3 Toyota 1,763,595; 15.2%
#4 Honda 1,230,480; 10.6%
#5 Chrysler 1,085,211; 9.4%
#6 Nissan 908,570; 7.8%
#7 Hyundai 538,228; 4.6%
#8 Kia 356,268; 3.1%
#9 Subaru 263,820; 2.3% of the 2010 US car market;
#10 VW 256,830, 2.2%;
Mazda 229,566, 2.0%; Mercedes 224,944, 1.9%; BMW 220,113, 1.9%; Audi 101,629, 0.9%; Mitsubishi 55,683, 0.5%; Volvo 53,848, 0.5%; Mini 45,644, 0.4%; Land Rover 31,864, 0.3%; Porsche 25,320, 0.2%; Suzuki 23,994, 0.2%; Jaguar 13,340, 0.1%; Saab 5,445; Ferrari 1,547; Maserati 1,897; Bentley 1,430; Rolls Royce 512; subject to change, stats from the WSJ
1/9/2011
The top Subaru dealers in the US for 2010. Of almost 625 Subarus dealers in the US, these are the top 50 dealers. All Subaru dealers pay the same for the same car so visit your local dealer. an unofficial list.
#1 Heuberger Subaru, Colorado Springs, Co, with 2892 cars for 2010
#2 Van Bortel Subaru, Victor, NY, 1684 cars in 2010
#3 Shortline Subaru, Aurora, Co, 1496 cars
#4 Manchester Subaru, Manchester NH, 1353 cars
#5 Groove Subaru, Englewood, Colorado, 1346 cars
#6 Colonial Subaru, Danbur, Ct, 1321
#7 Bill Kolb jr Subaru, Orangeburg, NY, 1297
#8 Stohlman Subaru, Herdon, Va, 1271
#9 Carr Subaru, Beaverton, Or, 1253
#10 Patrick's Subaru, Shrewsbury, Ma, 1252
#11 Carter Subaru Shoreline, Shoreline, Wa 1226
#12 Go Subaru Arapahoe, Englewood Co, 1219
#13 Wentworth Subaru, Portland, Or 1215
#14 Stevens Creek Subaru, San Mateo, Ca, 1180
#15 Cityside Subaru, Belmont, MA, 1172
#16 Continental Subaru, Anchorage, Ak 1109
#17- tie Irvine Subaru, Lake Forest, Ca, 1073
#17- tie Liberty Subaru, Oradell, NJ, 1073
#19 Chaplins Subaru, Bellevue, Wa, 1065
#20 #1 Cocharan Subaru, Monroeville, PA, 1053
#21 Lithia Reno Subaru, Reno, Nv, 1044, cars
#22 Georgetown Subaru, Norwalk, CT, 1028, cars
#23 Capitol Subaru, San Jose, Ca, 1024 cars
#24 Baierl Subaru, Pittsburg, Pa 1014 cars
#25 Goldstein Subaru, Colonie, NY 1012 cars
#26 Becker Subaru, Allentown, Pa, 1002 cars
#27 AutoWest Subaru, Roseville, Ca, 964 cars
#28 Burlington Subaru, Burlington, Vt- 941 cars
#29 Brunswick Subaru, Brunswick, OH, 940 cars
#30 John Howard Subaru, MorganTown, WV, 932
#31 Sommer's Subaru, Mequon, WI, 926
#32 Northtown Subaru, Amherst, NY 915
#33-tie Bill Rapp Subaru, Syracuse, NY 912
#33-tie Flatiron's Subaru, Boulder, Co 912
#35 Walkers Subaru, Renton, Wa, 908
#36 Rafferty Subaru, Newtown Square, PA. 899
#37 Evanston Subaru, Evanston, IL, 898
#38-tie Bruce Titus Eastside Subaru, Kirkland, Wa 891
#38-tie Metro West Subaru, Natick, MA, 891
#40 Patriot Subaru, Saco, ME, 887
#41 Hannah Subaru, Vancouver, Wa, 883
#42 Nate Wade Subaru, Salt Lake City, UT, 873
#43 West Herr Subaru, Orchard Park, NY, 863
#44 Mike Shaw Subaru, Thornton, Co, 861
#45 Mid-Hudson Subaru, Wappingers Falls, NY, 848
#46 Subaru Stamford, Stamford, Ct, 845
#47 Subaru of Plano, Plano, Tx, 834
#48 Ramsey Subaru, Urbandale, IA, 833
#49 Mike Scarff Subaru of Auburn, Auburn, Wa, 825
#50 Minooka Subaru, Moosic, PA. 820
1/7/2011 The top salespeople for 2010 calendar year and where they work.
There are lot of hardworking people at a car dealership - from parts, service, admin/office, to the people who clean the cars - and it all starts with getting a Subaru from a salesperson. These are the first people you talk to when considering a new Subaru, they know the cars, they're job is to help you get the right one. There are 1000s of Subaru salespeople in the US, here's a list of the top 50. Its a hard job and these folks have earned the trust of a lot of buyers but so have the other salespeople not listed here and recognition is due to all of them because they're the ones that make a Subaru, a Subaru. And Subaru expects over 90% of a salesperson's customers to respond with top 'very happy' scores on their new car satisfaction survey.
This is an unofficial list subject to updates, and doesn't include new car sales to Canada.
#1 Desiree Farey- #1 salesperson in the US is once again Desiree Farey with 589 cars. She's at Irvine Subaru, Lake Forest, Ca; Last year she was #1 with 500.
#2 Ferris Reid- #2 salesperson in the US is once again Ferris Reid with 572 cars. He's at Georgetown Subaru, Norwalk, CT; Last year he was #2 with 462
#3 Craig Parsons, with 398, is new to the list. He's at Groove Subaru, Englewood, Co.
#4 Jeff Miletta, with 389 cars. He's at Liberty Subaru, Oradell, NJ; Last year he was #3 with 323
#5 Vincent Rizzo with 359 cars. He's at Metric Subaru, Huntington, NY; Last year he was #6 with 302 cars
#6 Theresa Ali, 323 cars. Van Bortel Subaru, Victor, NY. Last year she was #7 with 287 cars
#7 Margaret Walsh, 303 cars. New to the list. Van Bortel Subaru, Victor, NY.
#8 Lawrence Fung, 290 cars. New to the top 25 list. Carlsen Subaru, Redwood City, Ca
#9 Charles Gianakis, 289 cars, Cherry Hill Subaru, Cherry Hill, NJ. Last year he was #3 with 332
#10 Jack Berkowitz, 2823cars. Manchester Subaru, Manchester NH. Last year he was #12 with 247
#11 Andre Tocci, 279 cars. Rafferty Subaru, Newtown Square, PA. Last year whe was tied at #21with 215 cars
#12 Mir Masood, 273 cars. Stevens Creek Subaru, Stevens Creek Ca. Last year he was tied at #14 with 240 cars.
#13 Stephen Appelbe, 267 cars. Manchester Subaru, Manchester, NH; Last year he was #11 with 253 cars.
#14 Vincent Bovenzi, 261 cars. New to the list. Van Bortel Subaru, Victor NY
#15 John Hughes, 253 cars. New to the list. Sheehy Subaru, Springfield, Va
#16 Karl Lindemuth, 247 cars. Van Bortel Subaru, Victor, NY. Last year he was #5 with 311
#17 Guillermo Wong, 245 cars. Bird Road Subaru, Miami, FL. Last year he was #9 with 257 cars.
#18 Clayton Earle, 244 cars. New to the list. Liberty Subaru, Oradell, NJ
#19-tie Mark Lidano, 237 cars. Cityside Subaru, Belmont, MA. Last year he was #17 with 221 cars.
#19-tie Julie Schulte, 237 cars. Subaru of Sioux Falls, Sioux Falls, SD. Last year she was #16 with 223 cars
#21 Jonathan Dimeglio, 235 cars. New to the list. Subaru Stamford. Stamford, CT
#22 Ronald Kula, 231 cars. New to the list. Brunswick Subaru, Brunswick, OH
#23-tie Abe Baraka, 230 cars. New to the list. Bruce Titus Eastside Subaru. Kirkland, Wa
#23-tie Aleksey Petrushkin, 230 cars. Ramsey Subaru Ramsey, NJ. Last year he was tied at #19 with 216 cars.
#25 Joe Khattar, 229 cars. Goldstein Subaru of Albany, Colonie, NY
#26 Harold Gosnell, 228 cars, #1 Cochran Subaru, Monroeville, PA.. #27 Michael reed, 226 cars, Wagner Subaru, Fairborn, OH.
#28 Ronald Hall, 222 cars, Shortline Subaru, Aurora Co. #29 George Villafane, 221 cars. Loman Subaru, Parsippany, NJ.
#30 Bob Bruggeman, 218 cars. Kerven Subaru, Butler, PA..
#31-tie Ahmad Rahimzadah, 217 cars. Livermore Subaru, Livermore, Ca. #31-tie Jordan Raport, 217 cars. Stohlman Subaru, Herndon, VA.
#33 Bradley Davis, 218 cars. Mark Miller Subaru South Towne, Sandy UT. #34 Jamie Cassady, 214 cars. Capitol Subaru, San Jose, CA.
#35 Ken Eby, 211 cars. Carr Subaru, Portland, Or. #36 James Triplett, 209 cars. John Howard Subaru, Morgantown, WV.
#37- tie Joan Vaccoro, 208 cars. Loman Subaru, Parippany, NJ. #37-tie Stuart Lesser, 208 cars. Bill Kolb Jr Subaru, Orangeburg, NY. #37-tie Alicia Piper, 208 cars. AutoWest Subaru, Roseville, CA.
#40-tie Garrett Spangler, 207 cars. Spangler Subaru, Johnstown, PA. #40-tie Michael Nelson, 207 cars. Cityside Subaru, Belmont, MA. #40-tie Dave Denu, 207 cars. Flatirons Subaru, Boulder, Co.
#43-tie Donald Jowdy, 206 cars. Colonial Subaru, Danbury CT. #43-tie Glen Dalton. 206 cars, Cityside Subaru, Belmont. MA.
#45 Jacquilyn Cobey, 205 cars. Wilde Subaru, Waukesha, WI.
#46-tie Vincent Hendri, 204 cars. Glanzmann Subaru, Jenkintown, PA. #46-tie Jason Ryan, 204 cars. Brunswick Subaru, Brunswick, OH.
#48 Brian Johnson, 203 cars. Brunswick Subaru, Brunswick, PA.
#49-tie Derek Bogdan, 201 cars. Cityside Subaru, Belmont, MA.
#49-tie Kevin Suchora, 201 cars. Boardman Subaru, Boardman, OH.
END Dealer news

---
Subaru SALES numbers in calendar year 2011
top, edited for length, content

1/4/2012 December sales and 2011 total sales- what an ending to a troubled year for SoA, with the best month ever and best year ever!
December total was a record 33,701 cars sold, thats the best month ever for SoA. The previous best was August 2009, Cash for Clunkers month, with 28,683 cars sold, and December 2011 beat that by 5018 cars.
The December 2011 33,701 total is an increase of 26.25% over 26,694 during December 2010.
Subaru did a great job fast shipping cars and the 0% financing announced 12/10/11 - through 1/3/12- helped for the last 3 weeks.
> Outback- the big seller for the month with 13,430, an increase of 30.95% over 10,256 Outbacks in December 2010.
Outback is #1 seller for the year, its SoA's volume leader for 2011 with 104,405, up 12.09% from 93,148 in 2010
> Forester- there were 8,601 purchased in December 2011, an increase of 6.61% from 8,068 Dec, 2010.
Total Foresters sold for 2011 was 76,196, down 10.44% from 85,080 in 2010. The Forester is due for a redesign and a fuel economy increase with a CVT, and perhaps even hybrid technology. Stay tuned for more info.
> Impreza- the total for the all new Impreza 2.0i was 5,464 sold for December 2011. Thats a very strong debut, and a good month by past Impreza standards. Its even more impressive considering the 2012 models had just started arriving in November and were quickly stopped for a few weeks by the parking brake recall. The response to the new models has been very favorable. December 2011 was a 86.68% increase over 2,927 in 2010.
For the 2011 year, Impreza was down to 27,391 from 36,072 in 2010. Thats a drop of -24.07% which isn't suprising given the successful 2011 model closeout followed by the 2012 model earthquake/tsunami and later recall delays. There were almost no Imprezas for sale for 2 months, October and November.
> WRX, STI- 1257 for December 2011, down -5.63% from 1332.
2011 WRX STI total 13805, up a suprising 65.87% from 8323 in 2010. There is no individual model count for WRX or STI.
> Legacy- December 2011 total 4625, up +19.08% from 3884 December 2010.
2011 Legacy total was 42,401, up 9.49% from 38,725 in 2010. The Legacy is an excellent value and under-appreciated in the crowded family sedan market. An almost 10% increase in a rough year is a notable success.
> Tribeca- 324 for the model, up a +42.73% from 227.
2011 Tribeca's total was 2791 for the year, +12.90% from 2472 in 2010. Will there be a 2013 Tribeca?

2011- Subaru sales total for the year was 266,989, a slim but very important 1.20% increase over the previous record of 263,820 set last year, 2010. Subaru has now had record sales for three years in a row and is the only in the US car company to have four successive years of sales growth. It was a troubled year for Subaru though and even matching 2010s record could have been considered a success. Sales through September were actually up. The March earthquake/tsunami catatastrophy had, is still having, a huge human toll. Subaru was fortunate however that their factories were not damaged, though it cost at least 2 full months of new 2012 Impreza sales, the 2012 Outback and Legacy would have been available in June instead of September, and there would have been no inventory shortages through the summer. Then the November recall on Outback, Legacy and Impreza slowed the long-awaited inventory rebound. So any increase is a testament to Subaru market strength.
Canadian sales
December total 2,493 units, up 6.2% over last December 2010. 2012 Impreza 991, 2012 WRX STI 170
2011 total. 26,984 for the year, the second best year in Subaru Canada's history.
12/1/2011 November sales total 17,657 which is down -15.08% from 20,792 from November 2010. It was a very strong month for the car industry overall and Subarus that are actually available on lots continue sell at a very brisk rate. But 2011 has been a tough year and due to the latest setback, a brake recall on some 2012 Outbacks, Legacys and long awaited Imprezas, November ended on a down note with inventory extremely low. There simply aren't cars to buy though that is expected to change quickly in early December.
The Outback and Forester continue with strong numbers, though slightly down for the month. The all new Impreza is starting to arrive at dealers and will be a strong seller. The big increase for the month, a 25% gain, was the Tribeca with 231 for the month, over 180 in November, 2010.
Outback 7293, -6.67% from 7814 in 2010
Forester 5829 -6.88% from 6260 in 2010
Legacy 2892, -7.79% from 3133 in 2010
WRX/STI 1230, +57% over 783 in 2010
Impreza 182, -93% from 2440 in 2010 as the last of the 11s sell
Tribeca, 231, +28.33% over 180 in 2010
> Year To Date, Subaru has sold 233,288 cars which is down 1.62% from YTD 2011.
The total for 2011 was a record 263,820. To match 2011 Subaru needs to sell 30,532 cars in December, which would their best month ever. Its possible. Are you thinking of getting a Subaru?
Most other car companies had winning months, except Honda which has inventory problems due to flooding in Taiwan.
Hyundai 49,610 vehicles +21.8%, Toyota 137,960 +6.7%, Kia 37,007 +39.1%, Nissan 85,182 +19.4%, GM 180,402 +7%, Chrysler 107,172 +44.5%, VW/Audi +28.7% to 38,283 vehicles, Mercedes 27,841 +42.6%, Honda 83,925 -6.4%
11/1 October sales total 20,081, which is down 11.62% from October 2010, and for the year puts SoA at 215,361, which is down .32% from 216,634 YTD 2010.
For October: Forester 5385 (-18.9%) , Outback 8891 (+2.3%), Legacy 3546 +0.1%), Impreza 1993 including WRX, STI -45.8% , Tribeca 266 +51.1%
Subaru is counting on a strong finish to boost numbers for the year. They are at least holding their own which is very impressive given all the difficulties. And now the the 2012 Impreza is due starting this month. 2012 Outback, Forester, Legacy deliveries have been very slow and and hopefully they will arrive in quantity. WRX and STIs are alkso expected soon. Note Tribeca sales fpor the month are up 51.1% from 176 to 266, and while 266 is still a pretty paltry amount, one has to wonder why the increase- and how long they will continue to offer the Tribeca anyway (until they sell out?).
10/3 September sales. Total 20,934 cars, down 2% from 21,437 September 2010.
Thats a very strong month considering September was the end for 2011 Impreza, Outback, Legacy, and Tribeca deliveries to dealers, with 12 Outback and Legacy only just starting to arrive toward the end of the month. The new Impreza will be out in November/December.
Going forward, expect a lot of Outbacks and Legacys to be available in the coming months as Subaru hopes to gain sales with increased inventory and marketing.
YTD 195,550, +1% over 193,614 YTD 2010
Forester 6,592, +142 cars, or +2%, from 6449 in 2010
Outback 7,607 -548 cars, or -7%, from 8155 in 2010
Legacy 3,139 +138 cars, or +5%, from 301 in 2010
Impreza 1,601 -1,263 cars or -44%, from 2864 in 2010. September is the last of the 2011s
WRX/STI 1,739 +923 or +113%, from 816 in 2010
Tribeca 256, +104 cars or 68%, from 152 in 2010
9/1 August sales total 20,837 -6% from 22,239 August 2010.
YTD Subaru is squeaking out a slim 1% increase to 174,616 compared to 172,182 for YTD 2010. With the new 2012 Impreza due in November, and increasing availability of all the other models, Subaru is expected to end the year with an impressive gain, especially considering the production difficulties.
Outback, Legacy and Forester supply is already running low. 2012 Outback and Legacy is due this month, Forester in October.
Sales in August 2011:
Outback 7,572, -6% from 8,053 August 2010
Forester 6,429, -11% from 7,234
Impreza 2,559, -25% from 3,434 (including the WRX/STI)
WRX/STI 801, +118% over 367
Legacy 3,271, +10% over 2,965
Tribeca 205, +10% over 186
Canada sales- 1,863 total. Tribeca sales up 64% over August 2010. Total YTD sales are holding steady but slightly down -0.3%
8/2 July sales total 21,730.
That's down 9.39% from 23983 last July 2010. The good news is the year to date total is still by up a slim +2.56% to 153,779 compared to 149,943 for 2010. Under the circumstance thats a very strong showing and with 5 months left, production expected to increase rapidly, and all the 2012s to be released, Subaru will end this year favorably.
"Consumer demand for our products remains at a high level and we look forward to increasing our inventory levels in the coming months to match this high demand," said Thomas J. Doll, executive vice president and chief operating officer, Subaru of America, Inc"
Outback 8373 for 7/11, - 7.28% from 9030 July 2010. 2012s expected September.
Legacy 3644, +13.59% from 3208 July 2010. 2012s expected September.
Forester 6218, -17.13% from 7503 July 2010. 2012s expected October
Impreza 3260 (including WRX/STI) -18.54% from 4002 July 2010. WRX/STI 1098, last July was 372. That's a huge jump.
Tribeca, 235, -2.08% from 240 7/10. Yes there will be a 2012 model, expected September.
Other companies July 2011 compared to 2010: Honda/Acura -28.4% to 80,502; Toyota -22.7% to 130,802; GM +7.7% to 214,915; Chrysler +20.1% to 112,026 vehicles; Nissan +6.6% to 84,601; Kia +28.5%; Mazda +0.2% to 20,783
Canada- 1,916 cars sold, -18% from July 2010. YTD 16,093.

7/1 June sales figures - 19,794 for the month. YTD Subaru is up 5%
Inventory dropped in June due to steady sales but fewer deliveries as a result of the March earthquake. All models are impacted but especially Japan-built Impreza and Forester. While US-built Outback sales is up 21% and Legacy is up 15% for the month, Impreza is down 45% and Forester is down 28% because the cars just aren't available to buy. Tribeca is consistent just under 200 per month.
YTD through June, Subaru is still up 5% for the year which is impressive. If there had been no earthquake they would be having another huge giant year. Looking forward through July , inventory is expected to be much lower than usual but will hopefully start to increase after that. There will be pent-up demand as buyers wait for 2012s and an improved selection, especially of hard to find models.
June 2011 total including fleet: 19,794. June 2010 total was 21601 so June 2011 is down 8%.
By model compared to June 2010
Outback 7914, +21% over 6554 in 2010,
Legacy 3471, +15% over 3006
WRX/STI 663, +50% over 443
Impreza (excl WRX/STI) 2100, -45% from 3816
Forester 5466, - 28% from 7607
Tribeca 180, +3% from 175.
> The year so far- 6 months is halfway through the year. YTD total 132049, which is +5% over 2010 YTD 125960.
The final total for 2010 was 263,820 cars. If Subaru can just maintain the same pace through the second half of this difficult year as they did in the first, the 2011 total would be 264,098 and another record although a squeaker.
But... I think once parts are available, Subaru will quickly produce and ship as many cars as they can. With 2012s finally available, including the long awaited 36mpg Impreza, Subaru could end 2011 with a buzzer beating sprint.
YTD by model Outback 51239 +25% over 41147; Legacy 21284 +12% over 18933; Forester 37142 -13% from 42935; Impreza (excl WRX/STI) 19937 -18% from 18133; WRX/STI 6173 +79% over 2732; Tribeca 1274 -3% from 1311.
Canada- also a good month at 2,483, + 7.2% over June 2010. Canada dpoes not release sales my model. Impreza sales +4%, WRX/STI + 81.8%; Outback +45.8%, and Legacy sedan +19.1%
6/1 May sales total 20,036 which is down 15.3% from 23,667 May 2010.
The effect of the March earthquake and related parts shortages is apparent in the lower numbers for Japan-built Impreza and Forester models. There have been very few Imprezas available all month, almost no WRXs and STIs, and the supply of Foresters was sharply lower by month end. Outback sales are up, Legacy is steady, and Tribeca sales are minimal but thats pretty much what they have been for the past few years.
May totals: Outback 8431, +10.5% over May 2010; Legacy 3618 +0.9% from May 2010; Impreza 2610, -38.6% from May 2010, Forester 5193 -34.5% from May 2010, Tribeca 184 -18.6% from May 2010
YTD 2011 is 112255, still up a respectable 7.6% over YTD 2010 104359
YTD through May by model line: Outback 43325, up 25.2% over 34593 2010; Legacy 17814 +11.4%; Impreza 18347 +6%; Forester 31676 -10.3%; Tribeca 1094 -3.7%.
Subaru Canada 2,576 units, up 5.7% over May 2010, with WRX and STI notably up a strong 28%.
5/3 April US sales. Another good month. April 2011 sales total was 24762, up 6.74% over April 2010 and the best April ever.
This is especially strong considering the factory shutdowns impacted the supply of Japanese built cars arriving at dealers, though the full effect of that won't really be noticed until May and afterwards as the supply drops.
The Outback was up by a healthy 23.11%. The Outback's fuel economy rating is one of the best for any AWD Crossover/SUVs. Its rated at 22/29 MPG and no other AWD gets more than 29 on the highway, and only the Mitsubishi Outlander and Chevy Equinox match it . As gas prices go up and up, the 4 cylinder Outback is the still engine of Subaru's continuing success, as it has been since 1996.
Impreza sales were up 20.44%. According to the press release, the WRX and STI sales more than doubled. This might be attributed to buyers taking advantage of remaining inventory since with the factory shutdown there are only a few, if any, 2011s left coming in and no word on changes for the 12s.
Suprisingly the popular Forester was down almost 12%.
April's top seller was the Outback with 9465 cars sold, up 23.11% over April 2010.
#2 was Forester with 6714 -11.97%,
#3 Impreza 4367 +15.04%,
#4 Legacy 3975 +3.22%,
#5 Tribeca 241 +2.12
YTD sales through April 2011 was 92,219, up 14.29% over 80,692 2010
YTD Outback 34894 +29.41% over 26963 in 2010.
Forester is 26483 -3.18% from 27352 in 2010.
Impreza is up 20.44% to 15737, from 13066
Legacy up 14.47% to 14195 over 12401
Notably Tribeca sold exactly 910 cars YTD April 2011 and 2010.
Canada sales- there were 2,900 Subarus sold in Canada in April 2011, which is +9.8% over April 2010, making this the best April ever, Driving growth in April were Subaru's Outback, WRX/STI, Legacy and Impreza models. Most notably, the uniquely capable Outback set a new all-time monthly record, retailing 798 units to beat the previous record set last April by 18.8%. The all-new 2011 WRX/STI also experienced significant growth in April with sales up 40% over the same month last year.
4/1 March 2011 sales total is 26916, its 2nd best month ever. Up +13.16% over the 23785 sold last March. Year to date total is 2011 67,457 up 17.3% over 2010 57,494. The top month ever was Cash For Clunkers August 2009 with 28,683 car sold.
The clear volume winner is Outback with its #1 BEST MONTH EVER with 10,498 cars sold +37.8% over March 2010.
Forester 7,629 (-9.9%), Impreza 4091 (+3.1%, Legacy 4450 (+27.6%), Tribeca 248 (+2.1%).
3/1 February sales- Total 21683, up 3585 (+20%) over February 2010.
Outback 7951, Legacy 3242, Forester 6334, Impreza 3933, Tribeca 223
2/1 January sales total 18,858. Another record setting month (11 out of the last 12 have set new records). January 2011 was up 21% from 2010 and the previous best January was 16,740 way back in 1986! January 2010 total was 15,611
January 2011 Outback 6980; Legacy 2528; Forester 5806; Impreza 3346; Tribeca 198;
2010 calendar year totals: 263,820 a new record! up 47,168 cars (+ 22%) over the previous record of 216,652 set just last year 2009. Subaru now has 2.3% of the US market.
Totals By Model in 2010 (compared to 2009): Outback 93,148 (+68%) , Forester 85,080 (+9%), Impreza 44,395 (-5%), Legacy 38,725 +25%, Tribeca 2472 (-58%)
2010 Canada sales
Subaru Canada In. (SCI) had record sales for 2010 of 27,805 vcars, a 20.7% gain over the 23,034 vehicles sold in 2009. It was also a record December for SCI with Canadians purchasing 2,348 vehicles. This annual sales increase helped SCI close out 2010 as the fastest growing Japanese manufacturer for the third year in a row. Sales of the Outback led to its best December ever and a new annual sales record of 6,401 units sold, beating the previous record, set in 2001, by 48.4%