Subaru of America 360
Current model overview, prices
Archives previous models
Subaru Pictures new & old
Used Subarus for sale in Seattle
Classified Ads Free Subaru, Bricklin
sitemap for much more



Subaru 360 van 'Deluxe' logo on back

the 1st US Subaru was a 360. The white 1969 360 5 door van (left) is only 117.9" long

this is an unofficial, unauthorized site by Joe Spitz. All text, content photos © j. spitz. Reproduction prohibited
you are here: http://www.cars101.com/subaru/360.html V 10.21.12

The first U.S. Subaru is the 360.
This very small rear wheel drive minicar had a 2-stroke, 25 horsepower 356 cc engine (thus the 360 name), weighed under 1000 pounds, got 66.3 mpg, went 0-50 in over 37 seconds. and cost $1,297 + prep.
It came in a few models: 2 door sedan, then the "Young S" 2 dr sedan, minivan (that's me in the white 5 door van below), a truck version, and even a mini race car too. There may have been as many as 10,500 (8,300 sedan, 2,200 van) of these imported through 1969, though they weren't exactly a best seller.
Check out my classifieds page to buy or sell one. Consumer Reports rating: not acceptable.
specs and information subject to correction, change

---
| | |
| --- | --- |
| the 360 Subaru van gets loaded on a flatbed to be displayed at ski show | |
| | off to be displayed at a ski show in Seattle, 2011 |
SUBARU 360 VAN SPECS AND DETAILS
MSRP: 2door sedan $1,297, ($1327 including prep)

Wheelbase 71"
Overall length 118"
Overall width 51"
Overall height 53"
Turning circle 28 ft
Tread, front, 44.9"
Tread, rear 42.1"
Ground clearance: 6.3"


Engine: 21.7 ci, 2 stroke, 2 cylinder, air cooled
Transmission: 4 speed manual
Steering: rack and pinion manual steering
Compression 6.7:1
Carburetor Solex type, Hitachi
Horsepower 25@5500, 25.4 ft lbs torque
Final drive ratio 5.89:1
Fuel capacity 6.6 US gal
Curb weight 925.0 lb
Weight front/rear 41/59
Tire size 4.8x10
Acceleration
Maximum speed: 69.3 MPH
0-50 37.5seconds
1/4 mile 28.5 seconds
3-50mph (floored) 26.4 seconds
Braking 39.4 ft at 31 mph


360 door VIN indentification plate

Subaru 360 van


dash instruments. 16,488 is a -lot- of miles on this litle car...


360 Deluxe van front door, it's a suicide door. Note the 2 stickers on the door, see below.


Subaru 360 'Deluxe'. The front vent simply opens to the inside.


notice the front vent simply opens to the outside. Shown open


sticker from the radio
-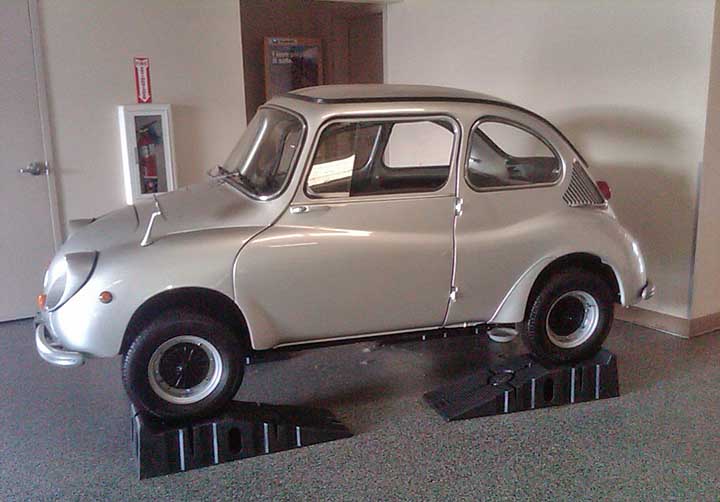 360 sedan
-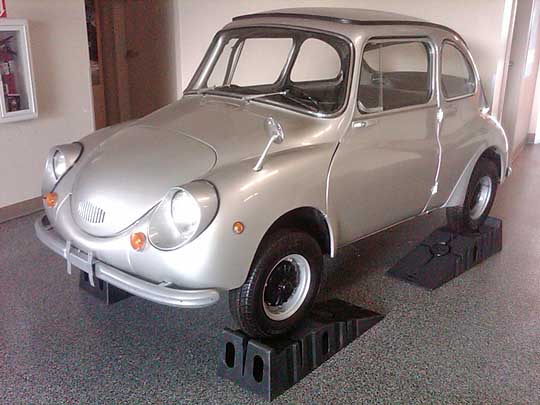 -
Subaru videos
Tips, comments, corrections welcomed! email
Thank you
the end