1992 SUBARU SVX LS-L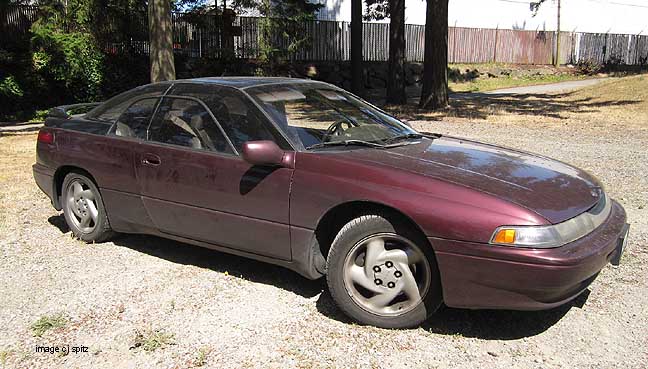 photos of a 1992 Claret Red SVX as it was seen on the road in Seattle, Wa. August 10, 2011
The SVX It was designed by Italian designer Giorgetto Giugiaro. It was known as the Alcyone SVX everywhere except the US. There were 5,280 sold in the US.
In 1992 the price for an LS was $24,445. With the Touring option like this one, it was $28,000. The last model was the 1997, and it was $36000.
---

If you like this site, please tell friends about it. Thank you. You are here http://www.cars101.com/subaru/svx_1992.html v 8.18.11
Always subject to change, correction. comments, corrections, welcomed. All photographs, text, formatting © joe spitz :: unauthorized reproduction prohibited
homepage - more SVX specs
This independent, unofficial, unauthorized Subaru research site is happily created and maintained by Joe Spitz. It is designed to help you learn about Subarus. It is not sponsored, authorized, supported or approved by Subaru or any dealer and is not connected to, affiliated with, or supported by a dealer. Information is always subject to change, correction, updating.

| | |
| --- | --- |
| 274,938 miles. The engine and tranmission were rebuilt | 160 MPH speedometer |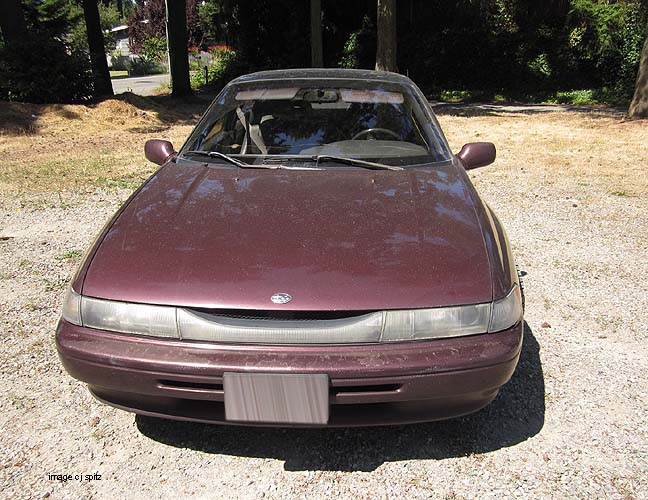 this is a daily driver and the paint is a little chipped up as expected with 274,938 miles... and still going strong.
It was sold new in Bellingham, Wa., April 1992.
-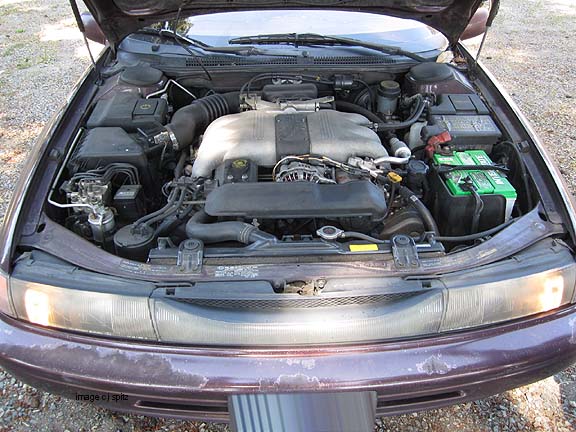 the engine is a 3.3L 6 cylinder 24 valve DOHC Boxer engine. 230hp @ 5400 rpm, torque 228 @ 4400 rpm
Sequential Multi-port fuel injection with dual spray injectors, platinum-tipped spark plugs, electronic vehicle speed sensitive power assisted rack and pinion steering.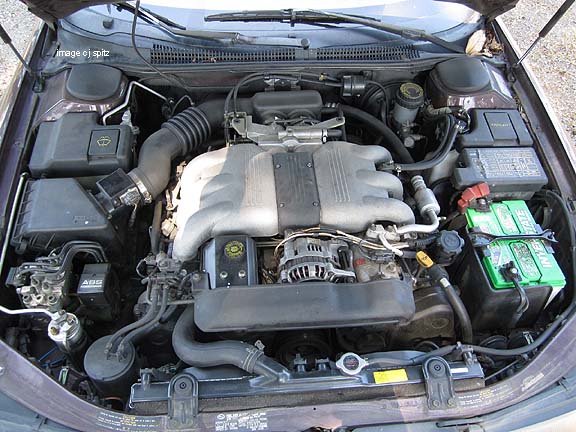 Fuel economy: 17 city, 25 highway, tank size 18.5 gallons
-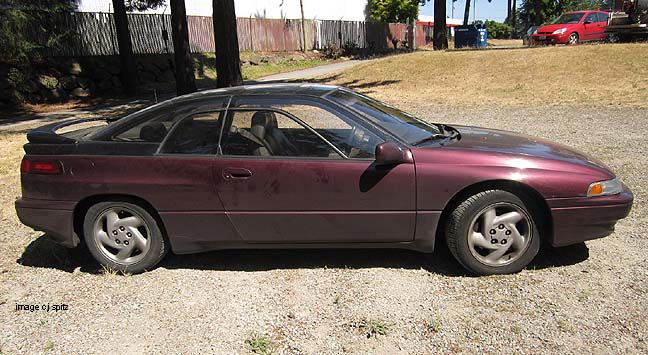 a sleek, very aerodynamic design. With the inset windows, there was little wind noise
overall length 182.1", width: 69.7", height: 51.2", wheelbase 102.8", ground clearance 5.3"
-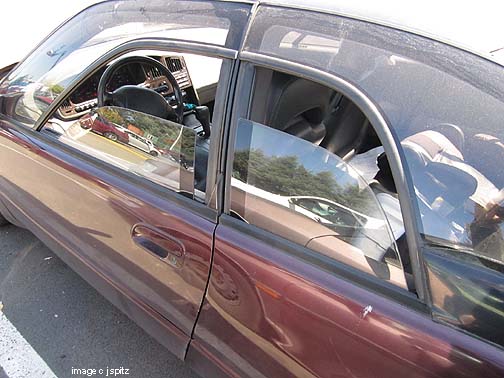 lots of glass and excellent visibility but small windows like the Delorean.
-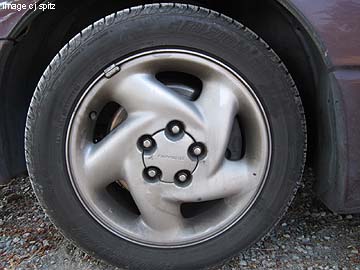 7.5x16" 5 lug unidirectional alloys. They point foward. Many people put them backwards.
-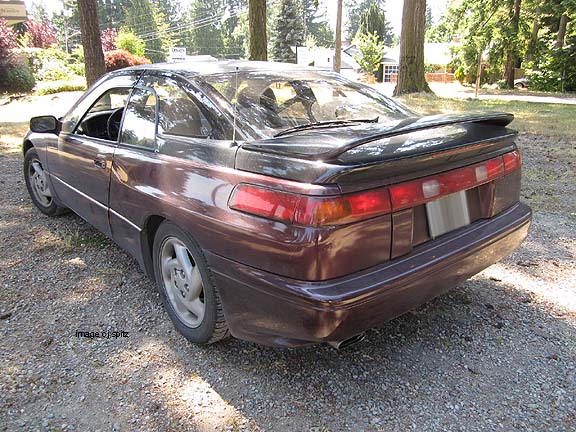 the rear spoiler came on the Touring models
-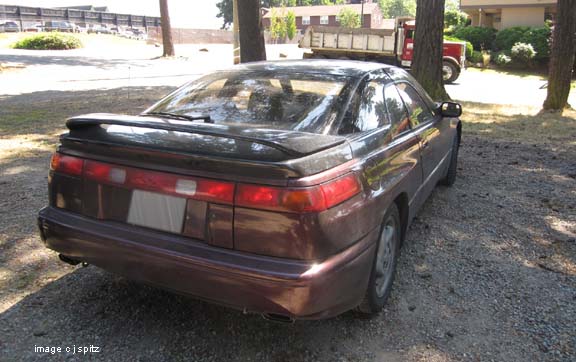 -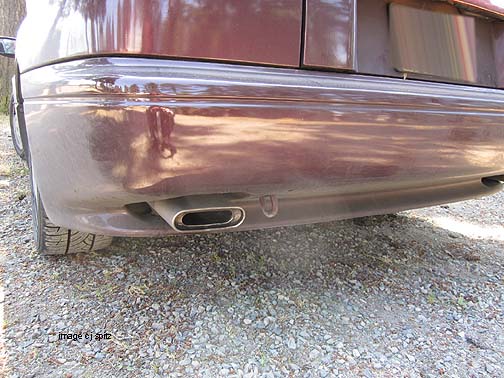 dual exhaust
-
| | |
| --- | --- |
| the center console, a clean look. Everything is behind doors. | this is the LS-L. It came with the factory CD player which is still used. The radio above it is aftermarket |
| gray leather interior | The gray suede material is 20 years old and has held up well though its a bit dirty. |
| not much room in the back seat but a child seat fits. | The steering wheel had tilt, telescoping and a quick tilt-away feature. |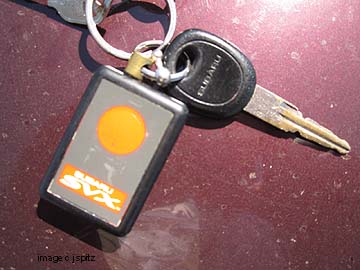 the car came with a keyless remote and alarm that made a funny little chirping sound when activated.