2011 Subaru Share the Love Event


this is the 4th Share the Love Event. It runs from November 19, 2011 - January 3, 2012
*********************************************

January 29, 2012 Share the Love results
For the 4th year, Subaru generously donated their maximum $1,000,000 to each of the 5 charities this year- ASPCA, American Forests, Make a Wish, Meals on Wheels, and Special Olympics.
The 2011 Share the Love program ran from 11/19/11 -1/3/12. In December alone 33,701 people bought Subarus and at $250 donated per car, that would be $8,425,25 but the donation is reasonably and generously capped at $5m total. The total for the Share the Love over 4 years is now $20,000,000.
************************************************


Share the Love v4 11/19/11 -1/3/12.
Get your new Subaru, then choose the charity and Subaru donates $250.
Buy a new Subaru. To select the charity, either call 1-800-SUBARU3, 800 782-2783, or mail in the form provided by your dealer.
You can choose one or more charities. Its not tax deductible.
If you don't choose, Subaru will distribute the amount equally.
Selection period closes January 31st, with the donation made to the charities by March 1st.
A Thank You letter will be mailed after the entire program has ended.
Choices for 2011 are
American Forests- for every $250 donated, American Forests will plant 200 trees. Each state has a Share The Love forest, TBA
ASPCA- 60% of amount received goes to local shelters. For a list, visit www.aspcapro.com
Make-A-Wish Foundation
Meals On Wheels
Special Olympics
This is the 4th year Subaru has done this. The minimum amount per charity is $250,000, and the maximum is $5,000,000 total for all 5 charities. In the 3 previous years Subaru donated $1m to each charity, for a total of $15m.
Last year, in 2010, the charities were Ocean Conservancy, Big Brothers Big Sisters, ASPCA, Habitat for Humanity, Meals On Wheels.
Advertising campaign homepage - cars101.com Homepage
thanks for visiting. if you like this website, please mention it to friends
you are here: http://www.cars101.com/subaru/ads_subaru2011_share_the_love.html 11.28.12
these unofficial webpages are created and maintained by Joe Spitz who is responsible for all content. It is not authorized, supported by or approved of by Subaru or any dealer. Info subject to change. correction. Errors, omissions, typos will be corrected, let me know. Photos, format, content © J Spitz, unauthorized copying prohibited.
---
Free Dealer Give-Aways for the 2011
Subaru Share the Love Event
-


-
BUMPER STICKERS
pick one up at your local dealer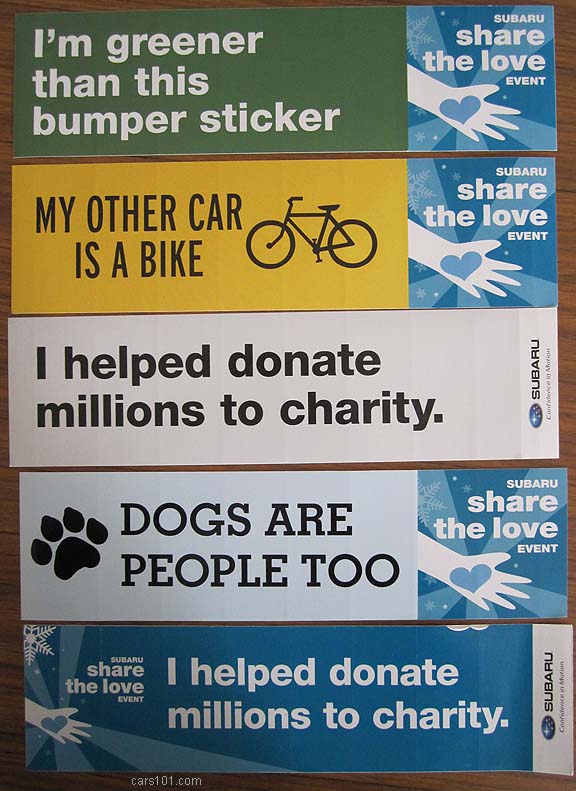 -
below are mirror hangers, designed to hang from the rear view mirror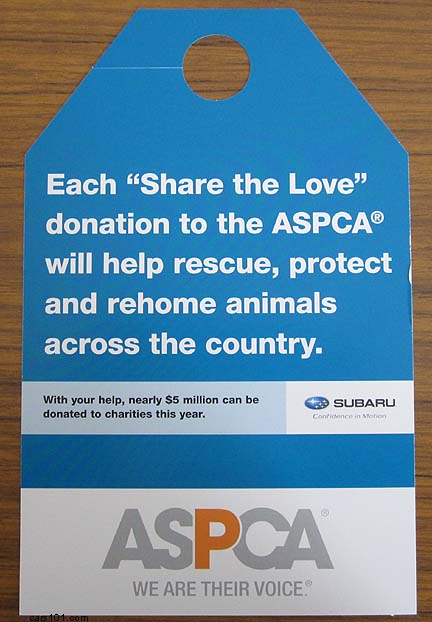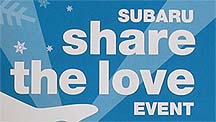 is a good thing
the end