2018 Subaru Crosstrek Options and Upgrades Photos Page

On this page, 2018 Crosstrek optional features and upgrades photos and images
*****************************************************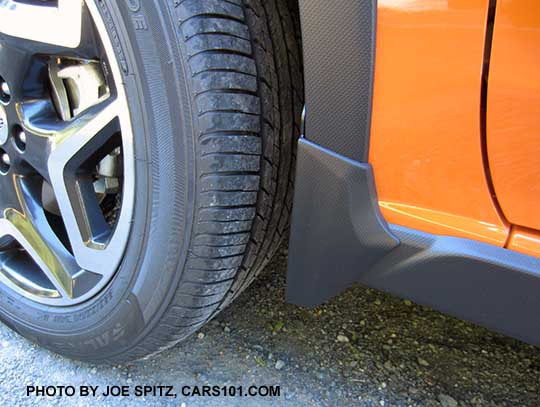 2018 Subaru Crosstrek optional splash guard. Set of 4, left front shown on a sunshine orange Limited (note the Limited model wheel)
CHECK BACK FOR NEW PHOTOS
MANY MORE 2018 CROSSTREK PHOTOS
2018 Crosstrek specs
I
Exterior photos
I
Interior photos
I Options and Upgrade photos
Buying a Crosstrek in the Seattle area or Greater Northwest?
I have good prices. Joe Spitz,
internet sales
selling Subarus in the Puget Sound area since 1996
Contact

-
Thank you for visiting. If you like this site, please tell friends about it. You are here- http://www.cars101.com/subaru/crosstrek/crosstrek2018photos3.html, v 8.10.17
always subject to change, correction. comments, corrections, welcomed. All photographs, text, formatting © joe spitz :: unauthorized reproduction prohibited
Cars101.com Homepage
,
Contact Joe Spitz
,
Sitemap

-
Please read - this independent, unofficial, unauthorized Subaru research site is happily created and maintained by Joe Spitz. It is designed to help you learn about Subarus. It is not sponsored, authorized, supported, paid for or approved by Subaru or any dealer and is not connected to, affiliated with, or supported by any dealer. Always contact your local
dealer
. Inspect any car prior to purchasing.
all information is always subject to change, correction, updating.
*************************************************************************************************************
-
-
| | |
| --- | --- |
| | |
| 2018 Subaru Crosstrek optional rear bumper cover. Limited with Reverse Auto Brake sensors. Cool gray khaki color shown. | 2018 Subaru Crosstrek optional rear bumper cover, and Reverse Auto Brake sensors (Limited only). Sunshine orange shown. |
| closeup of the 2018 Subaru Crosstrek optional rear bumper cover | |
| 2018 Subaru Crosstrek optional rear seatback protector | |
| | |
| | |
| 2018 Subaru Crosstrek optional splash guard. Set of 4, left front shown on a sunshine orange Limited (note the Limited model wheel) | 2018 Subaru Crosstrek optional splash guard. Set of 4, right rear shown on a sunshine orange Limited model (note the Limited wheel) . |
| 2018 Subaru Crosstrek without the optional splash guards. Rear wheel, quartz blue color shown. | 2018 Subaru Crosstrek without the optional splash guards. Front wheel, dark gray color car. |
| 2018 Subaru Crosstrek optional splash guard. Set of 4, right rear shown on a sunshine orange Limited model (note the Limited wheel) . | |
| | |
| | |
| 2018 Subaru Crosstrek optional body side moldings, body colored, on a cool gray khaki color car. Shown from the front facing the rear of the car. | 2018 Subaru Crosstrek optional body side moldings, body colored, on a cool gray khaki color car. Shown from rear facing the front of the caer. |
| 2018 Subaru Crosstrek optional body side moldings, body colored, on a cool gray khaki color car | |
| | |
| | |
| | |
| | |
| 2018 Subaru Crosstrek optional gloss black STI rear spoiler with vortex generator fins | 2018 Subaru Crosstrek optional gloss black STI rear spoiler with vortex generator fins on a cool gray khaki car |
| 2018 Subaru Crosstrek optional gloss black STI rear spoiler with vortex generator fins on a cool gray khaki car | |
| | |
-

all information, photos, formatting by Joe Spitz who is solely responsible for all content
this fully independent website is not authorized, approved, supported or sponsored by Subaru or any dealer
thank you for stopping by