photos and images of the all new 2014 Subaru XV Crosstrek Hybrid, Hybrid Touring
,
-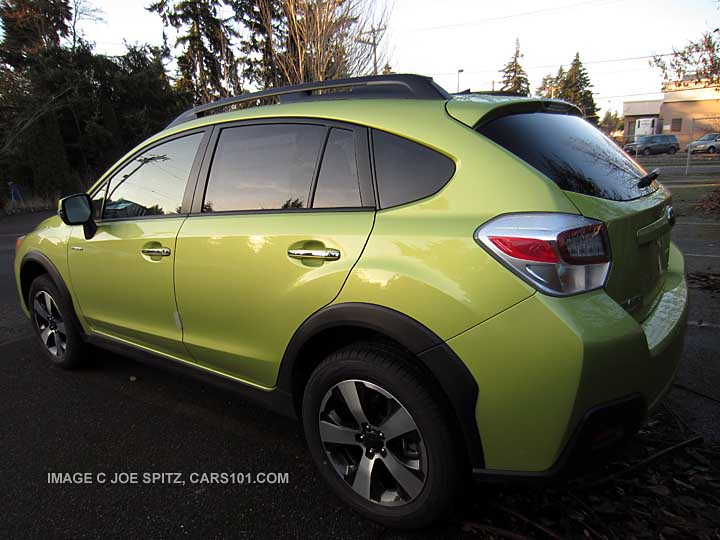 new model for 2014
- Subaru's first Hybrid. Available in 2 models, Hybrid and Hybrid Touring, 4 colors- green, blue, silver and white. Plasma Green shown
-
Are you Buying in the Northwest, Wa, Or, Mt, Id, Ak? Please contact me, Joe Spitz, internet sales selling Subarus in the Puget Sound area since 1996 Contact
-
Thanks for visiting. If you like this site, please tell friends about it.
You are here- http://www.cars101.com/subaru/crosstrek/crosstrek2014photos4.html, v 4.19.14
always subject to change, correction. comments, corrections, welcomed. All photographs, text, formatting © joe spitz :: unauthorized reproduction prohibited
2014 Crosstrek homepage I Cars101.com homepage, Contact Joe Spitz, Sitemap
Please read - this independent, unofficial, unauthorized Subaru research site is happily created and maintained by Joe Spitz. It is designed to help you learn about Subarus. It is not sponsored, authorized, supported or approved by Subaru or any dealer and is not connected to, affiliated with, or supported by a dealer. Always contact your local dealer. Inspect any car prior to purchasing. Use of this page indicates you understand information is always subject to change, correction, updating.
*********************************************************************************
-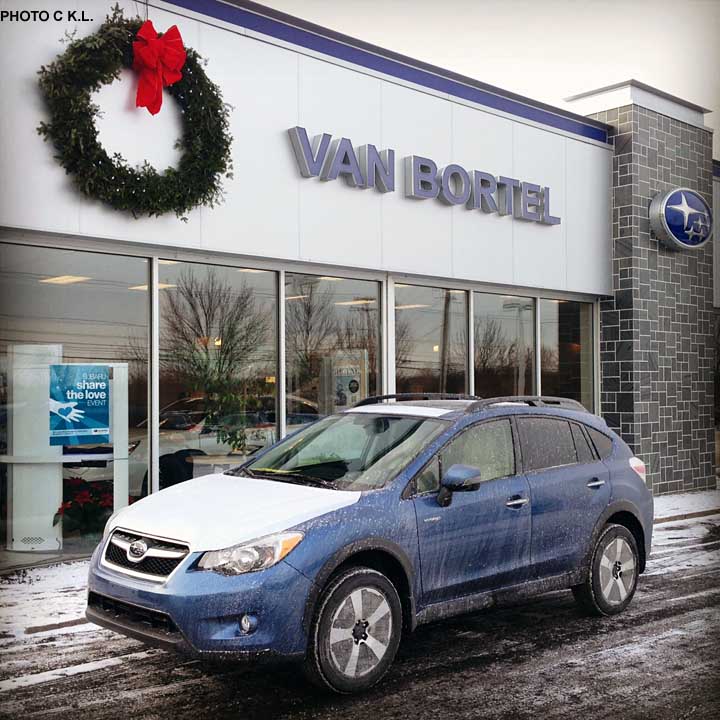 the first one to arrive at Van Bortel Subaru in upstate NY. It still has the protective white shipping plastic on the hood and roof and clear plastic on the wheels. Quartz Blue shown. Photo by Karl Lindemuth
-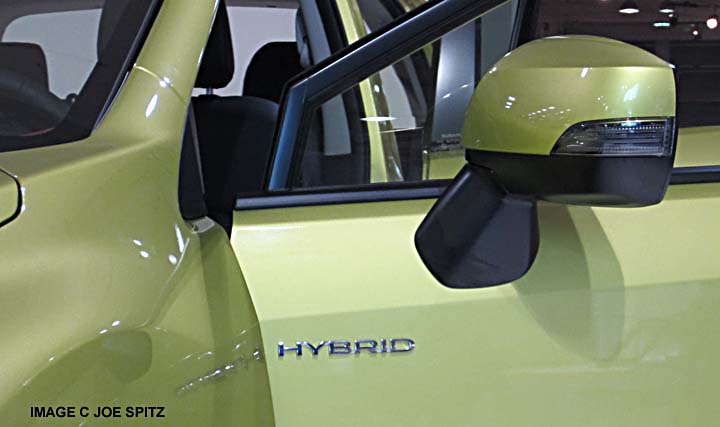 the only Crosstrek with turn signals in the outside mirrors is the hybrid
-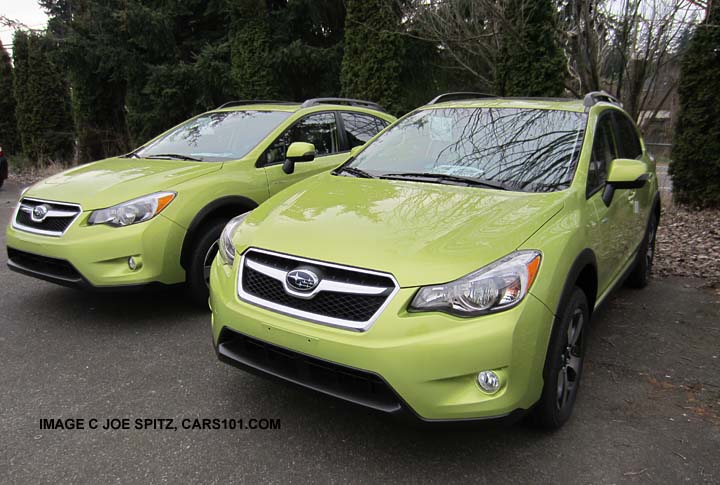 2 Plasma Green hybrids
-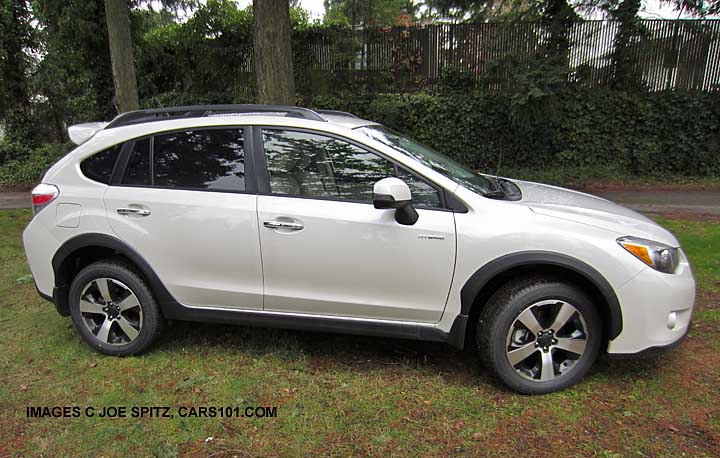 Subaru Crosstrek Hybrid with optional rear spoiler, white shown
-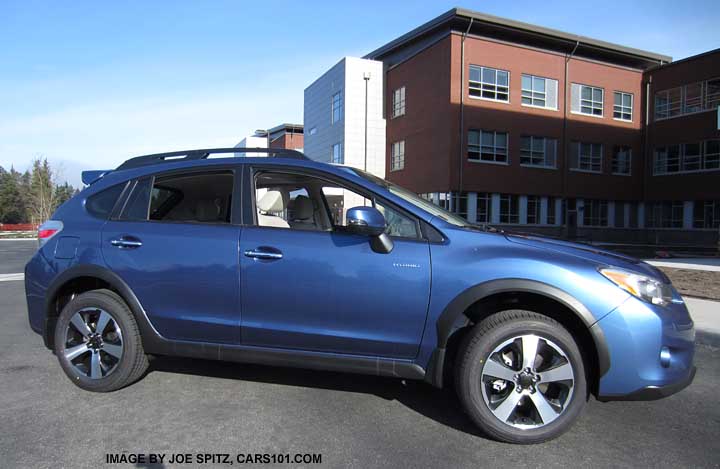 quartz blue Crosstrek Hybrid
-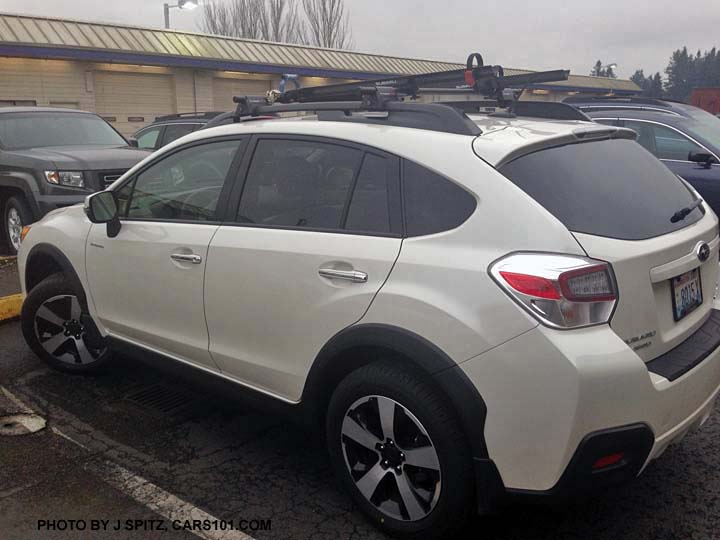 satin white hybrid with ski attachment
-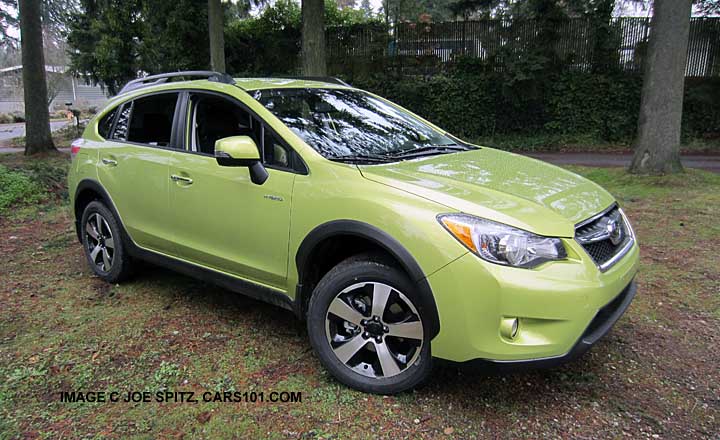 plasma green Subaru Crosstrek Hybrid
-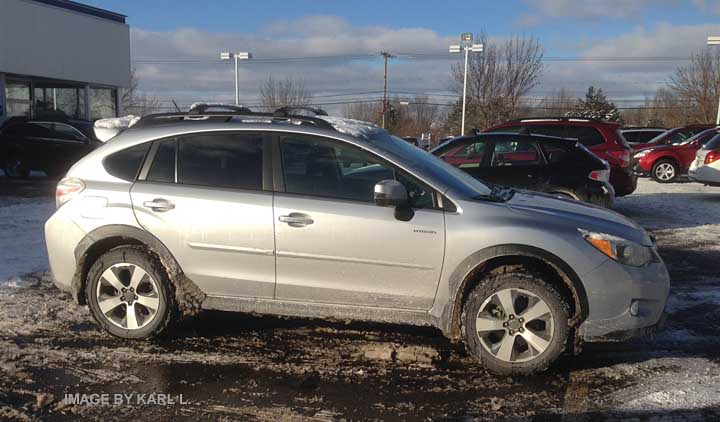 Ice Silver Hybrid in the winter
-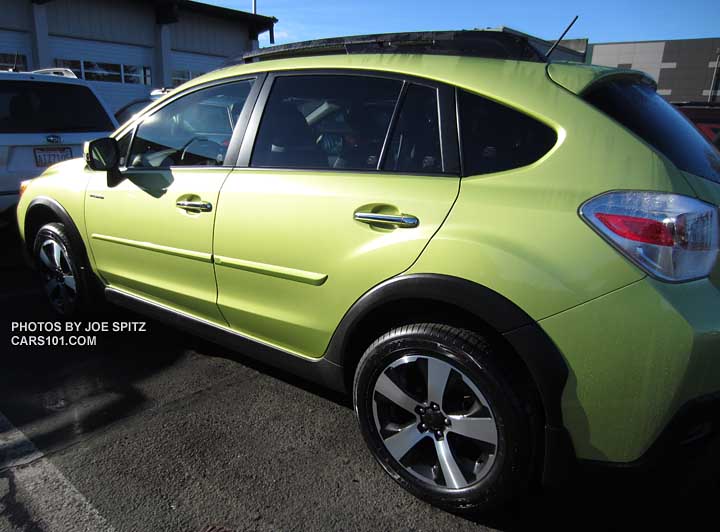 Subaru Crosstrek Hybrid optional body side moldings. Plasma Green shown
-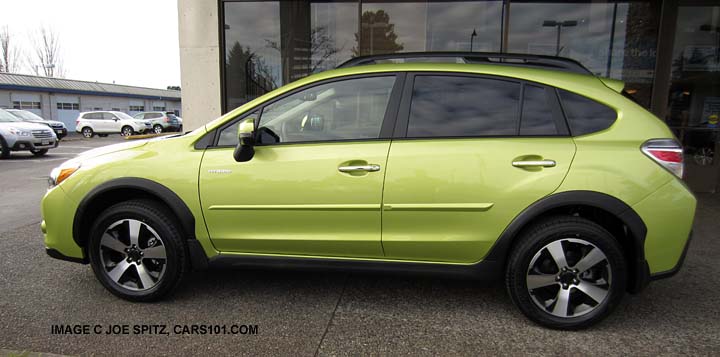 Crosstrek Hybrid with optional body side moldings. Plasma Green color
-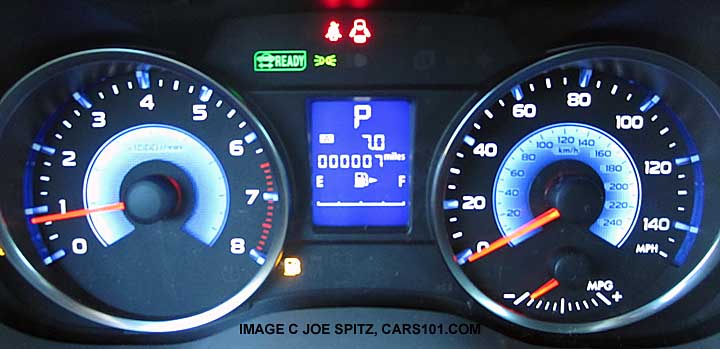 cool blue hybrid gauges
-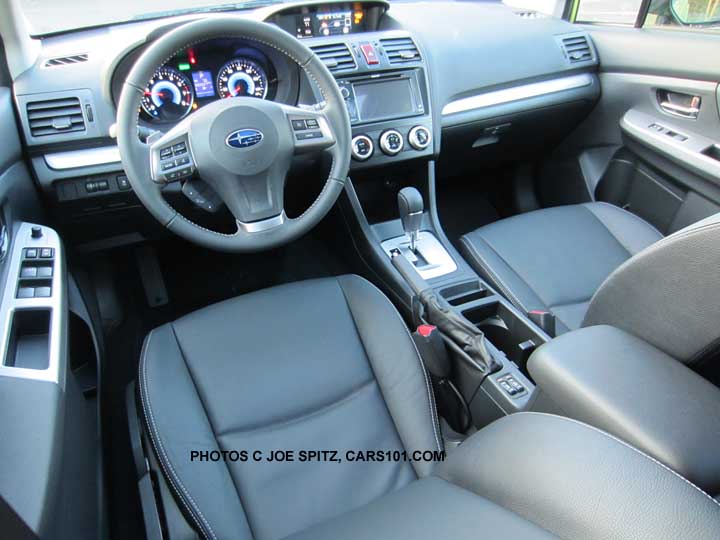 hybrid interior, Touring shown with gray leather. The way to tell its a hybrid is the silver door armrest, cool blue gauges, and silver climate control knobs
-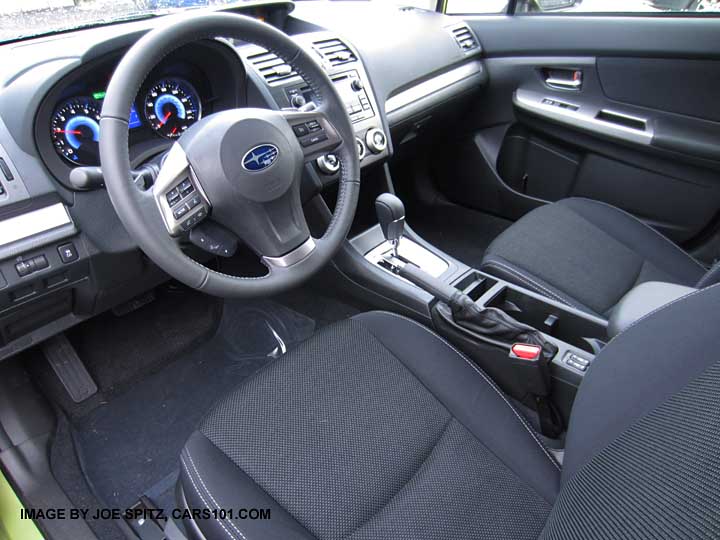 Crosstrek Hybrid gray cloth interior
-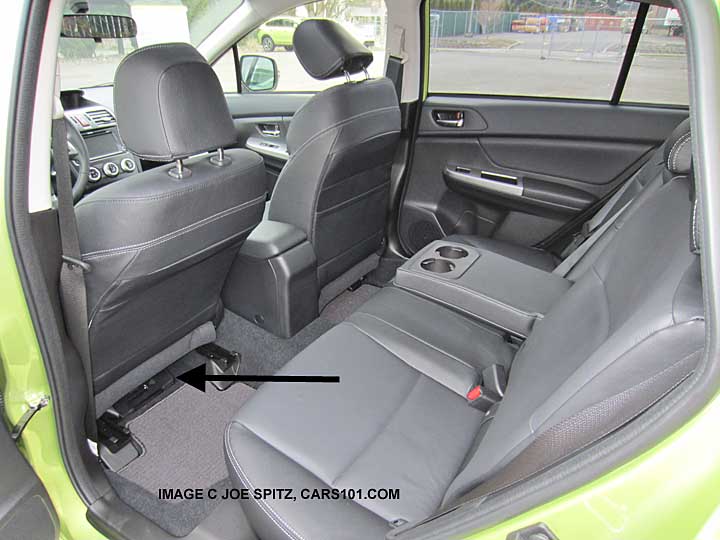 hybrid rear seat. arrow is pointing at the flat tire repair kit under the front seat
-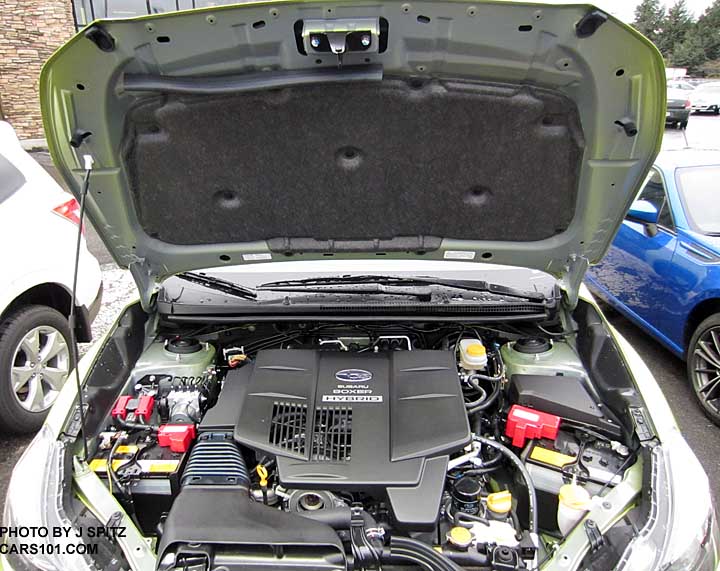 Hybrid engine and open hood. Notice the underside of the hood is painted but not clearcoated
-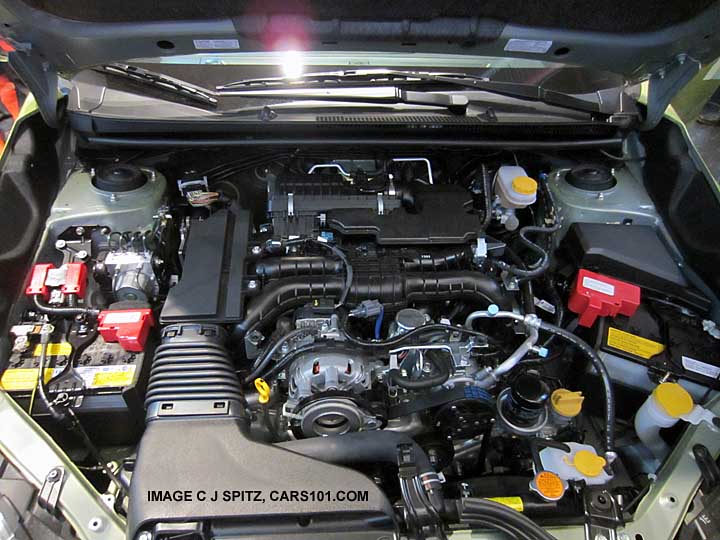 Hybrid engine with engine cover removed
-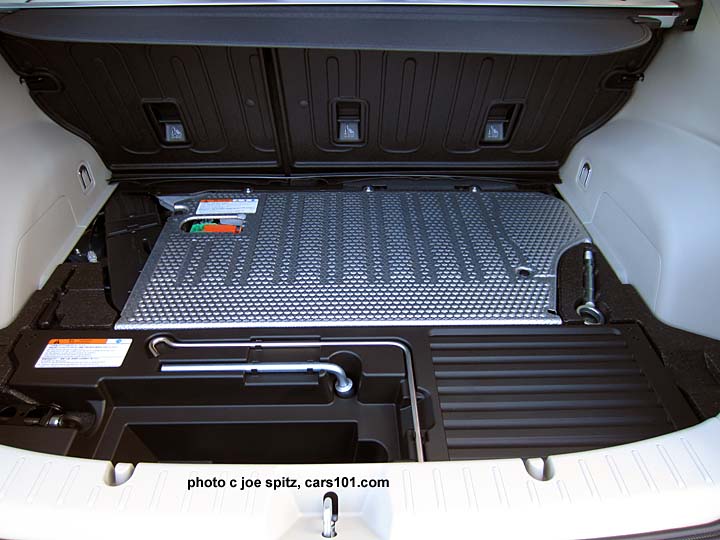 -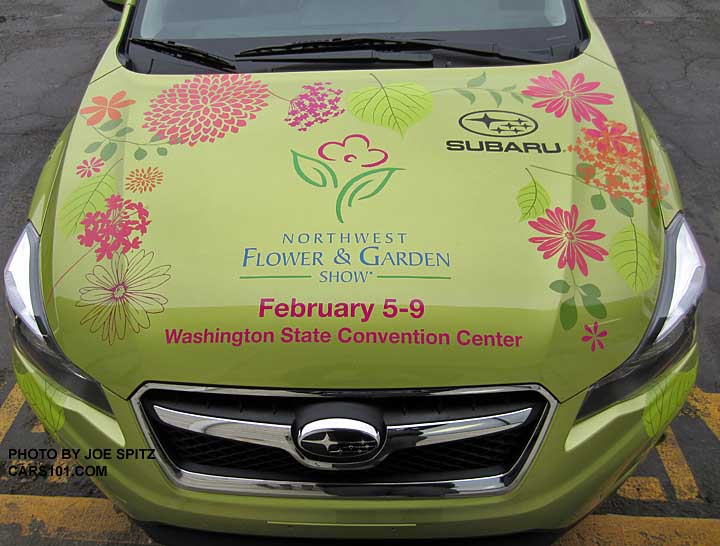 2014 Subaru Crosstrek Hybrid will be on display the the NW Flower and Garden Show, Feb. 2014
-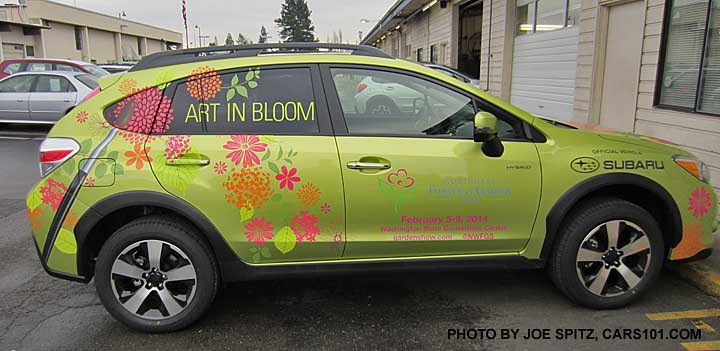 side view of the plasma green 2014 Subaru Crosstrek Hybrid for displayed at the NW Flower and Garden Show, Feb. 2014

Crosstrek Premium and Limited 17" alloy wheel


Crosstrek Hybrid and Hybrid Touring 17" aerodynamic design alloy wheel


plasma green


plasma green


quartz blue. Photo by Karl Liundemuh



quartz blue. Photo by Karl Lindemuth






plasma green


plasma green


quartz blue, at Van Bortel in NY. Photo by Karl Lindemuth


satin white Hybrid with ski attachment


quartz blue Crosstrek Hybrid


quartz blue Crosstrek Hybrid with optional rear spoiler


rear view Crosstrek Hybrid, quartz blue


Crosstrek Hybrid Touring, quartz blue


plasma green Subaru Crosstrek Hybrid


side view plasma green Subaru Crosstrek Hybrid


rear view plasma green Subaru Crosstrek Hybrid with optional rear bumper cover


plasma green Subaru Crosstrek Hybrid driver's side


rear view plasma green Hybrid


rear view Subaru Crosstrek hybrid, plasma green


Subaru Crosstrek Hybrid with optional rear spoiler

rear view, Crosstrek Hybrid with optional rear spoiler, satin white shown

Crosstrek Hybrid with optional rear spoiler, satin white color shown

Crosstrek Hybrid with optional body side moldings. Plasma Green color


plasma green Subaru Crosstrek Hybrid on the street, #1


plasma green Subaru Crosstrek Hybrid on the street, #2


plasma green Subaru Crosstrek Hybrid on the street, #3


plasma green Subaru Crosstrek Hybrid on the street, #4


plasma green Subaru Crosstrek Hybrid on the street, #5


Crosstrek Hybrid, ice silver


Crosstrek hybrid active grill shutter, shown open so you can see the radiator behind it. Its open at low speeds up to 25mph after warmup, or add higher speeds or during heavy A/C use when more engine cooling is needed


Crosstrek hybrid's active front grill shutter is closed when the engine is cold during warmup, or at higher speeds unless more engine cooling is needed.


plasma green. Only the Hybrid's mirrors have turn signals



only the Hybrid has turn signals integrated in the outside mirrors. Plasma Green shown

drivers door with key lock. all hybrids have the chrome strip. the arrow points at the keyless un/lock touch point


front passenger door (no key lock) on hybrid with arrow pointing at keyless access un/lock touch point


Hybrid door handle with standard chrome strip. Driver's door, Satin White shown







Crosstrek Hybrid front grill, white shown

Subaru Crosstrek hybrid left tail light, with LED brake lights on


Subaru Crosstrek hybrid right taillight with reverse light and led brake lights on. Plasma green shown


Subaru Crosstrek Hybrid optional front splash guard, plasma green shown


Crosstrek hybrid optional rear splash guard, plasma green show


cropsstrek hybrid gas door in on passenger side. takes regular unleaded gas. Notice the paint inside the gas door isn't clearcoated, just like under the hood


Crosstrek wheel arch molding, Hybrid model shown, plasma green color, in the rain, with optional splash guard


2014 Crosstrek roof mounted antenna, without satellite radio. Plasma green shown.
Notice the base is different if it has satellite radio or not. The antenna is flexible and will bend under a cargo box.

Antenna on models with satellite radio. The base is different if it has satellite radio or not. Plasma green shown.

Plasma Green hybrid with optional body side moldings


side view, Plasma Green Hybrid with optional body colored side moldings


Subaru Crosstrek Hybrid with body side moldings. Plasma Green




2014 Subaru Crosstrek Hybrid decorated for display at the NW Flower and Garden Show, Feb. 2014


2014 Subaru Crosstrek Hybrid decal wrapped for the NW Flower and Garden Show, Feb. 2014

-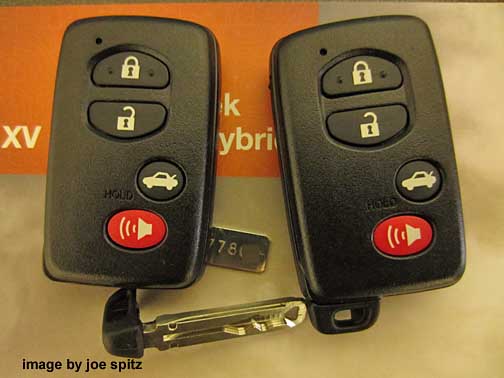 Hybrid and Hybrid Touring have 2 keyless access, pushbutton start fobs
| | |
| --- | --- |
| hyrbids get 2 keyless access pushbutton start keys | the hybrid's pushbutton start |
| hybrid steering wheel | hybrid steering wheel |
| Hybrid. You can tell its a hybrid by the gauges, silver climate control knobs, and the power flow display in the info display screen in upper console | hybrids has silver door armrests |
| Hybrid Touring with ivory leather interior | ivory leather, Hybrid Touring |
| Hybrid dashboard and cloth seats | front seats, gray cloth shown |
| Crosstrek hybrid console | Crosstrek Hybrid Touring, quartz blue with ivory leather |
| standard Crosstrek Limited gauges (not hybrid). | Subaru Crosstrek Hybrid, Hybrid Touring gauges, instrument panel |
| hybrid gauges | hybrid gauges |
| hybrid silver climate control knobs | silver climate control knobs |
| hybrids have silver door armrests. driver door shown | hybrid's silver door armrest, driver door shown |
| hybrid driver's door with silver armrest, ivory shown | Crosstrek's standard armrest is gray, not silver like the Hybrid |
| the battery cooling vent air intake is in the rear seat, driver's side, by the door | ivory leather rear seat. The air intake for the battery cooling in behind the seatbelt, lower left of image |
| Crosstrek Hybrid battery is under the cargo floor | hybrid cargo area with arrow pointing at the air cooling tube. the inlet is by the left rear door, behind the seatbelt |
| Crosstrek hybrid cargo area service plug and warning label | cargo area with cargo tray, luggage area cargo cover, rear seatback protector |
| Crosstrek hybrid floor-ceiling height measures 28". the std Crosstrek is 29" | Subaru Crosstrek Hybrid cargo tray with embossed "hybrid" is standard on all models |
| the flat tire repair kit is under the driver's seat | the flat tire repair kit |
| the flat repair kit includes an 12v inflator and a can of tire puncture sealant (like fix a flat) | the tire sealant. Use of the puncture sealant will clog and require replacement of the TPMS sensor |
| this is a car in an early car from December 2013, so the shelf life of this one is 5 years | hybrid owner manuals, and the 2 keys |
| Subaru Crosstrek Hybrid engine compartment with engine cover | Crosstrek Hybrid engine with engine cover removed. Notice it has two batteries, one on right and one on left |
| | |