Subaru Window Stickers, various years

scroll down for window stickers
Impreza - Forester - Outback - Tribeca - WRX-STI, homepage

Do you have a Subaru Monroney sticker from 2009 model or before that you'd like to see here? Please send a photo to joe (at) cars101.com. Thank you.
looking for 2009 or newer? go to http://www.cars101.com/subaru_windowstickers2009.html



" The Monroney sticker or window sticker is a label required in the United States to be displayed in all new automobiles and includes the listing of certain official information about the car. Since the mid-seventies the U.S. Environmental Protection Agency provides fuel economy metrics in the label to help consumers choose more fuel efficient vehicles. The window sticker was named after Almer Stillwell "Mike" Monroney, United States Senator from Oklahoma. Monroney sponsored the Automobile Information Disclosure Act of 1958, which mandated disclosure of information on new automobiles." from wikipedia

images have been edited for size. All info subject to change, correction, updating. all photos, text, info © Joe Spitz. Unauthorized copying prohibited
If you like the site, please mention it to friends.. you are here: http://www.cars101.com/subaru_windowstickers.html v 11.7.16

******************

Note : this unofficial independent, unauthorized Subaru research site is designed to help you learn about Subarus and is not authorized, approved, sponsored, or supported in any way by Subaru nor is it connected to or affiliated with, sponsored, supported, or approved by any dealership. Send all comments to me Joe Spitz (internet sales at a Subaru dealer in the Seattle area). I am responsible for all content.

top
Impreza window stickers
2008 Impreza Premium 5 door, automatic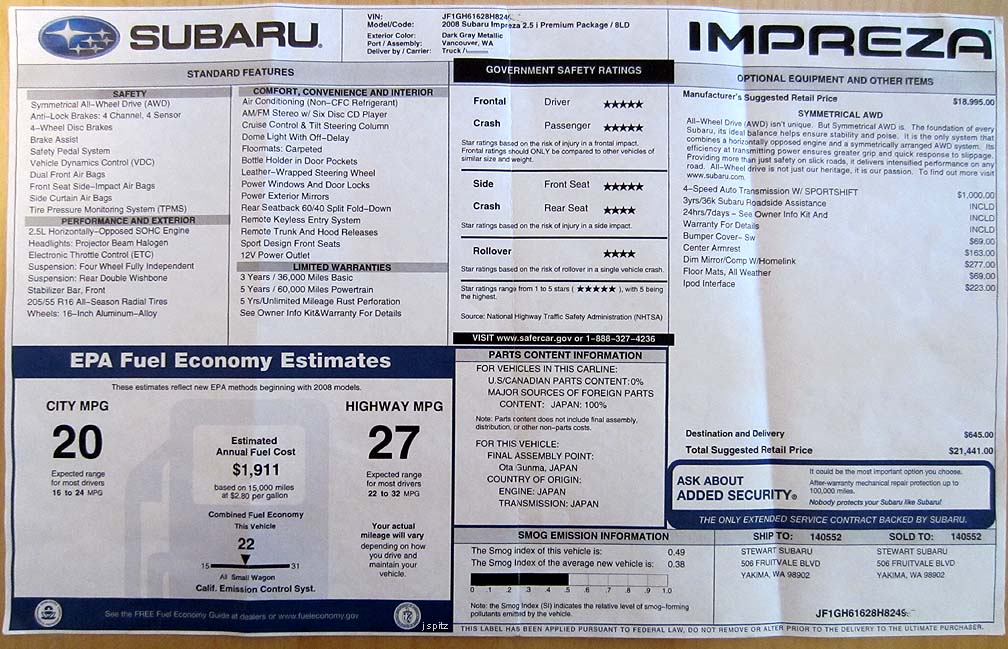 -

2009 Impreza Outback Sport, manual transmission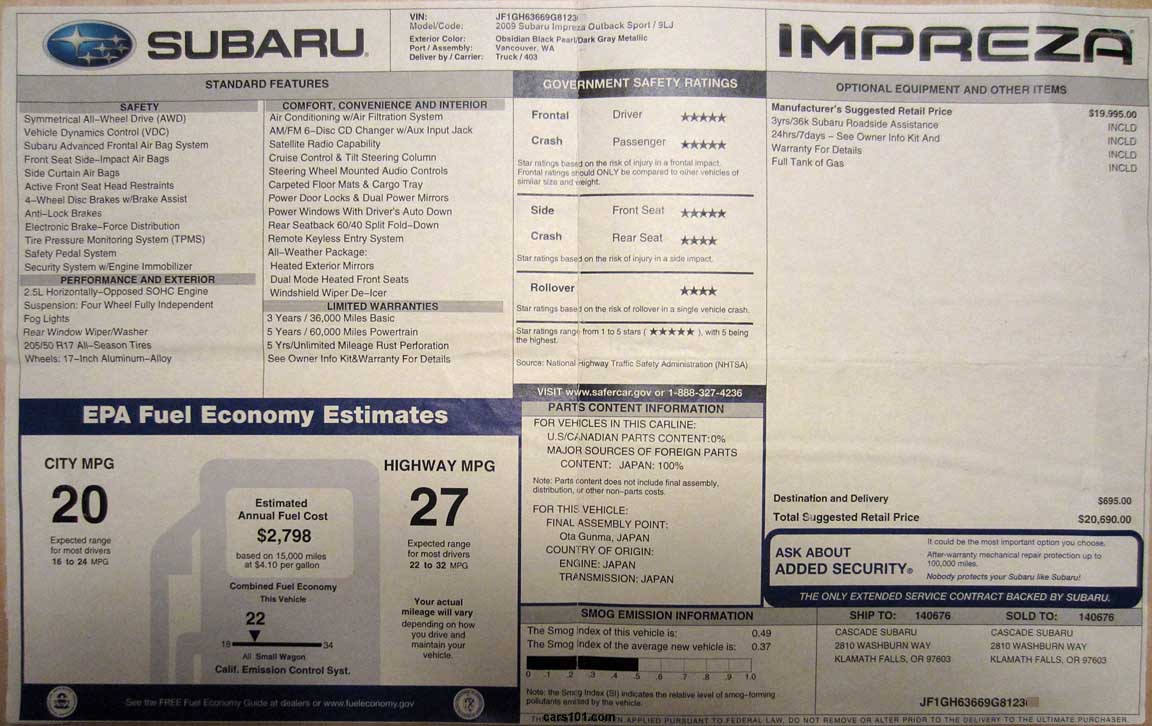 -
2002 Subaru Impreza Outback Sport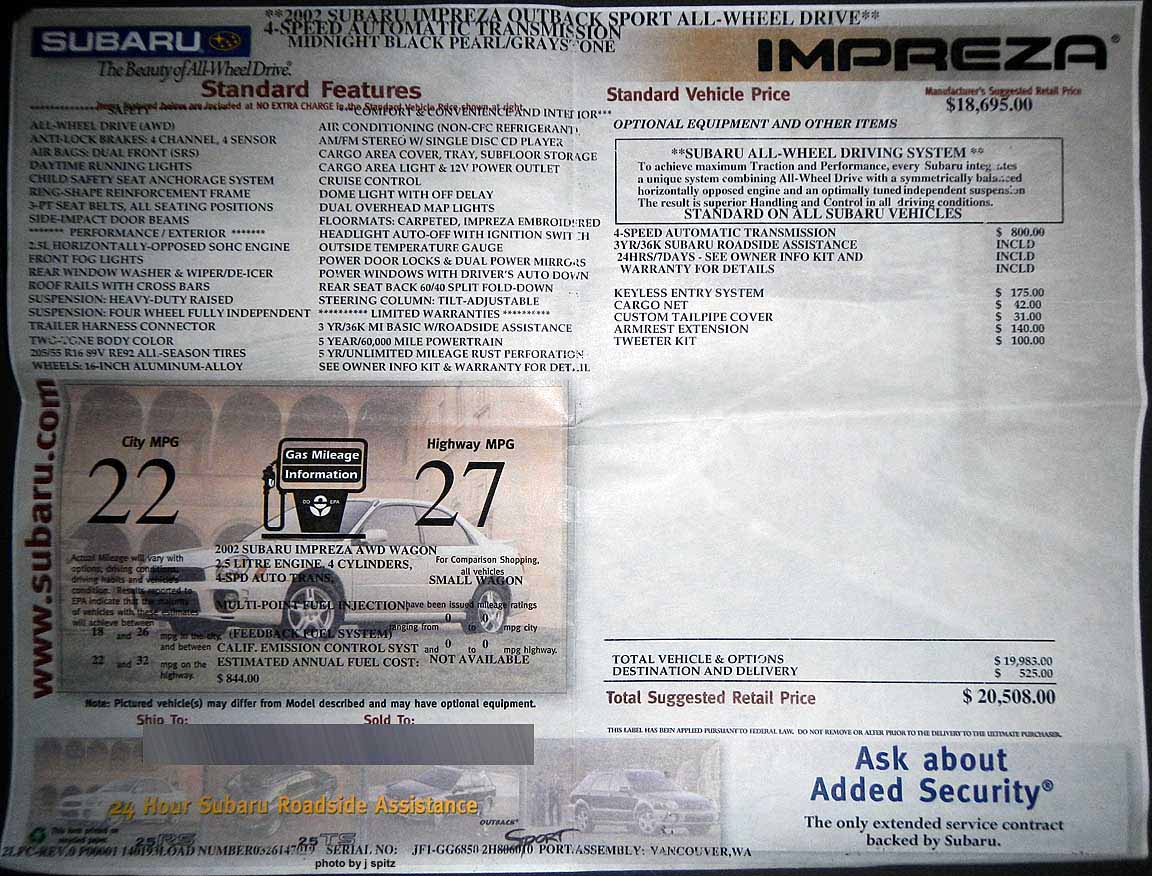 -
2000 Impreza Outback Sport wagon, manual transmission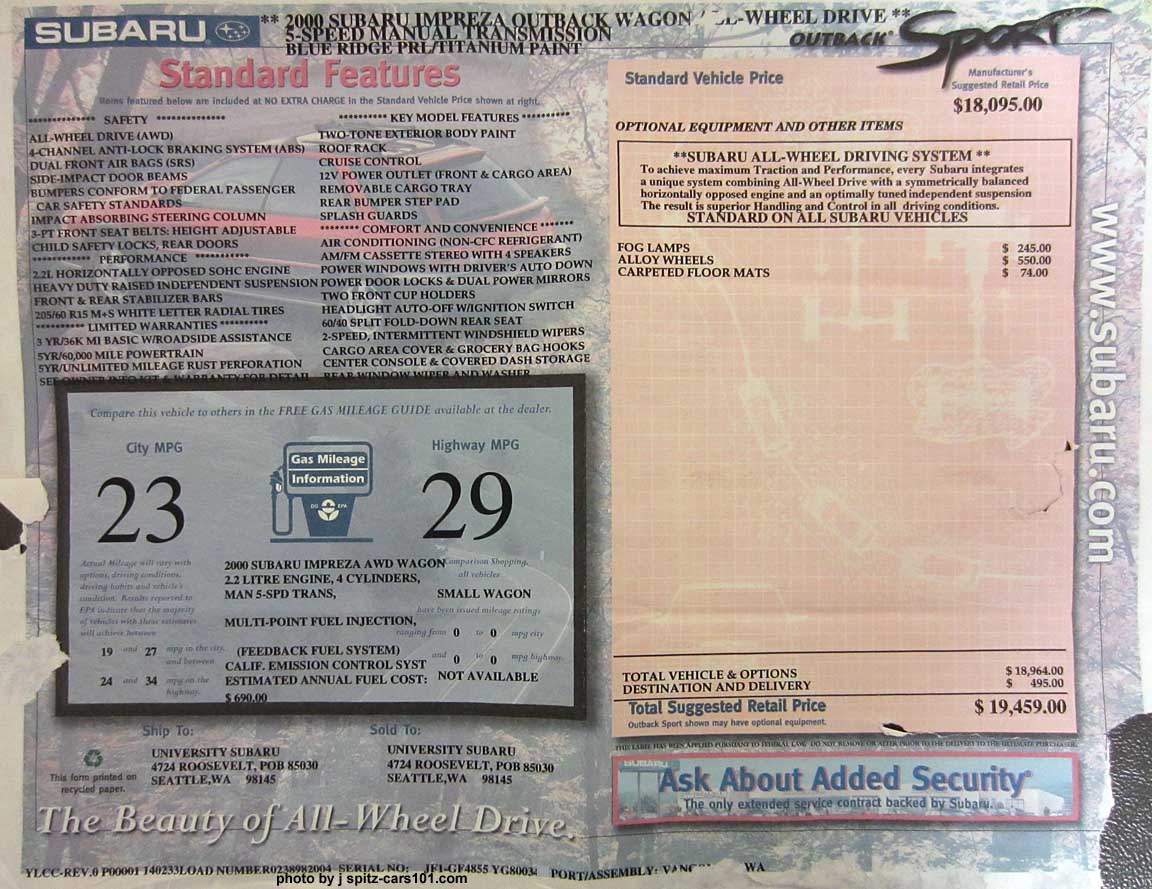 -
---
top
WRX AND STI

-
2004 STI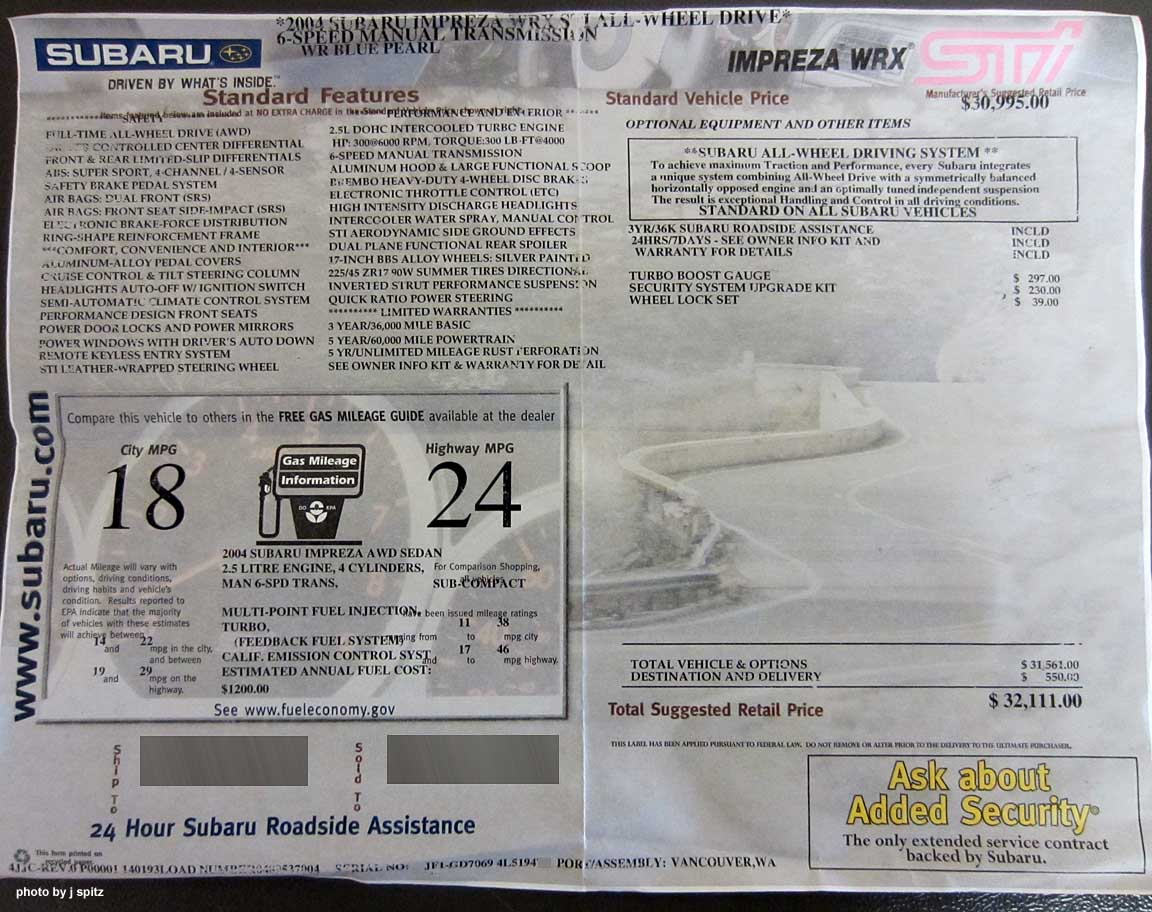 more to come

---
Forester

2008 Forester Premium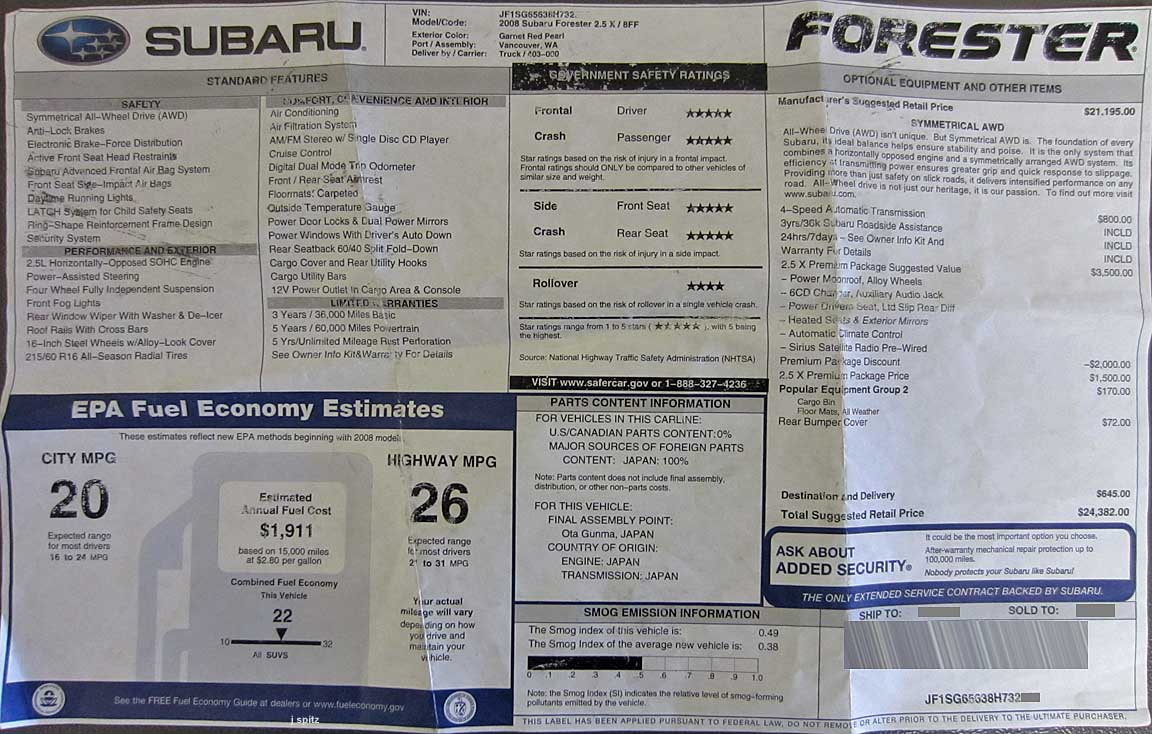 -
2007 Forester X model, automatic transmission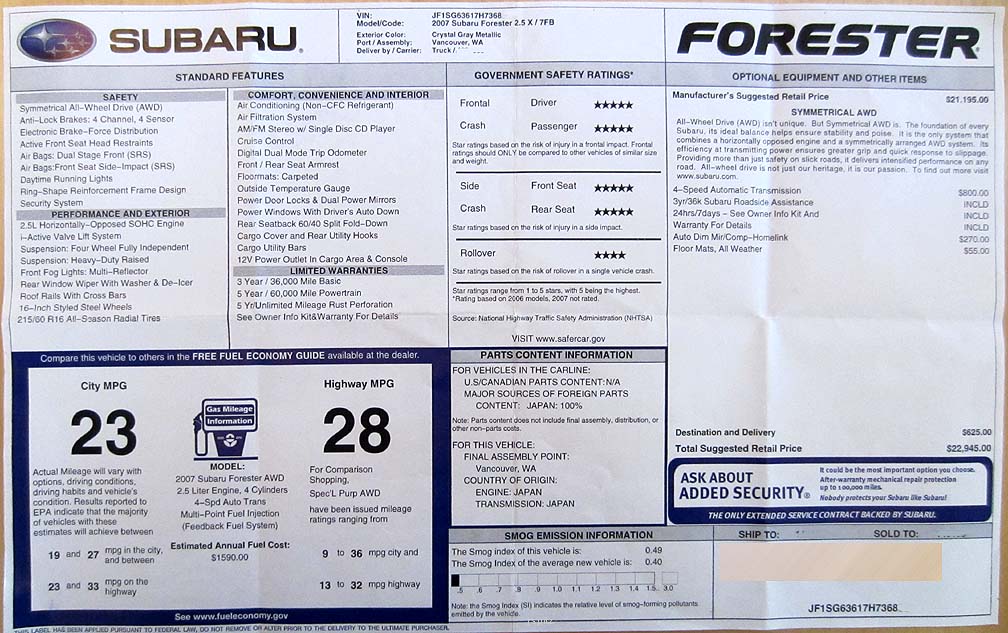 -
2004 Forester XT turbo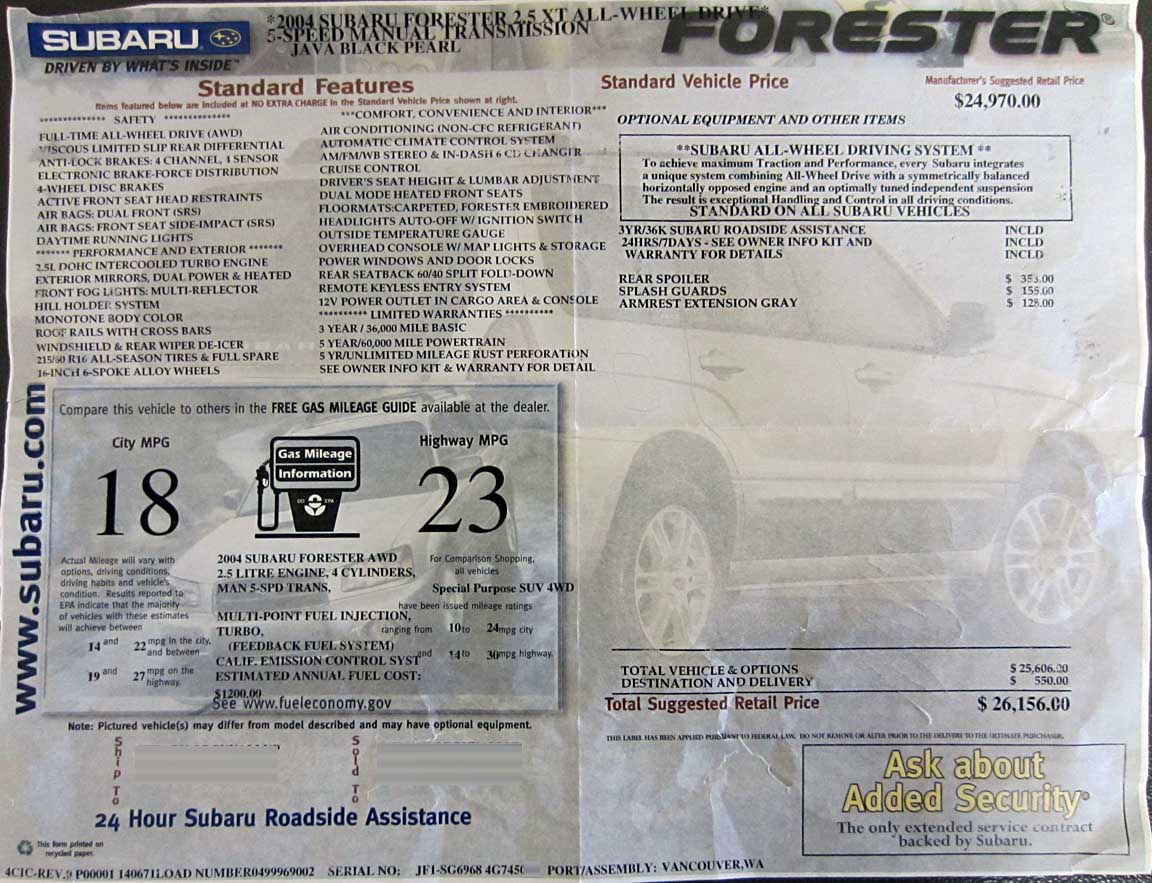 -
2003 Forester 2.5X Monroney window sticker, manual transmission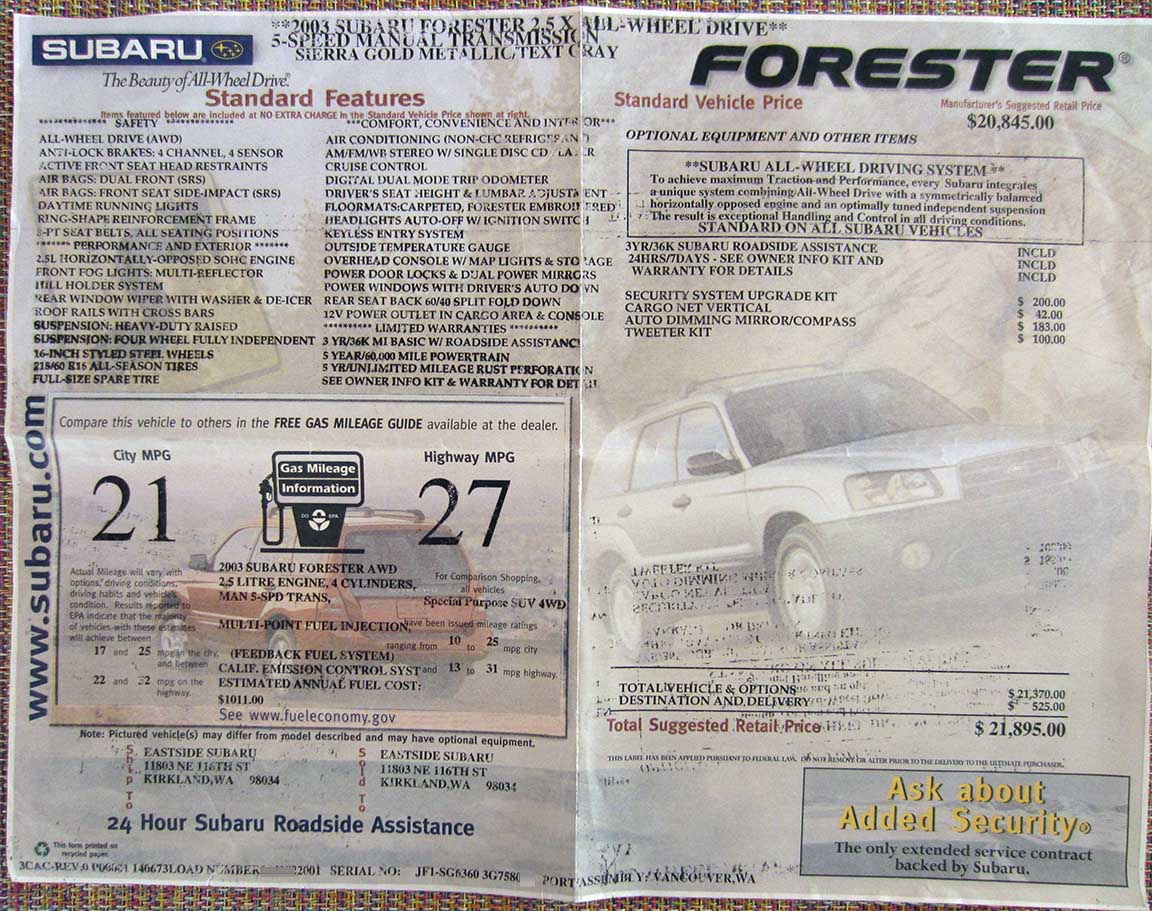 -
2003 Subaru Forester 2.5 XS Premium monroney window sticker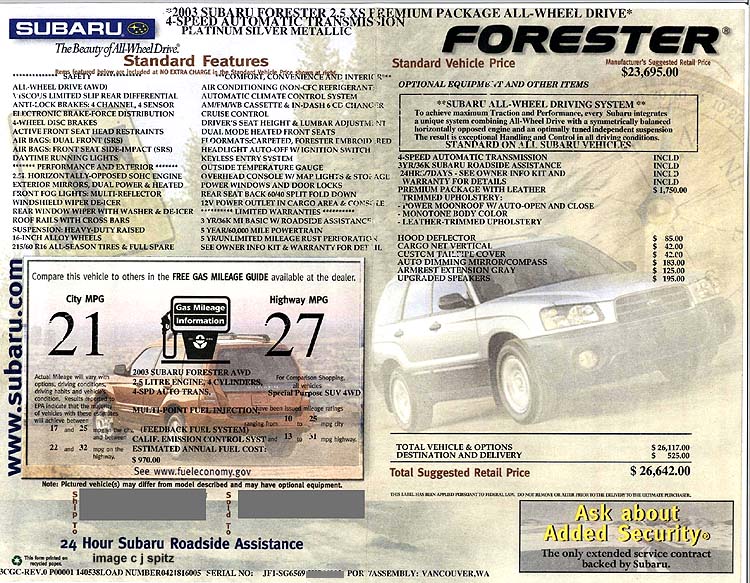 ---

top
Outback window stickers

-
1996 Outback- the first year!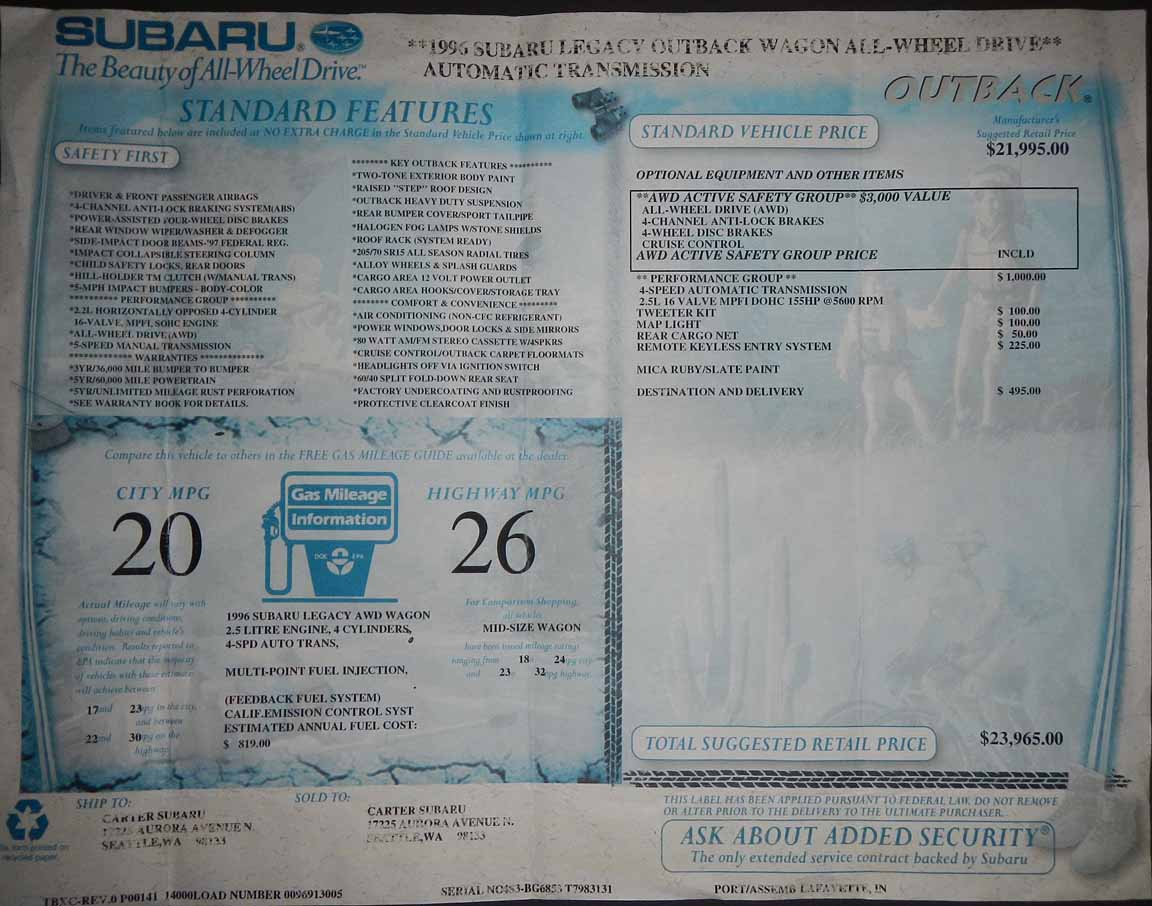 -
1999 Subaru Outback, automatic transmission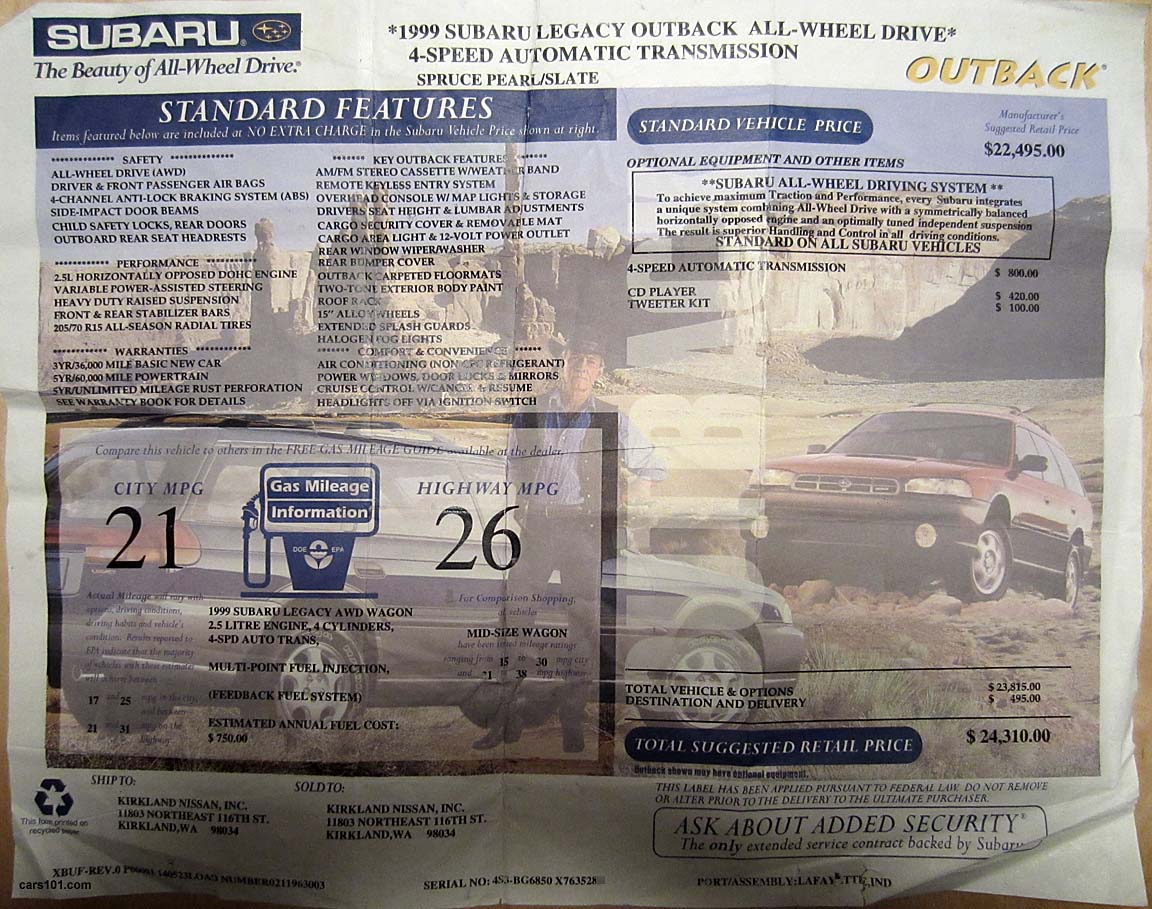 -
2002 Outback Limited 3.0R VDC. Top of the line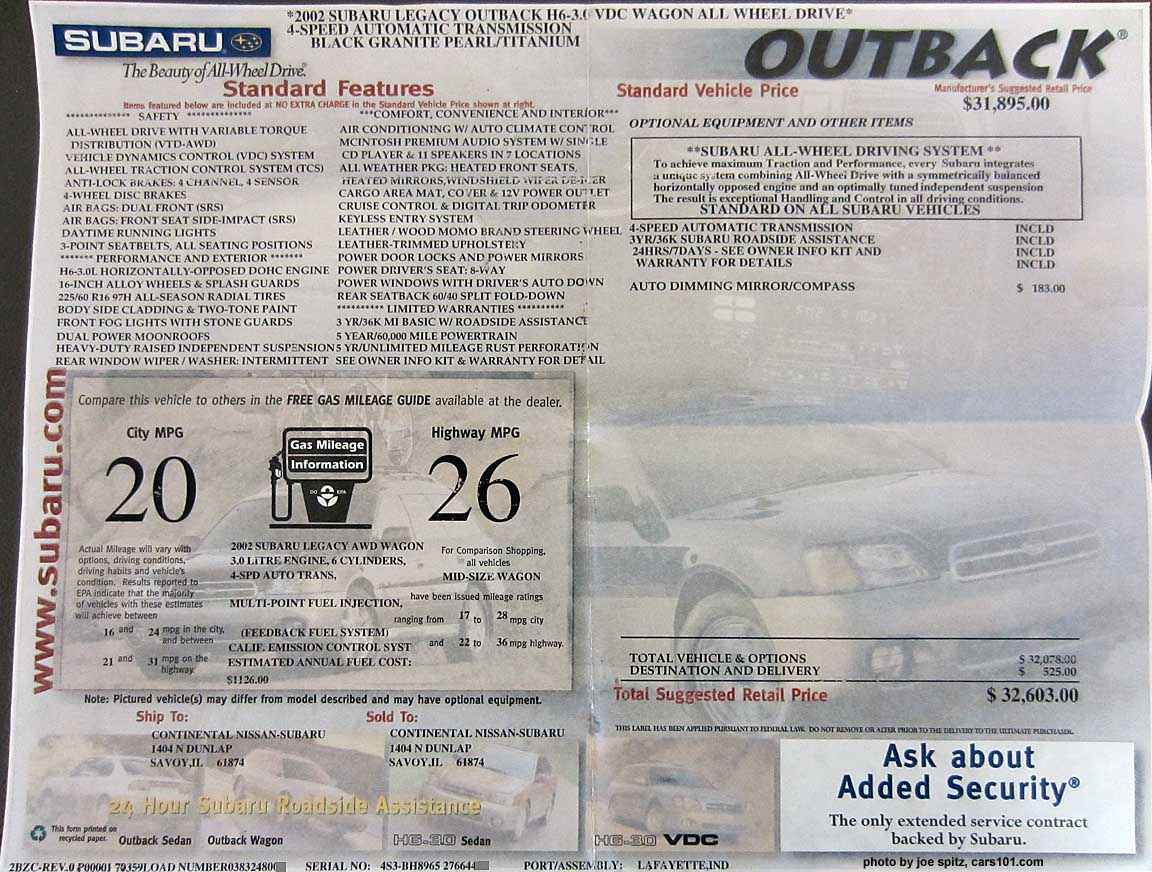 -
2001 Subaru Outback 3.0 VDC window monroney price sticker.
First year for the 3.0L H6 and the VDC and LL Bean models. VDC sticker shown.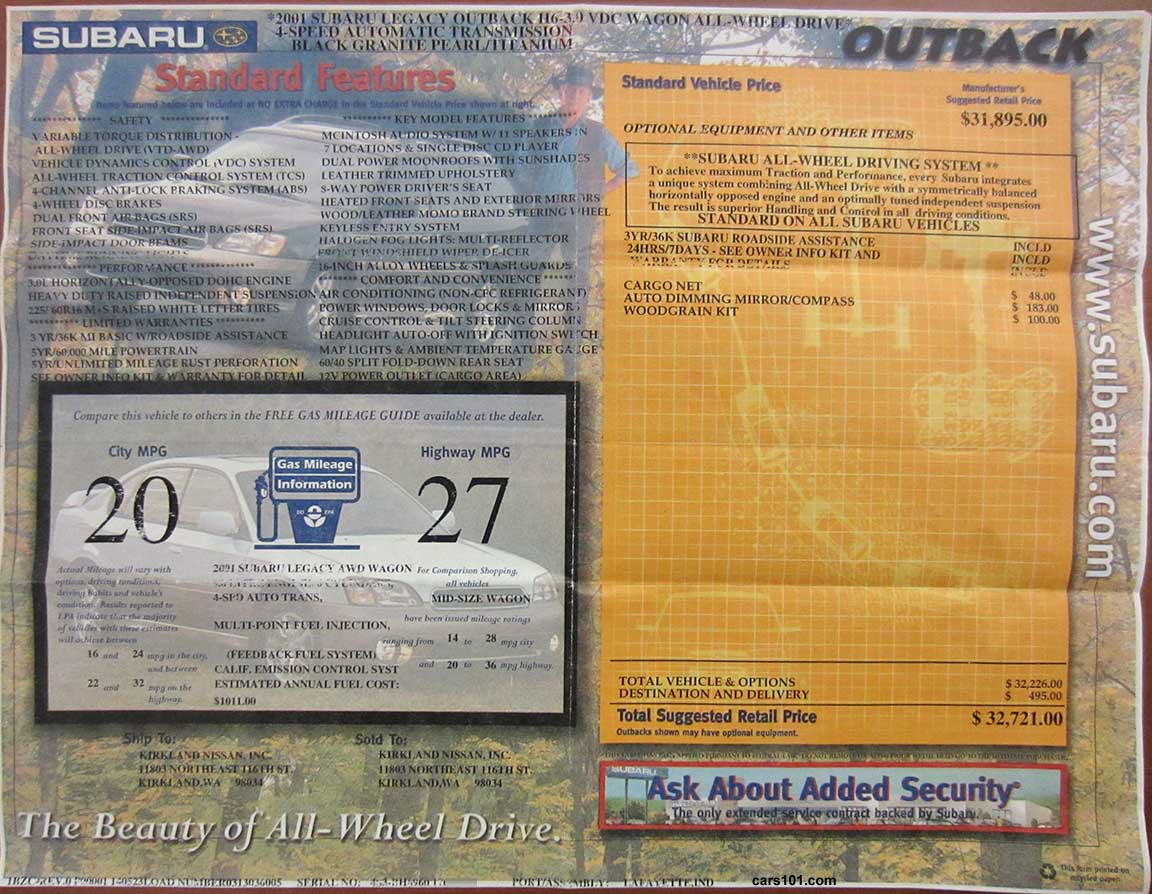 -

2008 Outback 2.5i, manual transmission. This is the basic model.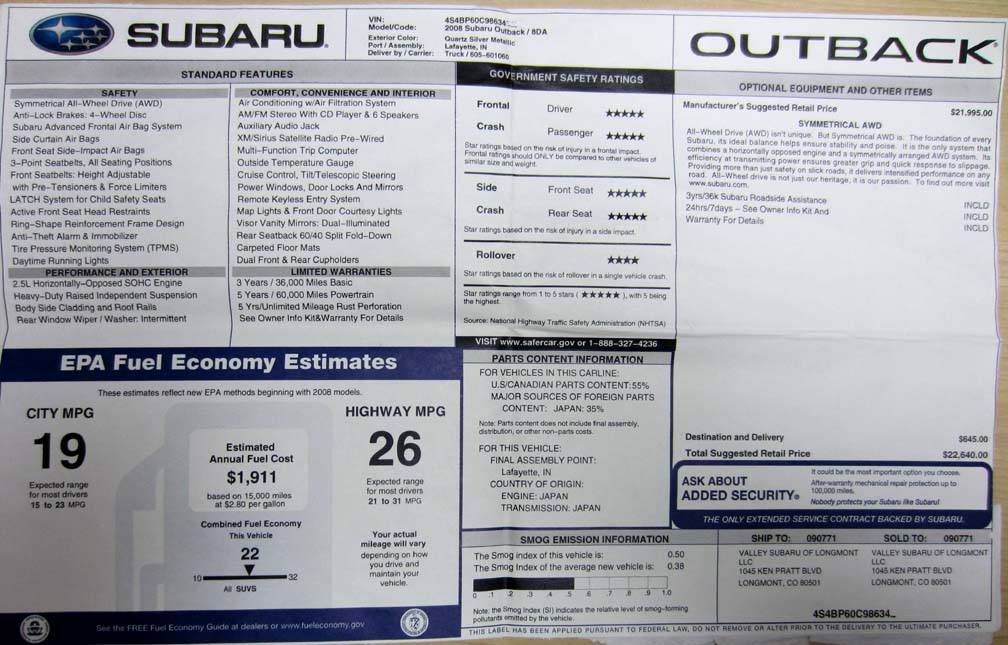 -
2008 Outback LL Bean 3.0R Limited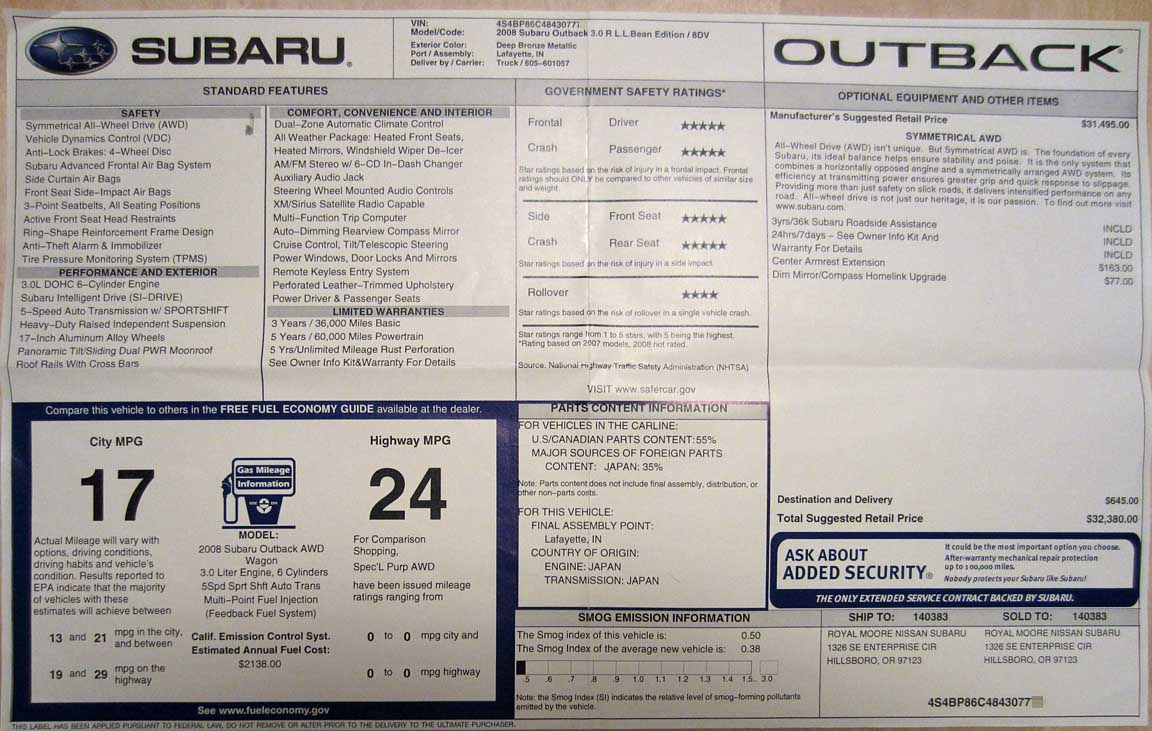 -
2008 Subaru Outback monroney window sticker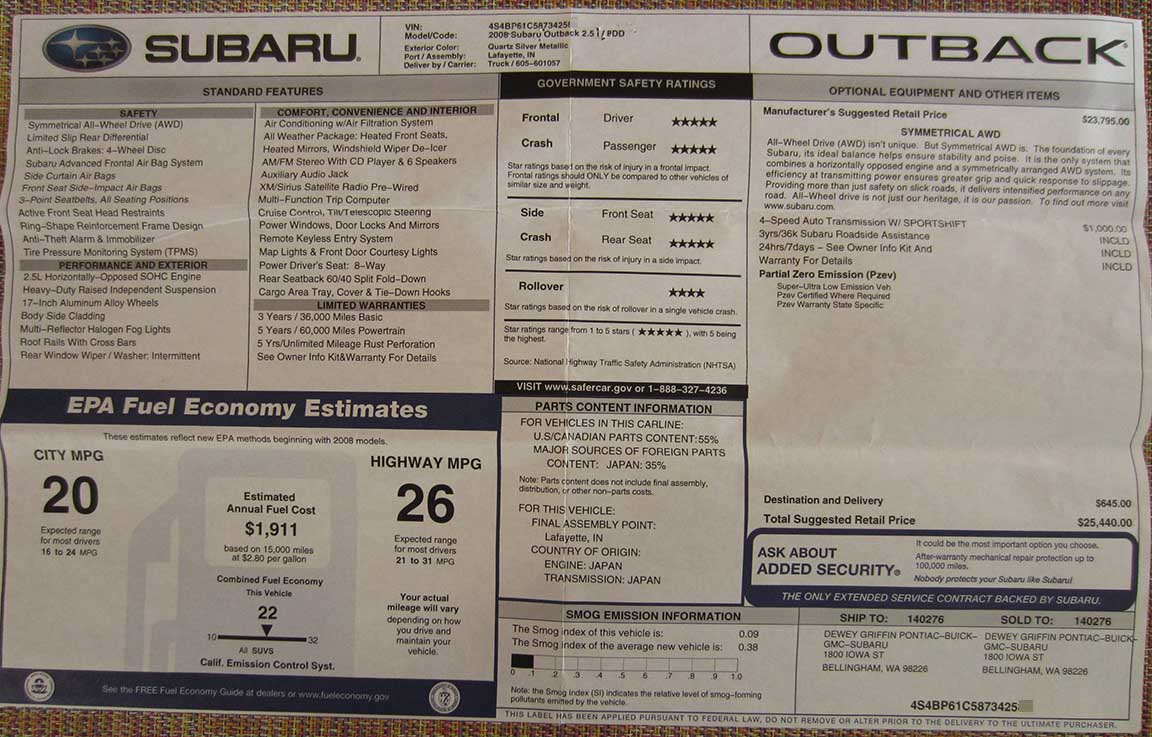 ---
MORE TO COME
the end