SUBARU POWER OUTLET
11O volt, 100 watt 2 prong power outlet just like at home
Now you can power and recharge many small devices without an expensive car charger that only works with one device!

new December 2010- now available on all Forester and Impreza models (except STI - the rear cupholder is where the power outlet goes)

new September 2010- This is an optional accessory on 2010 and 2011 Subaru Outback and Legacy.

What's it good for, what could you plug it? Scroll down for some ideas
-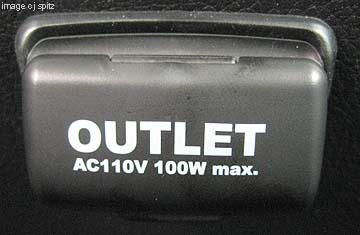 110v, 100w 2 prong power outlet on the back on the Legacy and Outback console. Use and charge small, mostly battery powered devices
always subject to change, correction. comments, corrections, welcomed All photographs, text, formatting © joe spitz :: unauthorized reproduction prohibited
thanks for visiting. please tell friends about the site.
you are here http://www.cars101.com/subaru/poweroutlet.html 3.8.11
homepage I contact
Please read - this is an unofficial independent Subaru research site by Joe Spitz designed to help you learn about Subarus. It is not sponsored, authorized, supported or approved by Subaru or any dealer and is not connected to, or affiliated with, any dealer. Always contact your local dealer.
Use common sense- don't plug anything which you shouldn't or that uses more than 110w, and of course we didn't actually drive while taking these pictures.
-
| | |
| --- | --- |
| 110 volt, 110 watt 2 prong outlet on the back of the center console | 2 prong outlet warning label is in the lid. |
this power outlet is intended for small, low power devices
read and follow the instructions that came with the power outlet
the alternator has a lot of things to power in addition to this inverter so minimize other power draws
this power outlet is only intended for small low power devices and power will be cut off if the draw exceeds safe limits.
> use common sense
> only use when the engine is running
> back up computers before plugging in
> do not use at the same time as a 12v outlet
> excess heat in the car may cause the inverter to shut off
> at idle speed the alternator may not generate enough electricity
> other items that draw power such as AC, heater fan, power windows, wipers, all weather pkg may cause an outlet cut-off
> use common sense
SOME THINGS YOU CAN'T PLUG INTO THE POWER OUTLET
Nothing over 100w.
do not use anything over 100w.
Read and follow all the instructions that came with the power outlet
do not use
> devices with a strong starting surge like pumps, fans, compressors, hair driers
> medical devices
> clocks with electic motors
> record player turntable (electric motor)
> power tools with an AC motor
> TVs with built in VCR, large TVs
> blenders, microwaves or other appliances
> refrigerator or other devices with a compressor
HERE ARE A FEW THINGS YOU CAN USE
more to come - check back

have ideas?


need that laptop all the time - no car charger -
can't be without the laptop- gotta charge the battery


cell phone battery running low and no car charger? plug it into the 110 power outlet in your Outback or Legacy. Hooked on BB email


all these photos drain a camera's battery. This is the quick boost


hair trimmer - like the buzz cut? Cindy is just holding it for show of course


Running late for work, shaver on low and you're in a rush?
Plug 'n shave later


passengers can plug 'n play


charge up your electric toothbrush! How convenient.


power up those small cordless tools on the road


charge small cordless tools

blank


rocking with the iPod, a real plug and play stereo!


a table lamp, 40w bulb? not while driving!!


use an old clamp-on work light to illumintate a portable desk on the passenger seat. Use a 40w bulb for safety and not while driving


more ambient lighting- Grandma's little accent light looks great.
But this is an unsafe idea so don't do it.
more to come?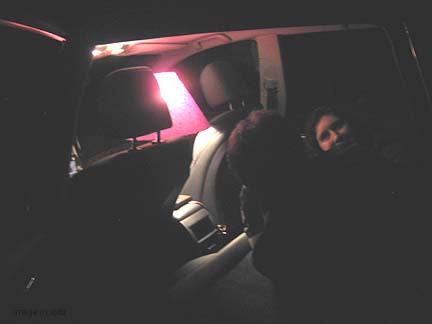 Yes it will power a 40w light bulb and ambient lighting always helps set 'the mood'. Now you can use your favorite lamp...