Subaru suggested maintenance schedules and recommended service schedules
2012 Outback, Forester, Impreza, Legacy, Tribeca, WRX, STI, GT...
Maintain your 2012 Subaru and it should last years and you won't void the warranty.
ON THIS PAGE New car break-in period and 1st oil change I 2012 maintenance schedule
related pages service maintenance schedule for 2013, 2011, 2010, 2009-1990 I warranty & towing info I homepage I sitemap
Please read- this unofficial independent Subaru research site is designed to help you learn about Subarus. It is not sponsored, authorized, supported or approved by Subaru or any dealer and is not connected to or affiliated with, any dealer. Always contact your local dealer. Inspect any vehicle prior to purchasing. Information subject to change, correction, updating.
Check and confirm all details with your local authorized dealer
All photos, text, formatting © J. Spitz who is responsible for all content. Unauthorized reproduction is prohibited.
thanks for visiting. you are here http://www.cars101.com/subaru/maintenance3.html v 3.11.13
Information subject to change, correction, updating.
.-
| | | |
| --- | --- | --- |
| Subaru synthetic oil was introduced July 2010 | | gallon and quarts sizes available |
New Car Break-in period
1000 miles: Drive calmly for the first 1,000 miles and vary your driving with a normal mix of city and highway.
Always note the blue 'cold engine' light on the dashboard- its a visual reminder that the engine is cold.
Avoid hard starts and stops.
Avoid over-revving the engine, try to keep RPMs under 4000.
Vary your speeds over the full range of city and highway driving
Don't use cruise control much, if at all.
City and freeway driving is fine because that will vary the speeds
1st oil change
4 cylinder Outback, Legacy, Impreza, and WRX, STI by 7.5 months or 7,500 miles.
4 cylinder Forester- updated - by 7.5 months or 7500 miles. See image below, it was 3 months or 3,000 miles innthe first version of the maintenance schedule
6 cylinder Outback, Legacy, Tribeca by 3 months or 3,000 miles.
Note- many service departments suggest that it makes sense to do the first oil change on all models around 3mos/3,000 miles.


MAINTENANCE SCHEDULE ISSUES
updated 12/2011
-
below are 2 versions of the 2012 maintenance schedule that is included with the owner manual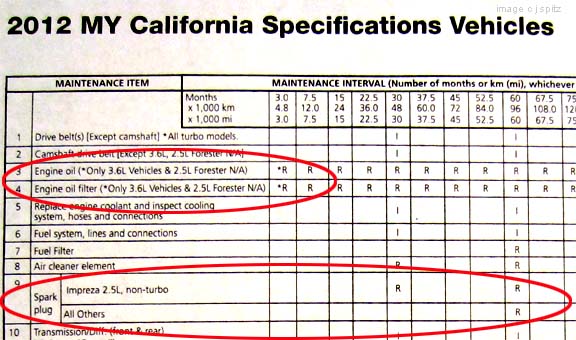 Above is the 1st version of the maintenance schedule that came with 2012 models. The print date on the back of this booklet is 8/11.
Note that the Engine Oil/Filter lines (top circle) for 3.6L & 2.5L Forester first calls for the first oil/filter change at 3 mos or 3000 miles. That changed in version 2 (see image below) to only include the 3.6L models. This booklet print date on the back cover is 10/11.
Also note that in both version 1 (above) and 2 (below) the Spark Plug interval (bottom circle) for the "Impreza 2.5L, non-turbo" is every 30 months or 30,000 miles.
But there is no Impreza "2.5L non turbo" for 2012. Its either a 2.0L Impreza or 2.5L WRX STI turbo.
So is it supposed to be a 2.0L with a spark plug change every 30 months/30000 miles, or does the 2012 Impreza have the same 60 month, 60,000 mile spark plug replacement interval as all other 2012 Subarus?

in schedule #2 below, the Forester 2.5L no longer requires the first oil/filter change at 3mos/3000 miles, but there is still mention of the non-existent Impreza 2.5L non-turbo with the 30mos/30000 mile spark plug replacement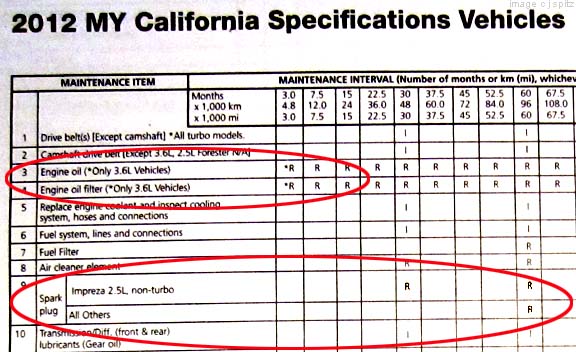 Information subject to change, correction, updating. always contact your local dealer
2012 maintenance schedule and service intervals for Subarus

I = inspect, R = replace, P = perform

Always refer to your owners manual and contact your local dealer for complete and current information on your car.
-
Information subject to change, correction, updating. corrections welcomed.
-

Item

Months

3

7.5

15

22.5

30

37.5

45

52.5

60

67.5

75

82.5

90

97.5

105

112.5

120

132

1,000 km

4.8

12

24

36

48

60

72

84

96

108

120

132

144

156

168

180

192

220

1,000 MILES

3

7.5

15

22.5

30

37.5

45

52.5

60

67.5

75

82.5

90

97.5

105

112.5

120

137.5

Accessory belt (a/c belt etc)


-

-

-

-

I

-

-

-

R

-

-

-

I

-

-

-

R

-

Camshaft Belt (rubber timing belt) inspection schedule.
2.5L Outback, Legacy, Forester XT, WRX, STI only, (not Forester Xs or Impreza 2.0s)

Note: All 3.6L, Forester 2.5 X, and Impreza 2.0L have a timing chain, which shouldn't need inspection

-

-

-

-

I

-

-

-

I

-

-

-

I

-

R

-

I

-

Engine Oil/filter*1
2.5L 4 cylinder Outback, Legacy (except GT turbo)
5w-30 oil synthetic oil recommended by not required
1st oil change by 7500 miles or 7.5 months.
Subsequent oil changes at least every 7500 miles or 7.5 months
Note: this is the minimum required. If you use regular oil, its suggested to change the oil every 3750 miles or 3.75 mos

R

R

R

R

R

R

R

R

R

R

R

R

R

R

R

R

R

R

Engine Oil/filter*1
3.6L Outback, Legacy, Tribeca
5w-30 oil synthetic oil recommended but not required
1st oil change by 3000 miles or 3 months required
2nd oil change by 7500 miles or 7.5 months
Subsequent oil changes at least every 7500 miles or 7.5 months
Note: this is the minimum required. If you use regular oil, its suggested to change the oil every 3750 miles or 3.75 mos

R

R

R

R

R

R

R

R

R

R

R

R

R

R

R

R

R

R

Engine Oil/filter*1
Impreza 2.0 & Forester 2.5 non turbo only: requires Synthetic 0w-20 oil
1st oil change by 7500 miles or 7.5 months
Subsequent oil changes at least 7500 miles or 7.5 months
(early maintenance schedules had the Forester by 3000 or 3 months but that was changed in later booklets)
Note: this is the minimum required. Its ok to do it more often

R

R

R

R

R

R

R

R

R

R

R

R

R

R

R

R

R

R

Engine Oil/filter*1,
ALL TURBO models Forester XT, WRX, STI, Legacy GT
requires Synthetic 5w-30 oil.
1st oil change is required by 7500 miles or 7.5 months and is required at least every 7500 miles or 7.5 months after that. It is strongly recommended to do more often than that.

-

R

R

R

R

R

R

R

R

R

R

R

R

R

R

R

R

R

Engine coolant: Subaru Super Coolant long life coolant. replace coolant at 137,000 miles but inspect system, hoses, connections more often * 5

-

-

-

-

I

-

-

-

I

-

-

-

I

-

-

-

-

P

Inspect fuel system, lines, connections *2

-

-

-

-

I

-

-

-

I

-

-

-

I

-

-

-

I

-

Replace fuel filter (the filter is in the fuel tank)

-

-

-

-

-

-

-

-

R

-

-

-

-

-

-

-

R

-

Engine air filter*2

-

-

-

-

R

-

-

-

R

-

-

-

R

-

-

-

R

-

months or miles reminder (whichever comes first)

3

7.5

15

22.5

30

37.5

45

52.5

60

67.5

75

82.5

90

97.5

105

112.5

120

137.5

Spark Plugs- 2012 Impreza only. there is some confusion if its every 30 months/30,000 miles, or 60/60

-

-

-

-

R?

-

-

-

R

-

-

-

R?

-

-

-

R

-

Spark Plugs- all 2012 models (except Impreza?)

-

-

-

-

-

-

-

-

R

-

-

-

-

-

-

-

R

-

Transmission/differential fluid. Front/rear gear oil *3

-

-

-

-

I

-

-

-

I

-

-

-

I

-

-

-

I

-

Automatic transmission fluid*4, 9
except CVT Outback, Legacy, Impreza

-

-

-

-

I

-

-

-

-

-

-

-

I

-

-

-

-

-

CVT transmission oil- Outback, Legacy, new for 2012 Impreza, use Subaru CVT oil only. Replace only under severe driving or towing conditions. There's no dipstick.

-

-

-

-

-

-

-

-

-

-

-

-

-

-

-

-

-

-

Brake fluid *2
in high humidity or hard mountainous driving replace every 15000 miles or 15 months

-

-

-

-

R

-

-

-

R

-

-

-

R

-

-

-

R

-

Brake pads, linings, front/rear axle boots, CV joints, axle half shaft, parking brake *2

-

-

I

-

I

-

I

-

I

-

I

-

I

-

I

-

I

-

Clutch

-

-

I

-

I

-

I

-

I

-

I

-

I

-

I

-

I

-

Steering and suspension *2

-

-

I

-

I

-

I

-

I

-

I

-

I

-

I

-

I

-

Front/rear wheel bearing lubricant

-

-

-

-

-

-

-

-

I

-

-

-

-

-

-

-

I

-

Rotate tires

-

P

P

P

P

P

P

P

P

P

P

P

P

P

P

P

P

-

Valve clearance

-

-

-

-

-

-

-

-

-

-

-

-

-

-

I

-

-

-

Cabin Air Filter behind the glovebox.

replace the paper filter (behind glovebox) every 1-2 years depending on air conditions

Supplemental restraint system airbags

inspect every 10 years

miles

3

7.5

15

22.5

30

37.5

45

52.5

60

67.5

75

82.5

90

97.5

105

112.5

120

132

Severe driving is
> Repeated short trips, stop-and-go, extensive idling (basically any urban driving)
> Rough, muddy, dusty, wet, humid, cold, mountainous, salty conditions (basically any country or winter driving)
> Towing a trailer.

*NOTES
#1: under Severe driving replace ever 3,750 miles. Turbos must have the synthetic oil service done at least every 3,750 miles or 3 3/4 months
#2. under severe driving replace 7,500-15,000 miles
#3. under severe driving replace 30,000 miles
#4. under severe driving replace 15,000 miles
#5. Subaru Super Coolant. 1st replacement interval is 11years/137,500 miles (220,000 km). 2nd replacement interval is 6 years/ 75,000 miles (120,000 km) after the 1st. If towing replace more often. Use Subaru coolant only, do not mix with other types or it will reduce protection
#9: Auto Transmission filter is maintenance free- replace only when damaged or the fluid has leaked (3.6L 5AT only)

subject to change correction updating. always contact your local service center.
all formatting © j spitz, unauthorized reproduction prohibited
---
This unauthorized page is maintained by Joe Spitz who is responsible for content. Errors, omissions, typos will be corrected as I am made aware of them.
Use common sense and take care of your car and always have a trained mechanic check it out
contact