2009 Subaru Forester Images and photos of Exterior Options.
Research prices, options, specs, colors, photos, links and more


---
EXTERIOR OPTIONS photos and images on the 2009 Subaru Foresters.
Visit Exterior photos; Interior photos
Forester specs - 2009

optional rear bumper underguard.
Note; exhaust without the tailpipe tips so it isn't an Limited


optional front underguard, Limited shown, with sport grill
This is an unofficial Subaru reseach page and is not sponsored or authorized by SoA or any dealer!
comments, corrections, tips welcomed Homepage
all photographs, text, formatting ©joe spitz :: unauthorized reproduction prohibited
you are here http://www.cars101.com/subaru/forester/forester2009photos3.html V 7.31.10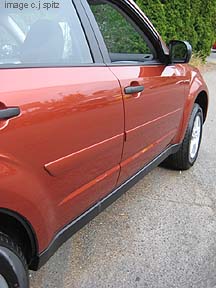 closeup of the body side moldings, shown on a 2010 Paprika Red Pearl Forester (color not available on 09s)

if it's PZEV (partial zero emission) , the logo is on left tailgate.
For 2009 and 2010, PZEV is required on all non turbos sold in CA, WA, CT, MA, ME, NJ, NY, OR, PA, RI, and VT.


XT turbo logo is on right rear. Turbos are not PZEV.


2009 and 2010 XT turbo


front wiper deicer warms front wiper blades. Part of All Weather Pkg
Standard on all 2009s except base X. (X Premium after May 08).
Starting with 2010s, the AWP is an option!

front windshield wiper deicer melts the snow.


optional sport grill


optional rear spoiler


optional rear splash guards (they're pretty small), shown with optional wheel arch moldings


optional front splash guards, shown with optional wheel arch moldings


optional wheel arch molding, rear wheel shown, with splash guards


steel silver Premium, with wheel arch moldings


optional outside puddle lights, one under each door


optional puddle lights outdside each door reflecting on the wet pavement


optional sport grill


optional driver side exhaust with taipipe tip, no bumper underguard


Subaru Forester has optional back up sensors on the back bumper


Subaru Forester reverse sensor beeper is in the left rear cargo, has hi-lo-off settings


optional rear bumper cover step pad


optional factory body side moldings


optional FRONT bumper underguard. LImited shown, with sport grill


sage green with optional rear underguard


X model optional roof rack carrier base kit, fixed position, qucik on-off.


2009 and 2010 Subaru Forester X model roof rack carrier base kit, fixed position. Designed for quick on and off


2010 and 2009 Subaru Forester with optional rear bumper underguard but no exhaust tailpipe tip.


optional rear bumper underguard


dual exhaust tailpipe tips make the back look much better


Standard dual exhaust without tailpipe tip on X and Premium


installing a Subaru hitch, it replaces the rear bumper support beam


the rear bumper beam replaced by the hitch



factory and aftermarket rack on a base Forester attach at the same places
* fine print: these webpages are 100% unofficial and by Joe Spitz who is solely responsible for content. These pages may contain errors so check with your dealer, parts supplier, mechanic, spouse, kids, current or ex in-laws, insurance agent, and family pet before making any decisions.
Always inspect and test drive any car before buying.
Not responsible for errors or typos, or any problems or decisions that might arise from any use of this page.
These unofficial pages are done to help you determine your interest in Subaru.
Suggestions, tips and comments related to this web page are welcome.
Thank you.
Joe Spitz
Seattle, Wa
(top)
service area includes Seattle, Bellevue, Kirkland, Redmond, Renton, Auburn, Puyallup, Tacoma, Olympia, Vancouver, Portland, Bremerton, Marysville, Bellingham, Skagit county, Wenatchee, Ellensburg, Tri-Cities, Spokane, Boise, Lewiston, Cour D'alene, Billings, Anchorage, Ketchikan, Juneau, Honolulu, Washington, Oregon, Idaho, Montana, Alaska, Hawaii, California and much more