2010 Subaru Share the Love Event
November 20, 2010 - January 3, 2011
.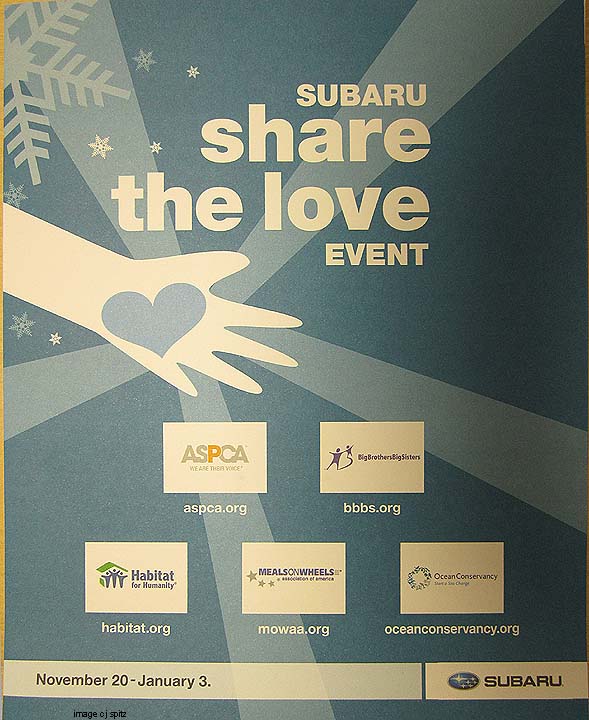 the 3rd Share the Love Event runs November 20, 2010 - January 3, 2011
scroll down for some free dealer give-aways
.

Subaru's Share the Love v. 3. Do yourself a favor, do someone else a favor.
Get a great car, then choose the charity and Subaru donates $250.
Choices for 2010 are Ocean Conservancy, Big Brothers Big Sisters, ASPCA, Habitat for Humanity, Meals On Wheels.
No, its not tax deductible, you didn't pay. This is the 3rd event. In the 2 previous years Subaru generously donated $1m to each charity.
Buy a car then go to www.Subaru.com/share

Advertising campaign homepage - cars101.com Homepage

these unofficial pages are by Joe Spitz who is responsible for content. Errors, omissions, typos will be corrected, let me know. photos, formats, content © J Spitz, unauthorized copying prohibited. you are here http://www.cars101.com/subaru/ads_subaru10_share_the_love.html 11.29.10
---
Free Dealer Give-Aways for the 2010
Subaru Share the Love Event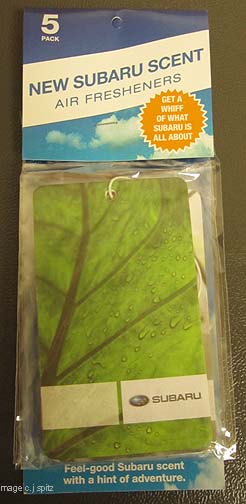 Dealer giveaway to help publicize the 2010 Share the Love Event. A 5 pack of car air fresheners. They are very mild, almost no smell
.

Dealer giveaways to help publicize the 2010 Share the Love Event.
Air fresheners and shaped rubber bands

6 shaped rubber bands - The heart represents the Share the Love Event
turtle- Ocean Conservancy
fork and knife- Meals On Wheels
dog- ASPCA
kids- Big Brothers Big Sisters
house- Habitat for Humanity


the air fresheners have sayings on the back
the end